Ending up in Hell would be one thing, but discovering that the Devil is a huge fan of yours would be a whole extra layer of horror.
But that's what a recent Redditor asked people to imagine: what petty, sinful thing would earn you a #1 fan in Satan.
Here's hoping your answer to that question leans more toward petty than immoral.
Redditor Ok-Reaction-5644 asked:
"Satan shakes your hand and says 'I'm glad I finally got to meet you,' what did you do?"
Many people divulged their part in the very incredible annoyances of modern life, particularly life on the internet.
The Horror
"I created mobile ads with transparent close button....." -- voliver016
"Oh god. And let me guess, the company's logo looks like an X. like it's called X Games or something. So you accidentally tap on that when looking for the close button." -- fernshanks
Hooked Us All
"invented micro transactions in video games" -- Day61298
"Satan: So, I'm thinking about retiring and you seem just the person for the job...." -- Logan3point14
"Move over Hitler. Move over slavers. Move over Ajit Pai. We have a new champion of hell." -- Andrakisjl
That Was One Guy??
"i invented popup ads and the thing that makes you disable ad blocker before you can visit a website" -- thetapiryourodeinon
"I feel like Satan would punch you in the face, not shake your hand. All like 'This MFer is out of control' " -- Shinbiku
Others talked about the cartoonishly terrible things they did. In hindsight, they wondered how they ever could have done what they did.
But at the time, it just made sense.
Case Closed
"oh definitely that time i kicked a child," -- Domesticgay_
​Saboteur
"Christmas time. Shopping mall car parks are chaos. I'll be walking through the car park with bags off Shopping and see people in cars looking for people about to leave..."
"...I stop, look at a car, put my bags down pull my keys out, someone in their car sees me and indicates to my direction to claim the park. I pick my bags up and keep walking."
And some took the question as a perfect opportunity to get snarky about he prospect of ending up in Hell.
The Chain Mail Was REAL
"Did not forward that email I received in 2008 saying that If I did not, I would go to hell." -- peidinho31
" 'IF YOU DO NOT SEND THIS TO 20 PEOPLE IN 5 MINUTES LITTLE TIMMY WILL CRAWL OUT OF THE SINK AND EAT YOUR EYEBALLS' " -- Ak_Jumper_942
Some Old-Fashioned Humor
"Persuaded my dead mother-in-law to move out of hell." -- Antigravfraggle
"I've spent years looking for my mother-in-law's killer. But nobody will do it." -- elee0228
"Thanks satan, now she's haunting and possessing people on earth again." -- Gurbwat
Lead With Compliments
" 'Me too! I can't believe you're even MORE attractive than your profile pic!' " -- PM_ME_YOUR_CUTE_PU**
"Please, call me twenty twenty" -- punkhobo
The Better Choice
"Ehh... there's a Stairway to Heaven and a Highway to Hell and I sure as hell don't feel like climbing any stairs." -- dusty-kat
"fires up his motorcycle" -- thearmouredcake
"Why clib stairs when you can go down lil nas x's strip pol" -- LilacForgetMeNot
If Hell is real, we hope none of you end up there. But we sure hope you have a hell of a story if you do!
Want to "know" more? Never miss another big, odd, funny, or heartbreaking moment again. Sign up for the Knowable newsletter here.
Keep reading...
Show less
Not all folks who are married are meant to be together. That is just a sad fact of life.
Unfortunately, more often than not, those folks do go ahead with the marriage. And they pay lavishly for ceremonies, to fly families out, for food--only to realize on that night that, more likely than not, they are doomed.
u/flyoverthemooon asked:
What happened at a wedding that made it obvious that the bride and groom shouldn't be getting married? Are they still together?
Here were some of those stories.
Immaturity
My sister-in-law got married last fall and after the ceremony they got in an epic fight over the marriage certificate and didn't come to the reception until 2 hours after it started. A week later, they separated for a few weeks while trashing each other on Facebook. They're still together and she's now pregnant.
I also photographed this wedding and it was the most stressful professional experience I've ever had. I forgot to mention too that the groom and groomsmen dropped a bunch if acid before the ceremony and continued into the reception. He freaked out, had a panic attack, and left.
An Odd Choice
The groom drunkenly cornered my roommate and demanded a blow job as a wedding gift. Apparently he was under the mistaken impression that all gay men are excited to give pretty much anyone a blow job at any time. My roommate declined the invitation.
Shockingly, that marriage did not last.
It's The Drink That Killed It
My good friend was marrying this guy. We will call him Ned. Ned definitely had a drinking problem that everyone swept under the rug. He promised my friend he would keep it under wraps for the wedding. He made it down the aisle but by the reception he was binge drinking.
By then end of the night the groom Ned, completely disappeared. No one could find him. A few nervous laughs turned into mild panic when the lights were turned on in an effort to find him. My husband decided to go look for him in the parking lot where he finds ned on his lips in the dirt. He had smoked a joint and got the spins. My husband tried to talk sense into him reminding him "this is your wedding dude!"

He got Ned to come inside and did the most cringey walk of shame past the bride's family who was very cross with him. Ned was supposed to drive them 11 miles from the venue to their hotel in bride's grandfather's vintage Corvette. He was too drunk to drive so the brides grandfather drove them and the bride had to sit on the middle armrest with no seatbelts.
Grandpa drops them at the hotel. Bride barely gets groom up to the room where he passes out on the bed. Bride had to wander the halls looking for someone to help her out of her wedding dress since her groom was passed out drunk.
The word annulment was definitely floating around that next morning. As crushed as the bride was she stuck it out. 3 years later they are now separated and divorcing because he is still a drunk.
It's All About The Money Money Money
At a friends wedding ( 2 years ago) the bride kept the bar open until 3 am after the groom went home at 10pm. She kept telling everyone that she is just with him because he has money and a flat.
They are now going through a divorce after she cheated on him.
Nagging To Death
We were good friends with a couple who fought all the time. She wanted to get married desperately and he was indifferent. After years of nagging he finally proposed. On the day of the wedding, right before he walked out, he looked at us and sighed "Well, maybe now she will stop nagging at me and finally be happy"
They are now divorced - she cheated on him with some guy she used to date.
Inebriation Isn't A Good Look
The bride got so drunk that the bar cut her (and everyone else) off. The groom was also drunk. People started leaving at midnight, and the bride got mad and yelled about how they were all "ruining" her wedding because she wanted to dance and drink more.
I was their designated driver to get them to their hotel.
The entire drive there, they fought. She berated him. He cried. That was a long 20 minute drive. I could have scrubbed vomit out with cleaners, but the awkwardness has stained that car forever.
They've been together 7 years. Their daughter, born 9 months after the wedding, is adorable.
¯\_ (ツ)_/¯
This Is Just Mean
During the cake cutting he smashed cake in her face. She immediately started crying and went to the bathroom for about 30 mins. Then they got into a huge fight and barely spoke the rest of the night. Shockingly they are still married, but they still fight all the time. She's my friend from college so we keep in touch occasionally. She never has good things to say about him.
Never Together, Truly
My brothers wedding. It was super uncomfortable and awkward during their engagement. My parents kept asking him if he was sure, he said yes. Then came the wedding. Super small. When they said to kiss, they both went in for a peck, but she turned her face at the last minute so he kissed her cheek. My husband yelled for them to do it again (I was also their wedding photographer and he knew I didn't get a good shot). The marriage only got weirder and worse from there. They acted like they were on an awkward first date every day. Finally a year later they divorced.
Alone In A Crowded Room
Husband disappeared two hours in to a six hour reception because he was bored. Just went into the house and hung out on his phone. It was a chill ranch thing with games and drinking and dancing. Adults only.
Also I didn't meet him until the wedding while we (me and the bride) hung out pretty frequently. So there was some lead up to that didn't help.
He wasn't cheating, just watching golf videos.
They lasted less than two months.
They didn't divorce because of that. Dude 180d as soon as the ring was on. Going golfing every night for hours with different groups of people. She asked him to limit it to a couple times a week. She suggested therapy. He blew her off. She got out and is much happier.
The wedding was semi-destination, 6 hours away. His friends drove out there and he ditched them too. The reception was more bon fire-y with free booze and yard games. Stuff both of them had done before with his friends. He bounced right after the obligatory wedding stuff when we finally got to do fun things.
I could try and psychoanalyze what he was thinking, but who knows. Probably some kind of regret.
What A Day.  Who Wants To Remember That?!
The groom had his car stolen on the morning of the wedding and spent the whole day swearing and punching inanimate objects because, as we all heard a thousand times that day, not only was it "the most important thing in his life" it also wasn't insured.
The wedding was at a boy scout hall, for no apparent reason... and the reception was in the cafeteria at one of those Underwater World places with the glass tunnel, but no one was allowed to go see the fish because, get this, the whole day had a Lion King theme.
Then towards the end of the night the bride beat one of the bridesmaids half to death because she caught her sleeping with a groomsman who she tearfully admonished for "cheating on her'.
I have no idea how long the marriage lasted for, I never saw or heard from them again.
Keep reading...
Show less
Many sects of Christianity have evolved to embrace people from all walks of life – including the LGBTQ community.
But one woman is being dragged for her outdated views on religion.

Religious Twitter user Kristen Hodges ignited hellfire after listing "sins" that will bar you from entering the pearly gates.

She devotes 95% of her tweeting activities to Jesus, yet her latest tweet has nothing to do with the teachings found in the New Testament.
According to Hodges's gospel, "being LGBT" and "getting drunk/high" are sins, and anyone who is guilty of such cannot be a Christian.
You can't be a Christian and think these are okay and/or are not sins: - Being LGBT - Sex before marriage - Being… https://t.co/1zBnBHAJE2

— Kristen Hodges (@Kristen Hodges) 1561051699.0
She bullet-listed other unspeakable acts such as "sex before marriage," "being lustful," "masturbation," "cheating/lying," and "cursing/quick to anger" as sins.
Although she conceded that "God loves everyone," she assured that "not everyone will go to Heaven!"
Her tweet got over three thousand responses, with many of them from users who forfeited their ticket to heaven by happily committing one of Hodges's sins: "cursing/quick to anger."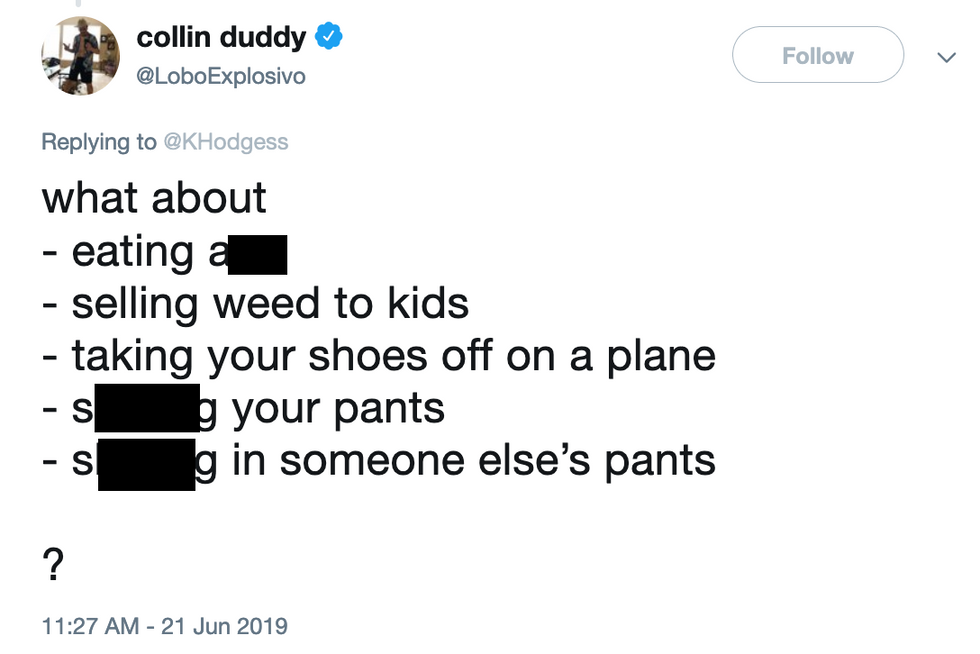 @LoboExplosivo/Twitter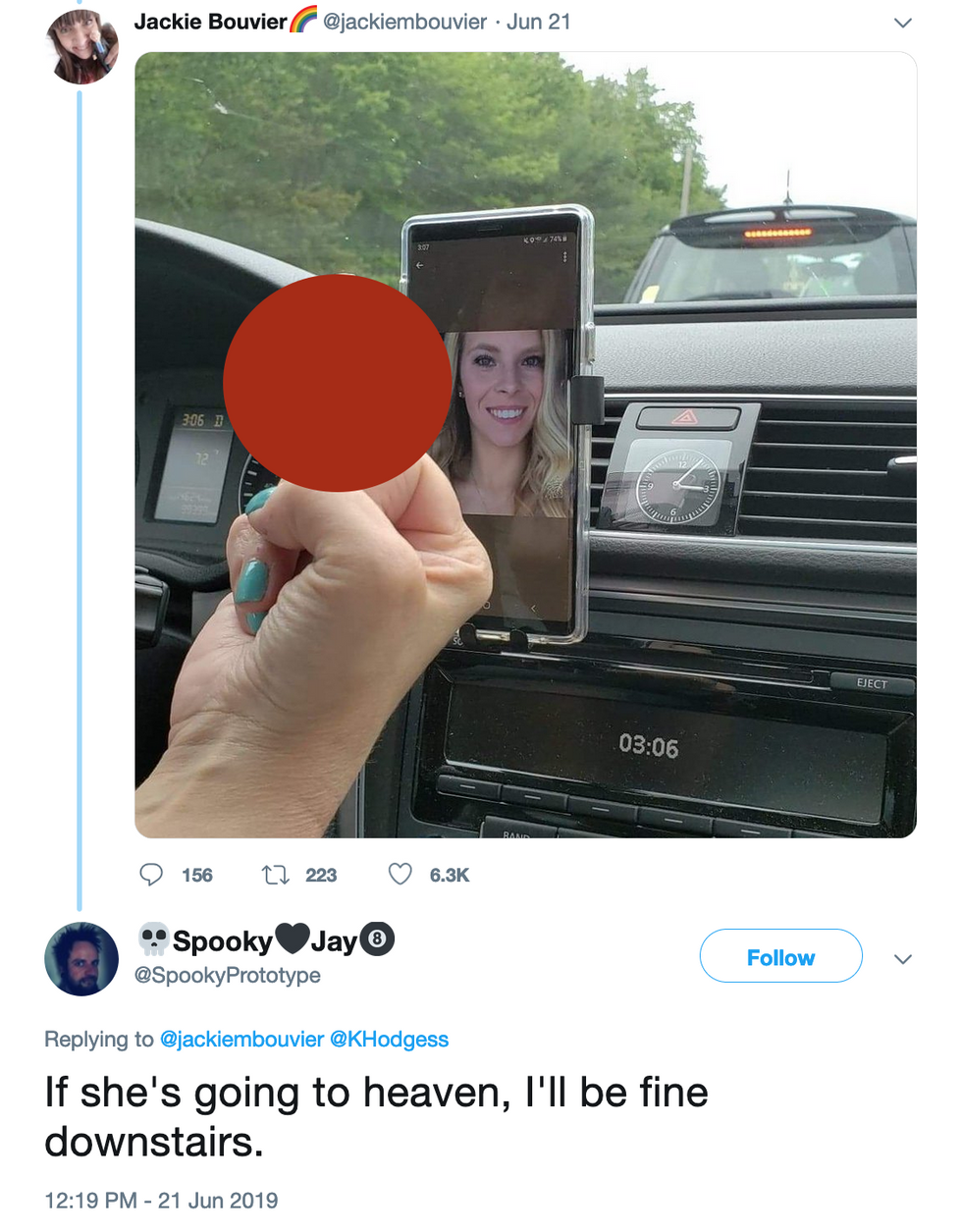 @SpookyPrototype/Twitter

@BethLynch2020/Twitter
Drinks are on this guy.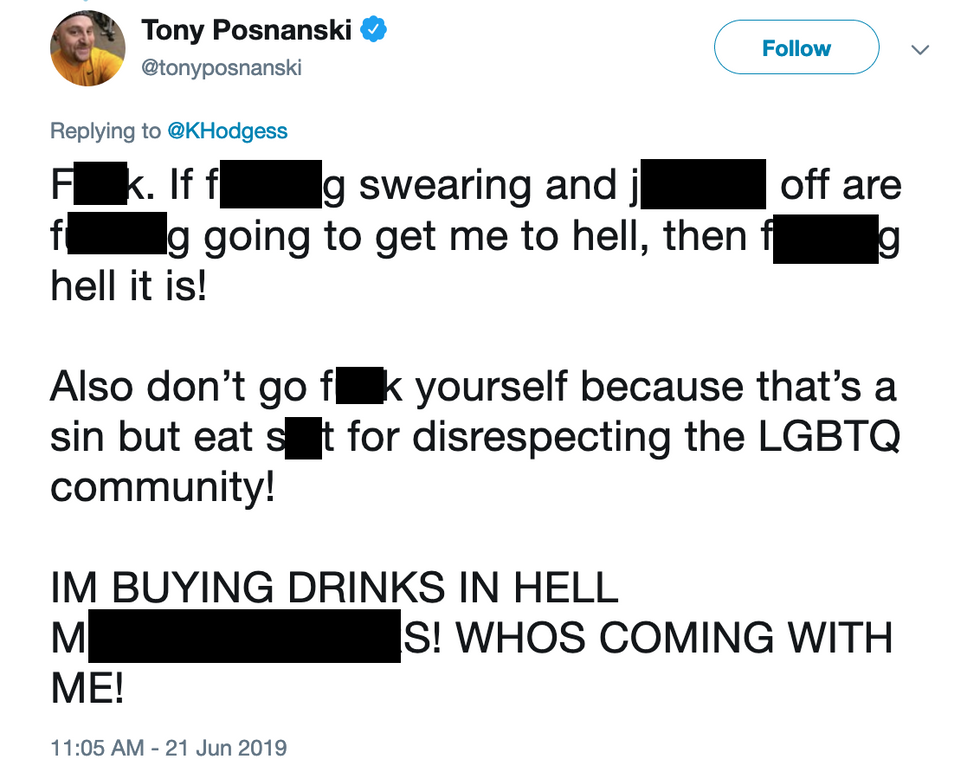 @tonyposnanski/Twitter
@natfinnonE @KHodgess I guess typing masturbation is a sin. I'm a sinner.

— Tony Posnanski (@Tony Posnanski) 1561140766.0
Sinners are getting lubed up.
@natfinnonE @tonyposnanski @KHodgess Oh I'm sinning right now 😳

— eric molina (@eric molina) 1561140925.0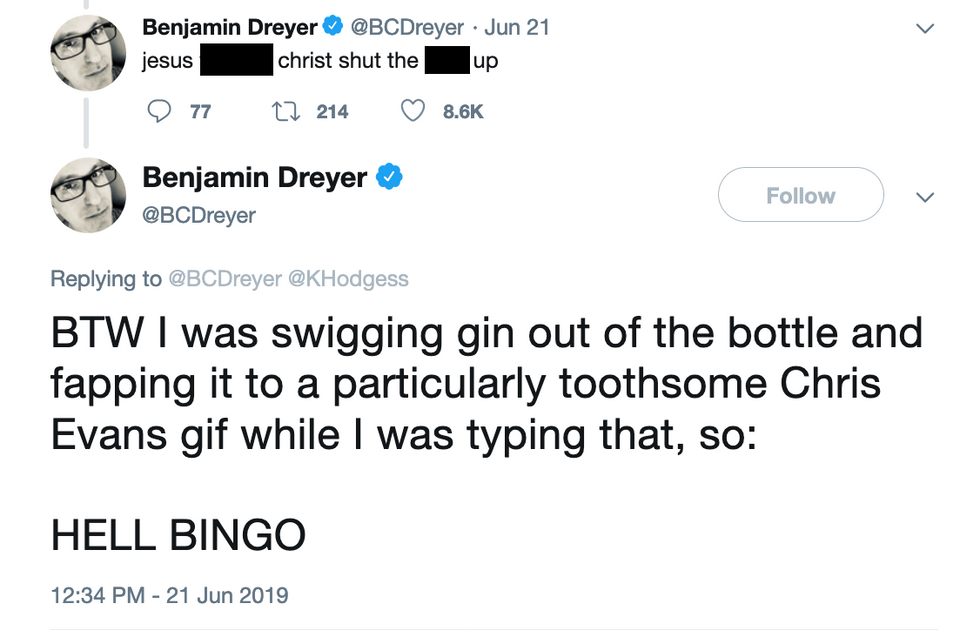 @BCDreyer/Twitter
This user called out her tendency to be holier than thou.
Hodges may have conveniently forgotten about judging others (James 4:11).
@KHodgess @calebebling You seem pretty comfortable judging, which is a sin. So...

— Evan A. LaChance (@Evan A. LaChance) 1561149985.0
@KHodgess Judge not lest ye be judged. I'm thinking you missed out on that one. Worry about yourself. 🤔👍

— Andrew Goss ✊USAF✊ (@Andrew Goss ✊USAF✊) 1561142249.0
What is heaven, really?
@KHodgess If masturbation doesn't exist in heaven, is it really paradise?

— Eric Sprankle, PsyD (@Eric Sprankle, PsyD) 1561227472.0
Or hell, for that matter?

@niwandajones @AlexandraErin @KHodgess Hell sounds nice. All the cool kids in one big ass melting pot. If it was real I'd rather go there.

— 🏳️‍🌈🏳️‍🌈lusa, princess of limes🏳️‍🌈🏳️‍🌈 (@🏳️‍🌈🏳️‍🌈lusa, princess of limes🏳️‍🌈🏳️‍🌈) 1561142192.0
@OutlierShME @gerivas66 @winewithdara @RockyMtnShaggy @A_DVS_NTT @KHodgess If hell exists, I bet it's a party.

— Rain to the MC (@Rain to the MC) 1561155571.0
This user was more merciful.
@KHodgess Messages like this is exactly why people are leaving the church in droves. Why don't you check the plank… https://t.co/bZ0Mw5iD45

— Cynthy Wu (@Cynthy Wu) 1561157555.0
Hodges is known for her interpretation of Christianity.
In a previous tweet, she insisted "you are not born wanting the same sex" and that by rejecting His word, you are "insulting a perfect creator."
You are not born wanting the same sex. You are created for the opposite sex. If God made you a male, that's not… https://t.co/qHw7fzSlNq

— Kristen Hodges (@Kristen Hodges) 1536269802.0
She contradicted herself by vowing to "stand up for people," but remained uncompromising about her anti-LGBTQ views.
With that being said.. do I support homosexuality and others who choose other than the straight sexuality, no, I do… https://t.co/GVZzoOsLGw

— Kristen Hodges (@Kristen Hodges) 1536377539.0
Her reality check continued.
@KHodgess it's not YOUR place to belittle anyone. it's not YOR place to make these people feel bad. THIS is the kin… https://t.co/8VJp0tG6K4

— LIL MAK🖤🤟🏻🥀 (@LIL MAK🖤🤟🏻🥀) 1536439535.0
@KHodgess You wear glasses - did God not create you with imperfect eyes? Why insult Him by wearing glasses?

— jessica harvey (@jessica harvey) 1536555067.0
@KHodgess "The More You Know..." https://t.co/ost34veTcE https://t.co/ugAWpjkgyn

— John Pavlovitz (@John Pavlovitz) 1561159162.0
@KHodgess - Wearing gold or pearls - Eating bacon - Wearing torn clothes - Women speaking at all in church - Footba… https://t.co/FOdvOmYYu1

— DVS (@DVS) 1561141803.0
Hell hath no fury like the internet fighting for justice, equality and minding your own business.

For many modern inclusive Christian organizations, the focus of The Bible and their faith draws more from the Sermon on the Mount where Jesus introduced The Beatitudes. Instead of condemnation, it speaks of blessings on certain behaviors and actions.
A copy of The Beatitudes, suitable for framing and gift giving, is available here.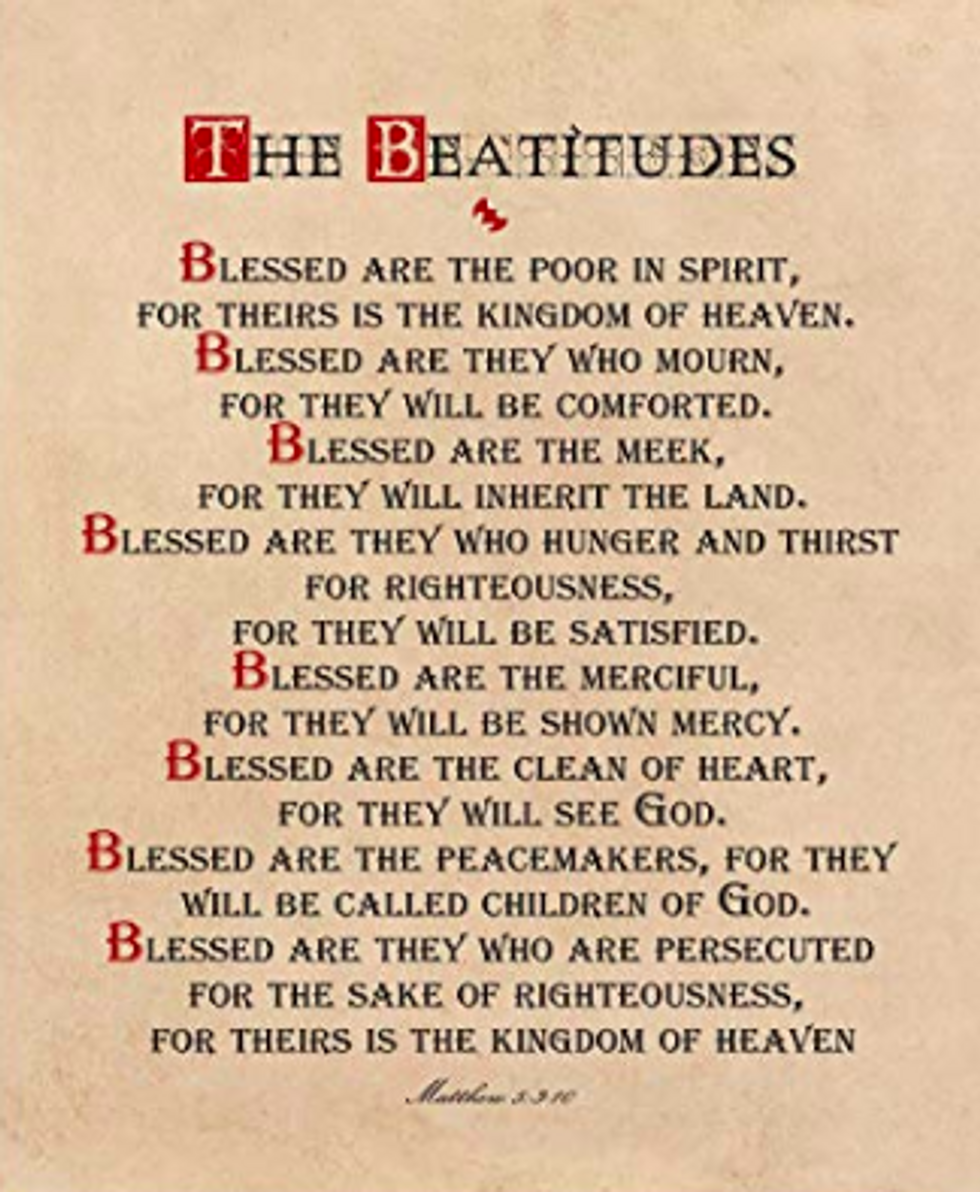 Amazon
Keep reading...
Show less
It's one little thing, maybe not necessarily the same as the next person reading this. It's a habit, or perhaps a tick, or maybe you need to learn to screw the lid back on the almond butter jar all the way, Karen!...Hell is a big place, and there are those out there who deserve to go for one reason or another.

Reddit user, u/confiscateyopinky, wanted to hear which circle of hell to open up when they asked:
What do you think is worthy of trip down to hell? Share it with us!
Keep reading...
Show less
We all have fantasies of punishing our enemies from time to time.
Today's burning question came from Redditor BisexualVegan, who asked the online community: "Satan's retiring this fall and would like you to take over as CEO of hell, what's the first thing you do to make hell more miserable?"
Some of these suggestions are downright evil.
Keep reading...
Show less