Enjoy it now. It all fades.
Now there is wisdom we always ignore.
Life really is wasted on the young.
All kidding aside... life is fleeting.
We have to embrace everything in the best way possible.
Redditor ConesWithNan wanted everyone to celebrate certain aspects of life while it's still possible. So they asked:
"What should we enjoy before it's no longer around?"
I try to appreciate it all. Life is the all. I fall short though.
Live Long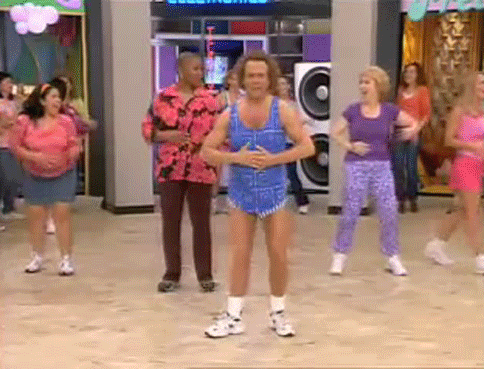 Working Out Richard Simmons GIF
Giphy
"Good health."
macaronsforeveryone
"Enjoy the health of your youth but make an effort to work out. With weights. Use household items if you don't have access to a gym. Strength training is crucial as we age."
nameisinusetryagain
Smile
"Teeth hygiene is one of those things you hear so often it's easy to block out. Something I heard once and never forgot it though was in the movie 'Peggy Sue Got Married.' She was able to go back in time to do things differently and in one scene she asks her grandfather if he could go back, what he'd do differently. He says, 'I'd have taken better care of my teeth.' It's stuck with me ever since."
TrustAvidity
Gone
"Grandparents and Family History. When they die, it's gone forever."
skaote
"I wish I had had more conversations with my grandpa before he passed. He lived an incredibly full life as an outdoor adventurer, but he was a very quiet man."
"I didn't get around to actually asking to hear his stories until the last few years. I only know a fraction of the incredible life he lived. I miss him all the time. I deeply regret not having more conversations with him. I just hope I live a life he would be proud of."
NadjaStolz28
LOUDER
"Any band or artist while they are still touring/alive."
Imhere4theinsurance
"Absolutely yes! Back in the day Heaven and Hell (Black Sabbath with Dio, basically) made a couple of shows here in my city. I had the time and money to go but decided to spend it elsewhere as 'they will come back.' Dio fell ill from cancer the next year and died not long after. If regret turned to money, I would be able to fund my own space program."
IgorCruzT
I'll be there for you...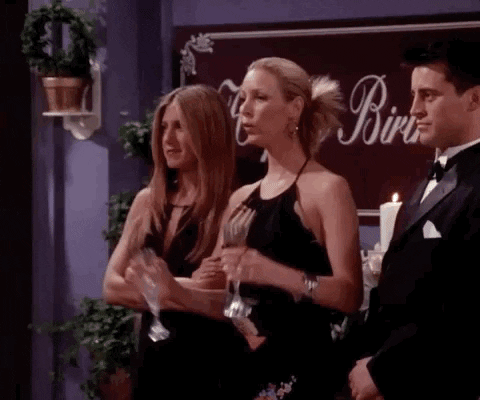 Happy Birthday Reaction GIF by Friends
Giphy
"Your friends, and having time to spend with them."
SnooChocolates2741
"I was gonna say your parents. This is kinda in the same vein."
DoctorCaptainSpacey
This is making me sad yet feeling more life affirmed. Weird.
Essentials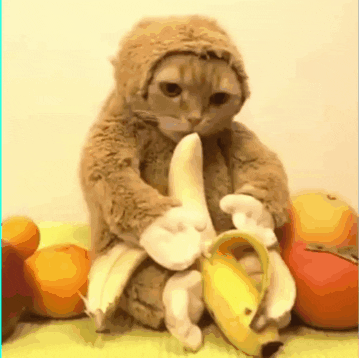 bananas GIF
Giphy
"Bananas."
Jimmy_Hovits
"Issue is, almost all bananas are essentially clones of each other due to how they are grown. That means there's extremely low genetic diversity among them."
fredthefishlord
See You Again
"As much time as possible with your significant other. I lost my wife last year and I have never and will never be the same again. She was only 41 years old. Way to young for me to be mourning the loss of my best friend and soul mate. I love you Stephanie. I can't wait to see you again."
StraightSho
creak and pop...
"Healthy joints. I creak and pop so much now just standing up."
reluctantsub
"After decades of running every day, my joints are still good but when I get up in the morning the ankles sound like I'm tossing pop-its on the way to the kitchen."
"What's more annoying is that I habitually cross my legs when I lay down (don't even notice I do it) and since I have skinny legs the ankle bones will squeeze on the nerves of one leg or the other and start foot or calf cramps. Wakes me up sometimes."
Dangercakes13
Love Hard
"Your significant other. Love them with your whole heart, and appreciate them for loving you back. Don't take them for granted or you'll be left emptier than you've ever been before."
yaboialliance
"Yep. My fiancée left me 2 weeks ago. I've never felt as broken as I do now. Every day is misery and a struggle to get through. I really wish I cherished those last few weeks more than I did and didn't pay so much attention to my job."
Wrastling97
From this Moment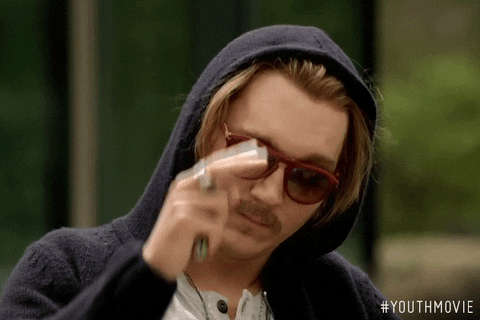 Paul Dano Yes GIF by Searchlight Pictures
Giphy
"Youth, like being a child. Doing things without a care in the world."
KrazzyZombie
What did we learn? Appreciate life. Appreciate everything. Nothing is forever.
Want to "know" more?
Sign up for the Knowable newsletter here.
Never miss another big, odd, funny or heartbreaking moment again.
Keep reading...
Show less
Time really does fly by.
I never believed that until recently.
I wish I had relished in my childhood more.
I miss certain toys and watching specific movies for the first time.

I miss the feeling of hope.
If only we could start again...
Redditor SadTonight7117 wanted to get nostalgic.
They asked:
"What is something you miss from your childhood?"
I miss discovering Madonna. And I miss the days before social media. It all seemed simpler.
Adulting : Would NOT Recommend...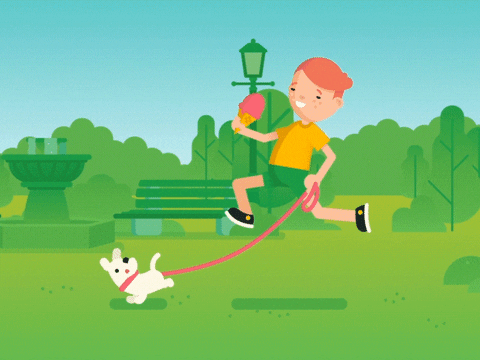 GIF by Brikk
Giphy
"The whole summer with nothing to do but just enjoy yourself. I can't believe I ever wanted to be an adult."
sexysexyonion
"I have a really clear memory of myself, aged about 10, flopping down on my parents' bed in the sunshine after school on the last day before summer holidays, and announcing to my mum, 'I am so completely happy.'"
thesoulstillsings
"adult circle"
"Innocence and ignorance."
NitrousElk
"This! I remember as I kid I wanted to know everything that was going on around me (family secrets, gossip, etc.). Now that I'm allowed in the 'adult circle' I have to actively take myself out of these conversations because it's too much drama and too stressful."
afterthestars
Invincible!
"My health."
Phantomtastic
"Right? When we're young we think we are invincible and when we look at old people we think that will never be us. Yes it will, and sooner than we expect."
sexysexyonion
"Yes! The energy, the strength! Eat crap food and still run for miles!"
el-em-en-o
Easy Days
"Life without responsibilities."
Illustrious_Solid_81
"Me, too. Just going somewhere without a phone, wallet or keys. Be home for dinner is all you have to do. For the rest of the day you can build a damn in some river, play catch, throw rocks at anything, run through a corn field or rip out some plant, try to eat it and plan to remember that corn needs to be cooked. We stole broom sticks, painted them in bright colora and fought until the kids in town joined to play Star Wars. I remember my fingers hurting from those little mishaps."
KarrelM
Entertainment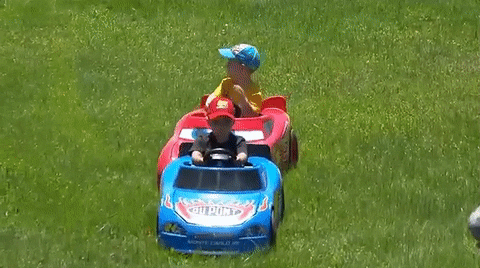 geico 500 talladega GIF by NASCAR
Giphy
"The simplest play just with a few cars in my bag I'd be entertained for hours."
rubber_duvky
Summer days, had me a blast. And those bags of cars... fun for hours.
Home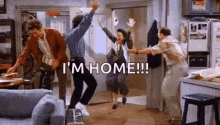 Im Home GIF
Giphy
"The house I grew up in, and my grandparents."'
InbhirNis
Bliss
"Happiness."
Icy_Fox7328
"Ignorance is bliss. When I was a kid I didn't understand what people meant by it and I want to know. Now that I know, I don't want to know. Ah, I miss my happy childhood memories."
afterthestars
"And Dinosaur chicken nuggets but mostly Happiness."
Asian_Invasion767
Let's have fun...
"Playing outside. Catching snakes and frogs. climbing trees. Playing pretend. I'll never feel as much bliss as I did when I was 9 years old and my grandmother's huge wooded backyard with a pond was my entire world. What I would give to be there again. And my back didn't hurt."
CherryCola1999
The Rider
"Knight Rider."
Mindbender444
"It's on Netflix if you have it. It's kinda cool to see the first episodes and how Michael Knight came to be. I don't think I ever knew about the double-cross and transformation! I'll leave it at that to not provide too many spoilers in case you haven't seen the first episode."
eLishus
Counting the minutes...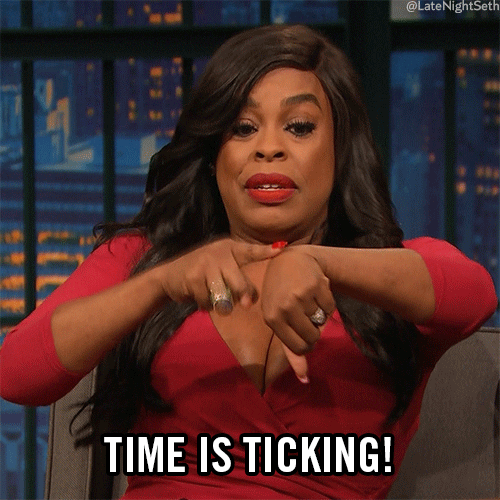 Seth Meyers Time GIF by Late Night with Seth Meyers
Giphy
"Time."
HyperKiwi
"And then one day you find ten years have got behind you. No one told you when to run, you missed the starting gun."
RichardCity
Time is fleeting. Remember that. Appreciate it now.
Want to "know" more?
Sign up for the Knowable newsletter here.

Never miss another big, odd, funny or heartbreaking moment again.
Keep reading...
Show less
We are in a better place than we've ever been when it comes to discussing mental health.
We still have a VERY long way to go.
Besides therapy and drugs, there are simple, daily things we can all do to try to brighten our days.
Life is dark, be we have to try let in some positivity.
If for no other reason than not being trapped in sadness.
What are some of the happiness tricks of the trade we all need to know?
Redditor pissed_at_everything wanted everyone out here to tell us what puts a smile on everybody's face.
They asked:
"What is something that drastically improved your mental health?"
Listen to music. Even if it's Adele. Listen and dance.
Good Night
"Sleep."
ortolon
"Also, learning not to stress about not sleeping when you're lying in bed and rather just getting comfy and letting it happen."
NotQuiteHopelessYet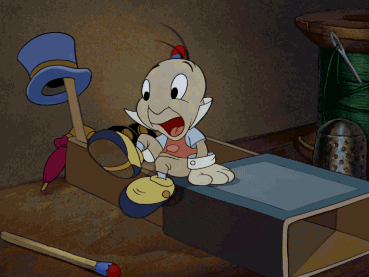 Giphy
Toxic
"Knowing it's okay to leave some people behind."
-Black_Guardian-
"I did that in 2021. Cut off my toxic friends, significantly reduced my visits to extended family (they're toxic and live within half a km from my home), reduced my unnecessary interactions with my parents (I live with them) and boy my life is the best it has ever been. I have never had so much peace in my mind (apart from the time when I was in kindergarten)."
More-Masterpiece-561
Silence
"Silencing my activity on social media, and replacing my time spent on there by reading books instead. I've finished 6 books since the start of January. I feel so good about myself because of it."
chick3nslut
"I recommend not deleting the account, but just removing the app and posting that you're getting off of social media, and provide a phone number in case anyone wants to keep in touch/needs to reach you!
chick3nslut
Truth Hurts
"Being honest and transparent about how I'm feeling. 'I'm not mad at you, my brain just hates me right now,' has helped mitigate lots of fights and awkward conversations."
Nillabeans
"Oh my God I went through a sort of spiritual awakening where I realized a ton of s**t about myself and I started saying things like 'I'm not mad at you I'm just mad at the situation' or 'I'm mad at myself' and even if the other person isn't cool with that and still mad at me, I feel so much better. All the rage came from within and realizing this helped me release so much of it. Traffic still freaking pisses me off though there's no excuse for congestion."
Rawtothedawg
Beauty
"Something small that has helped me is saying aloud 'What a beautiful day, today is.' It's small but I have better outlook."
turtlepawa123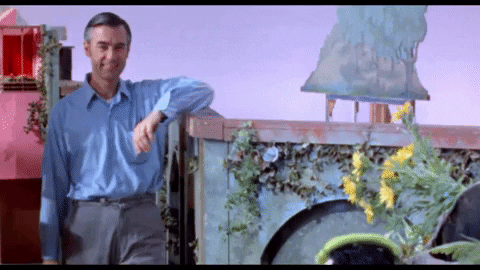 Giphy
A smile is a start. A smile, sun and fresh air. Always good beginnings. And we have start somewhere.
Healthy Pills
"Taking vitamin D and B supplements and getting enough sleep. Rely helped reduce excessive thinking and fixating on negative things from my past."
AnDagdadubh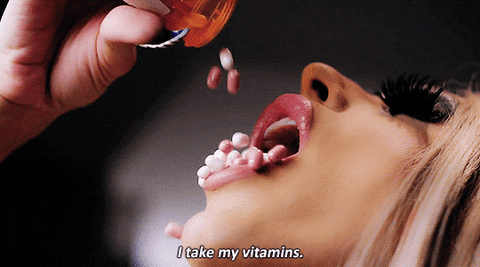 Giphy
Sweat it Out
"Exercise."
iamnobody1970
"It sucks at how well it works. I used to hate my mom telling me that exercise would reduce my depression but she was absolutely right. The issue is that when you're really depressed it's the last thing you feel like doing. But nothing else has as much of a positive effect on my mental state as regular exercise."
Counterboudd
Given your Worth
"Getting a job that paid a living wage improved my mental health 1000%."
rigel899
"Same for me. I was fortunate enough to be able to move back in with my mother so I could go to trade school and get a well paying job when I finished. My starting pay was double the shi**y minimum wage salary I'd been making a year and a half before. It was like removing an elephant that was on my chest."
MikoSkyns
Parameters Set
"Enforcing boundaries in work."
SmartPomegranate4833
"One thing to keep in mind is that you can always leave. If you are finding yourself dreading work, or a specific aspect of it (like a certain task or awful coworker), you can go elsewhere. Unless you have a signed contract that says otherwise, you don't even need to give notice; that two weeks is a courtesy, not a requirement. Don't ever feel like you're trapped, because you're not."
Coygon

location, location...
"Moving to a place that wasn't winter 8 months of the year and I was close to the ocean. Haven't felt suicidal in over a year and a half, probably for the first time since i was 16."
wyrd_werks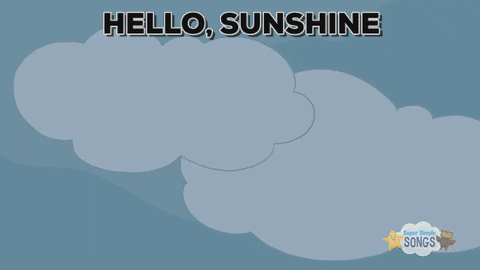 Giphy
I love this list. I will try them all. Wish me luck.
Want to "know" more?
Sign up for the Knowable newsletter here.

Never miss another big, odd, funny or heartbreaking moment again
Keep reading...
Show less
There's a certain smell that makes me smile involuntarily—and then smile bigger because I know the reason I'm smiling is because I'm a lovesick fool and honestly—it's kinda nice.
His beard oil, mixed with sea air, sunscreen, and sand. Bake with a few hours of sun, add a splash of coconut.
It's incredibly specific, I know—but it's the smell of summer afternoons, date nights sharing pizza at 2 am on the beach, it's the smell of falling in love. It's the smell of years together, sunscreen on the kids, coconut conditioner on five heads of curls.
It's the smell of us and I grin like a fool every time I smell it.
Reddit user migue30 asked:
"What smell, when you smell it, instantly makes you happy?"
I'm not the only one out here smiling like the cat who caught the canary. Lots of us have happy smells.

Want to "know" more?
Sign up for the Knowable newsletter here.

Never miss another big, odd, funny or heartbreaking moment again.
Keep reading...
Show less
What feels better than sexual pleasure?
I mean, the answer is, "nothing," right?
Right?

Reddit user, Boban_the_dude, wanted to know what's better than the best climactic finish around when they asked:
What's a feeling better than an orgasm?
A physical feeling can feel just as good as an orgasm, even when it's not sexual.
Nothing like a cool drink after a hot day, is there?
A Different Kind Of "Release." Hey-oh!
"That moment near the the end of being sick where your nose suddenly clears out after being stuffy for days and you can breathe perfectly again."
CoyoteJoe412
"See also: Pulling a huge booger out of your nose and realizing that your breathing has been restricted for days."
VanGarrett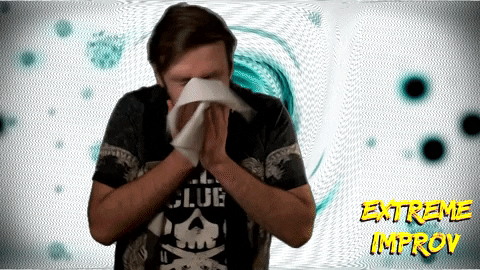 Giphy
Flowery Language Aside, Drink Your Water People
"Got lost out in the wilderness a few years back, drinking fresh clean water for the first time in days was something out of this world. It's like being on the brink of death and the suddenly life fills your body again. It happens so quick as well, from deaths door to fully recovered in minutes"
plz-dont-ban-me_
"I felt like sh-t the other day and realized around 5pm I hadn't had any water all day. I downed 32oz in a couple minutes and instantly recovered. I felt like I drank the piss of Jesus himself"
bigboybobby6969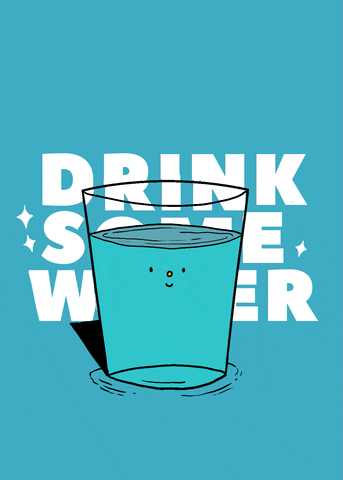 Giphy
The Pain Is Gone When The Pillow Comes
"When sleep finally comes and sweetly releases you from a blinding, vomit inducing migrane."
Cats_tongue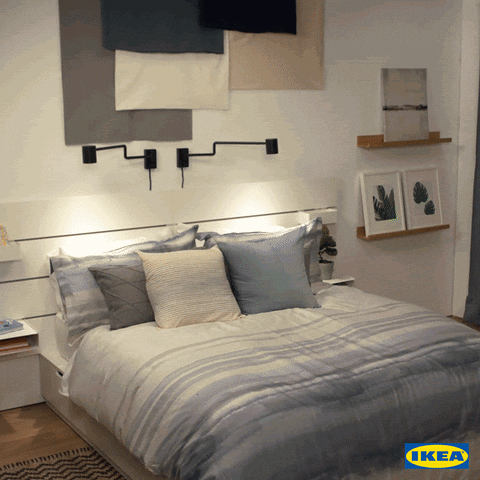 Giphy
While we think of human interaction being better than an orgasm as only limited to the sexual experience, our social interactions might go beyond the sensation an orgasm gives without any contact whatsoever.
What's The Opposite Of Gossip?
"When you overhear people talking positively about you."
LambeauCalrissian
"I've experienced this. I used to work with a gay colleague and he used to tell me all the terrible things that his religious Christian mother had said/done to him. He was a close friend of mine and he didn't realise that I was also a religious Christian until he noticed my cross necklace (I don't talk about my religion much)."
"I overheard him talking to another colleague once and he said 'yeah.. but there are still some great Christians out there, like [me]!"."
"Seriously made my day"
throwaway47283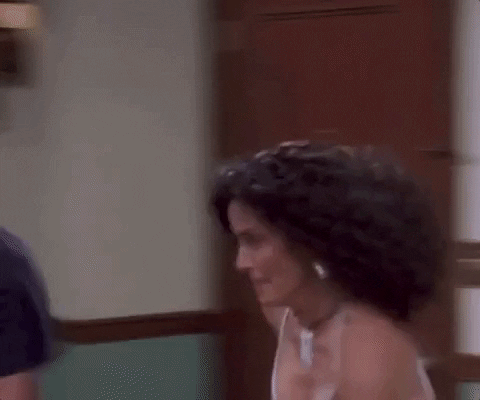 Giphy
All In On The Joke
"Laughing so hard your face hurts. It's like an orgasm for your heart and soul."
Ophidia77
"that feeling when the joke is long gone and you're only laughing because your friend is laughing and they are only laughing because you are laughing and it won't stop"
LocalTurn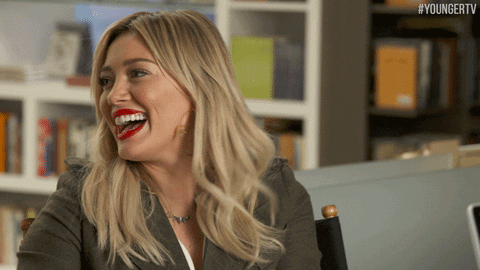 Giphy
Getting Those Feelings Back
"When someone you have a crush on has a crush on you."
xxNightingale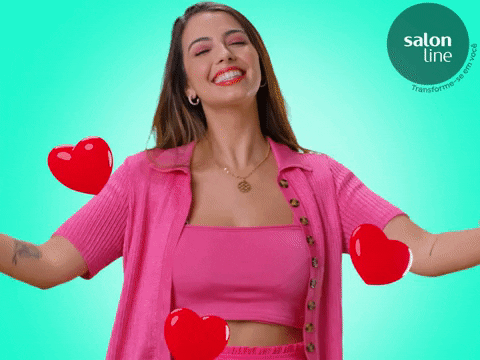 Giphy
And then there's these.
Yes, these ones make lots of sense.

Happy Medicine Time
"I think about "better" in terms of a huge increase in pleasure, and I can only think of one thing that has ever happened to me that was equal or better."
"Around ten years ago, I had a kidney stone, and it hurt like hell. The nurse hooked up the IV and gave me morphine, which did quite literally nothing at all to help. They didn't seem to believe that at first—I'm sure drug-seeking at the ER is a thing—but eventually, it became pretty clear that I was still in agony."
"She hit the IV with toradol. Y'all, this was the first time I'd ever experienced an IV or any strong painkiller, and I went from the worst pain of my life to complete comfort, warmth, and relaxation in seconds. I can still remember the relief."
alanpugh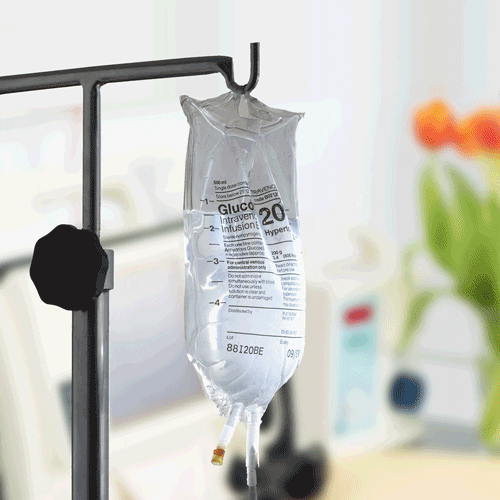 Giphy
Your Great Hunt Is Over
"When you close all the tabs from a very long assignment you just submitted"
Relative_Elderberry1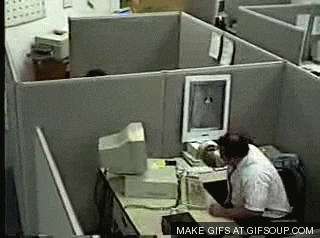 Giphy
Is This The Truly The Best Answer?
"Everyone keeps asking this and the best answer by far is always 'farting away a stomachache'."
draegersonn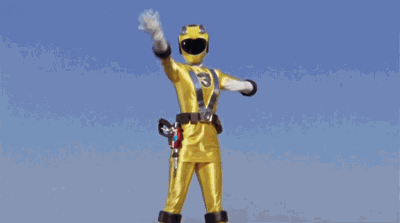 Giphy
Yes. Sleep.
"Waking up expecting your alarm to ring any second, then realizing it's the middle of the night and you've got like 3 or 4 more hours to sleep…"
harborsareinoceans
"... and you're able to fall back asleep."
"There, I fixed it for you."
Jelly_Belly321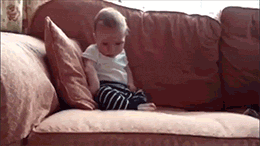 Giphy
Sleep when you can, drink water when you can and suddenly the entire day can feel like one big orgasm.
This has been an odd one.

Want to "know" more?
Sign up for the Knowable newsletter here.
Never miss another big, odd, funny, or heartbreaking moment again.
Keep reading...
Show less