Its that time of year again. Time to get scared and get spooky. Covid be damned, we can still find ways to enjoy Halloween. One of the staples of this time of festivity is Haunted Houses. In any given non-pandemic year they'd be everywhere. Over the last few decades the planning and launching of a House of Horrors has become an art form. In fact there are houses you have to sign waivers for in order to enter. So has to make one wonder, what sort of tales do the actors and people behind the scenes have to tell. They've seen it all.
Redditor
u/thotthebot
wanted to hear from the thespians who partake in creating spooks for the masses by asking them to chat about....
Haunted house workers, what is something that a guest had said or done that made you break character?
"Oh, HELL No!"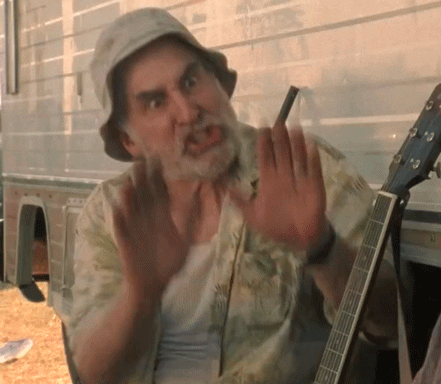 be quiet the walking dead GIF
Giphy
I was an actor at a haunted house years ago. We had separate rooms connected by hallways for guests to walk through (like, there was a murder room, a haunted house room, a circus themed room, and a zombie room). I worked in the zombie room, and played a zombie.
The room was made up to look like a living room of a house that had been broken into by zombies-- furniture toppled over, lamps laying on the floor, the door hanging off the hinges, a broken window, blood everywhere, and a half-eaten body lying on the floor. I was to be hunched over the dead body, pretending to munch on it when the guests walked in. And I'll say, our make-up crew was skilled. I looked like something from The Walking Dead.
Well, this dude walks into my zombie room, he sees me hunched over the dead body, and I did this creepy thing where I slowly look up at him and stare with my mouth hanging open. He goes "Oh, HELL No!" and stumbled backwards onto the couch, tried to scramble off the couch, only to trip over the lamp that was on the floor, and wound up falling facedown on the floor.
I have to admit, I broke character and laughed. I couldn't help it.
"well I guess we don't go"
One night this couple comes in with a 3-4 year old girl. She is throwing a huge fit, kicking, screaming, crying, the whole 9 yards, she doesn't wanna go in.
Now, a logical human being would see this and say, "well I guess we don't go" but not these two idiots. They keep trying to force little girl to go through the house, but she won't budge. This is causing a bit of a scene as well as backing up the line. Myself and one or two other monsters tell them "look, you gotta either get her to go in, or you gotta leave, you're holding up the line" but they are adamant that she has to go through and she is not having it.
Now were pissed off because, why the hell are you trying to make this small child go through when she is obviously terrified and scared out of her freaking mind? We realize something has to happen, so we seek out one of the girls from further down the house who was a witch we called Baba Yaga since she was the most human looking of us. We told her the situation and asked if shed help walk the girl through the house, and she agreed.
So we bring Baba to the little girl, and she goes into this cartoonish Russian accent "HellO leetle gorrl, I am Baba Yaga the gOod weetch! I am going to heyalp you scare all the mon-stors awaY!" She takes the little girls hand and off they go. We run off through the house spreading the word, "If you see Baba with a little girl, let the little girl scare you". Sure enough, whenever they got to where one of the monsters was hiding, the little girl would yell "BOO!" and whoever was there would lose their marbles. Screaming, running around in circles, falling all over the place.
Sometimes there'd be more than one monster and they'd run into each other like the Three Stooges, all to the delight of the little girl, who was now giggling and jumping up and down, clapping her little hands, it was adorable. The adults that were with her look annoyed, but f**k them, the rest of the group that got lumped in with them were having a great time as well watching this tiny child scare the mean ugly monsters away.
I've never seen an entire house break character like that, but it was fun to be a part of.
Falling Back!
So I was stationed in a small room just off to the side of a long hallway with a strobe light at the end. It made it hard for guests to see down towards me, but very easy for me to see them. So one evening a group of a five teens come through; four girls with one guy leading them.
Just as they enter the hall, the guy turns around to talk with them. Having just been handed a golden ticket here, I sneak up right behind this guy. The girls all go stone silent and when the dude realizes they're looking at something beyond him, he turns around and finds me standing within inches of his face.
I give out the most guttural scream I can, and in response, the guy LEAPS backwards and knocks down all four girls behind him like they were bowling pins, leaving them all a tangled pile on the floor.
I literally could not hold it together. I had to run off into a staff only area because I was laughing so hard and could not stop. Easily one of my favorite memories from that place.
".... That's.....awful."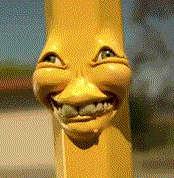 wtf GIF
Giphy
As a haunted house customer...
My Type 1 diabetic girlfriend and I were waiting to enter and begin the actual house. This was after the line to get in and the holding area for parties to be able to go together. There was this big demon tree thing that had an actor actually talking to us.
"Tell me, mortals. What do you think your souls taste like?"
I looked to my girlfriend. Just a sheepish grin and a shrug. Then I chime in and respond
"Well, I don't know about me, but her soul would be pretty sweet because she has diabetes."
".... That's.....awful."
Still one of our favorite memories but that whole evening was just lovely and pleasant.
"is he real?"
Used to work in one years ago. I worked the crowd - but mainly by standing at the entrance in a coffin that was fitted with an undertaker. I walked in the undertaker's feet but my upper half was in the coffin. One night I was standing there. Bone still. I did my own makeup and frankly it was good. Made me look "fake".
I'm standing there completely silent and still. Some German woman; drunk (because you can smell the beer on her) goes "is he real?" Cue me to kick the back of the coffin as a jump scare. She then proceeds to back hand me across the face.
She did not get to go through the haunted house and was not refunded her money.
Hear Me!
I said "I'm gonna skin you b***h!"
She replied, "no you're the skinny b***h!"
I broke character and told her what I really said.
Maaan, I was there to scare not body shame.
The Reaper....
I (M) was playing a grim reaper statue that comes to life and lowers my (fake) scyth blade in front of guests from behind. This college age girl walks up to me and, convinced I was just a statue or a prop, grabs my parts to prove to her friends it was safe. I looked at her slowly and asked "So do you take me to dinner now or..." that was the best scream we got all night.
In the Hay...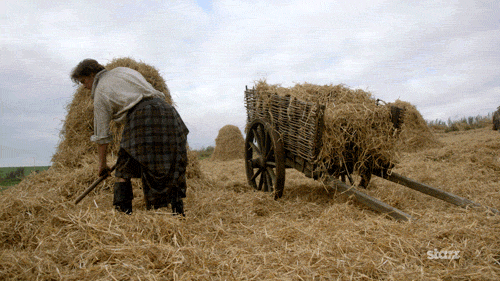 season 1 hay GIF by Outlander
Giphy
Worked a haunted trail/hayride when I was younger. When we see someone clearly not into it we'd ask if they were okay and if not we had a codeword we'd pass down the line to let them just go through. Not sure if others worked like this though.
Not Here!!
Not a worker, but as a customer, my sister and I once took a wrong turn in the haunted house. We were cornered by a dude in a hockey mask who was revving his chainsaw as he approached and we were screaming in terror...
Then he took his mask off and said in exasperation, "guys you're not supposed to be back here." Then he shooed us back into the main hallway. Lol
The Autopsy....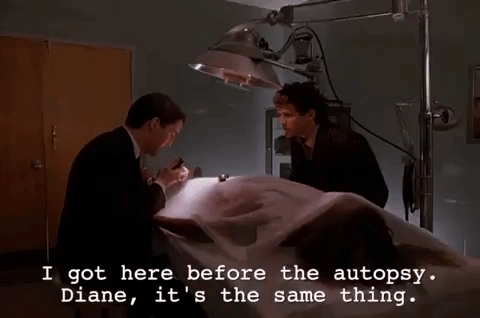 season 1 GIF by Twin Peaks on Showtime
Giphy
Not a worker, but I got to witness it. The worker was dressed as a crazy doctor.
We enter the room, and the worker says "Are you ready for you autopsy?" in a really creepy voice. My friend responds "...Yes?" The worker's face just changed from menacing to complete confusion, then she dropped the act and asked "Do you know what an autopsy is?" My friend did not know, so we had to explain it to her.
Want to "know" more? Never miss another big, odd, funny, or heartbreaking moment again. Sign up for the Knowable newsletter here.

Keep reading...
Show less
Halloween 2020 was all set up to be the Halloween to end all Halloweens! Its on a Saturday, its going to be a Full Moon and.... it's daylight savings thereby giving us all an extra hour to party! This sort of miracle may never happen again! But of course 2020 has to extinguish any spark of fun or frivolity! So now we have to make contingency plans to try and salvage some sort of spooky pleasure. Let's see how creative we can be....
Redditor
u/THeReISnoCarOL-inHR
wanted to discuss how we're gonna get through Halloween 2020 by asking....
How will you be celebrating Halloween during this pandemic?
Want to "know" more? Never miss another big, odd, funny, or heartbreaking moment again. Sign up for the Knowable newsletter here.

Keep reading...
Show less
Do you remember the scary 2016 clown sightings?
Within the span of a single month, all 50 states plus Puerto Rico and Washington DC experienced some form of sighting of an evil clown. To this day, it is mostly unclear who and how did it, but now one brave redditor is searching for answers.
Will they get any?
u/dunkindips**t asked:
People who actually dressed up as a creepy clown during the 2016 clown sightings, why did you do it?
Here were some of those answers.
Payday
I asked a friend. He said it was just Payday cosplay.
Twisted Metal
I had made a sweet tooth costume from scratch and I wasn't about to just throw it away, I had put way too much work into it. Edit: Created an imgur account to share the photo
Backfired
Me and my friends tried to because we lived in a small town and nothing interesting happened there. But turns out a group of 13 year old girls running around with bad white face paint, all black clothes and red wigs we got for a dollar isn't very scary. All that happened is we got grounded.
It Caused My Life To Be Threatened
I dressed up as a creepy clown for Halloween, and a bunch of drunk frat guys drove past me, slammed their brakes, and threatened to beat the heck out me
I've never been more scared in my life
The costume for anyone interested
Edit: well this blew up more than expected, here are some more pictures of the clown and some other costumes I've made
Blatant Neglect
I remember when this was happening, Facebook posts came out about someone dressed as a clown on my road. I lived on a kinda secluded road, so the rednecks in the area wanted to go "hunting" (I'm assuming because they were such big strong men to hunt down a supposed child/prankster).
Well, it turns out the "clown" was a mentally ill man that ran off in the woods and had been missing for like three days. And to make matters worse, the caretaker for the man never made a missing persons report for the man.
A Continual Cycle
I didn't dress up as one, but was a cop in a city that had this happen a few times a week.
Between responding to creepy clown calls, multiple stabbings/ assaults/ attempted murder accusations with the clowns as the victim, and the Pokemon Go trespassers/ prowlers, it was a really weird and uncomfortable 6 months or so.
Almost Died, Fam
About this time of year, nearly halloween but not too spooky yet, was homecoming for the local high school. I was at my boyfriend's house and his younger sister had a bunch of people over after the dance. They were all hanging out upstairs. I knew they were the type to scare easy, so I hatched a plan.
I did some shopping at Walmart, picked up a purge mask and some face paint, along with the classic rainbow poofy hair clowns have. I painted the mask to look like a clown, donned the wig, and just used a black hoodie.
With help from his parents, I acquired a ladder and crawled up onto the porch roof, just outside her window, and banged on the siding while leaning to the window.
Poor friend was the first to see me, let out a shrieking, "CLOWN!!!" And basically it was around 7 girls that sounded like they were getting murdered. I took off the mask when one came at the window with a hammer and they have not trusted me since.
Doesn't help that after the first IT remake, I put a red balloon in her room.
People Are Scared
Not me, but two people dressed up as clowns and in our art room we have these large windows, and the two people dressed up as clowns jumped up at the windows and the school actually went on lockdown. The two clowns got arrested 15 minutes after.
Too Close For Comfort
I didn't dress up as one, but my neighborhood was covered in them for about two weeks. I lived in a neighborhood that was right on the edge of a sketchy area, so I was used to some interesting characters, but these people scared the living daylights out of me.
I let a friend and her two kids going through a rough time move in with me prior to this, and I was watching them for her while she was at work. The daughter (4) and I were in the kitchen while I was cooking dinner and the baby was asleep. We'd seen the clowns a few times at the end of the road under a streetlight that was blinking, but they never got that close to the house, but I was already on high alert because of it.

I was cutting veggies and there was a window directly in front of me, and I hadn't been looking out of it but I FELT someone staring at me. I look up, and like something out of a horror movie that clown is staring up at me from my driveway like 6 inches from my window. I had a giant knife in my hand and I tried not to lose it because I didn't want to scare Kammy (friends kid), so I kind of just held up the knife and stood right where I was and stared back. This jerk never moved. He just stayed right where he was for several minutes. I backed up and got my gun out of the case and called 911. They never found him but it scared the heck out of me and I was a nervous wreck having those kids by myself that night.
Ruined By A Pupper
I only did it once and it was to scare my friend while he was out walking his dog at about 11 pm. I texted his mom earlier that day and asked if she could make him walk the dog late, and she did. I stood at the end of my driveway which is about a quarter mile long and surrounded by thick woods on either side so you couldn't see very far into it. I crouched behind the padmounted transformer box giggling like a little kid as I heard him approach, I waited for him to pass then crept down the road behind him carefully as to not make any noise.
After a minute of careful creeping I was right behind him so I yelled and wrapped him up in a bear hug from behind. Let me tell you, he freaked out. He Jumped about 3 feet up in the air and shrieked. It went perfectly until I was tackled by his great Dane and drowned in slobber, she recognised me when I took the mask off so I didn't get mauled.
Keep reading...
Show less
If Mean Girls has taught us anything, it's that any costume can have a sexy version. Mario and Luigi, carrots, and even Barney the Dinosaur have been given the "sexy" treatment. And believe it or not, they can get trashy sometimes. Who would've thought?
u/Rusty_Walnut asked: We're coming up on the spooky season. What's the trashiest/most eye brow raising "sexy" costume you've ever seen?
Noodles?
I found a "Sexy Can" costume once in a knock off Halloween store. It was a garbage can, obviously styled off those grey metal ones. The lid was a hat. The rim had "Sexy Damage" to show off boobs.
This same "Sexy damage" was spotted all over the costume to show off various patches of skin. The weirdest thing was the wig of fake noodles that came with it.
Who said cockroaches can't be sexy?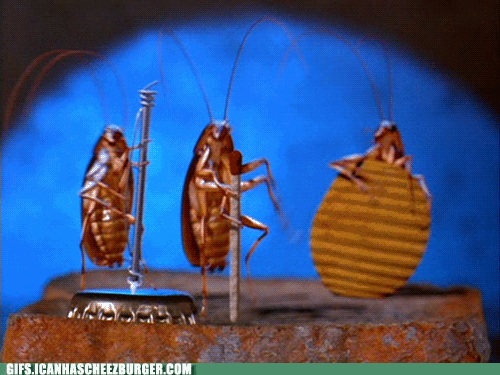 Giphy
Actually went to a party where this was the theme, some of the highlights were: sexy balloon, sexy plague doctor and sexy plague victim (couples costume), sexy mitochondria, and sexy cockroach.
mmm yeah baby make some of that ATP for me
oh your electron transport chain is so hot mmm
Best response ever.
A friend and I had a competition one year to see who could pull off the dumbest sexy costume... She made a mean 'Sexy Dumbledore'.
Sexy Dumbledore would definitely be the head master.
But like....why tho?
This one isn't sexy but it happened at work and was so baffling that this guy got a suspended from work by HR
We were told NOT TO WEAR COSTUMES. We were simply not allowed. No big deal, we're all adults and it's a professional work environment. Some of my coworkers dared another absolutely stupid coworker to wear one anyways. This guy really wanted to wear a costume anyways. He comes in the next day dressed as a Vietnamese rice farmer.

Doesn't sound so bad. Sam is Vietnamese anyways, and it sounds like a culturally enlightening experience to see how a Vietnamese rice farmer looks. Only Sam came in wearing his business work clothes and the only thing different was a yellow piece of paper cut out in the shape of a mask with two slants drawn where the eyes should be. He also made a hat out of newspaper. He was laughing so hard for the first few hours of the day and we were laughing too but only because we were all completely thrown off by what we were seeing. He didn't need a mask at all, let alone a yellow one.
Needless to say, he got fired shortly after for doing other stupid s**t.
ALWAYS too soon.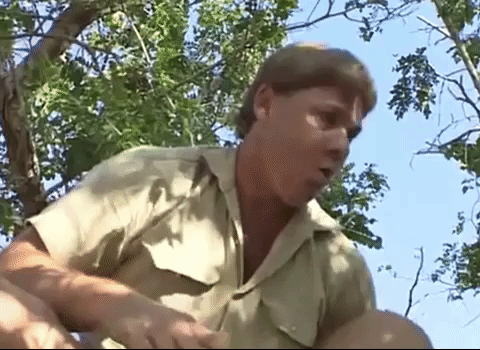 Giphy
Right after Steve Irwin died, a guy I know went as a stripper version of Steve, and his girlfriend was a sexy stingray. It was too soon.
My brother got a stuffed animal stingray, got clothes to fit the Steve Irwin look, then showed up at the party with the sting ray attached to his chest and bloody spot on his shirt where it was attached. He reprised the costume two years ago.
EDIT: I remember now, he decided to do the costume after the South Park Hell on Earth episode.
Um....
I worked at a brokerage firm back in 2002 when the post 9/11 tech bubble market had gone all to hell. Like down 40 or 50%.
One of the admins came to work as a beauty queen. Her sash said, "Ms. NASDAQ."
She wore a torn sequined dress, run laced stockings, had fake blood all over her, a black eye, a couple teeth blacked out, disheveled hair, and a broken tiara.
I cannot explain why I found it so incredibly sexy. I guess because it fit her personality and sense of humor so well.
I cannot for the life of me remember her name, but I sure as s**t remember that costume.
Woof.
My work used to do a costume contest for Halloween every year. People always wore business appropriate costumes. Until one year a guy wore a skimpy and tight "slutty catwoman" outfit with his balls hanging out and d**k
Then he threw a big fit when they wanted him to change. That was the last year they allowed costumes.
I'm shook.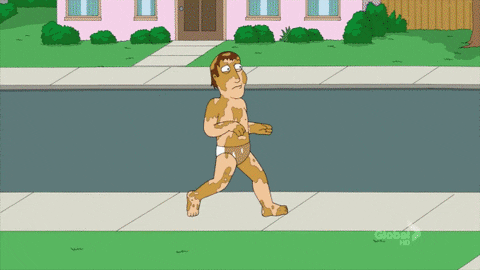 Giphy
Super low effort, but one year I dressed up as the Greased-up Deaf Guy (from a couple episodes of Family Guy). I literally bought and wore only a pair of white briefs and a tub of Vaseline.
If you actually committed to greasing your whole body up I wouldn't call that low effort.
Nope.
My old co-worker dressed up as a slutty Adolf Hitler. Yup... tiny mustache, olive drab uniform top (with red swastika armband), an extremely short olive drab skirt, fishnet stockings, black boots with stilletto heels, and an olive drab military hat. It was... horrible.
Unfortunately, she was hot and everyone kind of wanted to bang her so...
That's just plain extra.
My dad once dressed as a priest and put what was supposed to be the tail to a sexy devil costume under the robe of his costume so it looked like he had a huge red-tipped boner.
He said he got some nasty looks from people walking down the street where all the bars were that halloween night. And yes, he was completely wasted.
Keep reading...
Show less
Men, women, gender fluid... we all have secrets to tell. When in the search for the love we will ALL play any game, choose any pawn. Bros put on a good facade of "I'm not hiding anything," but that's a secret as well. If only we could unleash our secrets, and just be honest. Gentlemen... you first.
Redditor u/mustafarangoon52 wanted the men out there to fess on a few things.... What are some "guy secrets" girls don't know about?
Keep reading...
Show less