Adulting is hard. The responsibilities of juggling work with social responsibilities while sweating it can be tough daily hurdles to get over.
There's no rest for the wicked, they say, but that doesn't mean we can't take a breather whenever there's an opportunity.
The thing is, we don't always see the opportunity because we tend to go through life with blinders on. Well, I speak for myself.

Nevertheless, like how shortcuts on a keyboard save a lot of time to fulfill a purpose, there are just as many things in our life that can be made easier that aren't always readily available information.
Fortunately for strangers online, they were given a plethora of unexpected life wisdom when Redditor Insanitanium12 asked:

"What simple 'life hack' should everyone know?"
For those who spend a lot of time in front of computers, these could be game-changers.
Information At Our Fingertips
"Google it first."
– anon

Watch Your Sitting Posture
"Get into a routine of stretching your hip flexors and chest if you sit for long periods. Absolute game changer for people who suffer with chronic lower back pain as a result of being hunched over a desk."
– JediKnightCoffman

Keep Moving
"5 minutes of daily exercise is infinitely better than 0 minutes and will make a big difference."
– 0x0ddba11

When it comes to our interactions with people, we learn as you go.
But these tips can be super helpful as we go along our respective journeys.
You Do You
"No matter how good a person you are, at some point you will be the bad guy in someone else's story. You can't please everyone, and you shouldn't try to. Be a good person, and have friendships with people you can respect and look up to."
– cheesypoofs_1776

When Making Decisions

"If you have trouble choosing, flip a coin. While you're waiting to get the result, your mind automatically starts to wish for what it wants. Then you can choose easily."
– riathekid

Growing A Backbone
"In a lot of daunting situations, for example asking someone out or standing up for yourself, you only need to be brave for a few seconds to get it over with."
– Zuverally

You'll be grateful for stumbling upon these solutions to problems you never knew you had.
Alternative Shopping

"Buy anything you'd need in your kitchen from a restaurant supply store. ANY-THING, plates, glasses, pans etc. There are a few online that sell to consumers. Those $8.99 tongs at a box store are like $1.30. A 16 oz. mason jar glass that sells for $3-$4 a piece can be bought as a 12 pack case for $8.55. Oneida China plates that sell for $345.84 a case for $57.84. I just bought a 2 foot by 2 foot wooden butchers block cutting board that would have been close to $400 for $55."
– FenwayFranks

Make Unofficial Announcements
"If you put something down temporarily, say out loud 'I've put the screwdriver by the microwave' or whatever."
"This engages many more areas of the brain (particularly the language centres) which creates a richer memory making it less likely you'll forget where you put it."
– anon

Preventative Measures
"In a similar vein, I will say it out loud when I turn stove burners off, unplug my hair straightener etc...I've found this helps me eliminate those moments where I leave the house or am in bed and I'm suddenly like 'Did I leave that on?'"
– PlasticRuester

Say It With A Twist

"My wife and I made this a ritual due to her OCD. Any time we're going out, I'll say to her, 'Hey. I unplugged the iron.' Saying it in a funny voice helps too, because it's easier to remember that Shrek told her the iron was off."
– dougthebuffalo
Hygienic Regimen
"Brush your teeth more thoroughly before bed after you are done eating and drinking for the day."
"Morning brushing is important too, but more so for fresh breath; while evening cleaning will prevent bacteria from breeding and damaging your teeth and gums."
– graycat3700

If you read this far, congratulations!
With your newly acquired knowledge, you can now apply some of these to make your life stress-free on some level.
Because why should you make things harder for yourself in an already stressful world?
You deserve better.

Keep reading...
Show less
Being the one to start a conversation can be pretty awkward if there's no context.
We're not all chatty Cathys and just walking up and saying "hi!" really only works if you're an adorable extrovert (or toddler. mostly toddler.)
So how are we supposed to, like, talk to people?
Reddit user Eviotie asked:

"What is the best conversation starter you know?"
I'm not saying the answers are all right here. Some of these might actually be awful ideas - we're not the experts.
All we're saying is Reddit is full of "creative" conversationalists.
Barbershop Bluntness
" 'So, you got any life regrets?' - my barber, the first time I walked in his shop."
- patoysakias
"My only thought to that would be:"
" 'Jesus does my hair look that bad!?' "
- Crying_Reaper
"I once had an old Italian guy for a barber that, upon the fourth or fifth visit, proudly informed me that he was Benito Mussolini's personal chauffeur."
"He would from then on tell me stories in praise of the man. This was around 20 years ago."
- GozerDGozerian
Exciting And Engaging ... Kinda
" 'Hey, you got anything you're looking forward to soon?' "
"Not only is it a great starter, but it is also really engaging because they're talking about something exciting."
- koolkai123
"I use this so often!!"
- seekingkindness
"I used to use this one, but so many in my small town are just taking life day by day."
- No_Storage6015
The Scott Pilgrim Method
"Did you know that the original name for Pac-Man was Puck-Man? You'd think it was because he looks like a hockey puck but it actually comes from the Japanese phrase 'Paku-Paku,' which means to flap one's mouth open and closed. They changed it because they thought Puck-Man would be too easy to vandalize, you know, like people could just scratch off the P and turn it into an F or whatever."
- whataboutschism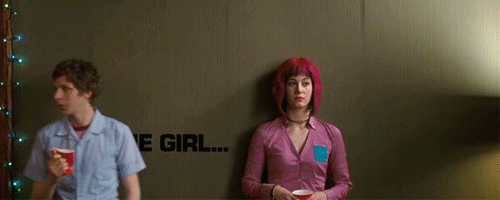 scott pilgrim gideon graves GIF
Giphy
Be A Pet Detective
"Actual answer: just ask about their pets."
"If they don't have any, ask if they'd ever want any."
"Even if they don't want any, they usually have a reason why."
- dancingbanana123
"Ask them if they have pets."
"If they do, they'll gladly talk about it till the cows come home. Or they'll talk about the pets they wanted as kids or still want. Or about animals they like."
"If it turns out they don't like animals, you dodged bullet and they wouldn't have been fun to talk to anyway 😂 "
- Acriciel
Know Your Audience
"Well, you have to know your audience."
"The best conversation starter for any millennial would be to use a SpongeBob reference."
"It's usually met with a resounding sense of familiarity and laughter and streams into so many other references from the show, which then spirals into all Nickelodeon shows from of our generation, then Disney… the nostalgia wormhole is never ending and will always be a rousing topic of discussion among our kind."
"Intense nostalgia for the years of our youth cripples us and we will never not take a minute to revel in our glory years and all the amazing content those years produced for the world!!! :') "
- seekingkindess
A Little Conditioning
" 'Give me some good news!' Works especially well with coworkers."
"Let them know the answer can be absolutely anything. Anything from the plans for the weekend to them enjoying the weather. Sometimes it's as simple as a song they liked was on the radio this morning."
"It puts people in a positive mindset of thinking when talking with you. Especially if you make it a habit of asking often."
"Once people get used to the question you can see them look forward to it when you walk in."
- GlumBridge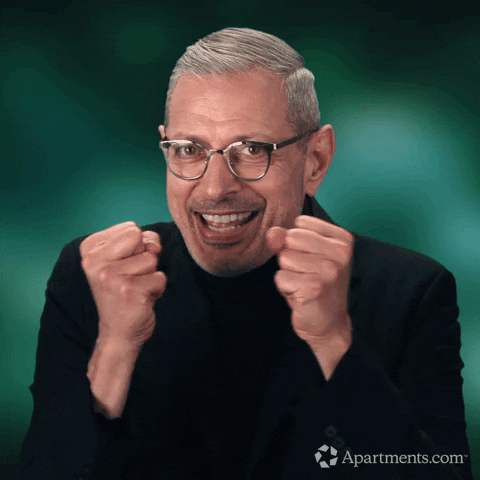 Jeff Goldblum Reaction GIF by Apartments.com
Giphy
You're Both Surrounded
"Talk about how they know the host of the party or which band they came out for or whatever."
"Just talk about the environment you're both surrounded by. What is the commonality?"
"It's a lot easier to transition into a natural flowing conversation from there."
- WhiskyAtNoon
Travel ... Maybe
"Actual answer: travel."
"Pretty much everyone enjoys travel and there are a lot of questions people can ask if you are planning a vacation or just got back from a vacation. Then you can ask them where they have been/want to go."
- acl2244
"Yeah this doesn't work with poor people. Where TF are we traveling to, the check cashing store?"
- [Reddit]
A Safer Route
"If I am meeting a person from a different culture, or race, or country, or religion, I ask one of two questions that cannot offend anyone."
" 'Tell me about your favourite food from your childhood.' "

" 'Tell me about the kind of music you listened to as a child.' (What instruments, singing style etc.)"

"People's childhood is often a safe topic, because there was no politics etc."
"But even if there was some awful thing that happened, if they choose to tell you about it, it is a sign that they trust you to understand, about the war, the earthquake, the loss of their parents, whatever trauma they endured."
- TheonAlexander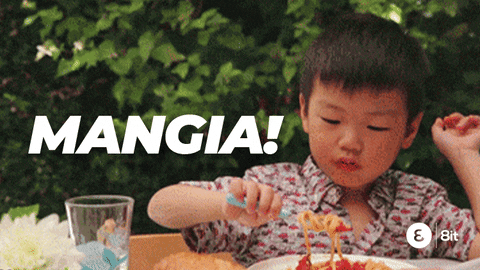 Hungry Italian GIF by 8it
Giphy
My Go-To Drunk Bathroom Conversation Starter
"If you're a woman who is trying to make friends with women: astrology."
"Doesn't matter how much or how little you know or how seriously you take it. Women use astrology as an excuse to talk to each other."
" 'Okay but I can't help but notice you have Leo/Aquarius vibes?' is my go-to drunk bathroom conversation starter with whoever has the coolest outfit."
"I've made 5 friends this way😁"
- brain_goal
Like I said, creative conversationalists, aren't they?
But what about you? What's your favorite way to start conversations? Or are you the type who would rather die than have to initiate a conversation with a stranger?
Tell us in the comments.
Keep reading...
Show less
As someone who cooks for a large group pretty much daily, allow me to give you my biggest and best kitchen tip:
Clean. As. You. Cook.
You're probably not a professional kitchen running ten burners at once, you can likely find space to clean the counter or load a dish while your protein cooks. That way you can just eat and not have to worry about cleaning up after feeding your small army.
I just saved you from so much stress, wasted time, and frustration; I'm kind of a hero.
You're welcome, y'all.
Reddit user Sunieta25 asked:
"Cooks of Reddit, what is the best kitchen advice anyone should know?"
You might be a little caught off guard by what you find here, especially if you're expecting some secret recipe or little-known cooking technique.
You will absolutely not be surprised if you've worked in professional kitchens and your first thought was "Never trust the mandolin."
Because ...
Never Trust The Mandolin
"Use the edge guard when you use the mandolin."
- drjeffy
"I felt that pain all over again reading this comment. That thing scares me now."
- JesusDoesVegas
"Please please please. Spilled a fair amount of blood even with cut-resistant gloves."
- Esperillo
"When the recipe calls for three pounds of veg I buy four and just stop slicing well before I get close."
"No need to go all the way and risk it.. just buy the extra potato."
- grhymesforyou
"As an ER doctor, I second this advice."
- Csquared913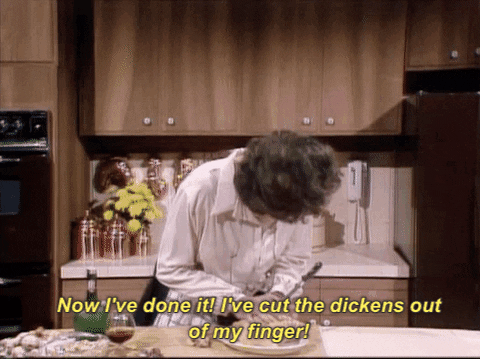 Giphy
A Burn Buffer
"Contrary to popular belief, it often doesn't work out great if you add your chopped/minced garlic to hot oil/butter first."
"It burns so quickly and tastes yuck. I like to brown something else first, like onions, and then add the garlic. The onions are like a burn buffer!"
- thefastasleepside
"Even better is to understand why a 'burn buffer' works. It basically comes down the evaporation of water."
"Water boils at 100C and when it leaves the pan it takes heat away with it. You can put a pan full of water on the hottest stove around, and it's not going to get hotter than 100C until the water has virtually all evaporated."
"Put a thin layer of oil in the same pan and it will quickly reach much higher temperatures and the oil will smoke and burn."
"Most food contains water, and as that water escapes, it's reducing the amount of heat building up in the pan and in it's contents."
"But the water inside most foods can't get out as easily as plain water because some of it gets trapped inside the structure of the food, and can't escape until that structure breaks down enough via heating (and stirring, mashing)."

"So long as your onions are still releasing steam, they're reducing the amount of heat stored in the pan and it's contents and your garlic is less likely to burn. As soon as all the water is evaporated though, it'll burn quite quickly."
- Tiny_Mirror22
"Omg, I needed this 🥺 a newbie cook here."
- National_Style_6568
Baking Science
"You follow instructions when baking. You follow your heart when cooking."
- Frodo_noooo
"Baking is a perfect example of 'don't tear down walls unless you know why they were built.' "
"If you know the chemistry at play, and what each ingredient is doing, you can get creative. But in baking, every ingredient does something and seemingly benign add-ons or substitutions can change that something."
- ArthurBonesly
Tradition
"There is no such thing as 'authentic.' Cuisine is an ever changing thing. The food of any single place now was very different a hundred or more years ago because of constant changing of culture and trade within that culture."
"The word you should be using instead is, 'traditional' - and even that is not 100% perfect because what is traditional in one part of a country can be very different in another part of that same country. It can even go so far as being different going from household to household."
"But 'traditional' is the best term we have."

"With that said, 'traditional' is way overrated. If it was the be-all end-all, then our cuisines would be stagnant."
"Indian food would not have tomatoes and potatoes in it since those ingredients came from South and North America and not from the Asian continent."
"Mexican food would not have any beef or cheese in it since cows came from Europe. And you get the idea."
"So, have fun with mixing up cuisines. Instead of using sauerkraut for your German dish, you want to use Korean kimchi because you think the flavors will go well with each other? Go right ahead."
"Sure, there will be purest who will look down their nose at you but I am sure those purest have no problem having vanilla in their Italian gelato or using peanuts in their Thai noodle sauces. (Those ingredients are neither European or Asian.)"

- inksmudgedhands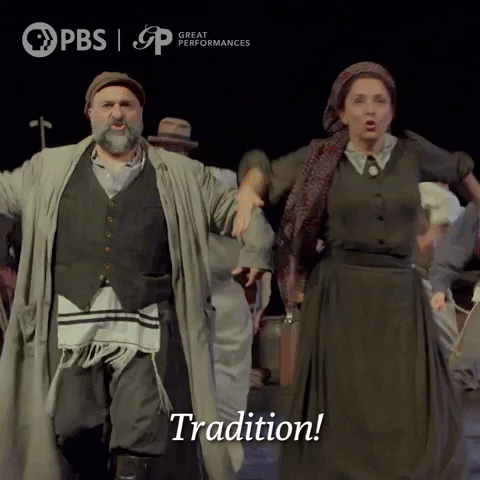 Giphy
Knife Knowledge
"A blunt knife is more dangerous than a sharp one. Always keep your knives sharp."
- ticklemytinypickles
"And a dropped knife has no handle! Get out of the way and let it fall."
- RazorRamonReigns
"A slightly dull knife is dangerous because it makes slicing more difficult, but still possible. It just requires more pressure, which increases the likelihood that the knife will slip and cut something you weren't meaning to cut."
- Shark-Farts
"Every single time I've cut myself in the kitchen there have been one of two explanations: I was drunk or my knife was dull."
"The former was a case of a lesson learned in one, but the latter cost my chunks of fingertips on four or five occasions before I made it a point to make sure my knife was sharp before I started cutting rather than finding out when I slip and hope a fingernail somehow deflects the blade."
- clecticDreck
While.
"Clean while you're cooking. While."
- DarkPasta
"This."
"People who consider themselves good cooks but leave behind a mountain of mess that someone else has to clean up are very rarely remembered for their cooking, but rather the mess they leave."
- c3l77
"This is something I wish I did sooner, definitely made things easier and cleared up more work space."
- ForgottenForce
"This will save you so much time. Even better when you have eager help from a guest (the kitchen is the gathering place, always). Just plug through."
- BrownEggs93
"I remember the first time I cleaned a pan after making spaghetti sauce in it, and realizing how easy and fast it was compared to dropping it off in the sink and coming back hours later to a caked on mess."
"And then it dawned on me that hot pans are easy as far to clean if you do it right away, and then you don't HAVE a post-meal mess to worry about after you eat. O.O "
- mdkubit
Dry Meat
"If you want crispness on the outsides of your meats, you should pat them dry before seasoning and putting them in oven or over heat."
"And you should let most meats sit for 10ish minutes after taking them off heat."
- apeanutbutterpopcorn
"Also, if you are breading meat, patting it dry is useful, too."
"Pat the meat dry with a paper towel, dredge it in flour/salt/pepper/seasoning mixture, then through beaten egg, then through bread crumbs."
"This will keep your breading from peeling off the meat when you pan fry it."
- UncomfortablyNumb43
Adding Acid
"Sometimes when you think something needs more salt, what it really needs is acid - lemon juice, vinegar, etc."
- Acceptable_Medicine2
"I was going to post this, because it's the best cooking tip I've ever received. I'll also add that you should choose that acid based on what you are cooking."
"Italian? Try some red wine vinegar."
"Mexican? Try some lime juice, etc."
- outoftuneGstring2112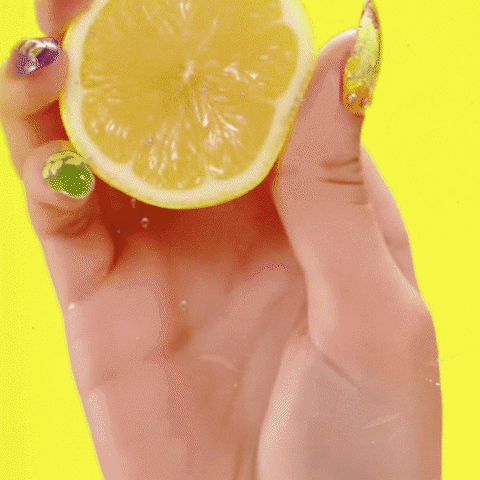 Giphy
Quit Complicating It
"Always be suspicious of recipes that have a lot of ingredients, relatively speaking."
"When you find a recipe you want to try, compare it to a few similar ones from a generic Google search, and try and find what the 'core' of the recipe is."
"It's pretty common for food bloggers to add a little something extra to what they're making, but this can often be unnecessary at best, and detrimental at worst."
"I'll give you an example - here's a recipe for teriyaki sauce from the New York Times:"
"1 cup soy sauce"
"1 cup granulated sugar"
"1 ½ teaspoons brown sugar"
"6 cloves garlic, crushed in a press"
"2 tablespoons grated fresh ginger"
"¼ teaspoon freshly ground black pepper"
"1 3-inch cinnamon stick"
"1 tablespoon pineapple juice"
"2 tablespoons cornstarch"

"And here's one from a Japanese source, Just One Cookbook:"
"½ cup sake"
"½ cup mirin"
"½ cup soy sauce"
"¼ cup sugar"

"Now, both are going to taste fine, but the additions of cinnamon, molasses, and pineapple juice in the NYT recipe ended up getting lost after cooking."
"Flavors like ginger, garlic and pepper, while nice additions, are better incorporated through a side dish, like a fried rice."
"A great way to start cooking more simply is to practice with Italian pasta dishes. Simple, regional pastas like aglio e olio, cacio e pepe, trenette al pesto, and carbonara are all made with less than 10 ingredients."
"They force you to focus on your cooking techniques to get them right, and really show off the power of highlighting one or two flavors in a dish rather than making a hodgepodge of good flavors that are competing with each other."

- AnomalousGonzo
Happy Accidents
"Accidents in steps and ingredients can sometimes lead to great discoveries. The longer you keep trying things the better you will get."
- dmtaylor34
"Worcestershire sauce- accident. Guinness- accident."
- igenus44
"Puff pastry- accident."
- lurkyturkyducken
No need to chill
"Not all fruits and veggies need to be immediately refrigerated. If they aren't at the grocery store, they'll probably be fine on your kitchen counter and it'll help retain the flavors. Especially tomatoes!"
-apeanutbutterpopcorn
"Not only are tomatoes fine on the counter, that's where they're better off. DON'T refrigerate your tomatoes."
-BosoxH60
"There's something about their cellular structure, it starts breaking down under 50 degrees Fahrenheit. Also, never store onions and tomatos together, it makes the maters rot quicker"
-ConfectionPutrid5847
Bacon!!
"Cooking bacon in the oven is exponentially easier to perfect and clean up. Oven 405, line baking sheet with tin foil and lay bacon flat. Cook 13-15 minutes. perfect every time, then when fat on foil starts to harden you can just throw it away with no mess. You can also cook a lot more at once this way"
-apeanutbutterpopcorn
"Pro tip: put the bacon on baking sheet into a cold oven, set to 405 and cook for about 15-20 minutes. Why a cold oven? Bacon is fatty, needs to be cooked slowly, at a low temperature, so that most (but not all) of the fat renders away while leaving the finished product crispy and golden brown. So at 15 minutes, start watching the bacon closely- you want the bacon golden brown, but not excessively crisp,m. The exact time will depend on the thickness of the bacon slices and how quickly your oven reaches the target temperature."
-tbarb00
"I put the bacon grease on our dogs food, usually have enough for 2 meals for them & of course they love it!"
-MyTurkishWade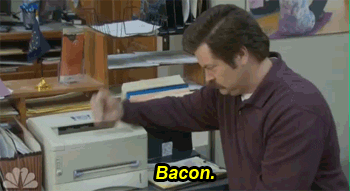 parks and rec bacon GIF
Giphy
prep, always prep.
"Have ingredients prepared before starting to cook.
It seems quite a Pinterest thing, but having the ingredients cut, weighed and peeled let you make everything in the moment it need to be done. And you'll cook faster."
"Many recipes can be spoiled if you have to stop everything and prepare some ingredient. Butter or eggs at room temperature, defrosted food or anything you have to cook beforehand, are also great examples."
-nora_morgendorffer
"for my ADHD brain I absolutely have to do this, otherwise I will accidentally leave out an ingredient, every time, or my chicken will still be in the freezer, or something like that"
-astrangewindblows
" 'Mise en place' is the professional cooking term for this"
-ConnoisseurOfDanger
"I like to do that the first few times doing a recipe, but many recipes have dead time that can be used to prep later ingredients instead of just sitting there waiting. You just need to know the whole process well enough to identify what needs to be ready first and what can be done in the middle of things."
-ddejong42
Multi-Surface situation
"Carbon steel skillets (or cast iron) are the way to go. Season them and the treat them well and they will last a lifetime. Never again use a teflon coated aluminum pan."
-Tiderace
"I love carbon steel. Cooks like cast iron without the extra weight, but I still have regular aluminum for sauces - particularly tomato. (And sometimes non-stick for eggs, of course.)"
-B-WingPilot
"My general view is variety makes sense here. People buy sets of pots with the same finish for the aesthetics of it, but really you want different finishes for different techniques."
"Carbon steel for when you need to change temps rapidly, like making a sauce. Cast iron for when you want the pan to hold heat, like searing. Non-stick for eggs."
-owleabf
Keep trying.
" 'I don't know how to cook' I learned at the age of 37 and there are so many cook books that focus on minimal ingredients and that are cheap to by. JUST TRY and if you mess it up, try again before long you'll be a pretty good cook and be confident to try more trickier recipes"
-LJCMOB
"This here! Just keep attempting things and let experience be the great teacher it is."
-SimplyDirectly
"Agreed, I've messed up so many recipes but got it right the 2nd or 3rd time round. Also I cooked the first one just for me, so if it was horrible it was only me that had to suffer through it."
-LJCMOB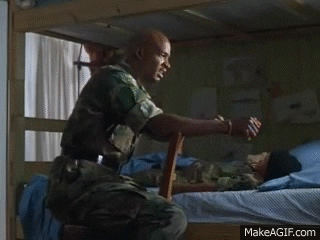 major payne GIF
Giphy
Weighing vs measuring
'When measuring flour, use a scale not a measuring cup. Due to how flour is packed, the same amount can change up to 25% in volume. The same 120gr of flour can take up 1 cup or 4/5 a cup or 1 1/4 cup. Imagine it like having ten pairs of pants. You can roll them up and fit them in a little backpack or you just throw them in a suitcase. Learnt it the hard way baking bread."
-OanhHeckofAStory
"I was taught to spoon the flour into a measuring cup to avoid packed flour then scraped the top of with the back of a butter knife. Is this wrong?"
-Ct-5736-Bladez
"Totally correct. Spoon and leveled changed my baking game and now I make awesome cupcakes."
-shuateau
"That's an American thing though. Here in Portugal only pudding recipes (it's all liquid) come in cups. Even my great-grandparents had kitchen scales."
-collectornsfw
Salmonella!!
"Clean. Everything. That. Touches. Raw. Chicken. This is no joke. Dogs can get salmonella as can children and everyone in the house, don't be lazy with raw chicken. That is all. I've seen plenty of people that are lazy and don't care and it's usually those people that get sick. I don't care how lazy you are, sometimes you really have to be careful."
"Always make sure people know if you're behind them if you're cooking with others and dull knives are more dangerous than sharp ones. Dull knives require more force and it leaves a nastier cut than a sharp one would. Those are all my general tips."
-[Reddit]
"Also, dont wash chicken in the sink/don't wash chicken at all. It's sufficient to properly heat it, but if you wash it when raw, Salmonella can get in your sink and stay there for a long time."
-Dependent-Status-880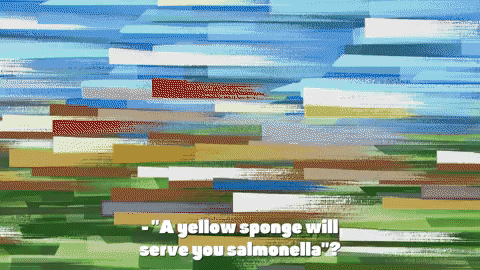 season 9 episode 21 GIF by SpongeBob SquarePants
Giphy
Skills over everything
"Learn techniques, not recipes."
"Recipes are fine, and great to get a meal to taste exactly the same, but what you really want to do is learn the technique behind each recipe."
"Learn to make basic sauces: béchamel sauce, veloute sauce, brown or Espagnole sauce, Hollandaise sauce and tomato sauce."
Learn how to cook an egg properly, how to stew, how to braise, learn how to fry. (not just deep fried, but pan fried and stir fry as well), how to roast, learn how to steam, how to sauté, learn how to grill, how to make a stock.
"Then practice by brining it all together. Once you have the techniques you can experiment with combinations, different ingredients, and try spices. You won't always succeed, but you'll build the basic knowledge that will let you tackle any recipe you find."
"If you know how to make the five sauces that alone gives you five basic things to pour or drizzle on food you just cooked. Use the basic techniques of frying you can figure out how to fry any item you come across."
-Kiyohara
How many do you need?
"When cutting different products (e.g. dairy, red meat, fowl, poultry, greens, and hotbgoods) use different cutting boards to avoid contamination."
"And ALWAYS keep the workplace and your tools clean"
-M2-99-ROU
"I have my general cutting board and then one specifically for chicken. But. I always cut produce then any meats so there isn't cross contamination."
-RivetheadGirl
"For me personally we do 3: 1 with a drip ring for meat products, 1 for fruits/similar that would otherwise absorb garlic/onion flavor and 1 big workhorse for everything else."
-owleabf
Is there anything you'd add to this list that you don't see?
Or something here you want to boo-hiss about because you disagree so much?
Tell us in the comments.
Want to "know" more?

Sign up for the Knowable newsletter here.

Never miss another big, odd, funny or heartbreaking moment again.
Keep reading...
Show less
If you've spent time on social media, you've seen an article or video that offers "life hacks."
According to the dictionary, a life hack is "a strategy or technique adopted in order to manage one's time and daily activities in a more efficient way."
However some suggestions fail to live up to that promise.
Redditor Accomplished-Rough36 asked:
"What life hack became your daily routine?"
Reminder
"I flip my pill bottles after taking them so I remember if I took them or not."
"Really helps if you take the same pill in morning and at night."
- rachwiddabangs
"I do the opposite!"
"Flip it upside down before bed so when I see it in the morning, it annoys me."
"So I remember to take one and put it right side up again."
- Lukewarm_Mama
"As someone with OCD this is amazing."
- Malicious_Mudkip
Place Of Rest
"I stopped doing any kind of work in my dorm room at college and only did it at the libraries. Not only did I become way more productive, but I enjoyed being in my room a lot more."
"It's way more comfortable (and easier) to fall asleep when you've taken a 15 minute walk home then when you've been working at your desk in the same room for 4 hours."
- NoLifeMax
"Absolutely. This helped me so much. I'm an all-time master procrastinator but whenever I would work at the library or equivalent, it would be infinitely easier to focus."
"Other people working around you makes it feel less... lonely. Plus, you never know if you may run into a friend."
"Plus, I could enjoy my commute home without feeling like I was wasting time. Read on the train, grab some food on the way back, everythings kosher."
"Plus it kept my room much cleaner because I wasn't holed up in there all day."
- CaptainNemoV
Align Your Spine
"Sleeping with a pillow between my knees. No more lower back pain."
- fiddyk50
"I've done that for years. Now I can't sleep without it. Or the 'hug' pillow."
- justmemcgee2003
Clean As You Go
"The chef who taught me to cook said at the get go, 90% of cooking is cleaning."
- LAGreggM
"depressingly true"
- P-W-L
"I like the cleaning. My mother, however, never got the memo."
"She's the worst, leaving hurricane-style destruction anywhere she moves in the kitchen even if it's just making coffee."
- happyfunisocheese
"Washing dishes while cooking. Now it's at a point where I just do it because I want a clean kitchen."
- devatrox
"My wife always asks why I do it while I'm cooking and it's because it's so much easier when things are not yet dried on. Is loads easier and you keep your space ready for the next part of the cooking process!"
- _Piratical_
"When you're cooking complex dishes you want to have as much space as you can to work with so you can keep organized and tidy."
"Also it's a god damn pain in the a** to clean out food residue after it's been there for a while or if it burns when you're cooking."
- KomodoJo3
"This has been clutch for me. A lot of cooking is waiting."
"Cleaning in that downtime saves so much time I'd be spending later."
"It's also a good time to empty the dishwasher if you haven't already."
- drakeallthethings
OHIO
"Don't put it down, put it away"
- acardy
"OHIO - only handle it once"
- jivetones
"Slightly different but my brother will accrue a collection of cans and garbage in the living room. Then when he finally decides to 'clean' because theres no more room to put his garbage instead of grabbing garbage bags, and bringing them to the living room and picking up."
"The better option for him is to make 30 trips moving the mess from the living room and just throw it all the counters and floor in the kitchen. Just leave it where it lands baby."
"He puts in infinitely more effort in not picking up after himself than it would take to just pick up after himself."
"I am by no means the poster child of cleanliness but god damn the pure laziness of it disgusts me more than the actual garbage. Then after it's all in the kitchen I basically have to clean up HIS mess so I have counter room to make food."
"Also he always tries to say its OUR mess and WE need to clean up. Man is a walking delusion. 33 years old and lives worse than most 8 year olds."
- rpxpackage
Pairs
"I bought 24 pairs of the same socks and threw the rest of my miss matching ones away."
"I have a couple 'winter socks' and that's it."
- familiarfate01
"I did this for my kids. 24 pairs of socks, all white, gray, or navy."
"When he grew out of them I bought 24 more pairs in the next size, all the same color. And now little sister wears the smaller ones."
"Simplifies things so much and they love playing 'match the socks' with the clean laundry."
- HicJacetMelilla
Make Note
"Having a notepad on my pantry door."
"When I take something out I jot it down voila instant shopping list."
- that_other_goat
"I got a magnetic notepad and it stays on my fridge door!"
- AlpsComplex6854
"I used to keep a notepad but now have a white board. It's like a thin sheet white board that some local company gave out with their logo on it."
"I drew a line down the middle and one side is for Costco the other side for literally any other non bulk grocery store."
- turtlescanfly7
"I have a set of small 'whiteboard' fridge magnets and a little pack of whiteboard markers."
"I keep a regular store list, a Costco list, a home depot list, and instructions for feeding the dogs (meds, amounts, etc...)."
"I just take a picture of the list when I go to the store."
- maybethingsnotsobad
Moist 💧
"Moisturizing my face right after the shower."
- Bookies44
"It moisturizes the skin at the best time."
"It seems counter-intuitive, but showers don't hydrate your skin, they actually dehydrate and dry your skin much faster, especially hot showers, and the vast majority of people take hot showers because they feel nicer."
"But hot showers and soap scrubs/rinses removes all the natural oils and dead skin from your body, and that natural barrier of oils are what would keep your skin hydrated."
"So instead of waiting after your shower and letting your skin dry out, instead right after you shower you immediately re-hydrate and moisturize the skin, to avoid damage and acne."
- daithisfw
Attitude of Gratitude
"Saying 'thank you' instead of apologizing for things that dont need apologies. I'm a chronic apologizer and it's helped a lot."
"For example, if I have a bad day and vent to my husband, instead of saying 'sorry for venting and bringing down the mood' I'll say 'thank you for listening and being supportive'."
"It puts a much more appreciative and positive light on your relationships!"
- thegracefuldork
"This is a customer service trick I was taught. If you thank a customer for their patience instead of apologizing for their wait it reframes the entire encounter in their mind."
- bluemoonsecret
So, did you pick up any tricks you want to try?
Do you have any you can offer?
Hit us up in the comments.
Want to "know" more?

Sign up for the Knowable newsletter here.
Never miss another big, odd, funny or heartbreaking moment again.
Keep reading...
Show less
The stress that can accompany travel on ground transportation pale to the anxiety of air travel.

Getting to the airport and waiting in long switchback queues for checking in is just the beginning.
Going through security is in itself a daunting procedure, especially if you get stuck behind an unseasoned traveler who isn't quite sure of the protocol for getting through, efficiently.
But thanks to Redditor pumpboy, you may find yourself traveling with ease.
The Orignal Poster asked:
"What are your airport tips and tricks?"
You arrive at the airport. Now keep in mind of the following.
Information From The Source
"Don't just trust the gate number on your phone app, always double check with the airport screens."
– googooachu
Checking The Gate
"Don't even trust the gate number at the gate. I showed up five hours early at the appointed gate. Waited around with no one else showing up. Then the people behind the counter grabbed their jackets and purses and left, even as the display still showed my flight."
"I went around the corner, looked at a screen, and found my flight had been moved to a gate at the other end of the airport. Ran through the airport and caught my flight 15 minutes before it was due to board."
– tangcameo

Announcements
"Also listen to all announcements near your gate. On my last flight everybody was confused because the gate changed but the screens in the airport would not change. They had to announce about 5 times that the gate changed before everybody started to move. I had a notification on my phone from the airline saying the gate changed before they ever announced it."
– Jsully05

Being Early
"Its better to be 3 hours early than 3 minutes late, airport food is cheaper than paying to book another flight."
– Fuzzwuzzle2

Restrooms on land are better than the ones on planes.
One Last Trip
"Always pee BEFORE you board."
– mikedashe

Unpredictable Waits
"Can't emphasize this enough."
"Oh well, we should be up in the air soon enough, I can hold it until then." "The fasten seatbelt sign has to go away at some point, right?"
"These are not acceptable thought processes. I've had these bright ideas only to get in line, and board, then have to wait another 45 - 90 minutes before I get to go pee. When you get in line, make sure you're in condition to hold it for a while. It's not always this bad, but it could turn that bar any moment."
– OwlCoveredInSnow

Here are some tips about carry-ons and water bottles.
Stay Hydrated
"At the security line, put all your things (phone, wallet, watch, belt, etc) that will need to be removed in your carry-on. It makes it much more efficient rather than taking each individual article and placing it into the bin."
"Bring an empty water bottle and fill it at the fountains. Air travel dehydrates you and most of us don't drink enough fluids anyway."
– kukukele
Beware The Bottle Pressure
"Once I filled up my water bottle in the airport. Later, while in mid flight, I flipped open the spout for the first time since filling it and I guess because of the pressure difference and my bottle being air-tight as the plane ascended, opening it instantly caused half the water in the bottle to come shooting out, blasting straight up like a geyser, hitting the ceiling of the cabin and coming down spraying all the strangers around me. I sheepishly apologized."
– bcmachine
Stay Cognizant Of Access

"In your carry on or especially in winter, it's often easier to put it all in your coat pockets."
"And also pack with access in mind, especially when travelling abroad, sometimes you have to take out your laptop sometimes you don't. Sometimes you have to include the charger. Sometimes iPads count. Just make sure they're all in easy to access places."
– PhiloPhocion

A Hat Trick
"I often wear a ball cap and put everything from my pockets into that. Security will often tell you to empty your pockets into your carryon, but I rarely have the space. They're always reluctant to hand out the tiny dog bowl sized bins which would be perfect."
– pfranz
Keep It Simple
"I always pack a smallish collapsable bag and when I'm sitting by the gate waiting to board I put in the things I want to access during the flight ( book, a couple snacks, headphones) from my carry on so I dont have to dig around in the carry on during the flight."
– Curlytomato

These tips may save your sanity.
Know Your Worth
"if you get bumped from a flight because the airline overbooked and you have to wait more than two hours then you are entitled to up to 4x your fare. Certain restrictions apply but point is dont let them take advantage of you."
– AussieBlender78

Seek An Advantage

"Always try to book an early flight. My father-in-law used to travel a lot and worked in an industry connected with the airlines. He said that the schedule board usually resets between 3 and 6 in the morning, so if there are late or cancelled flights causing a chain reaction in other areas that all tends to drop out of the system when it starts fresh the next day. I've never had a flight that left before 8 am that was noticeably late or canceled unless it just wasn't safe to fly."
– gemurrayx
General Summary Of Tips
"I used to board 2-4 flights every week before COVID. Here are a few things:"
"If you can then arrive early."
"Have 2 bags. The backpack should contain all the stuff you would like to be available at moment's notice during the flight. The bigger trolley should only be opened once you have deboarded"
"Stay away from the line that contains old people, kids, families. Queue up behind business travelers. There is an excellent scene in Up in The Air where Clooney profiles different kind of fliers. All of it is true."
"Flight attendants have heard every single excuse for an upgrade. You can try but good luck. However, if you do get one than stop bragging about it. It might get them into trouble."
"Flight attendants also like small gift like little bags of treats. If you are on a longer flight this is always an option to cheer someone up and make their day."
"If you are frequent flier get a pair of noise canceling headphones."
"Always check in as soon the window for check in opens. Usually 24 hours before the flight."
"A small powerbank can make a world of difference."
"The lounge is worth the money if you have a long layover or you are a frequent flier."
"Always keep a small bag full of regular OTC medication you may need."
"Edit: Since someone mentioned wine I recalled that you can always fill a venti/trenta Starbucks cup with an entire bottle of wine. Edit -2: This is illegal as people have mentioned below and do it at your own risk. In my profession, a lot of people are functional alcoholics."
– satya314

Dispense With Social Graces
"Airports are lawless wastelands, like Fallout 3. There are no rules, all social miscues you've been taught to avoid are no more. Want to sit on the floor? F'king do it. Pizza and beer for breakfast? F'king do it. Fasting walking past old people to get in line faster? F'king do it. Survive."
– DogmeatIsAGoodDog
Hold On To Personal Belongings
"Never leave your bags unattended, never leave it with someone, I know it's good to be human and be helpful but never carry anyone's luggage for them. You don't know who's carrying contrabands or not and can easily put you in a jam."
– kevinokai

Yes, traveling is stressful for passengers. But airline employees and TSA agents put with the same, if not more, amounts of stress dealing with a whole slew of irritable passengers who take their aggression out on them.
I try my best to be kind towards them as they put up with a lot of B.S.
Who knows? Your friendliness may cause airline attendants at the check-in counter to conveniently "overlook" the maximum weight limit for your check-in luggage–like it happened to me once when I took the time to acknowledge their name and flashed them my pearly whites.

Want to "know" more?
Sign up for the Knowable newsletter here.

Never miss another big, odd, funny or heartbreaking moment again.
Keep reading...
Show less