Airbnbs are now just as commonplace as hotels. They are like UBER to yellow taxi cabs. But things can get tricky with Airbnbs. There are often a lot of rules including surprise rules. So it's always best to be on top of every aspect before and when you arrive. As a renter it's also important […]
More
When someone asks to crash at your place, it's admittedly difficult to say no. And honestly, usually it feels nice to be hospitable.
But as we know, no good deed goes unpunished.
Sometimes people just display a startling lack of conscientiousness. They waltz in, put their feet up (literally and figuratively), and proceed to treat the place as if it were an armpit or the orangutan cage at a zoo.
The host is left standing their slack-jawed--and concocting new internal policies about who is allowed to stay at their place in the future.
Redditor asked Valkyrie_to_Odin:
"What's the worst houseguest experience you've had?"
Keep reading...
Show less
The finite nature of a hotel stay can lead guests to behave in ways they wouldn't normally. And where there is saucy behavior, there are the artifacts left behind.
And who is there to pick up those pieces on the following morning? The hotel staff--cleaners, maintenance people, technicians, even managers when things get unruly enough.
Some Redditors who've occupied those positions recently shared the wildest things ever left behind by guests.
Some were gross, some exciting, and some just downright puzzling.
MichaelJCaboose_ asked, "Hotel cleaners of Reddit, what's your most memorable find left behind by a guest?"
Many people chose to share the times they came upon the disgusting remnants of an uninhibited night before. The guests responsible left a collage of artifacts that looked more like a still-life picture of hedonism than a living quarters.
Alone Time 
"Three empty bottles of wine, about two dozen cherry pits scattered all over the floor and under the furniture, and red-colored puke all over the bedspread."
"There was only one guy staying in the room."
-- OneWayRabbit
The Consequences of Fame 
"Found a human poo in the kettle once. Worse part was it was a 'celebrity' (crappy uk reality show) doing a guest appearance at a local club."
"Him and his mates filled the rooms iPad with di** pics too. Hotel got rid of the iPads shortly after that."
-- Geknock
Taking it Literally
"By the tub: empty gallon JUGS of milk next to empty CONTAINERS of Quaker Oats."
"Ma'am that is not how you have an oatmeal bath."
"If it matters, it was whole milk."
Of Another Species
"Not me, but my best friend works in house keeping at a hotel chain. I've heard some nightmare stories, but there are two that really stand out. The first was after a furry convention came through town, and there was an absurd amount of sex toys left behind. It's pretty common to come across them from time to time, but this almost had to be purposeful."
"The second was a massive unflushable sh**. She refused to dispose of it, and left the task to her manager. She described it as inhuman, and the size of a football. It took a spatula and a knife from their kitchen to make it manageable enough to flush."
People Explain The Worst Thing That's Ever Happened To Them On Their Birthday
No Closet Is Too Nice 
"Friend worked a 5-star hotel and found a turd in the closet." -- Boganvillia
"That's not a very nice thing to call your guest, but as someone that worked in customer service, I agree. They are turds." -- theassassintherapist
"Closet poopers are what happens to shy poopers if they don't face their poop anxiety." -- Stunning_Honeydew201
OTC Drug Use
"Packets and packets of ibuprofen. Just everywhere - bottles too. It was football players staying there."
-- Locust45
Work Retreat
"I do maintenance. Had a group of part time housekeepers that are mentally handicapped working with their job coach go into a suite with adjoining door. There were 3 construction workers staying, 2 and their supervisor."
"In the one side with a pull out couch and DVD player, they found a full size blow up doll, empty small bottles of lube, used condoms, several beer bottles, and a stack of porn on DVD. Doll was on the pull out couch and everything else was all over the bed."
Other former cleaners described the times they came to a vacant room to find some very unexpected objects. These weren't as gross as the previous examples.
But the mysteries of what exactly the guests did with these items are still unsolved.
Steer Clear of Gadgets
"Almost tazed myself with a 'tube of lipstick' that I found under the bed." -- Naprisun
"insert lipstick taser gif here" -- georgiomoorlord
"so nobody's talking about this person using hotel bed lipstick" -- ST4R3
Hisssss
"Wasn't the cleaner, was overnight manager. The morning shift housekeeper called me to a room that had a live diamondback rattlesnake in it. We were located downtown, no way it just came in from outside."
"Found out a week later the guest was part of that snake handler church."
Back on the Road 
"My friend's family owns a motel. He tells me they once found an auto transmission in the bathtub of a room." -- smorkoid
"Yup, I've heard of this before. You go to the town on a bachelor party, take a pill and then wake up and your transmission is in the bathtub full of ice and 3rd gear was removed" -- cavegoatlove
Making it Cozy
"I worked as a hotel cleaner during undergrad."

"My first day of work someone left a hatchet in the bathtub."
"Also, someone completely decorated the room with framed family pictures.. and left them all there. I think their stay was only 2 days. They set some up on the furniture.. but also legit hung some on the walls."
-- Eric_Partman
Finally, some people shared about the times they were pleasantly surprised to find that guests left behind some really nice stuff.
And, of course, finders keepers was in full swing.
Ahhhhhhh
"I worked for a hotel that had cabins, so I would be in and out all day in the hot sun. On one of those hot days I opened the fridge to find an unopened bottle of Dr. Pepper in the freezer part.. it was perfectly slushed."
"It made my day. This was years ago, too!"
-- Syndaquil
As If They Knew
"A whole box of magnum ice creams. My fave!" -- nightcana
"If this was in Melbourne, you're welcome. I bought them but got invited out. Checked out the next day and left them in the freezer and I couldn't stand the thought of putting them in the bin." -- hemansteve
Repurposed
"My partner gets apartments ready for the next people renting them out after leases are up, they've found so, so many bdsm toys. One of which (a flogger) is my cats favorite toy over all others now including her very expensive cat toys hahaha"
Celebrity Guest
"My girlfriend worked the front desk at a hotel where snoop Dogg stayed."
"He left his drawers and white tees. Snoop also left a bunch of Tic Tacs."
"But the best thing he left was a plastic Tupperware bowl over the smoke detector."
-- niketen
It's a fun idea to think back on all your hotel stays and recall anything you've left behind over the years.
And then, depending on what exactly it was, you can imagine what the other side of that story turned out to be.
Want to "know" more? Never miss another big, odd, funny, or heartbreaking moment again. Sign up for the Knowable newsletter here.
Keep reading...
Show less
Its that time of year again. Time to get scared and get spooky. Covid be damned, we can still find ways to enjoy Halloween. One of the staples of this time of festivity is Haunted Houses. In any given non-pandemic year they'd be everywhere. Over the last few decades the planning and launching of a House of Horrors has become an art form. In fact there are houses you have to sign waivers for in order to enter. So has to make one wonder, what sort of tales do the actors and people behind the scenes have to tell. They've seen it all.
Redditor
u/thotthebot
wanted to hear from the thespians who partake in creating spooks for the masses by asking them to chat about....
Haunted house workers, what is something that a guest had said or done that made you break character?
"Oh, HELL No!"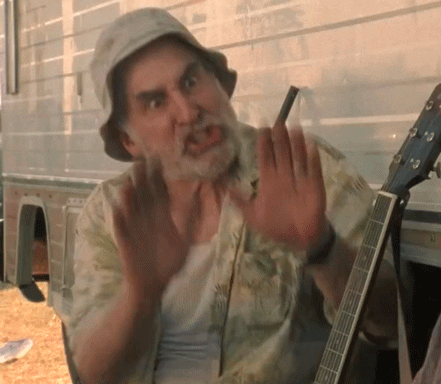 be quiet the walking dead GIF
Giphy
I was an actor at a haunted house years ago. We had separate rooms connected by hallways for guests to walk through (like, there was a murder room, a haunted house room, a circus themed room, and a zombie room). I worked in the zombie room, and played a zombie.
The room was made up to look like a living room of a house that had been broken into by zombies-- furniture toppled over, lamps laying on the floor, the door hanging off the hinges, a broken window, blood everywhere, and a half-eaten body lying on the floor. I was to be hunched over the dead body, pretending to munch on it when the guests walked in. And I'll say, our make-up crew was skilled. I looked like something from The Walking Dead.
Well, this dude walks into my zombie room, he sees me hunched over the dead body, and I did this creepy thing where I slowly look up at him and stare with my mouth hanging open. He goes "Oh, HELL No!" and stumbled backwards onto the couch, tried to scramble off the couch, only to trip over the lamp that was on the floor, and wound up falling facedown on the floor.
I have to admit, I broke character and laughed. I couldn't help it.
"well I guess we don't go"
One night this couple comes in with a 3-4 year old girl. She is throwing a huge fit, kicking, screaming, crying, the whole 9 yards, she doesn't wanna go in.
Now, a logical human being would see this and say, "well I guess we don't go" but not these two idiots. They keep trying to force little girl to go through the house, but she won't budge. This is causing a bit of a scene as well as backing up the line. Myself and one or two other monsters tell them "look, you gotta either get her to go in, or you gotta leave, you're holding up the line" but they are adamant that she has to go through and she is not having it.
Now were pissed off because, why the hell are you trying to make this small child go through when she is obviously terrified and scared out of her freaking mind? We realize something has to happen, so we seek out one of the girls from further down the house who was a witch we called Baba Yaga since she was the most human looking of us. We told her the situation and asked if shed help walk the girl through the house, and she agreed.
So we bring Baba to the little girl, and she goes into this cartoonish Russian accent "HellO leetle gorrl, I am Baba Yaga the gOod weetch! I am going to heyalp you scare all the mon-stors awaY!" She takes the little girls hand and off they go. We run off through the house spreading the word, "If you see Baba with a little girl, let the little girl scare you". Sure enough, whenever they got to where one of the monsters was hiding, the little girl would yell "BOO!" and whoever was there would lose their marbles. Screaming, running around in circles, falling all over the place.
Sometimes there'd be more than one monster and they'd run into each other like the Three Stooges, all to the delight of the little girl, who was now giggling and jumping up and down, clapping her little hands, it was adorable. The adults that were with her look annoyed, but f**k them, the rest of the group that got lumped in with them were having a great time as well watching this tiny child scare the mean ugly monsters away.
I've never seen an entire house break character like that, but it was fun to be a part of.
Falling Back!
So I was stationed in a small room just off to the side of a long hallway with a strobe light at the end. It made it hard for guests to see down towards me, but very easy for me to see them. So one evening a group of a five teens come through; four girls with one guy leading them.
Just as they enter the hall, the guy turns around to talk with them. Having just been handed a golden ticket here, I sneak up right behind this guy. The girls all go stone silent and when the dude realizes they're looking at something beyond him, he turns around and finds me standing within inches of his face.
I give out the most guttural scream I can, and in response, the guy LEAPS backwards and knocks down all four girls behind him like they were bowling pins, leaving them all a tangled pile on the floor.
I literally could not hold it together. I had to run off into a staff only area because I was laughing so hard and could not stop. Easily one of my favorite memories from that place.
".... That's.....awful."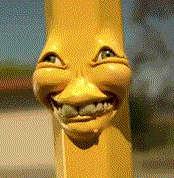 wtf GIF
Giphy
As a haunted house customer...
My Type 1 diabetic girlfriend and I were waiting to enter and begin the actual house. This was after the line to get in and the holding area for parties to be able to go together. There was this big demon tree thing that had an actor actually talking to us.
"Tell me, mortals. What do you think your souls taste like?"
I looked to my girlfriend. Just a sheepish grin and a shrug. Then I chime in and respond
"Well, I don't know about me, but her soul would be pretty sweet because she has diabetes."
".... That's.....awful."
Still one of our favorite memories but that whole evening was just lovely and pleasant.
"is he real?"
Used to work in one years ago. I worked the crowd - but mainly by standing at the entrance in a coffin that was fitted with an undertaker. I walked in the undertaker's feet but my upper half was in the coffin. One night I was standing there. Bone still. I did my own makeup and frankly it was good. Made me look "fake".
I'm standing there completely silent and still. Some German woman; drunk (because you can smell the beer on her) goes "is he real?" Cue me to kick the back of the coffin as a jump scare. She then proceeds to back hand me across the face.
She did not get to go through the haunted house and was not refunded her money.
Hear Me!
I said "I'm gonna skin you b***h!"
She replied, "no you're the skinny b***h!"
I broke character and told her what I really said.
Maaan, I was there to scare not body shame.
The Reaper....
I (M) was playing a grim reaper statue that comes to life and lowers my (fake) scyth blade in front of guests from behind. This college age girl walks up to me and, convinced I was just a statue or a prop, grabs my parts to prove to her friends it was safe. I looked at her slowly and asked "So do you take me to dinner now or..." that was the best scream we got all night.
In the Hay...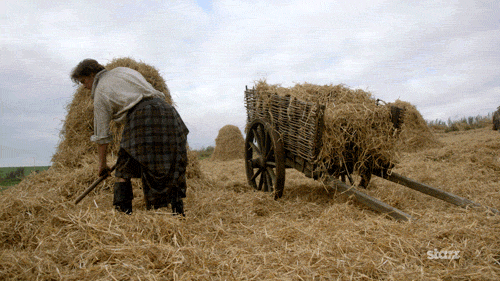 season 1 hay GIF by Outlander
Giphy
Worked a haunted trail/hayride when I was younger. When we see someone clearly not into it we'd ask if they were okay and if not we had a codeword we'd pass down the line to let them just go through. Not sure if others worked like this though.
Not Here!!
Not a worker, but as a customer, my sister and I once took a wrong turn in the haunted house. We were cornered by a dude in a hockey mask who was revving his chainsaw as he approached and we were screaming in terror...
Then he took his mask off and said in exasperation, "guys you're not supposed to be back here." Then he shooed us back into the main hallway. Lol
The Autopsy....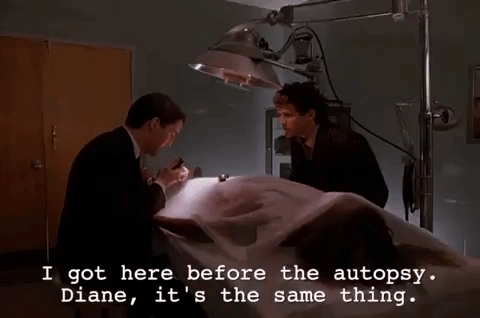 season 1 GIF by Twin Peaks on Showtime
Giphy
Not a worker, but I got to witness it. The worker was dressed as a crazy doctor.
We enter the room, and the worker says "Are you ready for you autopsy?" in a really creepy voice. My friend responds "...Yes?" The worker's face just changed from menacing to complete confusion, then she dropped the act and asked "Do you know what an autopsy is?" My friend did not know, so we had to explain it to her.
Want to "know" more? Never miss another big, odd, funny, or heartbreaking moment again. Sign up for the Knowable newsletter here.

Keep reading...
Show less
Opening your home to loved ones and friends for a time is always the generous, right thing to do, especially when people are in particular need. But that charity needs to come with some rules and responsibility. When people start to get crazy, it's time for people to go. Your home is not an insane asylum and you are not a doormat. Rude is rude. And you don't need that mess.
Redditor u/lickmyfeet14 wanted to hear about some bad behavior among home invaders that were originally invited by asking.... What was the rudest thing a visitor did in your house?
Keep reading...
Show less