Funerals at difficult events and everyone handles their grief in different ways. Most of the time a funeral or wake is a solemn time where family and friends father to share fond memories, comfort each other, and grieve. However, sometimes things don't always go according to plan.
​We all know that one person who can't seem to grasp social protocol or one that perhaps just chooses not to. In this article, these often ended in after-the-fact laughter although at the moment no one exactly found it funny. Some of the worst this writer has seen are the pastor presiding being unwilling to say to the family of the deceased would make it to heaven cause they swore and didn't attend church and an uncle looking at one of the grandkids during a beloved grandmothers funeral and the only words he spoke were to his 20+ year old niece commenting on her tattoo by asking *during the wake* "why would you do that to your body!?"...you know, because that is the appropriate time.
Wanting to hear the worst things people have experienced at a funeral Redditor UniqueCreativeName asked the online community:
"What's the worst thing you heard or said at a funeral?"
Good try though...
​"'Don't worry, you'll be with him soon' - my sister to my grandma at my grandad's funeral. My grandma was crying, me and my family aren't openly emotional people so I still give her credit for trying." amievenrealrightnow
TMI Grandpa...
​"My grandma died before my grandpa. Since my grandpa was a navy veteran (WWII and Pearl Harbor survivor), he got a free plot in a military cemetery. At this cemetery, they stack married couples one on top of the other."
"So, we are at the cemetery, and they are lowering my grandma down, and my grandpa asks, 'so, if I had died first, they would have put me in first and put her on top of me?'"
"The cemetery worker said, 'yep.' My grandpa responded, 'huh. We never tried it that way before.'" macbubs
Some good ol' Team America.
"Aunt passed away, wasnt really close with her. She was part of a church in upper state New York somewhere and a bunch of older folks I never saw before showed up (like 50 people over the age of 65). Me and my younger brother are sitting towards the back listening to one of the guys tell stories to everyone about her when he gets to a part that I will never forget."
"He tells a story about how after she was placed in an old folks home she 'escaped' and they couldnt find her for like 2 hours. They called the police and finally found her riding around in a golf cart at the local country club that was like 2 miles down the road from the old folks home."
"As he is telling this story and everyone is having a nice laugh he says "I wish she would send us a sign letting us know how much she loved us"...suddenly my younger brothers phone goes off. The song it was set to? 'America F**k Ya' but the part where it just starts singing 'AMERRRRRICA, F**K YA!'"
"The entire church looks at us and as I am trying to hold back my laughs my little brother says 'Its a sign from Aunt Francese, she says thank you'. I was laughing so hard that I had to excuse myself from the room." Gromby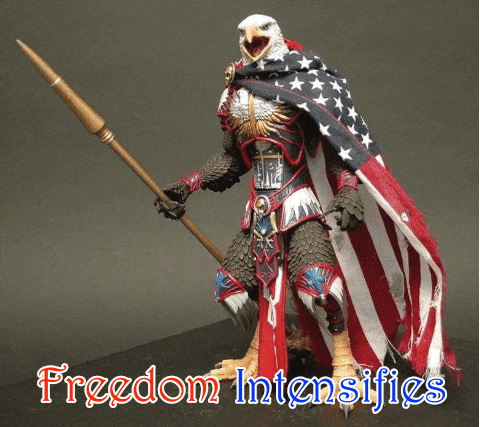 Freedom Intensifies GIF
Giphy
Classy...
"My aunt talking about the foursome she was planning with another couple at the gravesite of my grandpa. My uncle went mental, probably the first time I've ever agreed with him."
"edit: No, sorry, not planning to do it on his gravesite, just discussing it on the funeral as we were waiting for the hearse." nyises
*stunned silence*
​"'My father was married 4 times. I believe the two that he honestly loved the most were the first, my mother, and the last, his widow.' Said by my uncle with all ex 3 wives in the audience." skoolboyjew
"...the entire funeral party was looking on in horror."
"My aunt died. Her husband has Asperger's and didn't really know how to cope with social situations; that was always her job. She chose to be cremated and have her ashes incorporated into a reef ball."
"So at the funeral I asked my uncle how long the reef ball would be around and after a few conversational rabbit holes we ended up talking about the percentage of my aunt that was in the atmosphere vs. the percentage that ended up in the reef ball (because of the cremation process)."
"My uncle and I didn't realize this was weird, until my mom tapped me on the shoulder and we realized the entire funeral party was looking on in horror. My uncle is chill though, we still talk. My aunt didn't have a lot of money and regretted that she couldn't leave me anything, so after his business started doing better a few years later he bought me my first car in her honor." Zouea
Strangest Things Seen In A Contract's Terms And Conditions | George Takei's Oh Myyy
Oh noooo...
​"My father's phone ringing during the middle of a eulogy. His ring tone is the stabby music from psycho. I was sitting right next to him doing the best I could to sink through the pew I was sitting in." techniforus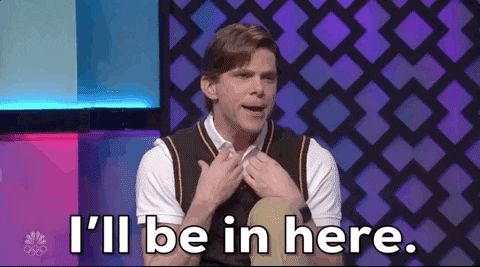 Embarrassed Mikey Day GIF by Saturday Night Live
Giphy
New meaning for dad jokes...
"Didn't know my Dad's family. At the cemetery they're all off by themselves while we wait for the hearse with the ashes to show up. I walk over and say, 'It's now 1:05. My father is late for his own funeral.' No one said anything. They just moved slowly away." bigtimejohnny
Way to crash a funeral...
​"I couldn't make my grandmothers funeral but my brother told me this one. My cousin, who is like 15 at the time, gets up and makes a beautiful eulogy about grandma that couldn't be any sweeter. My estranged aunt had come to the funeral and in the middle of the eulogy of this 15 year old girl she loudly says, "am I in the right place? She surely isn't talking about my mom". It didn't go over ." Dirtybux
While many these responses were hilarious its best to try and be as respectful as possible of the dead.
Want to "know" more? Never miss another big, odd, funny, or heartbreaking moment again. Sign up for the Knowable newsletter here.
Keep reading...
Show less
I've often thought that I may one day fake my death, just to see who would show up at my funeral, and just to see what they would say.
We all know that the true tea is spilled after one has stopped breathing. So many of us play a good game of nice when we're all in corporeal form, but once that heart ceases to beat, honey those knives are coming out.

I have been to funerals that could rival episodes of 'Dynasty.' The things we say at a funeral can only possibly be topped by truths we tell at a wedding. And it's all a mess.
Redditor u/harumin24 wanted to hear about the tea that is spilled when saying farewell to the dead by asking:
What's the worst thing you've heard someone say about the deceased at their funeral?
Want to "know" more? Never miss another big, odd, funny, or heartbreaking moment again. Sign up for the Knowable newsletter here.

Keep reading...
Show less
People grieve in various ways after losing a loved one, and no one can tell them how to cope as they process their emotions.
However, there are certain behaviors that are inappropriate at a funeral.
Redditor Bankrupt-R-Us asked,
"What is the worst thing you've ever seen someone do at a funeral?"
The people of Reddit had some interesting things to share – including an incident involving a gun-toting nun, and an angry grandson unleashing his vengeance over the deceased with an act of vandalism.

Read on to find out more about some absurd and inappropriate things that have happened during a funeral service.
The aftermath of death in the family caused the following drama.

Open Forum
"The gentleman had a large family and all of his siblings got up and made it all about themselves, dredged up old family drama, made it clear that they resented his wife, etc. It was so painfully awkward."
Too Much For A Son To Take
"I had a fit of hysterical laugh at my father's funeral just about the time people started to gather at the mortuary."
"In my defense, my mother had a nervous breakdown (my father died 4 days after we found out he had lung cancer), there was a lot of sh**ty stuff surrounding the funeral organization, my mom just flipped, my siblings were 15 and lost so I was at 23 left to handle it all."
"I kinda lost it."
So, Here's A Question
"At my father's funeral, one of my aunts asked my mom when would she get out of the house."
Grief Competition
"My nan told my dad at his own father's funeral that her pain was much greater because she had lost a husband, while he had only lost his dad. As if grief is a competition."
"She is a sh**ty person anyway, and not even blood related to us so we just kinda don't associate anymore."
– lanidvah

There are just some acts that are totally unnecessary when the grief is already enough.
Bedroom Legacy
"Her ex told us about all the great things she did in bed and what a loss for mankind that is. In present of her boyfriend."
Seizing An Opportunity
"He handed out his business cards at his stepdaughter's funeral. There was very nearly a fistfight!"
Act Of Vandalism

"My uncle was pissed about something in my grandmother's Will. So during the funeral, he went out to the parking lot and keyed everyone's car. It should be noted, he has severe brain injury from a motorcycle accident that causes him to be constantly angry and paranoid. Still..."
Parents Explain Why They Regret The Name They Gave Their Child | George Takei's Oh Myyy
Angry Debt Collector
"My brother in law is a mortician. Boy does he have stories...."
"One of the best- A guy disguised himself as a nun, shows up at the funeral, pulls a gun from under his habit and tries to shoot the deceased's son. Luckily the gun malfunctioned and didn't fire. The son then decks the nun and knocks him out, kicks him in the head a few times, and is pulled off by other family. Police are called, yada yada yada... turns out the deceased owed the nun quite a lot of money and the son had refused to honor the debt."
– 02K30C1

Go Fund Me – I Mean – HER
"My grandpa died. His son (my uncle) went around asking for money to give to his now widowed mother. He collected around $500 USD worth of donations from family, friends etc. he pocketed it, and my grandma didn't receive sh*t."
– VCF1127

Unacceptable Comment
"My uncle died and at his funeral my cousin (his son) was crying. Some old timer uncle came up to him and said 'stop crying you're a man you're embarrassing us'. I never wanted to slap someone at a funeral more than at that moment."
Kids barely understand the concept of death. But when they start to have a firm grasp, it is terrifying for them.
These incidents didn't help.
Cruelty Towards A Child
"A few years back, when the uncle of my mother died my young cousin (8) cried a lot at the funeral. It took some time but eventually he calmed down and his parents went for a little walk with him for some distraction."
"But then he noticed that his first name was written on one of the tombstones. He mentions it loudly and one of the bystanders said: ''Yeah its already reserved for you'."
"He immediately started crying again..."
– firedexo

A Father Moves On
"One of my students' mother died. I went to the funeral with the principal and the student's integration aide. After the funeral her father walked up to her and her grandmother and said 'I want her out of the house by tomorrow morning.' She was 11 years old."
The Guilty Sister
"My sister murdered her father(my stepfather...at the time we didn't know she was guilty)"
"BTW Just so you know she did this purely for financial gain."
"During the viewing she dragged her little boy to the casket and because he didn't cry enough to suit her she pinched him on the upper arm until he was sobbing then took him around to everyone saying he was really crying because he loved his Gramps so much."
Although there is never a time and place for the irrational behaviors mentioned above, maintaining proper decorum at a funeral out of respect for those who've passed on should be common sense.
Whatever unresolved grudges you hold against the departed, it's better to either leave them in the past or resolve your conflict with them in the afterlife.

Keep reading...
Show less
Death is scary. It brings the unknown of the great beyond, whether that's heaven, some other afterlife, or total nothingness, depending on what you believe.
But there is one perk that comes with death: total control of your funeral.
Think about it. You have a captive audience for the whole day. They're all going to be so intentional about respecting your memory that it would really take something huge to upset them.
That, my friends, is a time to push the envelope and take some liberties with that ceremony.
Many Redditors who work in the funeral industry have firsthand experience witnessing recently deceased people exercising that power through wills, parting words, and even pre-death meetings.
Some people have gotten quite creative.
hurtfocker asked, "Funeral home workers and owners: what's the weirdest request you've gotten regarding a deceased person?"
A good amount of people treat their funerals college parties.
They go with a theme they imagine everyone will enjoy, try to inject some sarcastic humor into the planning, and see how it all plays out
Let the Games Begin 
"I got a request for the deceased to be dressed up in a Where's Waldo costume and to have 12 other identical caskets in the room so the guests could try to guess where he was by opening coffins randomly."
"Each guest was to play this guessing game and then sit down before the next person could enter so everyone could play the game."
"Problem was not everyone wanted to play the game.....super odd but they paid a lot for it."
-- ramontgomery
Dead In a Faraway Galaxy 
"The deceased was a huge Star Wars fan and left explicit instructions for his funeral."
"As funeral organist, I was requested to play Star Wars principal themes on the grand pipe organ for prelude music, processional and recessional."
"As I once described, pall bearers were dressed in main characters costumes and "Obi-Wan Kenobi" gave an inspired eulogy, drawing upon memorable moments from the series."
"Using 'full organ' (all the stops out) for climatic moments, I played the Imperial March at the conclusion of the funeral before those in attendance departed for the cemetery for the committal."
-- Back2Bach
A True Celebration of the Life He Lived 
"I'm a florist, and I've created some unique tributes out of fresh flowers, and more."
"I made a putting green two feet across, complete with ball, tee and a club for an avid golfer. I constructed a fish out of various blooms and leaves, placed by a lakeside foliage spray. I've made rainbows and black and white themed arrangements. I put a lot of heart into memorial pieces."
"A few years ago, I was helping a family decide on their tributes for a much-loved man. The wife stressed he was known for his big blue Giant Eagle truck, and most of their friends were from the driver's union."
"I volunteered myself for a watercolor picture of the truck around which I would design a floral spray. It took four attempts, but I was finally happy, and framed it."
"Two days later, I received the most wonderful letter from his wife, and said that everyone agreed it was the most appropriate and important statement about his life. It will sit on her mantle for the rest of her life."
-- cavepainted
Friends Til the Very End 
"My family owns a grave digging business as well as lawn and garden statues, someone purchased an 8ft tall gorilla statue."
"My dad delivered it and asked what they were going to do with it and where they were putting it, the guys said their friends dying wish was to be stuffed up this concrete gorillas a**, and that's what they did."
"They drilled a whole in the a** and put their buddies ashes inside"
-- hayhay428
There also appears to be a strange obsession with eye sockets and eyeballs. Many funeral workers have fielded requests involving what exactly to do with eyes.
All of them are completely unnerving, of course.
Always Watching 
"My husband found out they can make gems out of cremains, and now he wants to be reduced to 2 jewels seated in his own eye sockets."
"I don't want a skull! I don't want to own his skull! I don't want him to watch me with his evil gem eyes!"
-- ParadiseSold
For Science 
"My own will requests that my right eye be removed, preserved and delivered to my oncologist in Miami for him to do with whatever he sees fit."
"Hopefully as a teaching aid to new optometry students, but if he wants to use it for pranks I'm totally fine with that too."
"I survived a very unusual eye cancer and they had to do all kinds of experimental things to repair it when all was done. I jokingly suggested I donate it to science when I went and he said that was an amazing idea. So, here you go."
"I hope whoever deals with my corpse has fun with that request."
-- zerbey
One Last Look 
"My wife's uncle asked the funeral director when he dies he would like his eyes open in the casket during his viewing."
"His entire life everyone commented on his big baby blue eyes and he wanted them open for people to see one last time."
And finally, sometimes it's not all wine and roses when the close of life comes along.
People live complicated lives full of strained dynamics with family and friends. And often, that comes to a head right at the final moment.
One Last F-You
"One rich guy hated his kids and didn't want them to get a cent of his wealth. He therefore wanted all his money to spent on a mausoleum for his coffin with a rose garden around it and the eternal upkeep thereof."
"He had the city council-approved architectural plans for the mausoleum included in his will and testament."
"He demanded in his will that the remaining funds, after construction, must go to a gardening service to maintain the rose garden and clean off the bird poop from his mausoleum in perpetuity until the money runs out in a few centuries."
"The mausoleum is in Cemetery de Saint Rambert outside Lyon, France."
Utter Indifference 
"My coworker was meeting a client who was picking up his mother's cremains. My coworker has the client sign a release, then hands him the urn."
The man immediately turns around and drops the urn into the trash can."
"My coworker is a 40 year funeral director veteran, and without missing a beat, he says, 'Sir, I can understand your strong feelings about your mother, but I cannot allow you to leave that here. What you do once you get out the door is up to you and God.' "
"Dude picked up the urn and left without a word."
-- keliez
To Reflect What She Was Like, Or Never Did?
"My mom asked the embalmer to put a few stitches in my grandma's cheeks to give her a faint smile.
"At the time it seemed like an odd, even slightly morbid request, but 20+ years on, it's one of the only things I remember from her funeral. It was kind of lovely, actually."
-- Fearless_Lab
However old you are, now is the time to start planning the big sendoff. Look no further for some ideas to start off the brainstorm session.
Want to "know" more? Never miss another big, odd, funny, or heartbreaking moment again. Sign up for the Knowable newsletter here.
Keep reading...
Show less
Picturing your own funeral can be an eerie and depressing exercise.
For some, though, the freedom to subject all your friends and family to your own morbid humor is an exciting idea.
These Redditors have no shortage of ideas regarding their hypothetical funerals.
Luckily, questions of legality or logistical possibility need not apply to this thread.
The result is a collage of ideas that take different approaches to a couple key factors of the parting ceremony: what happens to the actual body, and how funeral attendees ought to feel.
They're often meant to be grossed ought, entertained, shocked, or some bizarre combination of the three
aroadcaptain asked, "Social/religious norms aside, how would you like your death to be mourned/celebrated?"
Do you have something to confess to George? Text "Secrets" or "
" to +1 (310) 299-9390 to talk him about it.

Keep reading...
Show less