Death is scary. It brings the unknown of the great beyond, whether that's heaven, some other afterlife, or total nothingness, depending on what you believe.
But there is one perk that comes with death: total control of your funeral.
Think about it. You have a captive audience for the whole day. They're all going to be so intentional about respecting your memory that it would really take something huge to upset them.
That, my friends, is a time to push the envelope and take some liberties with that ceremony.
Many Redditors who work in the funeral industry have firsthand experience witnessing recently deceased people exercising that power through wills, parting words, and even pre-death meetings.
Some people have gotten quite creative.
hurtfocker asked, "Funeral home workers and owners: what's the weirdest request you've gotten regarding a deceased person?"
A good amount of people treat their funerals college parties.
They go with a theme they imagine everyone will enjoy, try to inject some sarcastic humor into the planning, and see how it all plays out
Let the Games Begin 
"I got a request for the deceased to be dressed up in a Where's Waldo costume and to have 12 other identical caskets in the room so the guests could try to guess where he was by opening coffins randomly."
"Each guest was to play this guessing game and then sit down before the next person could enter so everyone could play the game."
"Problem was not everyone wanted to play the game.....super odd but they paid a lot for it."
-- ramontgomery
Dead In a Faraway Galaxy 
"The deceased was a huge Star Wars fan and left explicit instructions for his funeral."
"As funeral organist, I was requested to play Star Wars principal themes on the grand pipe organ for prelude music, processional and recessional."
"As I once described, pall bearers were dressed in main characters costumes and "Obi-Wan Kenobi" gave an inspired eulogy, drawing upon memorable moments from the series."
"Using 'full organ' (all the stops out) for climatic moments, I played the Imperial March at the conclusion of the funeral before those in attendance departed for the cemetery for the committal."
-- Back2Bach
A True Celebration of the Life He Lived 
"I'm a florist, and I've created some unique tributes out of fresh flowers, and more."
"I made a putting green two feet across, complete with ball, tee and a club for an avid golfer. I constructed a fish out of various blooms and leaves, placed by a lakeside foliage spray. I've made rainbows and black and white themed arrangements. I put a lot of heart into memorial pieces."
"A few years ago, I was helping a family decide on their tributes for a much-loved man. The wife stressed he was known for his big blue Giant Eagle truck, and most of their friends were from the driver's union."
"I volunteered myself for a watercolor picture of the truck around which I would design a floral spray. It took four attempts, but I was finally happy, and framed it."
"Two days later, I received the most wonderful letter from his wife, and said that everyone agreed it was the most appropriate and important statement about his life. It will sit on her mantle for the rest of her life."
-- cavepainted
Friends Til the Very End 
"My family owns a grave digging business as well as lawn and garden statues, someone purchased an 8ft tall gorilla statue."
"My dad delivered it and asked what they were going to do with it and where they were putting it, the guys said their friends dying wish was to be stuffed up this concrete gorillas a**, and that's what they did."
"They drilled a whole in the a** and put their buddies ashes inside"
-- hayhay428
There also appears to be a strange obsession with eye sockets and eyeballs. Many funeral workers have fielded requests involving what exactly to do with eyes.
All of them are completely unnerving, of course.
Always Watching 
"My husband found out they can make gems out of cremains, and now he wants to be reduced to 2 jewels seated in his own eye sockets."
"I don't want a skull! I don't want to own his skull! I don't want him to watch me with his evil gem eyes!"
-- ParadiseSold
For Science 
"My own will requests that my right eye be removed, preserved and delivered to my oncologist in Miami for him to do with whatever he sees fit."
"Hopefully as a teaching aid to new optometry students, but if he wants to use it for pranks I'm totally fine with that too."
"I survived a very unusual eye cancer and they had to do all kinds of experimental things to repair it when all was done. I jokingly suggested I donate it to science when I went and he said that was an amazing idea. So, here you go."
"I hope whoever deals with my corpse has fun with that request."
-- zerbey
One Last Look 
"My wife's uncle asked the funeral director when he dies he would like his eyes open in the casket during his viewing."
"His entire life everyone commented on his big baby blue eyes and he wanted them open for people to see one last time."
And finally, sometimes it's not all wine and roses when the close of life comes along.
People live complicated lives full of strained dynamics with family and friends. And often, that comes to a head right at the final moment.
One Last F-You
"One rich guy hated his kids and didn't want them to get a cent of his wealth. He therefore wanted all his money to spent on a mausoleum for his coffin with a rose garden around it and the eternal upkeep thereof."
"He had the city council-approved architectural plans for the mausoleum included in his will and testament."
"He demanded in his will that the remaining funds, after construction, must go to a gardening service to maintain the rose garden and clean off the bird poop from his mausoleum in perpetuity until the money runs out in a few centuries."
"The mausoleum is in Cemetery de Saint Rambert outside Lyon, France."
Utter Indifference 
"My coworker was meeting a client who was picking up his mother's cremains. My coworker has the client sign a release, then hands him the urn."
The man immediately turns around and drops the urn into the trash can."
"My coworker is a 40 year funeral director veteran, and without missing a beat, he says, 'Sir, I can understand your strong feelings about your mother, but I cannot allow you to leave that here. What you do once you get out the door is up to you and God.' "
"Dude picked up the urn and left without a word."
-- keliez
To Reflect What She Was Like, Or Never Did?
"My mom asked the embalmer to put a few stitches in my grandma's cheeks to give her a faint smile.
"At the time it seemed like an odd, even slightly morbid request, but 20+ years on, it's one of the only things I remember from her funeral. It was kind of lovely, actually."
-- Fearless_Lab
However old you are, now is the time to start planning the big sendoff. Look no further for some ideas to start off the brainstorm session.
Want to "know" more? Never miss another big, odd, funny, or heartbreaking moment again. Sign up for the Knowable newsletter here.
Keep reading...
Show less
Picturing your own funeral can be an eerie and depressing exercise.
For some, though, the freedom to subject all your friends and family to your own morbid humor is an exciting idea.
These Redditors have no shortage of ideas regarding their hypothetical funerals.
Luckily, questions of legality or logistical possibility need not apply to this thread.
The result is a collage of ideas that take different approaches to a couple key factors of the parting ceremony: what happens to the actual body, and how funeral attendees ought to feel.
They're often meant to be grossed ought, entertained, shocked, or some bizarre combination of the three
aroadcaptain asked, "Social/religious norms aside, how would you like your death to be mourned/celebrated?"
Do you have something to confess to George? Text "Secrets" or "
" to +1 (310) 299-9390 to talk him about it.

Keep reading...
Show less
When somebody passes away there is always "the box". It's in the back of an attic, down in the bottom drawer, or bestowed to a son or daughter in the will.
However the dusty crate makes its way to the living, looking through the items is often an eerie experience. There always seems to be uncertainty about whether the person was proud or ashamed of these things.
In some deaths there is time and notice. The person can get their affairs in order, choreograph who gets what, hide away the embarrassing things and divvy out the proudest trinkets.
Some deaths, though, come suddenly. There is no time to make calculations about the objects with that kind of passing.
For the living, the results of uncovered items can be a concoction of surprise, disgust, and sudden understanding.
One Quora user asked, "While sorting through a deceased person's possessions, what is the most disturbing thing you found?"
Identifying Objects
"A morbid collection of about 20 teeth, clutches of different colored hair in little plastic bags, a bunch of what looked like fingernail clippings in plastic baggies, and a four-inch dried and twisted up stalk of something with a bow-clip attached in the middle."
"Upon closer inspection, you could see these very tiny markings or labels on almost every item."
"The teeth; they were [her son's] baby teeth and his brother Ron's baby teeth (Ron passed away a year before Thelma) and apparently the tooth fairy had helped [her] collect each one."
"The bags of hair were all labeled differently; 'My sister Jane funeral 1947,' 'Ron 1st haircut 1950,' 'Rich 1st haircut 1953,' 'Mom funeral 1962,' 'Aunt Mabel funeral 1964,' 'sister Dorothy Jane funeral 1965,' etc."
-- Becci Winkler
A Pristine Artifact of an Ugly Age
"Folded neatly inside, on top of a shelf, was the uniform of what we later found out was a Major in the SS. The tunic, cover, slacks, medals and insignia looked like they had been kept clean and maintained. It looked like it had been freshly dry-cleaned and was ready to wear."
"Under the shelf were several drawers, and in each one were his Ausweis, SS identity cards, daggers, commissions, promotion to the SS Medical Corps, and letters from superior officers; one was even signed by whom we later learned was Heinrich Himmler."
"There were also a significant quantity of Gold Krugerrands which he had obviously put aside for an emergency."
"The man who would have been my father-in-law was an SS Doctor who, I now believe, had worked under Mengele at one of the camps."
-- Patrick Parrish
It All Makes Sense
"My uncle Don was an odd guy. It wasn't until my teen years that I really understood that."
"When I was younger, he was friendly to me, so that was enough. He was a loner, particular, moody, intense, especially after he divorced and separated from his wife. No kids."
"When my parents went to clean out his home, among the heaps and mounds of a rotten life were dozens and dozens of high heeled shoes, both well- and never-worn, women's clothing, size XL, and a sturdy noose."
"It was a revelation that brought clarity to a lot of things: the solitude, the neighborhood, the sadness. I recall my parents both deeply rattled from the experience. Like someone might feel after watching a dog being hit by a car, traumatized, yet removed and either unable or unwilling to describe it in greater detail."
"Something that had occurred to me at various points in my adult understanding of people, was that Don had been in the seminary at the height of its pedophilia reign, when it ran wild and unchecked."
"Sure enough, Don was a student at St. Edward's Seminary. I found Father William Queenan's name in a database of abusive clergy with multiple accusers. The more I searched, the more certain and sad I became that this was the culminating experience that robbed Don of his ability for successful self determination."
-- Pam Patterson
"A very extended and detailed critique of my every word and movement. Even printed emails to a family friend who had been a confidant (but was close to my part of the family as well) that painted me as a terrible person."
"I began to question myself and wonder at who I really was. But some of the words she put in my mouth were bold faced lies and there were things she said I did that I knew I had not. In fact, some of the things she attributed to me had been things she had said or done."
-- Anonymous
Would Rather Not Have Known 
"After mom broke the news to me that my dad passed away I went into his bedroom, remember it's the old days and quite often couples would have separate rooms and just meet for the conjugal part.
"I opened up my dad's large walk-in closet and went in observing all the different items in there and reminiscing and smelling."
"I saw this long white robe with this very distinct red white and black cross pattern and a goofy looking kind of hood hat I couldn't quite figure out what it was but it stuck with me and embedded so deeply that when I did see an actual KKK outfit I knew immediately what that was."
-- Fancee P Pearse
Evidence of Crisis
"My mom was an immaculate typist. She died in her 40's while much of her family was young (including me). Long after her death I was rooting through our basement for a prize; I heard that her journal was there."
"Here were hundreds of pages of journal, single spaced, typed and there was perhaps one error every 3 pages."
"It is filled with XXXXXX's, crossouts, notes in the margin. There are other errors that weren't caught. It was from a very dark part of the history of my parents' lives."
"A dark part that happened prior to my birth. My mom at that time, was struggling with her mental health. She knew it too. Had even asked to be committed, but we were far away from family and there were too many needs from her young kids and so she suffered."
-- Aaron Lassig
Wildly Organized Trash
"Boxes and boxes of used dead batteries, blown fuses, burned out light bulbs, broken household items, broken furniture, broken transistor radios, flashlights, Etc. All of these items were labeled with the date they stopped working. Why did my Mom and Dad keep garbage like that? I'm still confused."
-- Lisa Anne McBride
Couldn't Not Have This Story in the List
"Grandmother dies and Bonnie (ex-wife) goes to Winnipeg to help her mother sort through Grandmother's stuff and do what is needed."
"She gives me three pairs of knee-high socks which are still in their packets."
"I looked at the 3 packs of socks and decided to just open one of them for now and see how they felt. I opened the plastic covers and then felt the hard cardboard inner liners to help keep them stiff."
"I pulled out the inner liners BUT wait there is more; what is this? Wow, hundreds of dollars in Canadian bills."
"I fall back sitting on the bed and go WTF! My heart is beating strong as money will help a lot. I quickly count, then recount - nice there is $15,000."
"I was glad to give her the money to give back to the family... I cried a bit inside but was glad I did the right thing."
-- Bill Taylor
Hidden Talents
"A simple file hidden within my dad's personal files—past tax info, some stuff he was gathering from a genealogy site, and one other thing."
"A manuscript."
"So I began. I read, and I read. Then I read some more. I spent about 5 hours in our basement, lights off, in front of that glowing white screen that made my eyes ache. I read my dad's book."
"And it was flippin' amazing."
-- Rob Schark
Back Before the Trauma Set In
"Among them, a photo album. In the album, their were extremely disturbing and graphic pictures from the war. I'm not kidding—shocking images, heads blown open, bodies charred with napalm. People posing next to scenes of utter devastation and death."
-- John Kestell
When their True Character Comes Out
"What was the most disturbing to me was that my sister had removed much of my mom's belongings - almost as if I'd come and haul it all off."
"All her Waterford crystal collection and Belleek, and china sets, silverware were gone, so were the photos and jewelry, and a lot of other things, things that weren't nailed down. I'm sure my sister cleared out the place before I came."
-- Kathleen Grace
"Dark Family Secret"
"On the last day before closing, I emptied out her night table and found a yellowed envelope from a doctor dated sometime in the 1940s. Inside was a brief handwritten letter about my dad, confirming that he had epilepsy and was not qualified for driving or the draft."
"When my dad was asked about his exemption from the service, he always said it was because of flat feet."
"I mentioned the letter to my brother and he told me that one day, when he was a little boy, he saw our father rigid and unresponsive in his easy chair. He thought our dad was dead."
"My father's condition was a dark family secret."
-- Barrie Levine
A Record of Abuse
"My Mum died very suddenly at the age of 53. She'd had a massive brain haemorrhage caused by a berry aneurysm that just suddenly burst."
"I was given her possessions in a bag at the hospital. There was just her clothes and handbag and her mobile phone."
"The phone had got about 10 missed calls and voice messages. I listened to the messages. They were all from my Dad. Whilst she was dying my Dad had left several messages."
"Ring me when you're on your way home."
"Where are you, you should be home by now."
"Would you mind calling me back and telling me where the f*ck you are?"
"Where the f*ck are you, you f*cking bitch, answer your f*cking phone."
"Get f*cking home right f*cking now.
I've organised this holiday, and if you're f*cking late…you f*cking know what will happen when you get home."
"He obviously didn't know that I'd listened to these messages, and told everyone that their last conversation was, 'I love you, I'll see you soon.' "
-- Lucy Reid
Walls of Privacy Stripped Away
"Imagine a tornado hit your house. Inside. Add years worth of receipts and plastic bags, clothes, records, furniture, and stuff that belonged in the garbage, was strewn everywhere by this tornado. I had to look to find the bed. It was indistinguishable from the rest of the mess."
"Under the bed were tied-off, white plastic deli bags of cigarette butts. He'd empty the ashtrays but couldn't throw the bags of butts out."
"What was found that was even more of a surprise than the disastrous mess? Bank statements."
"He had millions in his account."
"He chose to live like that. Although choice may be the wrong word. I think it entirely possible he stayed there because if he moved, someone had to see the place. He probably couldn't bear the idea of anyone knowing how he lived."
-- Elizabeth Grey
Not Sure How Much it Helps the Case
"Several years ago as a police officer I was sent to deal with a report of the sudden death of a man in his thirties who was found deceased in the caravan he was living in."
"I was sorting through his personal possessions to try and find details of his next of kin when I came across a box full of Polaroid photographs."
"Also inside the box was a fairly interesting collection of rubber sex toys and vibrators, nipple clamps and cock rings."
But those Polaroid's were something else!
"Clearly the guy was well into the swinging/ bondage scene."
"There were photos of him in women's underwear, group sex, BDSM and a few other fairly strange and kinky group sex activities. I'm fairly broad minded and I've seen a lot of things before but some of this stuff was quite shocking."
-- Steve O'Boyle
A Sudden, Morbid Explanation
"Was cleaning out the large freezer and found the body of my aunt's favorite cat, Teddy. Now we know why she wouldn't let us get anything out of that freezer when we visited."
"She didn't want us to know she'd saved his body after he died and stored it there. He'd died several years before, and his uncleaned litter box was still in the bedroom she had kept shut since then."
"She slept on the sofa from then-on, only walked into her bedroom to grab something from time to time, and wouldn't let us go in there."
-- Arran Walker
Huge Fans
"A membership card for the Roy Orbison fan club in my stepfather's name, and a box of Roy Orbison records and memorabilia. I think if you had given me a thousand guesses, I never would have imagined him as a Roy Orbison fan."
"A photo of my grandmother and my grandfather as a young couple posing in front of Huey Long's grave in Baton Rouge, Louisiana. This must have been a long and expensive trip for a young couple during the Depression; I had no idea that they had such a devotion to Huey Long."
-- Mark Thomase
Ya Certainly Hope So...
"Well, no one really expects to find pills of crystal meth in their Opa's belongings. Obviously at some point he had gotten it from a soldier or some other military complex, because there's no other logical explanation."
-- Melody Bertrile
Do you have something to confess to George? Text "Secrets" or "
" to +1 (310) 299-9390 to talk him about it.

Keep reading...
Show less
Death is hard. Saying goodbye to a loved one is one of life's worst hurdles. But maybe if we had some fun with death it could be more bearable or understandable. Who hasn't thought of faking their own passing just to see the attendance and then awaken and really shock everyone? Fun is essential in sad times.
Redditor u/frenreico42 wanted to know how everyone has... or has everyone.... dreamed of ways to cause hilarity at their passing of life celebration by asking... How would you put the fun in funeral?
Keep reading...
Show less
Doris Day charmed audiences right from the start with her musical debut in the 1930's. By the time she started acting in films (the late 1940's) she was already a household name to fans of big band, swing and jazz.
Unbelievably, Doris Day just kept on working for essentially her entire life - her most recent album was released in 2011!
She acted, she sang, she danced, she advocated for animals... it's easy to see why Doris was so beloved.
You'd think a celebrity who won literally millions of hearts would have a massive memorial service after their passing.
Doris won't.
In fact, she won't have one at all - and that's exactly how she wanted it.
Doris spent her career shattering boundaries, breaking rules (in the cutest way possible) and tackling important issues. One thing she could never quite bring herself to face, though, was death.
It seems Doris Day just straight up "didn't like death." It's not a subject most people particularly enjoy, but for Doris it was one to be actively avoided.
Trying to talk to her about it was pretty likely to garner this reaction: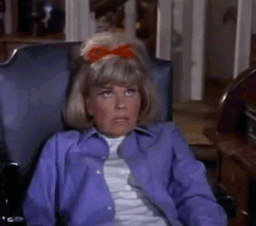 Her friend and long-time manager Bob Bashara explained to People that he tried repeatedly to talk to Doris about how things should be handled after she passed. Death, however, wasn't something Doris was willing to discuss.

Not just her own - but any death. The passionate animal activist was well known for her love of her pets, but she couldn't be present with them when any needed to be humanely euthanized.
It was her dogs, though, that ended up getting Bashara anywhere with Doris writing a will. He was eventually able to convince her to draft something up to make sure the dogs would be cared for. What she came up with is something many people are finding incredible.
Bob explained:
"I'd say we need to provide for her dogs [after she died], and she'd say, 'I don't want to think about it' and she said, 'Well, you just take care of them' - She had several when her will was written, and she wanted to be sure they were taken care of. She didn't like to talk about the dogs dying."
Her will is clear - she wanted no funeral, no memorial service, no grave marker. Essentially, Doris Day refused to acknowledge her death or to let anyone else acknowledge it.
She would rather we all just carry on like it never happened, folks.
Her estate is to be donated to charity. Bob is to take care of the animals. Simple.

It's unusual, but it's very Doris Day.
As news of her no-funeral request hit social media, people's reactions were mixed:
@TMZ @TooFab I know it'll be hard to honor those wishes.😢 I just loved her movies and singing!!👏🏾👏🏾👏🏾🙏🏾

— Daphne (@Daphne)1557844982.0
@NeilMcMahon It's in her quotes; she felt grief was v private and thought funerals were barbaric.. 😔

— 🦋 (@🦋)1557833385.0
Odd topic. So Doris Day died. I loved her movies and I'm sad. I wanted to grow up and be like her when I was a kid.… https://t.co/LZVLoCGMW2

— Laurann Dohner (@Laurann Dohner)1557771959.0
@ceoaetnews That is so sad 😢😢

— Maggie Copeland 💜 (@Maggie Copeland 💜)1557864622.0
@mcharlesworth7 Doris Day all day tribute June 7 on TCM (why so late ?)was announced yesterday meantime, I have re… https://t.co/sUx9vTo2cW

— sylvia tomarchio (@sylvia tomarchio)1557835595.0
As we learnt the news of Doris Day's death yesterday, we also learnt that she didn't want a funeral, a memorial or… https://t.co/Z6gSqN5b8w

— Marie Hough (@Marie Hough)1557832251.0
@GeneA22860 @people No it's not a waste of money to have funerals and headstones. My dad, daughter and grandparents… https://t.co/h04Kn4SH2R

— Tracy Mirelez (@Tracy Mirelez)1557810337.0
Doris Day Won't Have a Funeral, Memorial or Marker | PEOPLE https://t.co/gzw7Wh0HlT⠀ Good for her standing by her d… https://t.co/v9NicwHu7f

— Wake Up America (@Wake Up America)1557854602.0
@people Good for her Family & Friends respected her wishes that doesnt always happen RIP fair lady 🌷🌺 ☀️

— The Spice Of Life (@The Spice Of Life)1557840452.0
#DorisDay. Good on Doris Day for eschewing all the nonsense of a funeral. They are useless ceremonies!

— Mark Owen (@Mark Owen)1557814636.0
Doris Day says no funeral, no memorial, no marker. Kind of cool, I guess, but kind of a middle finger to her fans, isn't it?

— Jeremy Tuman (@Jeremy Tuman)1557775340.0
People who wish to honor Doris Day's memory are being encouraged to donate to or volunteer with an animal charity - like the Doris Day Animal Foundation.
RIP Doris. You will be missed.
Keep reading...
Show less