Did anyone else almost exclusively eat McNuggets when they were a kid? Or was I just the biggest picky eater of all time? Regardless, it's very rare that I voluntarily go to McD's and get some nuggets as an adult. Did I outgrow it? Or did my tastebuds change?
I'm not the only one experiencing the phenomenon of outgrowing childhood foods. Here are just a few examples. Specter6272 asked:
What is a food you no longer enjoy as an adult?

Ah yes, the plight of the childish food losing its magic as an adult.
Spoiler: it spells "adulthood".
"I can no longer enjoy Alphabetti pasta without my reading glasses on."
"oooooooo
'Lois! My Alpha-bits cereal is haunted!'
'Peter, those are Cheerios.'"
Frosting gets worse as you grow older.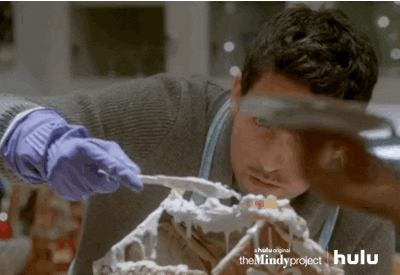 the mindy project frosting GIF by HULU
Giphy
"Frosting. I would eat the frosting first and then a cake or cupcake. Now, it gives me a stomachache and push it aside when I get cake."
"I guess, thanks to the food industry there are a lot of examples of this situation. Cake frosting used to be delicious like 10-15 years ago but recently they give nothing but head ache. Have you tried a fully homemade cake?"
​Now it's Coke Zero or bust.
"Soda. I used to chug a Coke every day after school. Now I can't stand them."
"A part of me hopes I out grow my soda addiction some day... but on the other hand I'd probably turn to booze to get through the day and I'm not sure if that's any better."
​Gross af.
"Cosmic brownies. I used to love them as a kid, but now I find them to be way too d*mn fudgy."
"Yes! For me, all Little Debbies and Vichon brand snacks. I used to eat them all the time but the thought just makes me queasy now."
​Like the Cosmic Brownies, sometimes even the mention of certain foods are enough to make someone gag.
The unfortunate truth.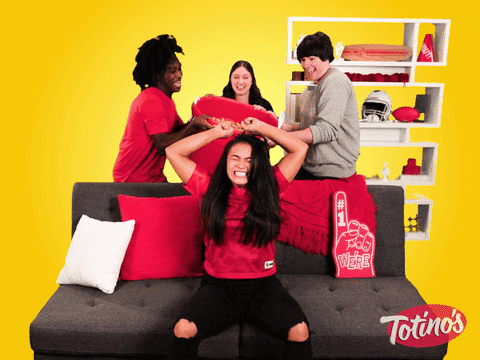 Excited Super Bowl GIF by Totino's
Giphy
"Pizza pops. It's possible I just outgrew them, but I'm pretty sure they changed the recipe. Now the dough is too sweet, the "cheese" doesn't even melt, and there's way less goo inside"
"Bagel bites are right on that street."
Crunch Berries are the bomb, tbh.
"Popular breakfast cereals. I can't believe I used to eat that crap."
"You know you want a bowl of Cap'n Crunch berries. I don't believe your lies."
Was milk ever good, though?
"Velveeta Mac and cheese, Subway sandwiches, and milk. Used to drink like two glasses of milk a day, but now I can't remember when I last had a swallow, let alone a glass, of just milk."
"When I was in high school I would, and this is no exaggeration, literally drink anywhere from a half gallon to a full ass gallon of milk every. Single. Day.
I've also never broken any bones. Just sayin'."
So far, nothing has topped milk when it comes to disgusting things that we would never consume as adults. What's next?
Basically just sugar.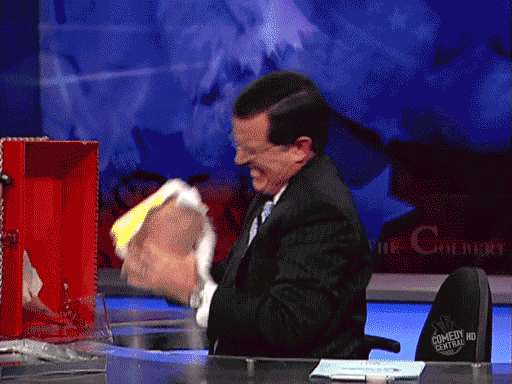 steve sugar GIF
Giphy
"Zebra Cakes. One of my favorite snacks as a kid, I adored those hexagon shaped pieces of heaven. Then I bought a box was I was in college because nostalgia is a hell of a drug, but I threw it out after eating one cake. They were horrendous, and I have no idea if it's because the recipe changed or my taste buds did. But that was almost depressing, to have something I enjoyed so much turn out to be garbage."
​Sometimes our tastebuds change abruptly.
"Bleu cheese. Loved it as a kid, teenager, and young adult, but one day in my early- or mid-20s I took a big ol' bite of my bleu cheese burger and gagged. Can't deal with it at all ever since. I have no good explanation; it just triggers my gag reflex every d*mn time."
The most overrated food.
"Macaroni and Cheese honestly doesn't taste like anything to me anymore."
"Macaroni and cheese is much better home made. My family rarely ever has macaroni though, a lot of the time we use shells instead. It's amazing how much that change can do!"
​The Little Debbie snack cakes are the most depressing ones. The nostalgia for them is real, but on the other hand- how did we ever think those sugary things were good?
Moral of the story is- our tastes in food as children were complete trash. That is all.
You could argue that the heart of any home is the refrigerator. It's true- without it, we would have to constantly rely on food delivery, and have nothing to go to for late-night munchies. Obviously, having a fridge is an absolute necessity.
But what are the most essential contents of a fridge? These people of Reddit have all the answers. Connnor4real asked:
What is essential to have in your fridge at all times?
First, let's go back to basics.
Seasoning your food is necessary.
"Having just condiments is pretty sad, but not having condiments at all is a whole different level of low."
"I'll never forget the time I was invited to eat at my aunt's boyfriend's house (why, I have no clue). I had to have been around 11 or so.
The man had no salt. No salt-like product. How do you not own salt? If you choose not to eat salt for whatever reason, how do you not own salt for people you invite over? It's like the one basic seasoning.
I'm 41 and whenever that comes to mind I still get annoyed at the idea of it."
​Yes to all of this.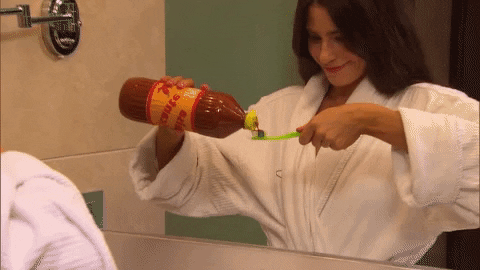 Hot Sauce Bip GIF by Bachelor in Paradise
Giphy
"Some kinda hot sauce, I go for cholula and sriracha.
Yo I'm very aware you don't need them in the fridge to stay good. Also thanks for the recommendations everyone!"
"We keep El Yucateco, Cholula, Louisiana, Tabasco, Huichol, Valentina, and Tapatío.
Also often keep a more home style jalapeño and tomatillo or chile de árbol salsa. Once in awhile the molcajéte will show up with various salsas in it, or whatever was left over from the last trip to the taqueria.
I could go for some chile morita salsa. And carnitas."
For the sake of adapting.
"Anything that can be used on bread. Cheese, pâté, any kind of savoury spread.
I lost all pleasure to cook when my partner died, and bread+spreadables is my usual go-to.
Oh, and eggs.
ETA: thank you all so much for the awards, they are really heartwarming; but please, please, please, keep your money and use it for a charity nearby instead, if you can."
"When my grandfather died it was the exact same for my grandmother. She went from being an amazing cook who stood in the kitchen for hours making a three-course menu for a simple family visit to living with easy and ready-made foods. In the past, she never would have touched those. I heard that this is a fairly common concomitant of grief but that it gets better over time.
I wish you all the best!"
Emergency quesadillas.
"Shredded cheese and tortillas. Gotta be able to make a quesadilla at the drop of a hat."
"Up your quesadilla game by buying the cheese in a block and shredding it yourself. It's cheaper and melts better; the pre-shredded stuff has additives it to keep it from clumping."
​Then there are the nonsensical universal things that we keep in our fridge, despite no reason to.
Don't eat after phase three.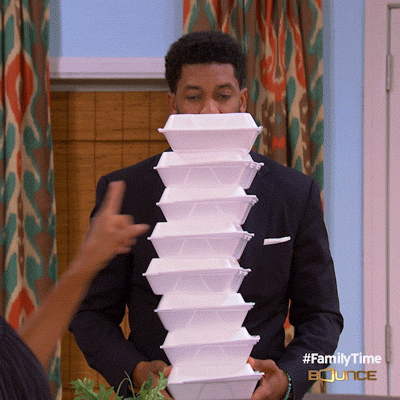 Hungry Labor Day GIF by Bounce
Giphy
"Leftovers that I will never actually eat."
"Leftovers go through 3 phases. 1) I can still eat this because I just cooked it yesterday but I won't. 2) it's been 2-3 days, I should really eat that now before it goes bad. 3) why did I even save that, now it's been 4 days and it's definitely bad but I don't want to throw it out and let it sit in my garbage can so might as well wait until garbage day.

Edit: yes I get it. You can eat leftovers after 4 days. That's great. Personally I have leftover fish in my fridge from Thursday and it's in phase 3. But if you want to eat food a week after it's been cooked be my guest."
​Every grandma has this.
"A strange jar of something completely unlabelled and hidden toward the back. It stays there for years and keeps people guessing."
"Please stop coming to my grandma's house."
Who needs to bake it anyway?
"Cookie dough, I don't care if it's edible or not I'm eating it."
"There have been way too many times in my house where the cookie dough has never made it to the oven.
ETA: This comment made me want cookies. I managed to get most of them baked."
​And don't forget the go-to snacks that always have a home in the fridge, especially for those wild nights.
​All of this is accurate.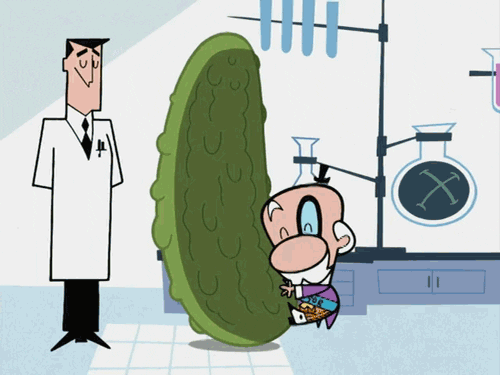 pickle GIF
Giphy
"Pickles. Best anytime snack."
"People don't believe me when I say that eating them before you go to bed will diminish one's hangovers until they try it themselves. I mostly stick to my Mexican roots and eat a bowl of pozole or street tacos for hangover prevention before I crash out but pickles are great when I'm totally smashed and just want to pass out. Pickle juice is also great in the morning if you do wake up with a slight headache. Salud!
​Smart ideas all around.
"Barbecue sauce.
Also sandwich supplies (sans bread cuz refrigerated bread is weird) cuz sandwiches are fantastic quickie "meals"."
"I keep bread in the freezer, then give it a quick trip through the toaster to make it edible."
This is a gourmet meal on its own.
"Bacon. So many things.
Fresh Broccoli. Roasted with oil and salt is magic.
A variety of cheeses.
Real Butter. Cook almost everything in it."
Out of all of these, the hot sauce one really spoke to me. Nothing like a fresh pepper filled with hot sauce as my go-to drunk snack.
Take this list to the grocery store, and stop ordering pizza for once.
Keep reading...
Show less
When everyone around you is losing their minds appreciating a food that you think is God-awful, it can be hard to speak up.
Thankfully, the cover of anonymity on the internet provides a place to share those unpopular, repulsed opinions. There are some commonly loved foods that, for whatever reason, just do not agree with all the tongues out there.
Reddit, of course, is where they gathered to talk shop.
Redditor Nervous_Bakedwafer asked:
"What popular food do you find disgusting?"
For many people, the degree to which a food has strayed from real, naturally occurring ingredients was the beginning and the end of the story.
Too Fun Food
"This is gonna sound weird but I don't like things that are bright artificial colors. Like something could taste good but if it's neon blue or neon pink or something I'm a little repulsed."
A Household Name
"Twinkies. They're extremely sweet and they taste chemical-y. Makes me wanna throw up." -- pomskiesxx
"They were way better when I was a kid. After Hostess shut down and was brought back by another company, the weren't good any more." -- Coconut-bird
All Jammed In There
"SPAM. I saw a documentary about it and how it's actually more popular than I thought it was. Just looking at the packaging makes me gag. Sry guys."
-- alpacameat
​Imitating
"Pumpkin spice anything I just find it disgusting yet I like pumpkin pie" -- BearWithABowtie12
"That might be because pumpkin spice doesn't contain any pumpkin. It's about the spices that go into a pumpkin pie--not the pumpkin. It's not supposed to taste like pumpkin--not that that makes it any better." -- supercheetah
But the naturally occurring foods managed to gross plenty of people out too.
The State is Disappointed
"Avocado, I'm a bad Californian but honestly they just taste like bland mush and I don't like the texture." -- RGBmoth
"A friend once convinced me to try a bit of avocado. She immediately apologized because apparently while eating it I 'looked like I wanted to kill myself.' I really was hoping that I would like avocados though." -- deleted
Truly Unique
"Mushrooms. Just the concept grosses me out." -- Moorebetter
"Mushrooms, the penis of the forest." -- office_ghost
"Yes! I'm fine with the taste of mushrooms and they look delicious in so many dishes I've seen, but I can't get over the fact that I'm eating a fungus. Ruins the entire experience" -- AlexGarrido
And what is it about cheese that seems to rub people the wrong way so often?
"Cheese"
"Velveeta 'cheese.' Flavor, texture, appearance, smell...there's nothing good to be found in that yellow, room-temperature box."
-- OhNoCosmo
A Passioned Plea
"The mere sight of American cheese is enough to make my skin crawl. My American brothers and sisters - please see the light and stop eating that stuff."
-- vtjfvkc1
Again, "Cheese"
"Cheese Whiz." -- _GarageDinner_
"I just don't understand why someone in their right mind would put crappy 'cheese"'in a can" -- BearWithABowtie12
"Stay out of Philadelphia." -- C0VID
So to all of you harboring secret, hateful feelings toward the foods your friends won't stop blathering on about, shine on!
Want to "know" more? Never miss another big, odd, funny, or heartbreaking moment again. Sign up for the Knowable newsletter here.
Keep reading...
Show less
Some treats or delicacies are meant to be consumed in moderation. They enhance an experience of a meal or are fine in small portions are their own.
We as humans love to indulge in these treats, but often don't know what 'too much of a good thing' really means until we are running to the bathroom. Why would we eat something that will make us sick? Well, it could be we're innocently unaware of the consequences.
Redditor EZZ2 wanted to hear some people's cautionary tales:
"What food is only good eaten in small quantities?"
Let's find out what foods we should keep to a minimum.
Want to "know" more? Never miss another big, odd, funny, or heartbreaking moment again. Sign up for the Knowable newsletter here.
I love pizza! Who doesn't? I mean, I wouldn't be able to trust a person who doesn't like pizza. That seems like an enemy of the state. And I love many, many ingredients that are tossed on top of pizza. I will duel to the death if I must, but I defend.... PINEAPPLE, on pizza. Yes I said it. But I judge anyone ok with anchovies. They are the work of the devil. Let's discuss what is decent for a pizza.
Redditor u/dawnsic wanted to discuss blasphemy and pizza by asking:
What's the worst pizza topping EVER?
Any meat is a definite plus. Any vegetable needs discussion. Any fruit... we need a town hall. Not everything belongs on pizza. Let's see some ideas...
Lute Who?
"Lutefisk"
"Dried cod that has been treated with lye to preserve it. It's a Christmas tradition among some Norwegian American immigrants in places like ND and MN. Once soaked, rinsed, and baked in butter it takes on a gelatinous texture. I can choke it down when prepared well but it's not good."
Too Much Red
"I've mentioned this before, but I once had the displeasure of eating a pizza where they apparently decided to use ketchup instead of the usual marinara sauce. Worst pizza I have ever eaten in my life. Please never do this, people. Just because they are both red doesn't mean you can substitute one for the other!"
- Gurasola
The Sog...
"Worked at a pizza restaurant. A customer used to come in every Friday and bring us, sealed from the factory so we could use it behind the counter, baked tofu. Now, I've had baked tofu but this stuff was different. It was verging on silken. We would put it on there for her... with no cheese... and only a little sauce... and it would make the pizza into a soggy mess. She came back every week for one. Tipped us 5 bucks every time. It didn't even resemble pizza anymore. And it stunk when we cooked it... like feet."
Oy No!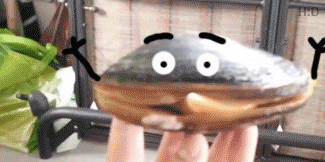 man oyster GIF
Giphy
"At a company lunch, one jacka** insisted on an oyster pizza. No one ate it."
I'm Dead
"Once found a cockroach baked into the cheese... So yeah, cockroach."
"Okay... now this is scary. Imagine it's baked in there but certain toppings are stopping you from seeing it and then you take a bite."
- ZooWap
Ok. I'm ok with a few things there and a few things I'm a big "NO" on! Oysters? Are you kidding? And roaches are everywhere, so be aware.
Horror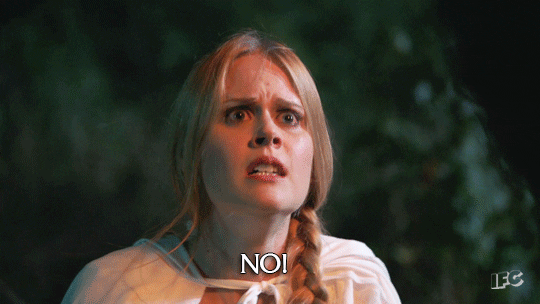 Janet Varney No GIF by IFC
Giphy
"Finally, I can pour my heart out. In Taiwan there are two types of pizza's with horrifying toppings. One has rooster balls as a topping, the other one has cilantro, century egg and pig blood cake as toppings."
Durian
"In Shenzhen they had a Durian pizza place. I couldn't bring myself to try it though."
"Edit: found someone that was braver than I was. This is a different shop, but it looks about the same."
"I've had it. The first bite or two with durian on it is ok. Then you go in for another and it's like, "I can't do anymore of this". And pull all the remaining durian off. The flavor is still there, but at least there's no giant chunks. And then you have durian burps for the next 6 hours."
- tnp636
In Korea...
"Whatever they're doing to pizza in Korea. Mayonnaise and cinnamon apple with chocolate syrup and one still beating heart of an artichoke or whatever. I dunno, they get weird with it over there. The impression I got was that in America we see pizza as a simple fast food and in Korea they see it as some kind of delicacy."
"Edit: ok in hindsight, artichoke heart isn't that uncommon. But it just sounded funny in the moment."
WHAT?!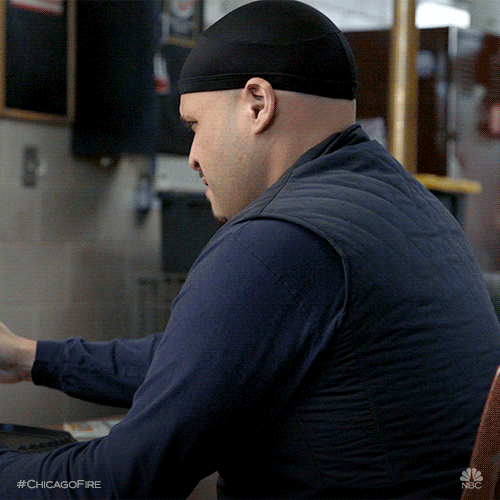 Excuse Me Reaction GIF by One Chicago
Giphy
"Peppermint."
"They make mint jelly. Get some of that, put it on a pizza, and try to eat it. You won't make it past bite 5."
Food has gotten so complicated. Why can't we just be simple? Don't overthink the menu. It can quickly get out of hand.
Want to "know" more? Never miss another big, odd, funny, or heartbreaking moment again. Sign up for the Knowable newsletter here.

Keep reading...
Show less