*The following article contains discussion of suicide/self-harm.
Traumatic scenes depicted in movies–as convincing as they seem–will never compare to witnessing real-life horrors.

Curious to hear from strangers who wish they could unsee the tragic situations in life they happened upon, Redditor RoyalAd1555 asked:

"What is the scariest thing you witnessed with your own eyes?"
These deaths will haunt the following Redditors for a very long time.
Dying Mother
"Finding my mom unresponsive 6 months ago and subsequently watching her die as a result. Neither cellphone or landline would connect to 911 so she was dead by the time we got through to anyone. It was 20 minutes but it felt like a lifetime and now 6 month later I get the grief and the trauma with no mom to comfort me."
– Practical-Implement3
Helping A Bereaved Woman
"Helped a woman move out of her apartment maybe 90 minutes after the murder-suicide of her husband and son. Police were done, but the room had not been cleaned."
"A very sad and harrowing experience for me."
– HoarsePJ
The Site Of Tragedy
"When my son drowned in my in-laws pool, they had put that yellow crime scene investigation tape all around the pool. While planning his funeral, my mom and i had to make a trip out to my in-laws to get his favorite animal for him (It was at their house because I was working that day and they were watching him). My mom pulled all the way up into the driveway not even realizing what she had done and I had a clear vision of the pool with the tape. when I saw that, I immediately felt nauseous and had to vomit."
"It's been almost 1 1/2 years and I still can't bring myself to go out back. The rest of the family still gets in the pool when they have get togethers but I have no desire to get in that pool. I just hang out inside the house and people will come in and talk with me but when I see their pool, it's like I get hit with a semi truck-i feel like my breath is knocked out of me as the image of my baby going down the pool slide and then laying in a hospital bed fighting for his life take over my brain and I can't make it stop."
– NecessaryCod

Watching A Friend Flatline
"Was there in the emergency room with someone close to me who had just died from a completely random brain aneurysm/seizure episode. Being there overlooking someone you know well, and had just spoken to hours earlier, with a flat line on the heart monitor is pretty terrifying. Especially when we had talked about death (as an idea/concept) not long before."
– Mathgoat123
Many horrific sights can be seen while driving.
A Malicious Plan

"When I was around 6, we were going to my grandparents' house. On the interstate, a woman seemed to fall out of a car in front of us. My dad had to swerve to avoid hitting her. That's all I saw with my own eyes."
"It turned out the woman's husband was trying to murder her and make it look like a suicide. The intention was for my dad to have run her over, but he had time to swerve. The husband had an accomplice behind us, but he couldn't hit her because of how my dad swerved."
"Some other good Samaritan stopped and gave the woman a ride to the hospital. The guy who gave her a ride and my dad were both called as witnesses at the trial. The husband and the accomplice were both convicted for conspiracy for attempted murder."
– Awdayshus

The Roadside Conflagration
"Car ablaze on side of road with passengers crawling out very slowly and on fire."
– BillyBobbaFett

"Driving home from work one night. Tons of traffic. I am sitting second at a red light turning left and this truck stops in the opposite lane to leave an opening so the car in front of me can turn(it was a traffic jam so he would have stopped in the intersection if he didn't). Car turns, out of nowhere this semi is driving super fast along the side of the road (not in a lane). One second the turning car is there, the next second it is blown to pieces. I was turning right behind them. Maybe was 10 feet away from it. Felt almost surreal how close I was."
– Korbindallas912

These Redditors talked about people taking their own lives.
The Graphic Scene

"Driving up to an Amusement Park, King's Island, there is this longer exit as it gets off the highway. My friends mom just started getting on the exit lane and me and my buddy, probably around 10 watch this person jump in front of a semi. It was like the whole world just kinda stopped for those few moments. As we drove passed the body I fully remember the jeans around their ankle and the body just twitching."
"I really don't think I will ever forget the image."
– Sarnick18

The Siblings Who Didn't See It
"My mom tried to kill herself Infront of me, watching my siblings hide away from what was going on was the only reason I stayed remotely sane. I'm glad they didn't see any of it."
– user deleted

The Passenger Inside
"Well it wasn't me but my friend noticed a vehicle in the parking lot at his work had been there a few days in the same spot. He walked up to it and found a man who blew his head off with a shotgun. Suicide note was on the dashboard."
"His work offered him counseling with a professional if he needed it but he declined."
"He did tell me though months later he had a nightmare about it, but that was it, and he never really thought much about it after that."
– Trickery1688
No One Should Ever See This
"Step dad hanged himself in front of my mum and me. I feel you."
– RinaPug

Handling Death Claims
"Working property insurance I see death claims occasionally. Usually when someone tries to or successfully commits suicide. I had one where a mother and daughter were murdered by the daughter's ex boyfriend. You could see the trails of blood in the hallway of the mom trying to drag herself to get help and where he caught her and shot her in the head. It was awful. I cried and ended up having to have the claim transferred to a more seasoned adjuster."
– Moxson82

These Redditors thought they were about to witness shootings.
Threatening The Dog
"When I was a kid, I witnessed my drunk step father wielding a loaded shotgun with the safety off. It was pointed inches from the face of my dog, and he threatened to blow her head off right then and there. Fortunately, he didn't shoot her in front of me. Bad news is that she 'ran away' (leaving her collar and tags behind) a few days later."
– VeloxFox
In The Face Of Death
"Guy pointed a revolver at my face and pulled the trigger, thought for sure in that split second I was going to die."
– bigsam63
These are examples of the unpredictability of animals.
A Kid And A Horse

"I was standing 6 feet way and watched a full size horse kick some kid in the face.. The kid is now considered mentally challenged."
– IllprobpissUoff

Happy To Be Alive
"Happened to my friend a few months back. She owns several horses and this happened with the last horse she would've ever expected. The wound on the right side of her head, was 6 inches long, down to the skull. I wanted to faint when I saw the pictures. After several months of complications with swelling and infection, she's finally healed up, but she now suffers with all that comes with TBI and PTSD. She said she's just glad to be alive. It's crazy how your whole world is changed just like that."
– Abject_Presentation8

One incident I will never forget is a house party gone wrong, where the apartment's occupant had her brother and his friends over. They were high and one of them carried a firearm while another guy had a knife.
A brawl broke out in the living room, and all I remember is jumping off the second-floor balcony with a handful of my friends and running to the car as we were being pursued.
Six of us managed to pile into the car as the guy pounded the rear window of the vehicle with his fists.
Cops eventually showed up.
Nobody was killed, but some of my friends were taken to the hospital to have their wounds treated. It was the most terrifying thing I've ever experienced and made me never go to another party in a long while.

If you or someone you know is struggling, you can contact the National Suicide Prevention Lifeline at 1-800-273-TALK (8255).
To find help outside the United States, the International Association for Suicide Prevention has resources available at https://www.iasp.info/resources/Crisis_Centres/
Sign up for the Knowable newsletter here.

Never miss another big, odd, funny or heartbreaking moment again.
Keep reading...
Show less
Fear can be based on real dangers or past experiences, but what happens when it isn't?
What happens when fear goes beyond "healthy level of caution" to "abject terror"?
Sometimes labeled as phobias, those irrational fears can still be crippling.
Redditor An_Anxious_Mess_Idk asked:
"What is one fear you have that would be considered stupid by most people?"
Never See It Coming
"I'm scared that when I'm driving anywhere late at night and the roads are clear I'll be struck by one of those land speed record vehicles."
"I'd be afraid it would come out of nowhere and I wouldn't see it coming."
- gameofthrones_addict
"I always had this fear (a vehicle coming out of nowhere) when crossing streets as a kid. Suburban streets, mind you..."
- unknown-permutation
"Yeah pretty much, just middle of nowhere you don't always see everything…"
"I know it wouldn't happen. So I know it's an irrational fear."
- gameofthrones_addict
Detached
"Becoming detached on a space walk and drifting off into the void."
"I am not an astronaut, for clarity."
- LoneKharnivore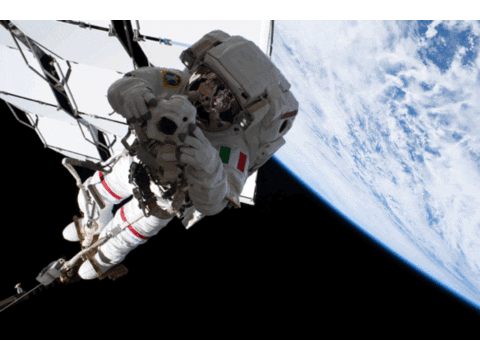 Giphy
Wooly Bully
"Cotton balls."
- DatDude999
"I can't touch cotton wool or anything of that texture. It gives me the chills and the jitters."
"My wife thinks I'm an idiot."
- cloudstrifeuk
"Me too. Everyone always tries messing with me by showing me them or chasing me because I actually run as soon as I see them!"
- AdministrativeCap998
"It's called Sidonglobophobia. The sounds and the static they make when you touch them makes me shake."
- DatDude999
Hiisssss
"Toilet snakes. Thanks, Stephen King."
- Beesareourcousins
"Wife found a 5 foot long black snake in her mom's washer. She thought it was some sort of gasket that fell in the tub at first….reached for it and it moved."
"Our house is 500 feet away, heard her scream from the front porch."
"Mother-in-law's house was built 1890 or so. Not very well sealed up anymore."
- tatpig
"Omg. I found a 3-4 foot snake in my hamper once."
"I heard what I THOUGHT was like, a soda bottle slowly letting out fizz, and when I went to investigate, it was A F'KING SNAKE hissing."
"Carried the whole thing, dirty clothes and all, out to the driveway and kicked it over so the snake would slither away."
"I had bombed for spiders the day before. I had opened all the windows and doors for several hours to air the house out. I'm guessing he snuck in then."
"I was ready to burn the place to the ground after that. 😳"
- SamSepiol-ER28_0652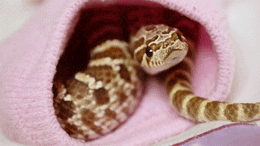 Giphy
Take A Seat
"I can't sleep with my desk chair facing my bed."
"I have to get up, turn on a light, face it away from me, and then I can go back to bed."
"I get irrationally afraid that I'm going to turn over or blink and look at it and someone is going to be sitting in it watching me sleep."
"No idea where that fear came from."
- lockehearte
Deep Blue
"Swimming in a lake, or in the ocean without being able to see the bottom."
"I was bit/cut by something once and since then it's a fear I just can't control.
"I will still go and do it though because I hate it when people tell me what to do. Even when that's myself."
- Personality4Hire
"Thank god water shoes were invented or I'd never go in the ocean or lake again."
"I stepped on a horseshoe crab and it freaked me out so bad I can't go into those bodies of water unless I have shoes on."
- JRich61
"We had a little sand shark swimming by us one trip to the ocean."
"Haven't been able to get past ankle deep since. It's been probably closer to 14 years ago now."
- Negative_Shake1478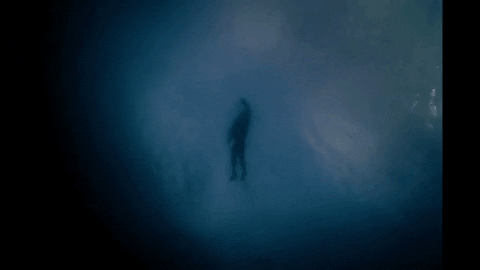 Giphy
Reflection
"Fear of mirrors."
"Creepy things they are."
- The_dead_are_rising
"I'm specifically scared of mirrors in the dark, or any reflective surface."
"I'm convinced that if I look at it, I'm gonna see something horrible standing behind me."
- Kotori425
"Same but I'm not scared of seeing something behind me."
"I'm scared of seeing something in it that could possibly reach or step out."
"Mirrors in the dark feel like a door to another dimension to me and I have no idea why."
- christopharo
"My worst nightmare is getting up at night to go to the bathroom, going past my mirror and I'll see myself in the mirror but the me in the mirror does something different than me..."
"It's that bad that I'll walk past my mirror with my eyes closed at night."
- JenJMLC
Unblinking Eyes
"DEAD FISH."
"UGLY MOTHERF'KERS."
"UNBLINKING EYES ALWAYS STARING"
- Flat_Bodybuilder_175
"Hate to break it to you, but fish don't blink when they're alive either."
- Itsafinelife
"You're... not wrong. By the law of my own phobia, I now have a fear of living fish too."
- Flat_Bodybuilder_175
"The sharks got your back bro, they wink."
- salinase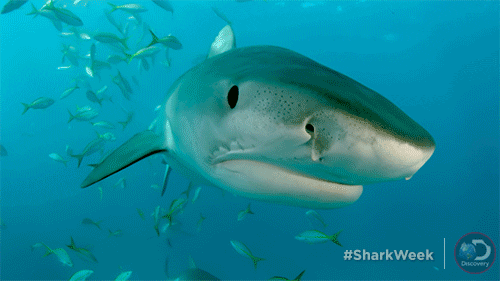 discovery eye roll GIF by Shark Week
Giphy
Mothra Is A Monster
"Moths."
"I get teased all the times about it and my reasons and people try to trick me in to liking them or admitting it's fake.
"Apparently being scared of spiders is ok (I like spiders) but terrified of moths is weird because I like butterflies and 'they are the same thing'."
- kyaria17
That Moth Fear Is Justified
"May 2020, my husband and I took off on a road trip. Everything was mostly shut down but that's fine, what we like to see and do are outdoor, nature things. We stopped at a state park in Oklahoma that had only partially opened that very day."
"We walked around for a bit, let the dog run around as we were the only ones there. Then I had to pee. Now I'm a chick and 'I've got to find somewhere to pee' is pretty much always happening or going to within half an hour."
"The usual state park bathroom places were one hole situations but in little concrete buildings….nice enough, I've used way worse."
"When we first opened the door a LOT of moths flew out. I'm not scared of moths but it was a LOT. So we let them fly away and I went in. I'm sitting there beside one of those large toilet roll things….the one foot diameter ones with the black cover and you pull the paper from under."

"Even as I gave the toilet paper a yank, a tiny part of my brain knew what would happen. A truly biblical number of moths burst out from the bottom of the paper roll when I pulled."
"I ran/hobbled with shorts pulled down and toilet paper in hand just screaming out of the bathroom. My husband all but dropped he was laughing so hard. My poor dog was sure I was being attacked and ran into the bathroom barking and growling."
"It was all hilarious in hindsight. But trying to explain to anyone how moths could make me run screaming is difficult to say the least."
- rebel1031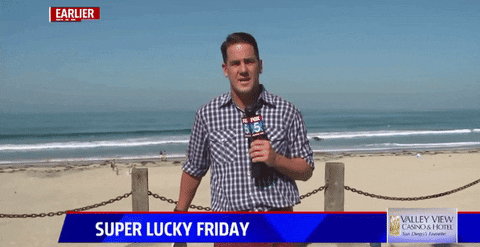 Giphy
For me?
June bugs.
June bugs crawl out of the ground in the summer because they're mini demons emerging from Hell. I cannot be convinced otherwise.
So what's your irrational fear?
Want to "know" more?

Sign up for the Knowable newsletter here.
Never miss another big, odd, funny or heartbreaking moment again.
Keep reading...
Show less
Fears.
We all have them, but not all fears are the same.
There are things that make us a little uncomfortable, but then there are things that completely terrify us.
Reddit user, Immediate-Salary-736, wanted to know what makes your hairs stand up on the back of your neck when they asked:
"What terrifies the sh*t out of you?"
Trapped
"Locked in syndrome."
"Cannot move your body, speak, do anything but think."
"I think you can move your eyes?"
"Maybe?"
"Otherwise you're completely at the mercy of your surroundings."
"If I ever get it, just kill me."
Brachiozord
Losing Control
"Alzheimer's disease"
Dapper-Way-1114·
"On a similar note, Parkinson's. My grandfather was lucid to the end; but physically he was just completely helpless."
mossadspydolphin

"Yup. I don't fear death, but the prospect of losing my personality and sense of self little by little terrifies me. If I ever get diagnosed with Alzheimer's or dementia I'm going to go out on my own terms."
Northerleyfire
In An Instant

"A brain aneurysm. One killed my mother when I was 23, instantly. I rang her 4 days before and she didn't even have a runny nose then bam, dead. Late fifties."
"Supposedly I'm more likely to have one on a hereditary level. F**king terrifying"
[user deleted]
Clots
"Blood clots, aneurysms anything that you cant really detect happening in Your body until it's too late. Like WTF."
Deus_Ex_Machiavelli
"In a 5 year stretch I knew 12 people who died of blood clots in their legs. 3 of them were related a dad and his two daughters. They all started out with a weird pain in their leg. Then dead. I'm petrified of this. Whenever I get a leg cramp I freak out."
klsprinkle
Late Discoveries
"Finally discovering very late in life, what I was supposed to have been doing the entire time."
MeToolMovement
"This one definitely resonates very strongly with me. I just turned 40 and I've failed to achieve much of anything for myself... after college I was totally lost and directionless- and I never stopped being that. I often lie awake at night wondering if any hypothetical positive that might occur at this point in life could make up for all of the wasted years already behind me."
DonktorDonkenstein
Thought not everything has to do with the body. Some people had real world fears and phobias.
Seaworthy
"The thought of Being in the middle of the ocean stranded"
crackonwednesdays
"Ooof, Open Water. That film would've stayed with me for years even if I hadn't known it was based on a true story, but knowing that those two people were just abandoned in the open sea (and that no one realized they were gone for TWO DAYS) just ruined me."
Elvis_Take_The_Wheel
"The last scene in The Perfect Storm where the guy is alone in the water during the storm and the camera pulls away until he disappears."
Pest Control
"Cockroaches when they start flying."
"I went to South America for a summer in my teens. I stayed with a very poor family and slept on the floor. I will always remember being woken up by these strange noises. I turned on the light and the room was absolutely teeming in giant flying cockroaches. When I turned on the light half of them started flying around. I've never been more grossed out and horrified in my life. It still haunts my dreams."
'We have a saying here in Mexico: Todos son muy machos hasta que vuela la cucaracha 'everyone is too tough until a cockroach flies.'"
Open Road

"Driving. Especially out of town. I do it every day in my own town, and have very few issues, although I do get a little nervous sometimes. But man. Put me on a road trip even just 2 hours away and I'm a nervous wreck. Unfamiliar traffic and driving conditions will never not scare the shit out of me."
"Oh, and heights. F**k heights."
[user deleted]
Wreckage
"Getting into a serious car crash."
"So, here's how mine went if anyone's interested. Moral of the story is don't drive tired. Might be a little long, but it's here if anyone wants to read it."
"I fell asleep driving once. When the car went off the road, that's exactly when I woke up. So opened my eyes to going downhill in the grass, at about 100kmh/55mph. My reaction was just steer away from the trees and mash the brakes. I avoided the trees, but hit the end of a steel culvert sticking out from under a driveway."
"The culvert caught the car just below the steel bumper support, ripping the bottom half of the rad and condenser off, the oil and transmission pans, and part of the floor, as the wheels straddled it, and the car went up and jumped the side of driveway, becoming airborne. Landed completely sideways in the driveway on all 4 wheels."
"The scariest part was when it stopped, my glasses were gone (found them in the rear window deck) from the airbag, and I put my hand on my face and felt lots of warm liquid running down my skin. I figured it was blood, and when I pulled my hand away, it was brown?... looked down, my coffee was still in the cup holder, no lid, half full. It was coffee."
We all face our fears daily.
Hopefully we never have to face the ones that truly terrify us.
Want to "know" more?

Sign up for the Knowable newsletter here.
Never miss another big, odd, funny or heartbreaking moment again.
Keep reading...
Show less
Why is it that some of the most unsettling things happen when we're alone at home?

Could it be that our minds are playing tricks on us and we're imagining things that aren't there?
Probably, at least that's the hope.
Because someone with a burlap sack over their head with two eye holes cut out and attempting a home invasion would be an undesirable situation.

Curious to hear from strangers who have experienced disturbances, Redditor VagariTurtle asked:
"What is the creepiest thing that has ever happened while you were home alone?"
Someone was trying to break into these Redditors' homes.
It Wasn't The Stepdad
"My brother and I were home from school because we were sick. We had a craftroom in the mostly unfinished basement and we were down there playing with miniatures. Around noon we heard, VERY CLEARLY, the front door unlock, open, close, and someone walk in shoes across the foyer tile to the kitchen and turn on the sink."
"They then turned off the sink and went up the stairs to the second floor. I figured it was my step dad and called my mum to let her know he came home for lunch."
"She had just got off the phone with my step dad and he was in his office at work. She called him back and he came ripping home while we hid in the basement. Although we never heard the person come back down the stairs we didn't find anyone in the house."
– JamesonZane

Early Morning Disruption
"Someone started trying to force the door of my small garage apartment open, while I was laying in bed inches from the door, at around 2am."
– RainWindowCoffee

Evidence Of Forced Entry
"Years ago, a stranger smelled weed outside my apartment and knocked on my door. They wanted to join and smoke. I apologized and said no."
"Later that night, I left to go out. When I came home my air conditioner was knocked in and there were signs of someone trying to force entry."
– tassadank

Voices Carry
"I wasn't technically alone as someone else was in the house, but because of his medication, he couldn't do anything to help if there was an emergency."
"I was downstairs with my husband snoring beside me. I heard from the top of our basement stairs 'Hello?... Hello?... Is everybody okay?.' I went up to figure out who it was and thought maybe we'd accidentally left a door open somehow."
"Searched everywhere, nothing even slightly amiss. Made a phone call and also got my neighbor over. Both doors were shut and locked. Did a thorough check behind every door, the tub, under furniture, etc. Nothing. No one."
"This has happened several times and my only explanation is that it's our neighbor. For some reason, when we're in the basement, everything our neighbor does sounds like it's in our townhouse. Though I still have no idea why he's walking around his own house calling out 'Hello' and asking if everyone is okay."
– CuriousRelish

These Redditors had it ruff and later had a laugh.

False Alarm

"I was awoken in the middle of the night to something pulling on my comforter at the foot of my bed. I look down the foot of my bed and see this three or four foot shadow figure trying to climb on my bed. I panicked thinking I was about to get murdered. I flipped on the light to find my 15lbs dog trying to drag my 4 foot teddy bear onto my bed. It was terrifying in the moment, now I just find it hilarious."
– Accomplished-Gap5856
The Hairy Entity
"I was in my late 20s possibly early 30s when i woke up to see this black mass staring at me on my bed in the dark. I was terrified. I threw the blankets over my head and I was shaking. I peaked out after what seemed like an eternity and was licked. It was my black ungroomed schnauzer."
– CinematicHeart

Barking Order
"It was like 2am and I had to take my dog out to go to the bathroom. As I'm standing out in the yard, I notice there's this really big dude walking down the sidewalk towards my house."
"The big dude looks over toward me and screams 'Hey! Come over here, right now.' He sounded really pissed and I definitely did not go over to him. I locked myself in the house and watched him from inside."
"He was pacing back and forth on the sidewalk just staring at my house and looked really mad. As I'm watching him, two cars pull up to the curb and a bunch of people get out and join him to stair angrily at my house."
"I'm very confused at this point because I don't have any enemies and I wasn't sure what all these people wanted with me."
"The guy who originally scream at me starts walking toward my house and screams 'I said come over here! Right now!'"
"At that moment, my motion activated light on my porch went on and I could see a giant goofy looking dog sitting on my porch. The dog sprinted away when the light went on and the big dude went chasing him up the street. The people got back in the cars and chased after the dog too."
"As it turns out it the big goofy dog was their family pet and it had escaped from their house. It saw me in the yard with my dog and was running towards me to play (I never even saw it until the light came on). The big dude was just yelling at his dog, not me. The people in the cars were his family members trying to help catch the dog."
"I actually saw them walking down the street a few days later and introduced myself. Both the dog and man were very friendly. It was a happy ending for an initially creepy situation."
– MrBigTimeJim
Funny Games
"Slightly similar, I looked out my window and it was and episode of black mirror with 15 people standing in front of my home and people in their cars all looking down at their phone emotionless… Pokémon gym is in front of my house apparently."
– LA_LOOKS
It Was A Scream
"As I'm laying on the couch watching TV late at night, I hear a tapping on glass. I brush it off, only to have it happen again about a minute or so later. I turn to look out our sliding glass back door, which had always given me the creeps with its no blinds or lighting in the back yard, to see of all things someone standing outside wearing a scream costume."
"My mind started racing as to who it might be, perhaps one of my sister's friends? I wasn't about to go outside and find out! They slinked away into darkness before I found my nerve. Turns out my 70 yo grandma decided to scare the sh*t out of me lol."
– AmbivalentEnthusiast

People recalled their hair-raising events.
Strange Bedfellows
"So I lived in an apartment by myself. And every once in a while I'd be about to fall asleep and I'd feel a weight next to me as if someone else got into the bed (it was a queen size bed). So at the time I was dating a woman who would sleep over from time to time but I never mentioned this to her. So one night while she was over I had to leave due to a family emergency. I told her it's okay if she sleeps at mine alone if she would like and that I would be back the next day. I get home that morning and she tells me 'the weirdest thing happened last night, as I was falling asleep I thought you had come home and gotten into bed with me bc I definitely felt someone get into bed on the other side, but when I opened my eyes you weren't here.' Freaked me the f'k out."
– ManyRanger4

The Murderer
"My neighbor shot 2 people in his house. Then proceeded to hide the gun behind my house. I was home and watched him out the window. I didn't know what he was doing at the time. It wasn't until later I found out what had happened. The victims both died."
– offtuna

Eight-Legged Freaks
"Once was watching arachnophobia as a 13 year old on Halloween. Went to go to bed, got a little nervous because of the movie, decided to just shake out my bedspread. Found a solid 3 inch wolf spider sitting like an Andes mint on my pillow. Slept in the bathtub that night. Idk why that felt safe but it did."
– kharmatika

Wailing
"I was about 10 or 11 years old. We had woods behind our house. My parents were out one night, and I heard a shriek from the woods. My blood ran cold and I called my parents immediately. While on the phone, the terrifying scream happened again from the woods, and my mom could actually hear it from the phone."
"Later we figured out it was a fox."
"What does the fox say? Apparently foxes scream like someone getting murdered."
– morethanlemons
The Unstoppable Chair
"I was 11 or 12 yrs old. Internet was not a thing on my country yet, but the first PCs with Windows 98 came in and we have one at home. I was playing with wordart (yeah, good times tho) at like 12pm, then suddenly a chair from the kitchen table start to shakking, like with violence. Of course nobody was there. I ran out to the frontyard and wait for my mom to come home, she was there by 1pm."
"20 years later I still don't know how the f'k the chair was moving like that, because a lot of thing that happens to us when we were kids have a reasonable explanation. This on the other hand could be my mind playing with me but never happen again and i was a normal kid with normal parents and friends, no traumas or psychologic problems."
– outerspace69

If you're alone and not expecting anyone and you suddenly hear the front door rattling, would you check to see who it is through the viewfinder or pretend you're not home?
I pretended I wasn't alone once under the circumstances.
When I heard someone trying to open the door to my apartment several years back, I faked a conversation with someone who wasn't there to ward off the possible intruder.
I never found out if it was a tenant mistakenly arriving at the wrong apartment or a complete stranger who managed to bypass the secured vestibule door to the building. But I wasn't going to find out if my apartment was going to be broken into by somone who assumed no one would be home.
Time to invest in a Ring doorbell cam, I suppose.

Want to "know" more?
Sign up for the Knowable newsletter here.

Never miss another big, odd, funny or heartbreaking moment again.
Keep reading...
Show less
When we eventually get out of the pandemic and more countries open their borders to tourists, people will start booking flights to fulfill their wanderlust desires.
Those who enjoy travel usually talk about the countries they've visited and places that are on the bucket list to explore in the future.
But seldom do people talk about the places they would rather not visit.

Redditor crunchy_croissant asked:

"What is one country that you will never visit?"
In all deference to the locals living there, these destinations are notorious for undesirable conditions.
"north ikea"
– Sorryformyfart
"i always knew the north part of ikea was sketchy."
– Joel-O42069

Living In Perpetual Fear
"Myanmar."
"Spent my pre-adolescence there during the previous rule of the junta, when Suu Kyi was in house arrest. I cannot begin to explain the fear that was present in everyday life there then. My father had to be at Yangon for some pretty run-of-the-mill corporate work and was nonetheless always on alert."
"As a 10/11/12-year-old, I was not allowed to answer telephones, lest I reveal something that might seem problematic to the administration. Even in an atmosphere that you were on the brink of rubbing law enforcement the wrong way, my most memorable moments were brushes with the younger adult neighbours in our apartment who were running an illegal computer training centre."
"I cannot imagine their lives now, suspended in constant agitation."
– Glooberty

Unstable Republic
"Sudan. Either of them."
– bobsyouruncle1950
"I spent two weeks in South Sudan in the summer of 2005. This was when the civil war was still happening so before Sudan was two separate countries. There was something like 30 km of paved road in all of South Sudan at the time. It was beautiful but there was literally no infrastructure. Lots of AK47s though."
– nomadicfeet

Being Assigned

"My dad's colleague was trapped with no connection to outside world in this recent coup in Sudan. Everyone in office was worrying about that group she went with. Thankfully they were extradited to India by the company."
"Even my dad was being asked repeatedly to go and he asked me. As I had fairly good grasp of current affairs, I told him no every time as this sh*t was going to go down in future. Now I don't think anyone will be sent for projects there😌"
– Wise_Ad9414

Not A Top Choice For Tourists
"Somalia."
– Atsunome
"10/10 would prefer over South Sudan."
– PureRandomness529

Words From An Egyptian Woman
"Reading the comments on this and a previous thread as an Egyptian woman, I feel so ashamed of my country and sad for all the women who had to deal with terrible kinds of sexual harassments in Egypt and many more unfortunate events that happend there."
"I'm so sorry you had to go through this and I'm apologising on behalf of everyone who dared to make you feel uncomfortable in any way because I absolutely know what you went throughm It's what almost every Egyptian woman goes through everyday and we're still not heard."
– htarekk
Places ravaged by war tend to not be on a visitor's list of places to vacation.
Destination: Terrorism
"Sad Afghanistan. It's a beautiful country, and I know the regular people are friendly. But I probably won't survive a week there."
– gozba
Foreigners, Beware
"Probably Afghanistan. It's not safe for foreigners."
– bpanio

These Low Effort Jobs Have Surprisingly High Salaries | George Takei's Oh Myyy
Have you ever worked one of those jobs that paid you to kinda sit there? If you have, you know the joy that comes with watching the entirety of Breaking Bad ...
A Violent Country
"Syria is such a bed of history city's that are ancient that I'd love to see for myself but sadly just wouldn't be safe I think for a long time!"
– lookonthedarkside66

Even people with ties to their country didn't give high marks.
A Local's Perspective
"I live in Venezuela and if I manage to leave Venezuela, I won't come to visit."
– AnthonnyAG

​Plagued By Upheaval
"Haiti. As much as I'd love to visit my mother's home country, there's a reason even my mother hasnt gone back since the early 00s. Haiti continually gets f'ked by political unrest, economic upheaval, and ecological turmoil."
"Combined with the fact that our last living relative that was still there died back in 05, we have no connection to that place anymore."
"I sincerely, emphatically hope things get better, because one day I would love to connect with that part of my heritage, but not now, and probably not within the next ten years, either."
– WanderingGenesis

The One Who Never Went Back
"My good friend is Venezuelan. He left in 2014. Get a few drinks in him and he starts ranting about how much he hated it."
– AnchoviePopcorn

Switzerland can be too much of a good thing.
Lap Of Luxury
"I'll never go back to Switzerland. It's pretty, I just can't afford to breathe there."
– ExpertAncient
"Even talking about Switzerland feels expensive."
– PocketRocketTrumpet
"I dont think we can afford this conversation."
– Boobagge

The Consolation Prize
"We flew to Switzerland and drove to France for our vacation because it was cheaper. We went back to Geneva for our flight out and couldn't get seats (flying standby). This lasted for a couple of days and like every day there between the hotel and the food was like a vacation budget of its own."
– lemonylol
People want a getaway to de-stress from their everyday lives.
Based on the examples and reasons listed above, it makes sense some people would want to avoid packing their bags for a dream vacation at the mentioned destinations.
Unless the travelers are thrill-seekers, I suppose.

Want to "know" more?
Sign up for the Knowable newsletter here.

Never miss another big, odd, funny or heartbreaking moment again.
Keep reading...
Show less