Any of us who have ever experimented with the use of makeup have discovered certain setbacks: eye allergies and facial breakouts, poor wearability, lack of pigmentation and disappointing tone matching.
But this TikTok video of one black woman's excellent makeup adds to the pile of reasons why people of color have it the worst when it comes to finding the makeup they need.
What began as a simple video of an attractive woman putting her makeup on for the day quickly turned into a negative commentary on the lack of diversity that still exists in the makeup industry.
The woman in the video, TikTok user "imnotbijou," began her video with some typical steps: applying eyebrows and priming her face.
But when everyone saw what she chose to contour with, that's when the conversation exploded.
You can watch the video here:
Her make up came out so fucking bomb 😫but she HAD to used eyeliner to contour her face!!& ik makeup has no rules or… https://t.co/FYwQEkjDsW

— lay (@lay)1579540371.0
In the video, the woman contours with a black liquid eyeliner to create a deep enough color to actually contour against her skin tone.

After receiving confused and critical comments about her use of the eyeliner, the TikTok user also posted a photo of her completed look.
In the caption, she wrote:
"I wouldn't use eyeliner for contour if I didn't have to."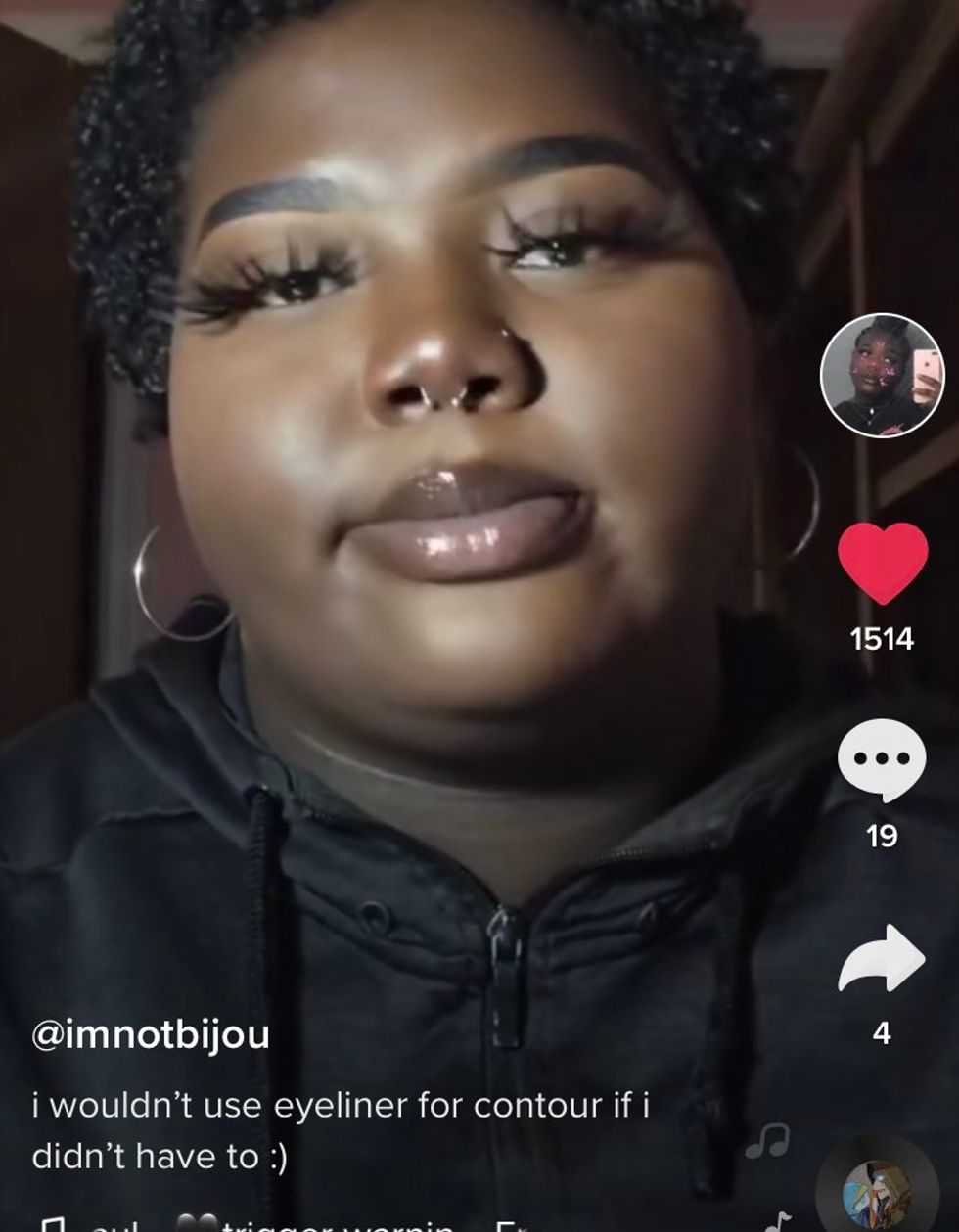 @makeupiztherapy / Twitter and @imnotbijou / TikTok
The video has been shared nearly sixty-thousand times on Twitter and has more than 350-thousand likes. Even the follow-up photo from the TikTok user has nearly nine-thousand likes, which is modest in comparison, but still viral-worthy.
What makes this so eye-opening is the number of people who are personally identifying with the less-than-forty second video.
People of color from all across the globe are sharing their own stories of woe and frustration, as they attempt to express themselves in what is a highly-beige-exclusive industry.

@makeupiztherapy / Twitter

@makeupiztherapy / Twitter

@makeupiztherapy / Twitter
Some have been extremely helpful and shared some products they've discovered that worked for them or they believe might work for the TikTok user.


@makeupiztherapy / Twitter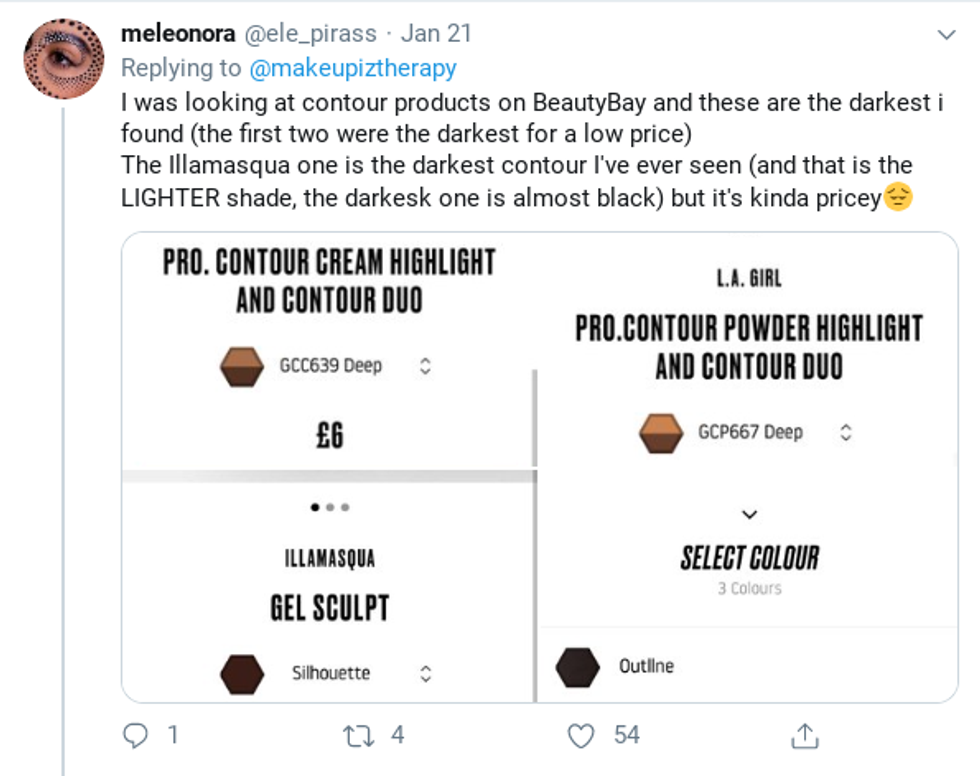 @makeupiztherapy / Twitter

@makeupiztherapy / Twitter
But the problem remains that these solutions are only a small handful of products.
They barely touch on the wide array of brands out there who have done little to challenge the diversity standard. Not to mention the fact that many of the current product options are only available online or are extremely expensive, making them inaccessible to most consumers.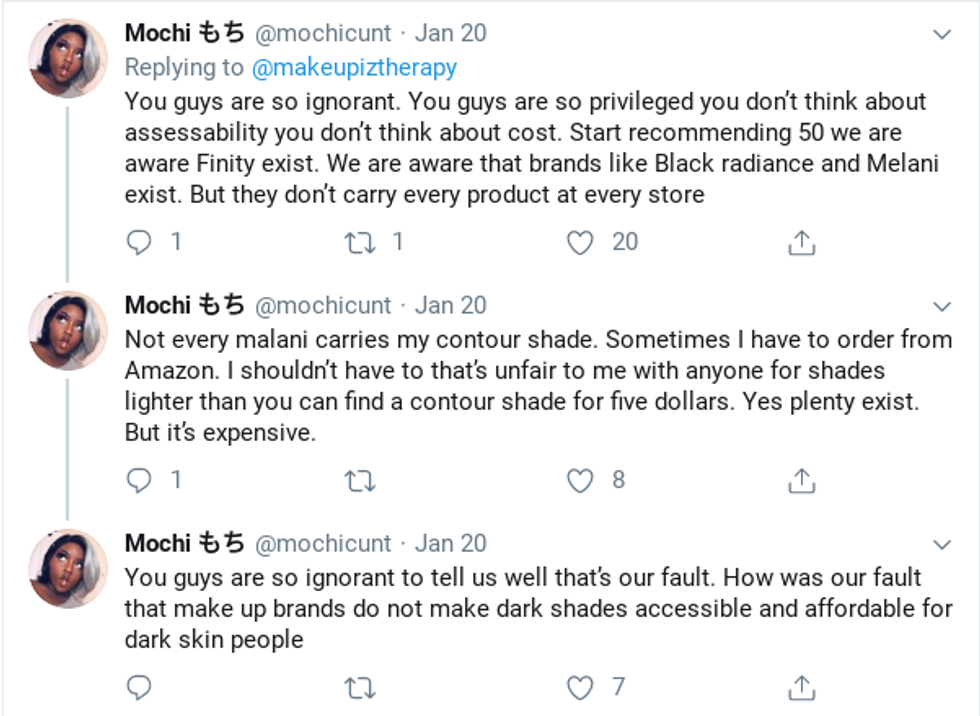 @makeupiztherapy / Twitter
Though some brands are beginning to step forward and create more colors in other products, beyond concealers and contouring products, for a wider array of people of color, there is still an extensive road ahead.
Yellows are still few and far between and either translate to orange or a bright banana on the skin and darker shades are still far too rare of a find and often lack pigmentation or lasting power.

It's important to have conversations like this, to continue to push beauty product companies to look beyond a beige palette.
Keep reading...
Show less
The Academy once again failed to recognize a significant number of diverse artists in major categories when they announced the 2020 Oscar nominations on Monday.
Cynthia Erivo was the only person of color to be nominated out of the four acting categories and not one female director was nominated despite high expectations that Greta Gerwig was a shoe-in for her critically-acclaimed direction of Little Women.
Amidst the backlash the Academy received, horror novelist Stephen King commented that he would "never consider diversity in matters of art."
On Monday, the Doctor Sleep author explained that writers are allowed to nominate in three categories, including Best Picture, Best Adapted Screenplay, and Best Original Screenplay.

He continued:
"For me, the diversity issue--as it applies to individual actors and directors, anyway--did not come up. That said, I would never consider diversity in matters of art."
"Only quality. It seems to me that to do otherwise would be wrong."
His take on unbiased voting was met with immediate criticism, with filmmaker Octavia Butler clarifying that the work of women and people of color do, in fact, produce compelling contributions of quality.
Others agreed and emphasized the importance of recognizing marginalized demographics.

They also acknowledged the fact that as a White male, King has had an easier career path than women and POC.

A couple of hours after his initial comment, King responded to the backlash and attempted to save face with a followup tweet, explaining:
"The most important thing we can do as artists and creative people is make sure everyone has the same fair shot, regardless of sex, color, or orientation."
"Right now such people are badly under-represented, and not only in the arts."
He concluded the conversation by declaring:
"You can't win awards if you're shut out of the game."
Selma director Ava DuVernay, who advocates for inclusion in Hollywood, expressed her disappointment for the revered writer.
King deflected the social media censure by praising DuVernay's work on When They See Us.
But DuVernay—who in 2014 became one of five women in the 77-year history of the Golden Globes to be recognized for Best Director for Selma— emphasized the conversation was not about scratching each other's backs.
The conversation continued, with many suggesting how the author could incite change for a level playing field for other writers.

But hey, his final tweet was a noble start.
BuzzFeed News reached out to King's reps and have yet to hear back regarding the backlash.

Keep reading...
Show less
A man asked the question:
"What happens when a man kisses his boyfriend at the stroke of midnight on New Year's Eve and posts it on the video-sharing social network, TikTok?"
Mark Pasetsky—who goes by Marknewyork on TikTok—found out the answer when he shared something millions of others do at the start of a new year: a kiss with the person they love.
According to an article Pasetsky wrote for Campaign US, when the kiss is between two men, the post is removed because "it's a violation of the platform's community guidelines."
Pasetsky wrote:
"When I saw the notification on my profile, I was flooded with feelings of shame and alienation."
Here is the video loaded to TikTok.
Just a standard kiss to ring in the New Year.

In fact, it's really quite chaste.
For the former editor in chief of Life & Style and managing editor of OK! Magazine, a double standard needed to be addressed.
"After being out of the closet for 24 years, I knew I needed to take action for myself and for the entire LGBTQ community."

"In a world where bullying is rampant, the relatively new platform that already reaches 60 million active monthly users in the US must support the equal and fair treatment of LGBTQ users and all diverse communities."
"Most importantly, think about a teenager going through the same experience of having their video removed because they simply kissed their same-sex partner. Imagine how devastating it would feel when a popular social network tells them it's not okay to be who they are. Many would be too afraid to speak up and would not know how to respond to this type of discrimination."

As Psychology Today and data from numerous studies state, the beneficial effects of equal representation are real. The damaging effects of exclusion are also well studied and documented.

For members of marginalized communities, being seen and seeing others like themselves can boost their self esteem. For people not part of those communities, this representation can create an unconscious familiarity and normalization of people unlike themselves.
As people of color began to appear in commercials and on television, there was some backlash. Some stations even banned the content or censored it out of programs.
But studies showed direct links between these inclusive media campaigns and increased support for equality for POC by members outside their community. Familiarity doesn't always breed contempt; sometimes it breeds empathy and understanding.

Pasetsky knew equal inclusion in social media was no different.
"That's why I chose to take action – for those who cannot."

"I started by filing a support ticket and then tweeted the company."
When the steps most people take did not yield results, Pasetsky put his extensive experience with media and PR to work.
"Finally, I emailed TikTok's public relations department."
"After explaining that I was writing a piece on the video being removed and demanding answers, my request was quickly forwarded to the moderation team."
"Within two hours, TikTok re-activated my video and let me know it had been incorrectly removed due to human error."
But that excuse wasn't working for Pasetsky.
The social media company previously admitted to removing and suppressing content from LGBTQ users. They claimed it was an attempt to minimize bullying on the site, not by eliminating bullies but by eliminating potential targets.
However censoring and restricting the lives of those being attacked or that they suspect might be attacked is not the appropriate response to bullying in life or on social media.
Whatever the ultimate reason for the removal of his video, Pasetsky wrote that the reinstatement of it on TikTok should not be the end.
"The removal of my New Year's Eve video makes the urgent case for a full internal evaluation of TikTok's policies and moderation practices. A number of tough questions need to be answered."
"If this decision was based on human error, who was the human? How does TikTok make hiring decisions for moderation positions? Is diversity represented on these teams? What about across the organization as a whole? And, most importantly, what will the company do to prevent a repeat of this experience?"
He concluded by stating the removal was not a simple mistake but rather an example of a microaggression.
"The bottom line is we can't allow a social media platform to commit discriminatory micro-aggressions against any community."
Microagressions are the death by a thousand cuts of bigotry and bias.
To those outside an affected community, a microaggression can be easily dismissed as no big deal. Why complain about such a small thing when there are bigger fish to fry?
However studies show these minor offenses lay the ground work for the larger ones.
The Black person who is told they're "so articulate" or the Asian told they speak English so well when it is their first language or the Hispanic person born and raised in the United States questioned about where they are from or the gay man who is told he doesn't "sound gay" are all examples of microagressions. Each one also indicates an implicit bias or sterotype, painting Black people as less intelligent, Asians and Hispanics as foreigners and gay men as speaking in a certain way.
Pasestsky urged others to also speak out.
"TikTok needs to continue to be called out for biased practices. It's critical that the company understands its responsibility to create a safe and welcoming environment for all."
In an email interview with Pasetsky, we asked:

"In your article, you address TikTok with questions about diversity and next steps. If you could create specific next steps for them, what would they be?"
He responded:
"I would suggest TikTok partner with a respected LGBTQ organization to conduct an extensive review of the social media platform's moderation policies."
"I would also suggest holding diversity and inclusivity training for all members of the organization - especially those responsible for moderating posts on TikTok, as well as reviewing overall hiring practices to make sure members of all diverse communities are represented."
"In addition, a new set of community guidelines need to demonstrate how TikTok will be more welcoming to the LGBTQ and all diverse communities going forward."
Q:
"Invariably, people respond to these microaggressions by pointing to 'bigger issues.' What would you say about why addressing microaggressions is important?"
Pasetsky:
"We need to address microaggressions to let companies like TikTok know it's not okay to censor anybody for who they are. It's important to remember that these microaggressions can be deeply harmful to the individuals that receive them and therefore are equally as important as addressing the 'bigger issues'."
"If we continue to address microagressions in real-time, we will prevent what I see as TikTok's anti-gay bias from becoming an acceptable global policy for the social media platform. The bottom line is that it's not okay for a company like TikTok to censor a same-sex video and hide behind the 'human error' excuse when it's really a microaggression."
Q:
"You refer to the documented anti-LGBTQ bias [on TikTok]. Are there other social media platforms that are problematic?"
Pasetsky:
"To date, I've only personally experienced this anti-LGBTQ bias on TikTok."
Q:
"You mention bullying and young people who are still finding their way in life as motivation to pursue this with TikTok to an acceptable resolution. What would you like to say to those younger people about this situation or about anything else?"
Pasetsky:
"As a video platform, TikTok provides its users a unique opportunity to be expressive. Keep being exactly who you are and show the world who you are."
"Posts of same-sex kisses like mine need to be embraced and supported on platforms like TikTok. Stand up for yourself when you feel like you have been unfairly censored!"
"For anybody else that feels they have been censored by TikTok for being themselves, I strongly support them in speaking up. They can reach me on Twitter @markpasetsky and I'll do what I can to continue to support the LGBTQ or any diverse community that feels they were unfairly treated."
Q:
"Is there anything else you'd like to say? Any points you want to expand on?"
Pasetsky:
"With Valentine's Day coming up, let's send a powerful message to TikTok and the world. Give a big kiss to your same-sex partner and post the video to TikTok. Let's show them we are out and proud of our loving relationships!"
Valentine's Day is just around the corner. Mark Pasetsky's suggestion sounds like a great way to celebrate love, diversity and representation.
Who's in?
Keep reading...
Show less
For the first time ever, Miss America, Miss USA, and Miss Teen USA are all black women.
After a history rife with racism and exclusion, it is a breath of fresh air to see black women competing and succeeding in the pageant world.
Attorney Cheslie Kryst, was crowned Miss USA on May 2nd, 2019. 28-year-old Kryst works full-time as an attorney doing civil litigation, and volunteers her time (pro bono work) representing prison inmates who have received unjustly harsh sentences.
You can view her crowning below:
Miss USA 2019 Crowning Moment youtu.be
Kaliegh Garris, crowned Miss Teen USA, is a competitive dancer, in addition to attending two schools.
The 18-year-old is enrolled at both the Joseph A. Foran High School and the Educational Center for the Arts in Milford, Connecticut.
MISS teen USA 2019 CROWNING MOMENT youtu.be
Nia Franklin was crowned Miss America 2019 back in September.
Franklin, 25, is a music composer and classically trained opera singer who graduated with a Masters in Fine Arts degree from the University of North Carolina School of the Arts in 2017.

She is passionate about using her voice and her art to reach and enrich people's lives. While attending university, she was a member of ArtistCorps, which places artists in public schools to enrich students' education.
Newly crowned Miss America Nia Franklin speaks out on 'GMA' youtu.be
In the not-so-distant past, black women were barred from competing in mainstream beauty pageants.

These three ladies follow in the footsteps of actress Vanessa Williams, who was the first black woman to win the Miss America beauty pageant in 1983.
There was an outpouring of support on Twitter for the three newly-crowned queens.

Congrats to these history-making queens! 👑 https://t.co/X6wAbIiJVc

— HuffPost BlackVoices (@HuffPost BlackVoices)1556921156.0
This is some #BlackGirlMagic! https://t.co/uLle52d2A5

— Rep Frederica Wilson (@Rep Frederica Wilson)1557096620.0
@CNN Congratulations Girls!!! You're so FABULOUS 👍💖

— Eleana Morgan (@Eleana Morgan)1557098521.0
@ajplus https://t.co/VkQKc22qud

— Cassie Marie #BB21 (@Cassie Marie #BB21)1557063080.0
Even Halle Berry, actress and former pageant contestant, congratulated the women.
As a past beauty pageant contestant myself, this news fills my heart with so much joy. Congrats to @MissUSA… https://t.co/JfHJPbTszW

— Halle Berry (@Halle Berry)1557019233.0
Franklin told the New York Times how important the three wins are.
"It is important to little brown and black girls to see three strong figures, three strong women, African-American women that are doing so much great work."
"People will argue that race doesn't matter. But race does matter in America, because of the history, because of slavery."
Keep reading...
Show less
Delta Airlines is finding itself in hot water yet again over racial profiling. Back in 2016, Dr. Tamika Cross was on a Delta flight when another passenger became unresponsive. Flight staff refused to allow her to help that passenger because they did not believe that she was a doctor. To address the issue, Delta worked with Dr. Cross to update their policies so similar incidents would not happen again. Clearly that update did not work.
Another doctor, also a woman of color, shared that the attendants on her flight continued to call for a physician — even though she was already helping the passenger in trouble. She had already stabilized the passenger by the time another doctor showed up. The airline didn't question his credentials or ignore him. They even credited him with helping the already stabilized passenger.
And now we have Dr. Fatima Cody Stanford. Dr. Cody Stanford was on a flight to Boston when the passenger next to her began shaking and hyperventilating. The doctor jumped into action to help immediately. While she was helping the hyperventilating passenger, a flight attendant came and asked her if she was a doctor.
Dr. Cody Stanford replied yes and continued helping the passenger.
That first attendant left and another showed up shortly thereafter. This attendant wanted Dr. Cody Stanford to prove that she was a doctor by showing her medical license. That's not something doctors are required to do according to Delta's policy, and carrying a medical license around isn't something that is mandated, but Dr. Cody Stanford just happened to have hers on her so she showed it. The second attendant left and the doctor was able to get back to helping the passenger.
At least she tried to get back to helping the passenger. As she was working with the hyperventilating woman, both attendants came back and questioned the doctor about whether the medical license she presented was actually hers. Essentially, Dr. Cody Stanford says, they accused her of carrying and presenting someone else's medical license so she could pretend to be a doctor. Dr. Fatima Cody Stanford has four degrees, has won countless awards, and is both an educator and policymaker at Massachusetts General Hospital and Harvard. She has so many letters after her name that we could play some seriously awesome scrabble. Fatima Cody Stanford, MD, MPH, MPA, FAAP, FACP, FTOS — it's a lot. She's not just a doctor, she's the kind of doctor that helps teach other doctors how to be doctors. Yet Delta's attendants didn't believe she was a physician even after she presented her documentation.
After some back and forth, she was finally allowed to focus on tending to the sick woman next to her, but the incident certainly left an impression, so she took to Twitter.
@Delta my experience last night when a fellow passenger needed help shows that being a @harvardmed @MassGeneralMDs… https://t.co/UfxWid6vwn

— Fatima Cody Stanford, MD, MPH, MPA, FAAP, FACP (@Fatima Cody Stanford, MD, MPH, MPA, FAAP, FACP)1540998720.0
Delta tweeted back to say they were looking into it, and then had an executive assistant call her to tell her that the airline would follow up with her at some point. Eventually they got back to her and explained that there was no problem, the attendant had just "initially misread" the credentials and thought maybe the doctor was a therapist, so they wanted to confirm what the doctor's specialty was. Remember that, as a matter of Delta policy, Dr. Cody Stanford didn't have to show her license in the first place. She did because she happened to have it. Delta said they would "follow up with the crew to ensure policy is followed."

None of that sat well with the doctor.
So I spoke with @Delta and I left the conversation quite uncertain that any changes will be made. Summary: flight a… https://t.co/mmBztixgNw

— Fatima Cody Stanford, MD, MPH, MPA, FAAP, FACP (@Fatima Cody Stanford, MD, MPH, MPA, FAAP, FACP)1541020061.0
People aren't surprised. History repeats itself and WOW Delta has a history.

@fstanfordmd @Delta @harvardmed @MassGeneralMDs I am a white physician & have helped several patients on flights. N… https://t.co/agF0EMWluo

— Christina Rama (@Christina Rama)1541072602.0
@fstanfordmd @DeltaAirlineUS @DrSinhaEsq @DrKathyHughes Happen to me on same airline 3 years ago. The flight attend… https://t.co/c9KQ1nFIYw

— Reshma Gupta, MD, MSHPM (@Reshma Gupta, MD, MSHPM)1540955805.0
@irb123 @fstanfordmd @darakass @Delta They haven't let me help before ... just went to the older male medical professional farther away ...

— Caitlyn Mooney (@Caitlyn Mooney)1541130310.0
@fstanfordmd @Delta @harvardmed @MassGeneralMDs It happened to me too, in 2009, I am Latino , MD a pediatrician. Si… https://t.co/AOn28BInzb

— N.Umlauf-Barrera (@N.Umlauf-Barrera)1541114852.0
Even Dr. Tamika Cross, who we mentioned earlier, spoke about the incident. She worked personally with Delta to change their policies a few years ago, so why was this still happening?

Delta has yet to respond.