I hate death.
Mainly because I phobia of it.
So you can only imagine how I feel about dead bodies.
I fast forward over autopsy photos pop up on Dateline NBC.
I can't imagine coming across the dead randomly.
How do you recover?
And if it's a violent end that's just too much.
So who has been in this situation?
Redditor Ntoxide wanted to hear from people who have come across the dead, so they asked:
"People of Reddit who have found dead bodies what was your immediate reaction?"
Reactions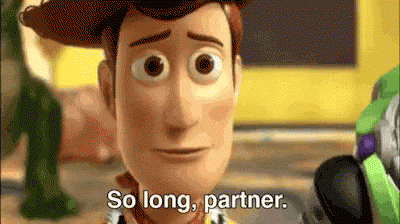 Toy Story Goodbye GIF
Giphy
"As a nurse aide in a nursing home that happened more than I'd like to remember, and tearing up was always my immediate reaction."
TroublesMuse
School Zones
"So when I was about 15 I went to school to take my final exam. I was late due to my bus being in traffic and had to walk through a few streets after getting to my stop, at around midway there this guy crossing the street gets hit by a car going 50 in a school zone (the primary school was to the side of my school). He went over the car and feel on the ground with a crack, car drives away."
"At that point I went to check it out and was already panicking he was still breathing for a while after the crash for about 5 minutes and then he just died. I called 112 and tried to explain the situation as I was hyperventilating. Apparently he had broken his spine and had a lot of internal bleeding, I did not do the exam."
Mobile-Paint-7535
Last Breaths
"Was beside my mum's bed when she died. I just somehow knew it was close so I stayed there and waited. After her last breath, I just sat by her for a bit thinking she was now in peace and past the pain and struggle of a body that was progressively shutting down from old age. Called out for the nurse to come in and confirm she was gone."
"My dad, I found on the floor at our old family home a couple of days too late, almost five years later. Called my wife and then the authorities and sat on the front step feeling guilty, a bit lost and finally annoyed. I was angry and frustrated that he always point blank refused to have one of those medical alert pendants and I hadn't been there over the weekend. I'm still dealing with the remnants of that 15 months later."
djjrrr
Being 9...
"Found my mom's body, I was 9, I thought she was sleeping, I understood when my sisters started crying."
kalarm2
"That's wild. My mom died when I was 9 too, Christmas night from breast cancer. My dad just kinda walked in my room and went 'Hey, let's go downstairs.' I was still at the age where I knew she was dead but I didn't fully understand what was happening until the guys with the hearse showed up to take her body. That's a weird age to accept death at."
darkpinkEFcancer
911
"I didn't realize he was dead and tried to wake the guy up gently. Honestly, I thought he was passed out drunk or high. I was about to check his pulse when two city workers came along told me not to touch him and called 911. The ambulance came, and I went to work. Never actually thought about it again until I saw this post."
tryoracle
Finding the dead is aways a shock to the body.
Farewell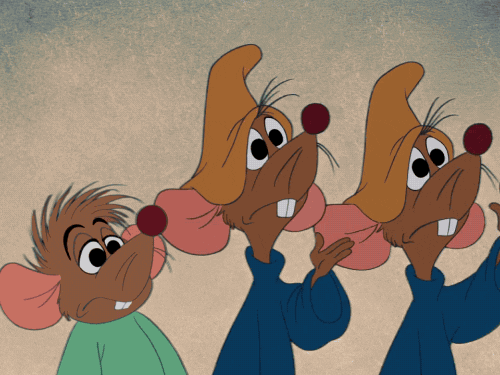 animation goodbye GIF
Giphy
"My first dead body was a sweet old woman. I got a phone call from her husband at 3am. Apparently she went to the living room to watch TV. I went there. Cold and unresponsive. Hugged the guy and held his hand. Called 911. Called the family. Helped out with whatever I could."
"Second one was very sweet as well. I helped someone transition peacefully and comfortably. There was an order to administer morphine every hour. Around 6am his wife told me he passed. Since he was on hospice I got to interact with them. The family was awesome."
TheRealDannySugar
Crashed
"I was watching a movie with my girlfriend, and suddenly heard a loud crash. I used to be trained in first aid and CPR, so I jumped up and walked outside to try to see if there was anything I could do."
"I wasn't the first on the scene, but I was the first to check out if the driver was ok. I noticed that the glass on the windshield was cracked at about head height, and no seat belt was worn, nor were the airbags deployed."
"Nothing felt right, and there was a feeling of dread that I can only describe as 'empty with a side of heavy.'"
"The man was slouched over to his right, appeared to be about late 50s early 60s, and the primary thing I noticed that confused me was that his veins in his arms looked as though he was still flexing. There was nothing I could do, as there was no pulse, no breathing, and a clear traumatic brain injury that even had he been alive, it wouldn't have looked great long term."
thundervagious
'I love you'
"Called 911. I was hysterical. I loved her very much, and I couldn't believe she was dead. It was like a nightmare I couldn't wake up from. I tried my best to stay calm until the cops and paramedics showed up. It was one of the worst days of my life that I still replay in my mind over and over and over again."
"I flash to the disagreements we had and how many times I could have said 'I love you' more and what I could have done in the last 30 years to have changed everything. That's why saying I Love You is so important, and if something happens, call 911."
"I'm much better now, but that was one of my first reactions."
HumanMycologist5795
High Seas
"Sailor, on one of my first patrol's we found a dead body in the ocean. We called a man overboard and the nerves of trying to figure out who it might have been was so gut-wrenching and surreal. Turned out it was a Japanese man who had been dead for about a week just floating in the Pacific. Never learned more about it, but still think about it time to time."
lo-squalo
The Body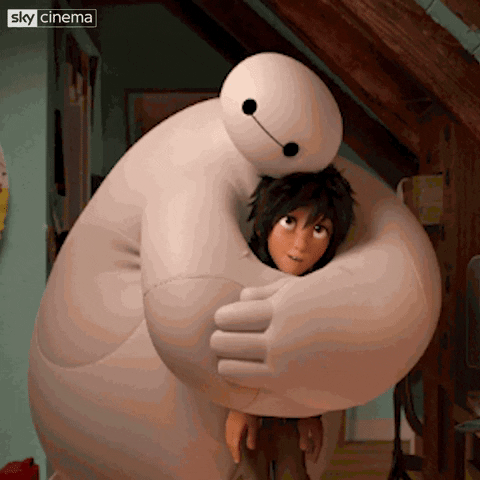 Comforting Big Hero 6 GIF by Sky
Giphy
"I told the med tech, and then, because she wasn't on home health or hospice, I washed her body and teeth, brushed her hair, changed her brief, and dressed her in some nice clothes."
Bao-Babe
Saying goodbye to a person and seeing death is never easy.
Do you have any similar experiences? Let us know in the comments below.
It can't be easy finding a dead body.

Attending a funeral or a wake, that's one thing. You've had time, loved ones, and a knowing of the coming encounter to ready yourself. Discovering someone who has unfortunately passed on? That's an entirely different challenge, and happening to people far more often than it seems.

Reddit user, Xerxesthemerciful, wanted to know what it was like to see someone no longer with us when they asked:
"Have you ever seen a dead body? What's the story?"
Stumbling onto someone who has passed away can be difficult, even if you didn't know the individual personally.
Missing Him During The Nights
"Old security guard guy named John used to rent out our upstairs. Nice guy, kept a lot of soda around and would always keep a few around for us kids"
"John usually worked nights so it was not unusual for us to not cross paths or see him a lot as he slept during the day."
"One day a cop shows up at the house and I answer the door not knowing what I did, turns out he was there because John hadn't come in or contacted the security company he worked for in a week."
"Asked if he could go upstairs and check to see if John was there, so my mom, the cop, and I go up to his room, open the door and all I remember was seeing a blue arm hanging off the bed before I bolted."
"Guess he had died in his sleep. He was old and a widower and was kind of at the point where he just "wanted to see his wife again", so it was sad, but he died naturally."
"Thanks for all the soda, John!" ~ Gday613
Trick. An Awful Trick.
"I was trick or treating as a child. Person didn't answer doorbell so I peeped through his window. He was lying face down on the kitchen floor. Called the police and they busted the door down right in front of me. He was dead for a few days before I found him." ~ sicknisco
An Unfortunate Work Day
"I'm sure a bunch of redditors have been to a viewing/wake, but I watched a coworker die in front of me of a massive coronary. We got back on the job site after lunch and about an hour later he was complaining of a stomachache and we were all giving him sh-t because he'd eaten a bunch of shellfish from a buffet."

"He left to get some antacid or pepto bismol or something and came back, then about 30 minutes later his body locked up and he hit the floor. Another coworker started chest compressions but we found out later he was pretty much dead before he hit the floor. He was barely 50." ~ RearEchelon
Maybe you didn't see the individual up close. It wouldn't matter, because you know what's already happened when you've seen it, even from afar.
No One Cared
"I have seen a few but the one that stuck with me was when i was in the US Air Force in Bosnia. I was in a caravan of black chevy suburbans and i see this body in a river caught on some tree branch. The body was just moving with the current but tugging at the branch with the head underwater. It made me panic and i told everyone in the vehicle "there's a body in the river!" and no one cared." ~ ActionQuinn
Last Act Is To Save Lives
"Watched a man have a heart attack at 45 mph, while driving his truck down a crowded city street, just past some jr high school kids. His last act in this life was to turn across three lanes of traffic, jump an empty sidewalk and plant his truck head on into a concrete barrier. By doing so he probably insured his own death in the accident, but undoubtedly save lives. I was to far away to assist, but I watched while strangers pulled him out and tried CPR, then the medics arrived, took over and got him outta there."
"The damage from the accident, plus the heart attack meant he was dead before they got him outta the truck, so this barely counts."
"Also, had his truck gone the other way, he would have hit me instead of the barrier." ~ PaganMastery
These are the truly harsh ones, the situations which never leave and could never possibly leave. How could they?
Objective Now, Terrifying At The Time
"My dad fell off the roof and broke his neck. By the time I got to the hospital he was clearly braindead. We had to pull the plug. I'd never seen someone die before. It's crazy to see the near instantaneous change in color and texture of the skin when someone's heart stops. It was traumatic at the time but enough time has passed that I can look back on it objectively now." ~ arthur2-shedsjackson
People Explain Activities They've Added To Their Post-Pandemic Bucket List | George Takei's Oh Myyy
While we've all been cooped up for the better part of two years, many of us have been dreaming up exciting plans for the future. Maybe it's finally time to s...
Going Back To Sleep
"Whenever I was 13 i stayed with my grandmother(who lived alone and was only 51)during spring break. I woke up in the middle of the night to her sitting in the living room, where I was sleeping on the couch. She was sitting there awake with her Pekingese. I asked her why she was up. She responded: " I can't sleep and hearing you and Ginger (the dog) sleep relaxes me, go back to sleep."
"I ended up going back to sleep."
"Woke up the next morning and found her passed away on her bedroom floor." ~ SalisburySteakSauce
When They Don't Catch The Pillow
"When I was 11 I lived alone with my dad because him and my mom had gotten a divorce about 6 years back. He had diabetes and was seizure prone. One day I was riding my bike home from school, opened the front door and saw him sitting on the couch with his head back. Being a kid, I didn't think too much of it and I thought he was asleep."

"I picked up a pillow and tossed it to him and said "Hey I'm home" but he didn't say anything or react. That's when I froze. I looked closer and saw blood running down his chin from his mouth. I guess he had a seizure while I was at school, bit off his tongue and drowned in his own blood. Only dead body I've seen outside of a funeral." ~ xKourth
You Don't Forget How They Don't Quite Look The Same
"I rolled my roommate over, he was laying face down on his floor half naked. I knew instantly that he was gone. There was just such an unnatural look to his face."
"It's been 3 years and I won't forget it." ~ Upeeru
"You can always tell when you look at their face. They never look like themselves, whatever it is that made them them is just completely gone. It's kind of like looking at a familiar stranger. Even during open casket events, even as a kid, I always hated hearing people say how they looked at peace or like they were sleeping. They all looked like familiar strangers to me, not the person I knew and loved." ~ ChampChains
Just Because It's Their Job Doesn't Mean It Doesn't Hurt
"More than I can count. EMS and fire service before working as an ED tech, Med school, residency, and a couple years of practice."
"I've seen homicides, suicides, ODs, fire deaths, blunt traumas, penetrating traumas, decompositions and decompensations. Kids and adults. I've intubated and pulled breathing tubes. I've been directly and indirectly responsible for deaths. I've broken that news to families. I take on that risk and responsibility daily."
"Some stay with me. Others do not."
"The one that I remember most vividly was my first year of residency. We had this biker lady in ICU who had no family, visitors, or next of kin. She had a state appointed guardian. We'd run out of things we could do and were beyond the point where she'd have any chance at a meaningful recovery. So it fell to me to get the state guardian to approve withdrawal of care."
"Once all the calls were made and approval was done, I went in with the nurse who helped me shut down the vent. I saw She had a band name tattoo, so I pulled up Spotify and played their top songs, pulled the tube, and held her hand the next 18 minutes til she ran out of steam and stopped breathing. It's been f-cking with me lately because I remember how sad it was that she had nobody she knew nearby when she died. It was the only withdrawal of care I had to do like that… til COVID" ~ squirrleyh**ker
Be safe out there, hug a loved one, and never let the fear of death stop you from accomplishing what you want. After all, you could have less time than you realize.
Want to "know" more?

Sign up for the Knowable newsletter here.
Never miss another big, odd, funny, or heartbreaking moment again.
Death is always just one breath away. That's a harsh reality none of us like to discuss but it doesn't alter the truth of it. Hopefully when our time comes it's peaceful, and it would be nice if those left behind aren't forever traumatized. I have an obsessive fear of death, therefore I can't even look at dead bodies on SVU. I so admire doctors, nurses and all the people who wrangle with the dead everyday. They have stomachs and nerves of steel. But they are trained to have that temperament. Civilians on the street are often not equipped to just stumble upon the dead like a Michael Myers movie.
Redditor
u/jm4b
wanted to know who has made a few discoveries they could wish they hadn't by asking....
Anyone ever found a body? What's that like?
1-
Found my dad dead (heart attack) one morning as a 7 year old. :( Then when I was 8 I found my grandfather dead (fell, hit his head, into tub full of water) one morning. Honestly it didn't really bother me until I was in my 20s and my (twin) brother was murdered. Then I went through some severe PTSD or anxiety-type symptoms which I later found out was anticipatory grief (my mother is still alive, perfectly healthy, but I was SOOO worried that she would drop dead one day and I'd find her. She had a stroke like the day after getting the news about my brother).
2-
I was at the shooting range once (my first time actually) and an older gentleman shot himself in the stall closest to the door. Everyone had to walk right past his body to evacuate. Gruesome. It looks more disturbing in real life than the movies and everything moved more slowly once I saw it. I was just getting comfortable with my weapon when they called a cease fire and I stood there wondering what had happened. Suddenly it was calls of "everybody get out! Now! Go! Go!"
Pretty terrifying when you can't initially see what's on either side of you because of the lane barriers and you're wondering what the hell happened so bad we're evacuating, then just really sad to realize what happened. There was a kid there about 10 years old with his dad and brother. Hate it.
3-
My dad passed away when I was 16 from a heart attack. No one could find him that morning, and since we were visiting his gf in Cali (we're from Canada) we knew he didn't just go off to run errands or anything, especially since the truck was still there. So we wondered for a while. I was watching tv in the converted garage when I heard her scream because she found him in the downstairs bathroom that wasn't used too much.
I get anxiety now if my mom isn't out of bed before I am, especially since I am not a morning person and she is. So I know how that is. If she's still in bed I get this sudden paranoid feeling that maybe she's dead, even though I know it's unlikely.
4- 
I worked at a retirement home for about a year, more specific at the dementia part of the house and we had one man who every day was worried sick for his wife (who has been dead for 8 years). On his birthday both of his daughters showed up and talked and showed slot of pictures, he didn't remember his daughters but he recognized his wife. Tears of joy he watched pictures and and told story's. The morning after when I went to wake him up he was dead. He had a big smile on his face and it was somehow very very beautiful.
5- 
One night I was out walking my dog along a country road where a ditch accompanied the road either side, as I was walking my dog started going mad trying to tug away from his lead to this ditch so I wanted to see what it was, it ended up being a corpse so I called the cops they found out that a gang murder happened in a city about 40 miles away and one of the members thought a small village would be a great place to put it.
6-
A full family (father mother + 2 kids) dead in an upside-down car on a dark road.
7-
My grandad was a few months shy of 90 and still lived by himself. He was pretty spry. My mom called him every morning. One day he didn't answer so she called me to go over and check on him. They lived about 40 minutes away and I lived about 5 minutes away. I let myself in and found him in his easy chair holding his phone. He was cold. My dad showed up in about 20 mins and we both cried.
I called the police and they came in, checked it out and did us a favor of calling the funeral home we asked. My dad said he was talking with him about 9pm the night before and said he was sounding groggy, so he said goodnight, and grandad must have rested and passed. He was a great guy.
8-
Went to check on my uncle because he'd not been heard from. I knew before I got the front door open that he was dead by the smell. He was in his recliner. Drank himself to an early grave.
9-
I used to work at this sports bar so it wasn't uncommon for people to leave their car in parking lot for a day or two. After having a couple days off I come into work and this car that was there a day before my weekend started is still parked in the same spot. I tell me boss about it and go check it out, as I get close to the car the smell hits me like a truck. Some guy dead in his car during a heatwave in the middle of summer.
I call the cops and tell my boss. When the police arrived I was asked to make a statement, while I was doing this the paramedics showed up to remove the body. They got this bloated rotten corpse halfway out of the vehicle when it just fell apart , splattering on the pavement. I'll never forget that freaking smell.
10-
Our town's baseball fields for little league is in front of a small fence row of woods with an interstate on the other side. One hot day in July (like 90 F all week) everyone at the game started smelling something awful. A couple of the dads and coaches went to go look and there was a dead guy on the interstate side of the fence row. I guess a trucker broke down and was walking for help and died of heat stroke. I was playing baseball and never actually saw but still a crazy day.
Want to "know" more? Never miss another big, odd, funny, or heartbreaking moment again. Sign up for the Knowable newsletter here.

Even for those who work in careers where co-mingling with the deceased is a regular thing, seeing the dead is never normal. And the more gruesome the ending, the more unforgettable in the worst way. I often tend to skip going up to an open casket at funerals, so I can't imagine stumbling across the dead randomly. I close my eyes when I kill spiders.
Redditor u/ideologistpool wanted to know who has made some grisly discoveries they felt like chatting about by asking....
People who stumbled on a dead body, what's your story?
Picturing your own funeral can be an eerie and depressing exercise.
For some, though, the freedom to subject all your friends and family to your own morbid humor is an exciting idea.
These Redditors have no shortage of ideas regarding their hypothetical funerals.
Luckily, questions of legality or logistical possibility need not apply to this thread.
The result is a collage of ideas that take different approaches to a couple key factors of the parting ceremony: what happens to the actual body, and how funeral attendees ought to feel.
They're often meant to be grossed ought, entertained, shocked, or some bizarre combination of the three
aroadcaptain asked, "Social/religious norms aside, how would you like your death to be mourned/celebrated?"
Do you have something to confess to George? Text "Secrets" or "
" to +1 (310) 299-9390 to talk him about it.