The best stories are ones with exciting plot twists.

But the next best type of stories are the ones that continue spiraling out of control.
Curious to hear examples of this, Redditor _Mitnix_ asked:

"What's your best 'oh you thought this was bad, it gets worse' story?"
It's story time. You may want to buckle up.
It All Started With A Cat
"This is a long one, but I promise it's worth it:"
"A buddy of mine was cat-sitting for a friend of his while the guy was out of town on a vacation. My buddy didn't have a car, so the dude told him that if he needed to go out and pick up more cat food or anything, he could borrow the car."
"At the time, my buddy was living right down the street from this guy, staying at his parents' house. So my buddy was just going over for a few hours each day to feed the cat and keep it company, then going back home."
"Meanwhile, he's also been flirting with this woman online. She lives several states away, but he feels like they seem to be getting pretty serious. So he decides to take some liberties, really push the envelope on where he'll pick up cat food from, and he takes his friend's car on a little multi-state road trip."
"This is insane, right? Just atrociously bad judgement, especially since someone does need to feed the cat. To solve this, he left his parents a note. It read, 'I am camping in the woods behind our house. Please go over to ____'s and feed his cat. I'll let you know when I'm home.'"
"Boom. Problem solved, right?"
"Except that the 'woods behind our house' are about 20 yards deep. It takes less than five minutes to walk through them and come out into the neighboring housing development. So his parents went looking for him, calling out for him, and couldn't find him. They got worried and contacted a family friend, a local police officer. He subsequently got a hold of the fire department. There was a full-on search party combing through about 1/50th of an acre of woods. Unsurprisingly, they were coming up with nothing."
"This was before cell phones were common, so my buddy was completely unaware that his plan had fallen apart. He was cruising along on his 12-hour drive, expecting to get to this girl's house just in time for dinner. Except he didn't have a GPS. So he got lost. Very lost. Like, by the time he turned up at this woman's house, it was almost midnight."
"When he got there, she was crying her eyes out. He assured her that it was okay, he was fine, wasn't hurt or in a wreck or anything, he'd just gotten lost. And she said, 'No, no, I wasn't worried about you. My dad just died in a motorcycle accident.'"
"So he bailed on his cat-sitting duties, stole a car, and inspired his parents to file a missing-persons just so he could awkwardly watch a woman cry for a few hours and then drive back home."
– GavinBelsonsAlexa
The Beekeeper's Nightmare
"I will try to keep it short. I am a beekeeper. My 3rd year of beekeeping, I suddenly developed a severe allergy to bee stings. It was spring and I was installing bees for the beginning of the season. I was up to the last hive, went to install that package of bees and one stung me right in the top of my head."
"I finished up a few minutes after and went up toward the house to do some other things. I started feeling flush and I could feel my heart racing. After I few minutes I realized I was having an anaphylactic reaction."
"If you've never had one, aside from the physical symptoms, they also say you will get a feeling of impending doom. That was spot on. I absolutely felt I was going to die and people do die from these reactions."
"So I am now in the house and desperately searching for Benadryl of which I have none. I am also having trouble breathing, my body is going haywire and I feel like I'm going to black out shortly."
"I call my mom, who lives an hour away, to call 911 because I feel like I will be unconscious soon. She says okay, phone rings 30 seconds later. It's my mom, she goes 'I called 911 but they said you have to call'. This was my first wtf."
"So I call and it's a very typical 911 call she is trying to keep me talking and I essentially started vomiting and she is still on the line and I am waiting and waiting for this alleged ambulance."
"A full half hour goes by. At this point I am actually coming out of the reaction. So I go to sit at my kitchen counter. I'm still on the line with the 911 dispatcher. I see the ambulance pull up and I say, oh they're here. She's like great, are you okay? I'm like yes and then she says goodbye and hangs up."
"I see the EMTs outside but my driveway has a gate so they are just standing there and they ring the bell on my gate and I am just looking at them, dumbfounded. Like I called for an emergency over a half hour ago, and they're gonna roll up here and ring my bell and wait for me to come out when I more than likely could be unconscious or dead on the floor."
"I literally had to go out and let them in. Then they basically talked me in to going to the hospital to get checked out. Another huge mistake because this took place in the 2 months in my entire life when I didn't have health insurance. So I ended up paying $4000 for a late ambulance and some IV Benadryl and epinephrine."
"Oh which also reminds me, a paramedic also showed, put the IV in when I agreed to go to the hospital. Then I felt something dripping and turns out he put it in my artery rather than a vein and it was just pushing the fluid out of the IV."
"0/10 would not go through any of that again…but I did 10 years later when I had another anaphylactic reaction due to a bee sting. However this went a lot smoother and I had epi-pens and a responsive ambulance."
– soline
Oil Everywhere
"Arrive home from work, my house reeks of oil."
"Go in the basement, and there's a pool of oil, with my stuff floating in it. The oil filter on my burner rotted out (it was defective and recalled, but the tech never bothered to notify me or replace it). Call up the tech, he throws a new one, charges me the emergency call fee, and advises I call HO insurance before running away (it was his fault, I didn't know it yet)."
"This was February in NY, about 13F out, and obviously the burner wasn't on while sitting in a pool of oil. But, they get there pretty quickly soak it up, and get things running so my pipes don't freeze."
"Only way to get the smell out is to dry clean everything I own, then shampoo all the carpets, run deodorizers, etc. Takes weeks. Had a headache the whole time."
"Turns out, my basement has cracks, most of it leaked through. They had to cut out my foundation and dig out the contaminated soil."
"Oil in soil means DEC gets involved. Whole new can of worms as they now had to monitor the process, test at every step. Big enough deal I have a spill number in their database."
"A 20 yard dumpster, with 20 yards of oil soaked sand, is so heavy that it broke through my driveway, destroying it. They did that twice, took out my entire driveway."
"Remember how I said this was in February? March brought the COVID shutdown."
"I spent over a year with my basement in shambles, holes in my driveway, plastic sheets taped up, no washer/dryer, and all sorts of equipment kicking around."
"The next spring, they're back and working, and screwed everything up. Not going to get into every detail, but after a big fight, I managed to get rid of them and bring in a new company to fix their screwups and finish the job. Old crew got very difficult when the new crew requested permits and reports. Turns out, they never bothered. Had to do all that before they could start working again."
"New company dropped a storage crate on my yard to store my stuff while working, destroyed my grass, took out a sprinkler, took out my neighbor's driveway curb, got concrete all over my brickwork, but at least the nightmare was finally over."
– MyNameIsRay

The Depressed Employee
"I worked with a guy who had previously dealt with 999/911 calls. He got very stressed out by it, so ended up getting a job spending a year looking after the ground for some gentry estate in Scotland to get over it."
"After that he came to work for us in it support for a while. He was really nice, really friendly, but he got stressed by everything remotely negative. If he couldn't solve a problem straight away it would throw him for a loop. He needed a smoke break every hour. We gave him the support we could as an employer, time outs, pretty much what we could within reason but he wasn't really with it."
"Eventually he quit. I saw him a few times after that, always shaking, scared to cross the road even. His partner left him."
"The last I recall seeing him was him walking up the other side of the street. I called out but he didn't reply."
"And then he threw himself in front of a train."
– ASK_IF_IM_PENGUIN

In Deep Grief
"My dad was cheating on my mom with a woman a year younger than me (22) when he was mid 40's."
"Christmas time, he's sitting in church next to my mom crying, but won't tell her why."
"Younger brother knows dad is cheating and thinks maybe the side piece broke up with him and so confronts him."
"Turns out girl died in a car crash."
– Business_Loquat5658

The Seance Gone Wrong
"A work friend told me about a party where some of his friends decided to prank a mate of his. The target was one of the underdogs in the group, and he was often the butt of their japes."
"In advance of the party the pranksters jig-sawed a hole in the top of a coffee table that was going to be thrown out. With a cloth thrown over it the coffee table looked fine."
"Anyway, when the party was well and truly underway at one point the host suggested they hold a seance. Everyone who was in on the prank agreed, and a large group of guests clustered round the coffee table where, unbeknownst to the intended victim, one of the guests was hiding, concealed under the table and the cloth."
"So the seance started and the host started intoning spookily, something like...'Eddie...!...I hear a VOICE, Eddie! It's someone who knows YOU, Eddie!'"
"The guy at this point is white and starting to tremble while the room is chuckling behind their hands."
"The voice wants you to go closer to the table so you can hear their voice, Eddie! Closer! Closer!"
"Eddie is wide-eyed with terror at this point and goes close to the table - at a signal, the guy hidden underneath the table stuck his arm up through the hole in the top of the coffee table as if a spooky form was rising up from the table surface under the sheet."
"Eddie flipped. I mean, Eddie FREAKED. While the room laughed he collapsed in tears, hyperventilating, screaming, sobbing, thrashing around. He was past inconsolable, it seemed like he'd lapsed into absolute psychological breakdown, and it didn't at all help when the prank was revealed to him."
"As he lay on the floor hysterical and literally inconsolable, one of the guests finally made the decision to call his mother - who was furious when she heard about the prank, because Eddie's father had passed away a few days before, and he hadn't told anyone."
"In the end it seems they had to call 999 and a medic arrived who sedated him. I don't know if he went in for observation or was allowed home, but you can bet that the hosts got grounded and ass-kicked by parents left, right, and centre after word got round."
– MagicSPA

These Redditors have been dealt with some major blows.
People who say that things will always get better, are partially right. Things do come around, eventually.
But you never know how many curve balls life has to throw at you until there's a resolution.

Want to "know" more?
Sign up for the Knowable newsletter here.

Never miss another big, odd, funny or heartbreaking moment again.
Keep reading...
Show less
*The following article contains discussion of suicide/self-harm.
Many of us strive to do better in life and be the best versions of ourselves.

At least that's the hope since there is always room for improvement for the good of humanity.
But in order to take the necessary steps, we must first acknowledge our missteps and learn from them.
And sometimes, in spite of our best intentions, life can deal to us unexpected blows, and it's up to us to rise above it all.

Curious to hear about life experiences from strangers, Redditor MikBrasil asked:

"People of Reddit, what is the situation that you thought to yourself 'Yeah, this is my all-time low?'"
A series of bad life choices and circumstances led people to experiences their biggest regrets.
Nowhere To Go But Up
"Last year my mental health finally hit rock bottom. I was over my marriage, I hate being in the military, and I had little to no interest in anything. I drank heavily for about a month. I'm talkin whole handles in a day."
"One of those nights I planned to take my life. I was going to write out my note to the family and sit in my shower, bathroom door locked, and blow my brains out. I got as far as putting the barrel in my mouth but I was the only one with my kids and I couldn't bring myself to do it."
"Next day I had a psychiatric appointment and told them about my struggles and my plans to kill myself. They shipped me off to a mental health program for military members. I was there for two months going thru therapy, processing my traumas, and learning all of the science behind mental health."
"During that time my wife left me for another man, moved out of our home, and I had no idea until I got out and returned to an empty home. I think that time of my life and really that moment after I got home to an empty house, after working my a** off to better my mental health, definitely was the lowest point of my life."
"But on the bright side a year later I'm a lot happier. There's no where to go but up once you hit that all time low."
– Manonthemoonxv
A Family Problem
"When I went to my ex-wife's parents to plead for help dealing with their gambling addicted daughter. Poured my guts out explaining that if we didn't get help for her soon we'd lose the only house our 3 sons have ever known. Over the last year we were together I stopped counting her loses once I hit $100k. Casino apps are no joke."
"Anyway, her parents explained they had no idea en would step in asap. 2 weeks later my ex and her family got together over the weekend. They didn't tell me anything other than keep an eye on the boys. No problem, figured it was an intervention."
"Nope. They all went to the casino together. I filed 2 months later after realizing I could secure the house for my kids."
– andS0NS
A Dark And Lonely Period

"For me it was the time I invested my money, my time and lost my relationship for an agency I built with my best friend. That was a solid 3 years then he(my bestfriend) took all our clients and team and made a new agency and left me with all the debts and misery. Yep that was my All time low, no love-life, no money, no work, and disappointed my family. fast forward 3 years, Almost done paying my debts, created a new team, new clients, but it was a hard 3 years to do it all by myself."
– stevedeleon1991

For some, it doesn't get any lower than body image and body functions.
Health Problem
"When I got in my car and my gut was so big that even with the seat as far back as it could go, it would dig into the steering wheel. I had to suck in my gut before making turns."
"Heaviest i'd been in my life. 100 lbs down from that weight though. Still going strong."
– ThatoneguyTonight

Mudslide
"When I had been on a 3 day party trip and was going back to my apartment on the train. Started to sweat like mad and my stomach did NOT feel good. Tried to waddle myself home like a penguin, clenching my buttcheeks all the way. About 200m from my apartment building it didn't work anymore and I sh*t my pants."
"Had to then sh*t the rest out on the pavement, and get home asap. I don't think you could even measure the level of shame, anxiety and stupidity I felt at that time"
– manwithtubeinhishead

People who struggled with addiction shared their stories.

Publicly Embarrassed
"The amount of times I a grown woman have peed myself in public, drunk is insane. Anyway, I'm two weeks sober today and never touching the sh*t again in my life. Here's to you doing better too. You got this, my boy."
– IreallEwannasay

Faced With Ultimatum
"I was at work, still drunk from the night before. I was starting to panic realizing that I would have a client in my office in a half hour and I looked like sh*t and felt worse."
"The kicker? I worked in a drug and alcohol treatment center. I was the financial person and did the intake process with every client before they went to see their counselor."
"I ended up going to my boss, fessing up, admitting that I had a problem and being told that I needed to get help or I'd have to be let go. I was faced with losing my job, which would lead to losing my home and probably custody of my child. I realized I was on the path to becoming my father and stepmother and I did NOT want that. I had to make a choice and my whole life hinged on that choice."
"I've been sober over 17 years now."
– FairyDustSailor

Regretful Trade
"I pawned my wedding ring to get money to feed my pill addiction. It opened my eyes though and I ended up cleaning up after a few more months and getting my ring back. My wife worked her ass off to buy me that ring and I was such an addicted piece of sh*t that I pawned it for a fix. Glad that moment finally woke me up though. 11 years clean now."
– 1980pzx

Keeping Inventory
"When I think to myself 'do I have enough alcohol to get myself through the weekend?' and buy a bottle of Vodka just in case. Then spending the weekend feeling like sh*t and hating myself wondering why I'm not happy."
"Negative feedback loops exist and are a b*tch. If you get remove yourself from it for 2 weeks, I promise you'll get better."
"Edit: it's a positive feedback loop, even though the experience is negative. It builds on itself."
– YargainBargain

These Redditors didn't plan to end up where they found themselves.
The Accident Survivor
"Woke up with a tube down my throat, brace around my neck, cuts and bruises everywhere, unable to move with two cops right above me. I had to sit there while they explained to me I was hit by a driver who ran a light. I had to drop out of school for a year, lost my job and was in/out of treatments for over a year."
"All because of someone's stupid decision."
"Edit: should have mentioned this, I wasn't in a car. I was crossing a well lite crosswalk. And yes, I waited until the sign turned green and looked around for cars, still wasn't enough to save me."
– BranwenTheRiveter
Living Conditions
"When I rented a 'room' in a house, and it was the 4' x 7' floor space behind a home basement bar, you could smell the dead rats in the wall."
– Canary_Trap

Rude Awakening
"Psych ward. I remember waking up and thinking 'I never thought I'd see this day.'"
– IntrepidMage
The incidents these Redditors experienced were beyond their control.
Devastating Discovery
"The day I found my fiance dead in her tub after having a seizure. It has been a little over a year now and I'm definitely doing better, but I don't think I'll ever have the happiness that i used to have."
– krummysunshine

Commiserating
"My brother died suddenly from a seizure, it still cuts deep. Her love for you will still be there, it will help you through the dark times too. When you're ready to open your heart again, she will be happy for you. Remember she wouldn't want you to be sad or alone. Big hugs x"
– heidivodka

Unfortunately, for many people, their life's wake-up call to do better doesn't come until they've scraped the bottom of the barrel.
Hopefully, those at their lowest lows can recognize the signs that will encourage them to get out of the rut.
They may not know it, but there is always someone caring enough to help guide them out of the darkness.

If you or someone you know is struggling, you can contact the National Suicide Prevention Lifeline at 1-800-273-TALK (8255).
To find help outside the United States, the International Association for Suicide Prevention has resources available at https://www.iasp.info/resources/Crisis_Centres/
Keep reading...
Show less
Kids are wild.
If you don't think kids are wild, it's because you clearly haven't spent any real time around them or they're not comfortable enough to be themselves around you, yet. They're still putting up a front.
Catch them when they're relaxed and in their natural state - then they start talking and almost without fail, tiny humans are absolutely bananas. It might just be the best thing about them.
Reddit user Deepanjon asked:

"What's the craziest thing a child has ever asked you?"
Don't take my word for it, lets gather evidence from these fine folks.
When You Were Young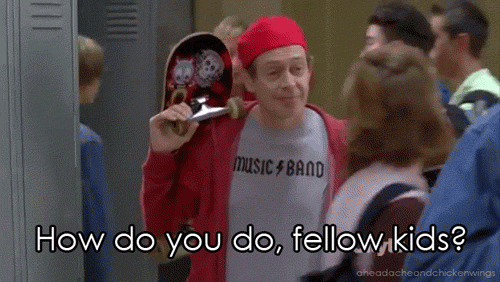 Getting Old 30 Rock GIF
Giphy
" 'When you were a kid, did they even have electricity? Or is that new to you?' "
"I'm 22???????"
- injury_minded
"My granddaughter asked me 'Was there color when you were younger?' "
" 'Ummmm yes there has always been color.' "
"I died. It was so innocent. I love that kid."
- FlaOwlLover88
"My 5 year old asked me if we had rocks when I was a kid."
- vonMishka
Catloaf
"Dumb, but truly adorable."
"I got a new kitten and was taking him to the vet. He was sitting in the loaf cat position with his feet tucked all up under him in his cat carrier."
"Little girl comes up to me with a look of genuine concern."

" 'Hello, excuse me, I've never had a cat, I just have a dog (points over at her dog at the vet) and I just wanted to know if you brought the cat to the vet because he doesn't have any feet?' "
"I picked him up and she saw his feet and was SO RELIEVED."
- sensualsqueaky
Verbal Decimation
"I was verbally decimated by a 9 year old. ZERO comeback."
"I was hanging out in my friends garage and his daughter came out from the house, and told me that I looked just like her teacher."
"I responded, 'Man, Your teacher must be a very handsome guy!' "

"She responded "Well no, she's pregnant. Are you pregnant too?' "
"WTF! That was a perfect burn. ZERO comebacks."
"My friend was laughing his @ss off."

- CodeBluePools
Why Grandma's Not Dead
"My three year old nephew asked me how old his great grandmother is. I told him she's 94."
"He asked why she hasn't died yet!"
"Thankfully she, like a lot of old people, has a sense of humour about her mortality. When we moved this grandma out of her house, I was carrying a box down the driveway and she walked next to me saying:"
" 'Thank you dear. This is my last move. Next time I'll be in the box.' "
"She was also friends with the retired head of the classics department at the local university, and I was a classics major so I liked visiting him from time to time. In the last year of his life he lived in a care facility."
"Whenever I was leaving he'd say 'It's always nice of you to come visit us folks here in the departures lounge.' "
- asoiahats
Jesus The Homie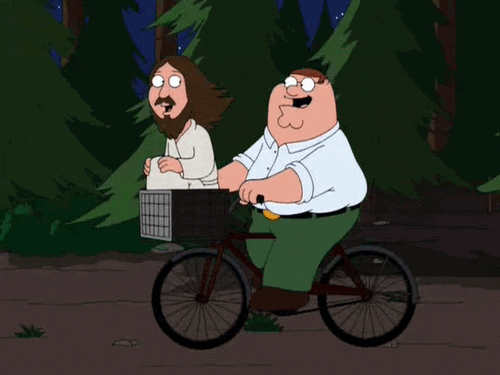 family guy jesus GIF
Giphy
"It wasn't me, but my daughter."
"She was 4 when she met my grandmother, who was 68 at the time. By far the oldest person my daughter had ever met."
"Without missing a beat she turns to my grandmother and says.. 'Was Jesus friendly in person?' Lol."
- bellabbr
#28 Doesn't Always Work
"Not me, but my wife, who is Black."
"Kid: 'Your skin is so dark. Does it wash off?' "
"Wife: 'No baby, this is tanning shade #28. You've only got shade #3.' "
'Kid ran too his mom and said he wanted to go outside and get a #28."
- BigdoggyTN
"My toddler asked me why I was part black. (We are both very white.)"
"I asked her to clarify and she pointed to a mole on my arm and said:"
" 'Your skin tried to be black right there but it didn't work for your whole body.' "
- NeedsMoreTuba
Playing Games
"Because I'm a 27-year-old man who is 4 feet tall and has disproportionate dwarfism, I get a lot of funny/weird child encounters as they try to figure out who I am."
"One of my favourite interactions occurred when I was waiting for a friend who had gone to the restroom in a shopping centre."
"I was going about my business when I spotted a young girl, perhaps about eight years old and already taller than me, peering at me from a few yards away. I didn't think much of it (things like this happen all the time), so I just smiled to myself and kept her in my peripheral view."
"I was caught aback as she stormed directly towards me, an irritated expression on her face:"
" 'I know you're not an adult,' she stated when she got to me. 'Stop playing games!' Just as her embarrassed father raced up behind her and yanked her away; extensively apologizing to me."
"I was taken aback, and then I burst out laughing. I'm going to have to work on my disguise..."

- bonniejfox
The Old People Conundrum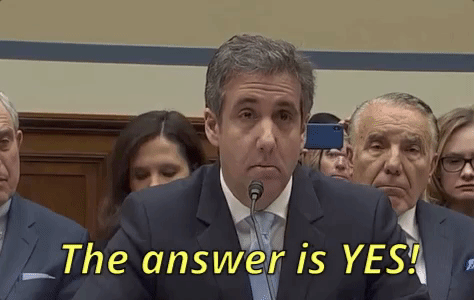 Michael Cohen Yes GIF
Giphy
"When I was little I remember asking my grandma:"
" 'Are old people smart because they're so old they've had time to learn everything, or are they stupid because they've had a lot of time to forget everything?' "
"She laughed in my face. I thought it was a legitimate question."

- Adelmas
"The answer is 'yes.' "
- scalablecory
During The Diaper Changes
"I work in childcare, mostly with very young children."
"While a coworker was changing a 2-almost-3s poopy diaper (there's always another certified adult within seeing/hearing range while doing diaper changes or any other more delicate things; child abuse prevention measures!) I hear him say 'ow!' "
"Coworker says 'I'm so sorry, I have to get the poopy off your little penis so it doesn't get a rash! Would you like to take a wipe and help?' "
"And the child responds 'No Ms, not little penis, BIG penis!' "
"He asked me after he came out from the bathroom: 'I have a big penis right? Right?' "
"100% told mom about it and she was howling with laughter. Sounds like he's been hanging out with his older brothers or something!"
"Also my response to him was: 'oh, I'm taller than you, so you are just small to me! Like your hands are smaller than mine!' "
- immabadit
"My 3 year old boy, completely out of the blue while changing his diaper: 'I have BIG peepee!' Heavy emphasis on BIG."
- VisionsOfTheMind
Candy-Colored Gnome
" 'Are you real?' "
"I was working at a movie theatre, and at the time had pink and blue hair. Also I am just over 5' and have been told I look like a cartoon character."
"I think the kid had just fallen asleep during a movie and was kinda groggy, then this little candy-colored gnome with a broom walks by and she just needed to check."
- DelsMagicFishies
Point proven, but we're not done yet.
Lets turn it over to the comments, shall we? Tell us the kid-est thing a kid has ever said to you, let's expose them for magnificently hilarious little beasts they are.
Kids are amazing.
Birds and the bees, attack
"We've talked about sex with my 11 & 12yo kids relatively openly over the past few years. Told them to ask me anything, anytime, and I'll give them a straight answer. And then one day over dinner, 'When was the last time you and dad had sex?' For the sake of the children's future imaginings, 'That's something I can't answer'."
" I think they thought I just couldn't remember, so my then 9yo said to the one who asked, 'Duh! 9 years ago, and then I was born.' Yep, uh-huh, that's right, kiddo'."
-Gantzish
"My sister's 9yo got the talk and said, 'Do you and Daddy have sex?' 'Yes.' 'Oh. ... Where?' She didn't know how to answer that one lol"
-floorwantshugs
Add it to the will
" 'Can I have your tv when you die'."I had just bought a big new tv and my cousin was over. I has 23 at the time, but kids being kids, see anything over 20 as ancient lol"
-Papa_Smurf87
"My 6 year old asked me the other day if we could have my parents' house when they die. Except instead of just saying 'die', he said 'When they, you know, slides finger across his throat DIE'."
I was like dude, that's hella morbid. Freakin kid says 'What?? We've all gotta go some day!'."
-Platypus211
"Remember it and include it in your will someday."
-Pokabrows
Telepathically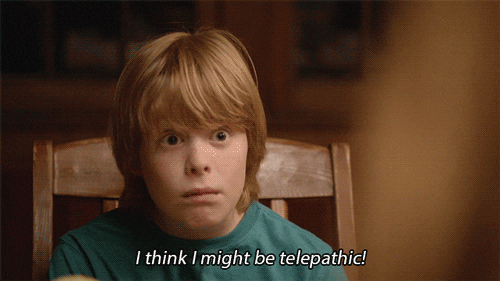 web series comedy GIF
Giphy
"6-year-old kid: 'Hey, watch this!' "
"blank stare for something like 10 seconds"
"Kid: 'Guess what?' "
"Me, bewildered: 'What?' "
"Kid: 'I was talking to you inside my head!' "
-maleorderbride
"I did this to people when I was a kid lmao"
-Cambuhbam
"I remember when I discovered what thinking was"
-genZhippie
You will help me!
"To wipe their butt while already bending over holding their butt cheeks open. Incredibly uncomfortable at a childrens birthday party especially since I was newly dating the person who brought me to it and this child's parents were nowhere to be seen"
-BellJar_Blues
"Omg. Children have no shame! Do they need help with something? Are you an adult nearby? Then I'm asking you!"
"I volunteered at my daughter's class back when she was in kindergarten. Despite the room always having 2-3 staff member adults, the number of kids who came up and asked me to do things for them was astounding. Most of them had no idea who I even was."
" 'Can you tie my shoes?' 'Can you put my hair in a ponytail?' 'Will you clean up my mess for me?' 'Will you help me dig this hole?' 'Will you help me go the the bathroom?' Said no to that one."
"On the bright side, every one of them was polite, even the more rambunctious ones."
-Wonderful-Custard-47
Mmm eyeballs.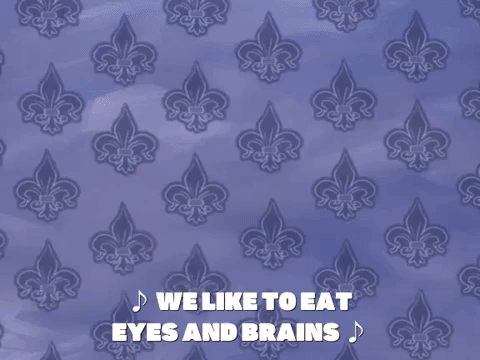 season 8 episode 10 GIF by SpongeBob SquarePants
Giphy
"Asscrack of dawn, startled awake by a toddler hovering an inch over my face. Oh, is she going for a kiss? Nope. 'Mama, I want to eat your eyes?'."
"When I declined, she elaborated reasons including: they're beautiful, I think they'd be goopy, and I bet they taste salty. Was then quite upset that I would not let her 'even have just a taste'."
-InannasPocket
"Maybe you're well past this stage now, but I really feel like this should be leveraged any time she doesn't want to try a food for the first time"
"Something like 'you know, it's probably yummier than my eyes'."
-schmiggen
How does THAT work?
"I'm pregnant and my 9 year old daughter asked how the baby got there. I tell her the mechanics of it. She asks a few questions and then says 'wait, does that mean S/O did that to you?!' I said yeah. 'Wow, that's weird mom'."
-brunette_mermaid93
"Also pregnant, and my 4 yr old is very interested in how the baby gets out."
"'I'll go to the hospital and the doctor will help the baby out' worked for a little bit, but now he wants specifics."
-toocoolforgruel
Dad jokes.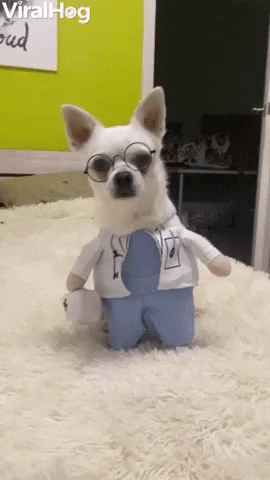 Cute Dog Wearing Doctor Costume GIF by ViralHog
Giphy
"A little girl (possibly between the ages of 5 and 8) When I informed her my service dog was working (I'm horrible at ages), she asked me what I meant. I told her that he informs me when I'm sick.
" 'Oh, so he's your dog-tor!' says the narrator.
"To be honest, it's also a pretty telling sentence for that girl's future."
-maryjgilbert
"She's gonna be a dad!"
-saviorofworms
if the aim is good...
"When I had my middle child, I called the eldest at his grandparents to tell them that the baby was born. He asked to tell him the story. I gave him an age appropriate version that mom's water had broken, we we went to the hospital and with the doctors help she came out. He went silent for a minute then asked 'Why didn't you let me use my slingshot to break your water balloon?'"
-imnotaloneyouare
"It's a good question. Why didn't you?"
-RolyPoly1320
Mammals Ice cream.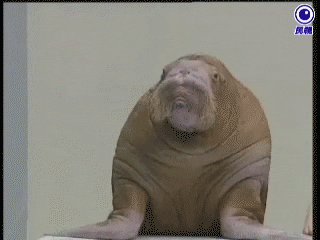 Thinking Reaction GIF
Giphy
"Actual conversation: 'Cows are mammals and they make milk, right?' "
"Me: Yes"
"Kid: Ice cream is made from milk, right?"
"Me: Yup"
"Kid: If walruses are mammals, too, how come we don't have walrus ice cream?"
"Me: ……………."
-_Thosearentpillows
"I mean, my city has an ice cream place called Walrus Ice Cream, so technically we do..."
-only-if-there-is-pie
"Lol loosely related but I worked at an elementary school for awhile. One of my students had a book of drawings. She proudly showed me them."
"They were all caricatures of people as walruses. Ironman walrus. Jack sparrow walrus. Elsa walrus. It made my day, one of the funniest and most creative things I had seen."
-TurbulentLily
Want to "know" more?

Sign up for the Knowable newsletter here.

Never miss another big, odd, funny or heartbreaking moment again.
Keep reading...
Show less
A couple breaking up amicably is civil and preferred, but it doesn't happen all the time.

Sometimes there is plenty of yelling, name-calling, and even harm done as the result of heartbreak.
Curious to hear examples of why people are no longer with their exes, Redditor into_the_void22 asked:

"What's the craziest thing an ex friend/lover has done to you?"
These Redditors found out they were not the other's "one and only."

WTF
"She met me for a date, went to go meet her parents. I had a beer with her dad while she went upstairs and f'ked her brother-in-law. Then she came downstairs and left with me to resume our date. I found out after the fact, got tested and dumped her a**."
– Sol-Blackguy
A Double Life
"Found out my long distant boyfriend of three years got married and had a baby while we were together. He was in my town every weekend... It was nuts."
– pyrexsony
The Therapy Failed
"Cheated on me. Then cheated on me again after we went to months of therapy. Then emailed my parents and told them I was bad at sex."
– lowlybananas
These exes revealed their true colors.

The Catfish Attempt
"Attempted to catfish me on blackplanet using a picture she manually snapped from a magazine as her profile picture. I could see the seem down the center of the picture. I knew it was her because she had a very poor grasp of grammar and she makes specific mistakes that no one makes. When we 'met' on the site, before I realized who she was, I asked why she was single. She stated that her ex died two years ago. Considering she pulled a gun on me in a prior instance, that may well have ended up being true."
– Agreeable-Ad-4791

The Squatter
"Got mail delivered to my house when she found out I was going to break up with her. Then wouldn't leave when I did break up with her. I called the police and since she received mail at my house they said it was officially her residence as well. I had to call my land lord and have him evict me to get her to leave. Once she left he rescinded the eviction notice and I moved back in."
– armhat

The Early Morning Complaint
"Called me at three in the morning to yell at me and call me a wh*re for 'liking' a YouTube video by Dashie a month before."
–curiositykills33
Pot Calling The Kettle
"Tried to tell me she was pregnant when i broke up with her for being a compulsive liar which just confirmed that she was indeed a compulsive liar."
– DarthVader9696

Some exes thought violence was always the answer.
No Room For Negotiation
"Woke up from a heavy night of drinking next to my ex. She asked if I wanted to try to put a baby in her and when I said no, she pulled a knife on me asking if I wanted to die."
– onmysadboyshhhrn
Auditory Assault

"One time my gf at the time was staying over. I'd been at work late the night before so I wanted to sleep in. She tried to wake me. It didn't work so I fell back to sleep. So after an unknown amount of time (I was in deep sleep) she apparently lost patience. She put her mouth directly against my ear and screamed as loud as she could... A high-pitched horror movie scream. The pain was immediate. It's been about 15 years and my left ear (if I'm in a loud place) buzzes like I've got a wasp in my ear. It sounds exactly like a blown-out speaker."
– Crackracket

Sometimes We Make Bad Choices
"Had a girlfriend edit old Facebook messenger timestamps to make it look like I was cheating on my new girlfriend."
"Would like to say that my taste got better but I got stabbed after that by an ex."
– Tobadiahtheblack
Ouch
"Came over to my house and punched me awake because I didn't answer her phone call. Because I was sleeping."
"Oh and she stabbed me with a pencil."
– lotus38
A Dramatic Exit
"Ex Boyfriend just absolutely lost it when I had enough and ended things. He took my dog when he went back to work (away from home), told my parents I was suicidal so he had to know where I was, and when I tried staying at either of my parents' places, my vehicle would get vandalized."
"Threatening to take me to the police because he had someone do something to his house and demanded that I give him money because it HAD to be me (I was at the bar on the night in question). Blackmailed me for my dog, threatening that he was gonna have one of his friends shoot her, or that he was going to release her in traffic and if she gets hit it's my fault."
"My work had to create a plan where the building would go on lockdown should he show up as he was threatening that too. The final straw was when my brother left his phone out and my ex was non-stop calling it.... I picked up and lost my absolute sh*t. I found a place to rent, told nobody (not even family as my dad thought I was being dramatic and should forgive him because he's a good guy on paper; yeah that man can be another post), and somehow made out all right but drank a bit in this time."
"My mom sent me a picture one day of my dog in her house, I hauled a** to her house. She will never admit to it but I think she paid him money so I could have her as she was important to me. Now, she is snoring in bed beside me 6 years later."
– MajesticCanadian92

What's With The Dognapping?
"She made a key to my house and stole my dog after we broke up. She then called me and told me she found said dog running loose in my neighborhood. Neighbor had it all on video. Dog was very confused."
– Saltwindandfire

Sneaky Time Capsule
"'Helped' me pack. Knew I was putting things into storage. Put RAW chicken into a Rubbermaid with appliances they knew I wouldn't open for months…."
– bellcait

Violent Concert

"She attacked me with a ukulele, while screaming."
"We had been arguing, heatedly, and she went to another room. I assumed she was just getting some space and cooling off. A moment later she came running out of the room, screaming and swinging a little guitar at me."
"We didn't break up then, but eventually did and that incident was the main reason. However, until then I could never be calm if she was in another room."
– Absurdionne

Let's end the thread on a positive.
Sometimes, the "craziest" things done by an ex are not always abusive.
Gift That Keeps Giving
"My ex donated a kidney to me, it still wows me how she decided without even a moment of hesitation. Great person for sure."
– theoldcollegetries

The most disturbing thing about a person not taking a breakup well is that it unleashes a side of them that was only indicated as hints of a red flag.
The good news is, the display of someone violently unraveling after you break up with them is a reminder of why you never should have been with them in the first place.
The bad part in all this?
Well, that would depend on whether or not the person you broke up with is prone to stabbing you with a pencil in a moment of unbridled fury.

If you or someone you know is struggling, you can contact the National Suicide Prevention Lifeline at 1-800-273-TALK (8255).
To find help outside the United States, the International Association for Suicide Prevention has resources available at https://www.iasp.info/resources/Crisis_Centres/
Sign up for the Knowable newsletter here.

Never miss another big, odd, funny or heartbreaking moment again.
Keep reading...
Show less
People sure do silly things in the heat of a moment.
Some wild activities can be spurred on by peer pressure, while other times, people are inspired by the vitality of life to seize the day.
Either way, these spontaneous decisions are made on the fly without properly assessing the consequences until it's too late.
Curious to hear some examples of this online, Redditor saebyoekishotfr asked:

"What's the 'wait, that's illegal' moment in your life?"
These incidences revolved around illegal substances.
Fungus Among Us
"In Canada, cannabis is legal. An adult student of mine, at the end of the course, gave me a baggie of 'magic mushrooms' as a thank you gift. Surprise gift!"
"I thought they were legal, too."
– loveandrubyshoes

The Mini-Meth Lab
"Yesterday actually. My little brother was out in the woods and found a mobile meth lab tied up in a tree (basically a bunch of supplies to cook/smoke meth all shoved in a bucket) and for some reason he brought it back to the house. I called the sheriff's department to come pick it up because wtf am I supposed to do with that, right?"
"Well two deputies came out to my house, wouldnt touch the thing, so finally I put on gloves and opened it up so they could see what was in it. They took a little case full of pipes and told me to just figure something out with the rest of it because they didnt want it in their car. The solution they finally came up with was for me to transport a bucket of methamphetamine in my personal vehicle (because I drive a pickup truck) to the closest gas station and dump it illegally in their dumpster. So yeah that was sick."
– thecoolvaletguy

Work places have a lots of rules, but these questionable violations were conveniently overlooked.
Just Sign Here
"My manager signed off on a bunch of made in China security access controls and optical sensors for a Made In America construction contract."
"At an airforce base."
– RedCascadian

Skeptical Boss
"I worked at a company for 3.5 years and while working there I lost one of my parents unexpectedly. I was in terrible condition emotionally after the fact. I asked for a leave of absence for 1 month to get my sh*t together. The boss 1st said they didn't believe me - so I gave him her death certificate.."
"Then he said 'Don't you think your family needs money more than anything right now?' So, I politely got up and went to my locker and packed my sh*t and have never looked back. The betrayal of the company on top of the loss put me into severe depression. Lost my house and struggled for years to be get back on my feet. About 2.5 years later I found out that him denying me that time off was grounds for a lawsuit but I was outside my statute of limitations.."
– DamageParty101
Legal Transformation
"I worked in aerospace, which uses a lot of EDM oil that is delivered in 55 gallon metal barrels. When the barrel is empty it's considered hazardous waste, unless you cut off both ends, then it magically becomes a pipe that can be thrown away in a regular dumpster."
"Hell of a loophole."
– Jaws_V_The_Return

Working While Sick
"Everytime my wife's company denies her sick leave and tells her she needs to come in. I really wish she'd just stand her ground, go get her doctor's note, and just wait to see they have no ground to stand on."
– Codmando

When it comes to animals and laws pertaining to them, these Redditors had anxiety.

Nautical Visitor
"I was snorkelling in Hawaii and a sea turtle swam up from underneath me like flat against my stomach. It was very cool, but I panicked because if you touch them there is a huge fine. I kept trying to push it away from me but it kept bumping into me, I was like 10, I was convinced I was going to jail."
– EmperorJJ

Hero Or Criminal?
"Technically I have committed a felony....by moving a turtle. It was in the road but legally this species of turtle are not allowed to be touched and moved because it's an invasive species in my state as well as it's an endangered species in general. So there's that."
– Desperate_Estate7674
Sick Bird
"There is a bird dicease in my country, which makes it illegal for pet birds to walk around outside because they might spread the dicease. But our chickens got so old, and now we only have one left. I let her out today, it broke my heart seeing her all alone in there, confused of being alone and not being let out."
– FlamingoJames

Others shared their miscellaneous experiences about forgetting what was illegal.
Visibility
"In Washington, it's legal to drive a vehicle without a windshield as long as you have goggles but it's still illegal if the vehicle doesn't have windshield wipers."
– KeyProtection7

Publicly Drinking
"I lived in Asia for a long time where drinking in public or inside a convenience isn't illegal."
"Back in the USA, however I was buying a beer at a 7-11 and didn't even think twice about cracking it open right after paying for it. The clerk immediately shouted, 'what are you doing?'"
"At first, I thought it was a payment issue and I told him that he just saw me pay for it, so what's the problem?"
"He whipped out a brown paper bag and tossed it to me. Thats when I figured it out"
– AgentCC
Are these case naughty or innocent? These Redditors had a gut feeling it was the former.
Questionable Photos
"15 year old me taking a picture of my then 14 year old gf nude. Forgetting about it, finding an old phone 10+ years later, scrolling through old photos... I see that one. Given that her and I were together 11+ years at that point my instinct was just to think 'wow she looks so young here'... few seconds go by... wait this ia tehcnically chi... frantically deletes photo."
– Daramun
Revealing Search History
"Oh God that reminds me when I first started trying to find porn. I wanted kids my age and welp.... Ya that sh*t was illegal."
"Glad I never found any. Cringe at the search history back then now tho. My poor parents....."
– BooksAndStarsLover

NSFW Archives
"i was just hanging out with my best friend a couple weeks ago and we were talking about our past relationships and hook ups. she then goes on to tell that some guy she did some stuff with when she was 15 and he was 17, took photos of her. She said that she completely forgot about them until he reconnected with her over discord as a 24 and a 26 year old. He was like 'i still have those photos of you by the way ;) wanna see them??? ;)' I look at her and i'm like uummmmmmmm you realize that's child porn right? like you understand that this person has literal child porn of you that he probably looks at a regular basis or at least has it easily accessible?? that was f'ked up to find out."
– ma1645300

So are you the kind of person that "conveniently forgot" about an activity being illegal, or were you in a situation where you weren't thinking and made an innocent mistake?
We'd love to hear of your momentary lapses in judgment.

Want to "know" more?
Sign up for the Knowable newsletter here.
Never miss another big, odd, funny, or heartbreaking moment again.
Keep reading...
Show less