Conspiracy theories are beliefs that there are covert powers that be changing the course of history for their own benefits. It's how we see the rise of QAnon conspiracies and people storming the capital.
Why do people fall for them? Well some research has looked into the reasons for that.
The Association for Psychological Science published a paper that reviewed some of the research:
"This research suggests that people may be drawn to conspiracy theories when—compared with nonconspiracy explanations—they promise to satisfy important social psychological motives that can be characterized as epistemic (e.g., the desire for understanding, accuracy, and subjective certainty), existential (e.g., the desire for control and security), and social (e.g., the desire to maintain a positive image of the self or group)."
Whatever the motivations may be, we wanted to know which convoluted stories became apart of peoples consciousness enough for them to believe it.
Redditor Lopsided_Confusion57 asked:
"What's the wildest conspiracy theory you fully believe?"
We can't say any of these are true but sometimes it's fun to speculate.
The time traveling cyclist.
"The Australian cyclist Mick Rogers is a time traveler."
"In the 2002 Tour Down Under, Rogers was in a great position in the breakaway and looking to move into the overall race lead but a collision with a motorcycle left his bike out of commission. With the team service car and mechanics way down the road, it looked like Rogers' chances were gone. Then a cycling fan, who just happened to be at that precise point in the road, offered Rogers his bicycle to continue on. The bike also just happened to be the *exact* model of Colnago that Rogers had been riding. It was the correct size, right down to things like the stem and crank lengths. It even had the same pedal system that Rogers was already using, so he could just clip in and be away. He finished that stage and took the race lead, which he held on to all the way to the end for his only career win in his 'home' tour."
"My theory is that in the original timeline, Rogers didn't win the 2002 Tour Down Under. He quit cycling in anger and devoted his life to theoretical physics and solving the problem of time travel just so he could arrange it to leave himself a spare bike where and when he needed it."
- jnhummel
"I'm on board for whatever book or screenplay you write."
"Wait, so if Rogers motivation to find ways for time travelling was losing 2002 race, and if he won, then Rogers never found time travelling and our time line is forever devoid of genius like Rogers who would have found time travelling and attended Hawkins party."
- Skulldab
"Yep, exactly. Our timeline is stuck with boring old Mick Rogers, 2002 TDU winner and 3x World Time Trial Champion while some other, much cooler, party timeline gets Mick Rogers, the second coming of Einstein. He probably even cures Covid for them."
- jnhummel
The best money making stunt.
"Information is leaked from a studio about an upcoming project that p*sses off the fan base. The studio will then change things to keep the fans happy. The conspiracy is the original leak was just a lie to drum up free publicity for the project."
"This made me think of the Sonic movie. No way in hell were they going to make Sonic look that bad. Put out a fake trailer with him lookin all scary, everyone is talking about it. Wala. Take a bit to say you're fixing his look, put out a new trailer. You just drummed up tons of publicity since people are now following the story."
"I have mixed thoughts to that one."
"I mean 'No way in hell were they going to make him look like that.' Buddy have you seen the cash-grab BS that Hollywood has pulled off before? Hell, when was there a movie based off a game that wasn't exactly as bad as that Sonic looked?"
"I will admit that they may have done that as a publicity stunt, but I also admit that they could have thought it looked fine."
"Have you seen … CATS?"
- off-chka
Governmental assassinations.
"100% of the population believes that Putin has had people killed for political reasons but only a very small percentage of Americans believe that American politicians would ever do so."
"I mean, there's a reason the joke/saying is, 'The highest award a journalist can receive is being assassinated by the CIA.' There's probably been a handful who may've found out one too many things on the elites, and then had an accident before they could publish their findings."
"Ohhhh boy then south american journalists in the 60s-80s have been awarded way too much."
"MLK was literally murdered by the government."
"Lots of Black Panthers were too."
'"As part of the larger COINTELPRO operation, the FBI was determined to prevent any improvement in the effectiveness of the BPP leadership. The FBI orchestrated an armed raid with the Chicago police and State Attorney on Hampton's Chicago apartment.'"
"Quote from the Wikipedia article on Fred Hampton."
Conspiracies for the conspiracies to cover up the conspiracies.
"The CIA creates conspiracy theories to provide cover for the real conspiracies."
- Argle
"It's actually kind of scary how smug anti-conspiracy discourse is used to derail actual conversations. A moment that chipped my faith in humanity just a little was when I was arguing with some people about Guatemala in 1954 and people denied my version of events happened 'because it's a conspiracy.'"
"Like no the parties involved admitted to it."
"If you don't know what I'm talking about and are from the USA you should have a google. But, basically the USA destroyed a democracy because it made a corporation sad."
"What's worse is when people will talk about how corrupt insert what politicians they don't like are, but then when you mention something that is actually confirmed to have happened, they pull the conspiracy theory card and act as if the idea people in power don't want to secure further power for themselves."
"We have been conditioned to think like that from since we started school though (I guess that's my submission for this ask post)."
"I think I remember reading about some CIA agents AMA. Someone asked him the question, 'What's the point of area 51?' The answer was, 'To keep your attention away from area 50 and 52.'"
"Obviously not an exact quote, but the idea of it has always stuck with me."
​Extinct animals not actually being extinct for preservation.
"I think it is entirely plausible that the Thylacine still exists in the depths of the Australian mainland and the government knows it."
"It wouldn't be that crazy for misguided scientists to have moved or released a few in the late 1800s. Once the animal went extinct, they certainly couldn't reveal the existence of the mainland population lest poachers and local farmers destroy it. They also may have realized how significant the liability was for releasing large predators into farmland."
"Folks have found hair and scat samples that may be from the animal, but the university lab results always come back and say they are nonsense. That's probably the truth, but I wouldn't be entirely surprised if the government was strong-arming them into reporting BS results. TBH if I was a conservation scientist it wouldn't take much convincing for me to fake a negative test."
Robert 'Curt' Borton Jr.
"I believe in a LOT of really boring conspiracies. Stuff like. 'This person was about to expose corporate/government corruption, and then died suspiciously.'"

"But if you want to go for a more intense one, Robert Borton, who I just learnt about, takes the cake. tl;dr guy disappears in Vietnam and really strange sh*T happens to his family."
"This guy, Robert 'Curt' Borton Jr. turns 19 in 1965, he goes to fight in Vietnam. He lands in 1966 and vanishes 19 days into his deployment alongside 3 other soldiers."
"In 1976, two guys approach his dad and claimed to work for the Department of Defense. They asked him to sign a letter that would change his sons status from 'Missing in action' to 'Killed in action' and he refused. Arguing the military would not confront people in public to sign documents. However, in the following weeks he was approached again by these two guys in public places and eventually signed it out of fear. He later received money for doing so."
"His sister then claims that every time they've seen Curt's official files, the entries keep changing, and his sister claims her phone was being wiretapped. A cousin believes that everyone was being watched, claiming that he was followed to work several times and that two men would follow him from his home to his company and then back. After this went on for a month, he decided to confront them, but they denied following him. After that, for about a month, he was not followed."
"The family is convinced Curt was part of a secret government operation that brought him from Vietnam into the United States. Diane believes that he has tried to contact her and other family members on multiple occasions. She claims that she has talked to a man who is a "secret returnee" and that they are allowed to come back to the United States, as long as they do not contact their families. She believes that this was done because the U.S. government had already claimed that all of the living POWs had been brought home; since they were still left behind, they could not become known to the public."
We may never fully know if any of these are true. Given the track record and history of most governments in the world, maybe some of these aren't so far fetched.
Only you can decide what you believe or not.
Want to "know" more? Never miss another big, odd, funny, or heartbreaking moment again. Sign up for the Knowable newsletter here.
Keep reading...
Show less
I am severely concerned about the level of brain power left on this rotting ball we call a planet.
We are in some serious trouble people. Simple facts are being distorted and obvious truths ignored. In the immortal words of Oscar winner Ms. Whoopie Goldberg as the brilliant Oda Mae Brown in "Ghost"... "World (Molly) you're in danger girl!"
Red alert, theories are not fact. So please do your research before you fall down a rabbit hole and follow the lies.
It's not that this sort of behavior is new, it's just gotten really out of hand as of late.
Redditor u/Superfrogboy wanted to discuss some ideas floating about that just don't add up by asking:
What is the worst and dumbest conspiracy theory?
The things I read on the daily scare me. Then I turn on the tv and see that members of our government believe the Easter Bunny is real and science is lies. And then I get frantic. Deep breaths....
Creative Writing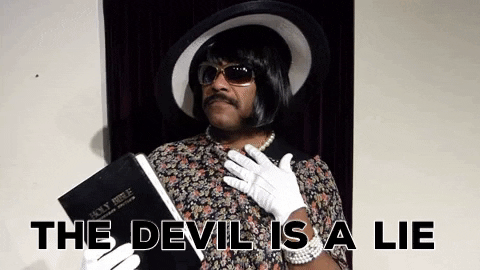 devil bible GIF
Giphy
"The one that states that Middle Age never happened and that 800yrs of history were just invented by the Vatican. It is actually funny how much work was done to prove this theory."
Beatlemania...
"Paul McCartney dying in a bicycle accident in 1966 and being replaced by a lookalike, and that the Beatles left clues on their albums.
So they found a guy who looks just like Paul, sounds like him, plays and writes as well as him (and better).
John, Ringo, George, George Martin, Jane Asher, and Jim McCartney all kept quiet about this?
The Beatles left clues in their songs and albums, for sh**s and giggles?" - square3481
Agents of the Pope
"In the new Irish exiles, however, many Protestants saw a papal plot at work. According to "Conspiracy Theories in American History: An Encyclopedia," some Protestants feared the pope and his army would land in the United States, overthrow the government and establish a new Vatican in Cincinnati."
"They believed the Irish would impose the Catholic canon as the law of the land. History The idea that Irish immigrants were agents of the Pope working to establish a Third Rome in Cincinnati is just hilarious to me."
Tartaria...
"Similarly, that there was a lost, technologically advanced global empire called Tartaria that collapsed in the mid-1800s, and for some reason it's been entirely wiped from history except for its architecture. Examples of "Tartarian" architecture include the Arc de Triomphe, old Chicago, and most late middle ages castles."
"At its core, it's similar to the Graham Hancock-style "history is lying to us" but unlike the Younger Dryas theories, which are still dumb but mostly hinge on "yeah, but we don't have evidence it's NOT true," the conspiracy requires significantly more heavy lifting to explain how none of this society survives except for a very specific and visible aspect. Check out r/Tartaria for the wildest rabbit hole you will go down today."
Silence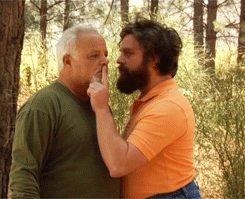 quiet tim and eric GIF
Giphy
"Any of those which require an exceptionally large number of people to remain completely silent over the course of decades."
Silence is part of the problem. And religion is really feeling like a hostage taker, I grew up Catholic. But there is a lot to explain.
Endings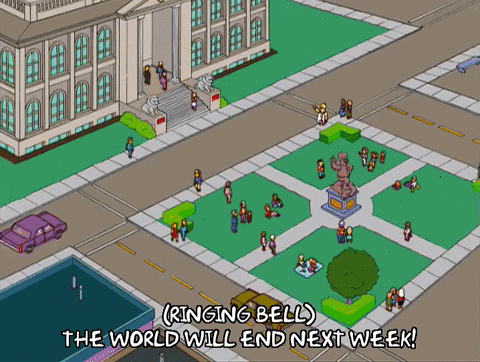 Episode 19 Sign GIF by The Simpsons
Giphy
"Every "End of the World" conspiracy. It has been said so many times, yet the world hasn't ended."
It's a Circle!
"Flat Earth."
"The one thing about flat-earth theories that has never been successfully articulated to me is: Why? What is the point of it all? Why are NASA and all the world's governments, astronauts, physicists, astronomers, cartographers, pilots, and sailors trying to trick people into believing the world is round? What do they gain from maintaining this charade, or what would they lose from its exposure? Just, why?"
Watered Down
"As the womb is filled by water. Everyone is technically born at sea therefore only maritime law applies to them. I don't get it either."
"So they would claim a gallon of water is a sea? If I stand in a puddle I'm at sea? When I take a bath I'm at sea? I think if it can't float a vessel the size of a cargo ship, then it ain't a sea."
Oh the Q...
"The holocaust didn't happen. Like how are you gonna deny something with loads of witnesses, pictures, survivors etc?"
"My sister is a hardcore QAnon type. She is adamant that the Holocaust never happened, all the pictures are fabricated, videos are all fake, etc."
Nirvana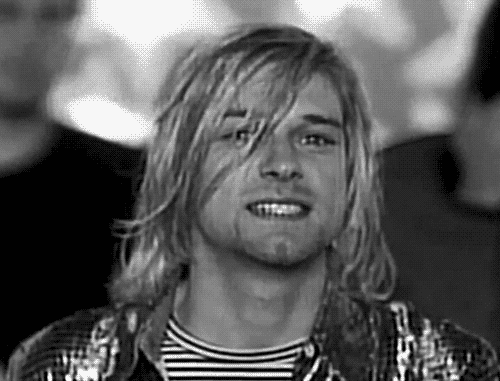 Kurt Cobain Bipolar Disorder GIF
Giphy
"Kurt Cobain faked his death and assumed the identity of Rivers Cuomo."
I understand wanting to find truth and deciphering difficult questions, but some facts are just fact. How in 2021are we still debating this rotting ball's shape? The Earth is round. Period.
Want to "know" more? Never miss another big, odd, funny, or heartbreaking moment again. Sign up for the Knowable newsletter here.

Keep reading...
Show less
Most people of sound mind scoff at the mere mention of conspiracy theories.
Many of these beliefs alleging an organization with influential power is responsible for certain circumstances or events have persuaded gullible individuals to take action resulting in unfavorable outcomes.
But there are a handful of conspiracy theories that sound legit enough to make someone really question their belief systems.

Curious to hear what those might be, Redditor BayAreaBored510 asked:

"What conspiracy theory do you fully believe is true?"
Keep reading...
Show less
Occasionally, we find ourselves in an argument with someone who is just stubborn enough to turn the tables.
At the outset, we are certain, beyond a shadow of doubt, that what they're trying to claim is ludicrous. It's plain untrue.
And yet, some people grind away persistently for long enough that we begin to doubt. At the very least, we find ourselves arguing, several minutes later, about something that once seemed so obvious it didn't even require a second thought.
Alas, some people just can't let go of their misconceptions.
A recent thread on Reddit asked people to share the finest examples of insane claims they've heard.
liveyourbestlife83 asked, "What's the dumbest thing someone has ever tried to convince you was the truth?"
Plenty of people have been told insane lies about science and the natural world. Animals and earthly dynamics provide the subject for these absurdities.
Anti-Slurp
"That chickens don't drink water" -- Thomas56544
"They drink beer." -- StupidFckNextDoor
"They don't if you put the food in front of them first because they're gluttonous little brats. Give them water first and they'll drink, then give them food" -- MatureTeen14
Philosophical Arguments
"You hear the sound of thunder before you see the lightning. They were convinced this was true... I told them to google it!" -- froatfish
"Isn't thunder the sound of lightning?" -- King_Kingly
"Well Einstein. Then why do I hear my farts before I smell them?" -- Joshi3003
Taxonomy
"Jellyfish are not alive, they are a mineral." -- Zbignich
"Have you ever seen a jellyfish? No. Thats because they're too busy being minerals" -- Darth_Gonk
Curb Poo
"That the dust on the side of roads after winters is mostly dog poo. I was just speechlessly thinking about the huge army of stray dogs invading all the streets and roads every winter night to poo and disappearing to the woods at summer..."
Others recalled times that they heard bizarre lies about medical knowledge and the human body. Some were so brazen that, in hindsight, it's become comical.
Paternal Gaslighting
"My father trying to console me on the way to the hospital saying it's just a sprain when I was staring at my bone." -- ConfusedFanGirl0502
"Tis just a flesh wound" -- TheStavis
"As a new dad...I get it."
"Sometimes you tell kids everything's going to be okay...even when it's not." -- default52
Airless
"In middle school the smart kid in class, the kind to show it off, told me if I held my breath while running the mile I could run as fast and far as I wanted because 'it uses no oxygen.' "
"I said 'no way' because that made no sense and asked him to show me. He was reluctant then basically ran like 100ft then basically passes out lmao."
Both False, Thank Goodness
"A fully grown adult tried to convince me that women get pregnant by swallowing semen because it has to get in their stomach to grow a baby." -- BogieTime69
"That periods were unnatural and are caused by having a non-vegan diet." -- SnooSprouts3480
And others remembered times when the most basic seeming facts and information had somehow eluded the people around them.
These moments left them wondering how they got so far into life not realizing the truth.
"Says So Right There"

"My parents used to think keyboards were invented by a guy named Qwerty. When I was a kid I believed it too until I said 'wait, that's a really weird name' and decided to google it" -- soviet_uwunion
"What a power move that would be. Forcing millions of keyboards to spell out your name." -- NotAnOctopys
"Wait, they weren't? That's literally what my 6th grade computers teacher told us in class and I've just been going around believing it for 15 years. I feel like my life is a lie now." -- FalconOtherwise
A Teaching Moment
"That unicorns were not only real, but that they lived in northern Europe. This 20-year old girl had a full-on argument in the middle of a part about this."
"The look of sadness on her face as she slowly realized that they weren't real was just...so beautiful lol"
Violent Transfer of Power
"That John Wilkes Booth became President after shooting Lincoln. Im pretty sure they actually thought this was true though, since they were in third grade and never really studied how democracy works." -- NeonMoth229
"You keep what you kill." -- TheStavis
So, as you've heard so many times before, do not believe everything you hear. Even when the person is blue in the face and repeating the same lie over and over for minutes on end despite anything you say.
Want to "know" more? Never miss another big, odd, funny, or heartbreaking moment again. Sign up for the Knowable newsletter here.
Keep reading...
Show less
Flat-earth for some reason is making a resurgence from the late 1400s into 2019.
We are not amused. But then, this is our reality now. We don't know what it was like a few years back.
But our elders have wisdom to share about conspiracies past. Now is the time to listen.
u/ActualGodYeebus asked:
Here were some of the answers.
Keep reading...
Show less