The world is not so big a place, is it?
While we like to think of ourselves as isolated in this billion plus planet, there can be a lot more crossover than we think. We call these instances coincidences, hoping to find the right word to explain what happens when a one-in-a-million chance occurs.
If there's over seven billion plus people in the world, turns out you can run into these 'coincidences' more often than you think.

Reddit user, Ok_Ambassador886, wanted to know how the fates aligned perfectly when they asked:
"What's the most unbelievable coincidence you've ever had?"
The unique thing about a coincidental happening is how fast it springs up on you. You won't see it coming, you won't even be thinking about it, so when it does happen, the surprise of it is enough to make you slap your forehead and go, "Whoa!"
Great Minds?
"My dad and his twin live far apart. Without even knowing it, they both bought, in the same week, the same car in the same colour."
Garaquarubyline

"I'm a twin. The coincidences on what we do, miles apart but almost simultaneously, are too strange to explain. Science underestimates how much of what we are and do is hardwired genetically."
DomingoLee
So Close...
"Lost my wallet on a trip to Chicago. Found a wallet under the night stand in the hotel. It was not my wallet but belonged to someone who lived two blocks from me in DC."
voice_of_craisin
That's How You Know You Got A Bro 4 Lyfe
"Not a big deal but we always laugh about it. I was hanging out with a buddy and I was dropping him off at his house. As he gets out of the car I start to drive off, but I stop, roll down the window and shout him over and say hey man, I have this overwhelming urge to ask you if you want a piece of gum. He burst out laughing and said get the f-ck out bro, I literally was just thinking to myself that I would kill for a piece of gum. Needless to say we're heterosexual life mates"
Idontdanceforfun
"That's a quality bromance right there"
LordSevolox
As stated earlier, there are more than seven billion people on this planet. The odds of running into one specific person whom you have not seen in years is so high I'm not even going to try and compute it for this because it turns out to find someone you haven't seen in a long time is just go to Disney.
Not You. You.
"Was walking around Boston on vacation (I'm from DC) and thought I saw a guy who I interned with ten years before. He was from California and I had not seen him for 10 years. There was no reason he would be Boston but I thought it was him and then when he got closer I noticed it was not him. I even said to my wife hey there's a guy i interned with, but was mistaken. About 15 minutes later we were walking on a new block and the actual guy I interned with was sitting on a bench waiting for his girlfriend to get done shopping. Unbelievable."
PropBrother227
No, Not You. The Guy Who Looks Exactly Like You.
"Went to high school on the east coast, moved to Southern California years later. One day I'm at Disneyland with the family watching a show and I see a guy sitting about 5 feet away who has to be a guy I knew in high school so I call out to him and yup it's him. 6 months later I'm at the airport for a red eye flight and I spot him again eating at a restaurant so I say to him "how do I keep running into you?" He looks at me surprised and I realize it isn't him, but it is his twin brother who I also knew from high school."
Global-Philosophy-11
Maybe The Answer To All These Is Disney
"In 1999, took my girlfriend to Disney World for a graduation present. While at Epcot, we sat outside and ate while talking about the band I had previously been in. Just then, the guitarist walked up and said 'Hey!'"
codallas
Surprise or not, there's nothing more warming to the heart than having a coincidence bring to mind that maybe, in this crazy, mixed up world, you're not alone.
Similar Tastes Carry Far
"I had an old Jeep (that had a very specific window vinyl that I had put on the back window) that I ended up trading in at the Ford dealership in my town. My mom lived by the dealership and watched as it was loaded up and taken away several days later with some other vehicles. Months go by and I drive past a house I had lived in years before, and there sat my old Jeep, vinyl decal still on the back window."
"Now what are the chances that the random person that happened to live in my old house would also wind up with my old vehicle. Blew my mind."
BestKept_Secret
Saved A Few Dollarydoos
"I was driving with an old fully loaded trailer long distance, not quite middle of nowhere but fairly rural, not much around etc."
"Trailer gets a flat tyre. I had no spare. The exact spot where I pull over happens to have around 3 or 4 tyres of various sizes just sitting behind some small bushes."
"I find one that matches perfectly to my flat tyre, which also happens to be the only one of them that's inflated."
"I swap the tyre and continue driving, thinking what the hell just happened. I still can't believe it happened."
Beginshere
What A Wonderfully Awful Surprise

"Mom and dad divorced when I was very young. There was no contact what so ever. I was around 10yo when we visited an aunt outside of our city. On the way back to the train station we got kinda lost. It was getting late and mobile phones was not a thing back then. A boy standing at the same bus stop apparently saw my mom panicking and offered to come with him to his parents and his stepdad would bring us to the train station."

"You cannot imagine the shock when we found out that it was actually my dads home. I was to young to fully understand but was happy seeing my dad after so many years. My mom was in shock and almost fainted. I mean if all places"
Ladyvenoms
A Bittersweet Reunion
"It was my first night at a homeless shelter. With nowhere left to go I reserved myself a bed there, and after I was registered and shown around I went to the living room and settled down a bit."
"As I was sitting there, for some reason a close friend of mine came to mind. Let's call him Darryl."
"Darryl and I hadn't seen each other for a while by then, while before I became homeless we would frequently hang out. I figured he must be wondering how I was doing, and why he hadn't heard from me in a while."
"And just when I decided to give him a call the next day, guess who came walking in! Yep, Darryl had arrived at the shelter as well. It took a while before he noticed me, but when he did, naturally we sat next to each other to catch up."
"It was a bittersweet reunion for the both of us. We were happy to see each other, but sad about the circumstances we were in. We both wanted the best for each other, instead we got the worst."
"I'm glad that neither of us had to face the homeless life alone though. I'm glad we found each other and that we were able to support one another. Both of us made it out of there within a couple of months. I now have a cosy apartment with very lovely neighbors. He moved in on a boat and lives in peace and quiet, like he always wanted."
"The end."
Confident_Ad_3573
Home Is Where The Mail Is
"I deployed to Afghanistan and was chatting with the guy I was replacing during some down time. I recognized his name, but it looked like our paths had never crossed."
"We had been stationed at some of the same bases, so I asked him where he had lived."
" 'Base housing' is a pretty common answer, so I asked him what street. He'd lived on my street!"
" 'Which house? Did you know (old neighbor)?' Turns out we had lived in the same house, and I realized why his name was familiar: I had forwarded his Christmas cards that were sent to his old address a year earlier!"
- daytonbob
June 18th
"We went on a family trip to Liberty island to see the Statue of Liberty and had a scheduled time to go to see lady Liberty."
"We got there early and we didn't know that Ellis Island was included in our ticket (we got our tickets from park service not some second hand group). We figured hey we have time let's go to Ellis Island as well."
"We got in and went around and we got to the archive and saw we could search all the manifests for every ship that had come in. I called my mom because she had told me my great grand father had come over through Ellis Island."
"She never met he had died when my grandmother was a young child and that is another story on it's own, worthy of a movie almost."
"She gave me his name I searched and found his paperwork."
"He arrived on June 18th 1920…..we visited on June 18th 2018."
- Long_Fish1973
It's The Climb
"I drove 600 miles with my brother and a friend to climb a very remote mountain in the desert."
"None of us were mountain climbers, so this was not a normal thing for us, but we decided to give it a shot. We get there and after climbing a few hundred feet, I look back and notice someone coming up below us."
"I suggest we take a breather and wait for the newcomer and say hi."
"He gets within earshot after about 20 minutes and we start talking while he pauses to rest below us. Turns out we are from the same state (Texas), and both drove almost the same distance to the site."
"He asks where about in the state we live, and it turns out he knows the town."
"He asks if we know a certain family in that town. I point to the friend who came along with me and say, 'Here's one of them!' "
"It ends up this guy dated our friend's older sister several years before that."
"When he finally climbs up the rest of the way we all recognize him! My brother had actually met the guy when he was dating our friend's sister, but hadn't seen him since."
"We all made the rest of the climb on this remote mountain almost a thousand miles from home together."
- Onomatopoeia_Utopia
The Night Of The Accident
"In 2014, my wife and I were involved in a terrible car crash that resulted in the death of someone."
"I was driving us home one night, when a lady ran out in front of our vehicle. I'm still not sure how she made it past the car next to me but our car hit her on the passenger side front lights."
"At first, I thought I had popped a tire but when I looked back and saw her lying there, shock set in."
"I ran back to her as fast as I could but there was nothing I could do. It was just an awful situation and still feels very surreal as I am typing this."
"Later that night, we found out the lady had been a passenger in a car that had been rear-ended on the same road 20 minutes prior."
"According to her friends, she just walked off. Then in front of everyone, including responding police, she took off into the road."
"She crossed 3 busy lanes of east bound traffic, across the median and then made it into our middle lane heading westbound. Her friends said she had been feeling down lately but we never heard anything else."
"Fast forward 3 years and my wife and I are still living in our small cottage on the beach. We often took our dogs on late night walks and decided to go to the local gas station a few blocks from us."
"It had to be around 2 in the morning so there wasn't many people out but as we got there, we heard a helicopter landing in the park across the street. A young lady had been in an accident and was getting help."
"As we watched, we mentioned to a guy next to us how we'd seen so many accidents in the years since we had moved to Florida from Michigan."
"He then goes:"
" 'Listen to this, my boss was once driving his truck down Gulf to Bay Blvd and rear ended a car by the local high school. He says, it was the craziest thing, one of the ladies got out of the car, said she had to go to the bathroom and walked into oncoming traffic.' "
"My wife and I were shocked, I said that was us. I was driving the car that hit her. At first it didn't seem like he believed us but we ended up talking for a little while."
"Even though we never got many answers about why she took off, besides wanting to use the bathroom, it was somewhat therapeutic."
"I had trouble driving for a while after the accident, still do in certain situations but talking about it and writing like this does help."
"Another kind of strange coincidence, we recently watched Your Honor on Showtime. It centers around a kid that hit and kills a Mob Boss's son."
"Although circumstances were different, I mentioned to my wife how watching the accident in the show was hard due to our experience."
"Then later in the episode you find out the accident takes place on October 9th - the same day as ours did."

- spartydownsouth1
The Universe Has A Sense Of Humor
"I was sitting at the Raleigh-Durham Airport, waiting for my flight to Newark, NJ."
"I started a new chapter in the book I was reading; and it was about someone taking the flight from Raleigh-Durham to Newark."
"The book hadn't been about air travel or either of those locales up until that point, but about Astral projection."
"Definitely one of those moments that makes me think the universe has a sense of humor."

- le4t
Wolfville
"I'm from Wisconsin. My wife and I were vacationing in Nova Scotia on a bus tour of Evangeline country."
"The bus broke down (when does that happen), just outside a little town called Wolfville. We decided to go for a short walk to kill time and saw a small cemetery. It was old and had a directory."
"My ancestor from the early 1700's was buried there. I am related to dozens of families in Wolfville, Nova Scotia. I had no idea."
- Current-Health2183
Noah
"About 5 or 6 years ago I was taking the NYC Subway when I sat next to a very nice elderly lady."
"We talked about how sh*tty and gross public transportation is, and after getting off on my stop she told me 'see ya later!' And I smiled knowing damn well I was probably never gonna see her again."
"I kid you not, about 6 months ago I was taking the L in Chicago, when a nice elderly lady sits next to me and says 'hey Noah how have you been?' "
"Literally like half a decade later, this random old lady I met one time in New York found me again in Chicago, she somehow remembered me, and we had a nice conversation!"
"I Hope she's doing well."

- ItsDocL
Keep your eyes open, because the long arm of coincidence might be out there coming for you some day.
Want to "know" more?
Sign up for the Knowable newsletter here.
Never miss another big, odd, funny, or heartbreaking moment again.
Keep reading...
Show less
I was visiting family in LA and I randomly suggested we check out the places we went to when my older brother and I were younger.
One day, we decided to visit the house where I was born.

I have no memory of that house near East Los Angeles since we moved to another house when I was two. But we pulled up to the house and I got out of the car and looked around the front yard.
A guy emerged from the home and we locked eyes. I didn't say anything out of fear went back into the car where my family sat waiting. My mother, however, insisted I go back out and explain to the guy why we were there in order to avoid further suspicion.
The man understandably stared me down and I told him this was the house where I was born. His surly expression changed instantly and he insisted my family come inside and meet his mom and dad and tour their home.
Under different circumstances, I'm not sure if we would have experienced the same outcome. To me, this is my one-in-a-million story.

Curious to hear from strangers online, Redditor IcarusTheTaker asked:

"(Serious) What is your "1 In a Million" story?"
Connections
Interactions with strangers led to mind-blowing discoveries for these Redditors.
Family Secrets
"My dad died when I was 12. We had a favorite picture of him that my uncle made prints of and gave to us kids, and my two half-brothers, as well as other family members."
"Fast forward 15 years or so. My brother and his roommate are at a bar and pick up a couple of women and bring them back to their place. The women spend the night. The next morning, the woman that slept with my brother's roommate sees my dad picture on the mantle, turns white and says 'Who's that?'"
"That's my roommates dad. He passed away a while ago."
"Oh, thank God! I REALLY need to talk to him."
"That's how we found out we had a half-sister we never knew about."
"My dad got a girl pregnant in highschool and she decided to go it alone. She moved across the state and never contacted my dad other than to say it's a girl and what her name was."
"Our half sister never knew what dad's name was until word got to her mom that he had died. The mom contacted our mom and they had a conversation. My mom had known everything and had kept it to herself. My mom then had a copy of the photo sent."
"Half sister was visiting her friend, when they met up with my brother and roommate in a random bar in a random city."
"Family secrets, man."
Passengers
"My friend was on the tube (london) and was forced to get off at an earlier stop due to line works. He was relatively new to london and didnt know what to do so he got talking to a guy who sat opposite him and he was heading the same way and he welcomed my friend to come with him. They started making small talk and asked about where they were from originally. Turns out the guy was from the next town over from where he lived. The next part is where it really gets 1 in a million. When my friend said that he knew the town and told him where he was from, the guy is like 'no way, my grandma used to live there' The guys grandma lived next to my friend, and it turns out they used to play together when were around 5/6 years of age (they are both around 30 at this time). When they realised this they recognised eachother."
"If the train never had to stop they would have carried on their journeys and never known."
High School Buddy
"Went to New Orleans for Halloween a few years ago with a few friends. Ended up at the famous Cafe Du Monde for some Beignets. Was sitting at our table with my 4 travel friends, when I let out a loud laugh."
"Right behind me I hear someone say 'wtf, I know that laugh, that's gotta be whopper68!'. I turn around as he turns around. It's an old high school buddy that had just gotten off a plane on a last second trip decision to fly to New Orleans to meet his fiancé's parents before they flew back home."
"Hadn't seen em in 10+years."
Familiar Face
"I was on a motor vehicle collision call out as a volunteer fire fighter. There was freezing rain on the Trans Canada highway and around 30 cars in the ditch. I checked on one lady in a flat bed tow truck who looked distraught because she just wrecked her vehicle. After speaking with her she seemed okay and I went about my business."
"A couple of years later I was hanging out with friends and family around Christmas and my brother-in-law mentioned he had a flight attendant friend staying over on her day off. She seemed really familiar, and after a while I figured out that she was the lady in the vehicle I checked in on during the freezing rain accident! What are the chances?"
People Share The 'Dirty Secrets' That Their Bosses Don't Want Customers To Know
There's a lot businesses hope their customers believe, and there are many business practices you wouldn't dare believe. These are some of the secrets Reddit ...
Odds
Luck of the draw? Right place and time? Who knows?
Dad's Luck
"Me and my dad were on a hike, in the middle of the woods. We brought out knives, for whittling. So, we are carving out sticks, and he accidentally cuts himself. Nothing too bad, but it was big enough that you can't ignore. Then he notices something under the rock he is sitting on. It is a box, with a multiple bandaids in it."
"Also whenever he is looking for a parking spot, he finds one, right in front of where he needs to go."
What Are The Odds
"I have a distant relative that was an author. I'm always trying to find the few books of hers that I don't have. I bought a copy of one off a used book seller via the internet several years ago. When it came it had an inscription inside the front cover from the author to my grandmother (I'm sure it's her, she had a very unique nickname). This book had come out of my grandmother's library and been around the country to come back to me!"
Small World
"I met a girl on a bus in Mexico traveling to Guadalajara. We sat next to each other and hit it off. She was only in Mexico for another couple of days but we exchanged numbers. We never ended up staying in contact but ran into each other 8 years later in Oklahoma City and found out that her family grew up with my best friend's family. Crazy stuff!"
The Dodge King
"So here is the shortened version, i was playing dodgeball and was the last one on my team, i had three people throw a ball at me at the same time, i walked forward with my arms out as if accepting the fact that I couldn't dodge it even if i tried, and then they all barely missed me, never happened again and when i play dodgeball with the same people everyone calls me the dodge king and wont attack me."
Free Car On Tinder
"I met a girl on tinder, she came over and we... Well anyway before she left she told me she'd like me to go to her house the next day so i said sure! The next day she gives me her address and its in a different state but i live relatively close so i head over and she tells me to park out front by the mail box, ok sure. I go inside and we start making tea and just as the water starts to boil i hear a CRASH... Her 89 year old neighbor totaled my car, a lil dinky '95 saturn, with her brand new mercedes. So now im stuck. In another state. With a girl ive known for, oh about 16 hours.
Well she feels TERRIBLE and has me stay the night and takes me to work in the morning. Well at work i get a call from Mr. Tinder girl saying how he understands ive been friends with his daughter for a while and he heard what happened and is literally buying me a car while on the phone with him! Turns out he was a multi millionaire and worked on Wall st."
"No i did not stay with her. Money can buy negative happiness apparently and also spoil you rotten."
"R.I.P. Michael J. Fox, my '95 Saturn that shook a lot, thanks for the insurance money :'|"
– newguyay
Drunk Hotel Heiress
"Amazing story!"
"I was on a vacation with some friends and on our way home from a alcohol and other things infused night we found a girl sleeping on a bench right in front of a closed coffe shop. As she was clearly not a hobo (judging from her clothing) we tried to wake her up and talk to her, because in this part of the city it was very unsafe, especially for a young girl dressed up for a night in the club... She was very drunk and could barely talk, after a couple of minutes she vomited and was desperately embarrassed. We weren't so sure of what to do, she was starting to feel save around us but was clearly very uncomfortable. We managed to get her address from her and decided to order a taxi. We were five guys, so we decided three of us should just head home, while I and a friend brought the girl to her apartment. Finally there, we asked for her keys, when she realized that she had lost her bag!
We called our buddies but none of them answered their phones. Well, we weren't exactly sober so we decided to smash in the door to her place, brought her to bed and wrote a short letter, mentioning the broken door, that her bag was missing and left an anonymous email-address for her to contact us if she wanted. Right when we got out of her appartment our buddies called, he had her bag, totally forgot that he took it when she was vomiting (as mentioned, a lot of alcohol has flown this night...). He took a cab and brought us the bag, we went up there again, put the bag beside her bed, plugged in the phone, saw a friend of hers was concerned, unlocked the phone with the passed out girls fingerprints, wrote a message to calm her concerned friend, plugged the phone to recharge, and added some lines to the before-mentioned letter."
"We headed home to sleep out our intoxication."
"The next day around noon we got an email from the girl. She was in the city for university, the apartment was not rented but BOUGHT by her father just so she has a place to live near uni. Her father was the owner of the second most expensive and exclusive hotel in the country. She was very, very thankful, said the smashed door was no problem at all, and after speaking to her father, we all have an all-inclusive weekend at the hotel for free!"
Genetics
Uncommon medical conditions and egg mutations take the spotlight.
Mutated Egg
"I cracked an egg and two yolks came out. I cracked another and three yolks came out. This was one after the other. Or consecutive as you might say in English."
"English isn't my first language, sorry for any mistakes."
Fascinating Patient
"I have 3 different unrelated liver diseases the odds of having all three is about 1/ 2,000,000."
"I have Non alcohol fatty liver disease (1/4) weight related, hemochromatosis (1/300) genetic, alpha 1 antitrypsin deficiency (1/1700) genetic."
"The two genetic conditions are in completely unrelated genes, it was just bad luck!"
"The docs tell me I am fascinating medically, My blood test results are somewhat wacky, when they did a liver biopsy my liver was bright orange (its normally dark red / purple) but I am still alive and not expected to die anytime soon."
Physical Anamoly
"I was born with a hole in the internal walls in my heart."
"Apparently this is pretty rare."
– sorude27

Miracle Being Alive
"Took a common medication for a sinus infection when I was 15, and ended up with something called Toxic Epidermal Necrolysis Syndrome. The 'lesser' but more well known is called Steven Johnson's Syndrome."
"Basically it's a reaction that acts like a burn, attack's your mucous membranes and your skin blisters up and peels off. Like, I had no face, and almost all the skin north of my legs was gone. Pretty much awful."
"If I remember correctly the case rate is like 1 per million per year, and the mortality rate is basically tied to the % of skin you lose. Most lose 10-30%, I ended up losing 80%. Spent 2 months in ICU burn unit. An absolute miracle I'm alive. I didn't even end up needing skin grafts and didn't get infections which are a big issue when you just...don't have skin. To look at me now you'd never know, except for some uneven skin tone and low profile white spiderwebbing scars where the "burns" were deepest."
Continuing with my one-in-a-million story, my family accepted the invitation and we walked around. The family was warm, kind, and let us take pictures.
My family was ecstatic and emotional walking around in a familiar environment.
We took a group photo in the living room with the current homeowners before we left, and the guy I initially had contact with told me his mother said we were welcome to visit again any time, and that they would serve us Menudo. (They were a lovely Mexican family.)
I'm glad my mom insisted I go back and explain to the son why we were there. Had it been a different – and not as welcoming – family, we probably would never get to have that night of enjoying Menudo we are now looking forward to.
This example of a Japanese and a Mexican family interacting despite a language barrier between parents was an example of the American dream my dad sought for after leaving Japan so many years ago.

Keep reading...
Show less
Some of the best moments in life happen when you're not actively seeking them.
The time in middle school when I unexpectedly won the approval of my team mates was an example of my happy accident.
Let me preface this to say I am not blessed with athletic capabilities whatsoever – specifically with sports – and I was always the last to be picked on teams.
It never bruised my ego as it was something I have come to expect early in my childhood that mostly consisted of practicing the flute and drawing manga.

Keep reading...
Show less
Conspiracy theorists would have us believe that coincidences don't exist. On the surface it sounds silly. Of course they're are a thing; but then something happens that makes you wonder if just maybe...
Life is full of those moments, were the coincidence is a little too coincidental, ya know? Or maybe you don't know.
That's okay, cause we're going to talk about some. Reddit blew up when one user asked:
What are some of the coolest coincidences in history?
Things. Got. Spooky.
Y'all, the amount of stuff that's been determined by blind luck is honestly a little disconcerting.
Do you have something to confess to George? Text "Secrets" or "
" to +1 (310) 299-9390 to talk to him about it.
Keep reading...
Show less
The world is a pretty big place, but certain coincidences can make it seem mighty small.
Whether you end up running into the same person at different places, or happen to see someone you went to high school with 20 years later in a completely different part of the world, sometimes Earth seems like a pretty small place.
Reddit user Palehant asked:
"What was your best 'it's a small world' moment?"
Neighbors
When a neighbor of mine when I was a kid moved from Italy to Argentina, but we both ended up in the same dorm when we arrived to University in the UK...
Family Reunion
My brother was cell mates with my dad before we knew he was my dad.
Military Life
Had a best friend in California 3-5th grade. I moved and lost contact.
My freshman year of high school I moved to JAPAN and he was one of the first people I ran into. Became best friends again.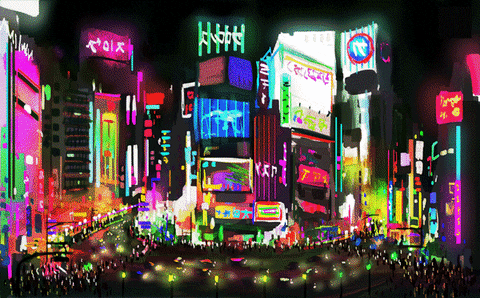 Giphy
Missed Connections
One of the best? My current manager knew my brother who has a different last name then me. She was talking to me about a time in high school where a guy was terrible to her, I asked who... it was my brother.
I've also met my S/O about 5 times before truly meeting her. She danced with my sister's best friend.
She was friends with my step dad's youngest brother. She went to private school with a really good friend of mine who I played soccer with.
She was friends with a girl I had a huge crush on all of middle school. I didn't truly meet her until my sophomore year.
Keeping Up With The Joneses
My daughter and I went on a weekend trip to Chicago. Our neighbors went to Chicago the same weekend.
My daughter said "Maybe we will see the Jones in Chicago." I laughed and explained that there are millions of people in Chicago.
We ran into the Jones in Chicago.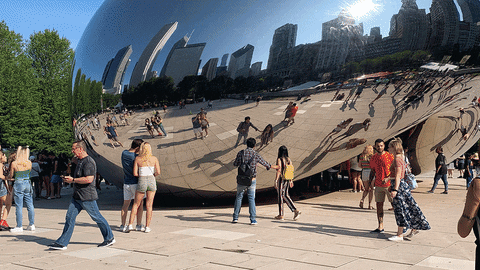 Giphy
Cameo
A few years ago, I went camping with a friend, her family and some family friends. Got talking to a few girls there about hobbies we had when we were younger, and discovered that me and another girl had both been majorettes when we were little.
She had some old videos on her ipod, so we decided to watch them. In one, she collected an award for coming 2nd place in a competition, but for some reason her dad had kept filming after she'd gone back to her seat.
Lowe and behold, my name gets called, and you can see a little 6 year old me wander past to collect it.
Pure fluke, 10 years later, a considerable distance away from where we both grew up.
All In The Family
I tutored Woman A in Biology for about 4-5 months in 2005.
Hooked up with Woman B about a year later in 2006.
Hooked up with Woman C about a year later in 2007.
Woman C then introduced me to her mom who turned out to be Woman A and they told me that I "might" know their aunt who turned out to be Woman B.
Small town life.
Layover
Middle Europe inhabitant. I met a girl on internet randomly from Baltic states like 3 years or so ago. We have been chatting ever since, planned some meets but never got the chance to make them work since we both are high school students.
This summer, I was travelling and my flight went from Germany to Finland (no direct flights). I was hanging out in the airport and hear a familiar voice from endless calls say my name.
Lo' and behold, the girl I chatted with for so long stood in front of me. We haven't planned to meet or anything. She traveled to Turkey and had a plane here as well. We had a great time talking and laughing at that the world is, indeed, a small place.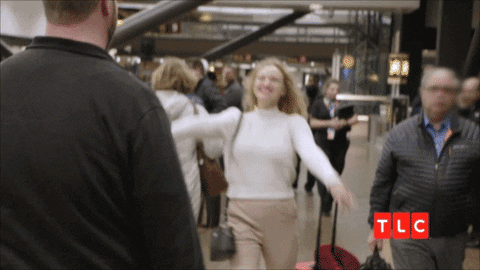 Giphy
From Down Under
I traveled from Australia to the US and the first person I ran into was a guy from my work.
Us Australians are just absolutely everywhere at all times.
He just wanted to know if you got those reports done before you left.
Online
I was playing Left For Dead 2 online in my college dorm and one of the guys that I was playing against was going to the same university, staying in the same dorm, on the same floor, like 8 doors down the hall.
We poked our heads out into the hallway and said hi, then went back to our game and never spoke again. Sometimes I don't believe it actually happened.
A couple of years ago, I was playing Rust a day or two before Christmas.
Joined a random server, quite quiet, maybe 20 people online. Got speaking to some dudes. Usual stuff 'where you from? etc... Scotland, ok me too! City? No way!' Then same town... same area of the town...
Guy literally lived around the corner from me.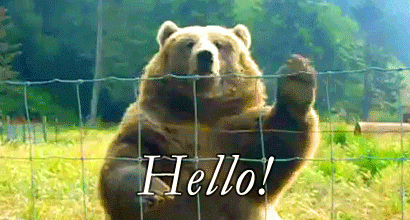 Giphy
Czech Yourself
I was in an island in Malaysia (I'm from Indonesia). I hung out with fellow solo travelers from all over the world, Poland, Egypt, France, Algeria, Italia, US, Czech, and many more.
I talked to this girl from Czech, I told her that I have a friend in Prague and visit him every now and then.
Turned out she's friends with my friend's colleague, and she lives on the street next to my friend...
- hellotyo
Well Read
Bought a book called Illywacker by Peter Carey at the WHSmiths in Victoria Station in 1993, read it, sold it to a second hand bookshop in Eastbourne a few weeks later.
2003, living in Dallas, got talking to a girl on a flight who was reading a book, told her about the book, we talked on email a few times but things petered out.
Few weeks later she orders Illywacker used on Amazon, shows up, my name is written on the inside cover.
Been together ever since. And we still have the book.
- cbohno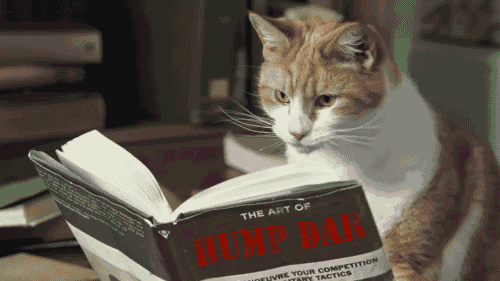 Giphy
DNA
Me and my siblings all have different dads, (our mom didn't hide this from us and was honest about our family history, which I appreciate) and one Christmas we decided to take DNA tests.
Several months later one of my siblings found out they had a sister with an almost identical first and last name to mine. After some research, we figured out they went to the same high school, at the same time.
- sniffmynips
The Early Bird
I live in Cambodia, one Saturday arranged to meet some friends at a bar we didn't ever usually go to, I ended up getting there a lot earlier and as I walked in I banged straight into a guy who was leaving.
Was one of my old best friends from my old home town, who I'd lost touch with over a decade before. Last I knew he was in Mexico and I was living in London at that time and had come to visit Cambodia for a couple of weeks.
A surreal experience and had I not got there 15 mins before I was due to we wouldn't have crossed paths.
- bongpros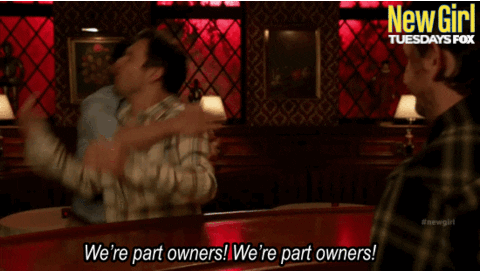 Giphy
There is a website where you can get people to house-sit for you when you are on holiday (useful if you have animals). A lovely Australian couple came and house sat for us for two weeks.
On our return we got chatting and I mentioned I had an Australian cousin. He lived on the east coast whereas they lived on the west coast.
But then it transpired they had also house-sat for my cousin two years earlier...
- flounderbout
So back in 3rd grade I met this kid that we shall call Ben. Well, Ben was born in Japan and moved to the U.S. around the time I switched schools. So, me and this kid were good friends up until about 6th grade to when he moved to Germany.
Well back in like August or July of 2019 I joined a group post on Xbox for an rp thing on Minecraft. Well me and this guy that everyone called Chance became good friends.
Then me and Chance were playing some game together when he was talking about living in the USA and moving to Germany so I asked him some questions and come to find out it was Ben.

I got reunited with my old friend from my childhood over an Xbox group post and didn't realize it was him until months later.
- Ivarthegreat95
My family and I spent our holiday in Hong Kong and my friend went on a school trip there around the same time. I joked that we might see each other there.
Then we bumped into each other. Twice. Once in a theme park and the other in the train a few days later.
Bear in mind that we didn't know about each other's itinerary so it was a complete coincidence on both times.
- mostlikelytocry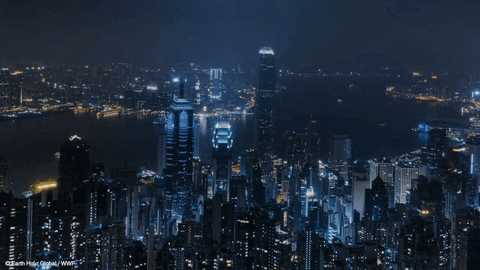 Giphy
Small Town
While in the military, I was reassigned to a base in a different part of the country.
Not long after arriving, my wife ran into an old friend from high school, who, as it turned out, had also recently been stationed there.
They both came from a small town of only about 3,000 people.
- itsallalittleblurry
Secret Superpower
I have a superpower of sorts, to attract people I know.
Take me anywhere and there is a 90% chance we will run into someone I know. It can be anyone, from anywhere, at any time.
So I have a ton of "it's a small world" moments. People from work, from volunteer shifts I've worked, from school, anywhere.
Well, it's not a superpower to me, anyway. I consider it a blessing and a curse.
- geico_fire
It really is a small world, isn't it?
Want to "know" more?
Sign up for the Knowable newsletter here.
Never miss another big, odd, funny or heartbreaking moment again.
Keep reading...
Show less