While many classified documents of disturbing cases are now accessible to the public, there are some things that have happened throughout history that are better left unknown.
Still, there will always be curious minds wanting to know the details of some of the most disturbing cases that were once strictly confidential information.

Curious to hear what some of these unsettling things are, Redditor Imakillaholic opened Pandora's Box by asking:

"What are some of the creepiest declassified documents made available to the public?"
To say these are disturbing is an understatement.

Sweden's Sterilization Program

"Sweden had a compulsory sterilization program running from 1935-1979. It was state-sanctioned and given without consent, sometimes without the people knowing they were being sterilized."
"The three main reasons for these sterilizations were:"
"Health concerns for the mother."
"Eugenic (not wanting to pass on mental illnesses or any form of handicap)."
"Social (antisocial people, criminals, drunks etc.). In other words anyone who didn't conform properly and was considered unfit to raise children.
– Sugary_skull

The Coup In Guatemala
"Not exactly creepy, but Operation PBSUCCESS , the CIA backed Coup in Guatemala at the behest of the United Fruit Company and US State Department. The official CIA history of the operation is truly one of the most f'ked up things I've ever read. It was also the blue print for the Bay of Pigs and other CIA interventions around the world."
– anon

It's crazy to think we are run by governments that are capable of coming up with and concealing the following. Trust no one.
We're Not Alone
"Not really creepy but more weird:"
"The Pentagon commissioned an initiative called the Advanced Aerospace Threat Identification Program and they recently just released footage of US military aircraft approaching these 'advanced aerospace threats.'"
"I mean what the hell are these guys doing."
– anon

New Kind Of Weapon
"The CIA was working on a heart attack gun back in the 1960-70's. It started off as a conspiracy theory but gained enough momentum nationwide that it forced the US Government's's hand and they finally admitted the theory was "mostly accurate".
"Short version, they never had a fully functional heart attack gun, but they did have a 'nearly working prototype.' The idea was that it would have a very small projectile that would be laced with a chemical that would induce a heart attack and leave a hole smaller than one left behind by a syringe. While they never had a fully working version, they did have a prototype but abandoned the project once they more or less had to admit the conspiracy was mostly true."
– anon

Unexpected Turn
"I remember a US government funded project that involved teaching Dolphins how to talk."
– Sengura

More was revealed about serial killers.

Toybox Killer Transcript
"Dude and his wife kidnapped young girls for his dungeon and played this tape for them when they woke up, detailing what he was going to do to them, including torture and how he doesn't get caught by brainwashing them to forget."
– theLast_brontosaurus

"Jeffrey Dahmer's full confession - a couple of hundred pages of pure madness. Dahmer became pretty close to his interrogating detectives (Dennis Murphy and Patrick Kennedy), and provided a lot of detail to them. A lot of it in a pretty candid, off-hand manner. It's incredibly hard to find Dahmer's confession online without it being behind a paywall, but it is in the public domain, so I've provided link to the pdf downloads. The first 63 pages are mainly forms and letters, the real meat of the confession starts afterwards."
– Miss_Musket

To Catch A Killer

"Dahmer was caught just after I had read Silence of the Lambs. A central plot point of the book is that they catch the serial killer by profiling him; one of their tenets (proved correct in the book) is that the guy must have his own relatively isolated house to himself or he couldn't get away with what he was doing. Then Dahmer is busted after years of living in an apartment building where everybody complained about the smell of rotting meat. And where the police actually brought his victims back to him."
– Garfield-1-23-23

The Jonestown Death Tape
"That sh*t proves to be a solid way to lose all chances of sleep."
"So, here's some context. Jim Jones started a cult called the Peoples Temple (yes, without the apostrophe) and eventually they moved to a new settlement they built in Guyana called Jonestown, named after their leader. Since he made them believe he was some form of the messiah (as a lot of cult leaders did), he could control them all to do whatever he pleases, and one of the things they did was practice drinking Flavor-Aid - not Kool-Aid as commonly believed - to prepare themselves for the time when they commit 'revolutionary suicide'. These practices were just normal Flavor-Aid / Kool-Aid, but Jones told them it was poisoned just to see their reactions."
"When the time came, someone recorded what was, essentially, the sounds of people drinking Flavor-Aid laced with cyanide, alongside a fatal cocktail of other substances, many victims including young children (which you could hear screaming in te audio). 900 or so people died, only a few didn't. This was the biggest loss of American life in a deliberate act until 9/11, and there is an audio recording of it. And just a VERY strong reminder: This wasn't mass suicide, this was mass murder. Many people were willing to die at his hands, but all the children and some of the adults didn't. Since all of them were forced to take the drink, it wasn't their own choice to drink it, it was Jones's. So, whilst people believe that it was a suicide, they were all duped into being murdered by Jim Jones."
– EbmocwenHsimah

Do you think some of the most captivating crime dramas on TV are original stories?
Think again. Many of the cases you see dramatized are inspired by actual events, a preface often shown at the start of a program.
People are capable of some of the most twisted forms of violence. We see it everyday in real life.
So much for escaping from reality.

A trial can hinge on one simple piece of information.
All it could take for a suspect to walk free or go to jail for the rest of their lives is one single fact.
With this in mind, some lawyers will do their best to make sure that this information is buried, legally and ethically one hopes, and will never be brought up in trial.
However, for this to happen, Lawyers will still need to know this piece of information from their clients, as it otherwise could be brought up by the prosecution, effectively ending the case.
Redditor The-Legendary-Taco was curious to hear from lawyers about times when their clients were not fully transparent with them, which ended up costing them the case, leading them to ask:
"Lawyers of Reddit, what is a detail that your client failed to bring up to you that completely lost you the case?"
The Whole Truth...

"Opposing counsel: 'Isn't it true you hit Victim in the face with a brick?"'
"Client: 'No. Marcus hit him with the brick. I hit him in the back with a piece of wood'."- lizard96golf
Thought She Was Being Clever...

"A buddy of mine case as a public defender."
"A gal was busted on drug charges, and told him she didn't have any drugs on her when they arrested her."
"He thought, ok we'll use that."
"Turns out, she didn't have any drugs on her when they arrested her because she just sold them to an undercover cop."- CheapCigars
Choice Of Clothes Can Make A Difference...
"My house was robbed."
"In addition to all the stuff the thief took, he also stole a bunch of my suits and all of my neck ties."
"I had a big collection, like 100 or so."
"However, the thief left fingerprints on a hard plastic box that I kept spare change in."
"Fast forward 3 months, the thief is caught in the act of robbing another house in the same neighborhood, same detectives on my case and this new theft."
"They fingerprint the guy and the fingerprints match the ones from my house."
"At the thief's arraignment, I see him stroll in wearing my suit and my tie."
"I tell the district attorney, he says there's really no way to prove it."
"However, the tie he chose to wear was a one of kind street map of San Francisco and I still had all the documentation to prove it."
"The district attorney's eyes widen and he informs the judge."
"The judge has the thief placed under arrest again for possession of stolen property."
"The thief's lawyer was dumbfounded."
"It was a nice end to a rough situation!"- West-Operation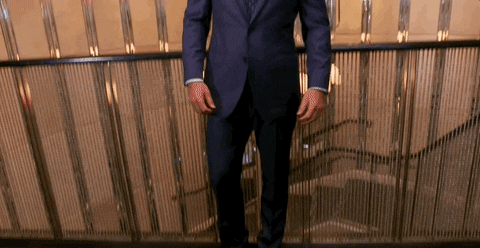 suit and tie johnny bananas GIF by 1st Look
Giphy
Never Depend On Technicalities
"Obligatory not my client."
"Company I worked for at the time was doing due diligence before acquiring a small tech startup."
"The COO of the tech startup was a well-liked guy in the company, friendly and outgoing."
"Though we had heard rumblings that the COO was rather hands-on with the work and with female employees."
"Apparently there was a walk-away package proposed to the COO that would let him keep a sizable portion of his post-acquisition bonus because a young woman who worked in their sales department had filed HR complaints against the COO and obtained counsel."
"I sat in on the meeting with the COO and the company's retained lawyers while they grilled him about his contacts with the young woman."
"The COO denied ever having contact with her within the company without multiple other people present, those people said his behavior toward her in the meetings didn't raise any flag."
"The COO emphatically denied having any contact with her outside of work."
"The lawyers asked the question a half-dozen different ways and each time the COO denied any out of work contact."
"Later we meet with the woman and her lawyer with the COO not present."
"Her lawyer gives us a rather graphic card that came with a bouquet of flowers addressed to her from the COO."
"The guy had an account with a florist linked to his credit card."
"When the company-retained lawyers confronted him he said, 'but I never had contact with her'."
"'It's not like I delivered the flowers myself'."
"COO got terminated for cause so no walk-away package."
"At her request the woman was given PTO until after the acquisition then moved to another one of the companies under our umbrella."- GuiltyLawyer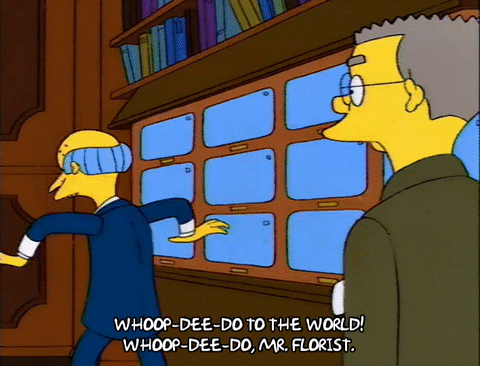 season 5 episode 21 GIF
Giphy
Who Exactly Am I Talking To?
"Employment case."
"We got to the deposition of my client and all set up."
"The first question is 'please state your name'."
"The client looks at me and says 'can we take a break?'"
"We do and she pulls me out in the hall to tell me she's lied to me about her identity."
"She's apparently a serial fraudster and has changed identities 7 times since the 90s."
"She apparently thought the other attorneys had some how figured it out and that's why they asked the question."- Philosopher422
It's The Little Ones That Get You...
"Minor traffic cases can be the worst for this, believe it or not, because they are short and simple and often times the client isn't there, so if you get blindsided by something critical there's often no chance to consult with them to turn things around."
"I had a simple speeding case, 70mph in a 55."
"No big deal, if she does a driving improvement course they court will usually dismiss or reduce those, since her driving record wasn't bad."
"When I showed up for her, I found out that she had been driving 70 up an unplowed snow lane, to get around all the others cars traveling in the lane that had been plowed because they were driving too slow."
"I didn't know it was even possible to drive 70 on fresh snow."
"The officer stated he'd already cut her a break by not writing the ticket for reckless driving, and the judge politely agreed he didn't feel comfortable reducing it under those circumstances."
"When I called her up after court to confirm, she did, claimed she'd just forgotten to mention it."
"Now maybe I've lived too much of my life in the south, but that just boggles my mind as a detail you'd forget when hiring a lawyer for that incident."
"I would have told her in advance that hiring us was a waste of money, not to mention the hassle of taking an 8 hour class, and she should probably just go ahead and pay this one."
"I legitimately do that all the time during consults."
"Give my honest assessment if the case is even worth doing, and so by omitting that detail she harmed herself for no reason."
"At least she took it well and didn't get defensive."- AmberWavesofFlame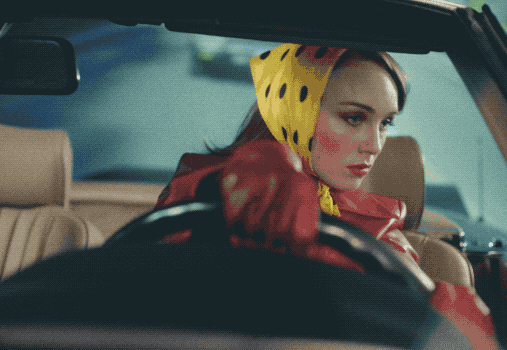 Driving Get Away GIF by Zella Day
Giphy
Swing And A Miss...

"I used to work at a big health insurance company, which started up a company softball league."
"I started up a team for my division - Major Accounts."
"Lots of people wanted to play, so we had a big co-ed roster."
"I asked everyone to pony up $25 for a jersey and towards soft drinks, which I'd buy, chill and bring to each game."
"Because there were so many people on the team, I had to alternate who played defense each inning."
"One guy didn't like it, and got mad that he couldn't play center field every inning."
"So he decided on the next time he went in to let a couple of easy fly balls hit to him go past him on purpose for a home run."
"This guy was a clerical level employee playing with VPs and SVPs, not a smart career move."
"So I benched him for the rest of the game, as in I didn't let him play defense."
"Two days later he serves me with papers, that he's quit the team and is suing me for $25."
"I say this is dumb, you should just play and enjoy having fun after work with the people you work with."
"A week later I get a call from The People's Court."
"They're interested in putting this on TV but want to know more."
"I tell them the story and they say this is too stupid even for them."
"So they pass."
"Court day arrives, and the guy makes his case."
"I take the stand."
'The judge first says 'why haven't you settled this?'"
"I say there's nothing to settle."
"He asks me a a couple more questions and then asks 'so you kicked him off the team?'"
"And I say, no, he quit'."
"'I asked him to stay on the team'."
"The judge says 'I've heard enough, ruling for defendant'."
"The weeks later the company CFO comes up to me and asks when is it going to be on The People's Court?"
"I had to say it's not going to be, because they thought it was too stupid."
"Next round of layoffs, that guy is at the top of the list."
"I'd guess he's still a loser."- mPeachy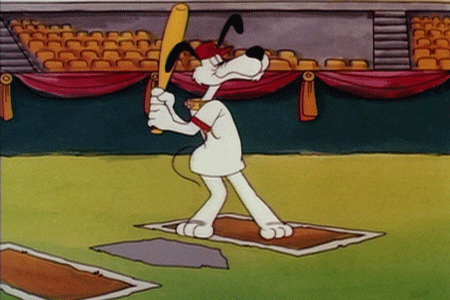 Uh Oh Oops GIF by Boomerang Official
Giphy
Careful The Things You Post...
"Prosecuting a guy who is claiming 'back injuries'."
"He posted pictures of himself holding strippers on Facebook the day after his 'injury'."- EasttownPot8ohead
Petty Threats?
"A commissioner referred a guy to me because I speak the guy's language and do that kind of law."
"Protection order case."
"Guy was asking for a protection order against his GF that had tried to stab him."
'I mer the guy talked to him."
"He seemed sketchy but he had decent answers to all my questions."
"I decided to represent him."
"Submitted declarations and exhibits."
"His GF responded that she was the victim and claimed police arrested wrong person."

"I met with him again and went over the accusations."
"I asked him, 'have you ever hit your GF?'"
"He answered no."
"We went to court."
"I made my argument."
"I felt confident."
"But commissioner requested 'permission' to question my client."
"Question 1: Have you ever hit GF. "
"My client answers no."
"Never."
'Question 2: have you ever tried to hit GF."
'Answer: 'yes many times'."
"'I even tried to straddle her in a chair but she moved ducked squirmed and eventually escaped'."- IndiaaB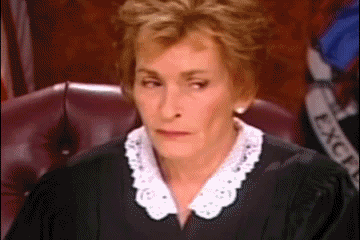 Judge Judy Reaction GIF by Agent M Loves Gifs
Giphy
Facts!
"My grandfather was the client in this very situation."
"He left my grandma after 20 years of marriage to be with his high school sweetheart."
"He and my grandmother had lived in the home my great-grandmother, grandmother's mother, gave to my grandmother."
"Grandfather had later been added to the deed when they did a home improvement loan because he was the earner and grandma was a housewife."
"My grandfather told his divorce lawyer that the house had been HIS mother's home that he inherited and my grandmother had moved in our whole family to make it uninhabitable for him."
'He then changed the story to say that he and my grandmother were gifted the home jointly."
"He also went on and on with wild stories that my grandmother was a mafia boss, despite the fact that we are not in Vegas, not of a nationality known for organized crime, and not rich."
"The lawyer accepted all of this as fact with zero proof and even went so far as to harass my grandmother's lawyer about how she was knowingly representing a criminal.
"There were even papers filed to sue my great-grandmother for mortgage fraud and all sorts of other bogus suits, again, filed solely on my grandfather's word."
"After mediation, wherein my grandfather wanted to to sell the home and split the money after paying his legal fees, keep both cars, pay no alimony, etc., we go to court."
"My grandmother's lawyer hands over one thing, the home improvement loan application wherein he listed my grandmother as the sole owner of the property and listed my great-grandmother as the previous owner."
"The judge was livid and my grandmother walked away with far more than her lawyer thought was possible."- myJNfamilythrowaway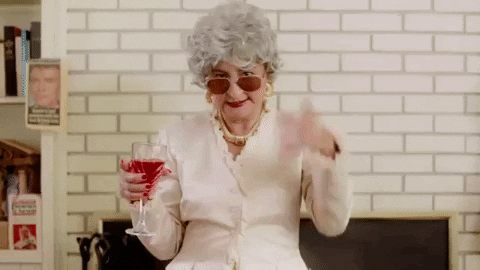 Golden Girls 90S GIF by Mattiel
Giphy
Despite the longstanding negative connotations which come with them, lawyers are there to help you.
So it's always the best decision to tell them the truth, the whole truth, and nothing but the truth, especially if you're paying for their services.
That, or just obey the law so you won't need one.
Be it Law & Order, FBI, or CSI, or the work of James Patterson, countless people are simply addicted to crime themed TV shows, movies and books.
Others, however, are more fascinated by the real thing.
Be it scripted series, documentary style or podcast, many people are fascinated by true crimes, and can't learn enough about some of these cases.
But on some occasions, the crimes in question might simply be too gruesome, dramatic or heartbreaking to handle, resulting in even the most dedicated crime aficionados to take a step back.
Redditor Soupystains was curious to hear which true crime case fellow Reddit users simply couldn't handle, leading them to ask:
"What's a true crime case that was simply too much to handle?"
Judith Barsi
"Judith Barsi."
"That poor, sweet, innocent soul."
"Never had a fighting chance in the world."- Nuttonbutton
James Bulger
"The James Bulger case always left me with that sickening feeling."
"That poor trusting little boy that was lured away by two older children no less, and killed haunts me."- Mason3637
Gabriel Fernandez
"For me, Gabriel Fernandez."
"That sh*t f*cked me up for a while."- lightningspider97
Kelly Anne Bates

"The murder of Kelly Anne Bates."
"Happened just around the corner of where I live."
"She was 14, when her 48 year old 'boyfriend; groomed her and isolated her from her family."
"He then tortured her and gauged her eyes out, keeping her alive for a few more weeks, whilst starving her and stabbing things in her empty eye sockets, amongst other things."- Anonymark88
Mary Ann Dela Sala
"The 1967 murder of a neighbor, 17 year old Mary Ann Dela Sala of Hackensack, NJ."
"Left her after school job to walk home and was found floating in the Passaic River."- OilTankCzar.
The Delphi Murders
"While the investigation is still active today I have to go with the Delphi Murders."
"I keep thinking about what those girls had to watch the other endure before meeting her own fate."
"Someone still hasn't been caught and it's heartbreaking."- throwawaymeplease45
Susan Powell

"The murder of Susan Powell, but not the entire case itself."
"I listened to the podcast Cold and while the case as a whole interested me and was all sorts of f*cked up, it didn't greatly disturb me."
"It was hearing the 911 calls of the social worker who was bringing the boys for a visit calling for help after Josh Powell lured his sons inside his home telling them he had a big surprise, locked the doors, killed both boys with an ax and then set the home on fire with all 3 of them inside."
"EMS was lost so the entire time the social worker is frantically trying to explain to them where they are, who he is, and what she's worried is happening totally powerless to do anything to stop it, and then the house went up in flames."
"I had to take a 6month break from all true crime."- tigm2161130
Any case involving children.

"Murder of Tori Stafford."
"Also, the case of Karla Homolka and Paul Bernado."
"Basically, any case involving children."
"We don't have a death penalty in Canada for those who prey on children."- Hangingoutwithyou
Dylann Roof

"When Dylann Roof, the AME Church killer, was arrested, he told one of the officers, 'They were so nice to me, I almost didn't do it.'
"That's always really gotten to me."- notthesedays
The Toybox and Toolbox Killers
"Toybox killer is bad but toolbox killers is so much worse."
"There's footage on YouTube of people in the courtroom listening to the recordings of them with their victim and occasionally you just see people coming out of the courtroom crying or looking sick and you can hear the gutteral screams in the back."
Just the sound of the screams in the distance is so f*cked up."- Rackbone.
"The toy box killer —> nope."- CaffeinatedAsh
Sylvia Likens
"Sylvia Likens."
"Idk why I continued to read the whole story but reading about everything she endured, and all the extremely messed up things they did to her, I cried."
"I don't know how you get to that point of dehumanizing someone like that."
"It makes me sick even thinking about it."- amaranthaxx
Ariel Castro
"The case of Michelle Knight, Amanda Berry and Gina DeJesus."
"They were kidnapped by Ariel Castro and were held captive in his house for 10-11 years."
"They were raped and Amanda became pregnant with a baby girl named Jocelyn."
"Thanks to her telling them Ariel wasn't home they were released in 2013 which was only 9 years ago."- charlie_iscontagious
Bass Webb

"Google Bass Webb, Kentucky."
"He killed two women about ten minutes from my house."
"He's is a true psychopath."
"I had never heard of him until my husband hired a new guy and the guy was on probation for helping Bass bury one of his victims."
"She was that guy's cousin!"
"My husband didn't know it at the time of hiring obviously."- lifeinthefastlane999
The Turpins
"Definitely the Turpins."- Different-Ad6190
Michelle Blair
"Michelle Blair from Detroit."- Illustrious_Boss2991
Luka Rocco Magnotta
"Luka Rocco Magnotta, and the worst part is that everyone is able to see the whole murder online with a simple research."- ganesh420ganesh
Mr. Hands
"Mr Hands."
"Mr Hands had a kink for f*cking horses."
"He broke into a stable and chose the biggest horse in the stables and f*cked it."
"I'm pretty sure he got internal damage from… well you know and died in the hospital."- grahamcracker007
The Burari Case

"Burari death case."
"If you know, you know."
"That sh*t was really F*cked up."- Classic_Blueberry404
Peter Scully
"Peter Scully."
"Just horrible."- m0thb4lls
What might make reading the work of James Patterson and others easy for some people to read is the fact that they know it's fiction, perhaps loosely inspired by actual events.
But learning more and more about horrific crimes which actually happened and could happen again is enough to permanently ruin any chances of sleeping.
There is a reason why the TV show Law & Order has endured for 20 seasons and has spawned various spin-offs. People love court drama.

All aspects dealing with the criminal justice system being played out by actors can make for a compelling watch.

So you could imagine what it must be like for actual lawyers who have years of wild firsthand experiences that is their reality.

"Lawyers of Reddit, what is the most f'ked up case that you have fought or seen?"
The court room is now open. Brace yourselves
Some people should never be parents.
Unfit Mother
"A woman was alone with her baby after her husband got deployed. This was not long after the baby was born. Then the baby passed away, and the body had some strange bruising. The mother insisted the baby crawled out of her sight and fell down the stairs. The case ultimately got reassigned from our office, and the mother was pissed. She told the primary lawyer on the case that she had indeed killed the baby. She basically bragged about it, and she had zero remorse at all. Seeing the infant's autopsy photos was absolutely horrific."
Cruel Punishment
"Dependency case where a single father dipped his toddler in boiling water because he was crying about some silly toddler thing. Kid was severely burned over his whole body. They were trying to re-unify them."
Unwanted
"Worse I've heard was a divorce case where both parties fought to NOT have the kids stay with them. It's so depressive to think about the children in that case."
– maximef1

Punishing A Teen
"IANAL, I work for one."
"We represented a family who tried to ruin a teenage boy's life. They fabricated police reports, falsely claimed he stole expensive electronics from them, and took their claims to the very uninterested school the boy attended. When cops tried to investigate, the family evaded the investigator and lied to him."
"Why do all this? The family's son was crushing on a girl they were hosting in their home. She chose to date the boy in question over the son. All three kids were classmates."
"The boy got a hefty settlement from the family. This case was outside our typical areas of practice, but they came from a friend of the attorney."
These clients were innocent of their wild allegations.
Insult To Injury
"Represented a painter getting sued on a construction defect job. The painter was hired to paint building 2 and 3. He showed up for work, performed the work, and on his way home got into a terrible car accident leaving him paralyzed from the neck down."
"He was sued several years later for water intrusion defects related to buildings 7-9 (Which he didn't work on). Felt terrible for the guy."
– nicbus07

The No-Show
"Client insisted on suing an employee who failed to show up to work which caused a contract to be cancelled."
"The employee didn't show up to work because he died."
Prank Gone Wrong
"Case told to me by another lawyer on one of my cases: two guys decided to give a marijuana laced brownie to their co-worker without telling him it marijuana in it... right before he started his shift... as a crane operator. It went predictably badly, resulted in an accident and even their union agreed the guys should be fired."
These cases involved criminals who have done unspeakable acts of horror.
The Lying Inmate
"In a pro bono program, I was assigned to handle the request of an inmate to be released after serving 2/3rd of his sentence. When I read his file, I discovered that he was convicted for kidnapping a woman, tying her to the right front wheel of his jeep and torturing her to death with some sort of home made flamethrower. When I went to see the guy, he denied everything, and told me he was appealing the verdict (which legally was not possible anymore)."
"It was really weird sitting in a room with this guy, knowing what he was convicted of, and knowing that he'd been denying the conviction for almost 20 years."
"Needless to say, his request to be released early was denied."
"Edit: People have been asking questions about the sentence he got. He got life in prison, which makes you eligible for early release after ten years (first offence) or 14 years (recidive) in Belgium. The death penalty was abolished in 1996."
People Share Their Best 'Whoa, It Worked' Moments | George Takei's Oh Myyy
Mentally Unstable
"A sociopath in a psych ward making suicide pacts with vulnerable people and never following through. Charged with murder, determined he was too out of his mind to be accountable. Gonna be in an asylum for the next two decades unless something major changes within the case."
Animal Cruelty
"Not a lawyer, but used to work in a law firm. One attorney told me about a case he was trying where the defendant was up for animal abuse charges."
"What did he do? Well, he and his wife were going through a nasty divorce and he had moved out and started living with a friend. One weekend, he knew his wife and kids were away, so he got hammered and decided to go f'k up the house. This dude totally trashed it. But the worst part, he took his kids new kitten and placed it in the microwave & turned it on. He left it there for them to find."
"F'king disgusting psycho."
We could use a bit of levity.
The following will provide just that. Not all cases are gloom and doom.

Saving Mermaids
"I'm here to provide comedic relief!"
"My buddy is an attorney and was working on a case against some company that was dumping pollution in a large, local body of water that had a direct opening to the ocean."
"He gets a letter from an incredibly concerned local dude. He wrote this LONG LETTER begging my buddy's team to do all they can to win the case against the polluting company for the sake of the... mermaids that were living in that local body of water."
"He had seen them often guys. He had been trying to befriend them for quite a while now and was concerned for their well-being and for the possibility that they would move out to the ocean to find a cleaner home if the company kept dumping pollution into their area. I wish I could find that pic of part of the letter."
"In case you are as concerned as he was, fear not! My buddy's team won the case and that company is no longer dumping their waste in that body of water"
Wildly Determined
"My uncle lawyer helped a relative with a traffic ticket. Relative was conspiracy nut and wanted to take it to court to 'reveal the lies.' Uncle just paid the fine and told her she won."
Wayward Ice Cream Particle
"Not really f*cked up, but amusing: my dad won a case against Baskin Robins 30 years ago, because his client chipped her tooth on a pistachio shell while eating pistachio ice cream. No warning label. I don't remember the settlement amount, but it was hefty."
While most TV courtroom dramas are fiction, they can be inspired by actual events.
Certain episodes from programs like How To Get Away With Murder, The Good Wife, and all the Law & Order shows can pull from real-life news headlines and be overly dramatized for our entertainment.
However, it is very unfortunate that some of the most horrendous acts carried out by human beings in the real world are not a manifestation of a writer's imagination.

Documentary shows like Unsolved Mysteries are deeply disturbing to watch. Yet, these unresolved cases have an unexplainable allure that draws people in.

Murder cases that involve unidentified killers are among the most popular.
Is the killer still out there? Were there many more undiscovered bodies tossed in a ditch somewhere in the desert? Or was the death of an individual purely accidental?
Equally compelling are the investigators who explore every possible theory to track down a criminal.

These cases continue to prompt intrigue because we all have an innate desire to have closure.
Curious to hear from strangers online, Redditor TGS_Holdings asked:
"What's the creepiest unsolved mystery you know?"
Multiple bodies were found and not a single killer was identified.
Family Murder
"Dardeen Family Murders. Husband, pregnant wife and young son. Wife and son bludgeoned in their bed the mother gave birth where the perpetrator(s) then bludgeoned the newborn. They found the husband shot execution style outside. No fingerprints or DNA found at the scene it was completely clean."
Beach Graveyard
"In the area I grew up, there was someone killing sand dunes and burying them in the sand dunes by the beach. They would sporadically show up. To my knowledge, the person was never found."
"Cleveland Torso Murderer"
"Back in the 1930s, there was a serial killer called the Cleveland Torso Murderer who would cut off people's limbs, heads, and genitals, then leave the torsos behind for the police to find them. Not only did they never figure out who the killer was, but they also never figured out who most of the victims were."
Bodies On The Road
"The Santa Rosa Hitchhiker Murders in 1972-73. I grew up in the area but didn't hear anything about it until a couple years ago. Seven girls and women were murdered and dumped along rural roads in Sonoma County. The case is often overshadowed by the Golden State Killer and Zodiac Killer. Who murdered these girls in sleepy Sonoma County remains a mystery to this day."
The following Redditors discussed cases involving missing people and unknown causes of death.
Missing Bride
"Mary Shotwell Little has always kept me up at night."
"Went missing after shopping at Lenox Mall in Atlanta in 1965. She was a newlywed so she was called the Missing Bride. She was reported missing by coworkers the next morning but her car was no longer in the Lenox parking lot. Her husband was out of town and when he returned and went to Lenox to look for her, her car was now there. The car had her groceries, blood spots, and a folded pair of women's underwear on the console. Lots of weird details in this case like the car being returned in daylight, her credit card being used and her being spotted in NC under duress and with two men. Her body has never been found and the case is still unsolved."
The Dad That Stayed Home

"I forgot the names, but a family was going on a vacation to a sports game, but the dad stayed home because he wanted to record it, and his TV didn't have an auto-record function, meaning he had to be there to hit record."
"The family gets home and the dad is missing. The game is recorded on the TV, meaning he had to have been there when it aired. The fridge had two turkey sandwiches freshly made."
"Someone driving down the highway near their house spotted a body on the side of the road. They turned around to find it, but it was gone."
Last Seen Arguing
"Local bar, missing man from a few years ago. Nowhere to be found. He was drunk and had gotten into an argument at the bar. Walked to an Arby's at some point. His glasses were found on the ground, but no trace of him otherwise."
These bodies were found in small spaces.
The Missing Kid
"Probably that one kid that went out and disappeared but was found mangled up in a chimney a decade later by his parents."
Stuck
"Last year i worked for DEMA (Danish Emergency Management Agency), we were called out to a case of a man losing contact to his partner who was inside a chimney at a Danish art project. He was supposed to uninstall some lights, but when his partner radioed him, there was radio silence. His partner was controlling the mobile crane used to lower him inside, which was the only way up there. When we arrived the man had been inside the chimney/cylinder for about 2-3 hours. There was drones installed with heat reading cameras in the air trying to see if he was alive, and when we got the picture his body was still warm. Since we had no way of getting up there we had called for another mobile crane with which we could get to the top. My partner and our sergeant went up, and when they pulled out the man, he was already dead. We couldn't figure out how it happened, but when we got the report back it said he died from his injuries. But there was no major bruising on his body!"
"I still don't know how he died till this day."
There were no deaths in the following cases but still caused intense fear.
Repeat Break-In
"About 1.5 years ago I was broken into. They stole essentially all my life savings which was in precious medals, along with a bunch of other misc personal belongings. The police never found them. 3 days later, I see my door is broken in again and thieves came back and put a couple things back, including a gold ounce coin with a note attached that my dad had written to me when I was an infant, telling me he loved me. Less creepy just strange; criminals with a conscience."
Almost Abducted
"Whenever I was a small kid I was almost kidnapped when my mom had a seizure at the grocery store some man had grabbed me saying that he was my uncle but luckily a family friend happened to be there too and the dude ran off before police got there I was only around 5-7 at the time so I came very close to being kidnapped I have very little memory of that moment tho I only remember riding in the ambulance."
Mystery Scar
"How did I get this scar and dent in my skull. It must have been a major event with lots of bleeding, but my parents know nothing of it."
It's one thing to be haunted by the unsettling cases presented on television, but it's another to learn of one through a friend or have firsthand knowledge.

And in the digital age, where our every move is being monitored through our digital devices or surveillance cameras capturing our movements, you would think more cases of foul play would quickly reveal the murderous culprit.
But with lawbreakers always managing to stay a step ahead and adapting to technology, it's not that easy to close a case.
As with many complicated cases spanning years, we still have to trust and rely on the fact that time will eventually bring malefactors to justice.