When we think about school bullies, we'd prefer to think of those exaggerated, cartoonish types we see in movies and television shows. It's more comfortable to keep that reality at arm's length.
But despite our best efforts to turn our heads, bullying is a very real piece of every school environment there is. It has been for years, and it still is, albeit now through the amplified means of social media and the internet.
A recent group of Redditors took a moment to acknowledge those realities.
This thread, however, was not written by the victims. These were the bullies themselves, the perpetrators who discovered just how brutal they'd been back in their school days.
They, more than anybody, would prefer to find a definition of "bully" that doesn't apply to their past actions.
But alas, we must honor reality.
Super_monkey_box asked, ""People who used to be school bullies, why were you so mean and what made you realize you were mean?"
Some former bullies described how subtle the transition from bystander to bully was. For them, bullying was the result of peer pressure, and even took on a protective nature.
Great Jokes, or Cruelty?
"Thought I was funny. Liked making people laugh at others expense. I never thought about their feelings until I was much older."
"Now I tell my kids every day before school to be kind and every ones friend, and to stand up for people. I want them to be good humans."
Climbing Up An Ugly Ladder 
"I was bullied a lot at school. At summer camp, there were one or two others who had it worse than me, and it felt good to finally not be on the bottom rung."
"Didn't take me too long to see what I was doing, and I started to feel bad."
A Tinged Past 
"I assisted in bullying so I wouldn't be bullied too. It's one of my biggest regrets in life. Such weakness" -- Zeliv
"Yeah at least 3/4 of the bullies in a 'pack of bullies' are just doing it because they're glad they're not the victim and they just haven't realized that no one should have to be the victim." -- JeromesDream
Others acknowledged that their own abusive behavior mirrored what they encountered at home and their private, family lives.
This was a common dynamic.
Coming Clean 
"One of my many bullies messaged me on FB about 15 years later to apologize and said she did it because her older brothers were mean to her."
"A lot of bullies are abused at home."
Passing the Baton 
"I was a bully in like 3rd-4th grades. And it was absolutely because my home life was sh**, so I visited that sh** on others. But then I knocked over a Kindergartner, making his nose bleed really bad and he started crying."
"Nothing snaps you out of being an asshole faster than hearing a little kid sobbing for his mommy."
Surveying Cause and Effect 
"I used to bully people for attention and got so hated by people around me that I finally tried to figure out why I had no friends and then it hit me that I was rude and annoying to everyone around me."
"Both my parents are alcoholics so they just ignored me constantly and the teachers would only give me their attention when I was bad, I just deeply wanted the adults around me to care."
"I'm now 19 and I have been going out of my way to be as kind to everyone as possible and I have moved out of my sh*tty parents house so I'm now the happiest I have been in my life, I'm also studying to become an allied health care professional."
"But the thought that I have hurt so many people's feelings and made them feel bad will always haunt me and I hope those people are doing well in their lives."
Confrontation Can Be Helpful 
"My brothers bullied me at home and my parents did nothing about it. I started thinking that it was how you show you like someone."
"People didn't see it that way and straight up told me I was a bad person and they're afraid of me. That made me understand my behaviour."
-- BlacklightJ
Finally, a few people used the thread as a platform to share their own views on bullying in general. Some were professionals, some unfortunately had direct experience.
They discussed what leads to and comes out of these actions.
A Biased List 
"I work in child safety and interview a lot of current and former bullies. You're probably not going to get honest answers out of the worst bullies."
"The people on the fringes, the ones who were bad but not awful, are going to reply. They can often reflect on it - they were abused at home, bullied by others, or just angry at the world for other reasons."
"The genuine bullies, the super cruel girls or boys almost never recognize how bad their bullying was. Either they were so deeply traumatized by other stuff that was going on (more intense violence at home) that their memories just aren't there, or worse, they don't think they were bullies. They are still bullies."
-- TheWaystone
Stopping the Cycle 
"I never realized it until years later multiple people told me what an a**hole I was and how hard I made life for them. When I started to look back I realized it and feel terrible. Still think about them most days and wish I wasn't that way."
"I am actually good friends with a lot of them now and they still don't let it slide. I guess the best I can do is to really preach how wrong it is to my kids and how people will forever remember how you treat them, even if you are a kid."
The Lies We Tell Ourselves
"Reading this thread, it seems there are no 'real bullies' in the world, only 'not a bully but I bullied' bullies." -- MHeraclea
"Yeah lots of cop out answers. I might be biased since I was bullied horribly in elementary school, and middle school as well. Elementary school was mostly being bullied on the bus, middle school was more emotional/gossip oriented bullying." -- jupiter_sunstone
So whether you were the bully or the bullied, take this thread as a reminder that if you have a hunch, you're probably right. It helps no one to downplay what happened back when you were young.
But you can learn from it all even now.
Want to "know" more? Never miss another big, odd, funny, or heartbreaking moment again. Sign up for the Knowable newsletter here.
Keep reading...
Show less
Children and adolescence are often completely inept and socializing responsibly.

Their hormones are flowing. They're obsessed with status and social hierarchies.
​Maybe you remember that age—or maybe you're currently in the throes of it. It felt like doing well socially was a zero-sum game: be cool or be decimated.
Unfortunately, certain traits were rewarded and others were not. For example, it's easy to interpret loud energy as confidence and humor.
But some kids just didn't have loudness in them. They were patient, didn't feel the need to take up the air time.

But in that high school ecosystem, that's no mere attribute. It's grounds for ridicule.
A recent Reddit thread asked for the Mose quite kids' side of that story.

blossomb1tch__ asked, "People who were the 'Weird' or 'Quiet' kids in high school, what's your side of the story?"
For plenty of people, the reason for their timidity only became clear as they grew up and understood what was motivating it all the while.
The fog clears, and a previously unobserved deriving force becomes obvious.
From Quiet to Manic
"I had undiagnosed mental illnesses and no mental health support system" -- stealtoadboots
"Same. In my case I was the weird quiet kid in elementary school. From Kindergarten to about halfway through 5th grade, I suffered from selective mutism in school, mixed with severe depression."
"Part way through 5th grade I started to talk in school, but continued to suffer from severe and debilitating depression until freshman year of high school. By high school I wasn't the quiet kid in school anymore."
"At that point Bipolar I made its grand appearance, and, while mania may have made me weird, it did not make me quiet. Didn't actually get diagnosed until I was in my late 30s. Everything made a lot more sense after that." -- librarymania
Hard to Relate When You're So Far Away
"I had undiagnosed inattentive ADHD so my head was in the clouds more often than not." -- coronaslayer
"Undiagnosed ADHD-PI + social anxiety (almost certainly caused by social rejection by peers in K-8)."
"Not fun. And not recognized until I was in college." -- PyroDesu
"I have ADHD as well :) It was tough at first but I've learned to embrace it to an extent. It's never too bad to live in the clouds, as the ground sucks sometimes. I hope you're doing well <3" -- blossomb1tch__
A Pivotal Discovery
"Had Autism, didn't know." -- [deleted]
"It's not very specific and there are loads of varying symptoms. Why it's called a spectrum."
But biggest indicators for me at least were strong, unusual obsessions. As in I would get extremely obsessed over a topic that there's no reason to be obsessed about. Some other indicators are trouble making friends or maintaining relationships."
"Sensitive to bright lights and sounds. Stimming (fidgeting). OCD tendencies. Often people get frustrated or irritated with you about your behavior or things you might have said, but you have no idea why they are."
"And the biggest indicator is if you think you might be autistic, you probably are." -- drewisawesome14
Tremors and Tiredness 
"Secretly and unknowingly suffering from severe anxiety and depression mixed with a little insomnia to boot." -- perspicacity-404
"Lol I have social anxiety and insomnia, (my sleep schedule is very irregular) for the last two days I didn't sleep and my anxiety was on the top of mount Everest..."
"...I just got a full nights sleep yesterday and the amount of confidence I had today was unbelievable." -- Dry_Ad_7848
Others highlighted an important dynamic.

These Redditors explained that sometimes the alienated kid was originally not very different from anyone else.

But one quirk can snowball.
Chicken-Egg
"It's a downward spiral. You get picked on a few times, and don't take it well. After a while you learn to not draw attention to yourself by being quiet and withdrawing."
"When you withdraw, you internalise more, which isn't necessarily healthy."
-- AlterEdward
A Last Ditch Effort
"I guess I'll share my side. I was frequently seen as weird and bullied for wearing pajamas and not looking put together during school, and just being an awkward kid with poor social skills."
"The reality was my home life wasn't that great, I had undiagnosed anxiety, and I was doing the bare minimum of showing up so people wouldn't think I was dead."
"When I made valentines letters for my class one year I got teased for trying to be nice and it only hurt my reputation more. This made me scared to talk to my peers, emotional and 'quiet.' "
"Thank god I graduated."
Laying Low
"I thought everyone hated me, so I stopped talking to people because I didn't want to bother them." -- biaforeverwar
"If complete strangers (aka kids not even in my class) are spending a disturbing amount of time making fun of you, you tend to think that everybody hates you."
"Source: me." -- shf500
And a few didn't see their quietness as a problem at all.
They owned their decision to keep their cards close to the best. They dispassionately noticed their uniqueness, and that was that.
Nothing To Speak Of
"There's not much of a story. I just didn't feel the need to talk as much as other people." -- Asriel92
"I never knew how people could think up new things to talk about every day. I've never had the knack. Plus, I was so nervous of saying the wrong thing." -- BringBackRobotWars
"Yes agreed. I felt a lot of people talked for the sake of saying something but it was nothing of substance." -- toast_with_butt
Eyes on the Prize 
"I wanted to go to medical school. I knew I wanted this since I was 6. I was not going to do anything to jeopardize my dreams, so I didn't do anything the other kids did."
"I didn't go drinking at the high school parties. I never did any drugs. I was a good kid."
"The few times I got sent to the principals' office, I was laughed at and sent back to class with no punishment. I caught hell for being a 'goody-two-shoes.' "
"What am I now? I'm a doctor."
-- angmarsilar
Little Overlap
"I had nothing in common with the people at my school with the exception of 2 friends. I wasn't into anything that my peers were into or that they felt was important."
"Nothing has changed really."

I'm sure if you look back on your time at school you'll remember at least a couple kids just like this.
Or perhaps you were the quiet kid.
Either way, now you likely know a little bit more of the untold story behind it all
Want to "know" more? Never miss another big, odd, funny, or heartbreaking moment again. Sign up for the Knowable newsletter here.
Keep reading...
Show less
Bullying is an epidemic. But it's looked on as something we should just all get over. Getting over being tortured or violated is not something one just "get's over." When I was in high school certain boys would throw glass bottles at my head and scream the word "f*g!" All I was trying to do was get to class. But for some reason, certain people felt they needed to scar me in order for me to grow. For a long time I didn't grow, I shrunk. The effects of those moments are haunting.
Redditor
u/SakuraIsPink-_-
wanted to discuss what happens when one is tormented for being themselves, why does it happen and how does life go on from it... they asked...
[SERIOUS] Victims of bullying, what happened and how did it affect your life?
1-
I grew up being bullied by not only my peers but also by family members.
I still have incredibly low self esteem, I have a hard time dating anyone, and I basically refuse to take compliments from people because I'm afraid they'll just tell me they're joking anyway.
It's been rough. I'm 25 and still trying to deal with crap from my teenage years.
EDIT: Wow. Thank for for all of the awards and support. You are all so kind and I truly appreciate it.
For those asking, yes, I have seen a therapist in the past, but I was young and stupid and gave up on it pretty quickly. I intend on actually going to see someone once Covid has calmed down because I have a hard time connecting with someone over the phone.
And to all of those in similar situations, I truly hope you are able to find peace and live great lives. Don't let your past drag you down, you can accomplish so much.
2-
My worst bully was my dad who'd call me a lazy fatty, accused me of being gay, said I was a disrespectful piece of crap. He is, literally, one of the cruelest people I've ever met and he thinks he's a freaking saint. However, in the past two years he's had four strokes and is probably going to be dead in the next few months so the jokes on him... I'm not even going to be sad when he dies, other than feeling bad for my mom and siblings...
3-
I'm 51 and am still unpacking crap from my teens. Hell over the pandemic I realized the worst of the bullying came from my own family. And yeah. It has taken me DECADES to recover any self-esteem. But hey "they wouldn't have teased me if they didn't like me" right?
4-
Someone got paid to date me once. Ever since then I was always skeptical that someone actually found me attractive. The person who paid the individual did it because I recently went through a horrible break up and he hated seeing me depressed. I've forgiven him since then because his heart was in the right place but whenever I've been approached by women I think they have an ulterior motive. I've been slowly growing out of this so there is hope.
5-
I have trouble trusting people. If someone is nice to me I assume that they have an ulterior motive or think about ways that they could harm me. I get along with my co-workers but I don't let many people get close enough to know me.
6-
My peers weren't bullies but they made it clear they didn't care about me/I had no friends. My brother was the one that would bully me during our childhood so I grew up not having any friends and having no one to trust in my family. With that said I still think I had a good childhood seeing as I was never physically abused or anything but I still have very little trust for others.
7-
I have a problem where I tend to read negative things into the way people talk to me and interact with me. Like I have a tendency to assume people are passive aggressively insulting me when in all actuality they probably like me just fine and don't mean anything by it.
I've gotten a lot better at not taking things personally but every now and then it still pops up in my brain.
8-
I was the kid who got bullied by all the popular kids and ostracized. I had a crush on a boy and they found out, so they pranked me saying he wanted to ask me out but was too shy. So I asked him out in the hall only for him to brutally reject me in front of everyone and they all laughed. I was also beaten up by a girl who dragged me by my pony tail and told me I wasn't cool enough to hang out with the popular kids.
I still have a lot of self doubt and anxiety at 34. I feel a lot of the time like people don't really want me around and just tolerate me and then talk about me behind my back. This wasn't helped at all during my marriage. My ex was emotionally abusive and often told me I didn't want to leave him because nobody else would treat me as good as he did. This kept my self esteem low and I became pretty reclusive. I'm now very much the kind of person who doesn't reach out to anyone and I just wait for them to come to me. It's safer that way, if they're the ones reaching out then it must mean they do want to be around.
It's something I'm working on, though. I realize it's unhealthy to never reach out so I'm stepping out of my comfort zone to nurture relationships and grow. My boyfriend is amazing and supportive of this and encourages me to reach out. So far it has mostly been with my family, I have a ton of cousins I used to be close to and I'm working on rebuilding those relationships. The pandemic makes it hard, but I find I feel better after even just a phone call. I'm trying to reclaim my life and not let the bullying and abuse of my past close me off to the world.
9-
I was made fun of by everyone including the teachers just because I was "That Shy Kid Who Likes To Draw And Is Bad At SportsTM" through grades 1-7.
People were always throwing trash at me and once I even had a trash bin put on my head when I was just minding my business on a break. A lot of insults regarding my looks too.
I grew up to be a socially anxious, introverted, apathetic and asocial adult who doesn't trust people, keeps my distance from them and has a lot of self esteem issues on top of borderline personality disorder. I don't seek friends or keep old friends because deep down I think that I'm just an annoyance to them and I see them interacting with me as a form of pity. No matter how much people assure me they are okay with me I just don't believe them.
Same goes for any compliments directed at my looks.
I'm 23 now and I will never forgive those people and I will wish them the worst because even if they come to me after 10 years and apologize, their crappy apology won't fix the mental trauma I suffered because of them.
10-
I was bullied as a teenager. I had crooked teeth, bushy eyebrows and dark circles around my eyes, I was also anemic so I was so pale. They called me zombie, witch girl and other hurtful things.
I got braces in college and worked out and a lot of guys started complimenting me, which I always thought was another prank, it took me years to love and accept myself and to not let myself seek attention from other men.
I was so desperate for love and attention that I allowed myself to be abused by an ex, and to be the side chick of another.
I'm doing okay now, though.
Want to "know" more? Never miss another big, odd, funny, or heartbreaking moment again. Sign up for the Knowable newsletter here.
Keep reading...
Show less
In the movies, the bad guy pretty much always gets some comeuppance--but real life doesn't always work that way and this article is proof.
Reddit user Pixiedustpotatoe asked:

Were you bullied at school? Where are your bullies now and what did they make of their lives?
and it's pretty much like a VH1 Where Are They Now? special for all the people in your life who really, really sucked.
If you experience bullying then you sort of hope to see your bullies face some sort of karmic consequences, but based on these responses it may not happen.
When it does though, ooooohhhh when it does...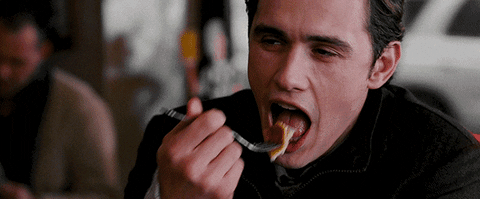 Giphy
Keep reading...
Show less
The mom of a girl with "purple" birthmarks bravely admitted she hid her from strangers for six weeks after she was born - and even used filters in photos she posted online.
Sara Farrow, 27, was scared of people seeing her newborn daughter Lacey-Dee Barrett in public because of the port-wine stain birthmark covering 90% of her body.

It was caused by the abnormal development of her blood vessels during pregnancy, and protective Sara was scared people would single out her daughter.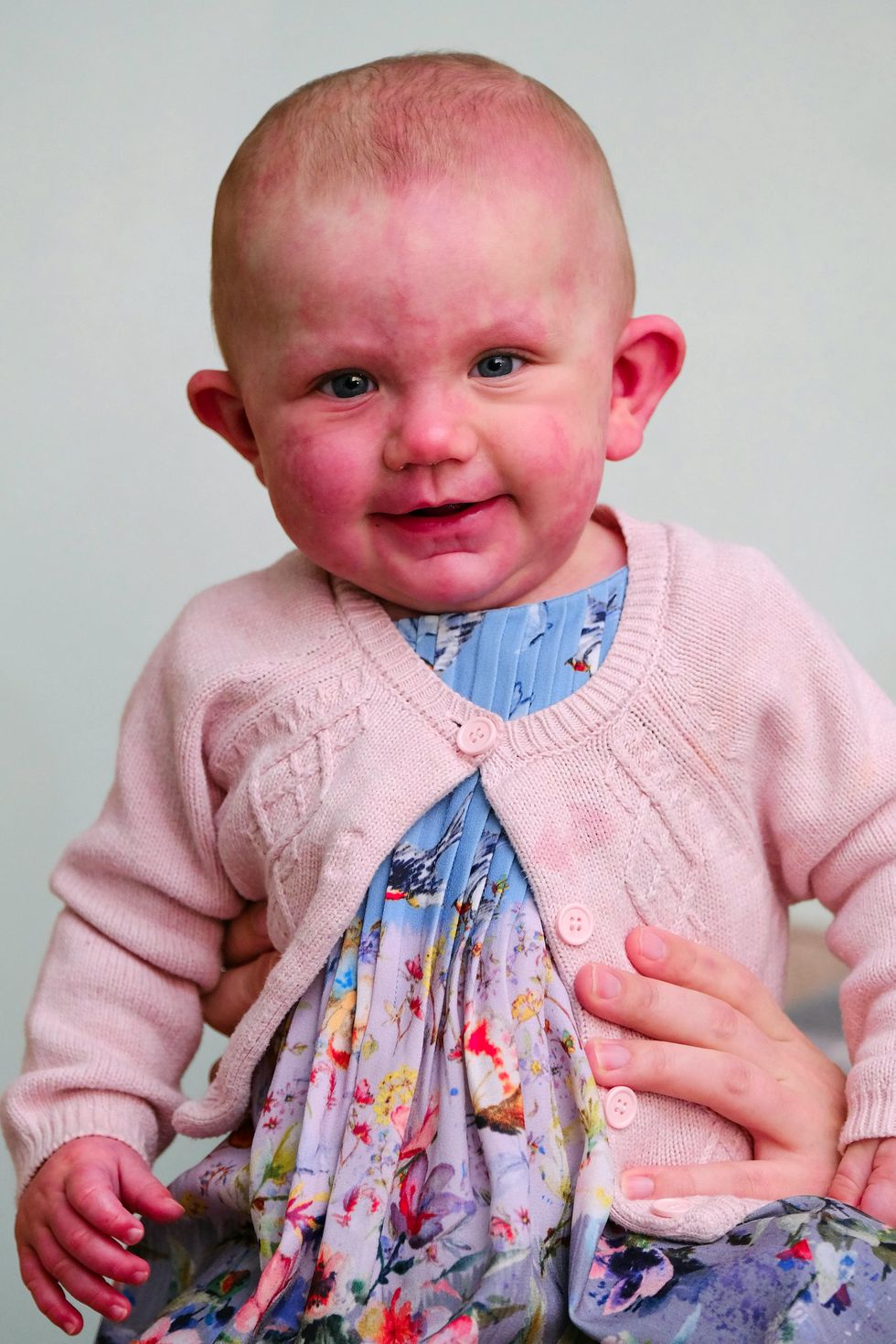 Tom Maddick/SWNS
So for the first six weeks of her life, single mom Sara covered her daughter's bright-colored skin and hid her away from strangers.

And when she posted photos of Lacey-Dee on Instagram, Sara said she used filters to mask the true color of her daughter's skin.
She only changed her ways when she became worried Lacey-Dee would look back on her baby photos when she is older and asked her mom if she was embarrassed.
But even when she finally plucked up the courage, Sara claims strangers told her her daughter looks "diseased" and "contagious."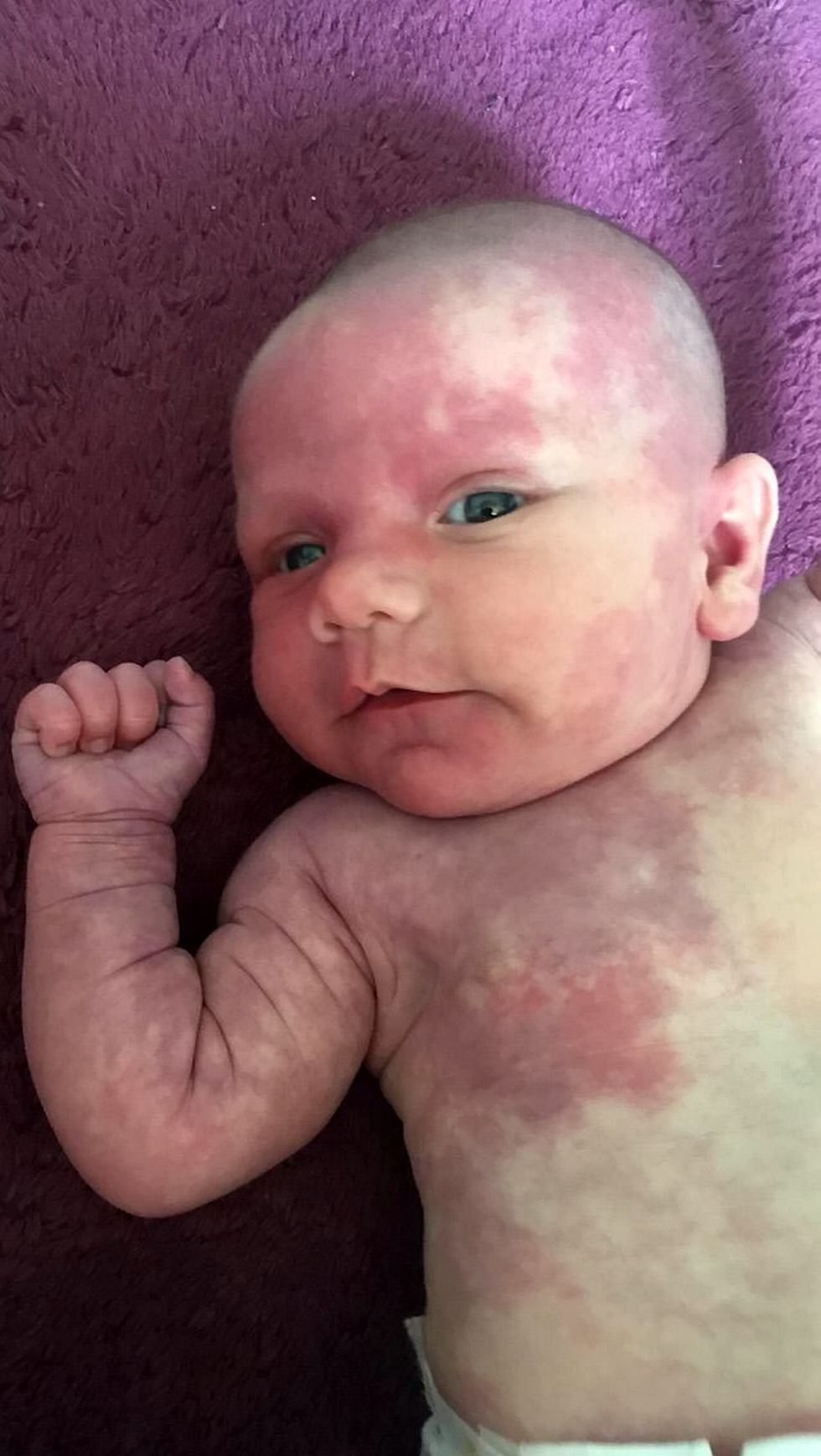 Sara Farrow /SWNS.COM
Sara, from Lincoln, England, said:

"Until she was six weeks old I covered her up whenever we went out in public. As her mom obviously I am not bothered about her appearance but I was scared about what other people would think."
"When she was first born she was very red and looked bruised. I've had people say lots of things when we are out. I was scared of what people would think of me as a mum."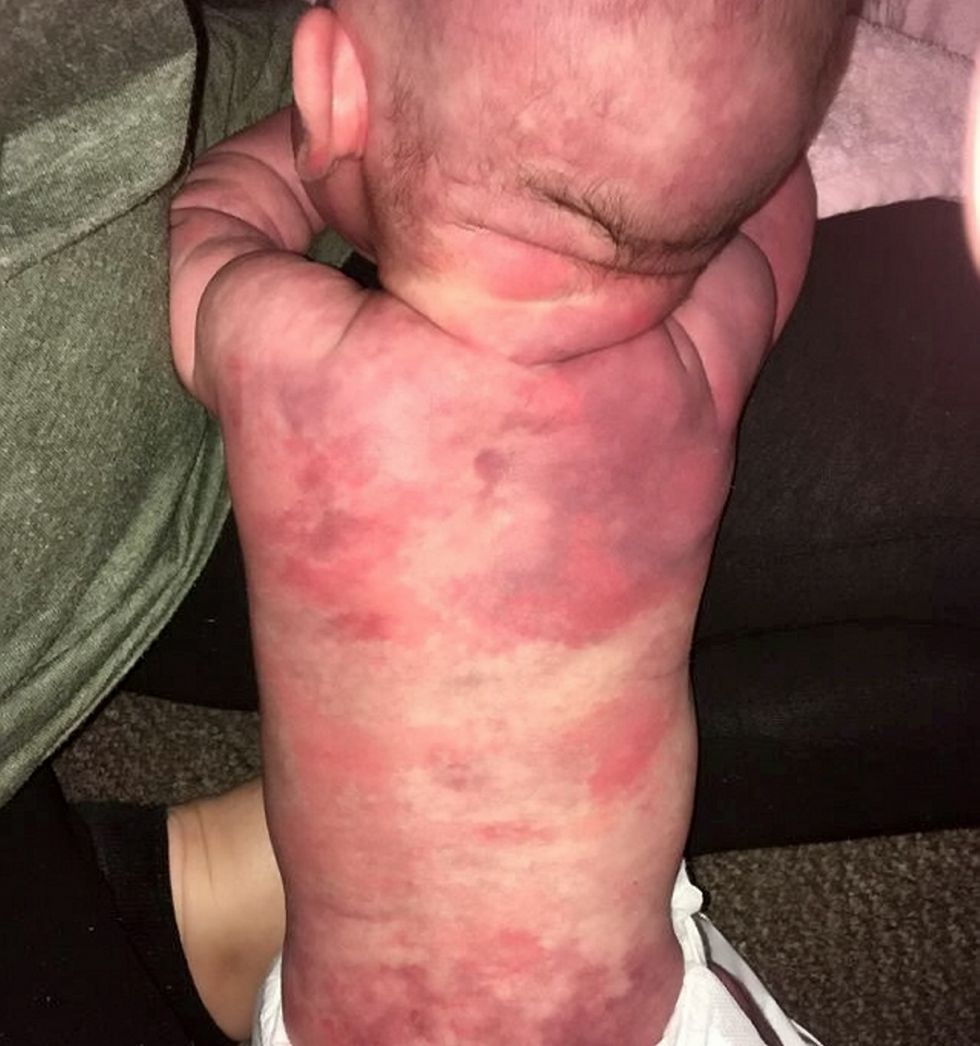 Sara Farrow /SWNS.COM
She added:

"People have said she looks diseased and have asked what's wrong with her face. One person asked 'is she allergic to the washing powder I use' and people think there is something really wrong with her.
"She is completely unique and it's just how she is. It makes her who she is and for me now it would be strange to see her without the birthmarks. I think she is beautiful and love how she looks."
Lacey-Dee was born at Lincoln County Hospital in April and Sara said she realized something was different straight away.
She had darker patches on her chest and doctors thought she may have been bruised.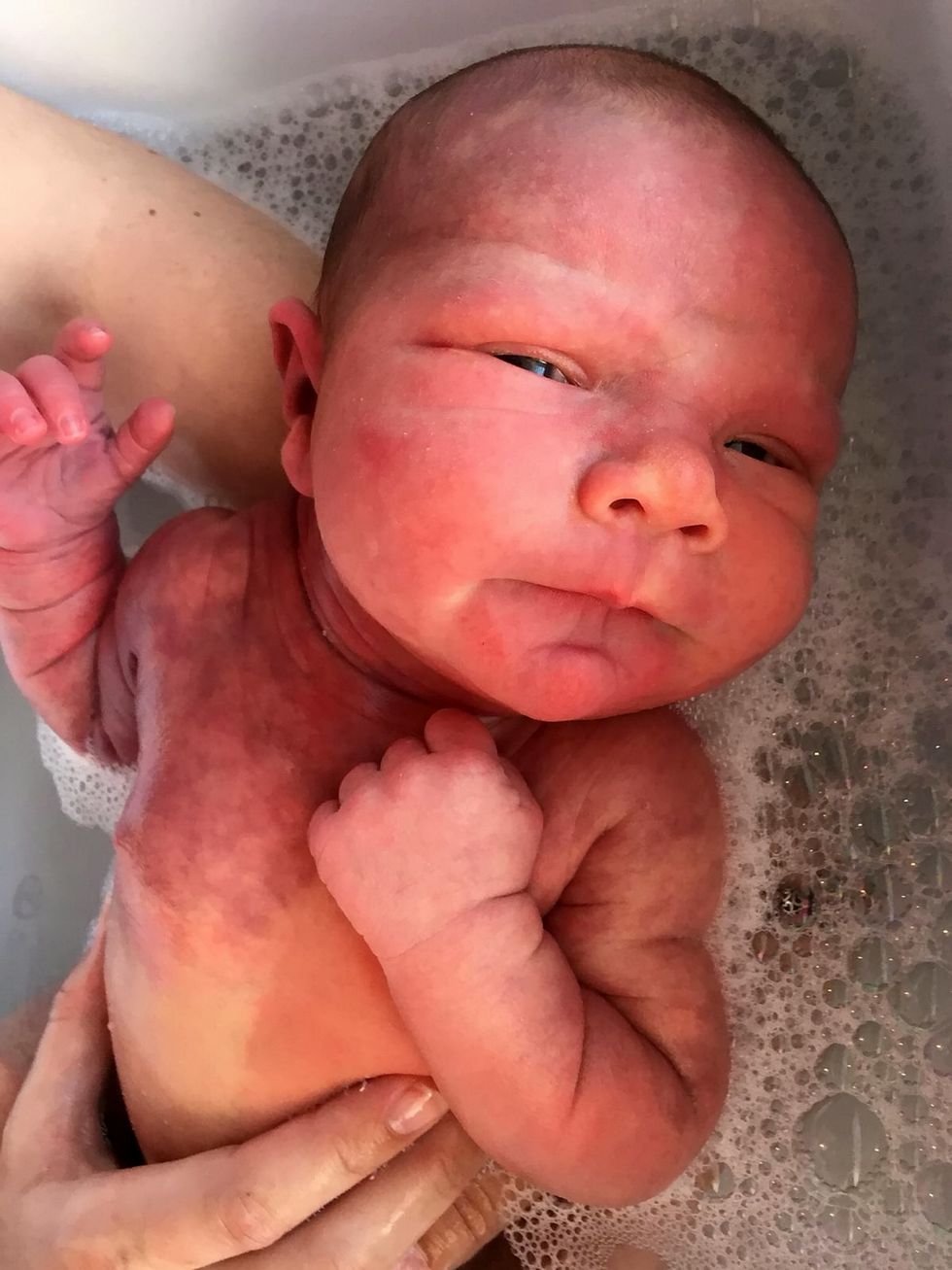 Sara Farrow /SWNS.COM
Within hours, the birthmark appeared in full on the surface of Lacey-Dee's skin and Sara said initially it was "hard to come to terms with."

Former retail worker Sara said:
"It was only on her chest at first and we thought it might be bruising. But after a couple of hours her whole body turned purple and blue. It was a real shock to be honest and I was really worried because doctors weren't sure what was wrong."
She was referred to specialists and diagnosed with port wine stains in October.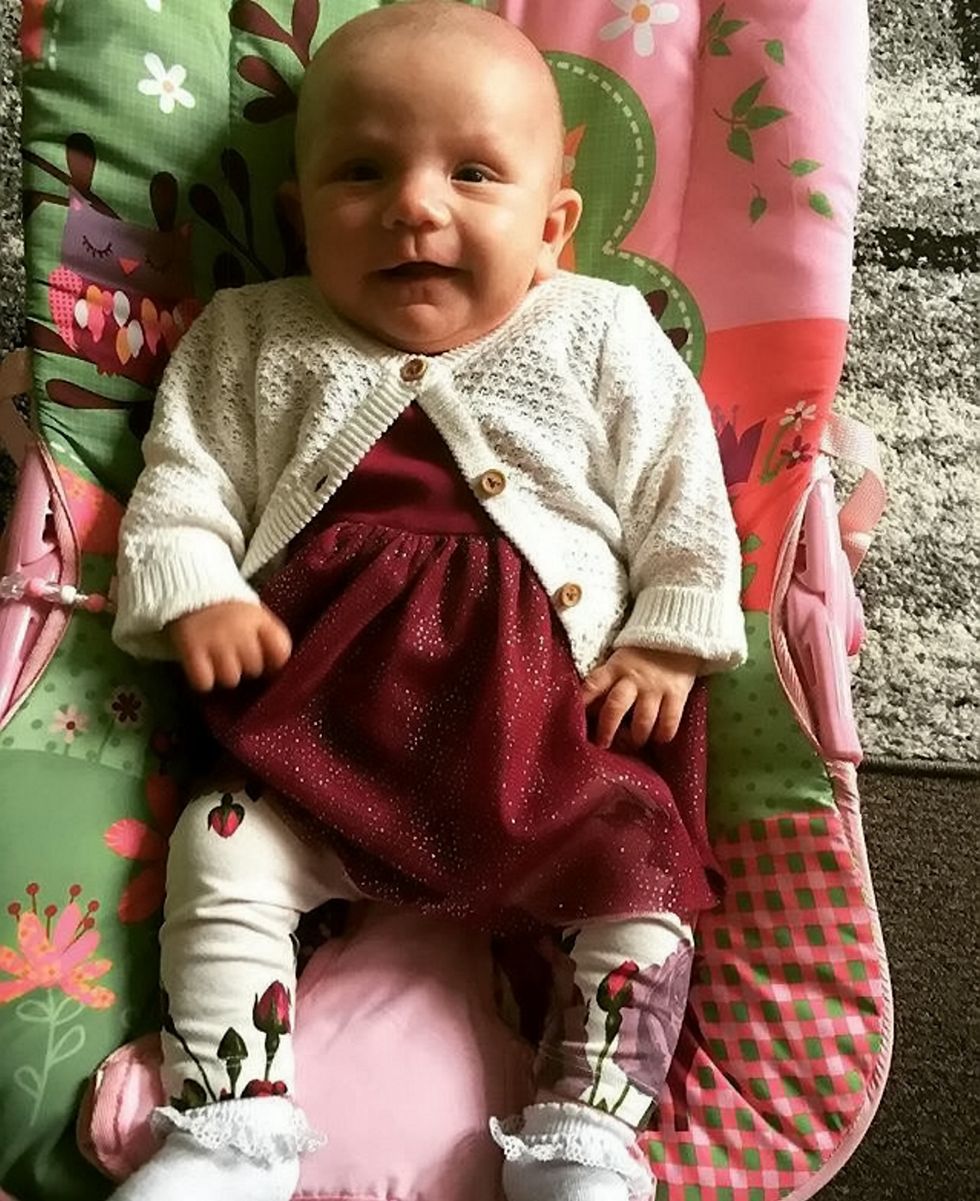 Sara Farrow /SWNS.COM
Only three in every 1,000 babies are born with the condition which occurs during pregnancy, and usually only appear on one limb or area of the body.

Sara said she covered up as much of her daughter's skin with baby blankets, long sleeved clothing or hiding her away in her buggy.
"I just thought 'oh god' and it was hard for me to come to terms with," she said, adding:
"I was most worried about her face and I'm scared for her future. But it got to the point where I didn't want her to look back on baby photos and see I wasn't confident enough or I was embarrassed."
"I had to get brave for her sake as much as mine. I had to come to terms with it. I'm worried for when she goes to school. I don't want her to be called names or to be bullied."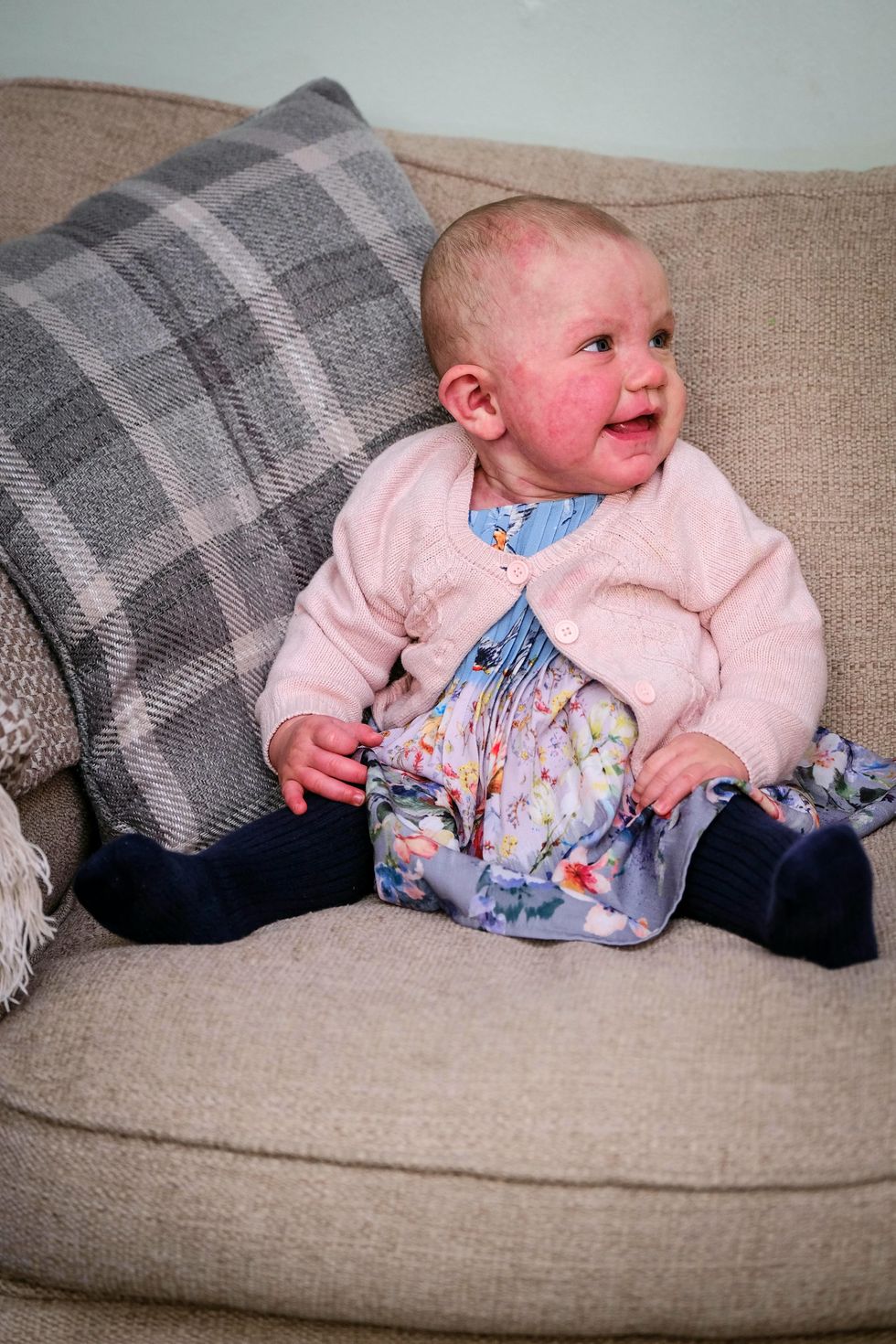 Tom Maddick/SWNS
The condition comes with no other side effects, and Sara said Lacey-Dee is a "very happy" baby.

But she said when she is out and about she faces having to explain her daughter's discoloration.
Sara said:
"We went to the GP and a receptionist there said she should be kept in another room away from children playing in the waiting room in case she's contagious."
"It makes me feel bad but regardless of the birthmark, it doesn't change who she is. We have seen so many dermatologists and they all said this is the most extensive case of Port Wine Stains they have seen."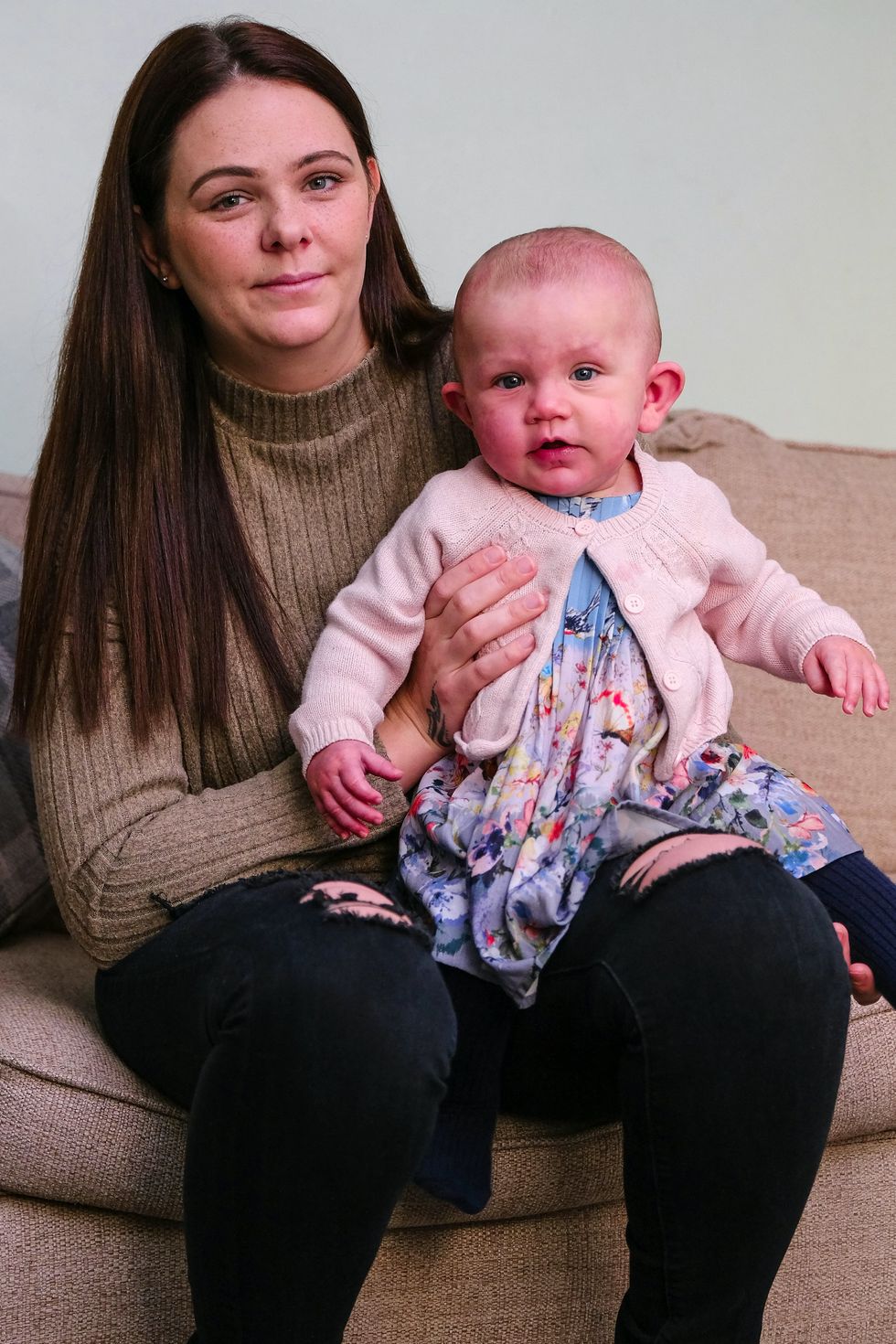 Tom Maddick/SWNS
Lacey-Dee will meet with specialists next month to see if she is eligible for color-corrective treatment.

Keep reading...
Show less