With the significant rise in minimalist living, particularly in the past year, more and more consumers are discarding their old items in favor of cleaner, simpler living.
But as we can see from this veteran's unique possession, sometimes holding on to something you've never used could be worth it.
While visiting PBS's Antiques Roadshow with appraiser Peter Planes, a U.S. Air Force veteran from Fargo, North Dakota presented a Rolex Oyster Cosmograph watch, along with all of the original paperwork, which he purchased in 1974 for $345.97.
The six-minute exchange between Planes and the veteran began with his story of how he came to purchase the watch. He always admired the Rolex watch, but with a veteran's salary of $300 to $400 per month, purchasing one always felt overly luxurious.
After serving and discovering an interest in scuba diving, the vet's thoughts returned to the Rolex, which had been marketed time and time again as water-resistant, particularly the Oyster Cosmograph with its locking mechanism.
He finally made the hefty purchase but couldn't bring himself to use it for its original purpose.
The veteran said:
"[It was just] too nice to take down in salty water."
Instead, he stowed it away in a safety deposit box, only visiting it to look at it two or three times before presenting it on the Antiques Roadshow.
Due to its age, rarity, and condition, the veteran was in for a real treat.
Planes explained that the Daytona watch became popular when actor Paul Newman wore one in his 1969 movie Winning. The going rate for the same style of watch at auction is approximately $200,000.
The veteran was visibly bracing himself, probably assuming the watch like Newman's was the most monetarily valuable. But he was mistaken.
Planes then pointed out that the veteran's watch, unlike Newman's, included the word "Oyster" on the watch face, as well as the locking dials on the side of the watch, which were both only briefly used in the product line and are now a rare find.
Planes stated that a standard Rolex Oyster Cosmograph like the veteran's would sell at auction for between $300,000 and $400,000.
To this news, the veteran happily fell over on the ground with his feet in the air.
After making sure he was okay—and asking that he not fall down again—Planes said he wasn't done with the good news.
Because the veteran's watch had never been worn and was in such pristine condition, and since it still included all of the original paperwork and packaging, the veteran's watch could easily sell at auction for between $500,000 and $700,000.
The veteran's reaction was humbling, his face totally illuminated with the news.
You can watch the full, fun exchange here:
While fans of the Antiques Roadshow watch and often enjoy the rare finds presented on the show, many found this particular instance especially heartwarming, for someone who didn't want to invest in themselves to come into the potential for such financial wealth.
This is my favourite thing on the internet right now. Great. Real. Nerdy. Heart warming. Antiques Roadshow is wit… https://t.co/20YvXlB2uL

— James Kachan (@James Kachan) 1580256813.0
@jameskachan @RoadshowPBS It was fantastic. It is a great reward for his dangerous service in Vietnam.

— Dr Hugo Hackenbush (@Dr Hugo Hackenbush) 1580258350.0
@BrandDNA That is awesome. Imagine having the patience to put something like that away for 40 years and never wear it!

— phil (@phil) 1580298519.0
@DWH_ETH Isn't it! What a story

— Bradley Petersen+ (@Bradley Petersen+) 1580223060.0
Antiques Roadshow is my non-impeachment related content happy place: https://t.co/8eEPTPMere

— Dr. Jennifer Mercieca (@Dr. Jennifer Mercieca) 1580388312.0
Though we can't guarantee all of our own mementos stashed away in our closets and drawers have such extreme monetary value, it's certainly fun to think about what hidden treasures we may have hidden away in our storage cabinets.

Keep reading...
Show less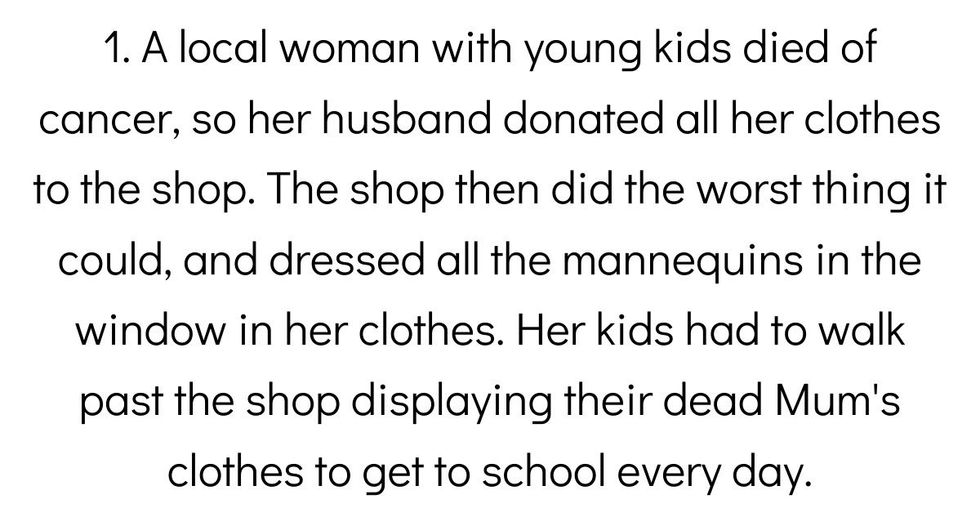 Thrift stores abound with killer clothes that only exist in that one place, a strange amount of used electronics, and extremely cheap ways to outfit your entire kitchen with silverware, mugs, pots, and pans.
But the whole time you're there you feel a keen sense that most of the items around you have been neglected in an attic for the last two decades and dusted off very recently.
Usually, that's no big deal. But sometimes things that old and given away are given away for a reason.
u/NormalBlogTM asked, "Charity shop volunteers of Reddit, what's the worst/saddest thing your shop has been donated?"
Keep reading...
Show less