The stress that can accompany travel on ground transportation pale to the anxiety of air travel.

Getting to the airport and waiting in long switchback queues for checking in is just the beginning.
Going through security is in itself a daunting procedure, especially if you get stuck behind an unseasoned traveler who isn't quite sure of the protocol for getting through, efficiently.
But thanks to Redditor pumpboy, you may find yourself traveling with ease.
The Orignal Poster asked:
"What are your airport tips and tricks?"
You arrive at the airport. Now keep in mind of the following.
Information From The Source
"Don't just trust the gate number on your phone app, always double check with the airport screens."
– googooachu
Checking The Gate
"Don't even trust the gate number at the gate. I showed up five hours early at the appointed gate. Waited around with no one else showing up. Then the people behind the counter grabbed their jackets and purses and left, even as the display still showed my flight."
"I went around the corner, looked at a screen, and found my flight had been moved to a gate at the other end of the airport. Ran through the airport and caught my flight 15 minutes before it was due to board."
– tangcameo

Announcements
"Also listen to all announcements near your gate. On my last flight everybody was confused because the gate changed but the screens in the airport would not change. They had to announce about 5 times that the gate changed before everybody started to move. I had a notification on my phone from the airline saying the gate changed before they ever announced it."
– Jsully05

Being Early
"Its better to be 3 hours early than 3 minutes late, airport food is cheaper than paying to book another flight."
– Fuzzwuzzle2

Restrooms on land are better than the ones on planes.
One Last Trip
"Always pee BEFORE you board."
– mikedashe

Unpredictable Waits
"Can't emphasize this enough."
"Oh well, we should be up in the air soon enough, I can hold it until then." "The fasten seatbelt sign has to go away at some point, right?"
"These are not acceptable thought processes. I've had these bright ideas only to get in line, and board, then have to wait another 45 - 90 minutes before I get to go pee. When you get in line, make sure you're in condition to hold it for a while. It's not always this bad, but it could turn that bar any moment."
– OwlCoveredInSnow

Here are some tips about carry-ons and water bottles.
Stay Hydrated
"At the security line, put all your things (phone, wallet, watch, belt, etc) that will need to be removed in your carry-on. It makes it much more efficient rather than taking each individual article and placing it into the bin."
"Bring an empty water bottle and fill it at the fountains. Air travel dehydrates you and most of us don't drink enough fluids anyway."
– kukukele
Beware The Bottle Pressure
"Once I filled up my water bottle in the airport. Later, while in mid flight, I flipped open the spout for the first time since filling it and I guess because of the pressure difference and my bottle being air-tight as the plane ascended, opening it instantly caused half the water in the bottle to come shooting out, blasting straight up like a geyser, hitting the ceiling of the cabin and coming down spraying all the strangers around me. I sheepishly apologized."
– bcmachine
Stay Cognizant Of Access

"In your carry on or especially in winter, it's often easier to put it all in your coat pockets."
"And also pack with access in mind, especially when travelling abroad, sometimes you have to take out your laptop sometimes you don't. Sometimes you have to include the charger. Sometimes iPads count. Just make sure they're all in easy to access places."
– PhiloPhocion

A Hat Trick
"I often wear a ball cap and put everything from my pockets into that. Security will often tell you to empty your pockets into your carryon, but I rarely have the space. They're always reluctant to hand out the tiny dog bowl sized bins which would be perfect."
– pfranz
Keep It Simple
"I always pack a smallish collapsable bag and when I'm sitting by the gate waiting to board I put in the things I want to access during the flight ( book, a couple snacks, headphones) from my carry on so I dont have to dig around in the carry on during the flight."
– Curlytomato

These tips may save your sanity.
Know Your Worth
"if you get bumped from a flight because the airline overbooked and you have to wait more than two hours then you are entitled to up to 4x your fare. Certain restrictions apply but point is dont let them take advantage of you."
– AussieBlender78

Seek An Advantage

"Always try to book an early flight. My father-in-law used to travel a lot and worked in an industry connected with the airlines. He said that the schedule board usually resets between 3 and 6 in the morning, so if there are late or cancelled flights causing a chain reaction in other areas that all tends to drop out of the system when it starts fresh the next day. I've never had a flight that left before 8 am that was noticeably late or canceled unless it just wasn't safe to fly."
– gemurrayx
General Summary Of Tips
"I used to board 2-4 flights every week before COVID. Here are a few things:"
"If you can then arrive early."
"Have 2 bags. The backpack should contain all the stuff you would like to be available at moment's notice during the flight. The bigger trolley should only be opened once you have deboarded"
"Stay away from the line that contains old people, kids, families. Queue up behind business travelers. There is an excellent scene in Up in The Air where Clooney profiles different kind of fliers. All of it is true."
"Flight attendants have heard every single excuse for an upgrade. You can try but good luck. However, if you do get one than stop bragging about it. It might get them into trouble."
"Flight attendants also like small gift like little bags of treats. If you are on a longer flight this is always an option to cheer someone up and make their day."
"If you are frequent flier get a pair of noise canceling headphones."
"Always check in as soon the window for check in opens. Usually 24 hours before the flight."
"A small powerbank can make a world of difference."
"The lounge is worth the money if you have a long layover or you are a frequent flier."
"Always keep a small bag full of regular OTC medication you may need."
"Edit: Since someone mentioned wine I recalled that you can always fill a venti/trenta Starbucks cup with an entire bottle of wine. Edit -2: This is illegal as people have mentioned below and do it at your own risk. In my profession, a lot of people are functional alcoholics."
– satya314

Dispense With Social Graces
"Airports are lawless wastelands, like Fallout 3. There are no rules, all social miscues you've been taught to avoid are no more. Want to sit on the floor? F'king do it. Pizza and beer for breakfast? F'king do it. Fasting walking past old people to get in line faster? F'king do it. Survive."
– DogmeatIsAGoodDog
Hold On To Personal Belongings
"Never leave your bags unattended, never leave it with someone, I know it's good to be human and be helpful but never carry anyone's luggage for them. You don't know who's carrying contrabands or not and can easily put you in a jam."
– kevinokai

Yes, traveling is stressful for passengers. But airline employees and TSA agents put with the same, if not more, amounts of stress dealing with a whole slew of irritable passengers who take their aggression out on them.
I try my best to be kind towards them as they put up with a lot of B.S.
Who knows? Your friendliness may cause airline attendants at the check-in counter to conveniently "overlook" the maximum weight limit for your check-in luggage–like it happened to me once when I took the time to acknowledge their name and flashed them my pearly whites.

Want to "know" more?
Sign up for the Knowable newsletter here.

Never miss another big, odd, funny or heartbreaking moment again.
Keep reading...
Show less
Flying can be enjoyable as you watch the world below shrink as you ascend above the clouds. It can also be difficult and a fair test of one's patience. If this writer has any flight advice it would be one—even though it looks appetizing don't eat the airport sushi during a layover.
Two—please keep your shoes on—the rest of us, including the attendants, can indeed feel our noses burning. They have to deal with enough during the flights, let's not add olfactory assault to the list. But seriously... leave the sushi alone, grab a nice-made pretzel instead.
Redditor theburiedsalmon asked:
"Flight Attendants and/or Pilots of Reddit, what are some things passengers do that get on your nerves?
Flight attendants jumped on this question ready to dish on their biggest pet peeves and worst experiences.

Gross...
"Leaving a ridiculous amount of garbage behind. Last week I had a grown a** couple spit huge globs of gum onto the floor and then step on it to try to rub it in. Like seriously? Why? And getting up to use the bathroom when we're already descending."
Keep it in your pants ya'll...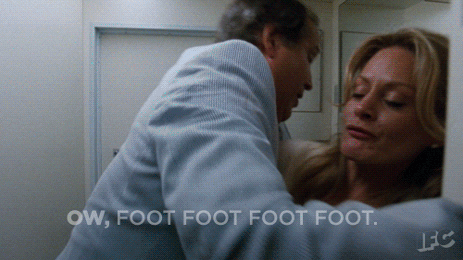 Flying Las Vegas GIF by IFC
Giphy
"As a former FA—Don't try to join the mile high club. Just, stop."
"Don't have sex in the bathrooms y'all. No, you aren't being very quiet and yes we will know and depending on the airline policy we'll also have to politely ask you to knock it off and keep it in your pants."
"Not to mention the obvious - airplane lavs are ridiculously tiny, to the point where once on one long haul we had to make an emergency landing because a large couple couldn't get out of the lav they had shoved themselves into once they were done."
"I'll add that this is THE grossest place to possibly want to do the deed, as lavs NEVER GET DEEP-CLEANED, EVER (between same-day legs)"
"I know what your hand motions mean and I will have to come over and shut it down, especially because in most cases there are families with kids sitting behind or near you."
15 years in...
"Former flight attendant here... 15 years I've seen it all! (and sorry for the formatting, on mobile)
Walking throughout the aircraft barefoot. Especially into the toilets... Those floors are not as clean as you think they are!
People who talk to us and treat us like scum. And yes, we'll provide better service to the ones who are nice or think of them first when a whole row is free and they need to lie down and sleep during an 11hr flight.
Parents that don't watch their kids during the flight. The aircraft isn't childproof and there's a surprising amount of things they can injure themselves on.
Passengers who do aircraft yoga during the service. By all means, if lights are off and it's quiet go ahead, but if there's a buzz of activity near the galley then maybe wait a while.
Speaking of which, assuming the galley is free for all. Sometimes we don't get provided crew food for work and bring our own. If we're busy attending to a call bell and can't finish out snack or whatever... It's not for you to just grab and eat... At least ask first!
Complaining about how rough the flight was. I've had some cuss out the flight deck about their abilities because the aircraft hit wake turbulence... If you can magically see wake turbulence on a tiny monitor and think you can do a better job then join a flight academy, pay several thousand dollars for the training and certification and do it yourself..."
"I left Aviation in August (because of you-know-what) but that's just what I can recall from the top of my head..."
"If you'd love to really show appreciation for your flight crew, particularly when many are so close to redundancy, a complement really makes a difference. A 15 min email to the Service Delivery department of the airline you flew with praising the crew who went above or beyond on your flight can do wonders for their career progression. I do it for service staff all the time at restaurants and the hotels we stayed at, and having them remember you after months or years due to your comments is simply priceless."
*screams in sarcasm*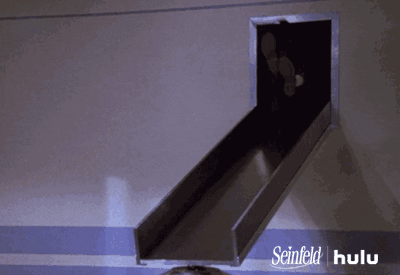 baggage claim kramer GIF by HULU
Giphy
"Did you know that the closer you stand to the baggage claim carousel, the faster your bag arrives? It's science. Look it up.
Warp speed for the ones that let their kids on the carousel!"
​You're going to want a buffer.
​"If you are booking a connecting flight and the connection times are 30min or 2 hours. Pick the 2 hour connection. I can't stand passengers who get all upset when they miss their connecting flight because they booked themselves a 30min connection."
"Your stressful travel day will be a little less stressful knowing you have a buffer. If you happen to land on time or even early, sit down at a restaurant, go for a walk, people watch, find your next flight's gate and watch a movie there, etc."
People Explain The Worst Thing That's Ever Happened To Them On Their Birthday
​Repeat after me: Keep your hands to yourself!
"Poking or grabbing at me to get my attention!! And it's usually on my @ss as it's eye level with most people haha. But for real DON'T poke people! Especially if I am speaking to another passenger."
"I can see you waving at me I'm not going to interrupt my assisting someone else because you want me to take your trash, just give me a second and I'll come to you next. I promise can hear you if you say 'excuse me!' Or 'Miss!' Or even wave a little in my direction. There's just no need to touch people or grab at them."
"Once I was so irritated at someone's incessant poking, I turned, looked them in the eye and poke poke poked them right back and said, 'what do you need.'"
"Slip me a twenty instead..."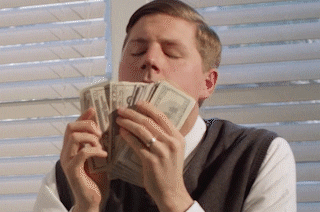 Turn Up Money GIF by Joel Byars
Giphy
"Stop expecting free alcohol because you handed me a three dollar bag of candy you bought in the airport. I'm a grown *ss man. You didn't make my day by giving me a Hershey's kiss. Slip me a twenty instead. I'll give you an open bar the rest of the flight."
"If you are nice I am happy to walk the extra mile for you."
​"Gosh where to start. I'd say one of the most irritating and annoying thing is when people ignore or fight our instructions concerning safety regulations. I do not enjoy telling you that you can't have your bag in an exit row, that you need to put your important laptop away for takeoff and landing and that you should stay seated when the seatbelt sign is on. And no it is not negotiable. No reason to get insulting or treat us like sh*t."
"Drunken behaviour. When you start getting aggressive for not getting anymore booze, we know it's the right call. It is neither fun for us or the people sitting in your vicinity. From harassment, cussing, aggressive behavior, throwing up, or loud terrible singing/howling on a long-haul night flight. Same for medications taken with alcohol."

"If you are nice I am happy to walk the extra mile for you. Having a free seat next to you, a drink I don't have in my cart atm, extra snacks, etc. But being an @ss for things I can't change won't help anyone. Yes, I do see you are flying with an infant and I would love to give you a whole seat row but the flight is fully booked."
"You have a certain allergy and can't eat any of the foods offered and have not ordered a special meal before flight? We have only the foods onboard which were loaded and I can't create or order any mid-flight."
"The bar carts are heavy and the airplane has basically always an incline angle. Please move out of the way and go use the restroom before we are blocking your way."
"Feet in the isles during night flights. The cabin lights are dimmed and i do understand your need for stretching your legs but it is a trip hazard for us. There have been colleagues which broke bones for tripping over feet and legs in the dark."
The list doesn't end there...
"Parents which let their kids do whatever they want. I almost had to cancel a takeoff once because a toddler was crawling in the isle just because mom said he won't sit still shortly before takeoff. Disregarding that on takeoff roll he could have gotten severely injured."
"And please bring everything you need for your kids. Diapers, food, milk. We have some items to help you out when you run out but not to supply everything for infants for the entire flight. And tray tables and seats are not changing tables. Gross. Please use the ones in the restrooms."
"And yes i cringe seeing ppl run around barefoot especially near/in restrooms. I sometimes can't understand what happened in there but its gross. And well I bet in almost every aircraft are restrooms where someone couldn't make it to it in time and vomitted right in front of it."

"You are a guest on board. A very valued guest. But please behave as such. You have passenger bins and your seat area. Don't open other cabinets or lockers. Don't help yourself to anything which isn't obviously on display for you. And if in doubt ask first."
"We had passengers eating the homemade lunch of a colleague in Tupperware. Someone took a bite from a piece of cheese which my colleague already had a bite from and placed it back, etc
"All that said I have had as well super amazing passengers. A lot of laughs, people who forgave me for drenching them with sprite or redwine, offering help to me in certain situations, etc."
"Flying since 2012"
"I am not your grandchild, I am your captain."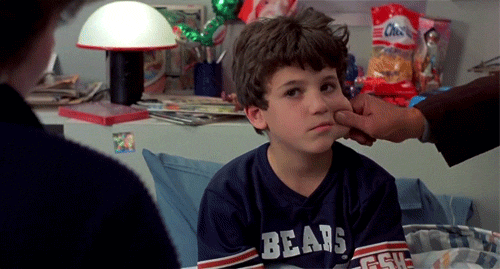 the princess bride cheek pinch GIF
Giphy
"After a flight I usually stand by the flight deck and say good bye to the passengers as they exit. I get a lot of people that ask how old I am. That doesn't really bother me (I'll probably be sad when it stops), but please don't touch me as you are saying it. Seriously, strangers trying to pinch cheeks and pat my head. Lady, I'm not your grandchild, I'm your captain."
General advice? Listen to and be respectful to your flight attendants...and seriously stay out of the bathroom unless you need it—don't be the couple that needs to be peeled out of the loo.
Want to "know" more? Never miss another big, odd, funny, or heartbreaking moment again. Sign up for the Knowable newsletter here.
Keep reading...
Show less
Why do we try to be sketchy when it comes to what we plan to travel with? The things we assume we can get away with in a post-9/11 world is astonishing. Being an airport security person has got to often be hilarious. You rummage through someone'e private bits as part of your job, it's suppose to be routine and then the next thing you know.... scandal honey! There are just somethings better left as a carry-on.
Redditor
u/xyvulkin
wanted all the airport people to tell us some secrets by asking....
Airport Security Workers of Reddit, what's the weirdest but still legal thing you found in someone's bag?
Want to "know" more? Never miss another big, odd, funny, or heartbreaking moment again. Sign up for the Knowable newsletter here.
Keep reading...
Show less
For some people, airports can be the bane of their existence. Being trapped in a high security building for extended periods of time without the freedom of leaving, paired with the stress of keeping up with the ever changing plane schedules can be exhausting. There is certainly room for improvement here, and these Redditors have some solid ideas.
u/SpecialEffectStevie asked: What would you actually change about airports?
Keep reading...
Show less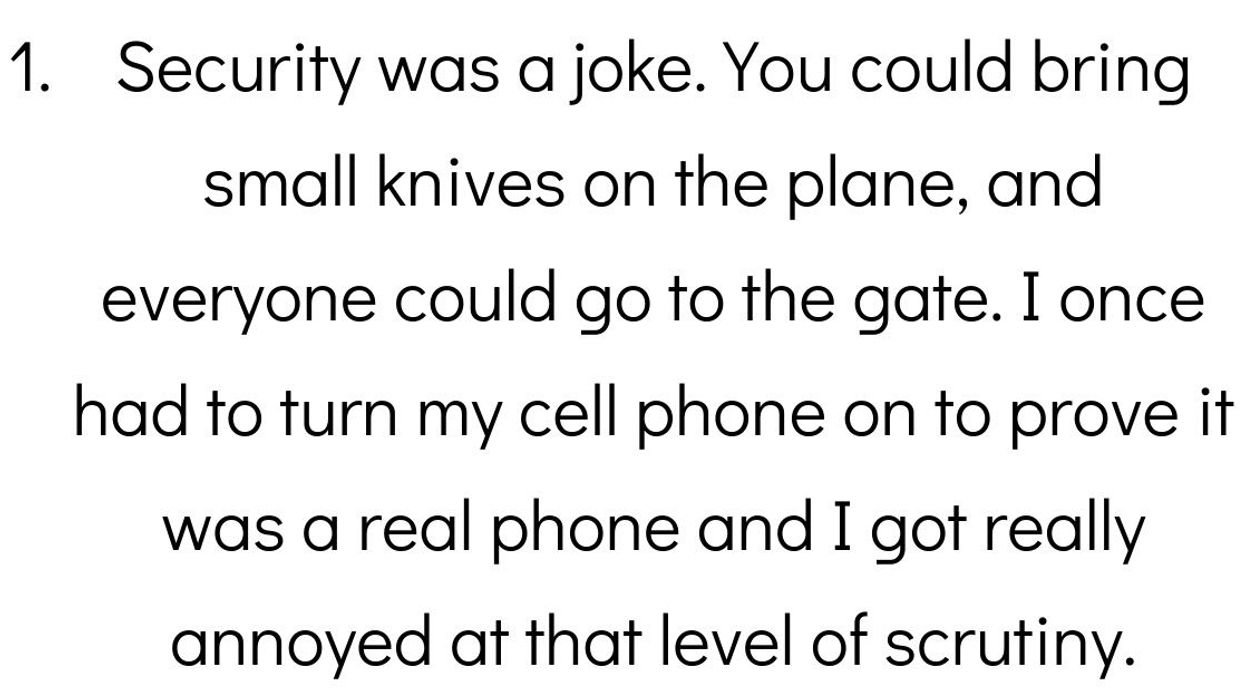 Evil changed the world as we knew it on September 11th, 2001.
After the terror attacks against the United States, the experience of traveling changed around the world. More people were anxious about riding on air planes, but life wasn't going to stop because of the actions of evil men. Though the effectiveness of the TSA and other airport security is debatable, many countries around the world opted to have stricter guidelines at airports to at least make passengers feel safer.
Redditor u/omfghewontfkndie asked people who remembered traveling before 9/11 what it was like, and people discussed how it was overall more enjoyable to go on planes.
Keep reading...
Show less