Being an adult is more about people presenting themselves a certain way.
It's about taking responsibility, being held accountable for indiscretions, taking risks, and a slew of other things that require hard work.
Adulting is so easy, said no one ever. There are people who think they're playing the part convincingly but they're fooling nobody but themselves.

Curious to hear from strangers who can see through a person's deceit, Redditor CrispP_bacon asked:

"What is falsely seen as a sign of maturity?"
Redditors break down certain behaviors that actually reveal their immaturity.
Tapping Into The Inner Kid Inside
"Not acting childish. Sounds so strange but the most mature people usually have no problem tapping into their childish or silly sides. Immature people overdo it trying to be 'cool.'"
– well_actuallE

Unfairly Targeted
"Conversely, telling someone they're a stick in the mud because they aren't comfortable acting a certain way. I'm a naturally reserved person. I like quiet music, peaceful settings, and spend a lot of time in quiet contemplation. It doesn't mean there is something wrong with me."
"Not feeling required to 'be a certain way' is probably the best all around for this."
– chaotic----neutral

Working oneself to death is not necessarily a characteristic of maturity.
Adulting List
"Being in a relationship."
"Having kids."
"Working 60+ hours a week"
– metzgermeister87

Working To Live
"I need folk to understand working 60+ hours, and being proud isn't the flex they think it is…"
– The_Reborn_Forge
Life Is Not All Fun & Games For Grownups
"STOP ENJOYING!"
– themoodyphilospher
Happiness = Bad
"My dad in a nutshell. 'Stop being happy with your steady job that pays enough so you can afford whatever you want and leaves you with tons of free time, life and work need to be a grind and a fight or you're not doing it right!.' I guess that's my gift to him, so he can have something to be angry about, the only thing that makes him happy."
– ssatyd

No Free Time For You
"Protestant work ethic and its idea that you need to be constantly working, even in your free time, has always been a huge mystery to me, specifically why a lot of people are so stuck up with it."
– h3X_T
Not everyone is equipped to be a parent, and therefore, not mature enough to take care of and raise another human being. To acknowledge this shouldn't be seen as being neglectful.
Family Status
"Having a spouse and kids."
– johansugarev

Sign Of Manhood
"My family thinks I am skirting responsibility by not having kids. I know a lot of people who had them thinking they were obligated to, and neglect them."
"I remember telling somebody I know from college I don't want them ever, and she said, 'My boyfriend's not afraid to take responsibility and have kids,' as if I wasn't a real man for not having them lol."
"For some, it's a sign of virility and maturity."
– lazarus870

Adults Can Admit To This
"It's more responsible to choose not to take on a responsibility that you don't want."
– Lifeboatb

Owning Your Priorities In Life
"afraid" is a terrible word for it that has been said to me as well.
"I'm not afraid of having kids, I would just prefer to do literally anything, including nothing at all than have kids."
"I would rather sleep all day every day."
– mantits- ·
The Stigma
"my family thinks its a travesty that I don't ever want children, my mom always thought I was just being young and angsty and would change my mind. Now that im in my 30s shes given up on that. I truly don't understand how most people can even afford to have children anymore and provide them anything else except the bare a** minimum to sustain life. Everything is sooooo much more expensive than it was when I was a kid, and the wages are about the same. Money just doesn't go as far as it used too, and its getting harder and harder to build up and acquire credit to actually own a house or anything like that."
– smurfasaur
You can be a kid at heart and still be an adult.
Don't let anyone take that away from you.

Keep reading...
Show less
There's a fairly common formula in movies geared toward a teenage audience.
A group of teenagers face one central conflict, to varying degrees of importance and severity, but manage to solve it in a surprisingly short manner of time.
The heroes of these films are usually a hodgepodge of traditional high school archetypes (star athlete, math nerd, girl whose beauty is disguised by a pair of glasses), all of whom the intended audience can completely relate to and root for.
And then we have the adult characters, who are often buffoonish stereotypes, or the outright villain, whose sole mission is to ensure the protagonist will not achieve their ultimate goal.
As teenagers, we often find ourselves ready to boo these grown-ups from the minute they appear on the screen.
But when we revisit these movies as adults, we find ourselves noticing that their behavior isn't quite as bad as we remembered.
Or, more shockingly, we actually find ourselves rooting for them!
Reddito
r
roix_ducat was curious to hear which teen movies people found their loyalty shifting from the teen hero to the adult villain when rewatching it as a grown up, leading them to
ask
:
"What teen movie is the epitome of 'the older I get, the more I agree with the adult?'"
The Teacher Was Right All Along...
"Rewatching 'Scrubs', I realize I'm no longer a JD., I've become a Cox."- RenegadeRinker
They Were Just Being Protective!
"I watched 'Sixteen Candles' recently and I now do not approve of Samantha going anywhere near Jake Ryan."-goblininstigator
All It Takes Is A Little Perspective

"Sadly, 'The Wonder Years'."
"I always couldn't believe the dad was real, with his pissed off attitude from work."
"Now I understand."- hashn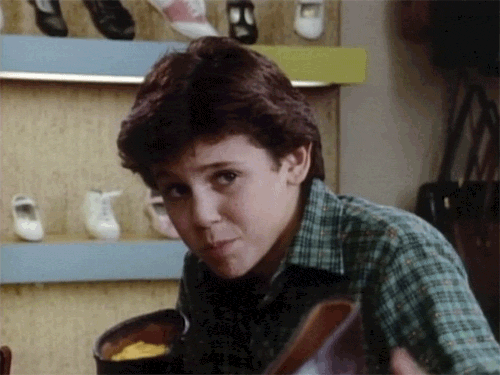 The Wonder Years Thumbs Down GIF
Giphy
Nothing Wrong With A Little Precision And Order!

"The movie 'Juno'."
"Jennifer Garner's character is at first portrayed as a 'square', then you realize she's a mature adult and her husband is a man-baby."- DaveFarted
Add It Up, The Wedding Cost Nearly $150,00!
"Not a teen movie, but 'Father of the Bride'."
"Watching it as a kid, Steve Martin seemed like an old grump."
"Rewatching it as an adult, holy sh*t he is the only sane person in that movie."- DrOctopusMD
It Was Literally His Job To Protect Them!
"'The Lion King'."
"Oh I thought Zazu was just an old fun-killer."
"What do you mean, Simba can't be king?"
"Why would you prevent the kids from going where they want?"
"As an adult and father, I'm 100% Team Zazu."- Oneiric86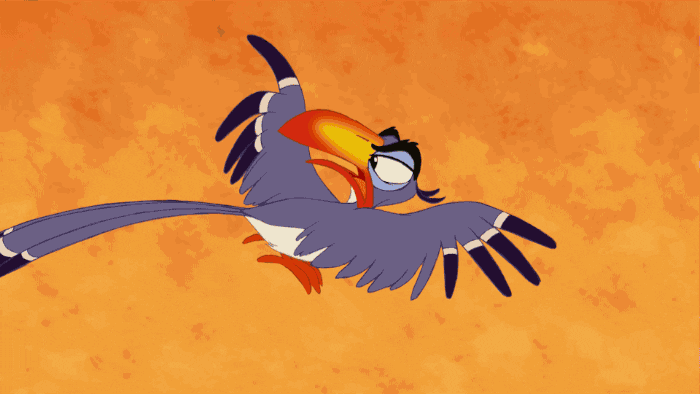 the lion king GIF by Disney
Giphy
Seriously, Would Your Dad Have Been So Cool About It?...
"'American Pie'."
"As a new father, I hope to be like Jim's dad when my little one is a teenager."
"Caring, loving and a complete embarrassment to them."- BanjoPhatterson
It's A Parent's Job To Worry.

"The mom in 'Ice Princess'."
"So you have a daughter who has a talent for and seems to like physics and has a shot of getting into Harvard."
"This girl throws it away for ice skating where she has only been competing for less than a year, where if she gets injured she's done and when she reaches 30 she's pretty much done."
"There is no way she is at an olympic level at that point she would need years of training! "
"Hell yes I would advise against it to!"- testmonkey254
Always Be Respectful Of Your Roommate!
"Goob, 'Meet the Robinsons'."- beepboop232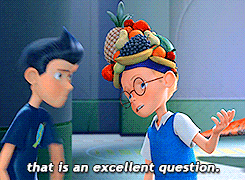 Meet The Robinsons Google GIF
Giphy
People Are Complicated
"Dr Doofenschmirtz."
"He's just trying to do something right and being a good dad."- LukeLJS123

As teens we're inclined to revolt from our parents and teachers, or even be revolted by them.
But the older we get, the more we understand that nine times out of ten, they were just looking out for us.
Just as we realize that Mr. Hall of Clueless was being pretty generous giving a C to a student who didn't seem to know how to pronounce "Haitian"...
Keep reading...
Show less
In the US, teenagers technically become adults at 18, an age when they are presumably able to make decisions for themselves and establish independence.
But some teenagers feel they've emotionally and mentally reached maturity before being of legal age, and for some, long after.
Maybe it was a life-changing event or some kind of turning point that make these young adults feel like they are wise beyond their years.

Curious to explore anecdotes relating to coming of age, Redditor brokenbeanie asked:

"When is the first time you remember feeling like an adult?"
These Redditors experienced an epiphany when they realized trips to the grocery store was routine.
Shopping Shuffle
"When I got mad that they rearanged the grocery store."
– Filord99

Self-Sufficient Sustenance
"When I was buying my own groceries and had survived for two weeks on my own. I figured I must be doing it right since I wasn't feeling hungry or diminished."
– il_cappuccino
Raising A Pet
"It took me a few years. I had a cat for a year and that's when I was like 'holy sh*t I've somehow managed to keep us both alive for an entire year.' That's when I felt like an adult. That was mid to late 20s. I am also a late bloomer."
– PoiLethe
Accomplishments without the supervision of another adult were common indicators for people who felt grown-ish.

Learn As You Go
"My first summer in college, my roommate and I housesat for a couple who were out of town all summer. Paying rent and bills, buying groceries. We were both working, thank God, but we didn't have a clue what we were doing. Lived on boiled eggs, raisin bran, bologna and cheese sandwiches, and ten cent ramen."
– twcsata

No Approval Necessary
"The first time I didn't have to ask for permission to go out."
– ag9910

Tasked With Responsibility
"In college, I was with some friends at a party and one of them fell and busted his face so badly, he started bleeding badly. I went looking for someone to do something when I realized I was the only sober one there. Not a fun night or feeling."
– YellowStar012
Epiphany
"I woke up, opened the curtains and looked outside at a beautiful sunny day. I thought to myself 'It's a great day to hang the washing out.'"
"Then I instantly thought ach jeez I'm getting old."
– AesopSkate

Fun With Taxes

"The day I paid my taxes online. I know I overpaid, but getting it out of the way and doing it by myslef felt good. I was an adult now I have full goddam credence to complain about the government."
– triotone

Regarding making purchases, these Redditors realized they could afford luxuries previously not granted to them.
Getting Wheels
"Honestly, the first time I bought a car without mentioning it ahead of time to my parents. I was 27 or 28, married (no kids, though), and it was at that point that I realized 'I didn't really run this past anyone............hmm....' All of the college loans without a cosigner, my careers (firefighter/paramedic and nurse),my marriage, vacations... Etc...All the stuff I did as an adult and it took a $32,000 purchase to really feel like an adult"
– AGACNP

Answer To No One
"I wanted to buy a box of fruit roll-ups. But was feeling weird about it because as a kid we were not allowed to get it. It was too expensive and my parents didn't want to buy it. At some point, while I was thinking about putting it down, it dawned on me that I was a grown man with my own income. I bought like 20 boxes."
– kup2202

Gummies Gummies
"Constipated? eat sugar free gummies. Need to totally cleanse every single cell in your body? Eat sugar free gummies. Just bored and wanna play chicken with the toilet? Eat sugar free gummies. You and your husband extra bored during the pandemic, so you two want to play who can create the foulest odors possible? Five pound bags of Albanese gummies on Amazon!"
– Illustrious_Tie_4091

Remember your first job? That was a defining moment for these Redditors.
Joining The Daily Grind
"Starting my first full-time 9-5 job."
– galaxymaster1277

No Stress
"Same. It was weird not having to clock in or out and being allowed to leave work to go run an errand etc."
– ThunderySleep

Cool Boss
"I relate to this so hard. I remember when I got my first big boy job I'd pop my head into the bosses office and be like 'cool if I go to lunch?' Or something along those lines and she'd give me a weird look. After like two weeks she let me know that she did not care about lunch breaks, doctors appointments, or even leaving a little early, so long as the work got done. One of my earliest memories of that adulty feeling."
– gamesireallylike

Still Exciting And New
"I just started my first full time job a month ago and I still feel this way. It's relieving to know it happens to other people. All of my friends work in a different type of industry so I never mentioned it."
– Shariberry
I remember buying my first movie ticket to an R-rated movie was extremely satisfying.
I conveniently forget what movie it was, but it was most likely for a horror film.
Not that the restriction for those under 17 has ever prevented me from sneaking into another theater after having purchased a ticket for a PG-13 film.
Hey, I never claimed to be a model teenager.

Keep reading...
Show less
When we were children, there were certain foods that even the mention of made us gag more than a little bit.
Broccoli, anchovies, mushrooms, you name it!
But then, as adults, we might discover that these foods are not revolting as we remembered them to be.
In fact, we might discover that we actually like them.
But even after growing out of our picky eating habits, there are likely still some foods that we still try to avoid eating whenever possible.
Redditor ohwowwhatfun was curious to hear all the foods the Reddit community never developed a taste for, leading them to ask:
"Which food item do you continue to hate even as an adult?"
There's a limit to what part of the animal I will eat...
"When we were kids, my mom said we could each choose one main dish that we didn't like, and if she served that she'd make something else for us."
"Mine was liver, which was one of my dad's favorites."
"I thought it was so gross."
"Recently my wife said she wanted to try it, so we made some."
"Nope, still exactly as gross as I thought it was when I was 8."- Fleaslayer
There's a reason they don't offer it at Starbucks.
"Koomis."
"AKA fermented horse milk."
"I mean - growing up in Kazakhstan, it was okay as a child, but I didn't take to it like the other kids and it just doesn't stack up to a good PB&J with the crusts cut off."- YouPeopleHaveNoSense
No cassoulet for me!

"Lima beans."
"Nasty little chalk pellets - NO, MOM, I'M NOT EATING THEM!!!"- OldBob10
Never trust blue, or 'bleu', food...

"Blue cheese once almost made me throw up from nearly the smell alone."
"I had it in a burger and the first bite I took i immediately lost my appetite."
"To top it off i had covid , I wasn't supposed to taste or smell anything but blue cheese doesn't seem to obey that rule ."- Noirrr_
It's crunchy, but not much else...

"Celery."
"I understand why it's important in soups and stuff, but god I hate it."- some-girl-online
Some people are literally born to hate it!
"Cilantro even tho it's genetic."- AccomplishedWaltz802
They should be banned from all salads!

"Endives."
"Raw in a salad or baked with cheese."
"It's still an abomination."- Serge_Karamazov
People really eat this as a treat?
"Black Licorice flavor."
"How the hell does anyone under the age of 80 enjoy this hell spawn poison?"- Anjelikka
Who actually wants to eat a type of fungus?

"Mushrooms."
"I'm fascinated by them but I won't eat them."
"Unless they're magic."- GhettoSauce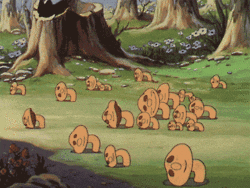 psilocybin mushrooms shrooms GIF
Giphy
No vegetable should be purple...

"Eggplant."- Suitable_Brain7650
Everyone has their preferences, and no one should have to eat any food that they don't like.
And more than likely, when you're out with a group of people, there's bound to be someone who will gladly eat your side of mushrooms.
As long as you'll eat their lima beans...
Keep reading...
Show less
As a kid, I honestly truly deeply believed that being an adult would mean getting to do what I want.
Several people lied to me and I'd like to speak to all the managers.
Reddit user IseraphineI asked:
"What is something you didn't realize was going to consume so much of your time as an adult?"
Aside from the fact that bills and taxes don't stop; there's for real no such thing as a day off.
Why did nobody tell me so much of my life would be doing stuff like THIS:

The Kitchen
"Cleaning the kitchen. No matter how many times I do it, it still needs to be done."
- atapia2
"I love the feeling of finishing the mound of dishes and cleaning the counter/sink, then I step back and admire my work."
"Then I turn around to see the pot and pan I forgot were on the stove..."
- buckut
"I've started cleaning as I cook and it feels like its given me half an hour back every night."
- [Reddit]
"Oh my god, seriously!!!!"
"It's only my wife and I here and I feel like I have to clean the kitchen 3x a day! Where does it all come from!?!?!!??"
- lenny446
"Kitchen."
"Cooking and cleaning didn't consume that much of time when I was in college. Now as an adult, wtf is this?"
- HotPineapplePizza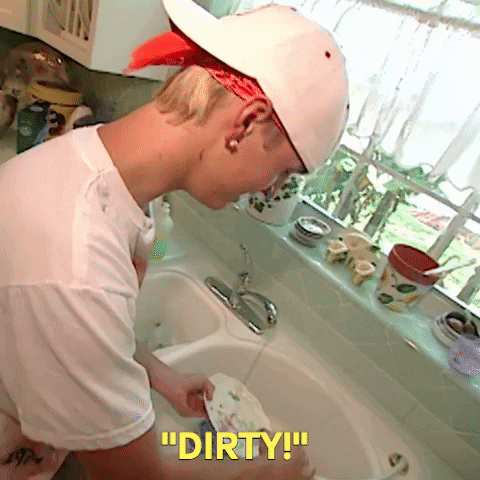 aaron carter cleaning GIF by MTV Cribs
Giphy
The Schoolyard
"Dealing with 'office politics' - and not just at work."
"Stupid me actually thought that the schoolyard bullies, mean girls et. al. would grow up and act like, well, adults. Sadly, way too many adults have the manners and morals of entitled toddlers."
- Nachtjaeger68
"Duuuuude. This."
"I thought people grew up after high school.... Not the case. They're still clique-y, and people are f*cking more mean about sh*t. F*ck people."
- suspline
"Yes! This is exhausting."
"I just want to do my job and go home. No drama please. Hate that I have cried after work related to the bullying."
- Head_Journalist3846
Recovery
"Recovering from work. Sometimes I need the whole weekend to be barely ready for next Monday."
- Can-t-Even
"I can't recover in a weekend anymore so I've just started crying before work as a way to try to physically purge the stress from my system. It's not going so well."
- finlyboo
"Same. My weekend is literally, 'Laundry for work' 'pack lunches/make meals for work', 'make meals for today'...."
"I get up and I get ready to go to work, I come home, make dinner and go to bed because I need to go to work in the morning. Don't forget to leave an hour before you actually have to show up for work because commute."
"How do normal people do this?! Seriously."

- -Firestar-
Not Nachos
"Deciding what to make for dinner. God, it's the absolute worst thing about being an adult."
" 'I have to eat again. AND go shopping for the ingredients!?' "
"You're a kid and think it's all nachos and Sourpatch Kids until you realize you have to care about nutrition and meal balance."
- Carl__Gordon_Jenkins
"And you have to feed the kids. At least 3 meals a day. Every day."
"They. Never. Stop. Eating."
- Canadian_Decoy
Menial Moments
"Menial tasks such as DMV trips, driving/commuting, doctor appointments, basic household chores."
"I did them as a kid, but as an adult it seems so much more of an annoyance."
"Also, having to pick up groceries or make runs to the store for this that and whatever, fixing broken shit around the house, etc etc..."
- Admirable-Appeal6710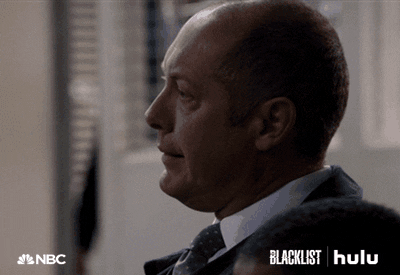 james spader ugh GIF by HULU
Giphy
Always On
"Parenting."
"Those little f*ckers are relentless. And they are ALWAYS there."
- MasonJack12
"It never occurred to me that once you become a parent, for the first 5, 6, 7? years you are always on."
"You get up, do your work as a parent, go to work, do your work as an employee, leave work, do your work as a parent, etc etc forever."
"Like there aren't weekends anymore or chill nights after work. It is round-the-clock you, on your game."
"Sure you get moments here and there to retreat and it's all worth it, blah blah, but nobody really prepared me for this existence where life really is f*cking exhausting."

- linds360
"Thanks for writing this."
"Currently wrestling with the fact that even though the smallest now sleeps through the night, she doesn't like to go to bed early, so can be up beyond 9pm. Her older sibling, however, likes an early morning, so is frequently up before 6 am."
"I need 9 hours of sleep to be a relatively well adjusted human. I even went to a doctor when I was in my 20s to check I didn't have some medical issue: all normal."
"So if my smallest is up later than normal, and my eldest earlier than normal, there aren't even enough hours in the night for me to be rested. Never mind the fact that once awake, I am everyone's preferred slave."
"I haven't felt rested in over 7 years. I'm so tired."

- Munchies2015
The Anxiety Trap
"Being trapped into inaction by my anxiety."
- FarseerTaelen
"Oh my god this."
"There's a reason why I'm on reddit right now."
- mindsnare
"I feel this."
"I couldn't sleep well last night while ruminating on all the things I've been putting off, woke up at 5am to have a few extra hours to do things, didn't do any of those things."
"Circle continues"
- quenual
"I feel this one way too hard."
"Combination of existential panic that I'm a 'real adult' now (mortgage, business trips, what have you) and severe ADHD."
- Carbonatite
Bee-Gees Should Have Elaborated
"Staying alive."
"Cooking, eating, flossing, brushing, exercising, sleeping, dressing, stretching, screaming into the void in existential dread, showering… it all adds up!"
- anaccountofrain
"You can probably combine the screaming in existential dread with the shower to save time. That way you can also stay hydrated at the same time."
- jerrythecactus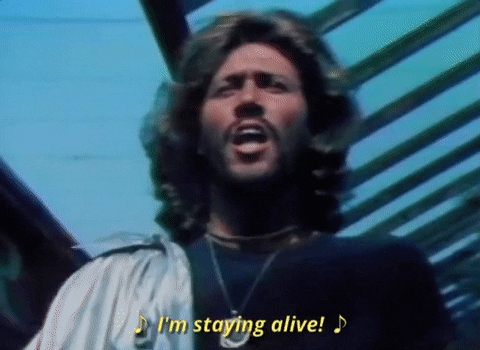 Stayin Alive GIF by Bee Gees
Giphy
Another Part Time Job
"Commuting. At least pre-COVID anyways."
"I spend about 10 hours per week commuting to my job. That's literally 25% of the hours I spend at my job. It's like a part time job in and of itself."
- Flaky-Fellatio
"We are supposed to return to office in March. Managers are terrified about the loss of productivity that will happen."
- diegojones4
"I calculated recently that I was spending the equivalent of 26 DAYS - just shy of a month of the year - on trains and buses going to and from work. It was bullshit."
- RedWestern
"Commuting to work. It frightens me how 2 hours of my day are just wasted sitting in a car and doing nothing. That's 10 hours a week, 40 hours a month, 480 hours a year wasted."
- Estbolbotkzn
Money Money Money
"Budgeting."
"I'm fairly meticulous with documenting the money I spend because I know I badly estimate how much money I have or have spent without having it laid out in front of me."
"I was always broke when I first started working because of that."
"So now I take some time each day to document every purchase I made in a spreadsheet that I've been using for a few years now. It is segmented into six month periods and broken down by pay period."
"It took me a while to set it up in a way that consistently worked, but now I know where every bit of money I spend is going."

"I also have my own little tricks that I can play on there where I'm always saving money, at least according to the almighty spreadsheet."
- HaroldSax
Out To Get You
"Having to worry about what's out to get me as an adult. There's just so many things."
"Is the IRS going to audit me someday on a past tax return?"
"Is my health insurance going to f*ck me over by deciding not to cover something when it should?"
"Is someone at my job going to have a bad day where I'm fired over it? And taking the time, if I care to, to fight for it back?"
"So much bullshit to worry about."

- [Reddit]
Moment of honesty, as someone who has worked from home for pretty much a decade - the commute thing kills me EVERY SINGLE TIME I need to go into an office.

It's so much wasted time! Why? This could've been an email, folks...
Want to "know" more?

Sign up for the Knowable newsletter here.

Never miss another big, odd, funny or heartbreaking moment again.
Keep reading...
Show less