Creating a family of one's own (whether it be with a partner or by yourself) is a sacred and beautiful life decision. Unfortunately the road to success on this path can be bumpy. Sometimes mother nature doesn't play fair and hopeful parents have to find "special" ways to bring their new loved one home. Two of the ways to make a family is through the medical procedure of IVF and adoption. Both are tried and true methods, but for many, doing IVF and creating a "biological" bond often outweighs adoption, which can be a controversial decision.
Redditor
u/ellie1398
wanted to hear from people who are trying to fulfill their dreams of creating a family from flesh and blood by asking....
[Serious] Why would people rather spend a fortune on in vitro fertilization than adopt a child?
Want to "know" more? Never miss another big, odd, funny, or heartbreaking moment again. Sign up for the Knowable newsletter here.
Keep reading...
Show less
Working with animals in a shelter can be rewarding and heartbreaking in equal measure, as you watch the animals you've worked with and nurtured find their forever homes.
But sometimes, there's an animal that is so ornery, such a jerk, that you kind of just want them gone tbh. But how best to promote that animal to prospective adopters?
Cue the folks at Mitchell County Animal Rescue, Inc. in North Carolina, who encountered just such a cat, a black and white feline named Perdita.
While struggling to find a good, loving home for Perdita, the shelter decided to create an adoption ad for her that really highlighted all of her...quirks.
The ad is unlike any other, with two photos included of Perdita that are so incredibly angry-looking, it would make Grumpy Cat proud (R.I.P.) And the copy puts the "brutal" in brutal honesty.
The ad touts Perdita as:
"WORLD'S WORST CAT
Perdita, we thought she was sick, turns out she's just a jerk."
On Facebook, they elaborated, listing a variety of Perdita's likes, including:
"staring into your soul until you feel as if you may never be cheerful again; the song Cat Scratch Fever, [and] the movie Pet Cemetery (Church is her hero)...lurking in dark corners."
They also listed some of Perdita's dislikes:
"the color pink, kittens (yuk they are so chipper), dogs, children, [and] the Dixie Chicks."
Finally, the ad announced:
"She's single and ready to be socially awkward with a socially awkward human who understands personal space."
You can view the full ad here:
While funny, it's unclear whether they exaggerated Perdita's personality for effect.

Although the rescue's office manager, Brittany Taylor, did provide a first person account:
"She pretends like she wants you to pet her and love on her. As soon as you pick her up, she starts growling. She will swat you. She definitely makes you laugh. One minute she wants you, and one minute she's over it."
It sounds like Perdita will be a work-in-progress for whoever eventually adopts her.
But the adoption ad did exactly what it needed to do: it drew attention to the world's worst cat.
Many people on Facebook are commenting on the hilarity of the ad and their hopes that she finds the perfect home.

Mitchell County Animal Rescue, Inc-North Carolina / Facebook

Mitchell County Animal Rescue, Inc-North Carolina / Facebook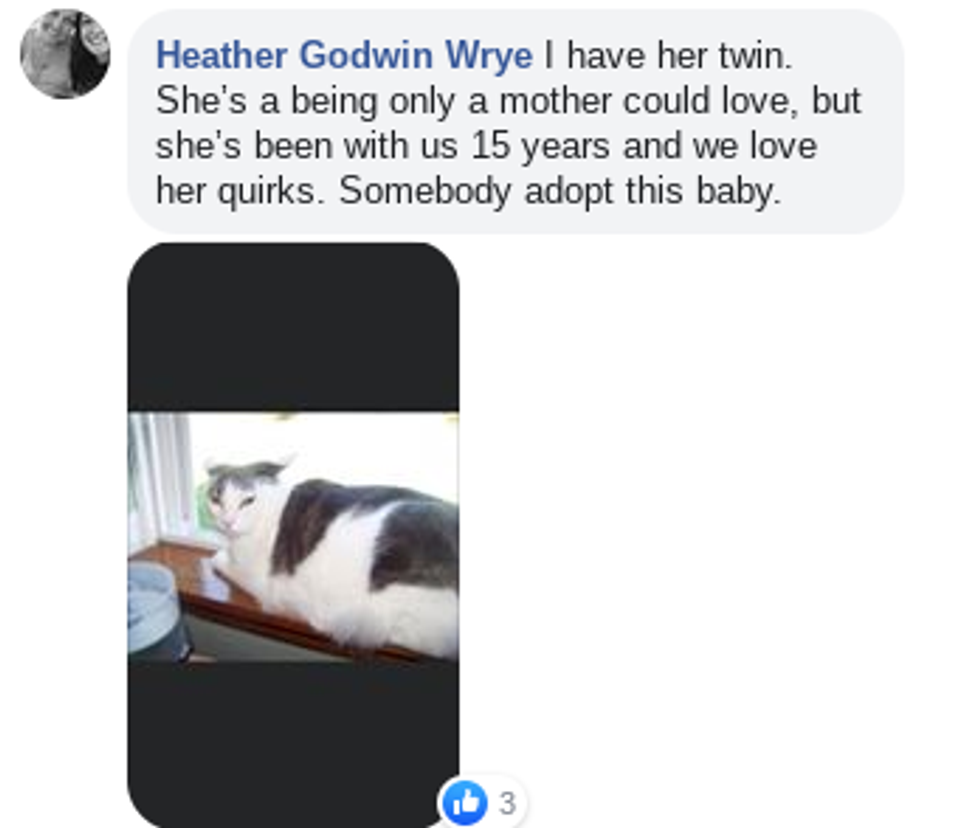 Mitchell County Animal Rescue, Inc-North Carolina / Facebook

Mitchell County Animal Rescue, Inc-North Carolina / Facebook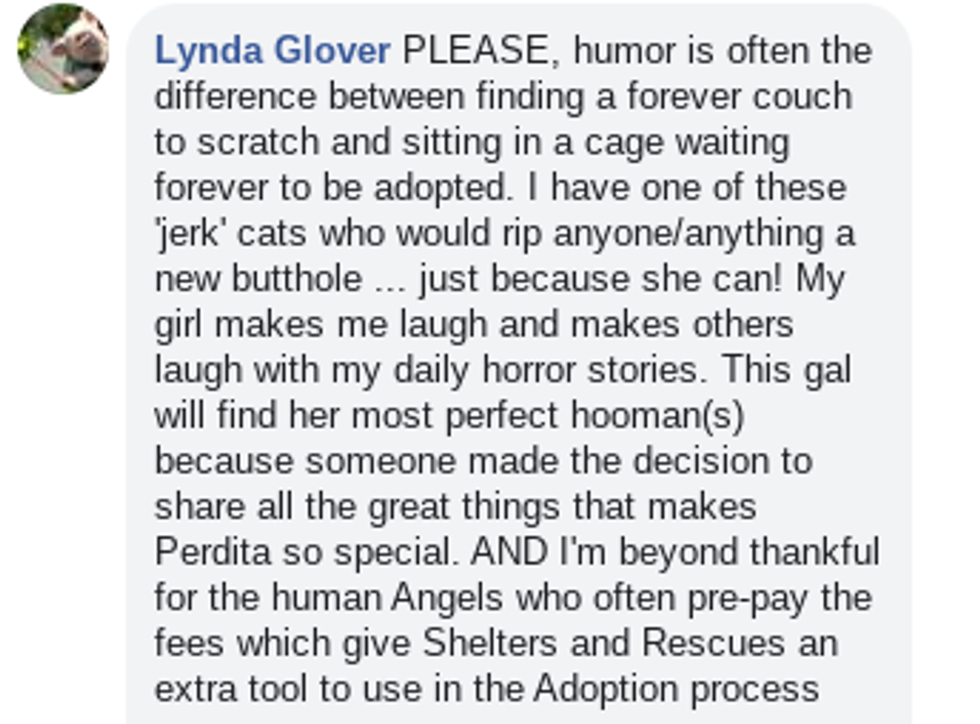 Mitchell County Animal Rescue, Inc-North Carolina / Facebook
It looks like the story isn't over for Perdita yet, as someone has come forward to fulfill her adoption dreams.

But one thing is for certain: with all of this hype, the World's Worst Cat could easily become another viral kitty with all of the attention she and her advertisement are getting!
Keep reading...
Show less
An adorable rescue dog with a "wonky" face has found a loving home - after hundreds of adoption requests.
Brodie the German Shepherd Border Collie cross was born in a rescue shelter but was attacked by his mom when he was only 13 days old.

She bit his head leaving him with severe cranial and facial injuries - but the resilient dog survived with a permanently slanted face.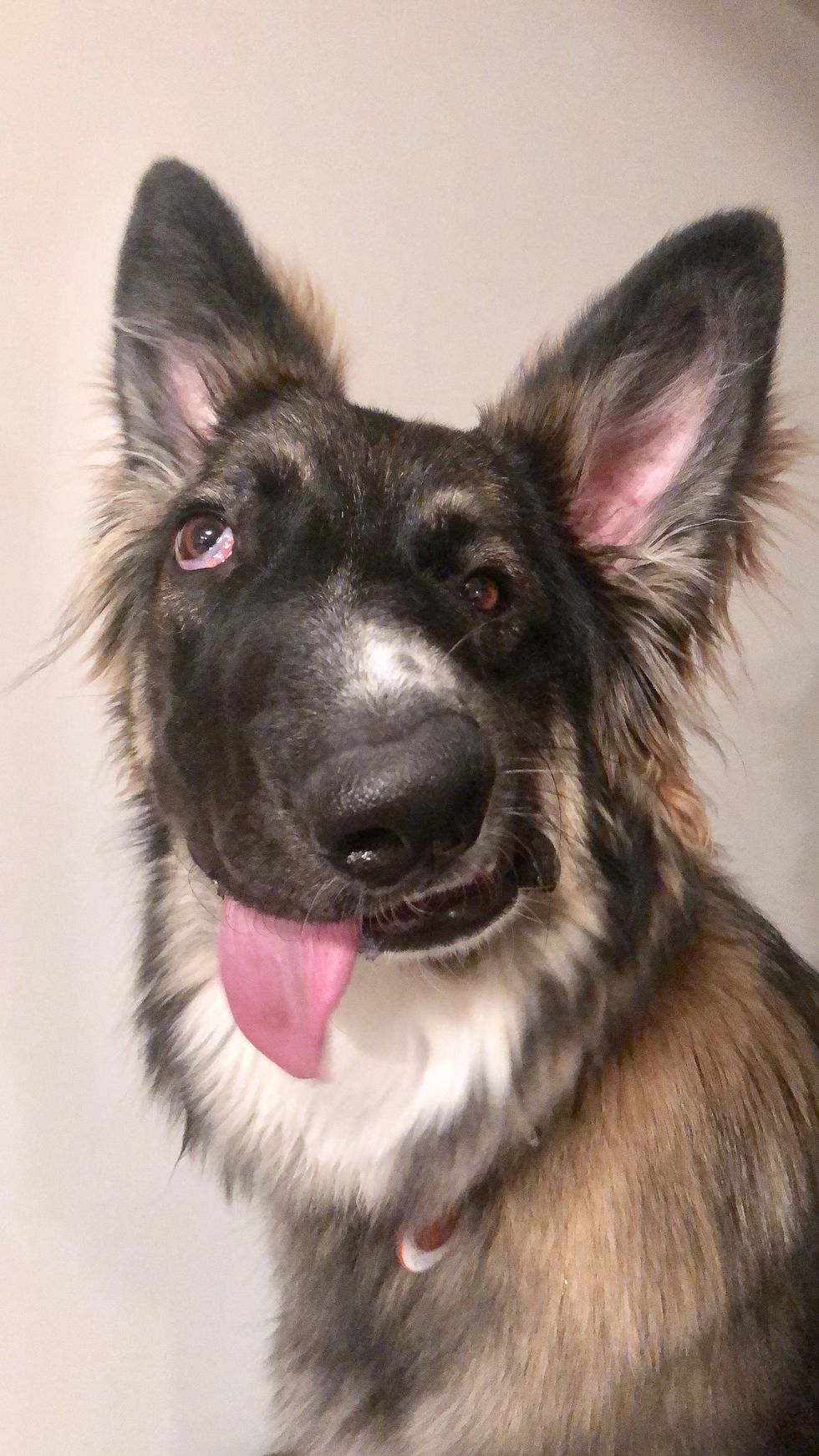 Amanda Richter/SWNS.COM
The poor little pooch's jaw fused together as he grew but one side of his face got stunted which left him partially blind in one eye.

He'd been adopted as a puppy but was returned to the rescue shelter after just five months as the owner complained he was "too hyper."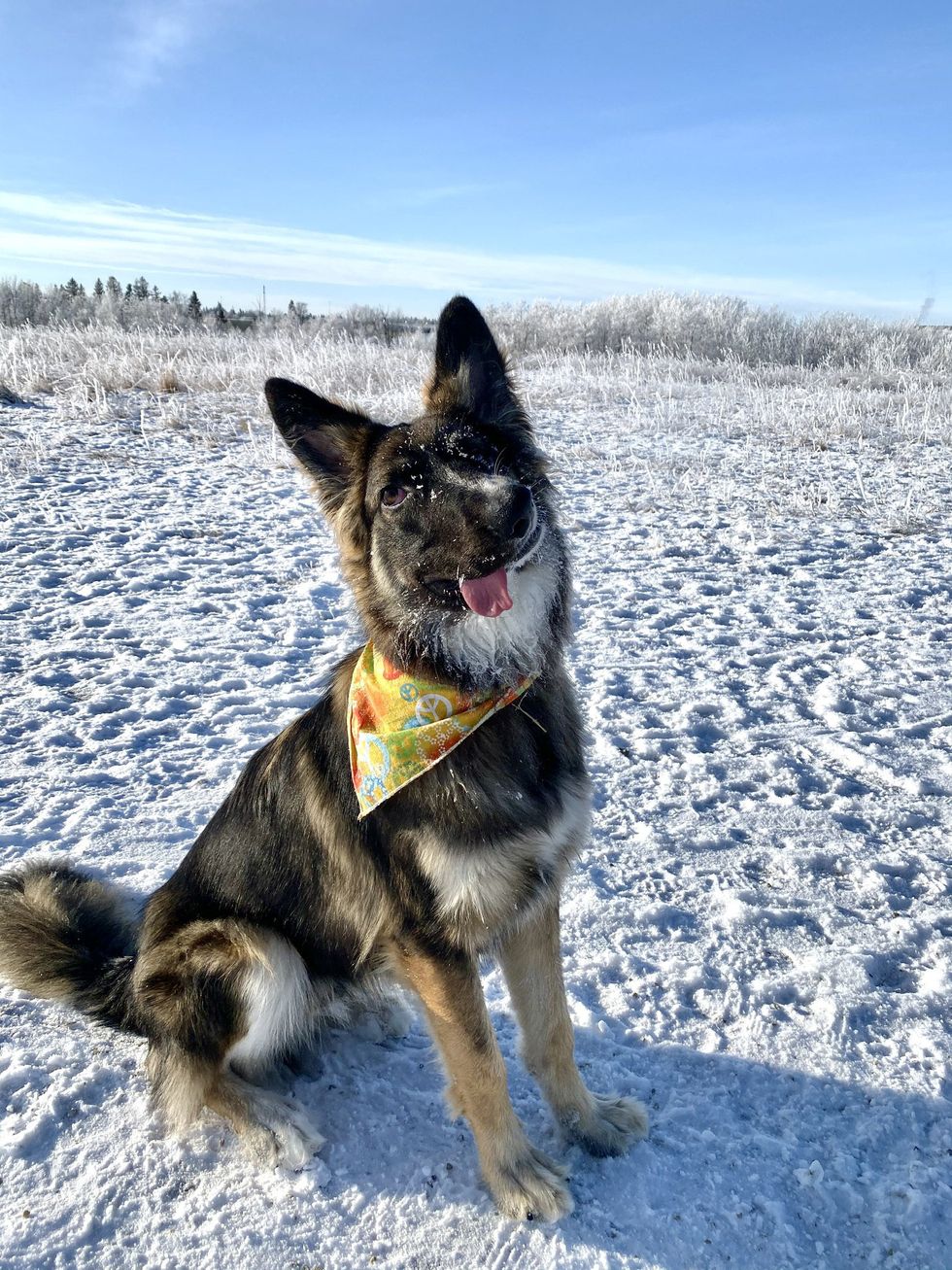 Amanda Richter/SWNS.COM
But Amanda Richter, 30, and boyfriend Brad Ames, 23, spotted the popular pooch Brodie on a posting online but despite his unusual looks, said it was "love at first sight."

The pair traveled to the Old MacDonald Kennels in Alberta, Canada, in September last year and brought him home the very same day.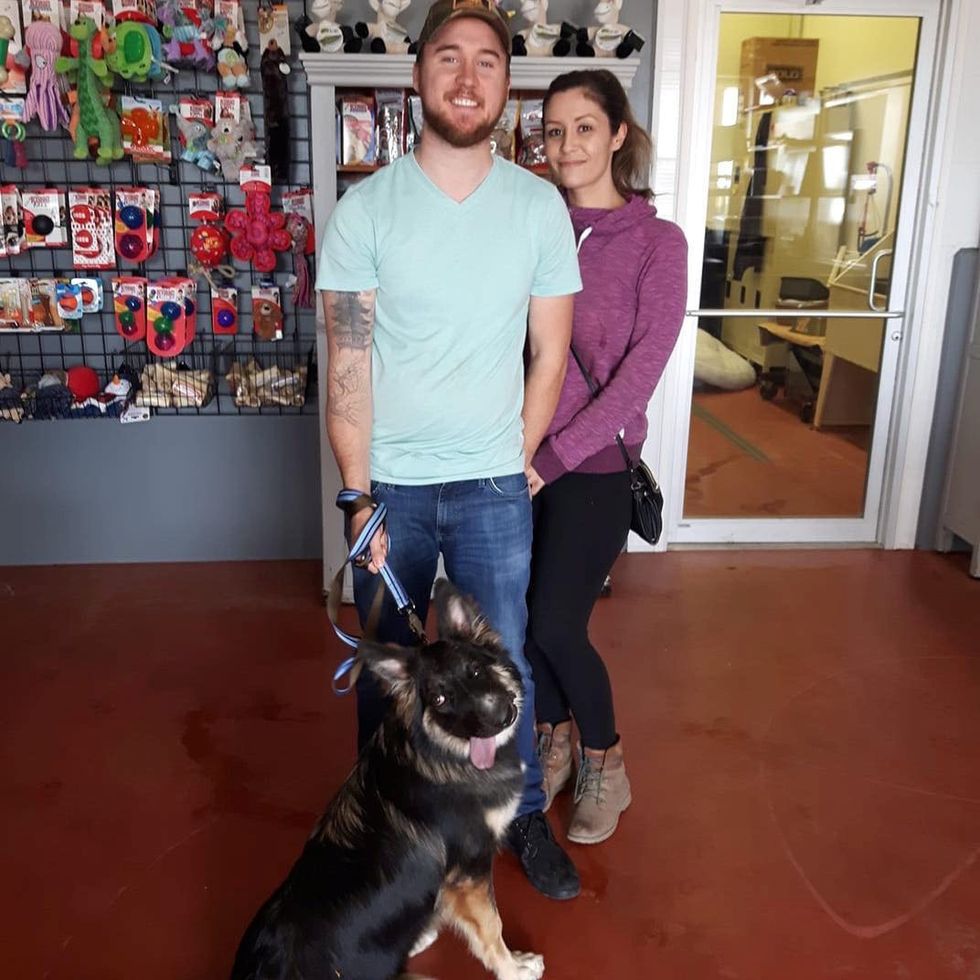 Amanda Richter/SWNS.COM
The shelter said they received hundreds of adoption requests for the "wonky" dog, but ultimately Richter and Ames were the perfect fit.

Amanda said she cried a few times after seeing his picture online but hopes the energetic pup can now help people with disabilities after training as a therapy dog.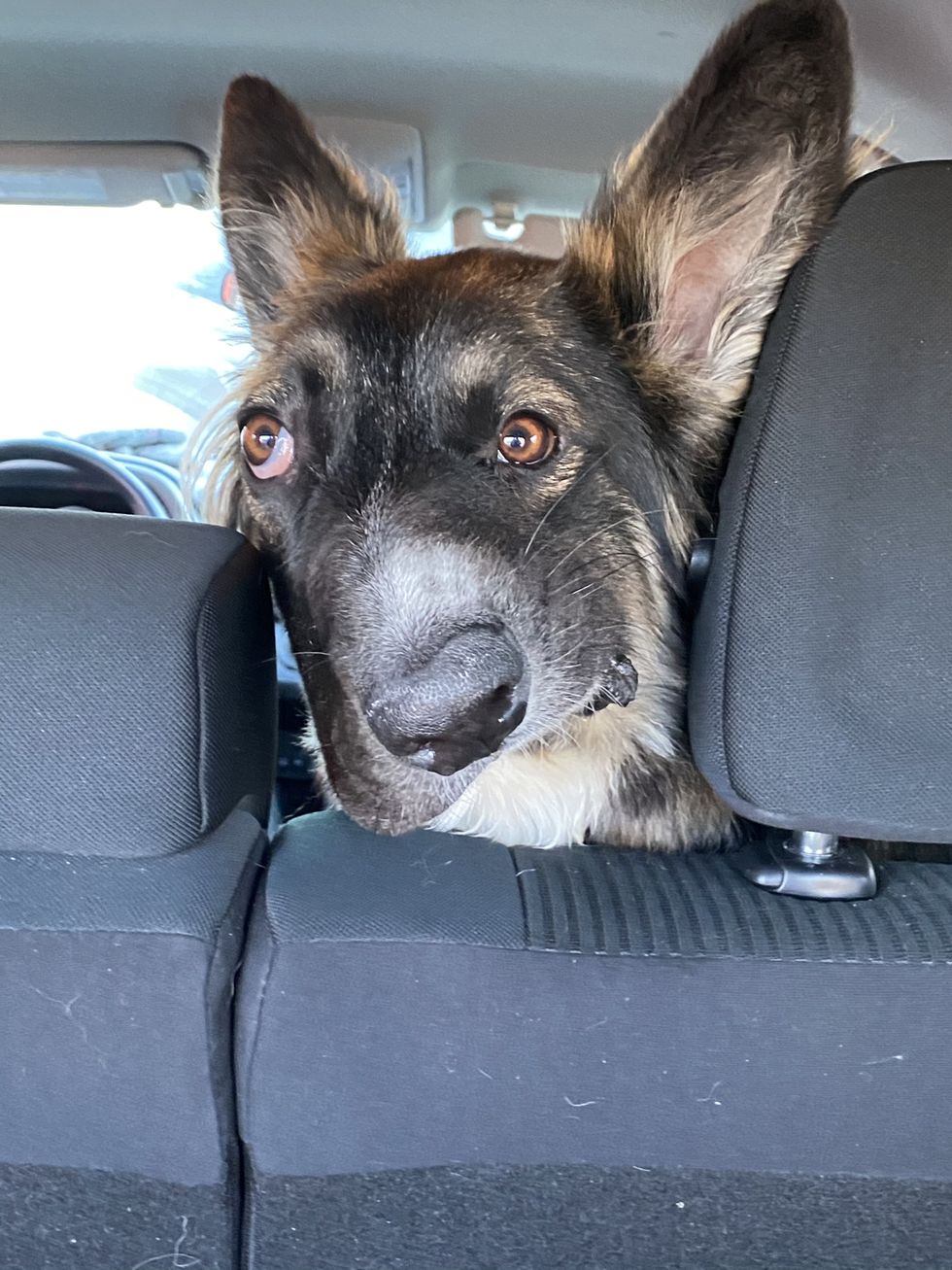 Amanda Richter/SWNS.COM
She said:
"I looked at his photos every day and even cried a few times. We felt drawn to him for some reason. We met him, took him for a walk and hung out with him for a few hours and ended up bringing him home the same day because the rescue really felt we were a great fit."
"He's definitely hyper but he is so intelligent. His brain is perfectly fine and he learns tricks within 10 minutes usually which tells me he is a smart boy. He just needed patience and someone to be consistent. He gets better every week."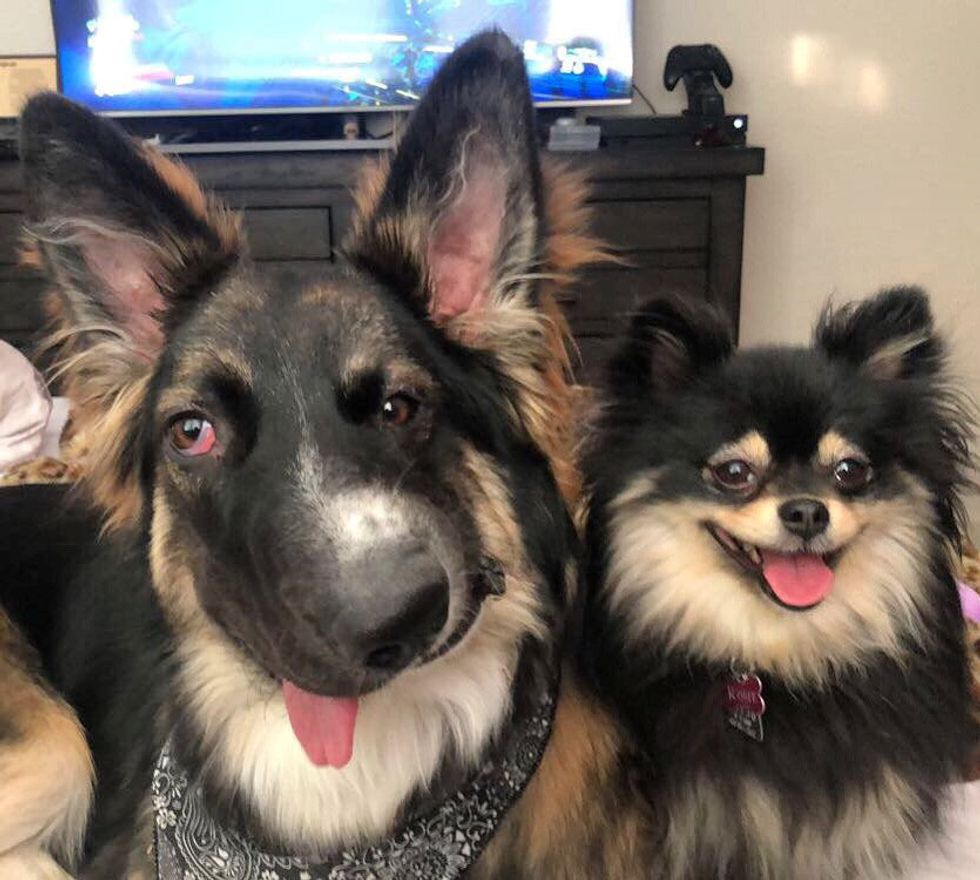 Amanda Richter/SWNS.COM
The brutal attack left Brodie partially blind in one eye and other complications may arise as he grows, but the couple hope this will only make their resilient pooch stronger.

They are hoping to train him as a therapy dog for disabled people while raising awareness for other dogs with disabilities.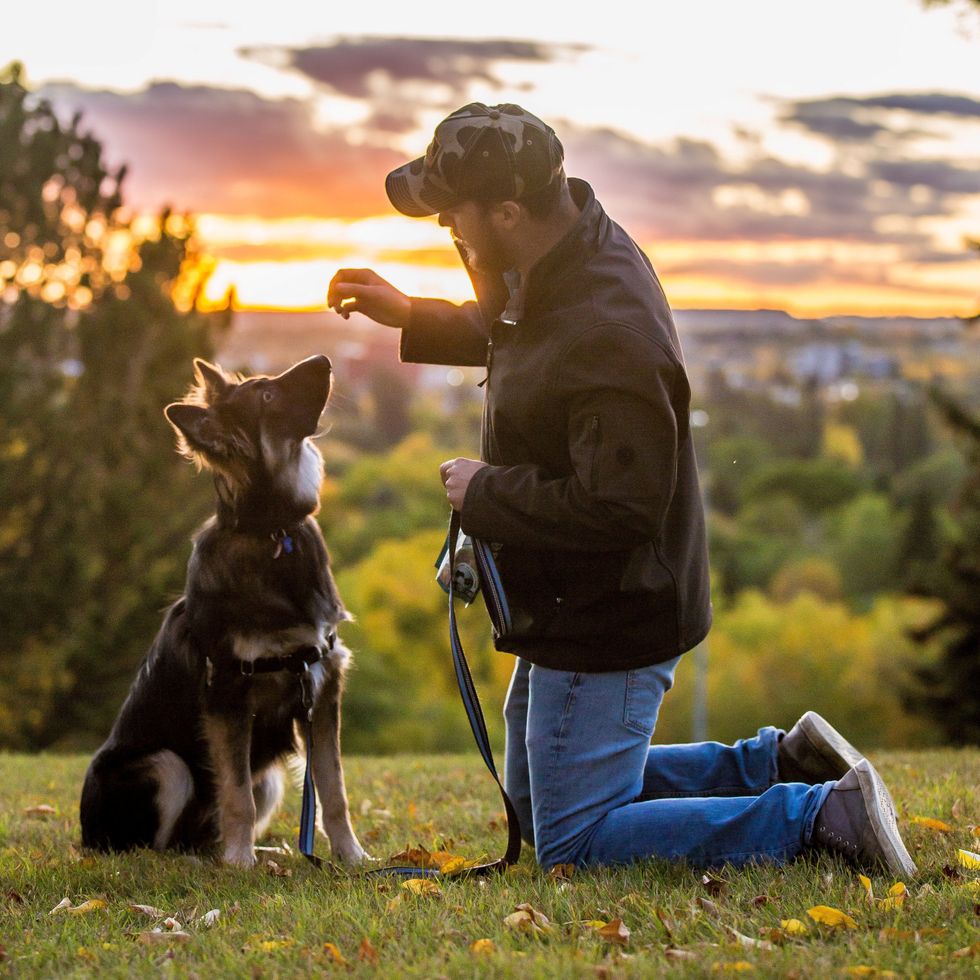 Amanda Richter/SWNS.COM
Amanda said:

"There is a chance they as he gets bigger more issues can arise, but for now he is as healthy and happy as ever. It's actually funny because when we go to the dog park everyone notices how he is the happiest pup there and just wants to play and run."
"We hope to train him to be a therapy dog one day so he can help other people with disabilities. We also hope that we can raise awareness for other special needs dogs and show people that just because someone or something looks different, they can be perfectly imperfect in their own unique way."
"Dogs are resilient and he has no idea he looks different so he enjoys his life just the same as any other pup."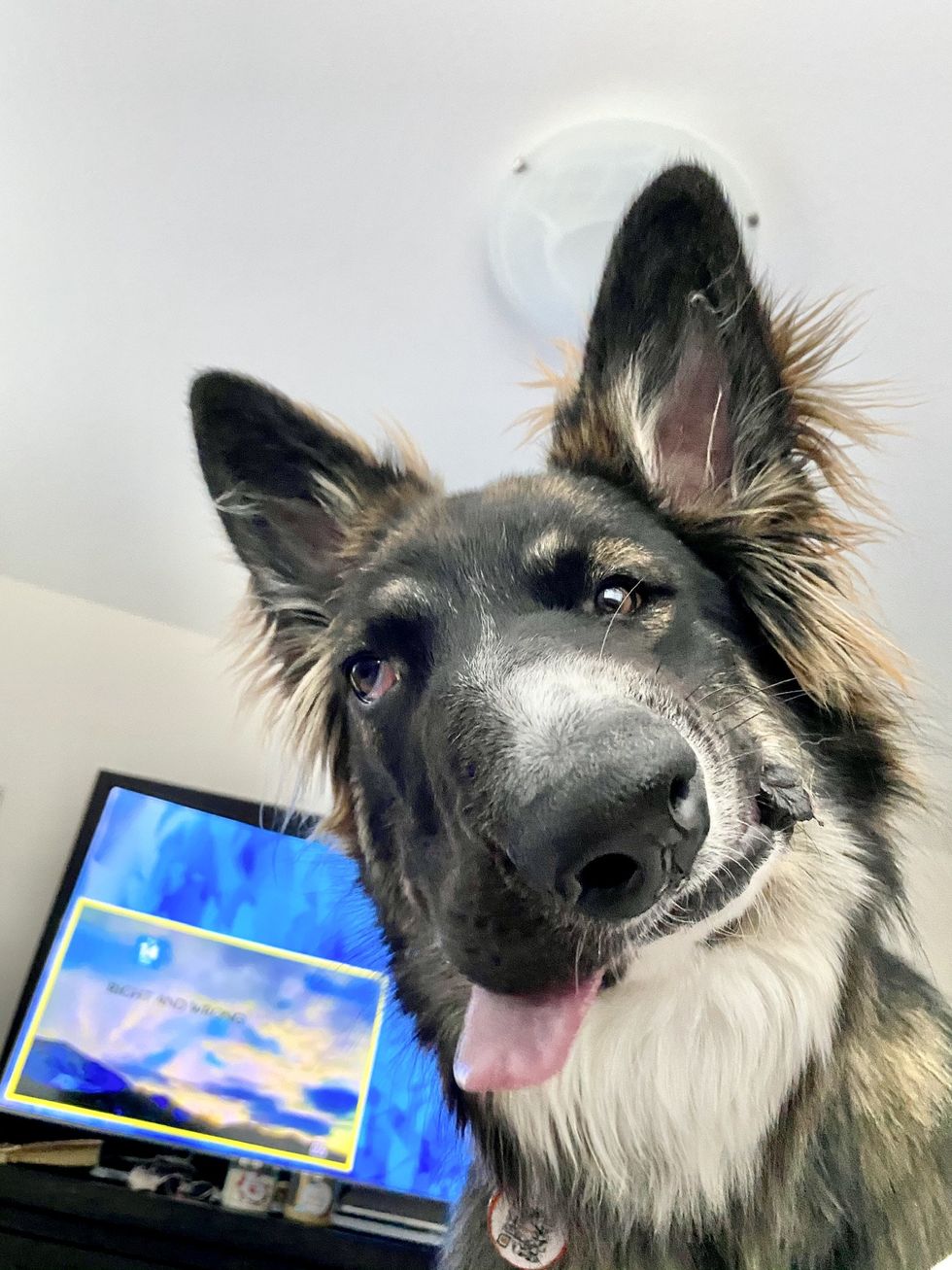 Amanda Richter/SWNS.COM
Keep reading...
Show less
A woman was reunited with her long-lost father after 56 years when he was 'suggested' as a friend - by FACEBOOK.
Karen Harris was adopted as a little girl in the early 1960s because she was born out of wedlock.
The only thing she knew was her dad's name Trevor Sinden—which was told to her by a social worker when she was 18.
She tried to find him but with little information she failed—until decades later when she saw the name on the 'suggested friends' feature on the social media site.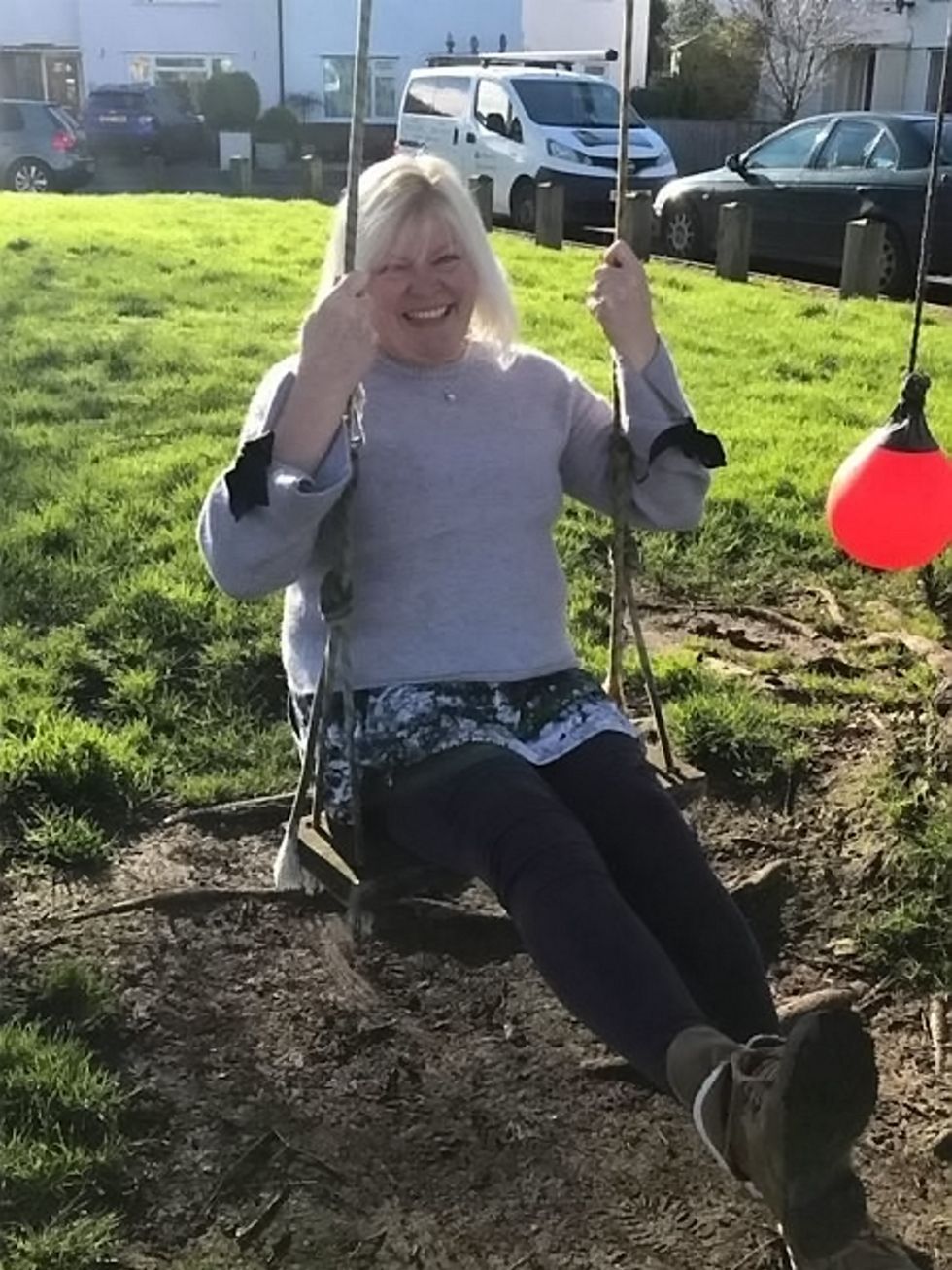 Karen Harris / SWNS
Karen, of Penryn, Cornwall, saw Trevor lived 350 miles away in Kent but scanned the profile and from his details and history realized she might be looking at her father.

The pair then chatted for weeks and met for the first time in an emotional reunion on Friday—and they both said it was like they have known each other their whole lives.
Karen, 56, said her birth parents gave her up for adoption in the early 1960s.
They were teenagers and she was born out of wedlock, which she says "wasn't the done thing in those days".
She added:
"You just don't feel as though you belong."
''Looking at your family that brought you up, you're really grateful that they brought you up but you don't have that sense of belonging."
"Now I've found completion. I've found connection and completion and I'm cherishing it."
The re-united father and daughter decided to meet in Lyme Regis, Dorset, roughly halfway between Cornwall and Kent.
When they first spotted each other, they hugged for so long that a passerby said:
"I hope you know each other."
They had a lot of catching up to do in the following days, which were spent going on walks and searching for fossils on the Jurassic Coast.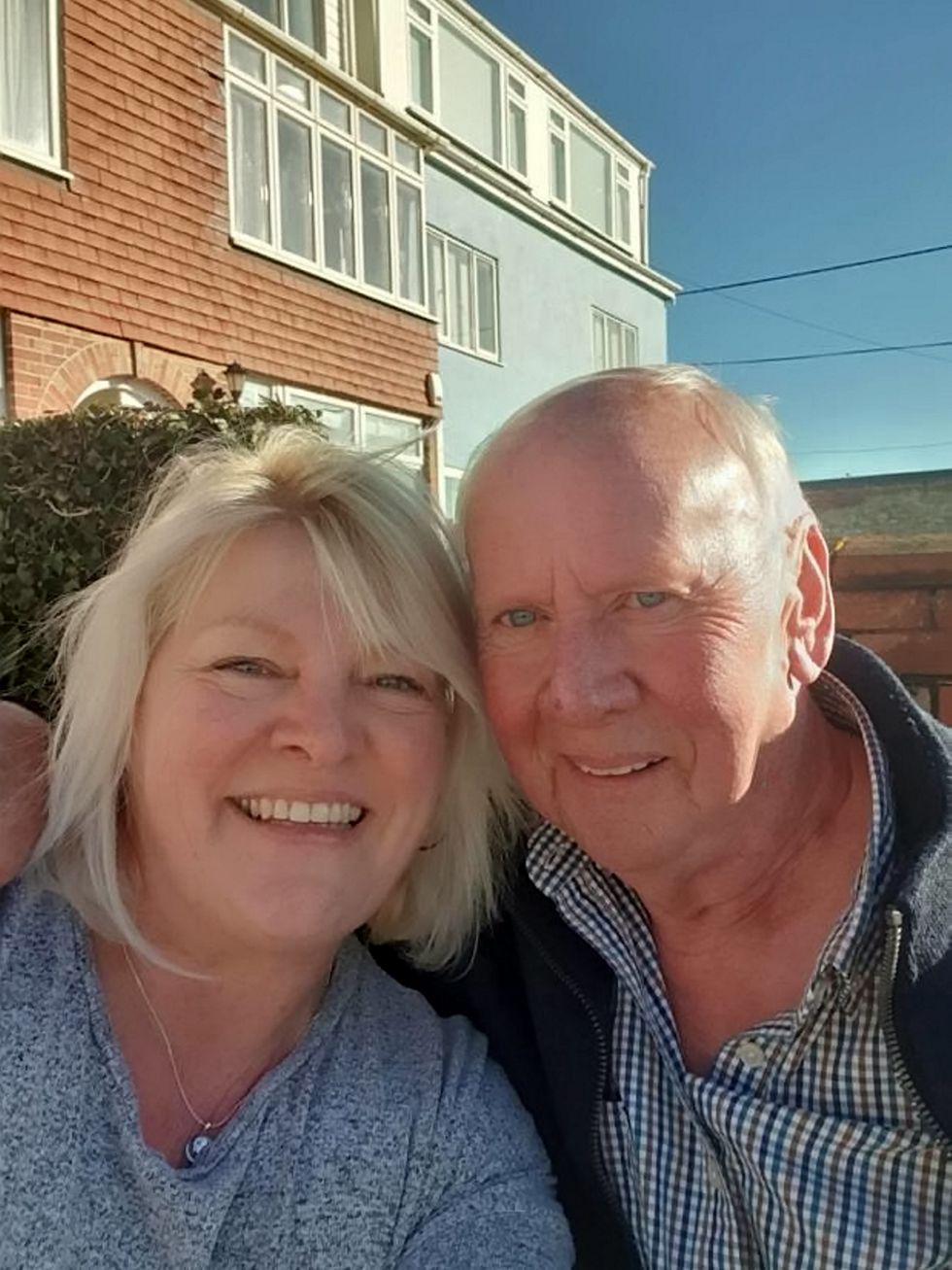 Karen Harris / SWNS
Karen was also introduced to two of her long-lost cousins and has had "an amazing time with many new memories."

Trevor, 72, added:
"It's like all of her Christmases at the same time. It's so surreal, the chances of actually meeting were so slim."
"I have looked on the internet but could never find her. It's early days but I feel we already know each other quite well."
"If it wasn't for Facebook we wouldn't have met."
Karen had known few details about her father since she approached an adoption agency at the age of 18 seeking to find her birth parents.
A social worker shared with her what details they could and Karen managed to track down her mother around ten years later, after she had had a child of her own.
Finding her father proved to be more difficult.
She knew he was an electrician from Croydon but it was not until seeing that the information on his Facebook profile matched what she had been told that she knew she had finally found him.
He responded immediately and after seven weeks of chatting every day, they decided to meet.
She added:
"Those who are adopted can understand that moment when you first see someone other than yourself in a mirror that has your cheek bones, your eyes, your chin."
''It is something that someone who isn't adopted probably can't relate to or understand, but it changes the way you look at the world."
"Now there is someone else like me, loving me for me and I cherish every moment. I'm incredibly blessed to find him now."
Keep reading...
Show less
KC and Lena Currie, of Sudbury, Massachusetts decided to adopt after seeing a photo of then-18-month-old Joey at an adoption event hosted by the nonprofit Children's Friend.
The couple knew right away that Joey would be a great fit for them.
Little did they know that they would soon be adopting 2 more little boys.
Lena told Good Morning America about their decision to adopt Joey.
"We saw a picture of Joey and Children's Friend mentioned [it] would be a good match. He was 18 months old at the time."
Baby Joey officially joined the couple the following March and quickly settled in. The three were getting used to life as a family when Lena and KC received another call from Children's Friend.

It didn't take long for the couple to decide to take in Joey's youngest brother when they heard he needed to be placed in a foster home.
Noah was only 6 weeks old at the time. Around a month after he came to live with the Curries, they also heard about the boys' middle sibling, Logan.
Logan was supposed to be adopted by the foster family with whom he was currently living, but those adoption plans fell through at the last minute.
When KC and Lena heard that Logan also needed a home, and Children's Friend asked if they might be interested in reuniting the brothers, the didn't hesitate to say yes.
KC summed up their thought process.
"It was our gut-feeling. We were going to end up saying yes because keeping the brothers together was really important to us."
"When they're older and have questions, they'll have each other to lean on and experience that ride together."
During last month's National Adoption Day, November 23, KC and Lena officially adopted Logan and Noah.
KC described the feeling of making things official.
" It was nice to check off a box and make it true to the world. We are their family. "
Lena said that the boys call them Mama and Mommy.
"A lot of times Joey says, 'Hey, Mommy-Mama' -- he'll settle for either one."
Veronica Listerud, director of adoption and family services at Children's Friend, praised the Curries for their flexibility and willingness to bring the boys back together as part of their family.
"It's what you want to see happen. They're a wonderful family. They're flexible—they really understand the kids' needs, the importance of maintaining sibling relationships and the long-term impact of that."
The Love Makes a Family board book is available here.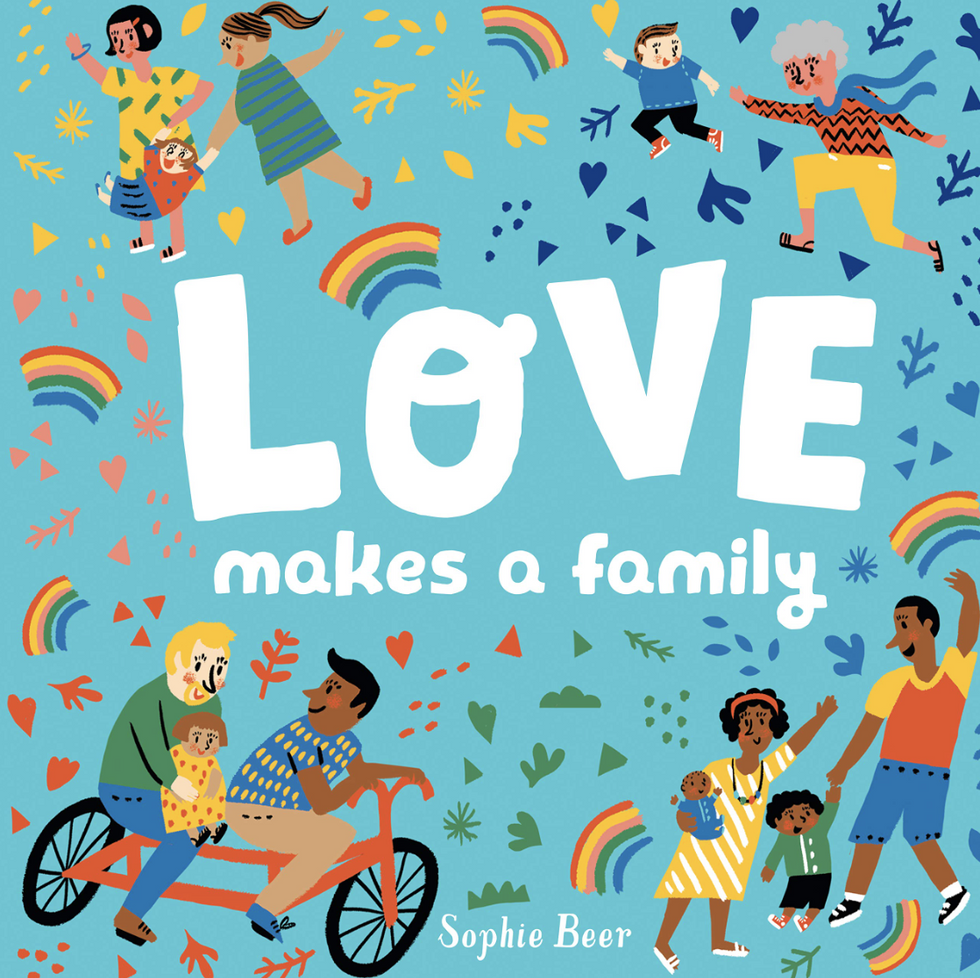 Amazon
Keep reading...
Show less