As the republic continues to crumble, nostalgia has never been more in.
This is exemplified by the theatre marquee at Edwards Cinema which features a list of movies that will have you checking the date to make sure you're in the right decade.
The picture of the marquee shows the films Toy Story 4, Men in Black, Godzilla, Aladdin, and Child's Play—all of which had wildly successful iterations in the 1990s.
Devon Sawa—himself a 90s heartthrob—tweeted the image with the caption:
"Dear children of today: Like it or not, you're really 90s kids."

The films are still a little different than their original counterparts: Pixar's animation has grown by leaps and bounds since the original Toy Story's release in 1995, Aladdin is a live-action remake, This decade's Child's Play revolves around technology rather than voodoo, and Men in Black now features a woman as the lead.
Nevertheless, the marquee had people hella disoriented.
Some lamented that the nostalgia is actually a lack of originality.
If that doesn't overwhelm you, The Lion King will be arriving to theatres next month.

Keep reading...
Show less
Freeform has announced that is picking up a reboot of the classic show Party of Five. The show followed five siblings struggling to make their way through life as a family after the unexpected loss of both of their parents. The show ran for six seasons, won tons of awards, and still has a passionate fanbase even though it's been over for nearly two decades. Freeform announced that the new version will be a "modern reimagining" - and the new plot is bound to make a few people upset.
In the initial series, the Salinger kids lose their parents after an accident with a drunk driver. The show followed the kids through six years of essentially raising each other and fighting their hardest to stay together as a unit.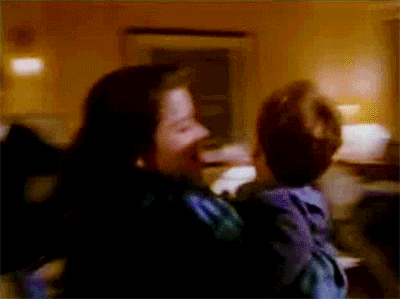 Original Executive Producers Amy Lippman and Christoper Keyser released a statement saying they will focus on something closer to the heart of the current American political climate.
Twenty-five years ago, we imagined a story about five kids navigating the world after the untimely death of their parents. Today, stories of families being separated, children having to raise themselves in the wake of their parents' deportations, don't require any imagination; they are everywhere. This new iteration of Party of Five isn't a retread of the original; it's a whole new look at kids trying to parent each other in the wake of circumstances beyond their control, yet learning a similar lesson: that families persist no matter how great the obstacles.

Freeform's Executive VP of Programming And Development said the network "just had" to have the series and they were proud to help tell this new story.
News of the reboot is spreading fast on Twitter, and people have a lot to say. Warning: It's not always something good.
@JustJared Yes! I loved that show

— KREAM OUT NOW 🇦🇺 (@KREAM OUT NOW 🇦🇺) 1536272870.0
@THR Show with a clear political agenda #byebye

— jd (@jd) 1536306096.0
@people Cashing in on the real traumatic experiences for some Latino families. Great job ABC 🙄

— chelchel (@chelchel) 1536287758.0
@Grateful24x7 @DEADLINE Same here.

— Brenda Libby (@Brenda Libby) 1536276599.0
@newsbusters And on the season finale, ICE comes and deports everybody back to the country where they are legally a… https://t.co/fPMgc7mdBt

— Dave Cullather (@Dave Cullather) 1536340064.0
(Stoked for the Party of Five reboot in which the parents were deported instead of killed. It's a smart, relevant s… https://t.co/crDu9IXDhz

— Carina Adly MacKenzie (@Carina Adly MacKenzie) 1536268515.0
"Reboot, but make it Latino!" streak going on strong: - One Day at a Time - Charmed - Magnum, PI - Roswell, New Me… https://t.co/WG3KTJkRWi

— Manuel #LordDámeloTodo Betancourt (@Manuel #LordDámeloTodo Betancourt) 1536267848.0
@THR https://t.co/mxMjqeyhkU

— Fraulein Steve (@Fraulein Steve) 1536303685.0
What are your thoughts? Does the retooling strike you as relevant and modern or like a "clear political agenda?" Maybe both? Let us know!
Keep reading...
Show less
The things we believe we see when looking through the prism of innocence. We watch our favorite characters, whether they be fiction or flesh and bone, on the daily in childhood and they make us feel safe or euphoric.
They are some of the people who get us through the journey of life, in good times and bad. Sadly though, when we mature we're forced to see our favorite partners through an adult's spectrum and once nostalgia wears off the effects can be catastrophic. Or enlightening. Or it all stays the same and we briefly relive our happiest times.
Redditor missluluh wanted people to share... What character did you view totally different as a child vs. as an adult?
Keep reading...
Show less