With QAnon conspiracies and radical disinformation abounding, it's easy to forget that the internet began as a technology to help democratize information and empower individuals.
Putting those evil echo chambers on the shelf for just a moment, it can be illuminating to take stock of what global, digital connection has created.
So next time you ever wonder how to do anything, have some confidence that at least one other person out there encountered exactly that difficulty.
The question becomes obvious: did they make a video about that?
If they didn't, maybe it's your turn.
Want to "know" more? Never miss another big, odd, funny, or heartbreaking moment again. Sign up for the Knowable newsletter here.
Keep reading...
Show less
Nikkie de Jager, better known as makeup YouTuber NikkieTutorials, recently came out as a trans woman via a video on her YouTube channel.
Nikkie was being blackmailed by someone who wanted to leak her story to the media, so she decided to take matters into her own hands and tell the world herself.
Nikkie bared her soul to her fans in the 17-minute video.
"Today I am here to share something with you that I've always wanted to share with you one day, but under my own circumstances. And it looks like that chance has been taken away from me. So today I am taking back my own power."
Many of Nikkie's fans were extremely supportive of her coming out, even though the circumstances forced her to share her truth before she was ready.

@NikkieTutorials Oh my god 😭 I love you so much. Grew up watching you. Thank you for sharing this. ❤️

— Stef Sanjati 🍞 (@Stef Sanjati 🍞)1578947132.0
Me finding out nikkietutorials is trans and then me finding out someone tried to blackmail her into coming out https://t.co/lvj0vBBlSs

— ❄ Local Plague Dr ❄ (@❄ Local Plague Dr ❄)1579005155.0
@NikkieTutorials I'm so proud of you honey💕💕 en een dikke middelvinger naar die blackmailers https://t.co/81bVoq4sdZ

— katja³⁶⁵ ˡ ⁷ (@katja³⁶⁵ ˡ ⁷)1578946305.0
Even after de Jager's heartfelt coming out video, there were still some people who thought it would be a good idea to be transphobic and poke fun at her.

Among these was the sister of cosmetics company Too Faced founder Jerrod Blandino, who also worked for the company.
The post, made from an account where she uses the name Dani California, drew instant ire and criticism from internet users—along with a call to boycott the brand.
I will never EVER support too faced. https://t.co/lN0sM6wItx

— literallylewis2.0 - ig 🌈 (@literallylewis2.0 - ig 🌈)1578970593.0
She quickly attempted to backtrack after her bigotry was noticed, but to no avail.
@dropdeadlewis She changed her bio at least five times since that screenshot was taken. This is what is written now… https://t.co/msaeEOGADv

— ℕ𝕚𝕔𝕠𝕝𝕖𝕥𝕒 (@ℕ𝕚𝕔𝕠𝕝𝕖𝕥𝕒)1578992540.0
Jerrod soon released a statement, via the company's Twitter account, condemning his sister's actions and saying that she had been fired from her work at Too Faced.

"I do not tolerate this behavior, and she is no longer an employee of Too Faced. I would like to say how proud I am of Nikkie Tutorials, and how inspired I am for her strength and sharing her beautiful truth with the world. I am sending all my love to her."
A message from Our Founder Jerrod Blandino https://t.co/OdnCT67INK

— Too Faced Cosmetics (@Too Faced Cosmetics)1579030654.0
Even after Jerrod's apology, many people pointed to a long history of problematic actions as a reason to avoid the company.

@TooFaced Hm... Feels like you only apologized bc people are pissed 🤦🏼‍♀️🤷🏼‍♀️ this brand has always been so rude t… https://t.co/SQma2OoMQj

— 🖤Skye🖤 (@🖤Skye🖤)1579031007.0
@TooFaced Does he really expect us to believe she is off the payroll? She may have lost her title but I suspect tha… https://t.co/MwYlfSeSXa

— Stacy (@Stacy)1579058437.0
@TooFaced Too late. Lisa publically bullied Nikkie for ages and you guys did nothing about it, while she was the vi… https://t.co/qJuWy95PEf

— Shining --- ☆★☆ (@Shining --- ☆★☆)1579035066.0
Many folks on Twitter pointed out that this isn't the first time Blandino's sister has posted hurtful, bigoted things on social media.

@TooFaced She should've been let go ages ago, she's been this way and it's left a bad taste in people's mouths for… https://t.co/NsqV3k3opG

— positiviᵗᵉᵃ (@positiviᵗᵉᵃ)1579031625.0
@TooFaced @TeaSpillYT Glad to see this - sad to see she wasn't fired when she made racist comments to someone on behalf of TF

— Jaclyn Hills Lab Exposed (@Jaclyn Hills Lab Exposed)1579031615.0
@TooFaced Still makes me sick how awful your sister has been. Going on a bullying spree and representing you and the brand. She's unhinged

— JustAGirlInTheWorld (@JustAGirlInTheWorld)1579033283.0
@TooFaced Lisa has been mouthing off on Instagram for a while now regarding Nikkie and others so I'm glad the right thing was finally done.

— DramaLynn (@DramaLynn)1579031844.0
@dropdeadlewis @TooFaced @NikkieTutorials @RichLux713 Update: Jerrod Blandino left a message on his Instagram apolo… https://t.co/JftD91YMZE

— SpiceyNanaSim (@SpiceyNanaSim)1579051480.0
While his sister's termination and public chastisement were definitely warranted, many makeup fans—both those who are fans of Nikkie and those who just won't tolerate bigotry in the industry—are still questioning whether Jerrod's actions were enough.

Her hurtful comments about de Jager in an especially vulnerable time were completely unacceptable to fans, and part of a pattern of behavior that had not been addressed until now.
Keep reading...
Show less
A beach full of people at Saugatuck Dunes State Park in Michigan got an unlikely surprise over 4th of July weekend when a deer decided to join in the fun.
According to witnesses, the brazen deer just casually sauntered over a sand dune and down to the water's edge to take a dip in Lake Michigan on a hot summer's day like everybody else on the beach.
Deer are often adventurous when it comes to wandering into areas populated by people, but this deer took it to the next level.
Stunned families soon pulled out their phones to capture photos and videos of their new beach buddy as he went about his business.
Deer enjoys a day at the beach on Lake Michigan www.youtube.com
And just to show the ultimate chill, the deer even went over to a young girl sitting in a beach chair nearby and started licking her leg, much to her surprise and delight.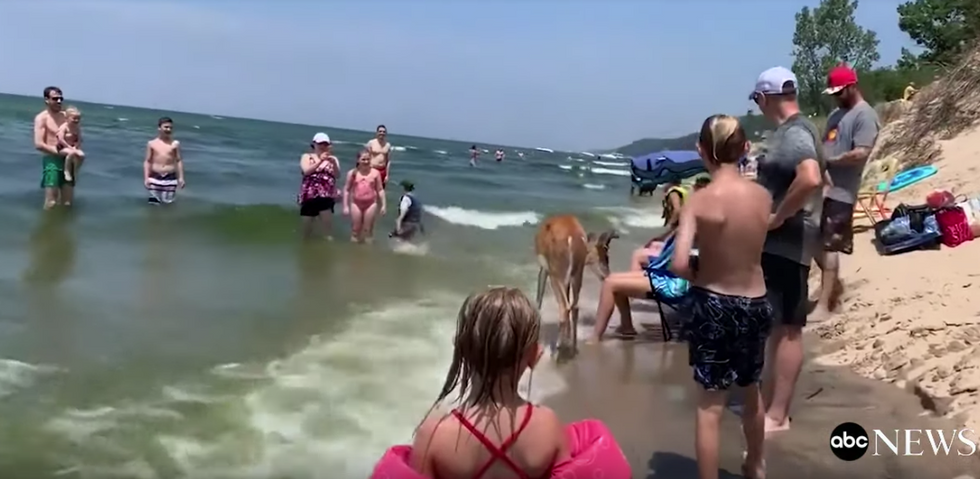 ABC News/YouTube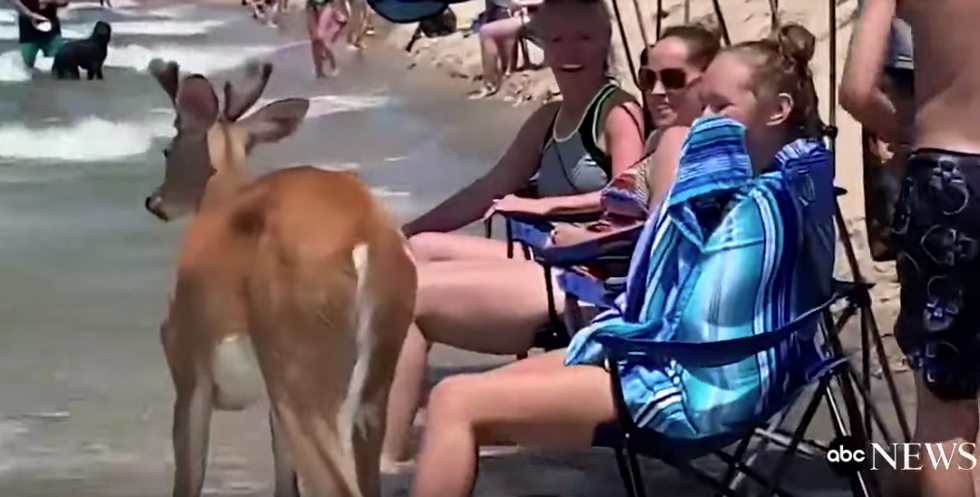 ABC News/YouTube
The young buck even let people close enough to pet it and play with it (although neither is recommended).
Metro Detroit family joined by friendly deer while vacationing in Saugatuck over the holiday weekend. https://t.co/DhDDClbwkR

— WXYZ Detroit (@WXYZ Detroit)1562630265.0
Only in Michigan! 🦌🏖 Detroit mom Kathleen Kennedy Ferris captured this video of her kids playing with a deer on a… https://t.co/jZhu41TXyL

— Detroit Free Press (@Detroit Free Press)1562674085.0
The deer reportedly stuck around the beach for roughly 30 minutes before calling it a day.

But he certainly made an impression on social media.
@6abc That is So AWESOME 🤗 WOW

— Mrs. James (@Mrs. James)1562679554.0
@MLive Deer wants to know why y'all at his beach? Also... where are the snacks?

— sekhmara (@sekhmara)1562596632.0
The deer apparently has become a regular, with the locals naming him "Jim."
@Cardina1_Girl @Robb_R9 @MLive Apparently he's been coming down regularly and he has been named "Jim."

— Oceana Lizard (@Oceana Lizard)1562633726.0
@MLive Quick! Someone get my man a bud light! 🍺 #DeersGetThirstyToo

— Mark E King (@Mark E King)1562619646.0
@SHSTrackandXC @freep Yeah that is Jimmy!

— SaugatuckTrack&Field (@SaugatuckTrack&Field)1562690295.0
@freep He's a regular in the Saugatuck Dunes State Park and @feltmansion area over here...he's hangin' here with th… https://t.co/zTdwrNGRrW

— Cory LaLonde (@Cory LaLonde)1562695966.0
Of course there were also those who were skeptical of Jimmy's health, with many wondering if the deer is suffering from Chronic Wasting Disease (CWD), a disease similar to Mad Cow Disease that affects the brains of deer and elk.
@MLive Any deer acting this irrationally and as thin as that, I would suspect CWD.

— jwrwork (@jwrwork)1562617982.0
@MLive Sadly, the first thing that came to mind was the animal is suffering from CWD. Some symptoms include lack of… https://t.co/vBTo0uvj5g

— Dennis (@Dennis)1562675421.0
The Michigan DNR said they would be keeping tabs on the deer for the time being, and issued a warning to the public, saying:
"At this time, we plan to monitor the situation with the deer. Should it begin to exhibit aggressive behavior, we would consider immobilizing and relocating the deer. We ask that park visitors refrain from feeding or approaching the deer as this is a wild animal that could act unpredictably."
Deer can carry ticks with illnesses like Lyme disease that pose a serious threat to humans, so if you encounter a deer in the wild it's probably best to just let it do its thing.
With his complete lack of fear of humans, it's unclear what Jimmy's future will entail, but he certainly gave the internet something to smile about.
Keep reading...
Show less
An aspiring young ribbon dancer impressed his sister Tori Crosby from St. George, Utah, so much she had to share him with the world.
She filmed her brother twirling around his makeshift dancing arena, painting the atmosphere with two "ribbons" trailing his every move.
The pre-teen had learned the routine from a YouTube clip, which you can see simultaneously streaming from the sister's iPad in her lap.
But his coordination is surpassing expectations because of his ability to overcome physical odds.

Tori posted the video on Twitter, describing her instant reaction to her brother's skills.
"my brother started doing a ribbon dance and i looked down at the ipad and was shook lmao."
The proud sister mentioned in a followup tweet that her brother has cerebral palsy and constantly amazes the family with his talents.
The kid's charisma is infectious.

Crosby couldn't resist sharing another adorable clip of him dancing along to "Hawaiian Roller Coaster Ride" from Disney's Lilo & Stitch soundtrack.
He is stealing hearts on the internet.

A trade secret is revealed.

Crosby's tweet went viral, with over 633k likes.
His online fame also inspired others to share their stories.
People with various disorders are proving they are capable of so much more than some assume.
Having cerebral palsy doesn't mean they behave any differently than their siblings.
Mom gets a shout out here.
The kid continues earning perfect 10s across the board.
According to the Centers for Disease Control and Prevention (CDC), Cerebral Palsy is a group of disorders that impairs one's physical mobility and affects the ability to maintain balance and posture.

CP is caused during brain development or by brain injuries in infancy and is a common motor disability in childhood.
Depending on which areas of the brain are affected, one or more of the following movement disorders can occur: stiff muscles (spasticity), uncontrollable movements (dyskinesia), and poor balance and coordination (ataxia).

For more information, you can go to the Cerebral Palsy Alliance website and contribute a donation for further research.
The organization aims to fund for the most "promising research projects for cerebral palsy" in the U.S. and helps support CP Registers and Surveillance Programs.
Keep reading...
Show less
News recently broke that the Trump administration had contacted its embassies around the world and banned them from flying rainbow flags in honor of PRIDE month, prompting swift backlash from LGBTQ individuals and their allies online.
Of all the people to defy the White House's decision, however, YouTuber Elijah Daniel may have made the most dramatic gesture.
In response to the President's mandate, Elijah Daniel straight up bought the town of Hell, Michigan and renamed it Gay Hell, Michigan.
Gay Hell, Michigan (formerly Hell, Michigan) is a real town in Michigan occupied by 70 people and taking up about 5 acres of land.
It was listed for purchase for $900,000, which apparently seemed like a great price to Daniel.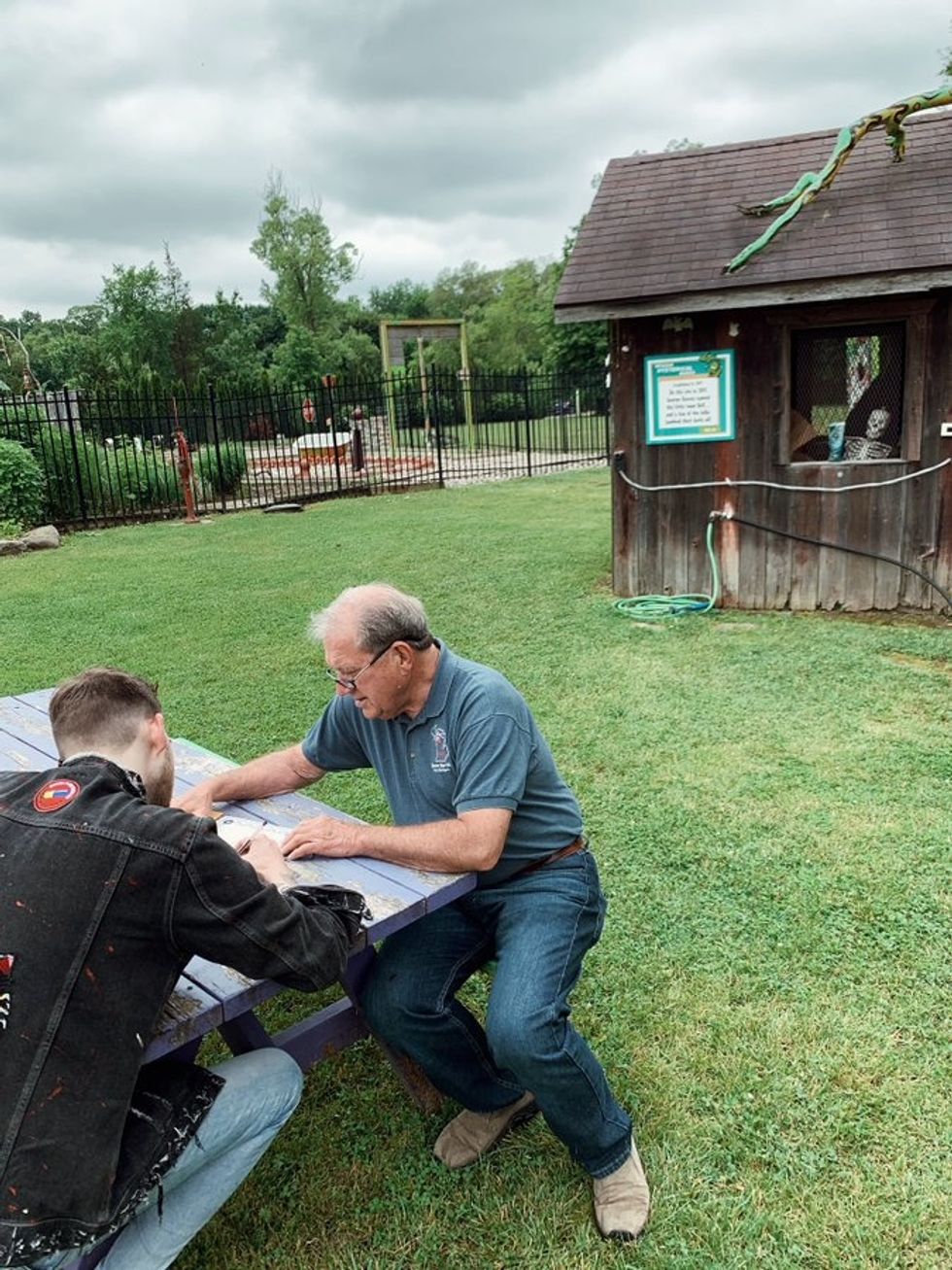 @elijahdaniel/Twitter
Don't believe it? Elijah took pictures as evidence of his new purchase.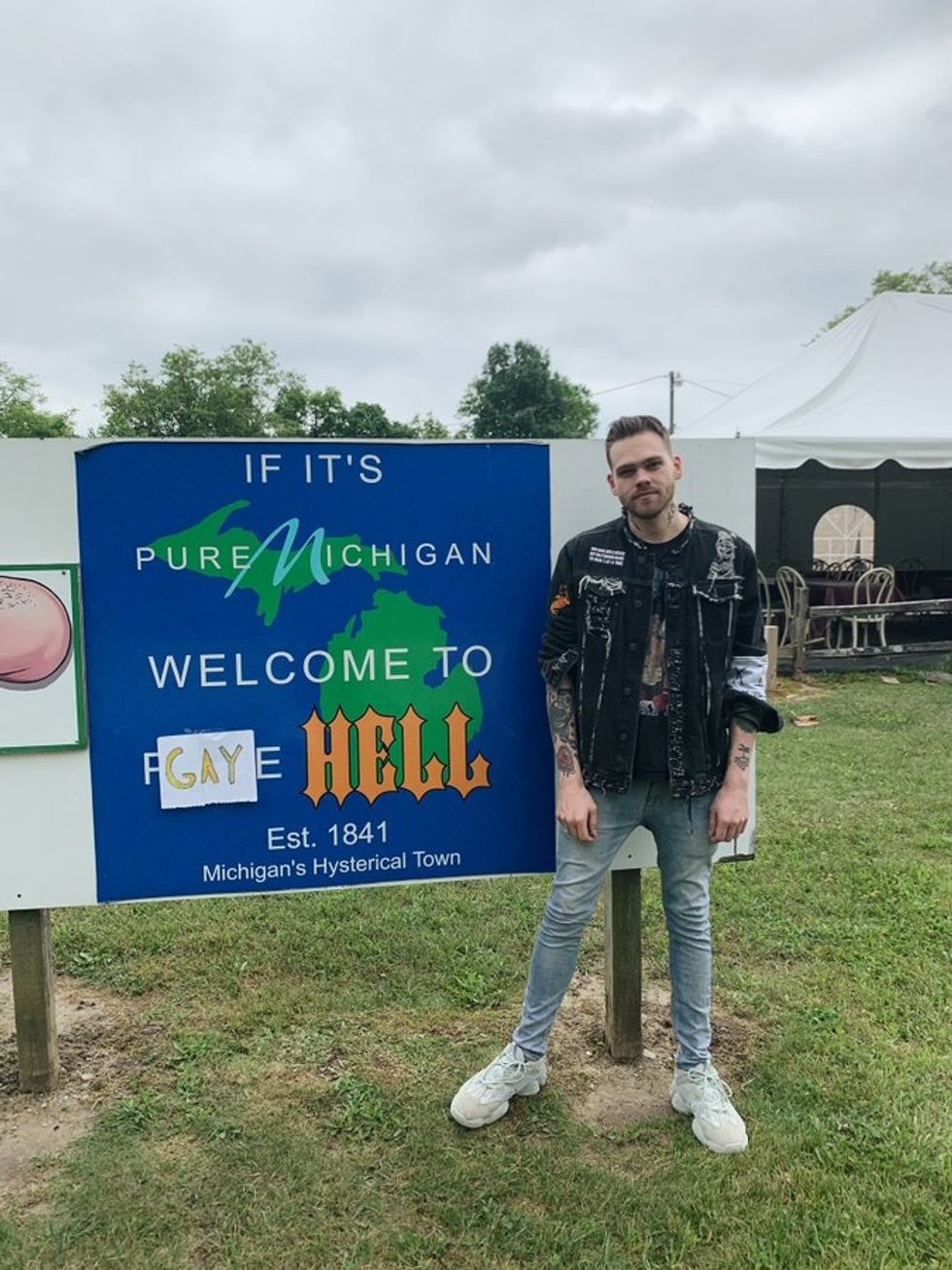 @elijahdaniel/Twitter
This isn't the first time Elijah has found himself in charge of Hell.
He previously became mayor of the town for a brief period of time.
Elijah can't wait to spread the word about Gay Hell.
His first order of business?
Ban all flags EXCEPT for rainbow PRIDE flags.
People were amazed at the lengths Elijah went to to make a point.
A lot of Twitter users were packing their bags and getting ready to move to Gay Hell.
Of course, the only person whose opinion of Gay Hell really mattered gave the town his approval!
The implications of having Gay Hell right here on Earth could be far-reaching and profound...
If this doesn't send a message to the White House, nothing will.
Someday, we'll all look back on Gay Hell, Michigan and question whether it really happened.
But it did.
It really really did.
If you want to send your own message, you can display your PRIDE for one low price and get a "3 x 5 Feet Gay Pride Rainbow Flag with 10 Pack Pride mini Flags on sticks," available here.
You can also declare your RESISTance with this t-shirt while also supporting Pride Live! and the 50th anniversary of Stonewall, available here.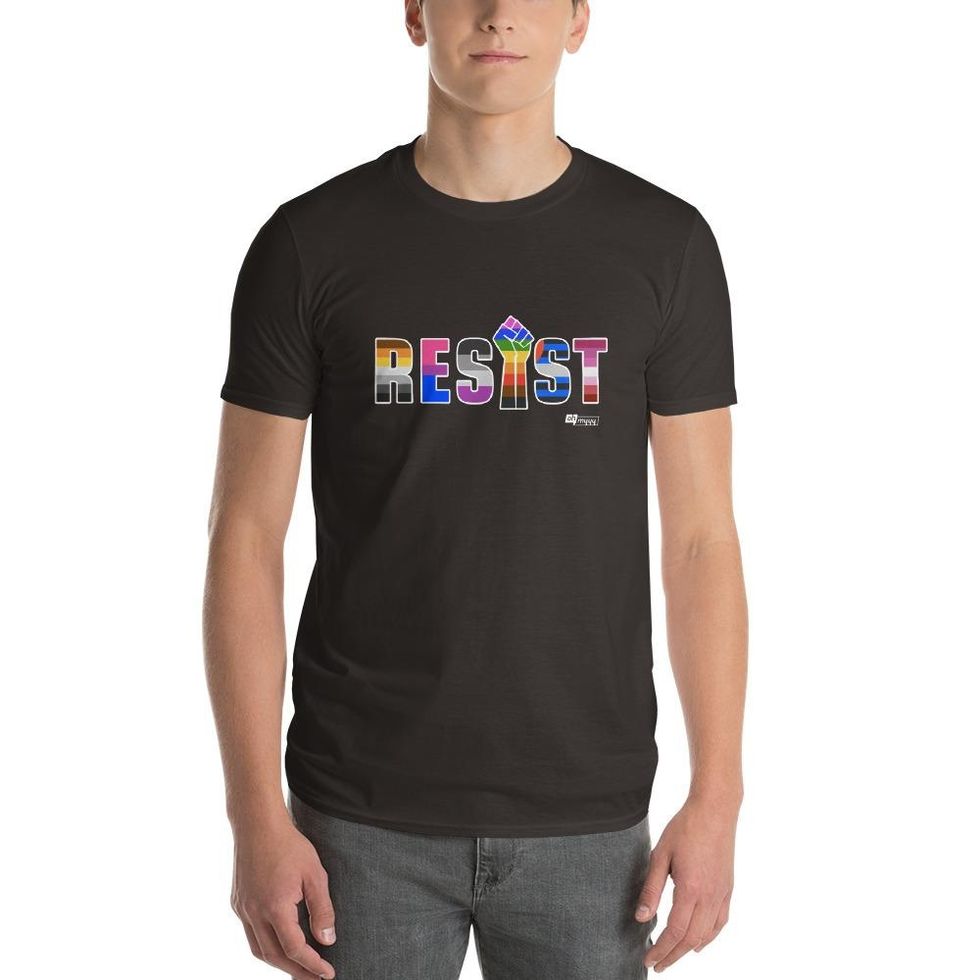 RESIST Pride Live! teeHEARSAY/by NIHLO
Keep reading...
Show less