There's something about the woods that creeps me out. Listen here, people: I'm a city guy. The idea of getting lost out there freaks me out. No thank you. I wasn't made for that. The rest of you who like to go camping and stuff? You do you. I'll stick with my running water.
But maybe I've seen too many horror movies. After all, if I saw some creepy stuff in the woods I'd definitely run in the other direction. And so would you, right? Right?
People shared their best stories with us after Redditor shantics asked the online community,
"What have you seen in the woods that you can't explain?"
"I stepped on what I thought was a small rock but it turned out to be weird and gelatinous. I've also seen tombstones in the woods."
his_eminence56
You just suprised it. Rocks are soft and squishy, they just tense up when you touch them! /s
"I was hiking through the remnants..."
"I was hiking through the remnants of a remote, long-abandoned town and the surrounding area. To get to as far into the woods as I was, you had to cross fallen trees over a creek three times. I had just crossed the third "bridge" and was about five miles in and something blue caught my eye just ahead of me."
"There was a man, in his sixties at least, wearing blue satin pajamas, sitting in a tree. The closer I got to him the louder he laughed; it wasn't a maniacal laugh, but it set off all the alarms in my head nevertheless. He also wasn't wearing any shoes and looked well-groomed/cleaned."
"I gave him a friendly nod as I passed and he just kept laughing. Then it stopped. I turned and he was gone. There was no branch cracking, plants rustling, nothing... He was just gone."
"Still rubs me the wrong way. The area I was in was a pretty rough hike, very secluded. Not very many people venture as deep as I was that day. No idea what was going on there."
mrwitch
"Over the Third Bridge" would be a great title for a spooky book or movie.
"Zeus seemed to lose track of the thing..."
"About twenty years ago my wife and our two children (twins, they were about one year old at the time) moved into a house that sat right on the edge of about 40 acres of heavily wooded land in Kentucky. We had a dog. He was a good dog and a great security system. We named him Zeus."
"This dog was a tank. He was a stray. A mutt of some kind, and I don't know what breeds he was made up of, but he was huge. My neighbor told me once that he saw Zeus get hit by a car on the nearby highway and Zeus just walked away like nothing happened. Not a scratch on him."
"Anyway, Zeus stayed outside most of the time and, while he wasn't much of a barker, on some nights he would occasionally bark at the local nocturnal wildlife in the nearby woods."
"One night however Zeus started barking incessantly probably around 11:00 PM. I tried to ignore it for a while, hoping he would stop, but he just would not stop barking. He had a very loud bark and I was afraid he would wake the kids, so I grabbed a flashlight and went outside to see what was going on."
"I found him out back at the edge of our small vegetable garden, barking at the woods. I could tell he was on edge and he barely acknowledged my presence when I stood beside him. He just kept barking. I pointed the beam of my flashlight at the tree line, expecting to see the eyes of a raccoon or a possum or maybe a rabid coyote (healthy coyotes usually stayed well away from the area), but there was nothing."
"Just trees and darkness. I gave old Zeus a good pat and a scratch and this seemed to soothe him for a moment, but as soon as I stopped petting him he immediately started barking at the trees again. I realized the only way to calm him down would be to take him into the woods so he could examine whatever it was that was freaking him out."
"I walked to the head of a nearby trail that cut into the woods and Zeus followed. He seemed happy to be going. He and I had walked that trail many times and he usually stayed right by my side. But on that night, we had only made it a hundred meters or so into the woods when Zeus bolted into the trees to the left side of the trail."
"I called for him, but he ignored me. I could hear him making his way quickly through the thick underbrush, moving away from me. I called for him until he had moved so far away that I couldn't hear him anymore. Sh*t, I thought. I'm going to have to go in after him."
"Bushwhacking in the middle of the night sounded like an awful idea, so I continued down the trail looking for a break in the underbrush where I could pick my way through in the dog's direction."
"A couple of minutes later I stopped walking when I heard something crashing through the woods, coming toward me. The sound seemed to be coming from the general area where I thought Zeus would have been, and it sounded like him, so I assumed he had finished his investigation and was coming back to me."
"The source of the sound grew closer and closer until it was near enough for me to predict where Zeus would reach the trail, which was a spot about 5 meters ahead of me. I focused my light there, but something else came out of the woods instead."
"It came out right where I thought it would and my flashlight afforded me a good look at it, but it's difficult for me to explain what it looked like. It was just a thing. If I had to describe its color, I suppose I would say it was gray, but that's not exactly right."
"I'd estimate it was a little less than a meter in length, but I could see no head, no legs, no tail, no appendages of any kind. Just a kind of amorphous, grayish, seemingly opaque thing. The thing moved across the trail in front of me from left to right, but it never touched the ground."
"It was just kind of gliding through the air at about waist height. Whatever it was disappeared into the woods on the right side of the trail and a moment later Zeus burst onto the path from my left and he followed it. I realized then that the crashing sound I had been hearing seconds before had been the dog and that the gray thing hadn't been making any sound at all as it moved."
"Zeus seemed to lose track of the thing soon after he crossed the path and he came back to me. Afterward, he and I went back home and we never spoke of the incident again."
Old_Crawdad
What a crazy experience! I think it will always be a mystery.
"Neat as a pin..."
"Fully decorated Xmas tree. Middle of summer. Neat as a pin it was, as if it had just been finished. Who ever did it came back at some point and cleaned it up, because it wasn't there next I did that trail a week or so later."
OldWomanintheWoods
This one's not that uncommon actually. Lots of folks will decorate a tree in remembrance of someone out in the woods. Sucks when they don't clean them up though.
"It's an interesting..."
"In Japan. A hotel was abandoned before it was ever finished being built. It only became a cement skeleton, about 5 stories high. It was left that way to eventually mold back into the forest around it."
It's an interesting small building to explore. There are halls that are unlevel to the point of hitting your head on the ceiling (think: Willy Wonka)."
"There are stairwells that lead to nothing and one that leads to an unintentional hole in a cement wall. And on the top floor (but "inside" - as in, under the "roof"), is an old car - all smashed up - with seemingly no reason or method to have been up there."
[deleted]
This reminds me of those old abandoned amusement parks that pretty much exist to destroy me mentally.
"I once walked..."
"I once walked through the undergrowth (i.e. off the trail) with my then-girlfriend when we came across this spot where a few empty plastic bags were lying on the ground (strange because the woods are otherwise super clean), a pair of gloves and, most confusingly, the official ID card (= passport) of a young woman."
Minister_of_Joy
I would freak out and call the cops. That sounds like a murder scene.
"Many plastic bags..."
"Many plastic bags with nothing really in them but random odd things tied to trees. Sure, it could have been a homeless person but us kids att (like 12+) of us lived in those small woods behind the church every single day. We never saw anyone like that, ever. Passing through I guess, but why so many bags...still wonder."
WiseOwlBear
Do we want to know what was in them? Probably not.
"When I was a teenager..."
"When I was a teenager, I worked at a fireworks stand that was run by my friend's family. It was in a rural area: they owned a few acres of land, had the fireworks tent at the front of the property and the house towards the back, but no lights in between. My friend's mother would prepare dinner for all the workers and we'd take turns going back to the house for dinner."
"One night, I was going to the house for dinner by myself. I felt something on my arm. I thought a bug might have landed on me, but it was really dark so I couldn't see anything. I stopped walking for a second. Then I started hearing this low, raspy breathing right next to me."
"There weren't any people around me and it didn't sound anything like a bug. It was like a slow, asthmatic wheeze."
"I started getting really freaked out. I reached my hand down to my arm and felt... something larger than I expected. I furiously rubbed my hands all across my body to try and dislodge whatever this thing was, then ran as fast as I could to the house. When I finally got to the safety of the house, I could see a small red mark on my arm, but that was it."
"To this day, it's probably the most freaked out I've ever been."
[deleted]
Chills reading this! Nooo thank you!
"Several very large holes..."
"Really big holes. Several very large holes, fairly close to each other, that seem to serve no purpose. Ten feet wide, deep enough that if you jumped in you'd have to have help getting out. Was someone preparing to bury a bunch of people? Was someone punishing their kid by making them dig holes? Did they hear there was buried treasure out there?"
"We've never figured it out."
theyarnilama
How far apart? How neat were the holes? In a plantation or natural wood? Accessible by a small excavator?
"I once saw a huge pile of cat and dog skulls and bones about 100m from my cabin so we sold the cabin as soon as we could. It was creepy."
[deleted]
This definitely sounds like the beginning of a horror film. Did the ghosts follow you? Please report back.
"There's a small patch..."
"There's a small patch of woods where I live. You could walk across it in less than an hour. It's entirely safe and has marked trails. People somehow manage to get lost in there and I can't explain that."
ThadisJones
Did they stumble across the bounds of time and space? That might explain it. But you might be underestimating how many people lack a sense of direction.
None of this makes you want to go out into the woods, huh? Yeah, we thought so. We'll pass the next time we get an offer to go camping somewhere.
Have some stories of your own? Feel free to tell us more in the comments below!
Want to "know" more?
Sign up for the Knowable newsletter here.
Never miss another big, odd, funny, or heartbreaking moment again.
Keep reading...
Show less
"that was a fairy."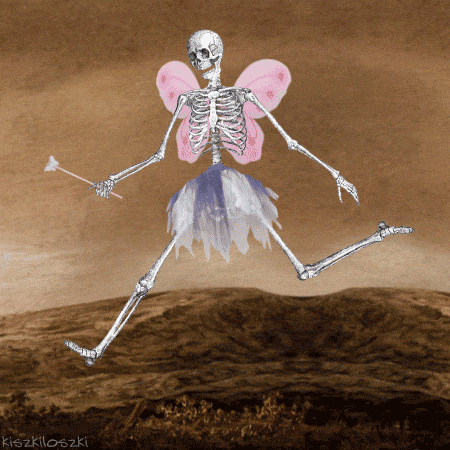 skeleton GIF by Kiszkiloszki
Giphy
Did not see anything, but every time I tell this story people say "that was a fairy." This is the one and only inexplicable moment of my life.
About 10 years ago I got home from school and threw my car keys on a leather ottoman in my man cave. Every day when I came home I would do this; throw keys on ottoman, turn around and go to the bathroom. When I returned from the bathroom, even though I saw my keys land on the ottoman, keys were gone. I was home alone. Maybe in the bathroom for 30-45 seconds. Looked all around the floor, no keys. Checked under the ottoman and couch, no keys. Lifted the ottoman OFF THE GROUND AND SHOOK IT OVER MY HEAD. No keys.
At this point I convinced myself I imagined throwing my keys and I had for some reason put them on the bathroom counter. No keys in the bathroom. Turn back around... AND THE FREAKING KEYS ARE SITTING RIGHT ON THE OTTOMAN. There's no way. Recalling this incident gives me chills and it is the only thing in my life that convinces me of the existence of the paranormal.
In the Attic
So when I was a kid I got a huge kick out of hiding in various spots around our house and then going out and scaring my mom or my sister whenever they would walk past.

The challenge was finding new spots that they wouldn't see coming, but that I knew they would be at. I wanted to get a good scare, but I didn't want to have to wait an eternity for someone to come by.
This only happened once and it still scares me when I think about it. I had picked a spot in our attic on this day. I knew my mom would be coming up there because she was going to get out props for a church play that we kept up there. So I set up behind a stack of boxes and waited.
About five or six minutes in I heard someone very faintly say, "hmmm", as if me being there was interesting and maybe unexpected. The sound came from almost directly behind me and I immediately froze.
Then I felt breath on the back of my neck. Now I was raised on a farm and the number one rule when encountering something that you assume you have no control over (coyotes, lynx, snakes, and the occasional irritable cow) is to not make any sudden movements. Then you slowly remove yourself from the situation and create distance without provoking whatever you are faced with.
So I sat there for about 20 seconds. Stock still, absolutely terrified. After that I slowly stood up and started to move away. I wasn't about to turn and look behind me. I got two steps and a hand clamped down on my right shoulder.
I screamed wrenched away and ran until I was out of the house. Once outside my mom and my sister came running to see why I was screaming. They had been outside with our dogs the whole time. My dad was at our other property almost ten miles away.
Sure I could've imagined it. It never happened again. Nobody believed me then. My mom and dad both made multiple trips to the attic to show me nothing was up there. I don't know what it was, but it was something.
Tall and Majestic
My daughter and I regularly and reliably saw a "hide behind" from my kitchen window.

This eventually lead to us learning the truth about this midwestern mythical creature.
What we saw was 7-8 feet tall, bipedal, spindly legs, gaunt with protruding rib cage, no horns or protruding ears.
It/they would lean out from behind a tree in the forest behind our house. If you moved about, it would pop back behind the tree.
We never saw more than one at a time, but their seemed to be more than one, as height varied.
We sometimes saw it multiple times a day, the behavior was always the same. It seemed wary of us, but if we stayed out of sight, it would lean out into view for a few seconds at a time.
When we sent the dog out, it would run off into the forest after it, but never chased it into view, so that told us nothing. I viewed it through a rifle scope, and got a good long Look at it silhouetted against the snow behind the trees, it was really creepy, like a Slenderman or something, I could determine height by going out and measuring the trees we saw it next to. I of course did not shoot it, since you should not shoot what you cannot identify, and the only large bipeds hereabouts are people, though nothing human is that tall, or narrow.
We knew the local legends, and this matched the description and behavior.
We dug out our trail camera, but solved the mystery before we got a chance to set it up.
Sorry to disappoint folks, but we solved the mystery, as I'm sure many have before us.
As winter sets in the deer like to stand on their hind legs to eat the tips of pine tree branches. They are totes scared of people, and will always do it behind trees. But every so often one that is sick, starving, had twins or gave birth too late in the season, will be desperate... The desperate ones will lean out to get the untouched branches in view of the house, but if they sense movement, they duck away.
A large deer with corvid wasting disease, standing on its hind legs is a bizarre, 8+ foot tall, skeletal looking thing, with a protruding ribs and sunken in gut.
Hippy Dippy Stuff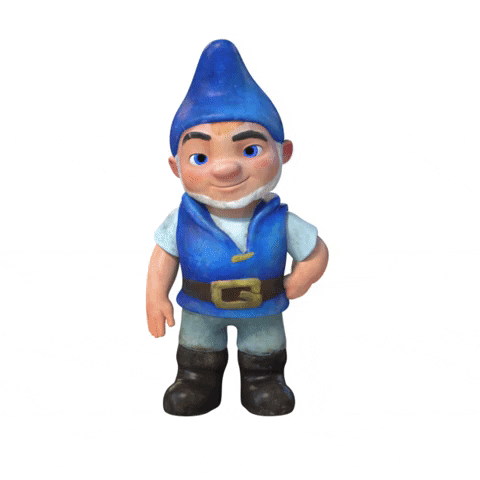 hello GIF by Sherlock Gnomes
Giphy
My boyfriend told me this story, and he's someone that normally wouldn't believe in this stuff or other 'hippy sh*t' but he says when he was a kid living in England.
He was in his room doing homework and this little creature walked into his room, like a gnome he described it, and they just stared at each other for a minute and he got up out of his chair to go up to it but it ran away and disappeared into a wall. He ran off and told his mum and she just laughed it off as you would, thought he was imagining it. But a few days later she was over her friends house having coffee and she told her friend the story for a bit of a laugh but then her friend turned to her and said 'Billy (her son) sees gnomes too!'
The Maine Sky
Do UFOs count? I'm not convinced it was a UFO, I'm one of those "there's probably a reasonable explanation" sorta guy when it comes to the paranormal, so I'm like 80% sure I was mistaken/my brain was just short circuiting. Anyway, I was walking down the street one night and it was clear skies. I live in Maine so the stars are out if it isn't cloudy: minimal light pollution. I look up at the sky and there is what looked like a star just chillin' (you know, like stars do).
This thing was stationary for about a second or two when I looked up. All of a sudden it just goes from being stationary to just taking off across the sky. It was fast, too. Just looked like a normal bright star that just decided to zip off somewhere else. I believe in extra terrestrial life. Not necessarily "little green men" type, but some sort of life form has to exist somewhere else. After all: we exist. Never got why some people think would it be unthinkable for some form of intelligent life to exist when we're intelligent, sentient life living here on earth.
As I said, I'm sure it was just a trick of the mind: perhaps it was a meteor or satellite that just appeared stationary when my eyes met it. Either way I was taken aback by it. That's the closest I've ever come to seeing something paranormal with my own eyes.
When at Dunde's...
My friend had Dunde's at her house. I saw just a glimpse once.

There were all sorts of weird experiences but it was like 10 years ago so I don't remember everything.
There were tiny bites taken out of fruit.
It once threw a ball at us down the stairs when no one was upstairs.
Stuff moved/tampered with in rooms no one had been in when we were all together in the house.
One time her son left the house (her dad was at home with him) and he said the Dunde told him to go to the park (a big part of the myth is them trying to lure children away, also not exact words).
I saw it once just for a split second it was an all black gnome.
I don't tell any IRL people about it because it sounds crazy but its got a lot of folklore and sightings in Hispanic culture.
Sara J's
I was eating at a restaurant called Sara J's in Garden City, SC. There's an outside patio that looks out over a little inlet. While I was eating I saw something that looked like a submarines periscope, but with an eye on the top come out of the water. I couldn't believe what I was seeing, and tried to get everyone to look, but being 12 no one took me seriously and when I looked back it was gone. To this day I have no idea what I saw, but I am 100% certain that I did not imagine it.
My Cousin's Joke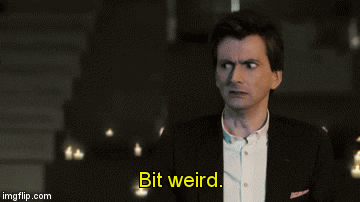 Reaction GIF by moodman
Giphy
I am sure I saw a ghost in my grandma's house when I was around 12.
I was helping my cousins clean out a room my grandparents were going to turn into a guest room and when my cousins left the room, I saw a man in the corner of the room. I don't remember being scared of him but when my cousins came back in and I asked who the man was they were confused. They probably just thought I was playing a joke on them but I was sure I saw the man. I never told my parents or my grandparents about it and I never saw the man again.
On the Ocean
While up in the San Juans in Washington state off of Orca Island I was drifting in a rowboat when a head and long slender neck rose up out of the water maybe 8-10 from the boat.
My initial reaction was 'is that an eel?' It had a face similar to a moray eel and a dark greenish skin but with red eyes. It rose several feet out of the water, paused and then opened and closed its mouth a few times like it was coming up for air.
The moment I shifted in the boat to try and get a better look at it, it was like it was suddenly aware I was there and slid back under the water.
I've spent a lot of time on the ocean and have never seen anything else remotely like it.
Once in Alberta...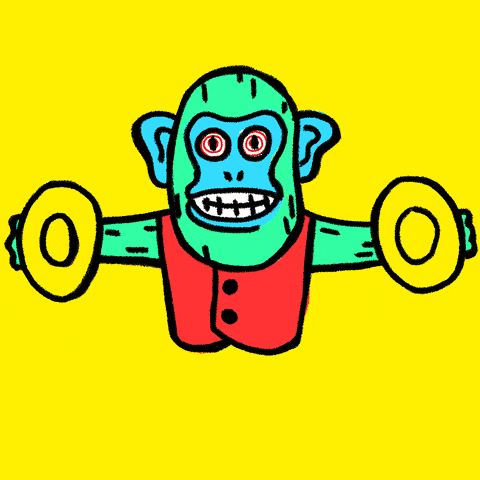 Party Kids GIF by Kochstrasse™
Giphy
I saw a small ape like thing on a branch, it walked towards me, then turned and walked away.
This was in the middle of Alberta. We stared at each other, and it sort of smiled at me.

This really happened. And I was there for legit scientific research purposes (not Big Foot) and you would generally trust me based on reputation.
I have told many people over the years and am not ashamed about the story. I have never figured out what kind of animal it was or if the thing escaped from a private owner. It did look thin with thinning hair.
Want to "know" more? Never miss another big, odd, funny, or heartbreaking moment again. Sign up for the Knowable newsletter here.

Keep reading...
Show less
Hiking totally rules.
You get to experience the unique quiet of vast expanses and jam-packed wooded zones. You hear strange bugs, smell all sorts of things, remember how to walk on uneven ground, and forget what rushing feels like.
Of course, there are levels of hiking.
There are day hikes, which allow us to steal away from civilization for just a few hours. These feel more like a break than a total departure.
There are weekend trips: longer excursions that make society go forgotten for full days.
And then there are the out and out adventures, where a person leaves for days and days, or goes somewhere so remote that it feels not only far from civilization, but perhaps untouched altogether.
In these bolder adventures, we feel truly in touch with the natural environment. But for all that excitement, we expose ourselves to the strange and terrifying realities of life out there in the dark.
prestonmelky21 asked, "Hikers/off-roaders, what is the scariest or weirdest encounter you've ever had?"
Profound Silence
"How f***ing eerie it is how plants and vegetation can absorb sounds."
"We were on this hike and me and three other dudes got separated from the main group. We were yelling at the main group of people from a couple yards away, like we could see them and their mouths moving, but we couldn't hear their voices."
"It was like the leaves ate up all the sound, real spooky. At some points and areas, there weren't even any birdsong."
-- 426763
Communications From Nowhere
"The words 'Per audacia ad ignotum' drawn in the snow in the absolute middle of nowhere, yet no footprints around them. The words were probably a few hours old."
"The closest translation we could find was 'through audacity towards the unknown.'"
Circling Each Other
"Scouting for elk on the Mogollon rim in Arizona. Since the hunt was a week away I couldn't carry a rifle (at least I thought it was illegal, still not sure)."
"My truck was parked in some brush and I returned to it after hiking around to look for sign. I found several very large cat tracks, presumably mountain lion. These tracks were much wider than my boot and I followed them around the truck out of curiosity."
"When I returned to the driver's side door, I realized one of my boot tracks from a minute ago had the cat's track on top of it."
"I jumped into the truck and slammed the door, and ended up laughing at myself because I'd locked it (as if the mountain lion was going to grab the handle and open it)."
"Spent quite a while looking out all the truck windows to see if it came up close again. Never saw the animal though. It was still creepy realizing it was just on the other side of the truck while I was walking around."
-- pullin2
Part of History
"Not me but my uncle. He was off-roading near Death Valley in the late '60s and came across some hippies living in some dilapidated buildings. He said they gave him some weird vibes so he turned around and left."
"He later found out that it was the Manson family."
-- froglover215
An Unexpected Guardian 
"I was hiking with my boyfriend in Northern Macedonia. We were camping one night in the middle of nowhere, next to a closed mountain cottage. In the afternoon, there were no people around, we started to set up our tent."
"This big shepherd dog came and started to hang around - he was not aggressive so we let him be."
"Around 10 pm, it was already dark, a pack of stray dogs appeared next to our tent. They were barking and growling and we were scared as f***."
"My boyfriend wanted to leave the tent and chase them away but I told him not to be stupidly heroic and to try to sleep."
"Well, sleep was complicated because we knew that there is only our tiny tent keeping the pack away from us."
"Suddenly, the big shepherd dog laid down next to the tent - literally 10 cms from my boyfriend. He started to bark and growl at the pack and I am quite sure that he was protecting us from them. The dogs left around midnight and we were able to get some sleep."
"Thank you big doggo for chasing the pack away! I also promised myself to always carry pepper spray with me while hiking. It was very scary."
The Ritual Site
"Went wheeling for some obsidian way out in eastern Oregon. Came across a burning campfire and about 20 skinned animals from rabbits to dogs and bobcats to cats."
"Sh** was weird. Must've just missed a cult. Got the hell out of there as quick as I could."
Horses in the Night 
"Camping once at a place called Gordon Country, it was my first time ever camping and it was freezing cold, -5ish Celsius..."
"...in the middle of the night my partner shakes me awake because she can hear breathing and something rubbing up against our tent, we were terrified the whole night."
"Turns out the owners of the property allow the horses to roam freely in the field, other than that it was a great trip!"
Some Very Alarming Yard Work 
"Shovel, 8 foot deep hole and a garbage bag a little over 100km into dense wilderness with the nearest trail about 15km away (outside of bunny trails)."
"Nothing in the bag, but holy f*** did that spook me."
"Like there wasn't even any dirt, the whole was shoveled, dirt removed and a bag with a shovel 3 feet away left?"
"Spooked me out and I don't go out in the area anymore. Quite a lot of old 1800-1900 coal mines and trapper cabins but it's all since been forgotten about."
A Specter in the Wheat
"I went on a scout camp when I was a kid where we camped at the bottom of a cliff. We went on a big hike that ended at the top of the cliff, which we abseiled down."

"While I was waiting my turn to abseil, I was watching the wheat fields that surrounded the hill."
"I noticed a man who appeared to be walking along on top of the wheat crop. Just sort of floating up there. My friend could see it too."
"We found our troop mates to show them, but by the time we did, the floating man was gone."
"To this day I don't know if we saw something supernatural, or just an optical illusion. Either way, it was very eerie."
Want to "know" more? Never miss another big, odd, funny, or heartbreaking moment again. Sign up for the Knowable newsletter here.
Keep reading...
Show less
If you're like me and have seen Evil Dead thirty times, you know that the woods is dangerous territory full of spiders, bears, and demon-possessed trees. So the woods are a big ol' f*ck no for me.
Then there are some people whose lives revolve around walking through the woods, whether as a park ranger, hunter, or anything in between. But that doesn't mean they haven't seen some scary stuff too.
One Redditor asked: Rangers, forest workers, hunters, and other woods-people of Reddit, what is your scary experience in the woods that you still can't explain?
Can't help you, bud.
I've shared this story before:
We have a camp that we visit during the hunting months and about every other weekend in between that. To get to our camp, you have to turn off of a major road onto a gravel road, drive about a mile, then turn onto another gravel road for about a half mile. It's set between a few other camps, plus some residents that live out there. It's quiet, for the most part. There are some coyotes and bobcats. Bobcats are the worst due to their terrible scream. It sounds like a woman crying for help. There has also been a black panther and wild dogs.
2013 we were at the camp for Thanksgiving. We hunted, fished, cooked, drank, all that good camp stuff. On night, we're sitting around a fire, swapping funny stories and just listening to the silence of the woods. As we're talking, we all hear, "Help me!". At first, we thought it was a bobcat. We listened some more and heard it again. It was a man's voice yelling "help me!" repeatedly.
Now, our first instinct was to grab our guns. Second was to go towards the voice, BUT you never know what you will encounter in the woods. It was dark and cold. The hunters knew the area very well. We called the police, and explained everything to the responding officers.
The weird part was that we NEVER once heard it while the officers were with us. Not once. The officers left and we heard the man again, repeating "help me". About half an hour later, the officers came back and we didn't hear any call for help. Again, silence. We all decided it was best to go inside our camp for the night. We never did find out anything. I've only been back to the camp once since then. Really freaked me out.
Creepy.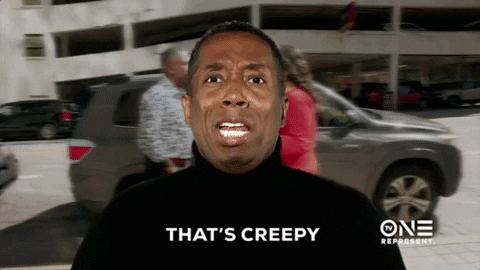 Giphy
Kinda creepy thing happened to me when I was a student forester this summer. So, the forest I was working in was about 20 kms from the nearest town which contained around 1200 people and we usually set out for what ever task we have to do in the forest at around 7:00am.
So we are at the forest at around 7:30am and we are about 12 kms up the road when we turn a corner very slowly and see what I initially thought to be a weird looking bush or statue but it was in fact a person, sitting on a carved out stump on the side of the road, just sitting there. What really threw me off was the fact that this person had a parka on and a balaclava underneath it IN THE MIDDLE OF SUMMER.
We drove by this person real slow and he lifted a hand to wave slowly as we drove past and it was just super creepy. Never saw them again after that but it did make going out on excursions a little more uneasy sometimes when alone.
No tiki houses allowed!
We always built a tiki house in our woods, (just some normal kids) and had loads of fun. But every week when we came back, it was destroyed and we were sad as hell, and always built a new one.
One day we saw a guy in a black hoodie taking our sticks apart. We never came back.
Heebie jeebies is an understatement.
I've lived on the high dessert for most of my life (6000' above sea level if you're wondering). I was out riding my horse alone in the absolute middle of BFE in the Badlands (no trees, and hardly any brush to speak of so sounds carry a long way and there is nowhere to hide for long) when all of a sudden his ears perk up. I feel my skin start to crawl like we're being watched. My normally mellow gelding, starts to panic. I start to feel really dizzy, and my horse stumbles. I black out.
I come to an hour or so later about 3 Miles away from the inciting incident still on my horse. He is frothing with sweat and shaking all over. I'm still not sure what happened. I had plenty of water and snacks. It was 65ish Degrees and breezy, so I don't believe weather or dehydration/hunger were a factor. I have never before or after had a fainting spell, and that was the most reliable, quiet horse I've ever owned.
I now have a serious case of the heebie jeebies again just thinking about it.
Finding a target.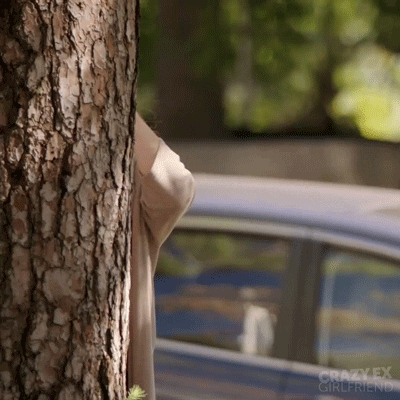 Giphy
My friends and I were high in the woods deep in the Sierra Nevadas in the California back country and decided to travel a few miles off a path to reach a river and shoot at targets with our 22. The path is littered with deer bones and claw marks from bears so we're freaking out a bit but finally make it to where we set up camp.
I notice off in the distance about a half mile upstream the river there are two men walking towards us in the exact direction we are firing our gun. I yell at the guys for them to stop shooting and we just watch these men, wide-eyed and in their late 20's and early 30's walking quickly alongside the river when suddenly they both decide to jump in.
I should say at this point that the river is moving very quickly and could easily sweep you under and is definitely not safe for a casual swim. We watch as both the men are swept away towards us downstream. One of my friends, we'll call him Mike, decides to be brave and get close to the edge and extend a piece of wood for them to grab as they're about to pass us. Both the men latch on and Mike is the hero pulling them to shore.
When everyone catches their breath we asked the men what they were doing out here as it's super remote and they were at least 3 or 4 miles from the nearest trail and why they both jumped in the deadly river they give us short answers like "Oh we were just having fun boys" and "Just free swimming the river!" while they're leering at us.
Immediately the hairs on the back of my neck stand up and every fiber in my body tells me they mean us harm. We tell them we're going to head back to the trail and they say they're coming with us. Given that we're so far off from civilization and these guys are clearly high on something and a danger to themselves we reluctantly agree to allow them to follow us.
It was the most quiet hike of my life. I felt them trying to feel out if they could take us in a fight. There were three of us and two of them and we had a 22 but were young squirrelly adults. I don't know how to explain it but the hike was us constantly positioning against each other with body language without ever directly fighting. They would get close to the gun and try to both be near it then we would counter by getting between them and the gun as naturally as possible while hiking up a path that was littered in bear claw marks and dung. We finally make it to the car and they decide we weren't suitable targets and moved on. No idea what two random guys were doing risking their life in a freezing cold raging river in the Sierra Nevadas, or why they felt the need to size up if they could attack three random teens but I'm glad nothing happened that day.
Tldr: Went hiking in the woods with friends as teens. Almost shot some random crazies. Crazies fall into river and we save them. Then crazies proceed to position themselves to fight us. Eventually get away.
Dodged a bullet.
Not anything like this myself, but a friend told me this story.
So he goes with a buddy to hike a trail near our town. Northern Washington state, so lots of woods and trees. When they get to the trailhead, there is one other car there, and he remembers seeing a person in that car. The person in the car was just staring at them, with what he described as a really white unchanging face. He kept staring right at them without trying to hide it or look away. My friend got creeped out, and decided to leave.
In the next week or two after that, a couple of hikers and a ranger turned up dead in that same area. Pretty sure they caught the guy, but I don't remember if his photo was posted.
Super creepy.
Trumpety sound.
I did a basics of survival course a while back.
While walking through forests in the middle of nowhere, I would often hear a loud trumpety sound. Kinda like a trumpet some days and a grinding sound on other days.
Not sure what it was, but it was super loud but there was nothing nearby that could make a sound like that
Those darn reinactors.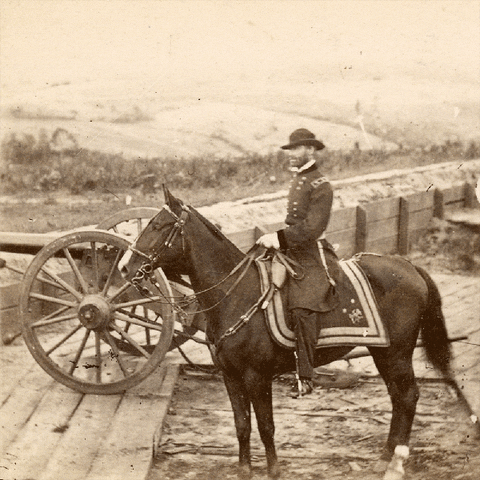 Giphy
About 20 years ago I had just finished my degree and was bummed because I couldn't find a job. A former roommate/good friend and I went on an overnight backpack trip near Burr Oak State Park in Southeast Ohio.
About 2 am we were awoken in our tent by the sound of dozens of horses being ridden all around us. We could hear muted conversation, harness jingling, hoofs clopping and we could feel it shaking the ground. We laid in our tent and the sound just kept on, like a whole convoy was passing right beside us.
After a few minutes we unzipped the tent and the sounds immediately ceased and nothing was there. It was freaky, we were afraid they were going to ride over us it was so intense. I have no idea who or what it was but we're camped on a trail that had been used by John Morgan Hunts Confederate raiders during the Civil War. Not a logical explanation but it was deafening there were so many horses. I can still hear men's voices murmuring as they rode by. Next morning not a single hoof print to be found.
That's terrifying!
I've spent a lot of time in fairly wild places and never had an incident that I couldn't explain.
Doesn't make them much less scary, though. When you figure out it's a cougar, bear, moose, or strange human, it's not like you exhale and relax.
Scariest moment for me, to date, was the grizzly that was circling our camp in the dusk at about 20 meters. Packed my family into the car as fast as we could move but it wouldn't have been fast enough if the bear had attacked. I really regret it - I feel that I failed as a parent, because it's only luck that nothing horrible happened. I don't think I'll ever forget seeing its green eyes bobbing and swaying in my headlamp. It briefly rushed our vehicle as we left, too. Scary as f*ck.
The closest I ever came to an inexplicable moment was when I was walking though trail-less black spruce up north in the fall and suddenly hit a wall of odor the likes of which I'd never smelled before. Stopped me in my tracks. Some instinct told me that it was a bull moose, and sure enough, in about 20 more meters, there was a clearing with a massive bull. It was rutting season so I got the hell out.
UFO sighting.
We lived on the Hopi/Navajo reservation growing up. My mom and I were feeding the horses very early in the morning before I went to school- it was still almost completely dark out- when we hear this low, dim humming noise. The horses start acting really nervous, ours included. Sweating, pacing, nostrils flared, eyes showing white- the works. We feed them and walk out from the barn/shack trying to figure out what's happened. We look up after scanning the horizon for anything (squinting as best as we could) and there is a black triangle like thing hovering right over us. It was almost completely silent. It was perfectly over us so you couldn't see it unless you looked straight up and it felt like it was so close I could touch it. It was pretty damn large too- like a long triangle. Smooth and black. Thinking back, it was actually quite impressive and beautiful.
My mom grabbed me and ran back into the shed. This was before cellphones were really a thing so she just clutched me and told me not to make a sound. We waited for what felt like ages but was probably only 2-3 more minutes. The horses weren't even eating, they just paced the shed inside back and forth. Finally the horses started settling down to eat and my mom went outside. It was gone.
We felt like we had the flu the rest of the day and I stayed home. We never told my dad. I think it was some sort of military aircraft since around the reservation there are quiet, secret military set ups but who knows.
Banana_Turtle_
Keep reading...
Show less
Hunting is an activity that comes with a certain amount of risk, and hunters know that. Just hiking in the woods can be risky, even if you do everything right.
When something out of the ordinary happens while you're out in the woods, it can be enough to scare the pants off even the most seasoned of hunters.
Speaking from personal experience, there are fewer things as freaky as the scream of a cougar in the middle of the night when you're sound asleep.
Keep reading...
Show less