Reddit user Fortuna_Pulling asked: 'Men who lives alone and then had a woman move in to your place, what are some examples of "a woman's touch" that she added?'
All of us have our own unique set of talents, and talents around the home are no exception.
But men have pointed out that after having a woman live with them, their home went from simply functional to welcoming and cozy.
Redditor Fortuna_Pulling asked:
"Men who [have lived] alone and then had a woman move into your place, what are some examples of 'a woman's touch' that she added?"
So Comforting.
"So many blankets everywhere."
- OxtailPhoenix
An Annoying Number of Pillows
"So many f**king throw pillows. I can't sit on the couch without moving some. And then where am I supposed to put them?
I'm okay with decorating, but not when it gets in the way of an object's function."
- Pac_Eddy
"I don't get it either, although I'm not nearly as girly as my sister."
"I went to visit them and there was a small mountain of throw pillows at the foot of the bed by the time I cleared them off, all to sleep in their guest bedroom."
- Lady_von_Stinkbeaver
The Garden Feature
"She made a raised flower bed in my backyard and planted a nice little vegetable garden."
- johnsonfromsconsin
"Yeah, my wife is the one who works with plants. I mow the lawn and occasionally rake the leaves when they fall. Also, I trim the two big bushes we have in the backyard once a year. Even that feels like too much yard work for me (but I'm too cheap to pay someone else to do it for me). She likes digging in the dirt. I don't, never did."
- ChronoLegion2
Surrounded By Loved Ones
"Apparently I am supposed to have pictures of my loved ones in my house. Who knew?"
- BillionaireGhost
Not Knowing What They Had
"My house is plain as f**k. My ex had it looking like a home. Decor/rugs/wall hangings, etc. It was 10 times better. She took it all when she left and I never got around to trying it out myself. I should, though. It really looked so much better."
- depressedf**kboi
Home Sweet Ship
"I worked on a ship when a female cook-steward started working there, before the crew were all male."
"Within a couple of days, the mess and galley were transformed. Tablecloths, curtains, coasters, it was really all new, the galley became a water-cooler kinda place where you always could go to have a chat and get a snack, the galley always smelled of cooking and she was listening to her radio."
"It was a real game changer from the former grumpy guy and sterile setting. Our skipper loved it."
- TheCapten
Out of Thin Air
"A friend of mine, who grew up with his dad and two brothers, told me they found out his dad had a girlfriend when suddenly a candle appeared in the living room out of nowhere."
- The_Sceptic_Lemur
Actual Furniture
"She replaced my cardboard box with an end table. Unnecessarily."
- shytster
"The NERVE!"
- NuttonButton
The Moment He Knew
"I came home once from work. She'd made an awesome dinner. Put cut-up strawberries in the salad."
"Strawberries, guys. It was game over."
"We've been married nine years now and she's still doing everything on a strawberries-in-the-salad level."
- Gr8BrownBuffalo
Improved Living
"Before my wife moved in (girlfriend at that time), I lived with a friend and our flat looked pretty bad, more like a university student flat than anything else. Zero decorations, old furniture from the landlord, horrible cream color walls, etc."
"Since we were always at work and barely home, it was not a problem for us. Living abroad, I always considered it a temporary place and didn't have much attachment to it, so I didn't want to spend time and money to improve the space."
"Once she moved in, we slowly started making it into a real home. We painted the walls, bought furniture, plants, hung some photos, bought a cat, etc. It made such a huge difference and improved our quality of life, to be honest."
- vgcamara
It's Called "A Variety"
"The million shampoo bottles and all the seasonings."
- ButtervonBaum
More Accessories
"Pictures, curtains, cushions. Little tables to put your drinks on. Coasters! So much stuff, bless her."
- stumpytoeskiing
"For some reason, a couple of different companies send me little magazines every once in a while, so I just use those as coasters. It's always fun to see what's on the cover of my new coasters."
- Freedom_7
Organized Like a #CleanTok Video
"My messy fridge turned into a very clean and organized 'refrigeratohrrr.'"
- badboogyman
The At-Home Bakery
"She always gets vanilla candles, and now this house always smells like a bakery, and GOD D**MIT, I LOVE IT."
- Big-Routine222
A Happy Home
"A warmth and happiness I didn't know I was missing and CERTAINLY didn't know how to cultivate."
"Art, glassware style unity, refrigerator organization, multiple sets of sheets… The list goes on. A million little touches that compile a happy home."
- CoolAndGroovy
Though there are a few jokes thrown in here, it's heartwarming to see how well-received a comfy and cozy home was for these men on the subReddit and how they're willing to contribute all of those feelings to their partner's hard work.
Reddit user enkiv2 asked: 'Women of Reddit, what's something specific that you wish men would stop doing?'
We all have things that we enjoy and things that we absolutely can't stand, and that's also totally true of the things that people do around us or do to us.
And women have something to say about men's behavior, how they treat women, and what women would like them to stop doing, effective immediately.
Redditor enkiv2 asked:
"Women of Reddit, what's something specific that you wish men would stop doing?"
Clean Hands Required
"Stop trying to touch me (in any way) with dirty hands. Go clean your talons first."
- isthishowweadult
Know When to Stop Flirting
"If a woman tells you she's a lesbian when you're flirting, it means one of two things:"
"1: She is a lesbian."
"2: She is pretending to be a lesbian so you'll stop flirting with her."
"Either way, you should stop flirting with her."
- BW_Bird
No Unsolicited Pics
"Please stop sending d**k pics to random women online. It's just straight-up creepy and gross. If a woman wants to see your d**k, she'll ask for a picture."
- F**K_INDUSTRIAL
Take Rejection Gracefully
"Stop harming or threatening harm to women who reject them."
- prezzyofthedgc
End All Body-Shaming
"Stop being mean to girls they find unattractive."
- webbrlx
The Alpha Male
"Stop calling yourself an 'alpha' or 'sigma' male."
"You aren't necessarily hurting anyone by doing it, but no one takes you seriously when you talk like that."
"I think people who call themselves Sigma consider themselves 'lone wolf' types. In my opinion, I think they're trying to come across as one step less douchey by not believing they exist to boss people around, but it is clearly ineffective."
- aliteralbagof_d**ks
Step Aside
"When you need to get past me, please don't put your hands on my waist/hips/lower back to move me aside. I don't know you. Stop touching me."
- teddybearer79
Don't Make Me Laugh
"Just because a woman is not smiling, it is not your job to change that."
- Idol_Luna
Just No
"No is a complete sentence."
"Sorry, I was bored at work, so this was a bit short. What I meant is, if you are in a relationship with a guy, no would be a short, perhaps cold answer, but I don't think that's what OP meant."
"I meant it as, if a guy bothers you for any reason, like he wants your phone number or any socials you don't want to give him, you don't need to provide a reason, because a simple no should be enough. Unfortunately, a lot of men (yes I know, not all) won't take just a no for an answer and must know the reason, because whatever."
"So, to answer the original question: I wish some guys would just accept a simple no and would stop asking again and again and again for something that has already been answered with a no."
- H**lKaiserFox
Not "Like a Girl"
"Thinking that being a woman is a reason for her mistakes."
"I was one of the only three girls in an engineering course (of 60 people). And if I did a mistake in class, it was because I was a girl. But if my male coursemate made a mistake, it is only because humans are not perfect, and next time he will do better."
- Hezal05
Commitment and Loyalty
"Stop acting like they're single while having a girlfriend."
- Sea-Dark-4953
Weaponized Incompetence
"Stop practicing weaponized incompetence."
- Kaitzilla
"What does that mean? I'd look it up, but women are just naturally better at researching things."
- orchidofthefuture
Show Some Manners
"Stop spitting on the floor in public. Why do they do it?"
- fruitmachine_future
Better to Be Safe than Sorry
"Stop dismissing our safety concerns and trying to gaslight us out of taking basic precautions."
- Raaqu
Not Everyone Is Compatible
"If a woman says she doesn't want children, don't respond by saying she doesn't know better."
"I don't know where you guys get off of telling a grown woman that she doesn't know what she wants, but it needs to stop. If she doesn't want children, respect her decision, and date someone else."
- sunny_rain316
We've surely all done something that bothered someone else in the room, whether that person told us or not. But there are certain behaviors that men practice so frequently that women have a response ready, just for this occasion.
While men surely have their annoyances regarding women, they surely could learn something from this list just the same.
Whether it's in family, friendships, or dating, we've all felt misunderstood at some point. But it seems especially common to feel misunderstood by the opposite sex.
Here are some key points that people wished those of the opposite sex would just understand already.
Redditor idontplayhockey asked:
"What is something you wish the opposite sex understood better?"
Compliments Go a Long Way
"A good chunk of the men who need reassurance are most likely not getting enough compliments in the relationship."
"This isn't always the case, but I always felt insane dating certain people, and then with the right person who complimented me, is genuinely attracted to me and initiated things, and who ACTUALLY loves me (I now think others weren't that attracted to me, even ex-fiance), and I have never felt more confident, and safe in a relationship."
"Looking back, my intuition was correct with the other people I dated, and that's why I never felt secure."
- TinyDrug
Food Secrets
"If you wanted fries, you should have asked for fries."
- podrick_pleasure
For the Love of LEGO
"I don't drink, smoke, gamble, do drugs, go to strip clubs, or play video games... My vice is LEGO (yes, I'm a f**king dork) and my wife just can't stop complaining about the LEGO."
- lazyFer
The Dating Game
"Wish both sexes better understood biased selections. F**kboys, f**kgirls, arrogant egotistical people, and deplorable tw*ts will be overrepresented in the pool of people you encounter in a dating setting."
"Normal people form relationships, get tired of all the bulls**t, and 'age out' of the dating pool, all of which makes them underrepresented."
- 5e884898da
Stay the Same
"When I say, 'Just like that,' I don't mean speed up to 100 miles per hour."
- Unlikely_Anywhere464
Not Perfect
"For both sexes, we are flawed people and we are not perfect. Stop expecting everything to be perfect 100% of the time. I'm far from perfect, but I strive to make myself better. I'm married guy."
- ThrowAway97283917
Okay with the Friend Zone
"This might be specific to me, but... If I ask you out, and you say no, that's it. Like there's no lingering weirdness or anything. If you're not interested in me romantically, that's fine."
"I'm perfectly cool just being friends. I won't be awkward or anything about it, won't bring it up, won't bring it up to mutual friends, it was just a question."
"The friend zone isn't a bad thing all the time. Sometimes it's where the best friends come from."
- bstyledevi
Feeling Clueless
"I genuinely have no clue about 99% of the mind games taking place around me."
- SolitaryDumpster
Be Direct
"It's not as romantic, but plainly saying, 'I want the D' would fix so many issues in the communication department."
"Don't come to my place claiming to be interested in my hobbies but really after the D, because I will museum guide you through all that s**t that is my past time, and the idea of unzipping will scarcely occur to me."
- ZenEvadoni
Individualized Emotions
"Just because you keep telling me it's okay to have emotions doesn't mean I'm going to burst into tears. I have emotions, they're just quiet and don't bother people."
"I'm not emotionally distant or unfeeling. I'm just not going to burst into tears because the dog died in 'Marley and Me.' I'll cry when my dog dies in 'My Dog and Me.'"
- DanteWolfe0125
Menstruation Woes
"How bad period pain can get for some women."
"Have you ever been WOKEN UP from pain at 3 AM that didn't go away for at least a couple of hours so you just stayed awake because going back to sleep was definitely not happening?"
"Painkillers only work for me if I catch it BEFORE it gets bad."
- BluWaff_x
Boundaries, Please
"Just because you think I'm pretty, doesn't mean I need you to send me a photo of your junk. Come on now."
- Reddit
Connect First
"As a guy, I don't always want to have sex. Wanting to get in your pants isn't an indicator of liking you or not. Sometimes I just want to laugh and see how I enjoy being around you because most people turn out disappointing."
- Vapes-DB
Happy to Help
"We're honestly happy to help you lift stuff and carry stuff and put things away on high shelves. We like being big and strong. But please don't take it for granted. Show your appreciation."
- Fuzzpot
No Means No
"'No' doesn't mean 'convince me.'"
- prosecutie05579
Some of these examples were heartening, as they apply to both genders, but others, like no meaning no, are disappointing, as it feels like it's a concept all people should understand by now.
There is so much to learn about one another.

But we never ask.
It's all too embarrassing for most.
It's why most teens tune out Health class.
RedditorTWDTourist69 wanted all the ladies to fess up with their burning questions.
"Women of Reddit, what question about men do you wish to be answered?"
I've always wondered what the ladies want to know.
Stay Standing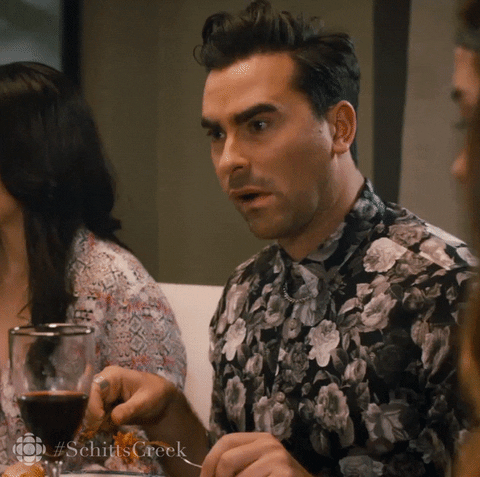 Schitts Creek Pain GIF by CBC
Giphy
"How often do you guys accidentally sit on your testicles? I can't help but think it'd be happening to me all the time if I had them."
sophia1185
"Depending on the size of your testicles/thighs, but I personally never sit on them. I guess they're just not loose enough to get underneath my legs, which I'm very glad about."
Poekemoes

Anatomy
"How do you pee if you have an erection? Or is that not an option? Is it painful?"
GuavaMelon
"It's h*rd (pun not intended)! Depends how erect the penis is. Full mast = almost impossible, without rotating 90 degrees. Bound to make a mess. Flow is very low and it'll take forever to finish. Half-Mast: Doable, not as comfortable as normal, but generally fine."
Powercutters
Sit Here
"Do you guys actually like when a girl sits on your lap?"
OkCheesecake2811
"Easy yes as long as she is light enough to not cause legs to cramp. If not, still yes but she needs to be aware that we will NEVER say anything and instead suffer in silence but she should either shift around a bit to allow us to adjust or just do a quick tease then change positions."
Dakkon_B
Hold Me
"How normal is it for you to hug your best friends?"
a_living_being_
"If we haven't seen each other for a while, sure. most of the time it's more like a pat on the back coupled with a handshake, if that counts."
astroduck-maurice
"Bro hug. Time of embrace is dependent on three (3) factors..."
"a) Strength of bond (Super Bro / Bro)..."
"b) Length of time between seeing each other..."
"c) Comfortability of other friend to accept said warm embrace..."
"If it's been a few weeks since I've seen my super secure super bro he's getting a solid 3 seconds."
popalock85
Hold Me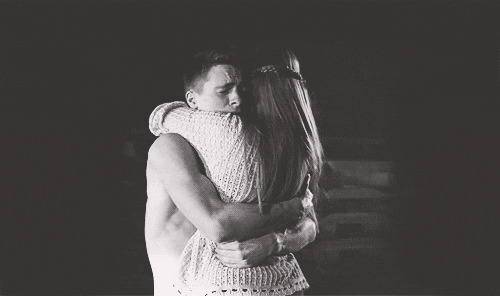 love sexy GIF
Giphy
"Do you think about our boobs while hugging us?"
Separate-Piano-3033
"Not all the time, if we're interested in you then yes."
lilredx
Can we just hold one another? Make it easy.
Fried
"Do men actually like thighs?"
kikuu12
"There is entire TV series and books devoted SOLELY to thighs. Heck there is a RELIGION devoted to thighs. Yes, Yes we do."
Dakkon_B
Wet Parts
"Do your family jewels ever sweat like our boobs do?"
gay_idiot53
Absolutely. In fact, that is mostly the reason you will see us 'adjust' so much or spread our legs. That crap will glue themselves to your thigh and nothing short of manual adjustment will remove them."
Dakkon_B
"God yes. Testicle hygiene is extremely important. Don't put up with a guy who doesn't regularly wash them."
noughtagroos
Control
"Do you find the narrative of men not being able to control themselves when it comes to sex annoying and/or offensive?"
coolname-
"You can definitely control it, don't let any man say otherwise. It's disappointing rather than annoying or offensive because bad men have used it as an excuse so much that there are people who believe it."
AwesomeWaiter
"Hate it when I'm movies there is this scene where she kisses him and he accepts, but has a partner and says he's a man he couldn't control himself. Totally bs yes you're horny but that's only a slight inconvenience."
DescriptionMain3214
Take This
"I often want to get my hubby a 'small appreciation something' that would be the equivalent to flowers, chocolate, etc for us. What is a similar-intended gift that would make you smile?"
NotoriousM0N
"Initiate some token of affection. Women vastly underestimate the impact of something as simple as a hand on the back, or a 10 second shoulder massage. We don't need things - We can buy our own sh*t. We can't buy genuine affection, appreciation, or the feeling of being needed or depended on."
Necro138
The Great Divide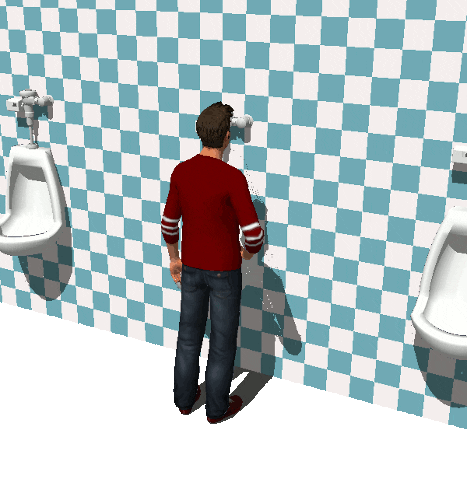 Art Peeing GIF by badblueprints
Giphy
"When using a urinal - do you want a small divider panel or is it pointless?"
"Men I've polled give mixed responses."
"Signed - Female architect."
MzFrazzle
"Men who don't care about a divider, won't care that is there. Men who prefer to have it, would curse at the architect or the builder for cheapening out on a sad sheet of metal that does a lot of peace of mind."
bad_mech
Stamina
"Why is it that sometimes you can go for one round, but then other times you can go four rounds back to back?"
ikarleighh
"Sex drive and stamina, can vary day to day.:
lilredx

"Like everything in life, why can you eat alot and sometimes barely finish your plate, why can you go intense in the gym and sometimes barely be able to finish your reps, etc."
speckhuggarn
Self Care
"What do you guys do for self care. Like if you just need some time to yourself, or if you treat yourself to something special."
pamela9792
"Not enough, it's the reason male mental health is in such crisis."
"We do have hobbies like gaming/sports/projects but I find those more to be escapism than actual self care to address our feelings/needs and reflect on them."
davetherooster
Rosetta Stone

"I just want to understand what that secret, unspoken language you all have with each other is."
"It sometimes seems to me that just a single look or a nod at a guy you've never said a word to, is years of conversations?"
ally-sha
"The up nod is for the homies, the down nod is for fellow men. Eyes go wide and stare straight at you means 'wtf is happening?' but eyes go wide then dart in a different direction means "'ollow my eye point to see a grade-A booty'".
tgrote555
Temp Control
"How are you never cold?? My guy friends/male relatives are always lounging around with their shirts off. I'd be freezing my a** off if I did that."
Geodudette2014
"(Some scientific explanation from the web) Partly this is because, for a given bodyweight, women tend to have less muscle tissue to generate heat."
"But the hormone oestrogen also has a big impact because it has the side effect of thickening the blood slightly. This reduces blood flow to the tiny capillaries supplying the extremities."
"A 1998 study at the University of Utah found that this can mean women have hands, feet and ears that are 3°C colder than a man's."
"(Personal experience) Often we just don't care about being cold or we act like we're not freezing to portray ourselves as 'strong' or 'manly.'"
Noschu1302
Token of affection

"Do you feel emasculated when a woman performs a typically male-assigned gender role? (ie. buys you flowers, opens the door for you, proposes to you)"
still_on_a_whisper
"Dude, if my SO would buy me flowers, I would be over the moon. That's deeply romantic to me."
Ok-Lobster-Username
"My partner makes more than I do and supports us financially. While I still have a 9-5, I do almost all of the child raising stuff such as cooking meals, bedtime, etc. The roles are reversed in our case. I love it. I absolutely adore having a strong, powerful woman in my life. But it takes a secure and confident man to be able to do that. You gotta fully let go of societal expectations."
Reddit
First Move
"Is it actually attractive for a woman to make the first move? I've been called weird or trying too hard because I try to initiate a conversation."
Suspicious_Opinions
"It's usually really awkward for a guy to think of how to start a conversation with a girl. If you like a guy and he's been wondering if you like him, then yeah it's a pretty attractive trait that most guys like."
adsxz6_has_adhd
Men are weird. What did you learn ladies?
Any questions you'd like to add to the list? Let us know in the comments below.
Oh gentlemen, why are you so extra? When did just saying hello and you're pretty become too boring to make an impression? Guys, you need to calm down. Not all attention is good attention. You don't want to sour the possibility of love by freaking somebody out.
There is such a thing as class and decorum and they go along way, especially in this day and age.
I feel like we need a class in high school that focuses on how to communicate feelings. In particular, feelings of a more amorous nature.
Redditoru/doubleu01wanted all the ladies to speak up and let the gents know what not to do, by asking:
Girls of reddit, what's the cringiest thing that a guy has done to get to you?
First things first... watch "Fatal Attraction." And do everything the opposite of Glenn Close; then grow from there. Learn the difference between flirting and crazy.
Ok Crazy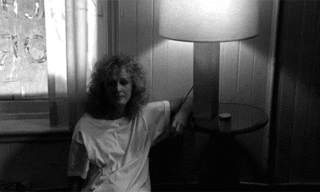 wo glenn close GIF
Giphy
"Broke into my building."
"Ayo hold up that's creepy don't you thing what If he was some obsessive lover and tried to kill you if you rejected him."
Dear Mama...
"Texted my mom saying I broke his heart."
- 221034kb
"Some guy did that to my mom too! Told her he had traveled across the country to forget about me and just needed her advice to help him get over it. He had been talking about going on that trip for way longer than that so that was almost certainty an exaggeration. Also I'd been dating someone else for over a year at that point. I'm sure it sounded very romantic in his head."
"Amazon Woman"
"I met a guy through Tinder, he lived about an hour from me, he got upset with me and blocked me on Snapchat after I had told him I found someone I was interested in dating who lived closer. Fast forward about a year or so later and I get a text from a number I didn't recognize. Turns out it's this guy again (we had exchanged numbers previously), the guy I was dating didn't work out so I decided to chat with this guy a little more. He joked about visiting me a bit but I never gave him my address."
"Fast forward a couple months of chatting and I'm off work to study for an exam and I get a knock on my door. And what do you know, this dude FOUND MY APARTMENT in a city he was not from AND he brought his lizard, not in a cage or with a leash or anything. Just hidden in his shirt when he walked into my apartment."
"We just sorta awkwardly talked for a couple hours, when he left he texted me and told me how pretty he thought I was and called me an "Amazon Woman" cause I'm so tall. I responded with "I didn't like that you randomly showed up at my apartment without asking" and then he got upset, said some more ridiculous things and I blocked his number."
- ZaymeJ
basic knowledge...
"Some guys lack basic knowledge. Walking home from the bus stop one night - about a 2km walk to my place. As I'm walking along, I see there's a guy slowly walking slight quite a ways behind me - maybe about 600m. Suddenly he starts sprinting toward me, I think it's to catch another bus or something, but no, it's just private cars on this road."
"I try speeding up but I'm tired and frankly unsure of what's happening. By the time he catches up to me, he's like 'sorry, I didn't mean to scare you.. I say, "you really need to be careful about interacting with women in the street at such an odd hour of the night."
"He says something like, 'I know, I just wanted to talk to you.' He didn't give off too much of a threatening vibe so I kept walking and he made conversation. Thank God his house was before mine, so he couldn't figure out where I lived. Took my number, texted me immediately to see if I received his number, and then thankfully I didn't have to see him again."
People Share Which Social Norms Absolutely Baffle Them | George Takei's Oh Myyy
Scared
"Carving my name into his leg and we didn't even date or anything of the sort."
Boys, boys, boys, it's like you've never met another living human. I mean, my words are gone. I don't want to know more, but I must. So let's...
Fists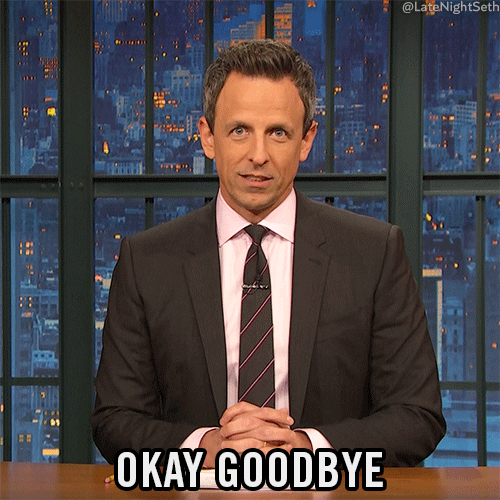 Seth Meyers Lol GIF by Late Night with Seth Meyers
Giphy
"Well he offered to beat the crap out of my ex on our first ever meet. There wasn't a second meeting."
- Pohtate
the good guy
"Endlessly trying to convince me (oh, so romantic) why he was «a good guy», he wasn't.The thing is it became a huge red flag. See, I was the dumb one for not recognizing a good guy when he stood in front of me. I was to blame that he was so intense and so into me. It was my doing. His words. Oh, and then I was a c**t for not wanting to be with him. Red flags, from here to eternity. Yeah, a good guy. Sure."
Where to Begin?
"So many stories to choose from ha. A guy I thought I was friends with confronted me that he wants to be more, even though right at the start of our friendship I made it clear I had zero interest in him. Quite frankly I found him really unattractive. He proceeded to guilt me saying I'm shallow, disappointing blahblahblah."
US
"Said that God has a plan and that plan involves 'us'. They refused to take no for an answer and they always kept touching me even when I told them to stop, as I hate being touched due to Autism. They kept asking around for stuff about me, and said his prayers would be "rewarded."
"Couldn't seem to comprehend that I wasn't interested or that I didn't care for things that "all women love." Kept telling me how to dress and act too, saying things like "It's not what God intended. Fun fact: I'm Atheist. You can imagine they weren't too fond of that idea..."
You Don't Own Me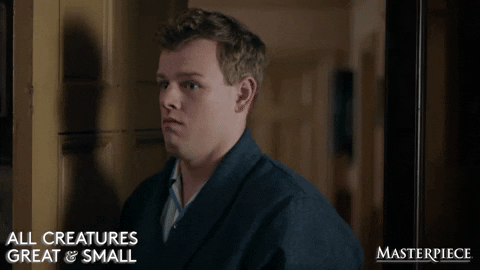 Good Bye Reaction GIF by MASTERPIECE | PBS
Giphy
"Tried to scare off or even fight any other guy that was interested in me, even though we weren't dating."
Ok, ladies, I'm sorry. That's all I got. Men, what in the name of God?! Please pay attention to this thread. It will help us all.
Want to "know" more? Never miss another big, odd, funny, or heartbreaking moment again. Sign up for the Knowable newsletter here.