Oh gentlemen, why are you so extra? When did just saying hello and you're pretty become too boring to make an impression? Guys, you need to calm down. Not all attention is good attention. You don't want to sour the possibility of love by freaking somebody out.
There is such a thing as class and decorum and they go along way, especially in this day and age.
I feel like we need a class in high school that focuses on how to communicate feelings. In particular, feelings of a more amorous nature.
Redditor u/doubleu01 wanted all the ladies to speak up and let the gents know what not to do, by asking:
Girls of reddit, what's the cringiest thing that a guy has done to get to you?
First things first... watch "Fatal Attraction." And do everything the opposite of Glenn Close; then grow from there. Learn the difference between flirting and crazy.
Ok Crazy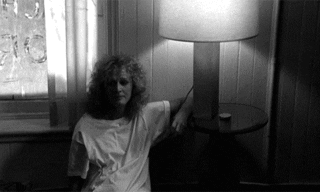 wo glenn close GIF
Giphy
"Broke into my building."
"Ayo hold up that's creepy don't you thing what If he was some obsessive lover and tried to kill you if you rejected him."
Dear Mama...
"Texted my mom saying I broke his heart."
- 221034kb
"Some guy did that to my mom too! Told her he had traveled across the country to forget about me and just needed her advice to help him get over it. He had been talking about going on that trip for way longer than that so that was almost certainty an exaggeration. Also I'd been dating someone else for over a year at that point. I'm sure it sounded very romantic in his head."
"Amazon Woman"
"I met a guy through Tinder, he lived about an hour from me, he got upset with me and blocked me on Snapchat after I had told him I found someone I was interested in dating who lived closer. Fast forward about a year or so later and I get a text from a number I didn't recognize. Turns out it's this guy again (we had exchanged numbers previously), the guy I was dating didn't work out so I decided to chat with this guy a little more. He joked about visiting me a bit but I never gave him my address."
"Fast forward a couple months of chatting and I'm off work to study for an exam and I get a knock on my door. And what do you know, this dude FOUND MY APARTMENT in a city he was not from AND he brought his lizard, not in a cage or with a leash or anything. Just hidden in his shirt when he walked into my apartment."
"We just sorta awkwardly talked for a couple hours, when he left he texted me and told me how pretty he thought I was and called me an "Amazon Woman" cause I'm so tall. I responded with "I didn't like that you randomly showed up at my apartment without asking" and then he got upset, said some more ridiculous things and I blocked his number."
- ZaymeJ
basic knowledge...
"Some guys lack basic knowledge. Walking home from the bus stop one night - about a 2km walk to my place. As I'm walking along, I see there's a guy slowly walking slight quite a ways behind me - maybe about 600m. Suddenly he starts sprinting toward me, I think it's to catch another bus or something, but no, it's just private cars on this road."
"I try speeding up but I'm tired and frankly unsure of what's happening. By the time he catches up to me, he's like 'sorry, I didn't mean to scare you.. I say, "you really need to be careful about interacting with women in the street at such an odd hour of the night."
"He says something like, 'I know, I just wanted to talk to you.' He didn't give off too much of a threatening vibe so I kept walking and he made conversation. Thank God his house was before mine, so he couldn't figure out where I lived. Took my number, texted me immediately to see if I received his number, and then thankfully I didn't have to see him again."
People Share Which Social Norms Absolutely Baffle Them | George Takei's Oh Myyy
Scared
"Carving my name into his leg and we didn't even date or anything of the sort."
Boys, boys, boys, it's like you've never met another living human. I mean, my words are gone. I don't want to know more, but I must. So let's...
Fists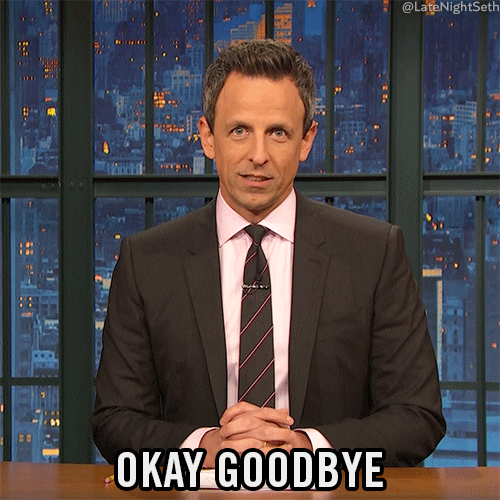 Seth Meyers Lol GIF by Late Night with Seth Meyers
Giphy
"Well he offered to beat the crap out of my ex on our first ever meet. There wasn't a second meeting."
- Pohtate
the good guy
"Endlessly trying to convince me (oh, so romantic) why he was «a good guy», he wasn't.The thing is it became a huge red flag. See, I was the dumb one for not recognizing a good guy when he stood in front of me. I was to blame that he was so intense and so into me. It was my doing. His words. Oh, and then I was a c**t for not wanting to be with him. Red flags, from here to eternity. Yeah, a good guy. Sure."
Where to Begin?
"So many stories to choose from ha. A guy I thought I was friends with confronted me that he wants to be more, even though right at the start of our friendship I made it clear I had zero interest in him. Quite frankly I found him really unattractive. He proceeded to guilt me saying I'm shallow, disappointing blahblahblah."
US
"Said that God has a plan and that plan involves 'us'. They refused to take no for an answer and they always kept touching me even when I told them to stop, as I hate being touched due to Autism. They kept asking around for stuff about me, and said his prayers would be "rewarded."
"Couldn't seem to comprehend that I wasn't interested or that I didn't care for things that "all women love." Kept telling me how to dress and act too, saying things like "It's not what God intended. Fun fact: I'm Atheist. You can imagine they weren't too fond of that idea..."
You Don't Own Me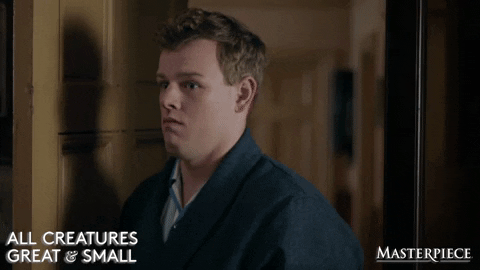 Good Bye Reaction GIF by MASTERPIECE | PBS
Giphy
"Tried to scare off or even fight any other guy that was interested in me, even though we weren't dating."
Ok, ladies, I'm sorry. That's all I got. Men, what in the name of God?! Please pay attention to this thread. It will help us all.
Want to "know" more? Never miss another big, odd, funny, or heartbreaking moment again. Sign up for the Knowable newsletter here.
Keep reading...
Show less
Oh boy.... you boys are a handful.
In this day and age looking for love or the perfect man can be an exhausting process that feels like a fate worse then death. Everyone is so focused on the usual checklist. Looks. Charm. Job. Money. Sensitive.... and the rest of the same ole. But really the key to some hearts, probably most, can be the unexpected know how that reaches outside the box. Being a good kisser is great (a must actually) but can you groom the dog? Can you dance a jig? Maybe its time to learn. Make fudge naked? Shall we discuss?
Redditor u/oohara wanted all the boys to gather round with a pen and pad and listen up for some important tips... it was asked.... Women of reddit, what are some (unexpected) skills that make men attractive for you?
Want to "know" more? Never miss another big, odd, funny, or heartbreaking moment again. Sign up for the Knowable newsletter here.

Keep reading...
Show less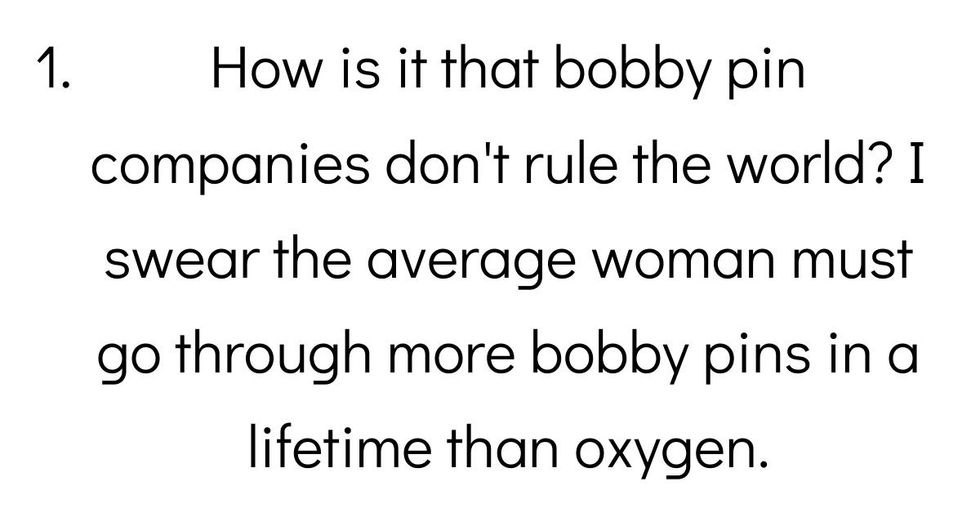 These men are deeply confused about women. But strangely, they only feel lost in the most trivial, minute areas.
Keep reading...
Show less