So we all in the USA joke about Australia and how scary its wildlife is, but the only reason we can joke is because we don't have to live it.
Australians themselves, however, are not so lucky.
Keep reading...
Show less
A wildlife hospital thought they had found a rare bird- only to find out that they were indeed mistaken.
Tiggywinkles Wildlife Hospital recently received a very unique visitor.
A seagull came through their doors on July 1st, sporting a bright orange hue.
The hospital had never seen a bird like this before, and were very surprised by his coloring.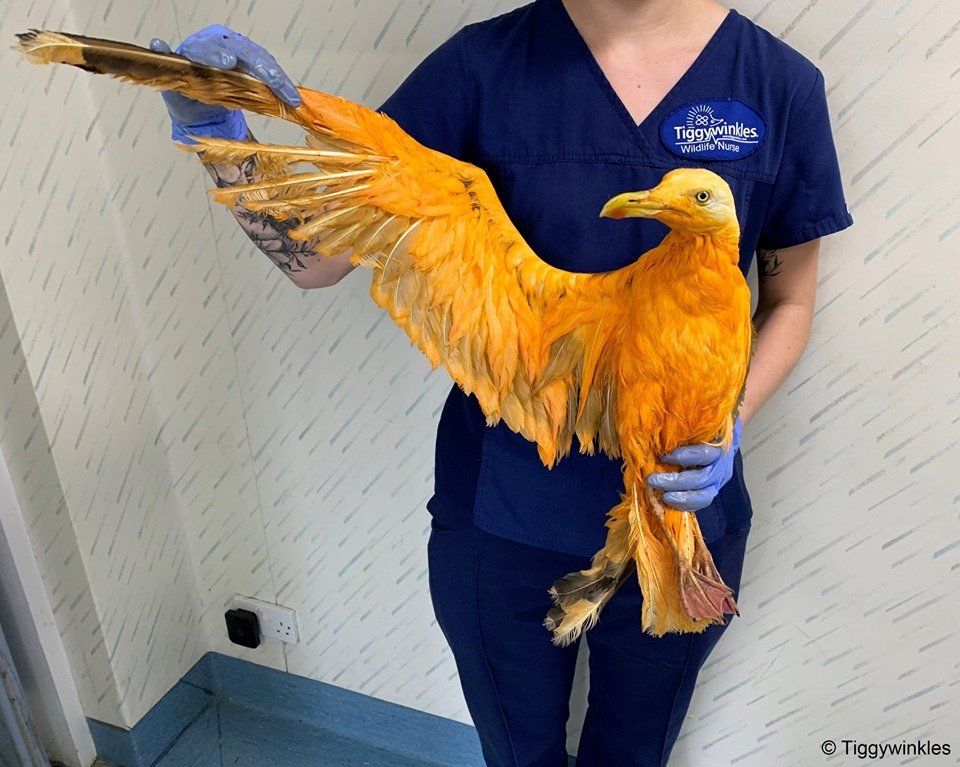 VinnyTiggywinkles Wildlife Hospital/Facebook
The bird was rescued off the highway and was brought to the UK wildlife home, known as Tiggywinkles Wildlife Hospital. The hospital, recognized as "the first and world's busiest wildlife teaching hospital" according to their Facebook page, sees over 10,000 British wildlife casualties every year.
However, they had never seen a case like this.
Turns out, the seagull's color wasn't a result of strange genetics at all. Their Facebook post, which has received almost 700 shares, recounts the discovery they made as they were bathing the bird.
"He had somehow gotten himself covered in curry or turmeric! It was all over his feathers, preventing him from flying properly. We have no idea how he got into this predicament but thankfully, apart from the vibrant colour and pungent smell, he was healthy."
The bird did let them wash the curry off, but not without covering the team in curry water.
Here's the hospital's original post.
Once the bird's feathers were cleansed, they saw that he was just a regular seagull; one that had evidently gotten himself in a very uncommon predicament. He was affectionately named Vinny, after Vindaloo curry.
"He is now looking much better and should be able to go for release very soon," reads the viral Facebook post.
"As we say, we never know what will come through our doors next!"
Vinny is doing much better, and is due to be released in the coming days.
Let's hope he doesn't find himself back in the hospital covered in any sort of food again.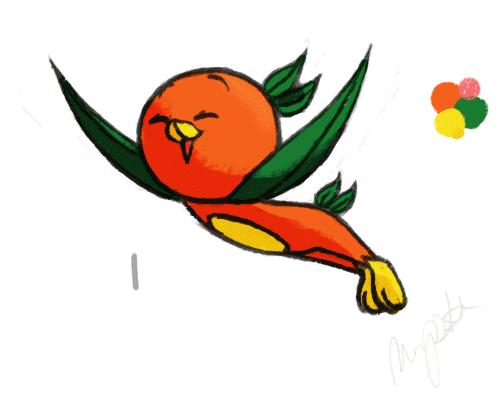 Giphy
If you're a fan of curries, the book Madhur Jaffrey's Ultimate Curry Bible: India, Singapore, Malaysia, Indonesia, Thailand, South Africa, Kenya, Great Britain, Trinidad, Guyana, Japan, USA is available here.
"This is the most comprehensive book ever published on curries, written by Madhur Jaffrey, the world's bestselling Indian cookery author. The influence of the Indian curry has been far-reaching: Indian immigrants and traders influenced the cooking of many other great cuisines of the world, including those of Sri Lanka, Burma, Thailand, Vietnam, Japan and China."
"History blends with recipes in this meticulously researched book, which will prove fascinating reading for food lovers everywhere. With over 150 mouthwatering recipes."
Keep reading...
Show less
There is a mallard duck that visits a particular spot at Thompson Health, a University of Rochester Medicine hospital in upstate New York, to lay her eggs every year.
After those eggs become adorable baby ducklings, she leads them on a tour of the hospital.
After Mama Duck taps on the glass to let hospital staff know she and her brood want to get out of the courtyard (the babies can't fly yet, of course), staff let them in and direct them through the hospital safely.
They parade their way through the M. M. Ewing Continuing Care Center, the hospital's long-term nursing and rehabilitation facility.
North American Mallards building nests near human construction is actually fairly common.
They are comfortable being around humans, and our structures often provide convenient nesting sites.
The hospital shared the event in a Facebook post, and people are loving it.
This year, she had an enormous brood of 13 little ones to lead on the annual trek.
Hospital staff guided them through the facility with large pieces of cardboard to act as walls.
Then a nurse, Assistant Nurse Manager Betsy Willard, held the door for the group to exit.
CNA Mollie Dey and resident Wilma Gibson followed the ducks out and watched them make their way away from the hospital.

Wilma's family and friends thanked hospital staff for the mother's experience on Facebook.

Louisa G Johnson/Facebook

Julie Gibson/Facebook

Karen Gibson/Facebook

Rob Davis/Facebook
Reactions to the hospital's Facebook post were overwhelmingly positive, with many fawning over the adorable little duckies.


Patti Huetti/Facebook

Jennifer Gray Cheyney/Facebook

Pam Vincent/Facebook

Sue Jovanelli/Facebook
Some were astounded by the number of ducklings.


Sherry Yancey/Facebook

Cathy Johnson/Facebook
Others were thankful for the hospital staff taking time from their busy days to help the ducks out and give the elders living in the facility the chance to see them.

Michelle Lee Goodman/Facebook

Daphne Davis/Facebook
Ducklings are always cute, but seeing them parade through a hospital with the help of humans is just heart-wrenchingly adorable!
Keep reading...
Show less
The Massachusetts State Police are no strangers to calls about wounded animals on the highway, but a call they received on May 5th wasn't quite what they were expecting.
Dispatch received a call about a "wounded dog in the road," and Trooper Carlo Mastromattei responded.
What Mastromattei found when he arrived on-site on Revere Beach Parkway was, in fact, a tiny lone coyote pup.
The poor pup had apparently been separated from its mother, as she was nowhere to be found.
Trooper Mastromattei contacted several local wildlife services after he realized how much danger being on the parkway posed for the pup, but none of the agencies he contacted had personnel available to assist.

He then contacted Ocean View Kennels. The owner, Lisa Cutting, was able to come help him wrangle the pup safely into a crate.
Cutting told CBS Boston about the rescue:
"Put my gloves on. Grabbed a towel and a quarantine cage, and picked him up and brought him to safety."
Mastromattei then took the pup home, where he and his girlfriend AnnBeth cared for it overnight before bringing it to the Tufts Wildlife Clinic for an evaluation.
The coyote pup was given a clean bill of health, and Tufts arranged for him to be taken in by wildlife rehabilitation specialist Dawn Collins, of Berkshire Wildlife Services.
He will spend some time being taught how to survive on his own in the wild, and will eventually be released once he can fend for himself.
You can read Massachusetts State Police's Facebook statement (and see some adorable photos of the pup) below:
The response of Facebook users was overwhelmingly positive and supportive.
Many thanked Trooper Mastromattei for his compassion and quick thinking.

Jamene Murphy/Facebook

Kerry Howeson/Facebook

Cheryl Gaffny Floyd/Facebook

Tracy Ann/Facebook

Samantha Gitschier/Facebook
Some also thanked AnnBeth for her part in caring for the little ball of fur.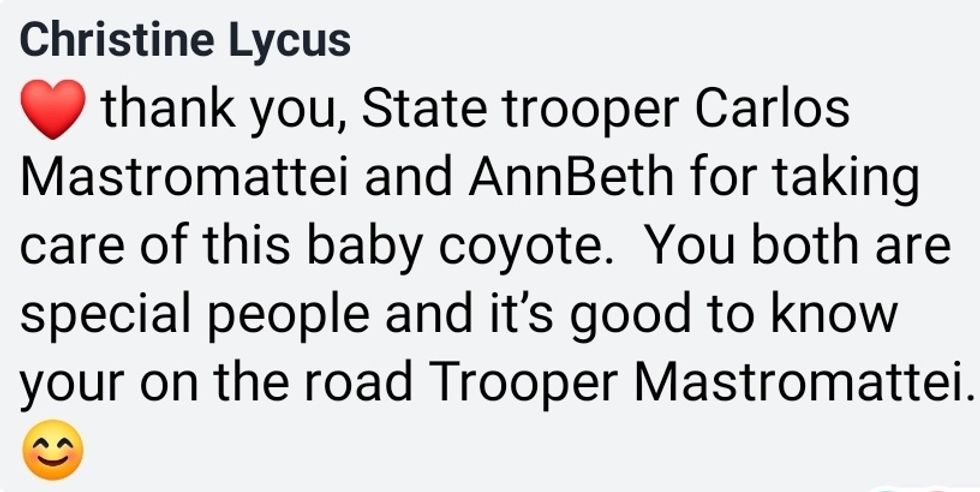 Christine Lycus/Facebook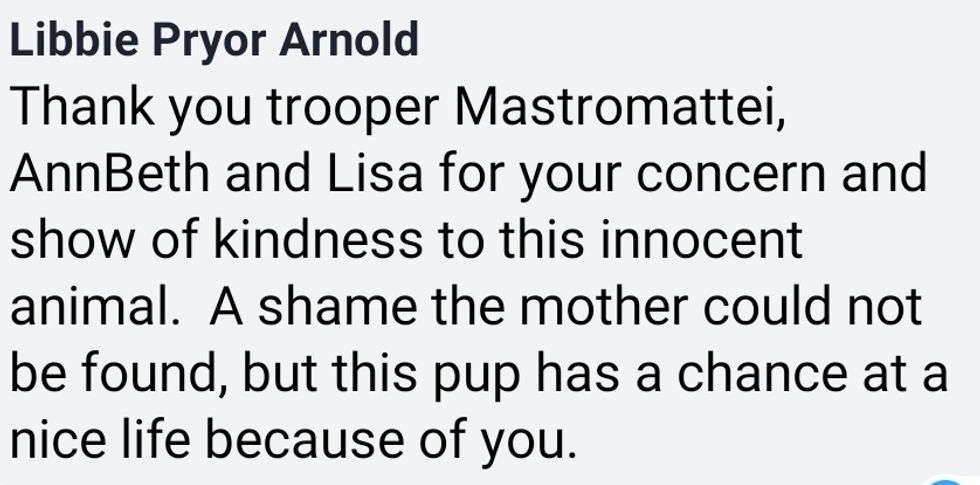 Libbie Pryor Arnold/Facebook
This certainly isn't the only orphaned or injured coyote that Dawn Collins has taken in for rehabilitation. She is the only person licensed in wildlife rehabilitation in Massachusetts that will take coyotes.
According to the Berkshire Eagle, she has already taken in 5 pups this year. This pup will join them after 2 weeks in quarantine to make sure that all is well.
If you want to support the work that Collins does with Berkshire Wildlife Services, you can donate via their website.
Keep reading...
Show less
Fox kits are some of the more playful and adorable baby animals around, and any chance to see them in action is a treat.
Reddit user u/Vechrotex had the pleasure of watching a pair of kits frolicking on their grandmother's deck and decided to share the experience with Reddit.
Beware, cuteness overloads are possible below!
It started with one fox kit who decided to peek in the patio door and see what the humans were up to.
He soon returned with a playmate.
The two kits played together on the porch for some time.
This wasn't the end of the vulpine visitations, though.
Redditors loved the cute kits.
"Some folks have all the luck. Baby fox is super cute."

-shendrad
"All grandma needs now is a neighbor with a bloodhound puppy and we have the makings of a great movie."

-operez1990
"Look at its little blep ❤❤ too cute"

-alias_IV
"This is why I reddit. I much prefer these kinds of breaking news updates punctuating my day.

-earlyviolet


"Firefox has encountered a Windows error."

-how_now_gnarly_cow
"I want to snuggle the biting wild dog."

-EverythingIsCreepy
Many were completely captivated.
"I hope you're ok with being labeled the 'Baby Fox Guy' because we are going to need daily if not hourly updates on these little buddies"
"You've completely captured my heart in just 3 pictures. They're so pure!"

-oochiolism
"Times like these when I wish Reddit had a "love" button"

-babytoast
"I've never felt like I NEEDED something as much as I do right now."

-SwagCannon_69
While baby foxes are the epitome of adorable, they are still very much wild animals. Observe their cuteness from a distance and everyone will be happier in the end.
Keep reading...
Show less