It might surprise you to know that the last Civil War widow died near the end of last year.
Wait, what?
Yes, you read that correctly. Her name was Helen Viola Jackson, and she married James Bolin in 1936 when she was 17 and he was 93.
"He said that he would leave me his Union pension," she later told historian Hamilton C. Clark. "It was during the [Great] Depression and times were hard. He said that it might be my only way of leaving the farm."
Jackson never remarried and kept the marriage secret for decades.
Wild, huh?
Hard to believe, but it happened. Here's the report from Smithsonian Magnazine.
History is full of some wild facts, as we were so kindly reminded by Redditor day_tripper96, who asked the online community:
"What's a bizarre historical event you can't believe actually took place?"
"In 1920..."
"In 1920, President Paul Deschanel of France fell through the window of the train while traveling on the Orient Express. He stumbled up to the nearest signal box in his pajamas and told the signalman that he needed help and that he was the President of France. The signalman reportedly replied 'And I'm Napoleon Bonaparte."
Cue laugh track!
This is a moment worthy of a sitcom.
"In AD 897..."
"The Cadaver Synod - In AD 897, Pope Stephen VI had his dead rival Pope Formosus exhumed and put on trial. Stephen had a deacon speak on the dead pope's behalf. Naturally, Formosus was found guilty. Stephen ordered that two fingers Formosus used for blessing people be cut off and had his corpse thrown in the Tiber river."
Well, it's not like he could defend himself soooo... no one is surprised. Deliciously petty.
"It worked."
"Good old Operation Mincemeat.
Basically, during WWII, the British find some dead body of some poor guy, dress it up like a British officer, attach some fake intel onto him, then throw him into the ocean, hoping he floats to enemy territory to mislead them.
It worked."
The chances that this would have worked must have been miniscule. Talk about a victory!
"The astronomer..."
"The astronomer Tycho Brahe had a pet moose that he used to get drunk with. One time he brought it to a dinner party at a friend's house. But sadly, the moose did not survive the night. Once again the poor moose got drunk on beer and died from a nasty fall down a set of stairs. Tyco Brahe also lost his nose in a duel, so he wore a prosthetic nose made out of metal. Some sources say brass, others say it was a gold/silver alloy. He was also employing a small court jester named Jepp that he believed to be clairvoyant."
"100 years ago..."
"The Halifax Explosion. 100 years ago two ships did a shit job of passing each other while entering / leaving Halifax Harbour, in Nova Scotia. One of them was LOADED with explosives destined for WW1. They collided and one of them burned for a while, then exploded. The blast was a ~2/3 again larger than the one we saw in Beirut last year.
Thousands died or were blinded by shattering windows. There was a local tsunami (which followed a brief moment where the seabed was exposed to air), and then a monster snowstorm covered the relief effort in snow.
Largest human-made explosion even until the nuclear bomb, and I think it remains the largest maritime accident ever."
This is one of those historical events that continues to horrify me and fill me with morbid curiosity. I went to Halifax some years back and never got a chance to visit the museum. Looks like I'll need to!
"Alexander the Great named..."
"Alexander the Great named (or renamed) 70 cities after himself. Some still have the name or derivatives of it - Alexandria in Egypt being the most obvious, but also Iskandariya in Iraq and Kandahar in Afghanistan."
"Hannibal marching elephants..."

"Hannibal marching elephants over the Alps to attack Italy."
And the fact that he left Spain to do this just before Roman forces arrived to take him on, and then Rome was just like "meh" and continued south when they figured out where he was going. They didn't care because they thought there was no way he could do anything. Polybius's account of Hannibal is fantastic, especially if you read what he says about the First Punic War and the Carthaginian Civil War as a context. The petty hatred between Rome and Carthage was insane, and had been going on for an insanely long time. Makes the 100 Years War look like nothing."
"The only time in history..."
"The time when Emperor Napoleon Bonaparte escaped from the island where he was imprisoned on after his army was defeated, he snuck back into France under the nose of King Louis XVIII and literally every royal guard and roadblock from Marseille to Paris, and when he was actually caught just outside Paris, he managed to persuade the soldiers (who just so happened to be former Bonapartists) to escort him into Paris where he managed to successfully cause the king to flee, on top of raising a FULL ARMY to wage war against Europe AGAIN. The only time in history an emperor took back an entire country just by waving his hat."
Honestly, Napoleon's entire life story would qualify. That man just would not quit.
"Massive wave..."
"The Great Molasses Flood, Jan.15, 1919. Massive wave of molasses from a broken tank flooded the area. It killed 51 people and injured 150. 2.3 million US gallons."
I learned about this as a kid when I picked up a book that listed "weird but true" facts. This was one of them. It sounded quite ridiculous until I read about the horrible way the victims died.
"Surprisingly..."
"During the siege of Tenochtitlan, the conquistadors built a trebuchet. However, the conquistadors, being an exploratory expedition, had not brought any military engineers with them. So they winged it. Surprisingly, they did build a trebuchet, which fired exactly one shot, directly upwards, which promptly came down and smashed the trebuchet. This event is chronicled in both the journals of the conquistadors present as well as the Aztec records."
Want to "know" more?
Never miss another big, odd, funny, or heartbreaking moment again.
Sign up for the Knowable newsletter here.
Keep reading...
Show less
As if life isn't difficult enough, why spend extra time being angry about the little things?
And this vitriol is pointed at all of the most random things. But when you think about it, this psychological behavior isn't new. It's easy to set a person off, always has been.
There are just so many things that are disliked, it makes no sense.
Redditor u/IntrovertedOutcast1 wanted to understand why people are so fast to get irritated over every little thing, they asked:
What's something you think gets more hate than it deserves?
Want to "know" more? Never miss another big, odd, funny, or heartbreaking moment again. Sign up for the Knowable newsletter here.
Keep reading...
Show less
Life in full of the unexpected and all things that cannot be explained. I don't know about the rest of you, but déjà Vu is a daily visitor in my life. I am constantly wondering... "Did that just happen, again?"
Strange happenings abound in all of our lives. And finding ways to properly describe phenomena has never gotten easier.
How do you relay the details about dreams within dreams within nightmares that happened while we're awake? It's all part of the mystery.
Redditor u/TheCornishGameHen wanted to hear about some things that have occurred in life that we'll never properly define, by asking:
What is an experience you've had that you cannot logically explain?
Want to "know" more? Never miss another big, odd, funny, or heartbreaking moment again. Sign up for the Knowable newsletter here.
Keep reading...
Show less
No matter how much therapy I attend there are just some issues from childhood I'll never be fully free from; in particular, crippling fears and specific haunts. And I know I'm not alon. I'm still no fan of the dark and I always give sufficient credence to any and all superstitions, there is no reason to tempt fate; especially since I've made it this far.
I loathe most insects, snakes and anything that resembles a rat. And I actually think those are healthy issues. Some fears are just unshakeable. Do you agree?
Redditor u/Chaelaminsky1990 wanted to hear about details of the past that so many of us just can't seem to outrun, by asking:
What irrational fear did you have as a kid that you thought you'd grow out of but never did?
I grew up in New York. When I was about six, I was walking up the stairs from the train when a rat fell from the street onto my head. I don't remember the rest. Need I say more?
Look Away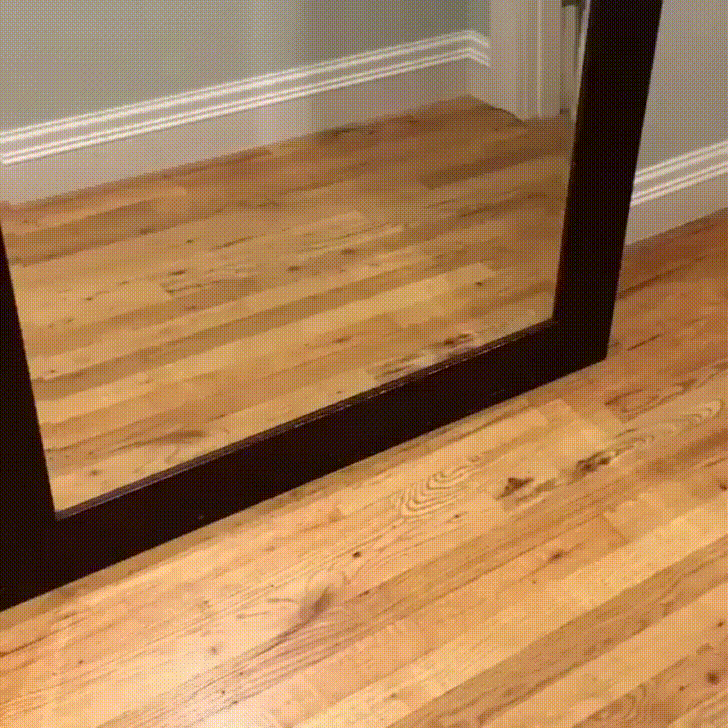 Scared Dog GIF by MOODMAN
Giphy
"Mirrors, I'm always have a thought that I'm going to see something that I shouldn't. lol"
Deep Blue Sea...
"Sharks in the pool at night. Can't see 'em but I know they're there."
"Came here to say this, but it goes beyond pools. It can be any body of water. Sometimes when I'm in the shower I just start thinking about sharks and have to shower real fast and get the freak out of there."
"Sometimes I get freaked out when I'm not even around water thinking I'm just gonna wake up and realize I've been passed out in the middle of the ocean with a shark about to attack me. Kinda weird. I watched Deep Blue Sea when I was really little and it freaked me out, and I've always blamed it on that."
Can't See
"The dark, I'm 48."
"My caution meter goes up. Not like I can't walked around my house in the dark but hearing or watching horror or thriller stories, it's quite rational to be cautious and recheck all the doors are locked."
"It's not just 'the dark' for me, I'm fine in the dark outside or in rooms of my house. It's dark in unfamiliar places/rooms."
From Beneath
"The fear that something under my bed will grab my foot if it hangs off the bed."
"Yo... I specifically store a bunch of stuff under my bed so it is all full up under there specifically so I can know. NOPE NO MONSTERS HIDDING IN THERE. and if they are. They much smaller than me so I could overpower those smurf sized monsters grabbing my feetsies. Not tonight non-existent underbed gnomes. Not tonight."
- Kondrias
Mighty Waters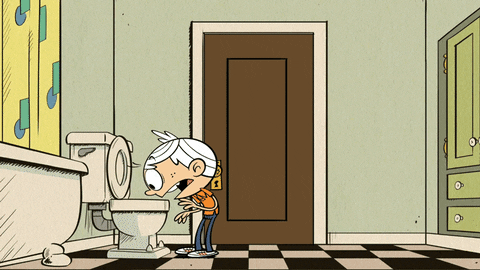 loud house animation GIF by Nickelodeon
Giphy
"As a child every time a toilet clogged I would start crying because I thought it was going to overflow, flood the house and we would all drown. Now I don't cry, but the fear is still there."
I hate toilets. I've been involved in too many floodings. It's like I'm cursed when I go number two. And that under the bed thing, that's real problem.
Entanglements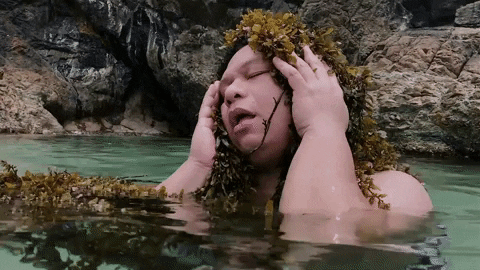 Jazz Seaweed GIF by The Itchyworms
Giphy
"Swimming in the ocean in the sections that have sea weed and are consequently dark."
Shut It!
"I absolutely cannot under any circumstances fall asleep if the closet door is open. I've tried so many times. I KNOW there's not demons in there but at the same time like what if there is???"
"I can't sleep with my bedroom door closed. Closet and my en suite bathroom doors HAVE to be closed, but the door to the bedroom HAS to stay open. I blame my being a mom. WhAt If SoMeTHiNg HaPpEnS tO tHe BoY aNd I dOn'T hEaR iT!? He's 11 now and in no risk of SIDS or anything else I panicked about when he was a baby."
- KixStar
KaBoom!
"It took a long time to grow out of but propane tank and torches used to freak me out I thought everytime one was turned on it could possibly explode."
- Boat3000
"Me too! I was probably 8 hanging around in the basement of one of the "older boys". I was helping him with something and he was using a little propane torch."
"Well I guess he didn't tighten the tip onto the propane bottle well enough, propane escaped creating a second flame that went spewing out the side. He freaked out and threw it and we both BOLTED out of the house - his Mom in tow. Luckily a larger fire didn't start but I was quite fearful of those things for a long time. Now I know how to handle them and I can sweat pipes with little anxiety."
Superstitions...
"I'm 27 and I still smack the light off and run up the stairs like a dog ASAP."
- jrocbb
"I'm 32 and still jump in bed and hide under the blanket for a minute until my eyes adjust. Thankfully I only have to do this at certain relatives houses as I have a light with hanging switch above my bed so I can do it while partially under cover already."
Who is there?
"Always checking behind the shower curtain before using the restroom. My dad used it to scare me so much as a kid, that I now get relatively extreme anxiety from a closed shower curtain."
"Yup I have my own apartment now and only clear shower curtains are allowed lmao. Nothing happened to trigger this fear, except possibly a movie or something where the killer was hiding behind a shower curtain? Idk but at my parent's house I still check under and in anything in my room a killer could be hiding in before I go to sleep so I guess I'm just paranoid. lol"
Let me Poop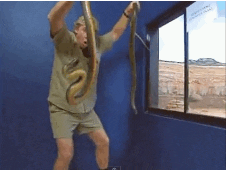 steve irwin snakes GIF by Bustle
Giphy
"A snake swimming through my plumbing lines and biting me in the butt while I'm taking a poop. It went away after a while until I saw a video of this exact scenario happening. Now I will never be able to poop in peace."
What did I tell you about snakes? See! And it's wise to always check every corner of the house when you can. You never know.
Want to "know" more? Never miss another big, odd, funny, or heartbreaking moment again. Sign up for the Knowable newsletter here.

Keep reading...
Show less
No one would think twice about certain food pairings like chocolate and peanut butter.

But at one point, what we see as the perfect confectionary merge might have been perceived as bold and adventurous, maybe even objectionable.
Foruntately, whether or not the mocha buttery union was accidental, we're grateful for it.
It seems nowadays people are open to being experimental with their culinary curiosities and coming up with their own chocolate and peanut butter eureka moment.
There can be a lot of misses, but there can also be food pairings that are unexpected but delectable smashes.

Curious to hear about what strangers online came up with in their kitchens, Redditor Paiman55 asked:

"What weird food combinations do you really enjoy?"
You won't find these sandwiches and pizza on a menu anywhere.
Fruit And Cheese
"My mum has eaten jam and cheese sandwiches her entire life. No one else I've ever seen consume them."
"I asked her about it a few years ago, and she explained that a) jam isn't too dissimilar to a lot of chutneys, and the salty and sweet balances perfectly; b) I enjoy cheese with fruit in it, such as Wensleydale with cranberries, so the idea of 'fruit and cheese' as a combo isn't so strange in theory; and c) it's her sandwich, not mine, and I could f'k off."
Peanut Butter Pairs With...
"peanut butter/pickles sandwich."
– jayba21

"First time I saw my dad making a peanut butter / pickle sandwich I asked if he was pregnant. Then he made me try some. And now I eat them myself. And have spread the love to at least two friends who also enjoy them."
"Sh*t, sometimes I just take a spoonful of peanut butter and a fork to the pickle jar …"
Fusion Pie
"Kimchi and pizza. The acidity of the kimchi cuts through the pizza grease wonderfully. You can probably use anything pickled honestly."
Blue cheese is delicious by itself. But other than on salads, these Redditors thought the creamy dressing worked well on other dishes.
Blue Cheese Dressing Makes Everyone Delicious
"Microwave taquitos and blue cheese dressing. Yes, I know it's gross and yes, I am ashamed."
Perfect For A Snowy Christmas
"Gingerbread and blue cheese."
"ooh, I can actually imagine how amazing that tastes!"
If you think outside the box, salt might be a free-for-all flavor enhancer.
Seasoning Fruit
"Apparently salt on fruit is weird but it's something my family has always done."
"My mother only ever did it with Cantaloupe. It does draw out the the sweetness somehow."
Creamy, Savory Delight
"Salt on ice cream. Especially single flavor. Brings out so many different nuances."
Milk with cereal is so early 80s and 90s.
Milk 'N Pop
"If you want weird, try mixing some milk with some diet coke, it turns into this tea like substance, my family member used to like drinking that when I was a kid and I used to like it too, now I cant stand it."
Try At Your Own Risk
"Alright. I'll confess. Ramen noodles and warm milk."
"I know. I know. I get it. It's f'king nasty. I understand. My mom used to put milk in Campbells chicken soup I when I was a kid, and when I evolved into Broke College Student I started making my own milky chicken soup out of bouillon and bulk ramen noodles. I started cutting corners by simmering the bouillon cube in the milk while the noodles boiled in their own pot. I thought it would amplify the flavor, but I honestly just lost the ability to give a f'k somewhere in there."
"Then one day, when I was deliriously sick and just struggling to survive, I forgot the bouillon part and just flopped a bunch of ramen noodles into a bowl of warm milk. Wasn't actually all that bad. It's become a kind of comfort food when I'm feeling low."
"Don't try it for yourself though. It's a fondness born out of early 20's suffering and is Not worth it."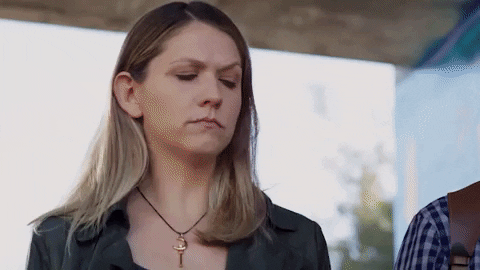 gross gag GIF by Anime Crimes Division
Giphy
Crisps And Ice Cream
"Plain Potato chips and Vanilla Ice Cream is oddly good together. Also when I was in Army basic training I would put Peanut Butter on Pancakes because it was easier and faster than putting syrup on them."
– mrkaylor

When I was a kid, I tried a homemade dressing I thought was gross while visiting my parents' friends house.
Because I was taught to eat whatever was placed in front of me at the dinner table served by any host, I had no choice but to oblige.
The dressing on the cabbage was a mixture of Hellman's mayonnaise and soy sauce. I was used to having those condiments individually, not together.
But when I reluctantly tried it, I braced myself, expecting the worst. I was actually pleasantly surprised how much I really enjoyed it.
Milk and ramen, however, is something I would never try, no matter how well my parents disciplined me to eat whatever was served. I have my limits.

Keep reading...
Show less