We all love a good wedding, where the bride and groom are beaming after officially declaring their love in front of close friends and family gathered together in celebration.
Sure, wedding planning can be a headache, but the final result leading to the day of the nuptials usually proves it was all worth it.
Until something goes wrong.
Unfortunately, not all weddings are made the same and the special day can wind up being a major matrimonial miss.

Curious to hear from those who've witnessed a trainwreck on a jubilant occasion, Redditor HairyFungus asked:

"What's the worst wedding you've ever been to?"
Some things are better left unsaid until after the wedding.
Oh, Brenda
"Grooms mother came to the bride's room where we were all snacking and getting ready and generally having a good time, listening to music and doing hair and makeup. She wanted to say some heartfelt message to the bride. Now the bride's father had passed away not long before, so we were doing everything we could to keep things upbeat and positive. Mother of the groom proceeds to tell her all about how her dad is looking down from heaven in happy tears and how he hates to miss this day and bride starts crying. Not just crying-- full on ugly crying."
"Her makeup is now in her decolletage and her nose is red and running. The MOG hands her back to us by saying, 'Oh dear, she can't walk down the aisle like this!' and leaves the damn room. We spend half an hour calming the bride down, cooling her face, fixing her makeup. The ceremony started late and the maid of honor had just a basic ponytail because we had to spend so much time on damage control. The bride spent most of the reception just sitting and looking exhausted. The MOG danced her socks off."
"F'k you, Brenda for sabotaging the day. I've disliked you ever since, you selfish hag."
– Flahdagal
Dark History

"Wife and I got dragged to her friend's mother's wedding. I think it was her 3rd marriage. Other than it being super awkward it went off without a hitch."
"The reason for it being awkward was the son of the bride was involved in the murder of the groom's nephew. He went with some friends to buy drugs but turns out they didn't have any intention of paying for them. The bride's son was at the wedding. He was charged with murder and plead down to something that got him multiple years probation."
– kevinACS

Monster-In-Law
"I attended a family wedding where the groom told his mother in law about an hour before the ceremony that he didn't like her. There were a lot of tears but the bride married him anyway. After the reception, he got drunk and tossed his wedding ring into a field and a wedding guest found it the next morning. Somehow they are still married but I don't have a lot of hope for their future."
– inurface_spacecoyote

Well, these took the cake for being the cringiest.
Paying The Price
"Friend's wife thought it would be great if guests had to pay an entrance fee/ticket for their wedding. It wasn't cheap either. Her reason is people spend that much for concerts why shouldn't people spend it on seeing 'two rockstars' getting wed?"
"I paid the price for my friend though lol. Had to bring a gift as well. The entrance fee was paid in advance because the wedding had 'limited seating.' Good thing my friend was loved by everyone because I did not see a single friend from the bride(except for family). Her bridesmaid were her sisters."
"Context: They had a love for music and they didn't hire wedding singers for the reception. So basically it was a wedding/concert because the newly wed put out a performance for us. The ticket was like $100 for a country where $150 was the minimum monthly wage."
"For the record, they sent out the invitation for like 10 months or a year in advance so people had plenty of time to scrounge up for the ticket."
"Good voices though, still sh**ty because it was like being forced to pay for a 30 minute concert that I didn't want to go to. Love my friend to death so it was great to hear him sing and I don't regret going even for a second."
– 223333aaa

Bride Number Five
"I used to photograph weddings. This one took the cake. The bride was doing shots at 8am in the bridal suite getting ready. She then has the maid of honor call one of the guys to make sure they get plastic bottles of vodka, not glass. They were riding on motorcycles and she didn't want to take a chance of the bottles breaking if they fell off."
"The guy she was marrying she knew for about 2 months. He had four different kids by four different women. How do I know this? He has all of their names tattooed on his arm. Nothing is crossed out, just their names in a row. She told me the significance and then bragged she'd be the fifth on his arm."
"The reception was a sh*t show. They passed through a Harley dealership and were an hour late to the reception from the ceremony. A drunken squad of bikers with bride and bridesmaids on the back of their bikes. One guy hit a car in the parking lot because he was so blitzed. By the end of the night the bride was passed out on a table while the groom was doing shots with other ladies at the reception."
"Took great photos for them."
– Compulsive-Gremlin
These weddings sure caused a scene.
Two Parties Collide
"This was a wedding reception. There was a swingers group that would host parties at a bar inside a hotel. Well the hotel also booked a wedding reception for the same night as the swingers party. Well the groom ended up hooking up with an older lady there and was caught leaving her room. Groom was slapped and punched, bride was raging crying and screaming. Groomsmen had zero idea what to do and were similarly plastered. Groom was fairly drunk and got a bloody nose after she punched him in the face a few times. Both families were screaming at each other and bridesmaids were being held back by staff and other family members. They looked more than ready to rip that guy apart. Cops got called and everyone was kicked out. That night was the talk of the town and group for a while. The hotel made sure to not book receptions and swingers on the same night from now on."
– F'kitall1121

So Much Buzz
"I was a bridesmaid in an outdoor wedding where the ceremony took place at a gazebo in a garden. I missed the rehearsal due to work, but followed along with the groomsmen I was paired with. I'm not sure the issue was addressed at the rehearsal, but there was a beehive under the gazebo. Loud music and sound equipment, lots of hairspray and perfume smells, people stomping on the gazebo taking pics and such. The bees were not happy. The whole wedding party was swatting and cringing. The officiant was rushing things as much as he could to get us out of there. I never saw the wedding video, but I'm sure it was a complete mess."
– Muppet_Rock

TMI
"The one where the best man decided to do his speech standing in front of the bride and groom. To really rub salt into the wound his speech consisted almost entirely of vivid descriptions of the grooms extensive sexual exploits."
"Unsurprisingly, the bride walked out and locked herself in the toilet."
– Sledger666
Sweltering Celebration
"Went to a dry wedding in August. We were in a tent with no circulation. I was sweaty. Speeches were done before the dinner. The maid of honour had a 45 minute slideshow of pictures of her and the bride. It was legitimately the worst wedding I've ever been to, and I've been to a wedding where the bride had a camo dress on."
– larsy87

Not to minimize any of the trauma these wedding day participants endured, but I can't help but think of the carnage unfolding during the infamous Game of Thrones blood wedding episode or the Kill Bill climax with the bride of vengeance.
Of course, weddings don't have to end up in a bloodbath, but seriously, there is a time and place for drama.
Save that date for another occasion.

I was once asked to object at a wedding.
And as much as I love a good drama and adore being the center of attention, my answer was a hard NO.
Who does that?
You didn't think to speak sooner?
People show up to weddings, especially with an open bar, and all sense of decorum dies.
Bad behavior at a wedding is not cool y'all.
Don't poop on other people's special day.
Redditor Buckwild_17 couldn't help but wonder about bad behavior during a love celebration so they asked:
"What's the fastest way to ruin a wedding?"
I once heard a drunk uncle toast the bride and groom with... "Ah, I give it six months. Cheers."
Stolen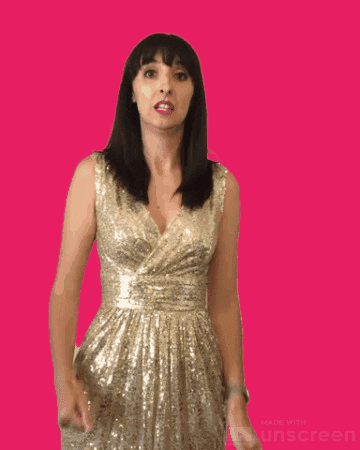 Giphy
"Propose. If someone gets engaged at my wedding, imma die at their funeral that's a promise."
"Ultimate thunder steal."
xDuke46
See Ya at the Next One...
"My youngest brother made the following toast at the middle brother's wedding: 'This will be a great first marriage for the both of you.' I thought my mother would kill him."
honest_true_man
"There was a Married with children episode where Kelly went to a bar with a group of friends. When she sees a hot rich guy she says something like 'Oh my God look at him, he's the ex-husband of my dreams.' Find it funny to this day."
groundbeef_smoothie
Be Quiet!
"Literally anything that steals the thunder of the bride. Like announcing someone's pregnancy, proposing to your partner, or even wearing something more elegant than the bride's gown."
Natural-Resort
"Bringing your baby that was only a few days old, who no one had met yet, and standing in the doorway so all the guests can flock around you."
Its_Mrs_Nesbitt
"And the baby will eventually cry out loud during the ceremony."
Natural-Resort
Scandal
"Announce out loud that you slept with the bride or groom (preferably whichever is the same sex as you)."
Plastic_Dependent_95
"I'll do you one better. Announce you slept with *both* of them."
DoctorWatchamacallit
Just Kidding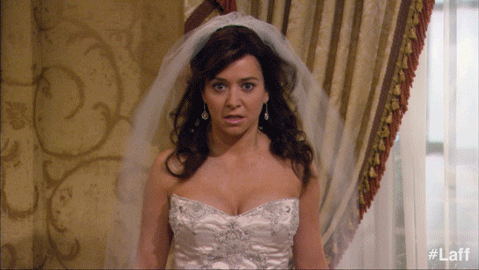 How I Met Your Mother Reaction GIF by Laff
Giphy
"Say 'I don't' at the moment the bride says 'I do.'"
MyDearDoughnut
"Or respond to 'I do' with 'Why? You can do so much better than me.' Then shout to the best man, 'You're single, right? Get up here.'"
Duane_S_Hall
This isn't comedy hour people. Try your material somewhere else.
Excuse Me?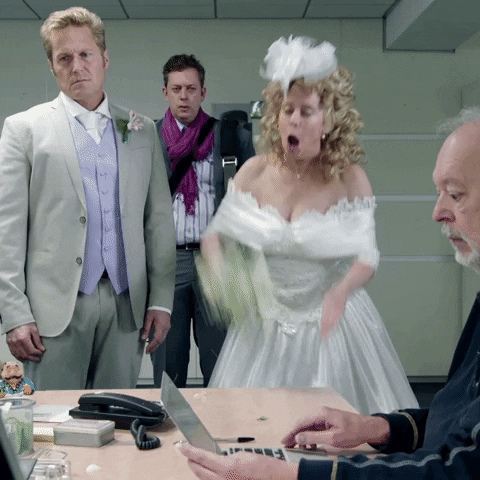 Sad Flowers GIF by VPRO
Giphy
"Show up in a wedding dress with your BF and ask the couple if they mind if you tag along since everything is already set up and paid for."
JanuarySoCold
Behave
"Bringing your poorly disciplined rambunctious young children."
WackyTabbacy42069
"Poorly disciplined is definitely key here. My kid was included on the invite and was rambunctious right before everything started, so I hauled his little butt out so his two year old lunacy wouldn't ruin the event."
"He calmed down and is in the pictures looking angelic, danced a ton at the reception, and loved being a part of the toast with his sparkling apple 'champagne.' Don't bring your kid and ignore them when they're being a**holes."
HulloMrsCumberdale
"this way"
"In most places a marriage certificate needs a witness or two to be valid so what you need to do immediately before people start filing in, turn all of the chairs to be facing the back - as people are still filing in, pull fuses from the switchboard, plunging the venue into darkness."
"Lock all but one of the doors, have an accomplice in a high vis vest shout, 'this way' but where he leads them is into the back of a truck that immediately starts heading for an international border. Pay the driver well enough for him to never contact you again. If any nameplates were put out of the reception tables then shred them. No witnesses, no wedding. Shoot your accomplice."
totodododo
Shake it Off
"Start dry humping the bride's leg like a dog on the dancefloor as a joke like my cousin did and get way too into it and not let her go even when she's clearly trying to shake you off and crying. Good Lord some people should just not drink."
Flaky-Fellatio
"And this is one of the many reasons there will be no alcohol at my wedding."
MiaLedger
Oh My...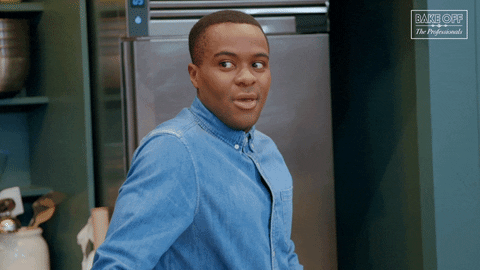 Bake Off Shock GIF by The Great British Bake Off
Giphy
"'It's nice to see them together! The bride's legs, that is.'"
SheepSurfz
"'I promise you, her family will leave the restaurant.'"
dfBishop
How are all of these ideas not just a "don't do" given?
Be mindful of others people.
As much every bride and groom might hope, the chances of everything going completely as planned on their wedding day is unlikely to happen.
In most cases, however, the bride and groom won't care, as nothing can spoil the happiest day of their lives when they commit to one another.
In rare cases, however, something might go terribly wrong.
So wrong, in fact, that it might be the only thing guests who were present at the wedding will be talking about for years to come.
Arguably ruining the wedding.
Redditor lolf*ckno was curious to hear from guests who were present at ruined weddings, and what exactly went wrong, leading them to ask:
"Those who have been to a ruined wedding, what happened?"
Wedding Brawl!
"I played a wedding where as we started playing the set, everyone ran outside and nobody was to be seen for the rest of the night."
"I originally assumed it was because nobody liked us but the bride came in afterwards and said there was a huge fight involving multiple members of both families and everyone basically went home upset, injured or in a police van."
"We couldn't stop playing since we were payed and it was our job, and the only person watching was the drunk uncle dancing on his own asking for requests we didn't know."- TornApartByLisa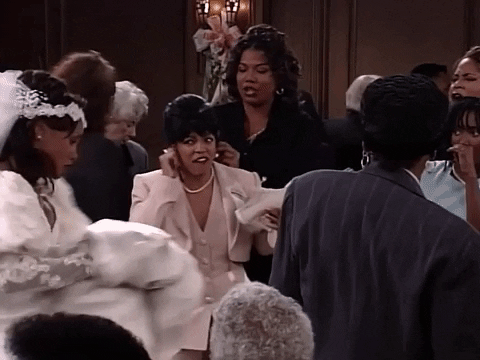 Season 4 Fight GIF by Living Single
Giphy
A Room Without A View...

"I was not born yet, but my parents rented the observation deck on the Hancock building in Boston for their reception."
"Tallest building in the city, beautiful view."
"My dad pored over historic weather charts to figure out what day was statistically most likely to be nice out."
"Day of the wedding comes and of course, thick fog unlike anything they'd ever seen before."
"Couldn't see a thing out the windows of the room they had picked specifically for the view."
"Worked out well though, they were happily married for nearly 30 years before cancer took my dad's life a few years ago."
"There's one other funny anecdote from that wedding."
"The wedding was held in Kings Chapel, which is an incredibly historic church here in downtown Boston that's somewhat of a major tourist attraction."
"To close that on a weekend afternoon for a wedding, it turns out, was not very expensive."
"The tourists waiting outside to see the church didn't know that, though, and someone started the rumor that my parents were incredibly wealthy, maybe even Kennedys."
"As a result, there were tons of people taking photos of them when they left the ceremony."
"Not sure if any of them ever figured out that my parents were most certainly not rich or famous."- mimicthefrench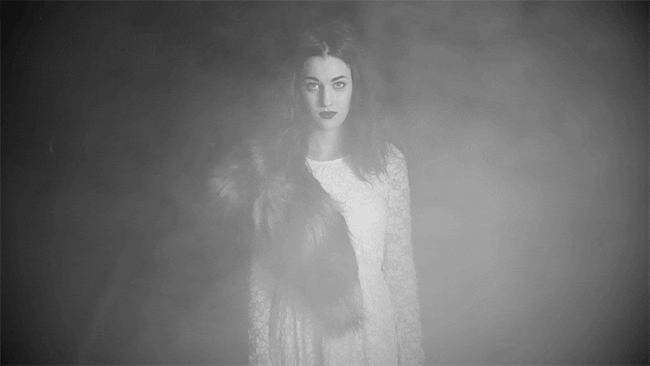 fog GIF by Gif Gif A Chance
Giphy
One Wedding And A Funeral?

When I was 6 or 7 I went to a cousin's wedding."
"Everything was fabulous for little me, so much sugar everywhere, basically heaven."
"The reception was in a big community center that was reserved for the occasion."
"Went to the girls' bathroom, passing by the men's room to see my uncle on the floor."
"Went back to the main room to tell my dad my uncle was looking weird."
"Well, uncle had a stroke and had died."
"The bride spent the rest of the afternoon crying, and everyone except close family left."
"Bright side is the marriage is still going strong 20 years later, despite what happened that day."- DecadentOrange
Venue Is Everything
"I work at a golf course with a lot of history behind it."
"We do wedding venues inside the clubhouse and the actual ceremony is held outside by the historic water fountain and large pond."
"First problem was the weather."
"I live in the high desert and it was very warm."
"A solid 90 degrees that day and it was also pretty windy."
"So everyone's outside, no umbrellas, no ezups."
"The next problem, and probably the worst, was the golf cart incident."
"The bride and groom wanted to 'ride into the sunset' on one of our golf carts."
"Drive around a little bit on the golf course."
"To be fair, it is beautiful on the course during sunset."
"However the cart had somehow gotten a nail in the tire, tire went flat, battery on the cart went crazy and the cart ended up freaking out."
"It came to a complete stop from 15mph to zero."
"The wheels and mechanisms locked up, almost seizing."
"Both the bride and groom both fell out and rolled over a few times."
"They were totally okay, just a few bruises and perhaps a bruised ego or two."
"So retrieving that cart was fun."
"And last but not least, the power inside the clubhouse went out to do the high winds."
"There was no after party available."
"Only the cake was cut, hardly any food was given out."
"Yeah, not a great day to cover for someone on your day off."- Itsallover_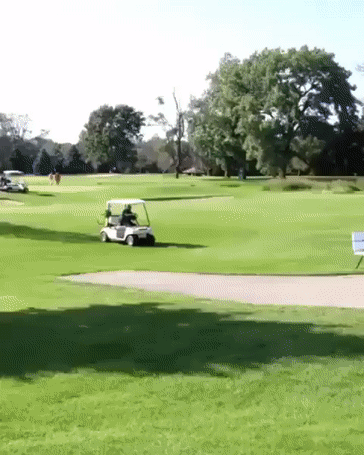 Golf Jump GIF
Giphy
We May Have A Winner...
"My dad and stepmom's wedding was a sh*t show."
"For context, her family was terrible on both sides."
"Abusive father, neglectful alcoholic mother, and step parents who didn't care about her much."
"She basically ran to my father to get away from it."
"Bigger problem was, my dad was 26, also abusive, and just a real f*ckin sh*tshow of a person."
"On my father's side of things, he hated his mother and blamed everything wrong in his life on her. as he did to most women in his family, later doing it to my stepmom."
"So the wedding was doomed to be terrible."
"It started when my stepmom was walking down the aisle."
"She'd reconnected with her father in the last year and had recently been in a fight with her stepfather, so it was just her dad walking her."
"There was a branch in the way, outdoor wedding, but he pulled it out if the way for her."
"As she thanks him, he lets go and flings it back into her face and literally collapses laughing."
"She awkwardly chuckles, no doubt knowing he is going to get mad at her if she shows she's upset, and the day continues but she's visibly upset."
"After the toasts, some people didn't drink the champagne that had been set out."
"The one thing she had asked of her mom was that she not drink."
"She was even given sparkling juice rather than champagne."
"So while stepmom is changing into her reception dress, her mom goes table to table pounding down all of the alcohol she can get her hands on."
"A cousin of mine who doesn't know what's happening starts chanting "Chug! Chug! Chug! Chug!" and stepmom walks back to her mom downing the last one and denying everything."
"Cousin slips out the tent once he realizes what's going on and leaves the two alone to argue."
"Stepmom comes out crying a few minutes later, goes back to her car, and doesn't come back for a good 20 minutes."
"While all of that is happening, grandma pulls up and starts cursing out my dad for a ton of sh*t, including marrying a kid, stepmom was 25 at this point, who she hates, not letting her invite a friend to the wedding, and him owing her a bunch of money."
"Dad tells her to f*ck off and she leaves."
"Then my dad got mad at my stepmom for being gone so long, accused her of either 'being a baby' for crying or of lying and cheating on him."
"So she sat down on the fringes and tried to not cry and also remain visible to my dad for the next several hours."
"They may have been dating for 10 years, but the marriage only lasted 6 months."- GayHotAndDisabled
There are those who say the worse the wedding, the better the marriage.
And indeed, true love can withstand almost anything, including a disastrous wedding.
On the other hand, when everything goes wrong at a wedding, it could be a sign that the marriage wasn't meant to be...
Weddings can be a lot of things: a beautiful ceremony, the celebration of a love story, an incredibly fun party.
They can also be absolute stress fests, anticipation central, and in some cases, a lot of unnecessary pomp and circumstance.
However, all of that is to be expected. What we're talking about today is those few weddings where everything goes wrong, secrets are revealed, or inappropriate behavior ensues. Those weddings that turn so awkward, it makes everyone cringe.
Redditors have plenty of those stories.
Curious to hear them, Redditor ThumbnaiCom asked:
"What in weddings makes you cringe?"
"It Was Always You"
"I recently went to a wedding where the bride and groom had signs and décor with "It was always you" everywhere. When the bride and groom met, the bride was one of three women the groom was dating. They spent a decade cheating on all of their partners to be with each other before they finally got together. But I guess that was all ok because "it was always you." What a weird thing to highlight with your decorations at your wedding."
– Bubbly_Anxiety_3149
Heard That Too Many Times
"All the old people making comments about all the sex the couple is about to have."
– Santos_L_Halper_II
""Are we going to get earthquakes tonight under your suite??" Ew"
– dudeitsmeee
"I love this comment because my grandmother STILL makes comments on my sex life every time i talk to her. I've been with him for 10 years already and we have an 8 year old but in her mind we are like rabbits."
– knotHoboes
Winged Creature By Any Other Name
"Releasing of doves into the sky...."
"At my wedding I will release rats into the crowd."
– _corbae_
"Holy ratrimony. Squeak now or forever hold your cheese."
– Lostbutenduring
It's HER Day
"When some else proposes to their SO, like why take all the attention from the bride and groom and put it on yourself instead? It's so selfish"
– ethantoad
"I once took a course in etiquette and one of the big rules at a wedding is to NEVER EVER steal the spotlight from the bride and groom! That means women should not wear their prettiest dress, but something that is still good but not too pretty that it takes away the spotlight from the bride. Same with the men: usually just a suit will do fine, but do not wear a tie with a pattern of an electric guitar, or heavy makeup if you're into that or something like that. Again: Nothing that attracts attention from the bride and groom."
"So NO, do not propose to your SO at a wedding! Especially not in the style of knocking the glass and go "Excuse me, excuse me...!!" before asking her to marry you."
– Creative-Sky-8412
Gross Upon Gross
"They had a flower toss and a garter toss."

"The flower toss was brutal in that the women fought for the bouquet, and some poor 15 year old girl (I knew her vaguely from online BBSes) managed to get it against her will. Ok, this is bad enough, but it gets so much worse. They dragged her on stage to catch it and she definitely didn't want this. She was painfully shy and probably had an anxiety disorder. This was not a good day for her."
"The garter toss was so much worse though. We were all literally dragged onto the stage (hint: if you have to physically force someone on stage, they don't want to be there!) It was awkward because everyone knew the girl was 15 and of course, underage and she looked like she wanted to cry and gtfo out there so most of us guys were kind of looking awkward."
"The garter is tossed and pretty much every guy avoids it like the plague and it bounced off my head so I grabbed it before they could get it. I did notice the other guys kind of ran interference on them thankfully."

"I go up to the girl (I'm in my mid 20s) and say "don't worry, I'll be cool about this" and I slid the garter over her foot and all the way up to her...ankle. I stopped and glared at everyone. She was so visibly relieved that I didn't try to make a thing, but so many people got pissed at me that I wouldn't play the game."
– eddyathome
Attack Of The Clones
"The trend of wanting the women in the wedding party to look alike, even to the point of asking them to change their hair color. Along with that goes giving specific directions as to what guests may wear."
– Comfortable-Salt3132
"to be fair to the bride about having the bridesmaids all look the same ....."
"Originally they were so that the devil would not be able to figure out which one was the actual bride and couldn't steal her. yes, this was a thing they believed back in the early days of marriages. That the devil would try to steal the bride on her wedding day. So all the bridesmaids had to dress the same to confuse him."
"Also, to be fair, at that point in time marriages were about social and financial stability not love, and many brides were being married to much older men while they were still very young, like 9-10 years old. I can only imagine how many of them wanted the devil to steal them so they didn't have to be married to someone the same age as their father."
– NewLife_21
Dance, Dance
"I went to a wedding in the last year where about HALF of the allotted dance floor time was spent on choreographed dances by the wedding party. It was cute…but after like the 5th interruption, my friend and I said screw it and went outside to just chat and drink."
"Even worse, my partner was in the wedding party and told me how they weren't informed or given any information/moves for these dances until about 48 hours beforehand."
"The bride was very much the "theater person" type so I guess I wasn't too surprised having been to those types of weddings before but don't drag your friends down with you in your pursuit of the ultimate cringe."
– chikaygo
"I'm MOH in my best friends wedding I'm a few weeks and one of the other bridesmaid suggested learning a dance and I was like, yea, no."
– yuccasinbloom
"Act Of Violence"
"Smashing the slice of cake in each other's face."
– 12thNJ
"I heard a great response to someone asking if the bride was going to do this.:
"She said if he takes that cakes and smashes it into my face ruining my hair, makeup, and dress, there won't be a reception, there will be me finding a divorce lawyer. I actually can't blame her. No she wasn't a Bridezilla, she was just a person who wanted to look good on one of the most important days of her life."
"No cakes were smashed."
– eddyathome
"Someone asked me if I was going to do this to my hubby and I said "Why would I want to start my marriage with an act of Violence?" My husband had the same opinion."
– alady12
"Reminds me of the cake smash of frosting I got in my eye. My wife kept whispering to me the next fifteen minutes to stop wiping my eye and blinking profusely."
– 6SwankySweatsuitsMix
Awkward Music Momentsc
"I went to a wedding the other night where each member of the wedding party had their own theme song like at a baseball game, as they walked down the aisle. The bride walked own the aisle to another one bites the dust."
– AgileHistorian268
"I went to a wedding where when the officiant asked the groom The Question, and instead of saying "I do" like a normal person, the groom had the DJ play the jeopardy theme song while he pretended to think about his answer."
– 5leeplessinvancouver
Very Scary!
"Maybe the worst part of weddings is when either the bride or groom have some deep dark secret and then it's unleashed during the wedding, like the "groom slept with the maid of honor the night before the wedding" or something real sh*tty. My cousin use to work with a caterer and often shared horror stories, but the one she won't forget is when one bride got super angry at her new husband over some small issue. She became a "bridezilla" and physically attacked him and was taken away by police and the husband had to get stitches. Turns out the bride had been in and out of anger management, but the groom chose to stay by her side while they were dating and through the engagement. The groom's family and many of the groom's friends had no idea about her anger issues and the groom kept it secret from them. Not entirely sure if he chose to stay with her after that."
– PlutoGB08
Makes me almost scared to get married!
So, do you have any wedding horror stories? Let us know in the comments below.
Weddings are all about the bride and groom; as they should be.
And that can lead to some messes.
Disaster weddings really should be a reality show.
I've heard stories about some weddings you'd never believe weren't fiction.
Newlyweds! Please test out your ideas on some people first.
Think it through.
Get a wedding planner who is also a therapist.
Redditor ajlposh wanted to hear about all the things we've seen newlyweds have done that maybe made things awkward...
"What's the cringiest thing you've seen a bride and groom do for their wedding?"
I once saw a bride and groom preform a striptease. Like guys... save it for the honeymoon.
Chew on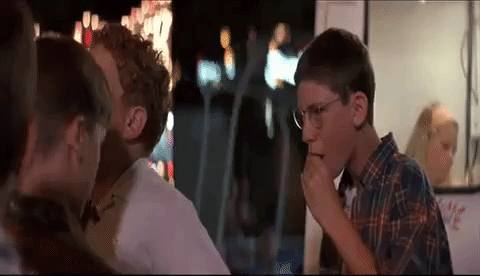 the sandlot chewing tobacco GIF
Giphy
"In-laws wedding and groom and all groomsmen were wearing a tux and a ball cap. The groom had a dip of tobacco in during the wedding and I sh*t you not. His grooms cake was designed like a Copenhagen can."
AndrewLBailey
Let's Drive
"Long ago I worked at a banquet hall and witnessed a fully NASCAR themed wedding. During the reception they played the audio of the proposal going out over the PA at the track. It was fully unintelligible. BZZT GABBAGBGA MRRRY MEZZZZZ RROOOOOWWWVROOOM."
"Other highlights were the owner locking himself in his office to avoid the bride's father because he was threatening him to haggle on the costs. In the end we had to call the police because the bride in gown climbed over the bar to steal more sweet sweet MGD after we had closed the taps and the event was over."
neverzen
Pick it Up
"At my cousin's wedding, they did the thing where the groom removes the bride's garter and tosses it to all the single guys. I guess none of the guys wanted to be next to be married, because once the groom tossed the garter, no one grabbed it. It just landed on the ground a few feet in front of a crowd of motionless guys. The groom tossed the garter 3 times before one guy halfheartedly picked it off the ground. The bride wouldn't look at any of those guys for the rest of the night."
ManOnThePaperMoon
Where to Begin?
"Oh let's see. Groom changed who his 'Best Man' was and didn't tell the original BM until the start of the ceremony. Bride & Groom asked a guest to bartend the reception AT the reception Groom 'dirty danced' with his step-mom (full hands on a**). Bride & Groom hauled their wedding party up to do a choreographed dance to Meatloaf's 'Paradise by the Dashboard Lights' but didn't give them any pre-warning or teach them the dance. That song is 8.5 minutes long."
"Wedding was at a scenic boarding school campus during the summer. Guests were told dormitories were complimentary to stay in. Guests were not told there would be no bedding provided or A/C in the building. Groom later emailed everyone who stayed in a dorm asking for money."
"Same Bride & Groom chose another friend's wedding reception as the right setting to yell at a 3rd pair of mutual friends for not including them in their wedding party."
yet_another_dave
Rehearse First

Wedding Speech GIF by Taylor Swift
Giphy
"My uncle not only brought up his daughters ex boyfriend in his speech but talked about their toxic relationship for a solid 5 minutes. I highly recommend preparing a speech before talking in front of a room full of people."
_Kyla_
It's like people have never been out in public before.
Smile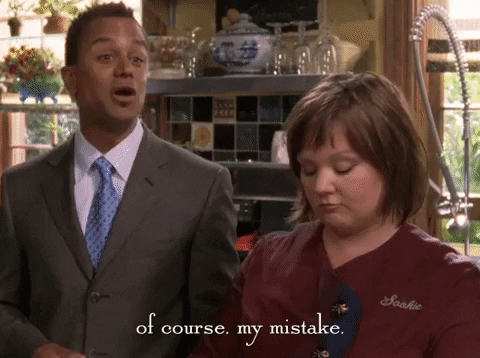 season 6 netflix GIF by Gilmore Girls
Giphy
"Requiring every attendee to bring a date because she didn't want 'sad, lonely people on her day.'"
"Not my friends luckily, but pretended to be a friend's date because she really wanted to see her cousin get married."
bashno
Weird
"At the reception, the groom and his groomsmen sung a God-awful acapella version of 'Stand By Me.'"
"The worst part was he wasn't even singing it to his wife. He was singing it to his mum."
"'Oh darling, darling, stand... by... me...'"
"Chinese weddings, man..."
crunkasaurus_
Too Long!
"I don't know, but one of my favorite memories from years of cater waitering was this long Indian wedding where they had a LOT of random relatives get up to give a toast, everyone's giving these long speeches and then one uncle gets up, goes 'I made him waffles once' and sits back down. I swear to god. bless that man, wherever he is."
"Toasts in general are usually terrible and full of cringe. Just keep it short, sweet, and genuine. No one wants 15 minutes of inside jokes that are embarrassing and don't make sense."
kelgryffindor
Hang Up
"Dated a girl in my 20s and went to her friend's wedding in upstate New York. In the middle of the service the minister's cell phone rang, he answered, it was God, God wanted to talk to the groom, conversation lasted a couple minutes, then the ceremony continued."
Theseus44
"I think they should have given the congregants a turn on the phone too. I mean, this isn't an opportunity that comes along every day."
mna414
Bring It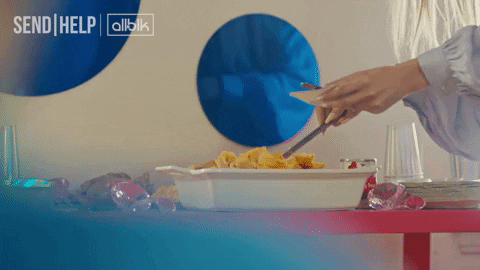 Mac And Cheese Send Help GIF by ALLBLK
Giphy
"Potluck wedding with no alcohol or music. Groom kept showing people his flask and bragging about it. Macaroni was only redeemable thing, when i went to scoop there was hair in it. Very sad."
IcedCoffeeAndBeer
Not the Robe!
"I was a photographer for a wedding where the bride was marrying a man with two kids from a previous relationship. I was in the bridal suite when the bridal party was getting ready and all of the bridesmaids had matching silk robes. The flower girl (groom's daughter) was there too."
"They asked me to take a group photo of the bridal party and one of the women in a silk robe was standing awkwardly to the side. I thought she was just shy or something so I waved her into the photo and the room got DEAD silent and the bride was like "oh no, we don't want her in the photos" and glared at me like I should've known that!"
"Apparently she was the groom's ex wife and was there to take care of the flower girl but WHY DID YOU GIVE HER A MATCHING BRIDESMAID ROBE! I wanted to crawl in a hole and die."
lilsebastian17
Shocked
"The minister (or pastor?) used to date the bride and gushed about how wonderful she was. Told the groom if he ever died not to worry, he'd take care of her. I was shell shocked. I so wished I could think of a reason to ask the couple for a copy of the video of their wedding but couldn't quite find a legit one."
sunsetviewer
Time to Annul
"I wasn't a guest, I was working the wedding. The bride got drunk and sat on some other dudes lap for two hours and flirted with him while the groom sat by himself at the head table with a defeated look on his face."
Samhamwitch
"This might be the most depressing one yet?"
SkepticalAmerican
Oh Daddy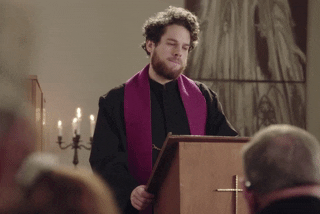 church considering GIF by funk
Giphy
"Not the couple, the Pastor kept saying 'Our Heavenly Father, Daddy God."
"While marrying them. For context it was a military wedding. It was just the couple and the pastor, it was live streamed on twitch, and the pastor was probably about 25. It was in Hawaii. He was wearing flip flops, and a lei made of fake flowers."
S-D-J
OMG Shut Up!
"Speeches. My God, the speeches! Here's the back story. The reception was scheduled for right after the ceremony but at a different location. We couldn't eat until the wedding party got there. They showed up 2 hours late because they were cruising around on the party bus and drinking. After showing up they decided to do the speeches before dinner. Speeches from the best man, the maid of honor, a few parents and random people."
"I've never listened to so much boring crap. It took more than an hour to get through them all. So basically everyone sat around with no music and no food for 3 hours! The bar wouldn't open either so we had only water to drink. Nearly everyone, including me, left after eating. It was disrespectful to their guests."
decidealready
Not a Chorus!
"They sang their vows to each other. Neither had a singing voice. Vows were generally bat sh*t crazy, like submissive in the bedroom, and not asking about where she was going. The autotune microphones were a terrible idea. Their vow songs shared a chorus and it was awful and they expected the guests to sing along with the chorus. The vows singing lasted 20 minutes."
Pure cringe.
CUT!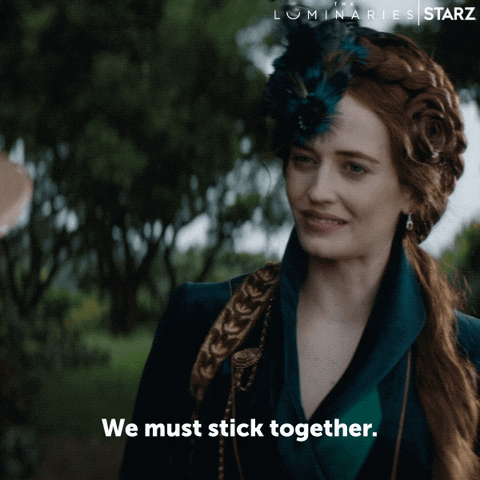 Eva Green 1800S GIF by STARZ
Giphy
"Not wedding but engagement ceremony. They reenacted a scene from an old romantic film, about two lovers in 1800s. In front of like 300 people."
vixissitude
A Trashy Affair
"My friend got pregnant at 20 with a piece of sh*t guy so they got married. It was me, our friend, her mom and then just the two of them.. they got married in some random lady's house, we sat on computer chairs in a small living room with the ladies dogs sniffing us and barking. The whole thing lasted maybe 5 or 10 minutes. After we proceeded to take wedding pictures in the parking lot of a dollar store and then we got McDonald's."
"I made a little bouquet out of some ferns and leaves that were in the McDonald's parking lot, she threw the bouquet and it ended up getting run over by someone going to the drive thru. Lol needless to say, it was a trashy affair and their marriage didn't last long."
jojapeggi
Oh WOW!
"It's a tie between my sister breaking her knee (seriously) at her own wedding dancing to the "Cotton Eyed Joe" and my stepsister having her reception at an honest to god truck stop while 6 months pregnant. In her defense, the food was good but WOW was it weird walking through a gas station in formal wear."
REDDIT
This is why you elope.
Do you have similar experiences to add? Let us know in the comments below.