People often daydream about the easy life, where they can live in the lap of luxury.

It's hard enough as it is for the general population to buy a car, a home, and take periodic vacations—pandemic, be damned.
But they can always imagine what it's like to live extravagantly without having budget concerns.

Since the likelihood of winning the billion-dollar jackpot is like catching lightning in a bottle on Neptune, Redditors were given the opportunity to play out their what-if fantasies when Redditor w_t_f_justhappened asked:
"What would be your first purchase if you came into serious 'f'k you' money?"
People seem to want to be rich enough to live in seclusion.
This Land Is My Land
"Four sections of good pastureland. For those who don't know, that's 2,560 acres, 4 square miles. I'd build in the dead center and never have a neighbor less than a mile from me."
Float In My Moat
"i'd put in a lazy river that ran around the perimeter of my property."
My Own Private Island
"A big old f'k off island a float plane and a self sustained off grid community. Open my fishing camp."
Niche indulgences is the name of the game.
Get You A Fast Car
"SO has always dreamt of driving a Porsche. A very specific model, color, etc. He has it as his screen saver. I would get him that car."
Admirable Honor
"Paying off the land my husband died protecting so that we can build something to honor him by. Specifically turning it into a retreat for combat vets and active duty members."
Mystery Mansion
"Hire a team of architects to design a big house and put in a bunch of secret passageways and rooms and not tell me how to find them so I can have fun discovering them over time."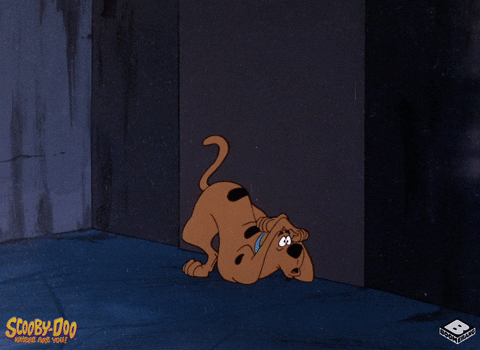 scooby doo door GIF by Boomerang Official
Giphy
Casual Purge
"I'd buy a cul-de-sac of posh houses, gate if off and have my friends live there. They all work from home so doesn't matter where."
"Then one day, there will be deliveries to all the houses. Paintball guns. Masks. The full month."
"And as the clock strikes noon that day, I will have a loud battle cry (haven't decided the sound yet) play on a huge speaker."
"I don't need to tell them this is a battle to the death. They will already know..."
These Redditors were concerned about self-preservation without the stress of incurring massive debt.
Take Care Of My Health
"Go to the dentist, optometrist, and doctor without worrying that whatever needs to be done won't cause financial ruin."
Representation Forever
"A good lawyer to get me set up for life."
Settle Debts And Drive Off Into The Sunset
"First purchase? Freedom: pay off student loans, mortgage, and any other debt. Can't think of a bigger f'k you :) then a couple Teslas lol"
If I ever came into a ridiculous amount of money, I would first build a retreat somewhere in Venice, Italy, and frequently host a masquerade ball where everyone is required to show up in Venetian Carnivale attire—just short of becoming an Eyes Wide Shut moment.
Then, I would build a luxury home in Tokyo, complete with a theater academy where new productions would constantly be workshopped at night while aspiring young performers hone their skills throughout the day in the many classes taught by my colleagues.
And my home base? Why, it would be near the beaches of Malibu in SoCal, of course.
I would bounce between my three properties in my own private jet.
It's not a big ask, is it?

Keep reading...
Show less
I love money. Everybody loves money. And anyone who says different is lying. Now I'm not saying I'm in love with money, and that its the only thing that matters, but its pretty great to have.
I've been very poor and I've had a few bucks and I can attest, having a few bucks is better. Going to be bed hungry isn't fun.
Now truthfully I've also seen money bring about immense stress. Once you start acquiring wealth people notice, and they always want something.
So you do have to start being more diligent with the people you surround yourself with, less one. It's all a learning curve. And Lord please take me on the ride.
Redditor u/SheelahSchimek1980 wanted to hear all the details surrounding the acquisition of riches, by asking:
What are some things you realized as you got wealthier?
Money isn't all about counting the coin or buying any frivolous thing you want. It's also about spending wisely and sharing wealth. That's part of the gift, just ask Oprah.
Free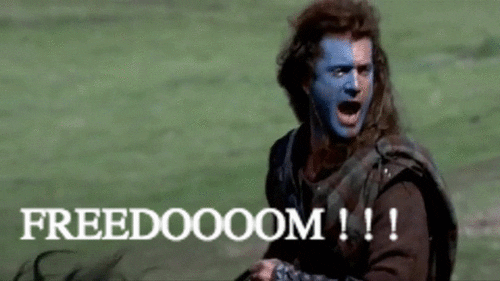 free freedom GIF
Giphy
"That the best thing money gives me is freedom to make choices."
Secure
"Money doesn't buy happiness so much as it buys security. There's a lot less stress about really critical issues with money, which has the unfortunate effect of freeing up your brain to be worried about more trivial things. But not having to worry about certain expenses or fret over whether a minor indulgence will set you back is simply relaxing."
99 Problems
"Technically I am much wealthier than I was 5 years ago. I've learned the phrase "More money more problems" is for people with no control over their spending."
- msb41
"More money more problems" can apply to just buying crap, but I think it is actually supposed to be attributed to what happens when you invest and aggressively build wealth. I now have a day job, a Bar I own, and an investment property. All of that on top of other normal day-to-day crap. It's a lot more problems but it generates a lot more money."
Less Scary
"It doesn't buy happiness as much as it reduces certain stresses. Being poor is scary, and frustrating and stressful as hell. Money won't make someone happy, but it will give them the freedom to do the things that will make them happy. My dad works with a lot of rich people and the ones that are the most miserable are the ones that don't do anything fulfilling with their wealth and freedom."
Money Cycle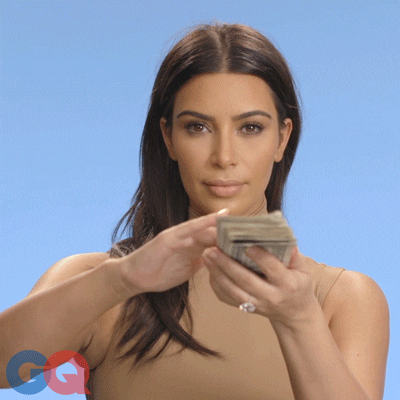 Pay Me Kim Kardashian GIF by GQ
Giphy
"You can actually do the whole 'it takes money to make money' thing."
Security, security... security. That is definitely the running theme with wealth. Security and freedom shouldn't have to be a luxury, that is an unfairness of life for sure.
Sure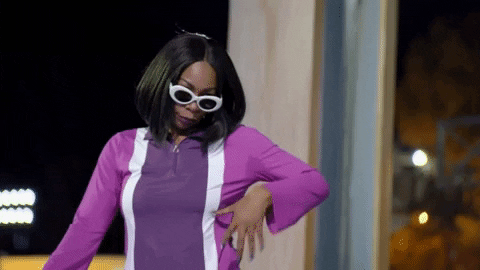 Holey Moley GIF by ABC Network
Giphy
"Having money isn't everything, not having it is."
Panic be Gone
"Everything has gotten so much easier now that I have money. I can afford to live in a decent place so I'm not stuck with awful roommates and/or dealing with a slumlord. Decent food and other creature comforts are easier to obtain. Heck, I've even taken vacations."
"So many problems can simply be avoided by spending a little more money on something with a higher quality or buying some before I need it. Plus, stress is also much lower since my bank account isn't always on the brink of going into the negative. A while back my insurance suddenly stopped working and I had to pay $200 for a medication instead of $8."
"Ten years ago that would have given me a panic attack because I'd have to skip meals to make rent but now it's just a minor annoyance that I can fix down the line. The terrible thing is, I'm not that wealthy. I make just over $70k a year which makes me thoroughly middle class. Just by being above the poverty line I find that life gets so much easier."
- BW_Bird
the hard way
"Just because you can save some money by doing things the hard way doesn't mean you should."
"I had an argument with someone recently who was extremely pissed that I'm going on vacation but not going to do it on a tight budget. I said that I was just going to set aside some money that will be more than enough and just say "f**k it" and not care about expenses as I know they won't go beyond that amount of money no matter what I do. They were extremely, extremely pissed. Need to have a very tight budget with every single thing planned, price checked and researched for the cheapest price possible."
Cookie Clicker
"The more money you have, the easier it is to make more money. It's like that Cookie Clicker game. It's true when they say the first million is the toughest, because with 8% annual returns, because it'll take you decades to earn that first million, but then it'll take less than 10 years to double it to $2 million (assuming 8% returns), and less than 6 years for the next million. Combine that with using leverage to give yourself even more money, it'll take less time."
Soft Landing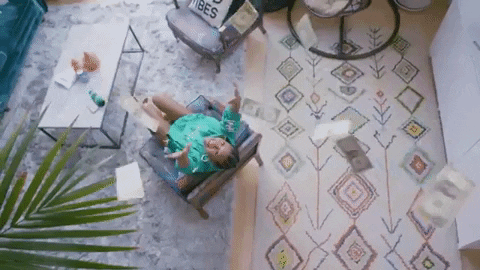 money rain GIF by Shameless Maya
Giphy
"Fortune and luck are not ignorable... they matter more than a lot of people are willing to admit, perhaps for ego reasons, or perhaps they've simply fooled themselves. Also, the cushion of safety and ability to have most of what you need provides a lot of dignity that can't be ignored either."
I love money even more now. I have no shame in admitting that. I will do good things with it. So fingers crossed, for all of us.
Want to "know" more? Never miss another big, odd, funny, or heartbreaking moment again. Sign up for the Knowable newsletter here.
Keep reading...
Show less
Things we may consider mundane can appear as a status of wealth to innocent eyes.

I was raised in a one-story ranch-style home and didn't think much of it until I was invited to a friend's house during grade school.

His house had a second floor and – more impressively to me – had a fully stocked bar area, complete with bar stools.
Slack-jawed at what I believed was an incredible feature, I thought, "his family probably never goes out because they have their own private restaurant inside their house!"
Generous Grandparents
"grandparents giving you money during holidays."
"My grandma would send us a card on our birthday, with the amount of dollars matching our age. And she'd send one dollar to the one that wasn't having a birthday, so everyone got something. That's a very grandma thing to do."
Fridge Feature
"If I went to a friends place and they had a fridge with an ice dispenser, I automatically assumed they were rich."
"My friends bought a house, and they inherited an ice maker on the fridge that came with it. They put a glass under it to get ice, and out popped a nip of vodka - someone stored their nips in the ice chest to keep them cool!"
– BTRunner

Backyard Bonus
"Having a pool at your house."
"An in-ground pool, not just a crummy above ground one LOL. Now that I live where virtually every house has a pool, I know what a money pit it really is."
Ice Cream Upgrade
"Getting the waffle cone instead of sugar cone."
– Fl3xion
Fancy Art Supplies
"Yknow those nice watercolours? Those huge box of unbroken crayons? A whole set of fabercastell colour pencils? That fancy box like pencil case? Pencils that look like pens but are refillable?"
"Yeah those."
"ah yes. the sweet smell of pencils out of their packaging, the feeling of god tier watercolor.. the satisfying-ness of seeing unbroken crayons..."
"i got to feel none of those things as a child tbh.. but it was my DREAM to own them.. alas.. it was 200 ringgit (so like 50 usd.. i know quite cheap in the us.. but in malaysia.. not so much... owo)"
"Anyways, on a brighter note, I actually got a pack of these for my birthday! (I'm a digital artist but have a fascination for these lol)"
– FR1725

Popular Dolls
"American Girl Dolls."
"I got the magazine/catalog in the mail. I would drool over the stuff in there. I always wanted a bunch of stuff from it. My parents never bought it for me."
Big Houses
"Living in a two story house. I was convinced living in a two story house was for the stuff of the ultra rich. Or everyone having their own rooms."
Full Courses
"being allowed to order starters and desserts when we ate out."
– graeuk

"That would be the good life. I remember maybe twice we had ordered some sort of starter, but dessert was really never an option. Usually we didn't even order soda, because it cost too much."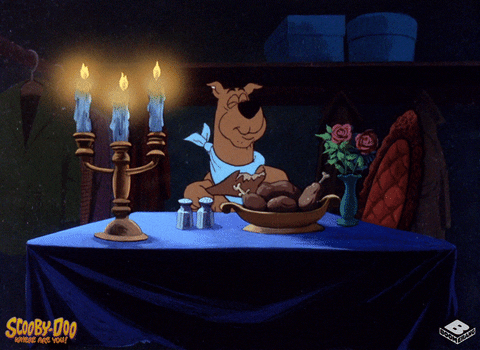 happy scooby doo GIF by Boomerang Official
Giphy
Arriving In Style
"Limos. When I imagined getting rich somehow, literally the only thing that changed in my fantasies was that I would ride to school in a limo and eat more junk food."
"I just kind of assumed that all the crazy things I wanted to do as a kid (like deep sea diving and snowboarding) weren't off-limits because they were expensive, but because my parents were boring."
Keep reading...
Show less
When you don't have a lot of money, you learn to live without a few luxuries. The point where some things just start to feel unnecessary. Like, who really needs a yacht? It's just another house, but it floats, and it only incurs more and more expenses. A yacht comes with a high price tag.
As such, those of us who are perpetually figuring out where their next meal is coming from? We don't care about some things. And we probably wouldn't see a need for them as we got older and richer.
Keep reading...
Show less
Some people are born with a silver spoon in their mouth. But the fact of the matter is, nothing is guaranteed for life. Things can be taken away in an instant, including wealth. Here are some stories of people who grew up rich, but ended up poor once they got older.
u/decrypted_ asked: People who grew up rich but turned out poor what is your story?
Keep reading...
Show less