A woman in Washington DC heard from her neighbors about gay men wearing provocative attire that included leather straps and mesh thongs attending an event at a local bistro.

That did not suit her at all.

So she wrote a letter of complaint on behalf of the neighborhood and falsely accused the men of engaging in "sexual acts" to city officials and the police.

She signed the letter and identified herself as "Jessica."
Black gay circuit party accused of allowing 'sexual acts' https://t.co/KQK9SpfFe7

— Washington Blade (@Washington Blade) 1579879738
While they are not for the faint of heart, the multi-day dance event associated with LGBTQ culture is hardly a violation of the law.
But Jessica accused the partygoers of attending "an organized sex party."
According to the Washington Blade, the event took place at the RedRocks Neapolitan Bistro at 1348 H St., N.E. on January 18.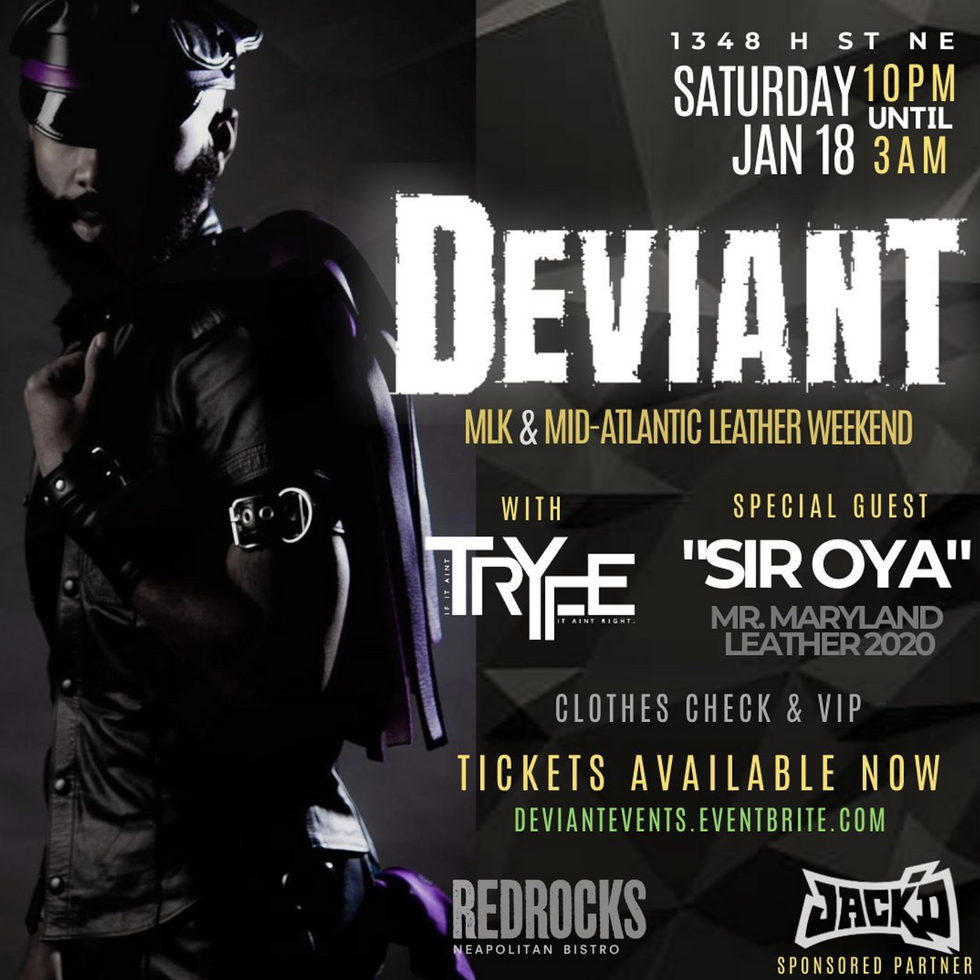 Deviant Events/Facebook
The exclusive event was promoted as "Deviant Mid Atlantic Leather Weekend"–which was not officially a part of D.C.'s annual Mid Atlantic Leather events at the Hyatt Regency Hotel near Capitol Hill–and catered mostly to Black men with an affinity for leather gear.

The manager of the venue alerted Deviant Event's lead organizer Micah Roseboro about Jessica's letter of complaint.
She had contacted the D.C. Alcoholic Beverage Regulation Administration (ABRA), which is in charge of regulating the sale, distribution, and consumption of alcohol at all establishments with a liquor license.

In the letter, Jessica alleged that her acquaintances:
"reported seeing multiple men in very provocative outfits including mesh thongs and leather harnesses walking throughout various residential streets in the neighborhood during and after the event."
She added:
"Several of my neighbors also witnessed various attendees of this event engaged in sexual acts inside the venue and outside the venue."
ABRA can suspend an establishment's license if they are in violation of the city's liquor law or related regulations, including sexual acts.
A spokesperson for ABRA, Jared Powell, received Jessica's letter complaining about the party and told the Blade:

"The complaint has been assigned to ABRA enforcement for investigation."

Lt. Brett Parson, who oversees the department's LGBT Liaison Unit, said of the letter also received by the D.C. police:

"Upon reviewing the email, there are no allegations of criminal activity."
Roseboro issued a statement and called Jessica's allegations:

"blatant lies that may be quickly dispelled."
"This last event on Saturday, Jan. 18th, held temperatures close to 27 degrees Fahrenheit, and it snowed earlier in the day."

"No one was walking around outside in the provocative garments she speaks of."
@DaveHolmes I'm only concerned about Leather Weekend in the context of making sure everyone is warm enough because it's pretty chilly in DC!

— Jessica Ouellette (@Jessica Ouellette) 1579652087
Roseboro assured that all participants showed up and left "fully covered."

Additionally, he asserted that no sexual acts took place in the venue.

"Lastly, I'd like to dispel her lie about neighbors having witnessed sexual acts inside of the venue."

"That was impossible to do, as windows were completely blacked out on all floors."

"Again, we are proud of the work we are doing in providing a safe space for our patrons, who are queer people of color, so the blackout windows are not to hide them, but rather to protect them from bigoted, hateful onlookers."
Roseboro added that the D.C. police responded to a separate report of an alleged stabbing at RedRocks and showed up at the establishment, but officers saw no evidence of foul play or any other illegal activity.

In his statement, Roseboro clarified the meaning of his organization's name.
"Deviant is wherein queer people of color may gather safely and freely."
"We flirt and dance and dress scandalously. We wear harnesses and thongs and jockstraps and lace just to defy and redefine masculinity."
"Deviant is black, brown, yellow, (some white) and queer."
"Deviant is a place free of violence, shaming and ridicule…We celebrate one another's differences, and appreciate one another on the dance floor."
Cheers to our allies, who understand the importance of us having a safe space to party freely, as queer POC. ❤️ W… https://t.co/iqDIrUUKjQ

— DeviantEvents (@DeviantEvents) 1579633736
The bistro's general manager Tavarus Brandon-Flores and his staff have been supportive towards Roseboro and the attendees on the night of January 18 and during the previous circuit party in November.

The Blade reported that Jessica's email indicated she and her neighbors were already expressing they were "horrified" in advance of the upcoming February 15 event at RedRocks.
"We do not appreciate having this kind of activity in our neighborhood."
Despite the pushback, Brandon-Flores offered to go ahead with the next planned Deviant circuit party at RedRocks, but Roseboro said it may be time to look elsewhere.
"As much as I want to fight the good fight, I am looking to move the event to another venue."
"I feel it may no longer be a safe space for my people. I don't want to subject them to hostility generated by Jessica."
Keep reading...
Show less
We. Miss. Obama.
It's been close to three years since we last had President Obama in the White House.
And it seems like we don't see him around much anymore, in these days when we could so desperately use a helping, guiding force.
So imagine the joy that the Washington Nationals Youth Academy kids experienced when they saw the 44th President show up to their program.
"It's Barack Obama!" one kid screamed in joy as he did laps around the crowd gathered around the former President, whom we all miss so terribly.
"I think everybody here—if you guys work hard, work hard in school, listen to your coaches—you guys are gonna do great things. So, I'm gonna be on the lookout for ya because I think you're gonna do something important. You guys are gonna make a real difference and we're gonna be really proud of you," Obama told the kids.
The President later took to Twitter to talk about the fun he had and to promote the work of Nats Youth.
Man, we really miss him.
The President and his family still live in Washington DC and keep busy in visiting nearby programs, including McKinley Tech High School, the Langston Terrace community, the Jelleff Boys & Girls Club, Dog Tag Bakery, and Children's National Hospital.
COME BACK.
We're sorry, we'll stop.
But really.
Please?
Keep reading...
Show less