Trashy behavior rears its head when we least expect it.
It could be at the store, on the street, down an alley, on public transport, or even in your own home. Regardless of the setting, we know it when we see it.
In those moments, all we can do is turn our heads, ask ourselves if we indeed did just see what we think we saw, and then try--as hard as possible--to move on with the day.
Some Redditors shared their most memorable observations of low-brow behavior.
rburgundy69 asked, "What is the trashiest thing you have ever witnessed?"
Keep your head on a swivel out there, people. You never know where or when you'll be forced to witness a thing you'll always wish you hadn't.
Want to "know" more? Never miss another big, odd, funny, or heartbreaking moment again. Sign up for the Knowable newsletter here.
Keep reading...
Show less
How does one describe the gift that is Walmart to anyone? Let alone a person from another country. To many, Walmart is a mecca; a shopper's nirvana, on a budget. There is basically nothing you can't get at Walmart (especially the Super Centers). And most of the things at Walmart are for a few pennies less than most places.
Of course we all know the real reason to shop at Walmart... people watching. And behavior studies. Always have a journal at Walmart... the things you will see. It's legendary. You can't get that kind of free entertainment at Target.
Redditor
u/Filmologic
wanted to know how we could best describe one of America's landmark stores by asking....
Americans, how would you describe Walmart to Europeans?
Want to "know" more? Never miss another big, odd, funny, or heartbreaking moment again. Sign up for the Knowable newsletter here.
Keep reading...
Show less
Walmart employees deal with a lot of crap (including quite a bit of the literal variety). The everyday job of dealing with customers can wear on you enough, but the sheer level of weird that seems to happen in Walmart is even worse.
Keep reading...
Show less
Retail giant Wal-Mart, not exactly known for its tolerance or liberal policies, has been releasing a week-by-week video dating series called "Love Is In The Aisle."
It's cute.
A couple of strangers meet for a blind date at Wal-Mart and get to know each other while browsing through the aisles.
This week's episode featured Pat and Andy, two gay men who quarrel a little bit over squash and cast-iron skillets.
Check it out:
Cheesy, definitely scripted, but we'll take it, Wal-Mart!
It's a SMALL step in the right direction.
But the American Family Association is not having it.
Tim Wildman, president of the hate organization, wrote:
"In a move that most Christians probably never expected to see retail giant Walmart has posted an online video that normalizes homosexual relationships."
"For most Christians and other traditionalists, the idea that marriage is between a man and a woman is sacred."
"We've seen many large corporations reject that in their marketing, but I honestly never thought Walmart would join the cultural revolution and reject the beliefs of its customer base."
He encouraged members to harass Wal-Mart, complaining about their "offensive" and "pro-homosexual" video.
Here is a Twitter first for me; THANKS to @Walmart $WMT for their #LGBT 🏳️‍🌈 #LoveIsInTheAisle blind date video… https://t.co/qDkRrzYAB9

— Kirk Clyatt (@Kirk Clyatt)1551385274.0
A lovely step in the right direction! https://t.co/aJ9gLEYFdB

— David Christopher (@David Christopher)1551456535.0
"It's clear that Walmart is on the path of elevating homosexual relationships to the same level as the male-female model of marriage."
Wildman drones on:
"At least with a company like Amazon, we knew they were liberal from the outset."
"But this seems more like a betrayal from a well-known friend. Sam Walton is probably turning over in his grave."
Sam Walton, the former CEO of Wal-Mart, went to great pains to try and avoid paying his employees a living wage, so excuse us if we are just a little gay in his store for five seconds.
my new reason for living is people unable to die mad about it after Wal-Mart put up a (actually really cute lol) vi… https://t.co/MsdPv3h6Vx

— taber (@taber)1551409659.0
Hate group doesn't want Wal-Mart to acknowledge its LGBTQ customers. Wants to stomp gay relationships in the closet… https://t.co/3ZFMajDWK7

— Holy Bullies (@Holy Bullies)1551386539.0
@HillReporter No self-respecting gay man would ever shop at Wal-Mart!

— David Bernier (@David Bernier)1551375397.0
The anti-gay Christians outraged about the Wal-Mart gay ad makes me laugh!! Get over yourselves😄😂

— Spencer Northcutt (@Spencer Northcutt)1551466667.0
@TheAdvocateMag Come on people.......gays don't shop Wal-Mart! We shop Target!

— Randall Connell (@Randall Connell)1551443331.0
https://t.co/bW6b3KjEKL Dear AFA, The most offensive part of this is gay men going on a date in Wal-Mart.

— Ida Slaptcha (@Ida Slaptcha)1551435149.0
Not to overkill the point here, because they are being what they are, but the AFA is a recognized hate group. And c… https://t.co/Ixfp5x5ybm

— Thomas (@Thomas)1551383008.0
The AFA has been quite a piece of work in the past.
Since their 1977 founding in Tupelo, Mississippi, the group has almost exclusively campaigned against LGBT people, doing such things as:
"getting some corporations to pull their ads from shows such as Thirtysomething, which had been added to Wildman's list of 'Trash TV' because its plot included a gay romance."
"For years, until 2010, the AFA had a section on its website that supposedly exposed "The Homosexual Agenda.""
"There, a reader could find articles and other AFA publications that claimed LGBT people were trying to force the acceptance of homosexuality on children through sex education programs in schools; condemned companies like Disney for supporting LGBT rights and programming; and, also until 2010, featured a particularly noxious booklet the AFA had published in 1994."
"That booklet, Homosexuality in America: Exposing the Myths, included the bogus research of thoroughly discredited psychologist Paul Cameron as a source."
"One of the publication's authors, Richard Howe, used Cameron's 'research' to claim that LGBT people don't live as long as heterosexuals, that they're more promiscuous and that the 'disgusting details of the homosexual lifestyle explain why so many diseases are present in the homosexual community'."
"Another claim was that 'prominent homosexual leaders and publications have voiced support for pedophilia, incest, sadomasochism, and even bestiality'."
Fuck the American family association

— Joel (but a lot merry) (@Joel (but a lot merry))1551366470.0
@AmericanFamAssc Their particular brand of what they call Christianity, the director for the American Family Assoc… https://t.co/Zy7BtyrJ4v

— Chris O'Brien (@Chris O'Brien)1551478914.0
The #AmericanFamilyAssociation needs to take a seat. They're almost as big of a joke as #OneMillionMoms (who cannot… https://t.co/4PFYUbdtLQ

— Seth Rome (@Seth Rome)1551390943.0
@AmericanFamAssc Humanity hates the American Family Association! Love hates the American Family Association!! Fam… https://t.co/ljp68Gojl9

— Kent Elam (@Kent Elam)1551408423.0
Another example of Rt wing snowflakes getting triggered by the existence of LGBT people-and crying out for an all h… https://t.co/fyRlL1g2i2

— Totally Fucking Gay (@Totally Fucking Gay)1551385067.0
In response, here are a bunch of gay commercials.
This is Me | AT&T www.youtube.com
McGay: McDonald's Gay Commercial www.youtube.com
The Best Gay Commercials www.youtube.com
Hope this doesn't offend their delicate conservative sensibilities.
Keep reading...
Show less
Black Friday is one of those unofficial holiday traditions that people love, hate, hate to love, and love to hate. Nobody really wants to stand in line for hours on end. Nobody really wants to wake up before dawn or forego sleep entirely to camp out in front of stores. Then again, Black Friday deals are the only way many people can afford the sorts of things that are on sale. It started with incredible sales at stores, then the stores started opening earlier and earlier, some even open on Thanksgiving day.
Starting Black Friday sales earlier and earlier lead to utter chaos this year since many items were sold out before Black Friday even started.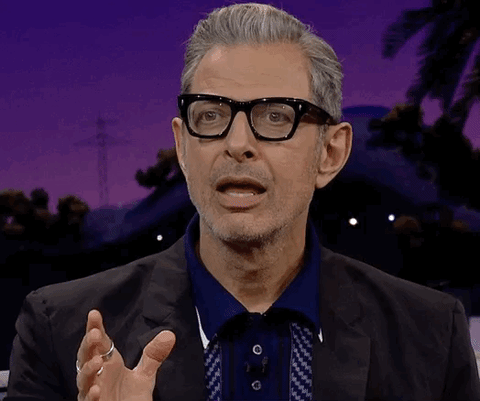 Ummm... media1.giphy.com
Yup, you read that correctly. Several large stores sold out of their Black Friday deals before Friday even happened. Game systems were, as always, a popular item. Target and Gamestop sold out of the Nintendo Switch before Thanksgiving Day was over. Target also sold out of the PS4, but don't hate on them too much. Wal-Mart, and Gamestop sold out of them, too. Don't bother checking Target or Wal-Mart for an Instant Pot. Those sold out before Friday as well.
Crowds were understandably annoyed that they waited in line and wandered through this year's Wal-Mart Maze (more on that later) only to find out that the major items they came for were never even there because they had sold out before Friday. Why call it Black Friday sales if you're not going to sell them on Black Friday?
Frustrated shoppers vented on Twitter.
Well, I went to buy the #NintendoSwitch from @GameStop (Switch plus Mario Cart plus $50 gift card) at midnight last… https://t.co/ndGDGBMSqC

— John Raizor (@John Raizor)1542892710.0
wow i'm literally waiting in walmart for a new phone and they are almost sold out so i'm hoping we get one. i never… https://t.co/cp4j6L19Pd

— imogen (@imogen)1542937727.0
Lol they sold out of PS4's in 20 mins after opening at 5pm today and it's not even Black Friday https://t.co/L6Bu5wI1zq

— Don Jon (@Don Jon)1542943082.0
@AldiUK wud be great if black friday offers were actually available on black friday !!

— leigh evans (@leigh evans)1543052095.0
In order to try and curb some of the expected chaos, many Wal-Mart stores changed their layouts with color coordinated maps and funneled customers through towards registers. Redesigning the entire store so regular shoppers now had no idea where anything was proved to be a controversial choice. Not only were layouts changed, some aisles were capped off completely and it left people trapped in place with no idea that the items they came for were long gone. The maze included arrows on the floors and swirling lines. It was like if Disney and Ikea had a terrible baby.
Again - Twitter was NOT happy.
#1 Crap Award:) "Wow Walmart really blocked most aisles creating a maze and exacerbating the capitalist craziness,… https://t.co/fwvesBqgoE

— MedicalQuack (@MedicalQuack)1542997379.0
@mpaschke13 It would be better if they were more organized. We're waiting until after the big sale is over with

— Hannah Nichole (@Hannah Nichole)1542932445.0
@Walmart Went to my local store last night to shop the Black Friday Ads. What a freaking unorganized mess. Whoever… https://t.co/NPXWiFM9je

— Tommy (@Tommy)1542980768.0
#Walmart was insane tonight. 2 fist fights employee hit with a rack all over a tv. That was all while trying to get… https://t.co/IiEwnXmIsr

— stephen pollock (@stephen pollock)1542935981.0
I just went to Walmart like some nut to look at Christmas decorations they wouldn't let people go down certain aisl… https://t.co/Eg41FNhzgs

— JANICE COMBS (@JANICE COMBS)1542928787.0
Live from Walmart herding cattle I suppose https://t.co/EU5M0dEDSN

— Slade (@Slade)1542928462.0
Wow Walmart really blocked most aisles creating a maze and exacerbating the capitalist craziness

— 👁 (@👁)1542932702.0
@BillyTolley Me and my family were in Walmart yesterday to just only get groceries and they had the isles closed of… https://t.co/XUTjyJD6Vg

— Ashley (@Ashley)1543004708.0
Are you a Black Friday shopper or does the whole thing just strike you as unnecessary? Did any of the early sell-outs change your holiday plans? If you braved your local Wal-Mart and came face to face with the maze, we want to hear about your experience with it. Sound off in the comments!
H/T: Business Insider, Twitter