I am the complete opposite of morning person.

Though the older I get, the more I realize being a night owl isn't the best idea either.
Waking up is one of the biggest chores of my day.
But I do it. Gotta keep breathing...
Redditor Jackiung wanted to compare notes on what is really on our minds when the sun rises. They asked:
"What do you think about when you wake up?"
I often cry when I wake up. Because I love sleep so much. I need to work on it.
Eyes Open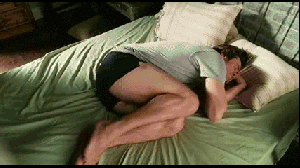 Sleepy No Way GIF
Giphy
"F**k I'm awake."
"F**k is the first word my bf says when his alarm goes off 3 hours before mine. Every morning. Once he's awake he's a happy dude, no one likes waking up."
Bamalushka
I have no control...
"The me in that state of consciousness is not the normal me. It's someone else. And no matter how much I desperately need to get up to be on time, that me will sleep another 15 minutes at least. I have no control. I've had to start setting multiple earlier alarms to give that me their ransom to let normal me get up."
Neyubin
Next Time
"That I can't wait to go back to bed."
Some-Nick1976
"Alternately, how many hours until I can get back IN bed?"
MrsToneZone
"Can't wait to take my edible and go to bed again."
FinnishArmy
911
"Did I wake up on time or did I lose my job?"
glorified_throwaway
"I provide a service for specific surgical cases. One morning I get a phone call waking me up, that they were rolling a patient into the operating room and where was I. Some dingus forgot to put that I would be needed on the schedule. Never gotten dressed and left so fast."
reFRIJJrate
Night Tales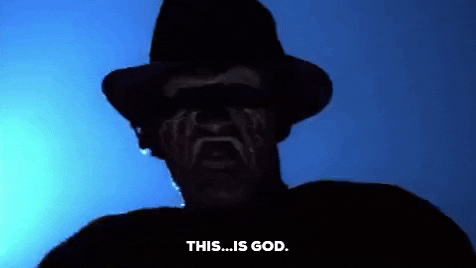 a nightmare on elm street this is god GIF
Giphy
"My dream."
skirtplate
"How do you do this? When i wake up i don't remember anything at all but i've been trying to remember my dreams for years."
yellowhonktrain
Ah dreams. Dreams freak me out. Mine are just so out there. I try to forget.
Looped...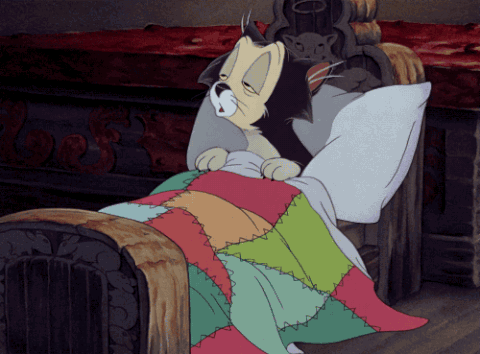 Waking Up GIF
Giphy
"Ahhh crap... here we go again."
Skydome12
"Nothing makes me mad as quickly as realizing I did not die in my sleep."
Pakushy
WTF?
"Why the hell did you think it was a good idea to stay awake until 4 am playing that stupid game? Now you have 12 long hours of work ahead, barely slept 3 hours and you're not even that good at that game. You're 38 g**dammit! What is wrong with you?"
V02D
AHHHHH!!!
"It's like a huge scream inside my head and my heart races."
O_Beast
"Gotta love those morning panic attacks."
strwbrrybrie
"Yes and punch/kick the bed especially if you are hungover its x10."
DrunkStepmother
The Usual.
"Let me walk u through it. First I open my eyes and sit there for like 20 or 30 minutes with a dazed look on my face before actually sit up to use the bathroom. After about 30 mins of being awake I think about why God couldn't kill me in my sleep. And why I will make my existence everyone's problem after about an hour I start looking for food."
otaluweeb
WHY?!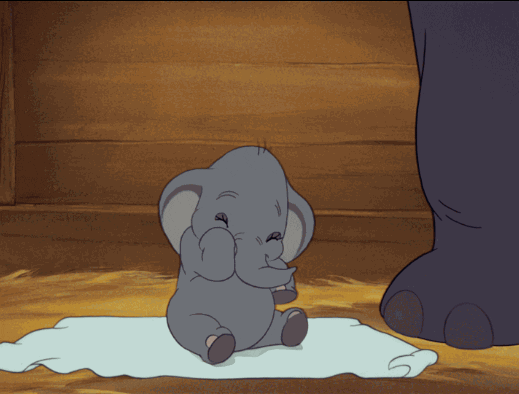 Cute GIF by Disney
Giphy
"I just slept for 8 hours. How is it possible that I'm more tired than before I went to sleep?"
nadofa841
Waking up is hard work. Especially if you have a very comfortable bed. But everyday is a new chance. So there is that.
Want to "know" more?
Sign up for the Knowable newsletter here.
Never miss another big, odd, funny or heartbreaking moment again.
Keep reading...
Show less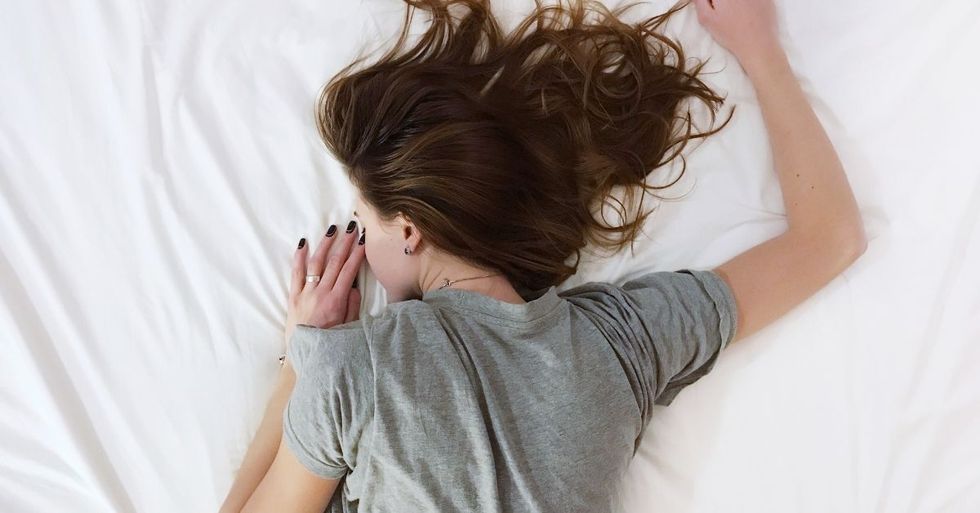 Living at home with your parents when you're an adult can come with all sorts of challenges, especially when your parents have different ideas about appropriate boundaries. But for one woman on Reddit, her parents lack of respect for her boundaries became downright dramatic, when her need to sleep until mid-afternoon due to working nights […]
More
Ok, admit it. Who amongst us hasn't had a few too many during a night out? Then, the morning after said night out... found ourselves in an "uncomfortable" position because of the company we open our lids to. Just like when you gotta go... you gotta go; so everyone once in awhile, when it's time to sleep, it's time to sleep. I have fallen off in the strangest places and woken amongst strangers in sexual and non-sexual ways. It's a miracle I'm alive. But when I'm tired, I'm out.
Redditor
u/zyht56
was dying to hear about the times we've woken up to find a surprise lying beside with us by asking...
People that have woken up in bed with a stranger, what's your story?
"I should've thanked Paul Bunyon" 
One of my most vivid wake up memories was after a long day of work, the gym, auditions and then an impromptu night out with friends. I left the bar at 330 am in Midtown Manhattan and got on the "A" train to Inwood (the top of the island). From what I remember I must've dozed off right after the train passed Central Park and went rolling into Harlem. When next I awoke the train was stationery at 207th street. As I was rising from my slumber I noticed I wasn't as uncomfortable as I had been in the past, when falling asleep on those hard plastic train seats.
When I finally opened my eyes, I was nestled with care on a strapping (and also intoxicated) gentlemen who could've been the Brawny guy. (Plaid, flannel shirt and all) I looked around, just us. I quietly untangled myself from him like a hidden lover running before the wife comes home. I stood, checked for all my belongings and left. I told the conductor to wake him and then headed home. I should've thanked Paul Bunyon. He was sweet... alas.
Lost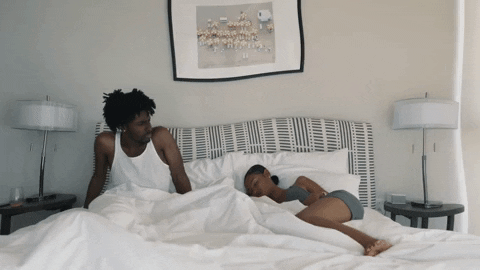 Music Video Atm Miami Nights GIF by atm
Giphy
I know a guy who went home with a stranger. Went pee in the middle of the night naked. Went back to bed. Woke up to screaming. He had gone back to the wrong room and was naked in her mother's bed.
It's Me
Not exactly the answer to the question, but my dad told me something scary after his stroke. Because he couldn't feel one side of his body, he would sometimes wake up in the middle of the night and think a stranger had broken in and was laying next to him. He would have to calm down and remember that he'd had a major stroke and didn't immediately realize that the person he thought was laying next to him was he himself.
Years Later
Was in college, went out too hard on a Thursday night because I had no class the next day. Woke up in my own room to a girl standing there getting dressed. I was dumbfounded, she super casually put on her jacket, said "I have to get to class" and left before I could even get a word out.
I NEVER saw her again. Tried to ask friends who I came home with, everyone said I just disappeared. Her face is burned into my mind and now, 5 years later, I have no clue what happened or who I spent the night with.
No Good Deed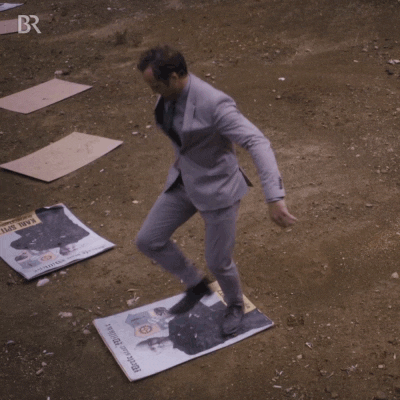 Jump Stepping GIF by Bayerischer Rundfunk
Giphy
Got really drunk at a dorm party. Ended up carrying a passed out girl up to her room (3 flights of stairs, elevator was out). Plunked her in her bed, took her shoes off. Then passed out on her floor.
She woke me up by stepping on me and yelling at me. I was too hung over to argue and just left.
Love you Bro
One time at my cousin's house party I was absolutely out of social energy and went to a room to go to sleep and I woke up in the middle of the night with two of the most jacked dudes I've ever seen curled up together next to me and a unit of a bulldog sleeping in between me and the dudes.
One of the guys saw me wake up and he asked if it was cool to sleep there and I said that I didn't mind but he should let me have some of the blanket because it was freaking freezing. He said "no problem bro" and then tucked me in like some mother hen and then said "goodnight bro". Crap was the most strange/wholesome thing I've ever experienced.
"Careful"
See when a comfy bed is calling all you can do is fall prey to its clutches. Now we really need to be a bit more discerning about who is that bed with us. It's only the safe and ethical thing to do. And if we are the one's concerned about who a stranger is remember... 911!! For example...
Would you like fries with that?
Not woke up with one but came home from primary school around 11 years of age. To find a complete stranger in my bed. Being completely naive thinking he was a family friend. I made us both sandwiches to give to him, I returned to my room to find him gone. I now look back at this with complete horror. My family finds it amusing that it took me years to tell my family about it.
Kudos to Dad
Probably not what you imagined.
As a kid, I would sleep walk at night. In the morning, I would have no recollection of what happened.
I spent the night at a friends house when I was about 10, and the family had a fire going in the fireplace in their living room. My friend's mom decided to sleep on the couch to make sure the fire went out, and the dad went to sleep in the parents bedroom. Due to the door to their bedroom always being closed, I had never been inside...
...which was very, very disorienting the next morning when I awoke in said bedroom, as the dad was just waking up and getting out of his bed. He had assumed during the night I was his son, and didn't question anything when i slipped into bed with him.
Kudos to Dad for not making it anymore awkward than it already was.
And that's the story of how I awoke next to my friend's dad.
Mommy High
When I had my son, I couldn't sleep. I told my doctor I hadn't slept a full night in 13 months. Most nights I was getting only an hour or two and I couldn't sleep during the day. I'd try to nap, but I'd just stare at the ceiling.
My doctor prescribed me Ambien.
The first night I took it and went to bed. Sometime during the night, my husband brought the baby into our bed.
I woke up to find a baby covered in rainbows and tiny little gnomes.
Me: "Honey! Honey, wake up. There's a baby in our bed."
Husband: "I know. You're going to wake him up."
Me: "Do his parents know he's here?"
Husband: "His dad does. Go to sleep."
Be Safe
Was a female in my mid 20's and fell asleep in a 60+ man's hotel bed after a night of drinking in restaurant across from said hotel. What could have been a recipe for disaster turned into him saying 'if I ever had a daughter I hope she'd be just like you. I called ya a cab and here's your wallet. Be safe now.'
In the chair...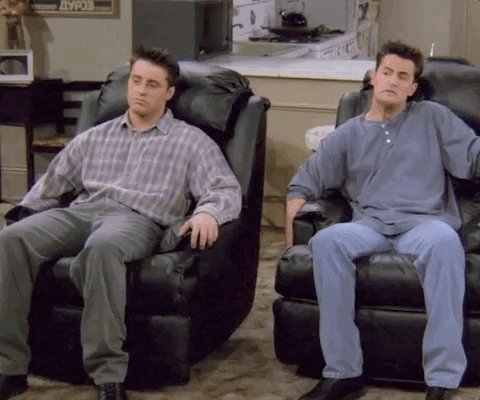 Season 2 Relax GIF by Friends
Giphy
Away at college. Went to a bar, met a girl.
I woke up the next morning in an on campus apartment sharing a recliner with said girl.
Neither of us lived on campus or knew who lived in the apartment we ended up at.
"Checklist"
Well at least we've all been there, or a large enough amount of us as to not feel foolish. Things to remember...
1- Get a name...
2- Get details of when, where and how...
3- KNOW WHERE ALL THE EXITS ARE!!!
Want to "know" more? Never miss another big, odd, funny, or heartbreaking moment again. Sign up for the Knowable newsletter here.
Keep reading...
Show less
There are just somethings that really should be said in person or over the phone. I love to text as much as the next guy, but not about important life matters. Don't be that lazy y'all. I realize that we've lost the patience and aptitude for human connection but we can get it back, just by the sound of a comforting voice. Or let's just use our brains when we are communicating. Think about how would you like to receive certain types of news? Then act accordingly.
Redditor
u/jdparmenter
wanted everyone to come together and spill some tea about those morning messages we've had to deal with once we look at our devices by asking....
What is the worst text message you could wake up to?
If you or someone you know is struggling, you can contact the National Suicide Prevention Lifeline at 1-800-273-TALK (8255).
To find help outside the United States, the International Association for Suicide Prevention has resources available at https://www.iasp.info/resources/Crisis_Centres/
Keep reading...
Show less