For many of us in our childhood, social media was not yet available.
Whether that is a good or bad thing depends on the individual.

My childhood was rife with embarrassing moments, and I remain grateful that no one was around archiving them for posterity.
But I probably would have found viral fame for improv-dancing on a makeshift stage after unknowingly drinking from a spiked punch bowl at my parents' friends Christmas party. I was seven.
I must say, I did exhibit some serious moves. Too bad there were no smartphones then.

Redditor Trxxi wondered what strangers on the internet might say and asked:

If social media was around in your childhood, what embarrassing moment would you be famous for?
Budding Crooner
"After receiving the CD as a gift, singing the entirety of Boys II Men's 'I'll Make Love To You' on my 8th birthday to my parents, aunt & uncle, and both sets of grandparents - one of which is VERY religious."
"Throw your clothes... on the floor... I'm gonna take my clothes off tooOOooOoOo."
Inspired By 'Coyote Ugly'
"In 5th grade I was in a school musical production where in one song I was the 'boogie woogie reindeer,' and during the song I was supposed to dance. Well, my mom had just showed me the movie Coyote Ugly, so I thought the best course of action was to dance like the girls in that movie. I'm sure there's still a home video out there of the 5th grade boy dancing like a stripper..."
Serious Gamer
"Pooping on the floor between arcade games at age seven so I wouldn't lose my place in line to play 'Gauntlet.' I lost my place in line."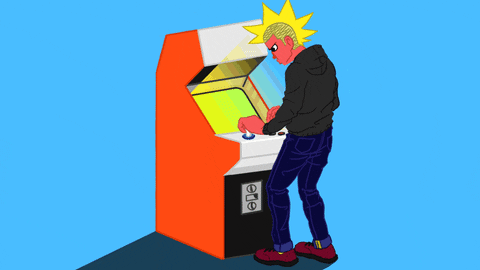 frustrated video games GIF by Furryhead
Giphy
Wrong Dad
"I was at the airport. Hadn't seen my dad since I got back. Saw a guy with a blazer like my dad's. Jumped onto this random stranger's back as he's looking for his luggage. He must've been so confused!"
Everyone's A Grandpa
"As a toddler I used to call everyone over the age of about 30 'Grandpa'. Irrespective of gender, too. It was an equal opportunities grandpa."
Not My Dad
"I once fell asleep in an airport chair (i was little and a bit of a contortionist so i found a way to be comfy) but my neck was hurting... in my sleepy/blurry eyed state i just assumed that the man in the blue blazer sitting next to me was my dad and rested my head on his shoulder for support. 2 seconds after i close my eyes again my head drops suddenly as the guy high tails it away from his seat. Not my dad..."
Hurt Pride
"Trying to impress my crush by showing him how high I could kick. I slipped and broke my wrist."
Running Out Of Gas
"I sh*t myself as a 6 year old girl at the mall."
"I farted in the shoe store, and my sister thought it was absolutely hilarious. 'Again!' she exclaimed as I forced a follow-up fart out. In complete hysterics now, 'Again!' she cackled. Another fart. She was laughing so hard she was nearly in tears. 'Again!!!!!!'"
"Although I no longer had any gas, I pushed as hard as I could, determined to make my sister laugh even harder."
"Then, a moment too late, I noticed I was sh**tng myself."
"I can only imagine my sister would have been filming on her iPhone, had they been available in the 90s."
– pryjar

Bloody Spit
"Ohhh I've got a good one."
"I was 7 years old and my parents were hosting a family and friends gathering at home. I mostly stayed out of the way and played videogames in the living room and adults would ask me what I was playing and whatever. It was nice."
"A few hours into the party I wanted some soda. I go to the fridge and see one of those little ice breaking hammers and proceed to stick my tongue to it like the cartoons did to have a laugh. I pulled it off immediately and there was blood everywhere."
"I ran out crying with my bloody tongue out to the absolute horror of every single adult. Now, you'd think this would be the viral moment, but no."
"A family friend that was a Doctor was there and he came over to me, saw my tongue and told me 'It's fine, I just need you to spit out some blood so I can get a better look.'"
"I proceeded to spit my mouthful of blood just straight to his face. Every single person that saw it lost their sh*t laughing. Even the doctor."
Keep reading...
Show less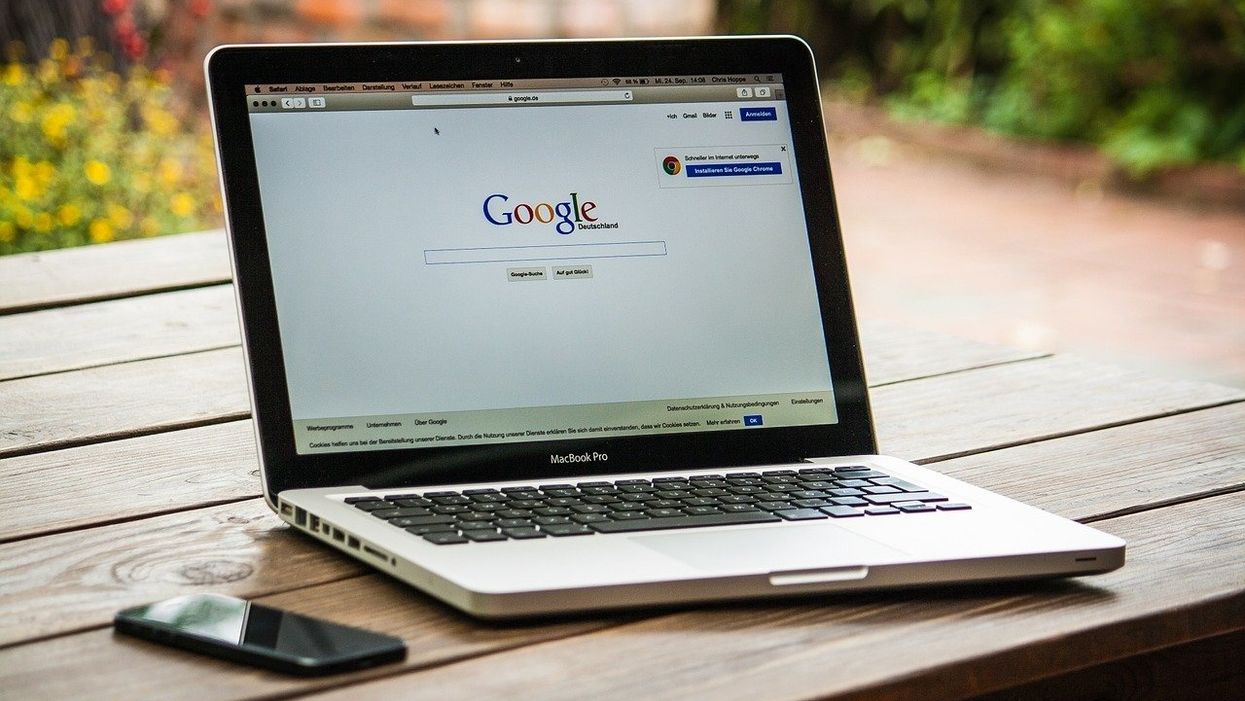 Word on the street is, if you were on the internet between 2005 and 2012, you're entitled to financial compensation.
You must remember those dark days: Superwholock, the Supernatural/Doctor Who/Sherlock megafans who populated tumblr; Rebecca Black's Friday; videos like "The Evolution Of Dance" and "Shoes." What was the internet back then?
It's unrecognizable today, but for those of us who were there...we remember.
Keep reading...
Show less
Meet the new 'grumpy cat' - a moody furball that bears a striking resemblance to the internet icon.
Sora the small framed Ragdoll cat, known to her owner as 'MeowMeow' is 11-years-old and lives with her owner Clara Lin in Taiwan.

Clara adopted 'MeowMeow' around 10 years ago and shared adorable images of her online.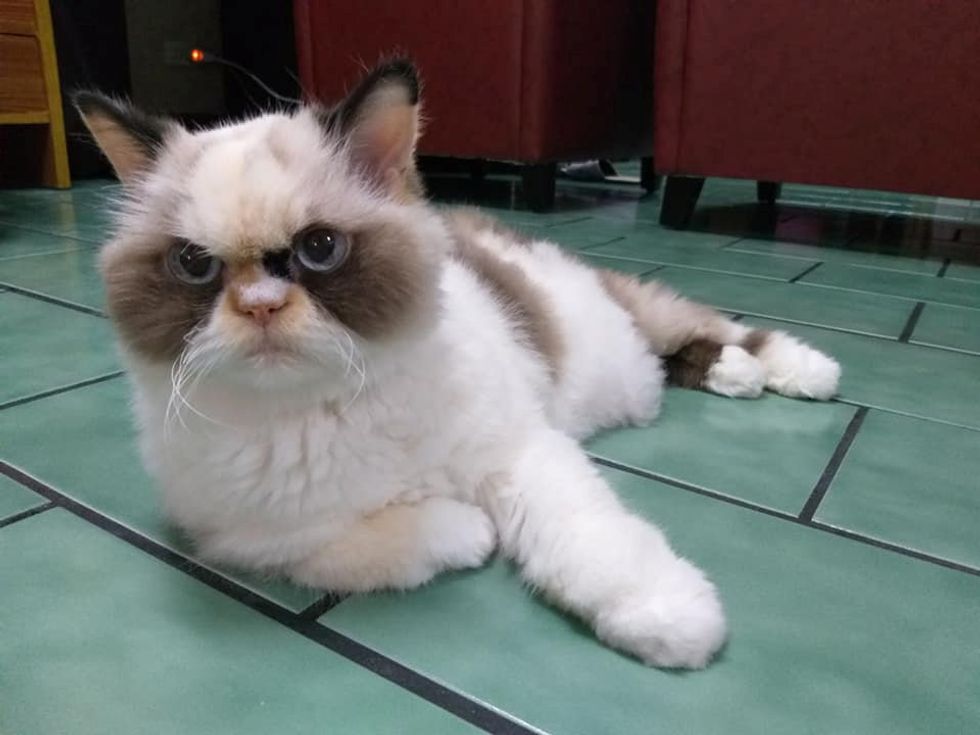 Clara Lin / SWNS
The internet was very quick to point out the feline's uncanny resemblance to the internet icon 'Grumpy Cat' who passed away in 2019.

Carla Lin, 33, said:
"MeowMeow has a Japanese name was 'Sora', means sky, because she has a beautiful blue eyes. But her grandma always call her MeowMeow. I think it's her name now."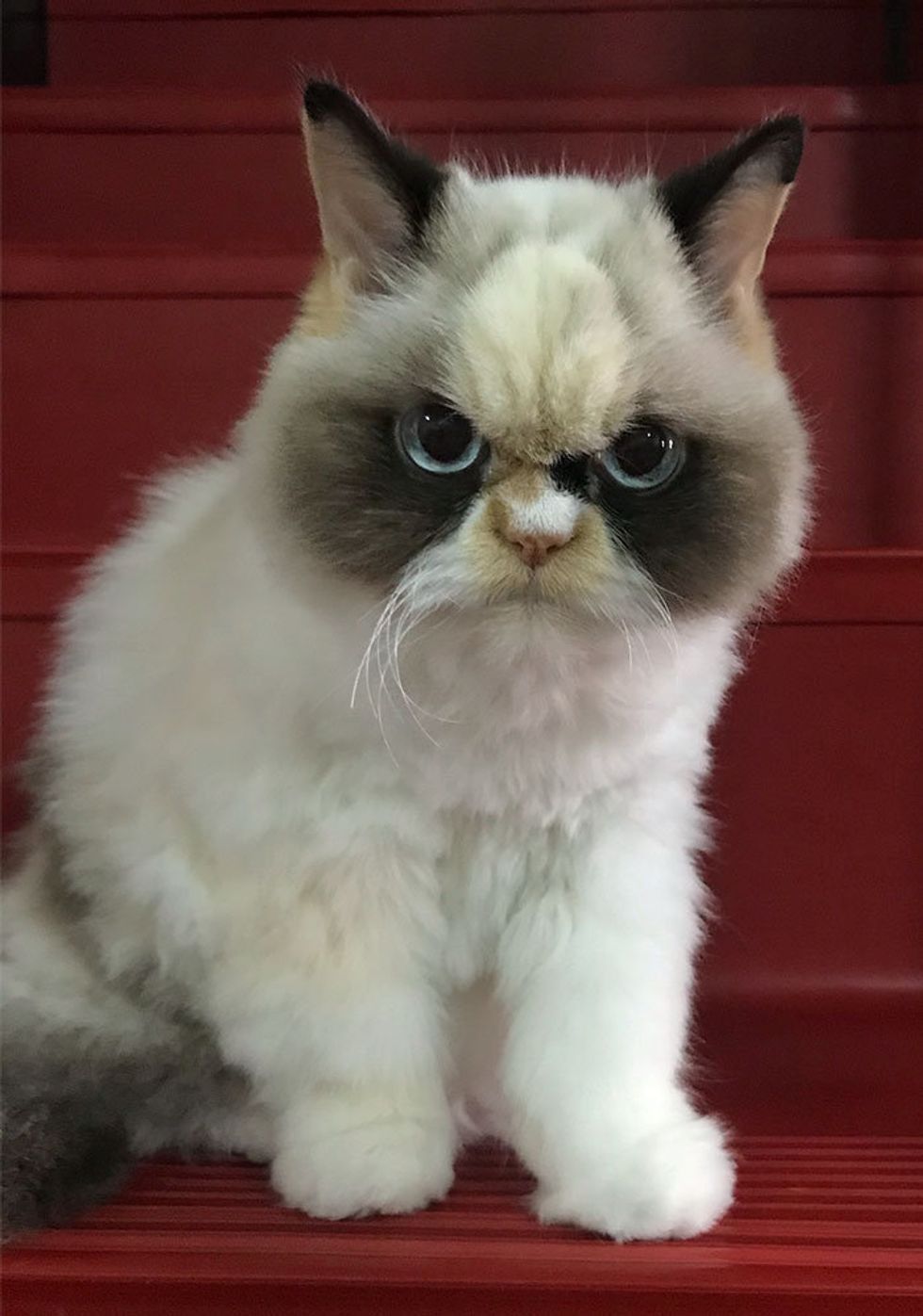 Clara Lin / SWNS
"I adopted her around 10 years ago. I support 'adopt, don't shop.' Since I have my cats, they have taught me a lot things."

"I met her in 2009 on October 10th. That day is her new birthday. She is like my child. We've lived together for a long time."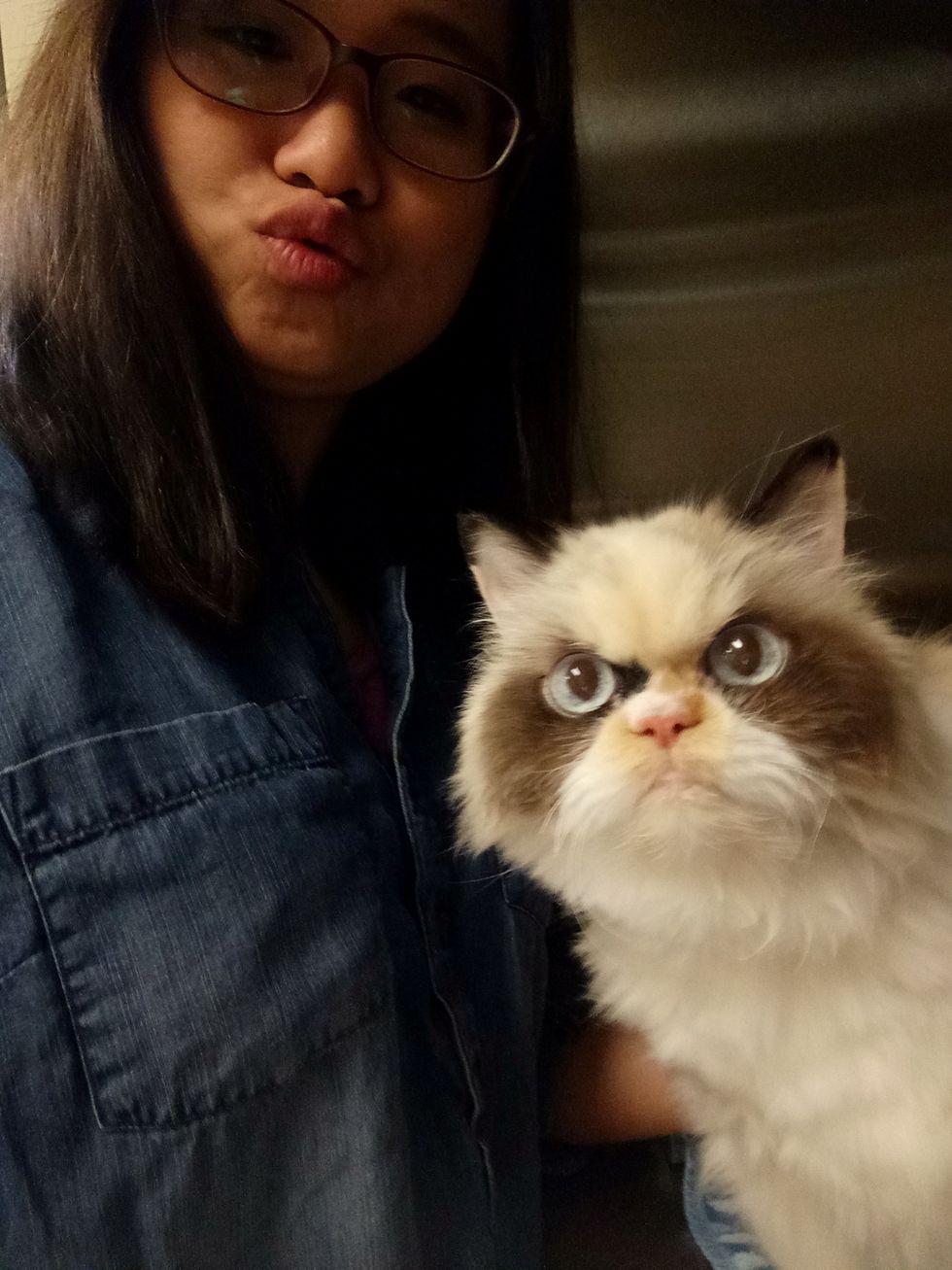 Clara Lin / SWNS
"Grumpy Cat is very cute, and does look like my cat. When my friends asked me is it your cat on TV?

"I was contradicting because I thought MeowMeow's eyes were more gentle not grumpy."
"When I posted pics of her on Imgur in just one night I had gotten so many likes and messages."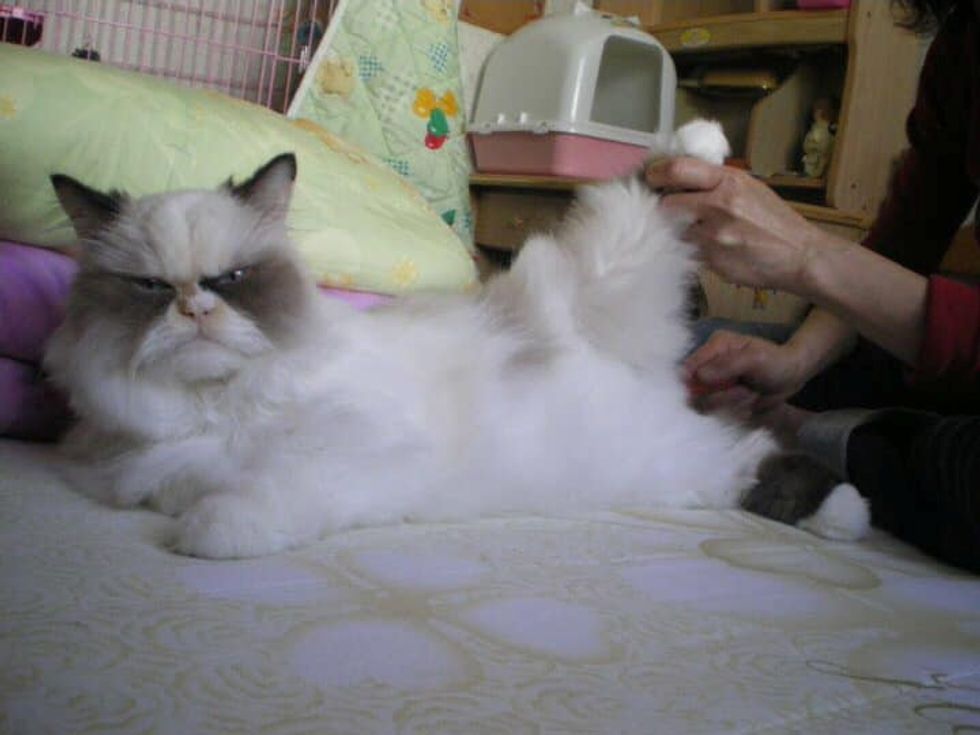 Clara Lin / SWNS
'MeowMeow' certainly seems like a legend in the making!
Keep reading...
Show less
It is said that if you ask a stupid question, you'll get a stupid answer.
No one mentioned you would also be charged for the privilege.
Tom's Diner, a Denver Colorado landmark featured in a song by the same name, recently went viral on Reddit after a customer uploaded their receipt to the site.
The receipt starts with the normal items, listing mashed potatoes and a chicken tenders basket. However, it ends with a $0.38 charge for "1 Stupid Question".

For those who haven't been there, Tom's actually advertises the "stupid question" under its sides menu, so it should come as no surprise when it's added to your bill. Some people actually request it.
Which would make the most common stupid question:
"Would you please take my money?"
I wish someone told me you could charge for stupid questions.
"If I got paid to listen to people's stupid questions I'd probably be a billionaire" - sarahmakennal
"They charge you 38 cents? S***, if I charged for every stupid question I was asked, I'd be f***in rich." - DatBoiDan51
"I got confused after I read the first 2 lines. Read the first word of each line. Was not disappointed there either." - ImmaFukinDragon
"Tom's probably runs out of "stupid questions" when you visit." - santathe1
Tom's Diner is a Denver staple, opened in 1967. The owner and namesake of the establishment, Tom Messina, is looking to retire, and for a while, the future of the restaurant was up in the air.

Recently though, the diner announced that they struck a deal with the GBX Group, who specialize in "preserving and operating historic real estate." They have already successfully listed the building on the National Register of Historic Places to protect the establishment.
They will work together with Tom to keep the diner open. They may change the name of the business, but that might be a good thing.
Right now, it gets confused for the restaurant in the song "Tom's Diner".
"Do do do do, do do do do do." - SuddenlyCelery
"I once searched the song by just typing "tututurut tututurut"." - Blazing117
Still, it's good it will be protected, as many shared their fun memories of the restaurant.
"I go there all the time with my buddies! Good food and good people. Dont get hung up over a funni joke" - brutales_katzchen
"I remember coming to this place after a Zola jesus concert, they had some good milkshakes, good times were had by all" - Thenewfoundlanders
The photo was a fun time and brought up some good memories for those who've been to the diner.

Surprisingly, no one got upset about the concept of charging for asking a stupid question, which I think is a first for the internet.
However, when it comes to this story, you can't charge people for asking their own stupid questions.
@Chappyonthemove Oh no, now you owe me $0,38.

— JFC (@JFC) 1578510052.0
😂 and, they do list it on their menu https://t.co/TjjN5pPFtU

— Mark Robertson ⏩ (@Mark Robertson ⏩) 1578531853.0
@ProducerWes Would "Does Suzanne Vega ever come in here" qualify as a stupid question?

— Berg on a Wire (@Berg on a Wire) 1578369669.0
Is there a discount for inane answers? https://t.co/wSLbRMxSi6

— H. P. Oliver 🇺🇸 (@H. P. Oliver 🇺🇸) 1578334242.0
Keep reading...
Show less
At a time when the world feels firmly and permanently divided, two young boys showed us all what true compassion and generosity looks like after they both went for the same foul ball at a recent MLB baseball game.

The heartwarming interaction happened during a matchup between the Los Angeles Dodgers and the Philadelphia Phillies after a Dodgers player hit a foul ball into the stands.
The two young Phillies fans both raced up the steps to grab the ball at about the same time. The boy that got there first turned around with the ball in his hand and simply offered it to the boy who got there right behind him.
As the two headed back to their seats, the boy who wound up with the ball gave the other boy a hug to thank him and they went their merry ways.
Luckily for all of us, the sweet moment was caught by TV cameras.
Kid gives foul ball away. hugs it out www.youtube.com
If ever there was a time for this GIF, it's now.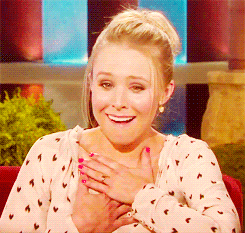 Giphy
The video quickly went viral, with people praising the two boys for their kindness and maturity.
Someone clearly raised these two kids right.
We've certainly seen adults act much worse in similar circumstances.
Once officials became aware of what transpired, both boys ended up going home with game balls.
Which just goes to show:
if you do good things, good things often come your way.
And as the baseball commentator so aptly said:
"It doesn't matter how late or what day it is–it's always nice to be nice to the nice."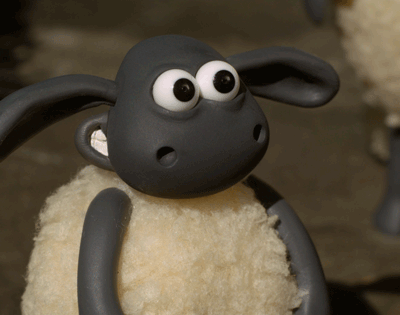 Giphy
Spread the word about kindness with this shirt, available here, in a variety of sizes and colors.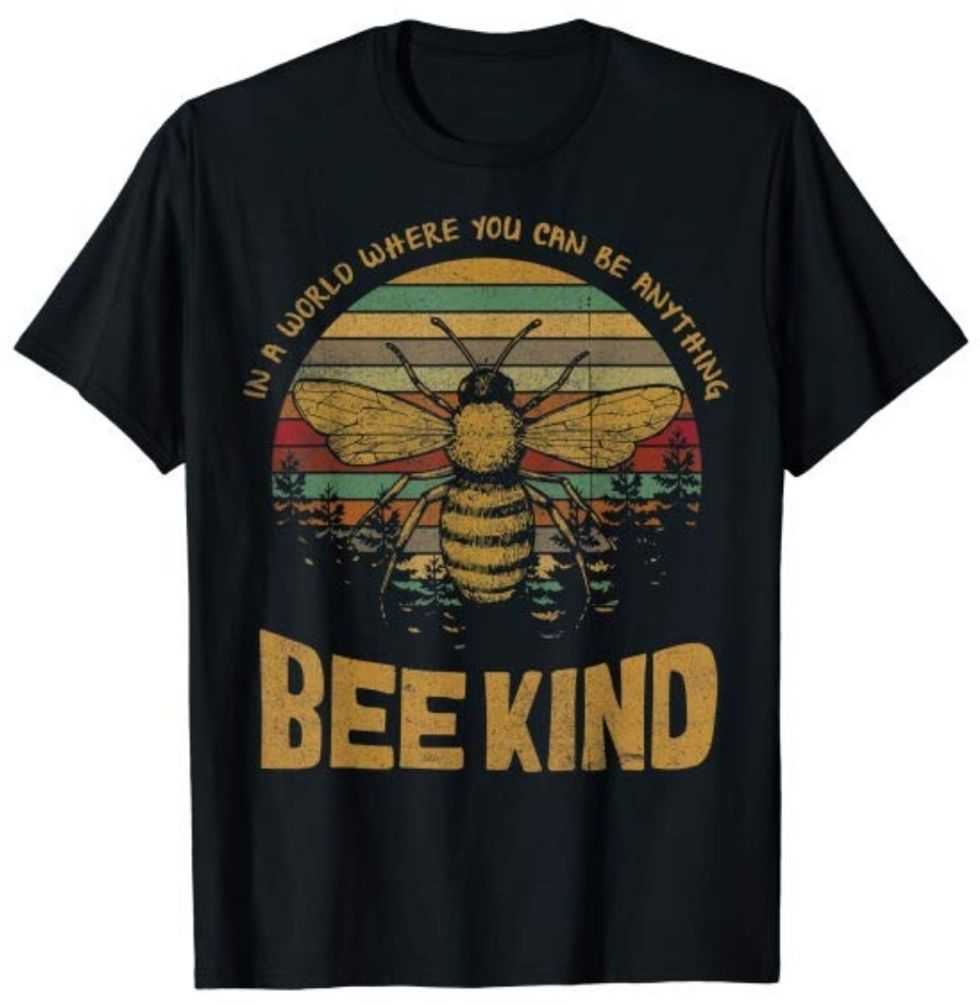 Amazon
Keep reading...
Show less