Not long ago, I rented a vacation rental for my dad's birthday.
It was a really cool apartment downtown near restaurants, and the building even had a rooftop pool! Unfortunately for him, this is summer in Florida, which means we got slammed with a tropical storm and that rooftop pool was closed.
The arcade was open, though... and that's where the entire family proceeded to get our butts handed to us because, evidently, my father is the Galaga master.
Reddit user _Mr_Cheeks asked:
"What is an old video game that still holds up so well today?"
Honestly, had it not been pouring we may have skipped the arcade entirely. And had we not been with my father we would have picked something newer than Galaga.
But the game still slaps!
Here are the games Reddit still swears by.
Worms!
"Worms Armageddon. It looks nice enough and the fun is still there."
- the_amateon
"Our whole floor played this in the dorms 20+ years ago. We had our own network, but the lag times were so bad you could obliterate someone on your machine and then run to stand behind them in their room to get their real time reaction. One was always concerned when a crowd showed up behind you...."
- DocLof
"Many moons have passed since the worms went to war"
- thprk
"Yeah, this should be the top answer. This game is far superior to any of it's sequels, even the celebrated W.M.D"
- lurker12346
"When we got our second computer (which I still think of as the new computer) in 2000 it came with worms and my dad and I would spend hours playing it."
- cherry_armoir
A.O.E.2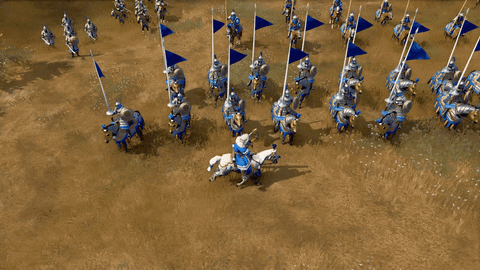 Khan Ageofempires GIF by Age Of Empires Community
Giphy
"Age of empires 2"
- kr4kenz
"The devs are still working on the game and have recently released new DLC with new campaigns and civilizations."
- NativeMasshole
"Honestly, I think AOE 2 is in the top 5 games of all time."
- superfast_jellyfish_
"That's because it is."
- PadishahEmperor
"One of those timeless classics that will just never die. 20year and counting, how many games are out there with a similar track record? Maybe a few MMOs, CS and crew."
- Executioneer
Chrono Trigger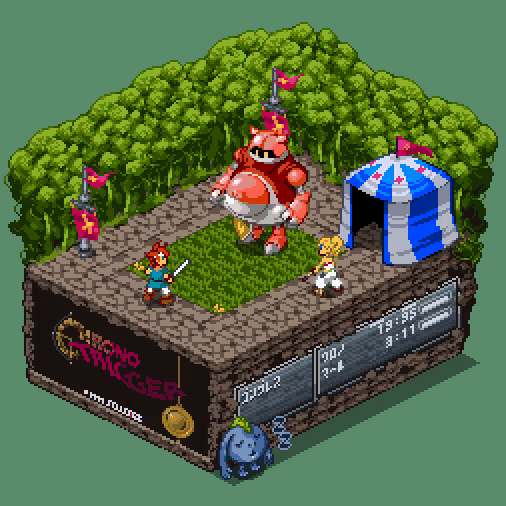 trigger ktwfc GIF
Giphy
"Chrono Trigger"
- WoodcockJohnson_
"One of the greatest games ever made"
- _Mr_Cheeks
"Was literally my gateway drug into RPGs. I still judge pretty much every game's story against the standard Chrono Trigger set. It's also the reason I'm always expecting karmic effects down the line for early game decisions (looking at you 'old man's lunch' at the Millenial Fair)."
- Dr_Beardface_MD
"One of the best soundtracks in gaming, fantastic spritework, pioneered multiple endings in video games, ABSOLUTELY holds up."
- MeniteTom
Best Of The Tycoons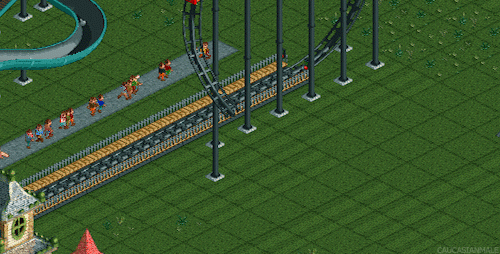 video game physics jet GIF
Giphy
"Rollercoaster Tycoon"
- 123Fake_St
"For anyone who has an itch to play: open rct2 has resurrected this game and added some qol improvements"
- IAlwaysL0se
"I used to hire new park workers at the first of every month, then on the last day I'd drown them because then you didn't have to pay them..."
"I'm actually a union member today, not Jeff Bezos. Turns out violent video games aren't a precursor to our society's problems after all!"
- markmargles
"Made by a single person (Chris Sawyer) over the span of two years. Absolutely insane feat."
- Goodk4t_
Street Fighter II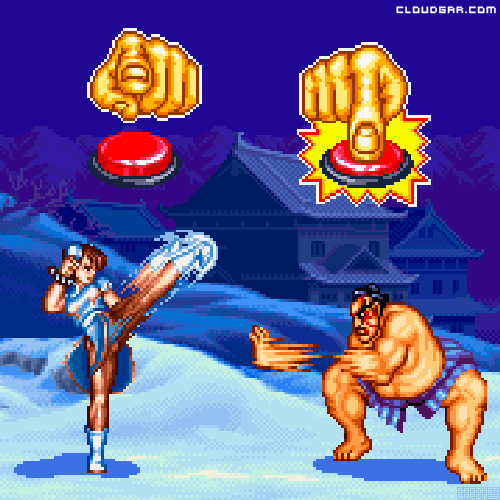 street fighter vs GIF
Giphy
"I swear Street fighter 2 still has relatively nice graphics. It came out in 1991"
- FantasticSweet5902
"It changed everything. Play any fighting game prior to Street Fighter II and it feels almost unplayable. Yie Ar Kung Fu, Karate Champ, hell Street Fighter 1 is so awful compared to it that no one remembers it."
"Street Fighter II is so well thought out and fully realized. It's hard to emphasize how amazing that game is given how ubiquitous it is now."
- Boon3hams
"Sprites tend to age much better than polygons!"
- ChunLi808
"I think most 16 and 32-bit games still hold up really well graphically. Just something about that spritework, particularly when done well, is timeless"
- Stuff2511
"I remember playing minigolf and seeing streetfighter II on an arcade across the way, it looked so cool compared to anything else at the time i had to play it."
- jeffryu
"haduken"
- SupremoZanne
Tetris
"Tetris"
- Amberskin
"True. They say playing Tetris after experiencing trauma decreases the likelihood of developing PTSD."
- overthinkingagainlol
"Tetris is my one example of a literally perfect video game."
- JoakimSpinglefarb
"This was my very first thought."
- NoodleDoodleGirl
"Ah, Tetris, the game that teaches us that success doesn't last and mistakes pile up quickly"
- Micaiah9
"And now I have Tetris music in my head all night."
- nigelofthornton
"I still keep an OG GameBoy in my bathroom so i can play Tetris when I sh*t."
- Serenity650
"The game so addictive it has its own psychosomatic effect named after it."
"The Tetris effect: researchers had participants in a study play tetras for extended periods of time. Afterward the participants experienced weird psychosomatic effects where they could see the blocks spinning outside of the game in their thoughts and even their dreams for up to days."
- Whybotherr
Final Fantasy Tactics
"Final Fantasy Tactics. Amazing story, great music, fun battle mechanics. The only issue is the difficulty (once you understand the game or grind levels) becomes trivial... but with mods - boom bam."
- NateProject
"Yes, everytime I try to play a Japanese SRPG, I keep getting disappointed because its NOT FINAL FANTASY TACTICS, which is of course the pinnacle of the genre. Or maybe I'm just old and don't have as much fun as an old person."
- DryEyes4096
"No, FFT is absolutely the pinnacle of the genre and it's not even close. Tactics Ogre: Let Us Cling Together gets honorable mention though."
- TragicHero84
"God this game is such a masterpiece. I played War of the Lions as a kid and I loved this game. Recently I picked it back up, and this game is still great. Even better than I remembered as I really got sucked into the story and just love how vile the villains are in this game."
- Jalina2224
"My favorite game ever. The difficulty is no joke though if you don't use guides or have much patience to grind. I knew two people back in the day that gave up on the game because they got stuck on a battle but also couldn't back up and grind. Honestly the only reason I avoided this is because it almost happened to me at the Gafgarion fight, so I always maintained a save file where I could grind if necessary."
- Qurdlo
Mario 3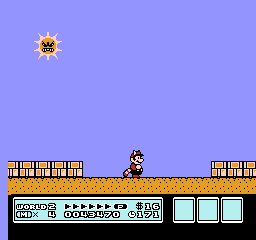 Super Mario Bros 3 Sun GIF
Giphy
"Mario 3"
- Keksis_theBetrayed
"A kid brought Mario 3 into school the day it came out to show off, yes I'm that old. We were all in awe. Everybody had already seen gameplay footage from that movie the wizard, which was pretty rare at the time. I got it a short time later and it 100% lived up to all the hype. Still love playing it today on emulators."
- littlegreenb18
"I still play Mario 3. My original NES still works perfectly and is set-up in my living room. I remember the 'secrets' published in Nintendo Power magazine on how to get hidden 1-ups, an extra whistle, the coin ships, etc."
- SubAtomicSpaceCadet
"Came to say it. Now I'm gonna go play it."
- staggere
"The angry sun is one obstacle to deal with!"
- SupremoZanne
"My teen saw me playing Mario 3 and said, "What, did somebody take a modern game and make it look like the 90s?" This is why Nintendo is Japan's most profitable company - their creators have always focused on creative, engaging gameplay, and they've done it so well that 30-year-old games still feel contemporary."
- schlockabsorber
"When I was younger and still got emotional over stuff, I would always play Mario 3 when depressed or upset. It was just a soothing way to just turn off my brain for awhile."
- Ashitaka1013
Doom
"Doom"
-mike_markerson
"Most old games feel clunky. Doom 1 and 2 are still as smooth as butter."
- Matt463789
"Yes, the OG. I replayed classic Doom, as well as 2 and 3 recently. Then I replayed the original Wolfenstein."
- smoffatt34920
"this reply is way underrated. love classic doom game with its literally tens of thousands of fan-made maps."
- ritaremton
"I'm upset I had scroll down this far to see Doom."
- YuShtink
"Why is this so far down? 30 year old game, and I was playing it this morning"
- ogGarySe7en
"People complain about all the rereleases of Skyrim over the past decade. Meanwhile I've bought DOOM on Win 95, Win 98 (Collector's Edition), SNES, PlayStation, SEGA 32x, Jaguar, Xbox Live Arcade, GBA, Steam, Mobile, Switch... And I'm sure I'm still missing one or two. And I don't regret a single one, even if some of the older console ports are rough."
- LandauTST
Now for my personal little interjection here - Elder Scrolls:Oblivion.
It kind of crushes my soul to think of a 2006 game as "old school" so let's just focus on the reasons it's amazing, kay?
Oblivion gave us options on options on options. The programming was a masterpiece, so much so that even the glitches become glorious works of art.
And Sheogorath??? Perfection.
You know what the gamers of Reddit feel, and you know my vote - though my regular readers are probably tired of me ranting about Oblivion by now.
But what about you?
What classic game still gets you going?
Keep reading...
Show less
Video games are supposed to be a stress reliever, a way to unwind with friends from time to time, or by yourself, and to immerse yourself in a fictional world where the rules of physics don't matter and you pay for everything in gold coins.
They're supposed to be fun.
It's when they're not fun that opinions are formed about it. Unpopular opinions. Opinions that would get your gamer card revoked if people found out about them.

Reddit user, JarRarWinks, wanted to know what you think about the gaming world many not agree with when they asked:
"What are your gaming hot takes?"
The best part about video games is they can play differently for everyone, where the thing that makes you enjoy a game the most might not be the same as someone else.
Not Everything Has To Be Online
"Single player, story based games are so much better than online multiplayer games."
youfailedthiscity
"And there's an ending and you can play something else."
CloudCumberland
"Here's My Family...Before I Kill Them!" - A Typical "Sims" Player
"Playing The Sims is gaming. I've seen a lot of people say that's not really a video game but it is technically and considering how many people kill their Sims off I would say it's just as violent as any other video game."
CatsAreTheBest2
Have You Tried, Like, NOT Playing The Game?
"You don't have to play the game if you don't like it. Just stop ruining it for everyone else."
C**k_LobsterXL
"Also: You don't have to pay every single game that comes out. Some people think like they need to buy them all and resell them later."
Vulpes_macrotis
Have you ever thought about what goes into making a video game? The hundreds of thousands of man hours piled on top of the millions of dollars of advertising and marketing? It would blow your mind if you saw the data behind it.
That all goes out the window if the game isn't very good.
The Look Over The Feel
"Art style is more important to me than realism or 4k graphics. A good art style can win over fans just as much as super realistic graphics can."
"With one exception: Microsoft Flight Simulator 2020."
Time_Significance
"Look at Paper Mario and the Thousand Year Door. No passage of time will make that game look bad."
P0ster_Nutbag
"Nintendo endured an insane amount of bullsh*t for Wind Waker being "Cel-da" when it launched, and it took looks exactly as impressive now as it did then."
sm4k
Combat: Unevolved
"Halo as a gaming franchise is basically dead. It could have some mild success but I really think the day of halo is over"
"So many of the original fans have just moved on, 343 can't get their sh*t together, and casual audiences haven't latched on"
Automatic_Computer20
"Original fans of the games are in their 30's and 40's now and they game a lot less than people in their 20's. It was a first person shooter that wasn't about WWII, and it had a great multiplayer environment along with the early days of online gameplay for consoles."
"Then 20 years went by and it's just another game. That genre as a whole is running out of new things to try. People will still play but it's no longer breaking any ground."
forman98
"Ironically, the Doom franchise is actually bringing more new things to the table nowadays than Halo is. Halo was once called "Combat Evolved" because it evolved the genre past Doom and its many clones. But now Doom is evolving the genre past Halo."
Fflewddur_Fflam_
Doesn't Erase Everything Else
"Just because the last five minutes of Mass Effect 3 sucked doesn't invalidate how goddamn awesome the rest of that game is."
aafab49df3
"People say their choices didn't matter in the end, but the entire game was resolving their choices. (Some better handled than others.)"
SergeantChic
You know the worst part about playing video games?
The people who play video games.
Trying To Play For Fun, Not Glory

"The players in online multiplayer games optimize the fun out of everything. They intentionally seek out the best builds then complain games are too easy so developers increase the difficulty and try to rebalance and then it happens again."
YoHeadAsplode
"And gods help you if you don't play the meta. Too many people have forgotten that games are about having fun."
Kataphractoi
"Most people online ruined the fun out of gaming"
LuxembourgBoy42
"I love seeing memes like 'hurr kids these days wouldn't last five seconds in a 2000s multiplayer game chat'"
"Like... why should they? I play games to have fun, not to have some idiot blasting his blood pressure through the roof in the process of screaming in my ear about a f**king video game. Just chill dude. Enjoy it. It's okay to lose."
AprilSpektra
Seeing Through The Mario Nostalgia
"Nintendo is an awful gaming company."
"They release consoles that are light years behind the current gen. The Switch doesn't even have half the power of the latest gen 7 consoles like the PS5 or the Xbox, let alone the power to compete with the 30 series of graphics cards."
"They have zero third party games on there that would make me want to switch over to one. The lack of a steady online service is a killer too."
"They never drop the prices on their games, even the third party ones they do have."
"If Microsoft/Sony released a console with zero third party games on it, no online multiplayer, and a minimal upgrade in power, Reddit would clown on them for months. Yet nintendo does that and everything is okay."
SSPeteCarroll
Not All Games Age Well
"Just because you played a game in your childhood doesn't automatically make it better"
makarov731
"This is fact but sadly nostalgia is rampant in the gaming community, where god forbid anything new is good"
ButterflyDreamr
Play what you like, sure, just try not to be a jerk about it. Let's all have a good time. After all, they're only games.
What's an opinion about video games you have that others may not agree with? Share with us in the comments.

Want to "know" more?
Sign up for the Knowable newsletter here.
Never miss another big, odd, funny, or heartbreaking moment again.
Keep reading...
Show less
Look, us here at George Takei Enterprises (not our official name) in no way support or endorse the actions described below. It would be ethically wrong and potentially incriminating to say that any actions describe thereafter are acceptable or endorsed by us, or society as a whole.
Still, you do what you gotta do. Life is hard. Get what you can out of it, right?

Reddit user, IFeelSorry4UrMothers, wanted to know what to keep their sticky fingers ready for when they asked:
"What's okay to steal?"
The thing is, sometimes the thing you're supposedly "stealing" is not really being stolen, per say, in that if the people who knew you were taking it would file charges or anything.
Sometimes they just don't care.

Getting The Work Done No Matter What
"WiFi from the Jack in the Box by my house."
KittenPics
"Got through grad school leeching from an unsecured signal"
cavegoatlove
"My first apt in 2010 didn't have wifi and there was no way 19 year old me could afford it. Luckly back in the day most people didn't secure their wifi so I had ~8 options."
pokemonprofessor121
We're All Under One Together?
"Living over a decade in Japan, I've come to the conclusion that umbrellas are fair game."
PM_ME_ALL_UR_KARMA
"Take an umbrella, leave an umbrella"
AZBreezy
Take As Many Pacifiers As You Can. Trust Me.

"After giving birth, anything in the hospital room that's not nailed down."
MamaRebbe
"Kid was in NICU for two weeks after birth. The nurses would give me a new pack of preemie diapers every time I used more than 2 or 3 from a pack of 20, same for those Similac nursettes that came in six packs. I swear I went home with hundreds of diapers and formula bottles. Bless them."
Palolo_Paniolo
"It gets thrown away when you leave so…take it!! Less work for us. Also, formula and diapers are given free to hospital to create new consumers for that brand. We hand them off like hot cakes to help families but also, to screw the mega corporations. We are like drug dealers getting you addicted to pampers or Huggies, lol!"Sol_Luna70
The Office Space Is Entirely Open For Grabs
"Honestly? Where my fellow corporate office supply kleptos?? Don't lie…"
C-O-double-M
"When I was getting out of the Navy packing up to move. I found about 150 black "For Official Use Only" pens. I kept 10 and took the rest back to the shop."
EducatedEvil
I Mean, Yeah, Sure
"2nd, 3rd, or home in a baseball game."
ElGrandeRojo67
"Stealing 1st would look hilarious because you know the pitcher would just be standing there like "tf do I do?""
orionthehoonter
"You can if the catcher misses"
Zkenny13
"For those not as well versed as u/Zkenny13, if the pitcher throws strike three and the catcher doesn't catch it, the batter may attempt to "steal" first. It doesn't happen often, but it does happen."
"If it does happen, the pitcher is still credited with the strikeout, but it ruins any perfect game attempt."
DasPuggy
It's Build Into The Price
"I have few,"
"Soda from McDonald, ask for water (free) and drain it or drink it and pour soda on it"
"Napkins from any restaurant"
"Ketchup"
"Plastic spoon and fork"
AllenProduction
That Ol' Moral Quandry
"Food. I feel like if someone is desperate enough to steal food they really need it."
DonAskren
"Sanitary products, diapers, baby food. If you ever see a poor-looking/homeless person stealing these expensive necessities, please do not report them to the store manager. These are essentials, most of which happen to be expensive. And if it's baby-related, don't report it for the sake of the baby :/"
Ligma_ballz973
It's "The Code," Apparently
"I'm a young female and one " girl rule " I would say is common to know is if you see a woman steeling period products( such as pads or tampons ) or baby products like milk or diapers, you do not say a word. You don't know if that might be a mother who can't care for her child because of financial problems or mental health. It could be a woman who can't afford menstrual products. Even if it's neither of these you never know a person's situation and it's better to stay silent."
Cheesefan1
Weird Some Places Put Laws On This

"Trash. It was thrown away, so no one needs it anymore. Stealing trash is actually illegal in my home country, Germany."
DartmitBart
The information super highway is a glorious thing, allowing you access to a myriad of products with a click of the 'Purchase' button...
...most of the time.
Where All My College Students At?
"Academic papers and textbooks. The actual authors don't see a cent of it, it all goes to the publisher who gets to charge like 40 bucks to read it once. Oh and also in order to submit to those journals, you have to pay for it."
Inkuii
"Definitely don't ever type "sci-hub.se" into your browser of you're looking for access to a paper. It certainly doesn't have a database of pirated journal articles, or really practically anything with a DOI..."
"ETA: you also definitely can't download the file as a PDF. And clicking the source on the left side will NOT copy the citation to your clipboard. And it's absolutely NOT mirrored at sci-hub.st or sci-hub.ru if your ISP blocks it........."
Lestalia

"For academic articles, if you email the authors they'll almost always send you their paper for free and be really happy about it too"
fluffytedy54
Higher Learning Should Never Be That Much
"E-Textbooks"
-ImpliedConsent
"Pearsons can go f* themselves."
lorenzomofo
"YES. The online textbook viewer is awful too."
"Once I had to buy a $230 Pearson math textbook, I hated it, and it had multiple wrong answers in the practice question answer key... I returned it 2 weeks later and just found a pdf online"
Taco_Guy3
Up, Up, Down, Down
"Old Nintendo games. If they refuse to maintain their old game systems then there's nothing wrong with emulating them."
User Deleted
"Yeah if you can't even buy a game anymore, there is no ethical argument against pirating."
"Technically you can track down an old physical copy, but at that point you're only benefiting some reseller, not the people who actually own the rights to the game."
itsamamaluigi
When You Absolutely Have To Edit A Picture
"Adobe products"
dansla116
"I'm still using a copy of Photoshop 6 that fell off a truck back in 2000."
mandobaxter
"I'm in my 40's and pirated my fair share of adobe products over the years. A few weeks ago my teenager was trying to find an old pc game on steam etc. and couldn't even find a way to buy it. I showed him how to sail the high seas and find it. Today he came to me and said "dad, I found cracked adobe premiere and got it to work". Don't think I've ever been prouder"
Trill_McNeal
This "Stealing" Is Certainly A Lifestyle Choice

"i think its okay to steal anything. the punishment you get for stealing shouldnt be because you stole. i think it should be because you got caught. think about it, if you steal a twix bar no one is harmed by it. there are millions more being made and thousands more at stores. as long as you dont get caught stealing or harming anyone, ANYTHING is okay to steal."
waq_lol
Just a reminder: The law is there for a reason.
But, you know, be smart about it.

Want to "know" more?
Sign up for the Knowable newsletter here.
Never miss another big, odd, funny, or heartbreaking moment again.
Keep reading...
Show less
Many of us have a tendency to obsess over things, whether they're behavioral or tangible. You know the feeling. You just can't stop thinking about them.

But if our fixations get to the point where we are letting them interfere with our lives, are the detriments something to be concerned about or should we trust our ability to control ourselves?
Curious to hear about the things we love so much, it's almost criminal, Redditor mred6453 asked:

"What's not a drug but is so addictive that it could be classified as one?"
Our social engagement is an extension of who we are. And that's a problem.
That Device
"Phones :( i really hate taking a dump without it."
– Apozero
Our Current Activity
"Scrolling reddit posts."
– razeronion
"This is more true than people realize. Scrolling works very similarly in the brain as actual drugs and can cause very real negative side effects such as addiction and feeling more anxiety and depression in general."
"The theory is that if you use too much of anything that causes an instant surge of dopamine the balance in the brain shifts so that what used to cause the 'high' becomes the new normal and the old normal feels like something's missing. All of a sudden it will be impossible to wait five minutes for the train without looking at you phone several times while you slowly start to show signs of depression and anxiety in your life."
– the_monkey_of_lies

The Usual Suspects
"gambling, video games, internet, social media."
– nutcrackr

These aren't drugs, but they sure taste good.
The Treat That Keeps On Giving
"Chips and salsa"
– CrumbledTheCookies
"I eat this every day. I've gone to the store just because I'm out of salsa, and then I have to come up with other stuff to buy to justify the trip. It's crazy."
– emthejedichic

What's Not To Love?
"Chocolate."
– KitKatCrunchie

Soft Drink, Hard To Quit
"Not being flippant, I can not for life, health, or wealth give up Coca-Cola. I've tried for 30 years and withdrawal is not something I can manage to get through. I go back every time."
"EDIT TO ADD: It isn't physical, I don't get headaches or other bodily symptoms. It's psychological withdrawal issues."
– misslilytoyou
This'll Make You Smile
"CHEESE"
– hollywhyareyouhere
"Someone on the Internet once said cheese is heroin but for people with jobs."
– Tthelaundryman
White Powder

"Sugar."
– 94H_Civ_Equiv
"Came here to say this. In the lives of those who abuse sugar, it usually fits a good part of the definition of addiction: 'continued use in the face of harm.' As it says in The Book of The Subgenius, 'If sugar was discovered today, it would be a controlled substance. Sure, cocaine is pretty damn bad for you, but at least it's not half your kid's diet!'"
– SantaRosaJazz
Some people tend to engage in these behaviors too often.
Delay, Delay, Delay
"Procrastination."
– Superfruitdrastic
"Wasn't there a thing called revenge bedtime procrastination? Like you delay your bedtime so you can keep the next day further away?"
– obiwantogooutside

Importance Of We
"Validation."
– Zer0Summoner
"That's exactly what I was going to say! You're smart, and probably also attractive!"
– tarlton
Questionable Payoff
"Academic validation. I made myself miserable for years so I could become valedictorian. For what?"
– Its_Me_again21
"I look back at those years now and realize I missed out on some basic experiences: concerts, school dances (prom), camping trips with friends, pizza/movie/game nights…"
"I will never get them back. Sure, I can host and/or attend them now, but it's different during those formative years."
– jimbolic
I'm shamelessly addicted to coffee.
The aroma alone puts me in a happy place.
I probably drink too much of it, however, as I've become numb to the effects of caffeine.
Some people drink tea at night, I have two cups of coffee to get me to bed. Maybe that's bad, but if the powers that be ever bans coffee, hold my espresso.
Want to "know" more?
Sign up for the Knowable newsletter here.

Never miss another big, odd, funny or heartbreaking moment again.
Keep reading...
Show less
Video games get a bad rap—often being blamed as time-wasters, brain-rotters, etc...
But there's an altogether different side to be considered.
They can be masterpieces of storytelling, visual stunners and bring people together in ways they couldn't have connected otherwise.
Reddit user justanabricot asked:
"Gamers of Reddit, what is your favorite game ever?"
Reddit users had all kinds of reasons to love the games they love - and they're not afraid to totally geek out about it.
Experience The Fear Again
"Subnautica!"
"The fear of the unknown, but explored in the comfort of my own room."
"It lets me explore, be afraid, and subsequently conquer each fear as it rises."
"What gets me is that after I figure out the 'enemies,' the game somehow reminds me that I'm the alien here. They were there first."
- Exciting-Shame-88
"This is probably my #1 game that I would want to delete from my memory and experience again for the first time."
- Badios
"I have a bit of thalassophobia, so this game was a pretty incredible ride for me."
- PunkandCannonballer
"I just finished it again the other day, and I agree it is my favorite game."
"I want to start from the beginning with no knowledge and experience the fear and wonder I went through again."
- bringbackbulaga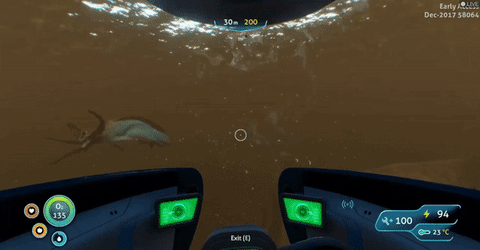 Giphy
Freedom Beyond Anything
"Morrowind."
"The experience and freedom was so beyond anything else I experienced at the time."
"The ability to craft crazy spells so powerful they had almost no likelihood to not succeed, kill essentials NPCs because you're not gonna tell me the story is more important than getting his armor, and the amount of little mechanics and things to discover that seemed unending."
- CrusadersSolace
"It has been overshadowed by Oblivion and Skyrim, but people forget how revolutionary and different it was for fantasy RPGs back in 2003"
"Takes place in a part of the world where humans are a foreign minority. Yes, the Empire is human run, but this distant province is home of the Dunmer."
"The varieties of cultures you experience. It isn't just your run of the mill standard European Medieval fantasy: weird Daedric ruins, steampunk Dwemer ruins, mushroom towers, and bone-armored warriors that live in giant crab shells. Not to mention the flora and fauna to match."

"The background lore is so well done- and they leave the right amount of it unknown. There are so many different versions of "the truth" that gains genuine interest in the backstory and motivations instead of 'Big evil thing wants to rule/destroy/etc the world.' "
"The amount of customization. You can create your own spells, potions, or charm your weapons/clothes/armor."
"The 3D world. It seems mundane today, but as a teenager, walking into a tomb in POV was something new."
"The theme song Nerevar Rising (the first iteration of TES theme) is stunningly beautiful. Years later I used it to walk down the wedding aisle to."
- Whizbang35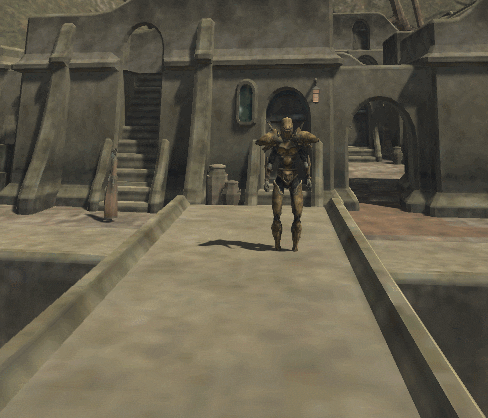 Giphy
Terrifyingly Beautiful
"Bloodborne."
"The gothic/Lovecraft world is so terrifyingly beautiful. Every turn or corner had something horrible. I loved every moment."
- ebenni500
"I wish I could forget Bloodborne just to replay it for the first time again. Talk about an amazing first play through."
- Dr_Truelove
"I played it through for the first time last week. Absolutely Phenomenal"
- BelowAverageWeeb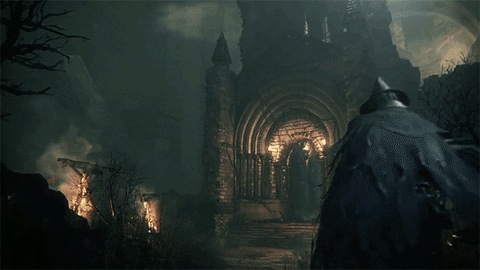 Giphy
As A Kid Who Didn't Have Friends
"100% Mass Effect."
"The story was so rich and giving the ability to shape not just your physical character but who they were through so many actions and choices give the character a life and make friendships with the NPCs really gave me a safe escape place as a kid who didn't have a lot of friends growing up."
- Admiral-Shepard
"It's insane just how much I got attached to those characters"
- SuperMajesticMan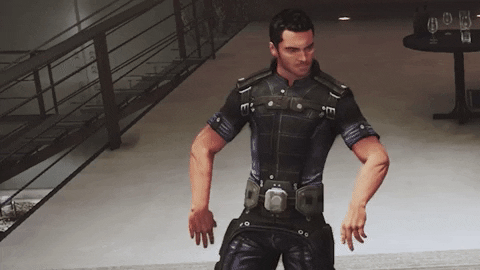 Giphy
Build, Fly, And Blow Up
"Kerbal Space Program."
"You get to build, fly, and usually blow up space ships with relatively realistic physics!"
"It is the type of game I would dream about growing up (I was a space nerd) and it has incredible scaling difficulty and a great modding community so it really never gets dull."
- willstr1
"Right there with you! This game has brought me thousands of hours of entertainment."
"Can not wait for KSP2!"
- KetzerJefe343
"KSP is an amazing game!"
"It is so easy to fail, but it makes it fun none the less! It makes you learn from your mistakes and keep building from there!"
- g00diebear95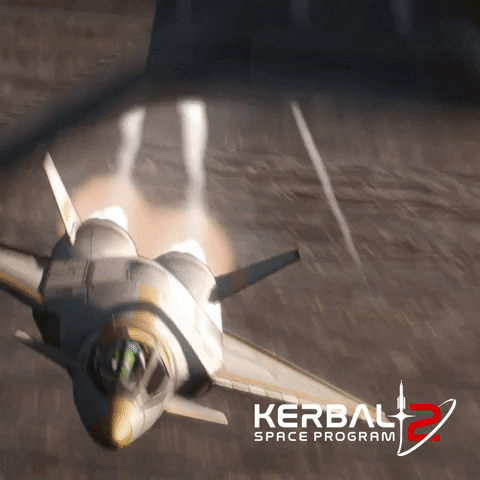 Giphy
Fighting With Friends
"I really like the Mario Kart/Mario Party series."
"Those games have brought me so much entertainment and joy when hanging with friends, and DEFINITELY some arguments in between."
"So much hours spent on those games, with some of the BEST music as well."
- [Reddit]
"Unkillable classic."
"I don't play them as I'm not a switch user, but a game or two when I'm with my girlfriend doesn't hurt."
"Still great games, if I get a switch it's for 3 good reasons: Mariomaker 2, animal crossing and Mariokart."
- justanabricot
"Mario kart is such a good multiplayer game, I remember playing it on the Wii with my family for hours."
"Sadly my cat destroyed the console. I will probably get a switch with Mario Kart on it to have fun with it again."
- brokebecauseavocado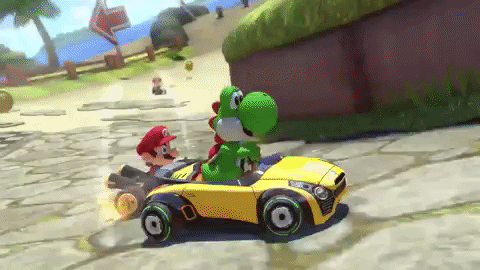 Giphy
For Love And Dogs
"Fable. Mostly because to make people fall in love with you, half the work is saying "Hey" over and over again."
- ChebbiesPebbies
"In Fable 2, when you beat the game they gave you one final choice with three options:"
"One was to resurrect everyone that died in your quest, and the other two were something like money and weapons."
"Near the end of the game, your dog companion dies protecting you. I had named mine after my aging childhood dog, so obviously I made the choice to bring everyone, including my loyal video-dog, back."
"At around 2am, after beating the game at the end of a long binge, I put it down and went to sleep."
"The next morning, I got a call from my mom that she'd had to put our dog down the night before. I like to think of him like he's running the fields in Fable 2, helping me dig up stupid sh*t."
- liberal_texan
"I f*cking love Fable."
- ultravioletblueberry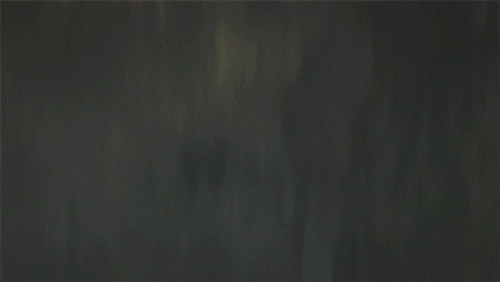 Giphy
Meeting Your Destiny Playing Destiny
"Ignoring my favorite old school games, my favorite modern game is Destiny/Destiny 2."
"I met my wife through Destiny about four years ago."
"We had a Destiny themed wedding and we welcomed our own 'Little Light' in February 2020."
"We still play together most nights and spend most of our time teaching new players the endgame content (Raids/etc). From the gun play to the lore to the raids, there's a lot to love in Destiny for me."
- Sephiroth0327
"Destiny is def a big part of your life. Gotta respect that"
- justanabricot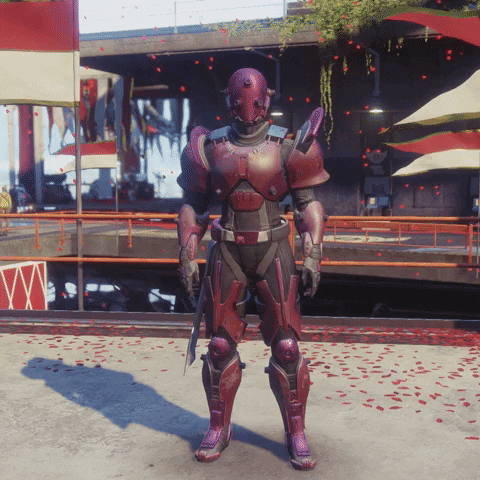 Giphy
Always Alistair
"Dragon Age: Origins."
"I just love everything about it. I feel like it has great replay potential due to all the different choices/ending you can have."
- PUCK202
"With ya there bud. Dragon Age: Origins is my no#1 most beloved game of all time."
"The characters, the setting, the combat and character role-playing, I even loved the shit out of the combat system."
- EthanWolfMan
"I've replayed it many times with many different character builds, but I always end up the same way."
" 'THIS TIME I'M NOT GOING TO ROMANCE ALISTAIR' "
" *Narrator: She romanced Alistair.* "

- Starsuponstars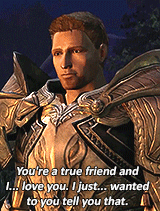 Giphy
Play With People You Know
"Honestly I know someone is going to hate me for this, maybe everyone, and I wouldn't at all blame you, but please hear me out."
"Fortnite."
"I play it a lot with my boyfriend and some of his friends and it's such a hoot if you're playing with people you know."
"If you're playing random fill lobbies on your own, it is kind of sh*t because you'll usually get teamed up with some squealing 8 year old kid who thinks having 100+ skins effects how well he plays the game."
- dumbblondebimb0
"Fortnite isn't a bad game; it just has the most garbage community you can find."
"I played a lot of save the world, the first game mode of fortnite, and gosh it's not the same. But things got boring quickly. You farm to get better so you can farm better stuff and quicker. It's a loophole."
- justanabricot
"I've always thought the same thing."
"Only played a handful of times, but I was impressed with the game. Really fun to play with friends."
"The enjoyment falls off when you're solo or playing with kids."
- apollofour20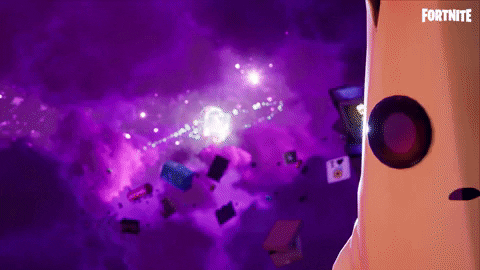 Giphy
Personally, there's no video game greater than Oblivion.
We've already talked about Morrowind, so it's clear the Elder Scrolls series has been impactful, but for me Oblivion offers color, storyline and mythos that just can't be compared to anything else.
Also Sheogorath.
I really, REALLY, love Sheogorath.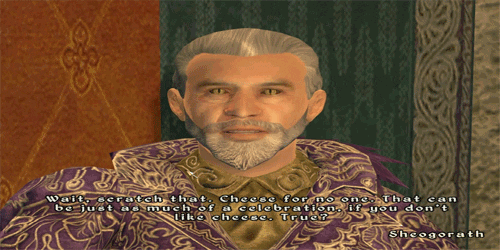 Giphy
What about you, readers?
What are your favorite video games and why?
Want to "know" more?
Sign up for the Knowable newsletter here.

Never miss another big, odd, funny or heartbreaking moment again.
Keep reading...
Show less