People often say they came to America to pursue the American Dream.
But what is the American Dream? The ideal can be described as a life granting everyone freedom to achieve success with few obstacles in order to carve a life out for themselves and start a family.
To some, the American Dream is simply epitomized by its culture of baseball, hot dogs, and backyard BBQs.
But what would be the antithesis to the notion that "all men are created equal?

Strangers online shared their analysis when Redditor amountgood asked:

"If there's an American dream, what's the American nightmare?"
The thread began with sarcasm.
Why Cody Rhodes?
"Cody Rhodes is a professional wrestler known as the American Nightmare. He's the son of the late, great Dusty Rhodes, who was the American Dream."

– familyman121712

How Tuneful
"The American nightmare is a song by ice nine kills."
– EarthWillOvercome

And then Redditors mentioned their worst-case scenarios.
No White Picket Fences
"Honestly, for me ending up homeless."
– NoticeWhenUAreHappy
Unforeseen Setbacks
"For me it's getting a serious illness that prevents working, losing everything, being unable to provide for my family, and having to be taken care of by them."
– LividLager
When Dad Got Sick
"This was my Mom and dad's situation. My dad started developing ALS symptoms in his early 60's, by the time he turned 63 he could barely walk/talk let alone work. So he really lost the last high earning years of his life unfortunately."
"Compound that with 24/7 nursing 'heavy' care and my mom would have burnt through most of their savings if not ended bankrupt - had I not quit working and moved home to help her. Luckily she is a licensed RN so medically he was in better hands compared to a lot of other people suffering from it. She just couldn't move a 180 pound 6' 1" man like I could."
– Tler126

Roadblocks To A Healthy Life
"Yep! Can't afford a house, had to get married to get health insurance, if I miscarry, I might have to wait until I'm literally dying of sepsis before I can get medical treatment and if everything goes well, my baby is still full of microplastics :( The future is terrifying."
– listlessthe

Comparisons to the present were inevitable.
Our Current State

"What America is becoming right now."
– favnh2011

A New Reality
"Current America. -An American."
– TTdriver

We Grieve
"Agreed. What we are right now is pretty f'king terrible. Obviously things can get worse, but it feels like that the worst is inevitable. An absolute nightmare for sure."
– BleedingTeal
Dream Vs. Reality
"The American dream occurs when you are asleep. The American nightmare occurs when you are awake."
– cedriks

People analyzed the concept of what makes the American Nightmare.
At Second Glance...
"Ironically, the American nightmare is exactly the same as the American dream, just different perspectives."
– jcbasse

"The American dream is a marketing concept to sell you crap as you attempt to keep up with your peers. I have nicer rental properties than the little apartment I rent for myself. It's about priorities."
"Where I live, the bike you ride is more impressive than the car you drive."
– Backyouropinion

It Doesn't Apply To Marginalized People
"American dream: prosperous 1950's style suburbs and social mores."
"American nightmare: exactly the same, but you're black. (Or a woman, or gay, or trans, or neuro-divergent in any way etc)"
– Charlie_Mouse
The Sitcom Life
"The same thing for someone else. For every person who dreams of a Leave it to Beaver lifestyle that's another person's Purgatory. The true American Dream is simply having the ability to live life as you so choose if that's a Sitcom life then hell live it. If that's in the middle of the city hitting the coffee shop and bakery every morning then do it."
"But too many people mistake their dream for everyone else's."
– jackfaire

Speaking Of Sitcoms
I can't personally say what constitutes the antithesis of the American Dream, but I can say when I realized the so-called "Dream" only applied exclusively to a demographic that was different from mine.
My earliest notion of the American Dream was life depicted on a TV show called The Brady Bunch. (Sadly, we're in an era where people have never even heard of this once-popular American sitcom).
It took me a long time to realize I had been internalizing my resentment of the show for not representing characters that looked like me and having storylines relating to other cultures.
I'm still nostalgic about the show's more inconsequential moments with the family–like settling arguments with a potato sack race or banding together and running through an amusement park to deliver the correct blueprints for the dad's high-stakes business meeting.
But as a youngster, I couldn't help but compare my situation to the perfect White family and realize I would never have that.

To me, that was an American nightmare in a sense. Not being able to attain the unattainable.
But it took me a while to realize I'm so grateful to have had the best of both worlds–of being raised in a country that offered me opportunities leading to a sustainable career in the entertainment industry AND having a background with a rich culture and loving family that shaped me into the proud person I have become.
The Brady's can never take that away from me.
However, I'd still love to be invited over to their house and brush Marsha's hair or have a jam session with Greg up in the attic.
In an ideal world anyway.
Keep reading...
Show less
When you go to the food court in any of the fast-disappearing malls across America, you may find cuisine from many parts of the world.
Italy is epitomized by its delicious food staples, pizza, and pasta. Let's head to Sbarro's.
Craving Chinese food? Panda Express and other similar knock-offs using stereotypical names have got you covered.
But what is the taste of America? Is any food, distinctly American? Even hot dogs are a cultural import from Germany, as are hamburgers.
Maybe those tailgate party staples are distinctly American after they've been popularized in the heartland.
Expanding on the notion of the flavor of America, Redditor SalmonSoup15 asked:

"If American was a flavor, what would it taste like?"
Likening the flavor of America to condiments was the first thing that came to Reddtors' minds.

The Very Definition
"It IS a flavor: it's how ranch gets named in some European countries."
– ToBePacific
"I was in the Caribbean when I found out Cool Ranch Doritos are called Cool American in some countries."
– BeTooLive

What's In It?
"Ranch dressing is an American salad dressing usually made from buttermilk, salt, garlic, onion, mustard, herbs, and spices mixed into a sauce based on mayonnaise or another oil emulsion. Sour cream and yogurt are sometimes used in addition to, or as a substitute for, buttermilk and mayonnaise. The dried version on chips is delicious."
– BreakfastTequila

The German Interpretation
"In Germany, American dressing is Thousand islands."
– BonScoppinger
Effect On Buffalo
"Buffalo is appalled to learn this."
"Edit: This comment was about blue cheese vs ranch. Go search "ranch" on any buffalo-related subreddit (r/buffalo, r/buffalobills)."
– fatloui

Let's Not Forget...
"BBQ"
–Senator_Chickpea
"With beer, whiskey and cigars!! Murica!"
– IrishWhiskey556

What U.S. teenagers haven't participated in this atrocious soda trend?
The Everything Elixir

"You know when you used to mix every drink at the soda machine as a kid?"
"Like that."
– juspassinby12

Washingtonians Call It:
"WA state here."
"We called them 'Graveyards.'"
– anon

It Does Sound Toxic
"We called them 'suicides'"
"Edit: love hearing all the different names. I wonder if it's a geography/generational thing? I grew up in the Midwest in the 80s."
– greenvillain
Candy You Can Drink

"We called it skittles soda."
– suckmytoes27

The taste of America wasn't necessarily thought of as anything that would be beneficial to our health.
The Ingredients Found In All American Junk Food
"Partially hydrogenated vegetable oil, milk solids, ascorbic acid, xanthum gum, red dye #5, MSG, marshmallow fluff, and hollow point bullets."
– GlitchyMcGlitchFace

Vegetable Oil Jacuzzi
"Deep fried."
– billybobjimmyjoe
"That deep fried bar and grill taste. Where it's good dipped in ranch, but after a basket of any deep fried food... it just tastes and feels heavy. Like way too much of whatever it is."
– zXster
Interestingly, having grown up in Los Angeles–where authentic Mexican food was in abundance–I associate the flavor of America with chili con carne in chili colorado sauce.
Additionally because of my Japanese heritage, I also associate teriyaki sauce–which my dad marinated chicken skewers in for our backyard BBQs–with 'Murica.

My American flavors are a kaleidoscopic mish-mash of different cultures. Because aren't we supposed to be a melting pot anyway? Or so I've thought.
Keep reading...
Show less
Let's put this up front: the United States of America is not the greatest country in the world.
It's just a fact. We're not tops in the world in education, our maternity leave for new mothers pales in comparison to most European countries, which is to say nothing of our healthcare as a whole, and our average income per household?
8th. Last we checked, that's not 1st.
It's not all doom and gloom though. There are still a lot of things to love about the good ol' U. S. of A. And if you love something, you fight for it, to make it better, and truly try to achieve the ranking of "best."

Reddit user, kake92, wanted to know what the U.S.A. actually gets right when they asked:
"Americans, what thing do you appreciate the most about America (USA)?"
Not everything that makes the U.S.A. great is honorable or noble.
Sometimes, it's just funny.

Too Much, Then Dial It Back
"Drink refills at restaurants."
MisterMorgan1206
"You get ice! And you get ice! And you get ice!"
PrisonerV
"yes, and most of the time way too much! Europeans complain that we are obsessed with ice. This might appear to be true, but im more comfortable asking for less ice in the US than for ice at all in Europe."
MisterMorgan1206
I May Not Agree With What You're Doing, But...
"we can have all sorts of outlets that mock people in positions of authority and dont get sent to labor camps or prison"
"hell we can burn our own flag"
"pretty gud I think"
King-Grey
"I think people who burn our flag are sh-theads, but I'll defend their right to do so to the death, and that's a fact. I don't always love what I hear from "free speech" but I love that it's free. For now, anyhow.."
LittleArkansas
You know what we have a lot here? Land!
There's a lot of land and a lot of land to see, so why not take a trip this summer and get lost in the wilderness of your imagination.
This is starting to sound like a travel ad.
The Most Gorgeous Vacation You Haven't Taken
"National Parks"
Ezzy17
"Sounds braggy, but I work for the National Park Service and it's the best job I've ever had in my career. I don't think I ever want to leave. Plus, paid trips to all the parks and getting to see things "off the beaten path" that normal visitors just can't get to. I love it and I love our parks."
clyde2003
Not As Crowded As You Might Think
"Wide open spaces can still be found here. I don't like most people, and I frequently need to get away from them."
salthecrawfish
"I grew up in rural Idaho and the wide open spaces are truly amazing. I live in the city now, but still look for any opportunity to get away. My wife is from back east and she thought she knew what the "middle of nowhere" was like until I took her to my grandparent's ranch. The nearest neighbor is five miles away. The nearest "town" is 30 miles away. She didn't realize how much nothing there was in the Western-half of the US."
clyde2003
And We've Got The Disaster Movies To Prove It!
"We've got all the weather. You want hot and humid? We have it! You want frigid? We have it! You want all the weather within 24 hours? We definitely have it!"
"Tornadoes, hurricanes, earthquakes (not weather, I know), lightning? We've got it all!"
CitizenCobalt
Location, Location, Location
"This is going to sound really dark but with all the talk of war recently…especially with the Russian invasion of Ukraine, I appreciate how far we are from all the other major powers."
"Yes, they can always send missiles but any land invasion is very difficult to achieve. China and Russia would have to put in major effort if they were going to try to invade America….."
OSUfirebird18
Maybe we're not the "greatest country in the world," but we should all be doing everything we can, every day, to make that come true.
Go Do What You Want
"Answering this as a serial expat that has spent at this point 25% of my life overseas and has lived in multiple countries."
"Few places on Earth embrace the "go do what you want" mentality like America. You want to be a wiccan priestess that lives in a yurt in the Cascade mountains? You want to be a rancher in Utah?"
"You want to live your dream of opening a cupcake store for pets? No matter what you do there is a community of people cheering you on in America and that is a very rare and very cool thing."
RootlessNumbers
Mostly, We're Alright
"I have lived in lots of other countries, but I am from the US. I have a few things to point out."
"The roads are generally nice. Smooth, without huge potholes. I am generally talking about the highways."
"Cleanliness. I have been to places with mountains of trash 6 feet high. Another related thing is that the US has very few stray dogs, and that keeps things overall cleaner."
"The last thing is kind of hard to explain, but I would say the sense of order. Everything is structured, and I kinda like it. The places I have lived, people are just not raised with the mindset that everything should be standardized."
"It really grinds my gears when people talk about how bad the U.S. is. It does have its problems. So does every country. When people go on and on about how bad the US is, I try to put it in to perspective how much worse it can be. My house almost got burned down because the government removed the gas subsidies (which after having them for 2 decades, were bankrupting the government) and people were afraid that the transportation system would shut down. I doubt many people who complain about the US have experienced that."
Mawd14
We're Trying To Get Better, A Little, Every Day
"Having lived outside of the US, I have some perspectives that differ from the norm."
"I'm gonna say some stuff that is gonna make Americans and foreigners alike scratch their heads but I'm hoping some people will know what I'm talking about."
"I truly and wholeheartedly believe that America is the least xenophobic place on the planet."
"I think that xenophobia is so deeply ingrained and normalized the world over that people genuinely do not recognize it in themselves. People will engage in the most hateful xenophobic behavior that I've ever seen and then say with a straight face that they are afraid of moving to America because of xenophobia."
"I think that people think America is xenophobic because America's xenophobia is highlighted, fought, and condemned in ways that no other nation's is."
"This is because of the second thing that I love about America."
"America is the most diverse nation in the world."
"More than half of our population is people of color, and those people of color are made up of American Black people, North Africans, Sub-Saharan Africans, Native tribes, East Asians, south Asians, central Asians, Latin Americans, Pacific Islanders, Indians, Arabs, and more."
"Every single world diaspora has a politically significant population in America, most of whom are also American citizens who participate in our democracy and our national conversation."
"No other nation in the world comes even close. France and England also have diaspora but not like America does."
"This diversity has created an environment in which that xenophobia which does exist is magnified in its relevance because it actively effects people; a xenophobic American has much more opportunity to cause harm because of their xenophobia than a xenophobic Chinese person."
"But also, this means that America is the epicenter of the movements against xenophobia, and we are the only nation in the world who is engaged in a national conversation about it."
"I'd argue that America is not more xenophobic and thus more backwards than the rest of the world, I'd argue that America has advanced to the stage in attacking our xenophobia that the rest of the world isn't even close to doing yet."
Brandywine5
We many not get everything right, but it doesn't mean it's not worth living here, fighting for here, and always doing our best to make sure the mistakes get corrected.
What's something you like about living in the United States? Tell us about it in the comments!

Keep reading...
Show less
Do we have a health care system that is held together by anything other than a lick, a prayer, and the sacrifices of some seriously overworked nurses and other medical professionals? No.
Do we have common sense, reality-based laws that aren't archaic and rooted in norms from a society that doesn't exist anymore and truthfully may never really have existed? Also no.
Do we have anything resembling a functional or even up-to-date infrastructure system? Three for three, still no.
Do we have the ability to have cannabis and 5 boxes of cereal delivered to my house at 2:47 AM on a Tuesday? This is 'Murika - f*ck yeah we do! (in a lot of places - restrictions apply.)
Reddit user Leon2778 asked:
"Americans of Reddit, what's a good thing about living in America?"
People around the world still hold onto ideas about what America really is. Let's hear it from the Americans themselves, shall we?
Spoiler Alert: there are cats in America and the streets are not, in fact, lined with cheese. Feivel and his whole singing family lied to us all.
Natural Diversity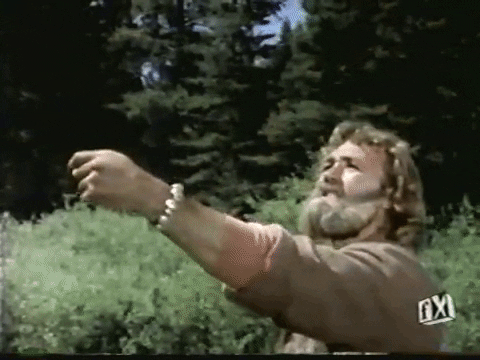 Grizzly Adams 70S GIF
Giphy
"I like the diversity of the landscape & natural world."
"I've been to mountains & deserts & mountains in deserts."
"Been to the ocean with a sandy beach, to lakes with sandy beaches, to lakes with rocky beaches."
"Been to the woods & to forests."
"I've seen so many different native plants, all kinds of animals, & bugs. It's pretty damn cool."
- ghosts-go-boo
"Some people say Americas greatest idea was national parks."
"Yah it's highly commercialized, but it has preserved some awesome nature and in the US we have some of the most amazing and diverse national parks."
"We have forests with trees so big you can drive through, crazy arched rock structures you can drive through, hundred foot tall sand dunes, beautiful Jurassic park style steep mountains, arctic wonderlands, giant canyons, and so many more amazing forests mountains waterfalls deserts and so much more."
- Pristine-Ad-469
"National and state parks."
"National parks are beloved destinations for both citizens and visitors from around the world, even more people visit the state parks."
"With sweeping vistas, stunning forests and incredible wildlife, amazing hiking and camping adventure, parks are one of the brightest jewels of America."
- SuvenPan
"I'm Mexican and I live in the USA. There are plenty of national parks in Mexico too, but they all get filled with houses."
"There's no real authority stopping anyone from building their house on a national park unless it's one that brings in the dough, like the monarch butterfly sanctuary. The US does a great job of protecting its landscape."
- youburyitidigitup
As An Outsider
"Not American but I've lived in the US for 15 years. As an outsider:"
"Closets. I love all the built-in closets. I was never a wardrobe fan."
"Separate laundry areas."
"That most housing is detached. On the one hand it does mean a huge reliance on cars. On the other hand I never ever hear my neighbors."
"Accessibility of toilets is a heck of a lot better than any other country I have visited. During the day I can usually rely on finding a Target or Starbucks or something. Even if I have to buy something to use it they're easier to find than in Europe."
"The casual way everyone dresses. My fashion-conscious friend is appalled but especially as a parent I appreciate that I can dash out in my pjs if I really, really need to."
"Convenience. Every time I visit my family now I forget that not all shops are open until 9/10 pm."
"I also live in Washington state currently and have developed a deep love for all the coffee stands around here."
- anyaplaysfates
Access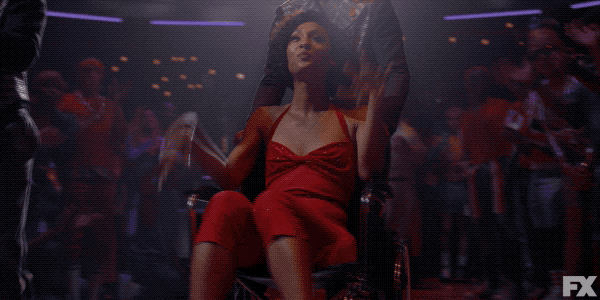 Style Swag GIF by Pose FX
Giphy
"Wheelchair accessibility."
"As someone who uses a wheelchair for all ambulation, I can say the US has a leg up on that compared to the other countries that I have been to."
- hisamsmith
"I've had multiple European friends visit me here in the US and each one, at some point in the trip, commented that one of the big differences they noticed from their home countries was that the ADA was shockingly effective compared to its equivalents elsewhere."
"Almost every public building had ramps, elevators, etc. as needed."
"Obviously it's not like other countries all dislike people with disabilities--just the fact that we did it on such a large scale seems representative of the same kind of inclusiveness that people are also talking about in the comments about American citizenship."
- darkshiines
Turning Right
"With a few exceptions, we can treat red lights as a stop sign if we are turning right."
- SmartAlec105
"As Jeremy Clarkson said 'It's America's only contribution to the western world.' "
- N8_Smith
"I can always spot the tourists when they're just sitting waiting at a red to make a right turn."
- [reddit]
"Not gonna lie, visiting Florida made me hate that rule because I always felt like I'm about to be run over any minute by someone without any patience in a pick up truck bigger than the local Starbucks."
- Night_the_Noivern
"First time I visited Europe and rented a car, I was turning right on red every time."
"No harm caused as far as I could tell. I legitimately didn't know you couldn't do that."
- IAMAdot2
Just Wear Whatever
"I can wear what I want."
"Sure I have strict parents at the age of about to be 21. But coming from the middle east, most people in America don't realize the blessing we have here to be able to wear shorts or jeans or tank tops."
- DarkenedProdigy
"True, I guess Americans just have to deal with the societal taboos of doing so in the Bible Belt and not any violent consequences. Purity culture still exists here but it is less extreme for the most part."
- carissadraws
"I feel this. I love wearing shorts and cropped/tanktops, especially on a hot summer day, to walk around like nobody's business."
"If I do it in my conservative country, shame and all types of degradations will be blessed upon me and my mom will cry while pulling out all sorts of dramatic scenes."
- [reddit]
Opportunity
"I was very young when my parents and I immigrated here, and I have far more opportunities here than I would in India. So I'm very thankful for that."
- sunsetskye_
"I was almost born in Mexico. Since then I've visited often and appreciate what I have in the states."
"In Mexico if you aren't wealthy it's gonna be an impossible task to become a professional. People in the states take for granted what they have."
- Occhrome
"Completely agree!"
"My parents moved to Canada from Serbia for better opportunities. When I was 14 we moved from Canada to the US."
"I'll never forget visiting my family back in Serbia and noticing how well educated everyone is, but then they end up having to work retail or manual labor jobs because there just aren't opportunities there like there are here."
"I think it's a bit better now that we have remote jobs as a possibility but it's not like in the US where any ordinary bloke can own a company with a bit of ambition and some paperwork."
"Truly amazing!"
- wrong_world_666
Talk That Talk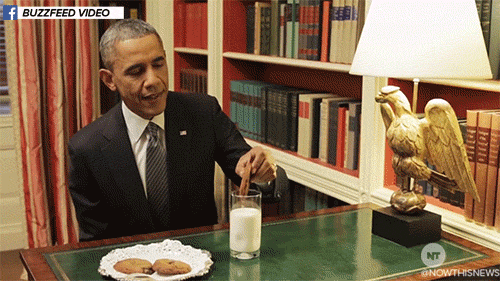 buzzfeed video news GIF by NowThis
Giphy
"I can talk sh*t about the president and not get arrested and disappeared. So that's pretty nice."
- Its_All_True
"Talking sh*t about the president is pretty much a national pastime, even when you generally agree with them."
- Sad-Frosting-8793
"Criticizing our 'leaders' for their bull is essential to the American experience."
"We have a large amount of Somali migrants in my area, they would come in to buy weed and always enjoyed our raucous talks about how our public servants abuse their power on the backs of the common person."
"Turns out hating ridiculous power structures is something everyone who smokes weed in any place hates with a passion."
"Seeing Somali couples go on libertarian rants with you makes you shed a tear of American ideals like no other experience. Open them borders and let some f*cking freedom ring yoz."

- jpz1194
Too Nice?
"The people here are actually very nice. There are a few turds that make us look bad, but most people are friendly and helpful."
- Actuaryba
"Was going to say the same. There are some jerks, but most people here are really sociable. At the very least, not rude."
"Knew a friend (here for school) from Finland. Had to keep telling him not to be suspicious when somebody holds the door open for you, or strikes up a conversation in line at the grocery store, or whatever."
"He said he was having culture shock because people were being 'too friendly' and he thought they might have some ulterior motive for it. He got over it."
- atx00
"Friend of mine is from Germany and said he had a similar experience when he went on a business trip here once. Now, though, he loves such trips because he really likes the culture here."
- Drakmanka
We're Open
"Everything is open, all the time."
"I realized how nice this is when I lived in Europe and stuff is closed on Sunday and at 5-6pm every day."
- mam630
"Funny, I moved to the US and the one thing I really miss from back home is that Sundays have a special Sunday feeling."
"Not sure how to describe it. Everyone is off, everything is closed. It's like, you have no option but to relax, it's out of your control, it's imposed rest."
"In the US, the closest feeling to that is snow days."
- deepuw
"Vegas local here. Wanna have a burger and a beer at 3am on a Tuesday? Done."
- EnricoPalazz0
"That's what I was going to answer with. If I want to go buy a big screen tv and a large milkshake at 3 a.m., I can."
- Trentorio
So much space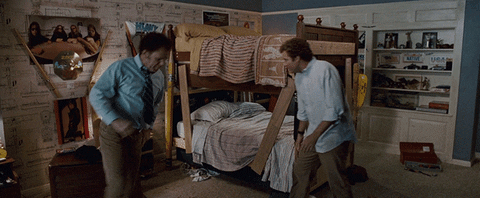 step brothers bedroom GIF
Giphy
"Honestly, if I had to pick the #1 thing I'd say the open space."
" The USA has so much open space that we've carved off enormous parts of the continent to permanently be just open space. The US National Park system is the crown gem of the nation."
-McFeely_Smackup
"US needs to preserve even more spaces like this"
-ZhouCang
"I'm not from the US, but from an outsider's perspective I'd have to agree with this. Your national parks are absolutely outstanding and I cannot wait to visit them."
-ExoticOracle
"Capital W Wilderness areas are the crown gem of the nation. The wilderness act is the single coolest piece of legislation ever written. And I mean that in a littoral sense. The writing is so distinct and poetic."
-orowitzzzz
Free pet pets
"You can go to humane society and pet cats for free!!"
-Cats_are_happiness_2
"Which is a GODSEND for people with allergies. I don't want a cat, I want to interact with a cat juuust until I explode."
-AbeliaGG
"My local shelter encourages people to come down to pet and play with the animals! One of my coworkers goes down for an hour a few days per week to love on the kitties, because she can't have one. They adore her for it."
-EducationalAd232
"I volunteer at a NJ rescue affiliated with PetSmart charities. I feed and play with the cats once a week and then enjoy seeing them go home on Adoption Day. I have 2 cats of my own, so I'm not tempted to bring one home with me."
-Excellent_Ambition43
Accessible tech
"How inexpensive tech is"
-Arndt3002
"And how available it is. I have coworkers from other parts of the world who stock up like crazy when they're in the US."
-magster823
"Looking at American online stores as a European makes my mouth water seeing the price of things over there."
-Jackfille1
Free-Soda-om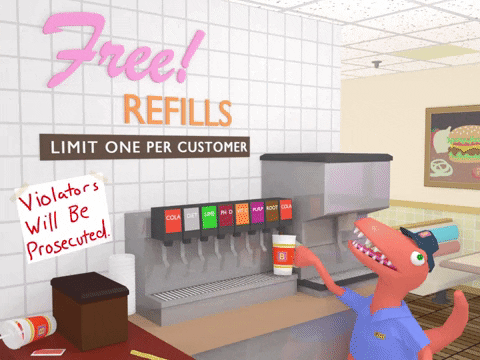 Fast Food Drinks GIF by jjjjjohn
Giphy
"Free refills."
-Proper-Emu1558
"And free bathrooms! It seems so awful to me that in some places abroad you have to pay to use a public toilet or risk soiling yourself if you can't cough up the cash."
-TeHNyboR
"They can take my 88oz of carbonated water and syrup from my cold dead hands."
-QuinceDaPence
"Nevermind that. It's the free ice water that just appears at your table at every restaurant."
-toastemino
"I had a friend visit from Europe and they would absolutely not believe me when I said they could go up and refill their soda cup. Absolutely thought I was condoning theft and they insisted they could pay for another cup"
-Zeddrocks
Go to the store whenever
"Our grocery stores stay open really late. On the east coast, it's until 11 or 12 at night. On the west, it's 24 hours in some places. This is, in all seriousness, the thing I love most about my country."
"A close second place is our gorgeous national parks. But I don't go to a national park every week. I go to a grocery store."
-ThatDismalGiraffe
"I don't even have to go to the grocery store if I don't want to, I can just get everything delivered in a few hours!!!"
-Spooky_Tree
"I'm in the south and we had several 24hr grocery stores it was really convenient but because of Covid they close at 11pm, hoping it changes. Love the national parks as well."
-MiaLba
What to eat?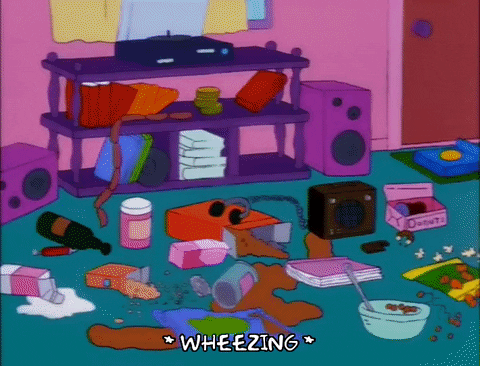 homer simpson mess GIF
Giphy
"I'm not American, but when I was there it was undoubtedly the food. At no given point was I more than a ten minute walk from good food. Contrary to what Reddit would have you believe, it's not all fast food either(though Whataburger is insanely good)."
"There's a lot of good little places to eat and you're never far from one."
-ravingdante
"And if you live in a decent sized city and/or metropolitan area, you can choose from among at least a dozen different countries' cuisines"
"Sure it might be Americanized to some extent, but that kind of variety is always appreciated"
-striped_frog
"and even in Nowheresville, Midwest, you still have like 5 different nearby options for international food, often owned and made by people of that nationality."
-wanttotalktopeople
Get with the program
"AC during the summer"
-I2eN0
"Yeah the fact that other countries who totally have the infrastructure to have AC just... Don't. Blows my mind."
-finallymakingareddit
"Omg yes 😭 I was in Japan for the 2018 heat wave and the lack of AC was HORRIBLE. It was well above 100°F with insane humidity and even at night, it was still uncomfortably hot."
"I'm from northeast Ohio and was so not used to that heat let alone that heat without AC in many of the buildings. I have no idea how people there cope with that."
-fillmorecounty
"Yeah I visited family in Spain a couple summers ago and let's just say I'll never make the mistake of visiting in the summer again. It was an insufferable heat that was impossible to get away from. My friend and I, who I traveled with, ended up not even really seeing much because the heat took away our desire to leave the house."
"That being said, I spend a summer abroad in England and that at least wasn't too bad except for a couple days of heat wave where I didn't leave my room and just had fans on me."
-I2eN0
"Ice in drinks. We really value ice."
-CaptainoftheStella
"I was so surprised about the lack of ice in drinks in Europe."
-nvdagirl
"England is a barbaric place without ice. I asked a server for a side of ice and he came back with a cube."
-MorallyCorruptBae
"When in Europe I ask for a FULL glass of ice and then also my beverage. Because if you ask for extra you get 2 cubes."
-lyzipoo
"10000%. It is such a nice luxury that cold drinks are by far the norm."
-ruffsnap
"This. You don't realize how much you need it until you go abroad and it's f**king summer and they hand you a lukewarm bottle of water for like four euros"
-yramaro
Alright fam, what American freedoms are you in the mood to celebrate?
Want to "know" more?

Sign up for the Knowable newsletter here.

Never miss another big, odd, funny or heartbreaking moment again.
Keep reading...
Show less
As citizens of the U.S., we don't think twice about the overly generous food portions in restaurants or flinch when strangers want to engage with us with small talk when in public.

But the same behaviors and customs don't necessarily go over well over in other countries.
Food portions are significantly smaller in Japan, and the French typically prefer not wasting their breath in asking people what they think about the weather.
Curious to hear from the perspective of foreigners Redditor Miserablemermaid asked:

"Non-Americans of reddit, what was the biggest culture shock you experienced when you came to the US?"
People must think we're a gluttonous country.
Food, Glorious Food
"Food advertising EVERYWHERE."
– UnAccomplished_Pea26
"The portion sizes in restaurants are huge too."
– ErfdsSdfre
Endless Refills
"When we first arrived, and I walked up to a soda machine. We never had those, and I think I drank 10-15 refills of coke before my parents started yelling at me. UNLIMITED SODA ARE YOU KIDDING ME WTF."
– Lord_Disagree

Beverage Options
"The different kinds of flavors for beverages. I was overwhelmed by the sheer number of options."
"Just so you guys know,I enjoyed having multiple options, until I came to the US I had no idea I liked Blue Raspberry flavored soda and I found out that I liked to mix different kinds of sodas from the fountain and make a cocktail soda occasionally."
"Also, I like how you guys have a shit ton of flavors for your alcohol. I liked a lot of them but to be honest I didn't enjoy the whipped cream flavored stuff."
– howwouldiknow--
The general friendliness in our country is something to embrace.
Familiarity
"Everyone I met treated me like a long lost friend."
– Red_Ranger75
"Americans are as one Canadian Redditor once said 'collectively crazy, but individually the nicest people you'll ever meet.'"
– e2a0s1

Taking Initiative
"Yea, I also experienced this. I just loved it! it is not hard to get acquainted with people if they are so willing to take the first step with saying hi!. I am an introvert and a bit shy, so I helps a lot. Also people is kind on average."
– notastupid_question

Road Worker Assistance
"I was walking down the street and there were some road workers doing something a bit ahead. When I got near them, one of them approached me and super kindly asked me to cross to the other side, halted the traffic so I could cross and wished me a nice day as I went along."
"In my country they would've probably heckled at me for not crossing, and I would've told them to go f'k themselves for not signaling things properly as I walked in the middle of the street potentially getting hit by a car."
– madkeepz

There's apparently a size contest happening everyday in the U.S.
Go Big Or Go Home

"Everything being f'king huge. Literally. Road lanes, groceries, soda sizes. Especially distances: where i come from, 3 hours of driving are enough to cross half of the country, in the US it's just a small drive to go to see a relative or something."
– salderosan99
Everything Is Supersized
"The huge packaging units in the supermarket.. Everything just biiig."
–pillemille
Magic Of Costco

"I took a friend from France to Costco once. He just walked around saying 'wow' and touching everything."
"Edit: for those who don't know, Costco is a magical place that will plan your funeral (sell you a casket), put new tires on your car, give you an eye checkup, sell you 10 pounds of king crab, sell you a Hawaiian vacation package, or a 75 inch flatscreen, or a new bed, or a 100 pack of pens you didn't know you wanted. They also have the cheapest gas in all the land."
– IF'kTheDrummer
People discuss the in-your-face advertising in our country.
Too Many Commercials
"Commercials were particularly obnoxious."
– Grapezard
Can't Get Away From Them
"Yeah and they're EVERYWHERE. Like random objects are shouting at me to buy sh*t every waking moment of the day. US TV has at least double the advertising of UK TV I'm sure of it."
"It's got to have an impact on your sanity being bombarded with so many adverts."
– Heikold
Stop Yelling!
"As an American who recently drove through the south WHY THE F'K ARE THERE ADVERTISEMENTS ON THE GAS PUMPS AND WHY ARE THEY YELLING!? But really I just want to get my gas and maybe a donut at 7am I don't want to learn about the latest tik tok trend at 100db.
– aliendepict

Side Effects May Include Everything, Including Your Kitchen Sink
"Their commercials concerning health can be downright heartless."
– honeymochie

This is how Americans roll.
On The Road
"Turn right on red. Beautiful."
– klonricket
"Yeah this f'ked me up too! Had some aaaangry people behind me wondering why I wasn't moving!"
– D_Cakes_

Pearly Whites
"People really care about their teeth like whitening and straightening."
– WhitePhatA**
"I was talking to a friend about hair transplants. I said it would be nice to get since I'm balding but I don't want to pay that much for something cosmetic. She says, 'Have you thought about whitening your teeth?'"
"Well, I hadn't but ever since that comment I think about it all the time! Thanks, friend!"
– CaesarWrap

Different Interpretation
"British here, the first time I visited the US I was 11, I heard a mom scream at her daughter 'get your fanny over here' Fanny means vagina here 😂😂😂"
– After_Cheesecake3393

Rise And Shine
"How early everything starts. School, work. 6am wake ups. That was hard."
– helicoptercici

Despite the currently weird political climate, I do see how we are generally kind people here in the U.S. of A.
So it's mind-boggling to me how certain groups of people have not been treating others with enough kindness and compassion in these recent years.
I'm guessing we just lost our way and we have the capacity to eventually get back to a place where the foreigners' positive opinions about us can be validated.

Want to "know" more?
Sign up for the Knowable newsletter here.

Never miss another big, odd, funny or heartbreaking moment again.
Keep reading...
Show less