As humans, we always have this natural desire to find an explanation for every weird thing that happens to us. We are inherently skeptics. But at least a few times in our lifetime, we stumble upon an experience that is completely unexplainable, and it permanently rocks our world.
Keep your mind open when you read these stories. Because some of these things just aren't meant to be explained. NotAMazda asked:
What is the most unexplainable thing that ever happened to you?
​These encounters can get pretty spooky. And when things get spooky, the unexplainable also becomes unforgettable.
The creepy stuff stays with you forever.
"I had a living room in my parents two story house that connected to stairs leading to the second floor of the house. You could see completely down the hall on the second floor from the couch in the living room. One time my family went away on vacation, so I had my cousin come over while I house sat for them. I'd been alone in this house for a couple of days now and I just really wanted company.
We're sitting on this couch playing Xbox, or something. The stairs leading to the second floor are almost out of my vision. At the very top of the stairs on the left is a doorway leading to a bathroom and nothing else. We were up pretty late gaming when out of the corner of my eye I saw a grey face lean out and stare at me for a split second. I didn't budge, I just barely noticed it, but as soon as I did, it was gone. I hadn't snapped to look at it, nor did I say anything. I just continued gaming for about three seconds until my cousin said "Did you just see that?" As soon as our eyes connected we both knew we saw the same thing.
The second my cousin said that, I felt my heart sink. It scared the sh*t out of me to have him pretty much confirm what I saw, but brushed off. I had immediately assumed it was just one of those blurs, or darting shadows you get in the corner of your eyes at times. The creepiest part is that it slid out as if it were lying on the floor. Whatever it was, it's head was at level with the top of the steps right at the bottom of the bathroom door frame. It just sorta slid out, stared, then slid back. Again, I just saw it from the corner of my eyes, but it appeared to be grey skinned with black hair from our combined description. We went up stairs and checked the whole bathroom, including the insides of luggage bags in the closet. We never found anything.
Edit: To this day I still can't have a door in my house open. I'm afraid Ill be looking down the hall and some gray skinned creature will just lean half it's face out to silently stare at me, and then vanish.
To all the people saying it was a raccoon or something, you think exactly like me. Using that as an excuse to go make sure the bathroom is clear. We both knew it was a lie, but we both would've felt safer getting attacked by a raccoon at that point. That's why we checked every single bag in the closet. Whatever it was, we had trapped into the bathroom. It had nowhere to go. Whatever it was, it disappeared without a trace."
That's a loooong nap.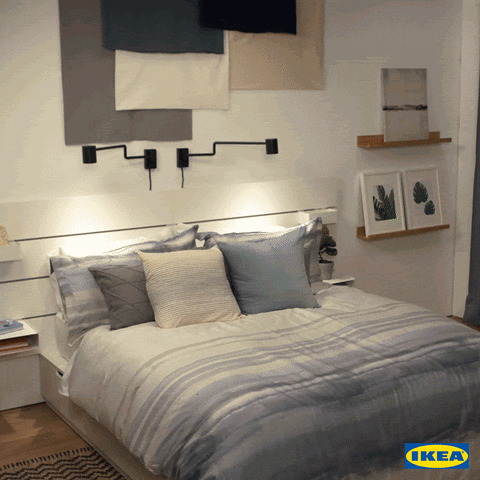 At Home Reaction GIF by IKEA USA
Giphy
"When I was around 15, my parents left me home alone for the weekend (Friday night to Sunday later afternoon), and I was thinking 'this is awesome. I can chill, play games all weekend and eat what I want.' Went to sleep Friday night, and then woke up to my mum waking me up to what I thought was the next morning. So I asked, 'what happened? I thought you were going out the whole weekend?', to which she replied, 'what are you talking about? it's 4pm Sunday.'
I have no idea what happened to those two days. I didn't leave the house. There was no food or washing up that had changed since they left. I hadn't looked at my phone, there were unread messages from Saturday morning. But I refuse to believe I was asleep the whole time."
​Trust your intuition.
"A really strong feeling kept me out of a high-rise building during an earthquake.
I was staying late at work with some colleagues. Our office was located around the 40-50th floor of the building. I suddenly had a really strong thought that wow, if an earthquake were to hit now, the dash downstairs would be chaotic. I tried to brush it off but couldn't, the feeling was so strong. And it's not like I'm not used to working in high-rise buildings - I've been working at the place for around 2 years at that point, and had never felt that way before or since.
I decided to leave and work from home, which was only 15 minutes away on foot. Just as I arrived at home, an earthquake struck. It was pretty intense, and thankfully everyone at the office was alright, just freaked out, but it was so strange that something just told me to leave just minutes before it happened."
A lot of these things can be chalked up to what some call "a glitch in the Matrix". Here are some prime examples.​
Mysterious rectangles are spooky.
"I was walking to my friend's house one summer, maybe 10 or 11 years old. Anyways, sunny day, couple clouds but otherwise it's bright out, perfect visibility, when a perfectly rectangular shadow comes up from the direction behind me on the ground, maybe 15' x 30' in size, travelling just faster than a car probably would be and goes over top of me. I'm looking at the shape on the ground as it goes over, and when I do look up to the sky I don't see anything that could have possibly cast it. Even the clouds were just trailing little wisps. I looked back down and it was going over some houses, and then it was gone forever.
So yeah, weirdest thing was a Mystery Rectangle Shadow."
​Spooky boy.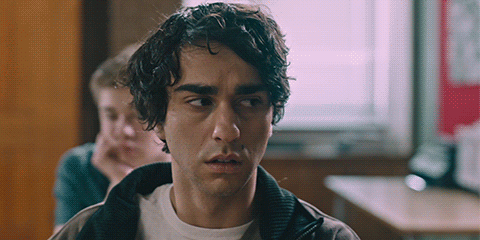 Scared Alex Wolff GIF by A24
Giphy
"Not me but my parents. In the place they used to live in, there was this old couch. My mom sometimes would walk by in the middle of the night and see a silhouette sitting there. She describes it as a man, sitting down, with a hat on, just sitting there. She saw it several times but thought nothing of it (damn she's brave lmao).
She never told my dad, who one day said to her "it's weird, but sometimes in the middle of the night I think I see a man sitting down on the couch doing nothing".
So yeah, they both saw the same man sitting on this couch, and they told each other after they'd both seen it. Weird."
​Kids can see ghosts, and you can't convince me otherwise.
"When my daughter was about 18 months old, her grandmother passed away.
That evening, I put my daughter to bed as normal, but instead of going to sleep pretty quickly as she usually did, she spent over an hour giggling and squealing with laughter. When I went to check on her, she was staring at an empty chair in her room, laughing as if she was watching the funniest thing ever.
This carried on every night until the day of her grandmother's funeral."
This one is sweet.​
"2 days after one of my closest, dearest friends died (we were semi-expecting it after he was in a terrible accident) I fell asleep in the library at school. This was after a horrific couple of days trying to process everything & function normally - I was massively sleep deprived. I placed my head in my arms on the library desk and I woke up and there he was beside me.
It was a scenario that had happened so many times - us revising and hanging out in the library together, whispered jokes and banter - that it didn't feel strange at all.
We stood up and wandered around, watched one librarian putting books away on shelves, there was a girl reading a book sat on the floor with sickly bright yellow socks, my friend made some silly Dad-joke about them being too 'loud for the library'. We chatted in low voices, about nothing much - the usual chit chat - and then went back to the desks.
I woke up and he was gone, of course, I was startled but weirdly euphoric. I went over the same set of shelves and had deja-vu: saw the same librarian putting away the books and the same girl with the yellow socks still there sat on the floor reading. I swear to this day I hadn't seen them before I went to sleep.
I like to think it was his way of saying goodbye. It helped me immensely, even though I know it was probably just a dream. But the socks thing has always stuck with me, and anytime I see a pair of 'loud' yellow socks (not very often!) I think of him and our final chat."
​It's best not to be scared in these moments. You gotta just accept the unknown.
Some Harry Potter sh*t going on.​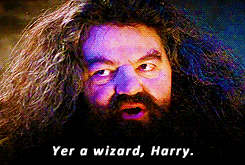 harry potter and the philosophers stone GIF
Giphy
"Not totally unexplainable and can just call it coincidence if you don't believe in sorcery. When I was in kindergarten or maybe first grade, we had a blackout at my school, and this kid goes "wait, I'll light a match" and proceeded to pretend to light an invisible match and the lights came back on, and we cheered for him. Then he said "oh it's too hot, and he "blew it out", then the lights went back out.
Wizardry."
​Oh, Edgar.
"15 years old, I was taking a shower at home. The rest of my family was out and it was around 930 at night I believe. Anyway, I hear someone knock on the bathroom door while I'm showering, so I call out "I'll be out in a sec!" Thinking it's just my dad or one of my brothers getting home.
There was silence for a few moments, and then knocking again--only this time it was pounding, like someone was banging on it with their fists, trying to break it down barehanded. It was a little creepy, but my dad always loved to prank us so I didn't think too much of it. I decided to get a towel around me and see what the hell his problem was anyway, but when I opened the door, no one was there.
The house was locked up, no open windows. No cars in the driveway. I checked every floor, every room. No one else was home. That was the first occurrence; the weird happenings continued in smaller ways until we moved out of that house, to the point that we imagined it to be some sort of Poltergeist and named them Edgar."
​Once again, always trust your intuition.
"I started having a panic attack one night out of nowhere, I kept repeating "somethings wrong." I do have anxiety but had only had one other panic attack before this day.
My husband sat on the bed with me and we tried to figure out what had triggered this. The only thing we could think of is that a family member of mine was going on a trip the next day and maybe that was making me nervous. So I made up a weird excuse to drop off coffee before they left super early the next morning. When I saw them, I felt fine. I immediately knew it wasn't connected, wished them well, and drove home.
About an hour later, I get a call that a person in my family on the other side of the country died the night before."
​My personal opinion is that we all have psychic gifts, and we all have the ability to see into the unknown. It's just about whether or not we tap into it.
So the next times you feel an intuitive pull, don't be so skeptical! You never know where it can lead you.
Keep reading...
Show less
Life is full of little moments of WTF. We have them daily - finding a lost something in a place you know you checked a bunch of times before, that awareness that you've done this before, thinking an intense thought and having the person next to you respond to it as if you spoke it aloud.
I like to call them "mundane mysteries" - the stuff that probably has an explanation, isn't anything too unusual like being abducted by aliens or sharing a McShake with Bigfoot because the ice cream machine was actually working.
One Reddit user asked:
What's something unexplainable that you've experienced?
And yeah ... mundane mysteries, fam. Just because there weren't any aliens, cryptids, or a working ice cream machine involved doesn't mke these moments any less mysterious.
Keep your eyes peeled for one where Reddit users suggested a potential explanation - I'm honestly not sure if the idea that all that could be caused by something so simple makes it better or worse.
Want to "know" more? Never miss another big, odd, funny, or heartbreaking moment again. Sign up for the Knowable newsletter here.
Keep reading...
Show less
The world is full of mysteries. Why are we here? What's at the bottom of the ocean? Is there other intelligent life in the universe?
Humans are naturally curious creatures, so we find mysteries in every corner of our universe. And when we can finally solve those mysteries, it's so satisfying for our little squirrelly brans.
Luckily, there are an abundance of mysteries we have solved in our time on earth.
u/Vrothgar asked:
What is your favorite SOLVED mystery?
Here were some of those answers.
Beautiful Trenches
That one where the rocks moved in the dessert leaving an eerie trail.
Some guy put a camera on the area for like two years and discovered that when there is a thin layer of water with ice on it, the wind will move the ice as it starts to melt and so moving the rocks.
Death Valley.
Underwater Bloop
"The Bloop". For years science was baffled, not having a good explanation. Some supposed it may be an as of yet undiscovered creature, but the magnitude of the sound itself was such that if it were produced by an animal, it would be larger than even a blue whale, by a wide margin.
A few years back we recorded the sound again, along with solid seismological data. Turns out the famous "bloop" was the sound of a large piece of the Antarctic ice shelf cracking and falling into the ocean.
The Hump
For years it was speculated about King Richard III's appearance. Due to many different historical perspectives on him as a King some believed he had a hump back of sorts and others believed this stuff was added when the historical rhetoric was added as he became less favourable.
A few years ago they discovered his skeleton buried under a carpark in Leicester. They determined they he actually probably had scoliosis and likely did have a hump of sorts.
My favourite part about the discovery was the presence of a woman who was part of some Richard III group that adamantly denied the appearance he was described who then realises the truth and is very disappointed.
Running Away
Lori Erica Ruff. This guy in Texas married a woman he met in bible study, had a child with her, and then she started showing signs of mental illness. They divorce and she commits suicide in 2010. She left a suicide note that was incomprehensible and full of random phrases and references.
When her ex was going through her stuff, he found a birth certificate with the name Becky Sue Turner on it, who was a 2 year old girl who died in a house fire in WA in the 70s. Lori had stolen Becky's identity and used it to get her name changed to Lori Erica Kennedy. There were no clues whatsoever as to who she was before she acquired the false identity and her backstory remained a mystery for years.
A few years later she was identified by matching her daughter's DNA to a distant relative in Pennsylvania. It turns out Lori's real name was Kimberly McLean, and she'd left her home in PA in 1986 as she didn't get along with her mom and stepdad.
I was really fascinated with this one when it was still unsolved, and I found the actual answer a bit anticlimactic. It was clear from everything she'd left that something was wrong with her, and it really gave me the creeps.
Birdies
Those flying "rods" in the background of cave diving videos.
People in the 80s and 90s would go cave diving or sky diving and film it, and in the background would be all these foot-long, flappy, rod-shaped creatures that no one would see until they were caught on film. People thought they were inter-dimensional creatures that would slip into our dimension occasionally. Some studied the shape of these things in wind turbines to understand how they fly. I think there was even a hieroglyph found of the creature from ancient Egypt.
It turns out the frame rate of the poor handheld cameras from that day made birds and bugs get caught in multiple frames at the same time, and so they looked like long rods with wings.
A Whole Lotta Nothin
Al Capone's vault is the most hilarious solved mystery. A renovation team found the vault and some underground tunnels under his hotel over 50 years after his arrest. Geraldo Rivera hosted a huge 2-hour live grand reveal of the opening of the vault which they hope would contain a huge fortune. 30 million people watched the live spectacle. The vault was finally opened and..........there was nothing there.
https://youtu.be/pgx7--A_NCU?t=806
Here's the whole special starting when they brought down the vault wall.
A Tragic End
The case of Jacob Wetterling.
He was and 11 year old boy abducted near his home in 1989. Him and his friends had gone to a local video store and were on their way home when a man stopped them and forced Jacob to leave with him at gunpoint. He forced the others to turn and run and threatened them that they would be shot if they didn't.
For almost 30 years the case went unsolved. His friends and his brother grew up feeling the guilt of not being able to stop the abductor. His parents and family had no closure as they had no idea where he was taken, or who had taken him. But they held out hope for all those years that maybe he was still alive. A local man had even been falsely accused of abducting him.
Sadly, his remains were found in 2016. About 30 miles from where he was abducted. Investigators were able to find the man responsible, and he confessed to the crime. He had assaulted Jacob and killed him on the same night he was abducted.
It's a tragic story and there are a lot more details. Thankfully detectives never gave up on this case and they were able to solve it after all those years.
An Out Of Place Burger
The mysterious In-N-Out burger found on the street in New York City, apparently still warm (In-N-Out is a hamburger chain only found on the west coast).
The person who bought this cheeseburger responded to the post with the explanation: they had bought lots of cheeseburgers prior to boarding their San Diego to NYC flight and lost one after their arrival while boarding a bus.
Source: https://ny.eater.com/platform/amp/2019/7/24/20726407/in-n-out-nyc-burger-mystery-2019-solved
Polar Bears From The Void
The voyage of HMS Terror and HMS Erebus, who in 1845 embarked on a journey around Canada to locate the Northwest Passage with the backing of the royal navy. The voyage was expected to take 2 years, but by 1850 it was suspected something had gone very wrong, as the last sighting of the ships had been as they entered baffin bay 5 years earlier, and all the search parties could find were some lonely graves, and a cairn with a scrawled message. It was only with analysis from the graves, some old testimonies about contact with local Inuit groups, and the discovery of the remains of the crew in the 1990s and the wrecks in 2016, that the full story could be pieced together.

Essentially the ships' arctic modifications and stocks had been ill thought out for the voyage, and the cheap canned food the crew relied on had led them to contract lead poisoning and scurvy, but with no alternatives and being locked in ice for months at a time, they had no escape. The illnesses were compounded by the lack of alternative food sources in the harsh environment and diseases which crippled the already weakened crews. The poisoning (and associated hallucinations) combined with the deteriorating mental health of the crew created a living nightmare. After the officer in charge died, the surviving crews abandoned ship and tried to cross the barren Arctic towards a known settlement in Canada, with everyone involved falling and dying en route. The bodies that were found were very well preserved, and contemporary Inuit testimonies corroborated the story. It made for a good horror series, even if there weren't any supernatural polar bears involved in reality.
Haunted By The Spirit Of Electricity
In a Chinese science discovery type show, they went to investigate reports of a old haunted house where an alleged murder happened year ago. People say the light in the house would flicker on and off, no animals can be found near it, and any dogs/cats brought over would run away, very agitated.
Turns out the electrical cable connected to the house was damaged, so the light flickers. And the ground near the house became electrified, mildly shocking animals coming close. The people had shoes on so they never noticed.
Keep reading...
Show less
WARNING: the following article contains discussion of suicide/self-harm.

Professional secrets come with most jobs, whether it's a secret recipe or confidential client information. Some secrets are just downright creepy though.

A coworker who randomly disappeared in the past, uncomfortable realities of the job, or a particular subject that everyone always avoids can definitely up the creep factor in any workplace.
Reddit user Raiseyourspoonofwar asked:
"What is the creepiest thing you don't talk about in your profession?"
If you or someone you know is struggling, you can contact the National Suicide Prevention Lifeline at 1-800-273-TALK (8255).
To find help outside the United States, the International Association for Suicide Prevention has resources available at https://www.iasp.info/resources/Crisis_Centres/
Want to "know" more?

Sign up for the Knowable newsletter here.
Never miss another big, odd, funny or heartbreaking moment again.
Keep reading...
Show less
Keep reading...
Show less