Those who are wealthy have the luxury of acquiring the best of the best–whether it's dinner at a Michelin-starred restaurant or status-identifying clothing from Chanel or Yves Saint Laurent.

But even the rich have their limits when it comes to frivolous spending before casting judgment on friends or colleagues.
Curious to hear examples of this, Redditor Sasquatchfl asked:

"Rich people of Reddit, what's the craziest/most unethical thing you've seen people in your circle spend money on?"
Expensive experiences were a priority over prized possessions.
Live Sushi
"An ex worked for Dell in the late 90s/early 2000s. He was pretty high up and there were lots of partiers in his work circle. Went to a party hosted by one of the dellionaires and there was a body sushi girl. I don't know what was paid to her, but it was one of the most ridiculous things I've ever seen."
– 5hrs4hrs3hrs2hrs1mor

Pissing Contest
"Paid a group of homeless guys to only use the bathroom on a competitors business. Eventually bought that place for a massive discount."
– Haboobalub

Let's Work Out
"My mother woke up one morning and said she felt she was way too fat and she wanted to get a treadmill. The treadmill wouldn't be a problem, but then she saw where it would be and didn't like the lighting. Fast forward 2 months later there's a 40k outdoor gym built and connected to the house. She hasn't used it once."
– Herrera5449_

Taking A Leap
"Travelled with a bunch of ex 'friends' all fairly wealthy."
"First trip to SE Asia together and as an ex-local I was a de-facto tour guide (despite not being there in over a decade)"
"They somehow found and offered a bunch of kids diving off cliffs to jump for spare change."
"They increasingly challenged each other to land their coins as close to the cliff base and small surrounding rocks for the kids to dive for."
– Satakans

Quench That Thirst
"My biological father investing in those get rich quick health scams. Literally spent thousands of dollars on bottles of f'king fruit juice, only for him to drink all of his product and not make back a dime. Not that he'd make any money off of it anyway, they can get organic juice at the store for far f'king less."
– Silver-Syndicate

It's about the finer things in life.
Expensive Party Gag
"A 3k ouija board from Gwen Paltrow's store. I didn't even know it was a thing until the dude brought it out. I really wanted to cut it up and see what it was made from. Looked nice don't get me wrong but the thing is basically a party gag. For 3 grand, it better summon a demon that's all I'm saying."
– con_this

Slow Burn
"$600 USD for a candle."
– Jeffranks

Hire A Band, Or Two Or Three
"Got invited to a birthday party at a vineyard. They had food trucks, open bar, and three stages for musical acts. The acts were Flo Rida, Duran Duran and Wyclef Jean. The following year the acts were Drake and Imagine Dragons."
– Hawk13424

Historical Obsession
"I'm not rich but in high school I had a friend who's dad spent vast sums of money on historical Nazi paraphernalia. My friend said he was a big fan of WW2 history but he didn't collect a single item that wasn't specifically related to the Nazis. He kept it all in his 'office' which was literally just a shrine to the Third Reich. It was super creepy. The scariest part is that my friend's dad was a high ranking police officer where we lived."
– staffsargent
It's not always about the things you acquire.

Minor Inconvenience
"I know a guy who went to get a new drivers license and had to pay ~$100k in back parking tickets, then joked about it after."
"Apparently he couldn't get a permit to park in front of his house, so he just did anyway, and accepted like a $200 fine everyday."
– melodyze
For A Successful Election
"Not me, but I know a guy who crowd funded (read: threw a bunch of money into, then solicited more at a flea market) $80,000 toward his friend's DA election campaign. The guy won. So far, this has paid back at least $120K in avoided legal fees. I know some rich people. Most of them are more boring than you think. Hell, most of them drive Hondas, Toyotas, and Nissans."
– KP_Wrath

The Lance Corporal
"I was stationed with a Lance Corporal who was wealthy beyond means after selling some of his patents. He owned and piloted four helicopters. Lived in a palatial waterfront house in Jacksonville, NC."
"The cheapest one cost 400K. That's the one he trained on. The most expensive was about 1.2 million. That's 1.2 million 1981 dollars. The two he's got now are about 5 million each."
"Had a floating landing pad out back moored to his dock and another landing pad in the back yard. Kept two helicopters and a Rolls inside his custom-built hangar at Norfolk International Airport."
"He drove a pair of Rolls-Royces. He also toyed with a 900K Miami-Vice type speedboat. He also housed and transported his squad to Camp Lejeune and back in a custom mini-bus."
– ApplicationConnect55
Transportation Provided
"The dude was very giving and lived a very clean life. He'd fly us to Norfolk, pickup the car and we'd do our shopping and eating. Hop in a chopper and return home. He'd fly his fire team down to Miami on weekends. He kept a Limo there and wore a chauffer's outfit and did all the driving.
"He bought a full-service and licensed pub in Northern Ireland. He lives there with his wife. Does a lot of charity work there. We still keep in touch."
– ApplicationConnect55
All Is Fine
"I know a guy who went to get a new drivers license and had to pay ~$100k in back parking tickets, then joked about it after."
"Apparently he couldn't get a permit to park in front of his house, so he just did anyway, and accepted like a $200 fine everyday."
– melodyze

Day Trippin'
"I knew a guy who flew to the Neatherlands and back in a single day in order to see a concert."
– Aidan11

When there's plenty of money going around, there's no need to worry about a single thing.
That peace of mind is a luxury in itself.

Want to "know" more?
Sign up for the Knowable newsletter here.

Never miss another big, odd, funny or heartbreaking moment again.
Keep reading...
Show less
There are no shortcuts to amassing a fortune, but that doesn't stop people hard up for extra cash to look for loopholes.

Some individuals resort to shady activity and keep engaging in swindling people out of money until they get caught.
But others found ways to "earn" money without suffering legal consequences.

Curious to hear of various methods towards wealth, Redditor Cone-shaped_Man-tits asked:

"What is the most unethical, but legal, way to get rich quick?"
You can't say they're not dedicated.

The Crash
"I made my money the old fashioned way...."
"🎵I got run over by a Lexuuusssss."
– _Ruby_Tuesday

Something To Write About
"Selling books about getting rich quick."
– StoissEd
"Buy my book for $40 dollars on how to get people to buy your book for $40."

– Con_Dinn_West

Marital Bli$$

"Marriage for money."
"You can marry in a minute what you can make in a lifetime."
– knottajotta
"Yeah a buddy actually offered me 30k once to 'marry' someone so they could easily immigrate over. After so much time you can just legally divorce and forget about it. The problem is that in the meantime immigration officers watch you like a hawk and you have to continually act like a real married couple. Stage photos, fake outings together. It really seemed like way more trouble than it's worth"
– Miramarr
Pays To Be Clever
"If you're clever you can make good money abusing trademark & patent laws."
"Real estate has a ton of dark corners for the ethically flexible, so long as you don't mind being compared to a vulture."
– answermethis0816
Pay To Be Audacious

"Run an Alpha Male Camp. Charge $10k for the week long stay."
– InspectorG-007

Getting On Wikipedia
"Being a paid shill on Wikipedia. I get paid between $200-$500 to create articles about people and organizations who want more publicity. Some people pay more than $1,000 to get a Wikipedia article."
"Edit: I do this with a website called Upwork. It helps to have knowledge of Wikipedia's policies so your paid activities look less suspicious."
– jaoo1

Persuasive salespeople and gullible customers make for the perfect combo.
Go Guru
"become a fake guru and sell courses about nothing."
– jooints
"I love how these gurus are constantly advertising on Facebook. 'My film business makes $6m per year, so do my $500 course and I'll tell you how I did it!' A quick Google reveals they have a little office somewhere, no film or production credits to their name except maybe an advert or two from a few years back. It's all utter make believe."
"And if you're running a production company that makes $6m a year, why on earth are you travelling the world selling your snake oil so everyone else can do the same thing?"
"Sadly, always hundreds of comments from people excited to learn from a 'master.'"
– madjohnvane

The Witch Doctor
"I knew a guy who was a 'witch doctor.' He charged $25,000 to cast a spell to bring an ex-lover back to you. It never worked but there was nothing that could really be done for you as he had all these forms stating that be made no guarantees since the spirit world did what it did. He was very popular too, which I could never understand."
"I told my wife I'm going to stop practicing law and become a witch doctor as the hours and pay are much better. She vetoed that idea."
– crimsonlaw

Advancing Incentive
"in app purchases in children's games."
– fridayisblackforme
"Candy crush becoming rich off Facebook moms."
– Vagabond21
Praise Be
"'You don't get rich writing science fiction. If you want to get rich, you start a religion.' ― L. Ron Hubbard (science fiction writer and founder of Scientology)"
– sudomatrix

All In The Marketing

"Selling cheap stuff like it's valuable without direct lying, only misleading, a** covered legally."
– Vlad_Dracul89

Taking Advantage Of The Naive
"Short term cash/payday loans."
"There is a commercial in my area for a short term loan place where they specifically say that a quick cash loan is the solution if all of your credit cards are maxed out. Preying on poor people with no financial skills."
– little_cock

Medical Scheme
"Buy patent rights to life saving medication and hike the price up sky high."
– Professional-Cry1633

The following are people who fell for what seemed like perfectly legit causes or plans.
A Royal Scheme

"Years ago when newspapers were more common, someone had a brilliant scheme. They had posted an advert that you could buy a portrait of the queen. It was cheap like f10,- so many people ordered. What they got in the end was a stamp send in the mail. Nothing illegal as it was indeed a portrait of our (then) queen."
– DeliriouslylySober

Viatical Settlements

"In the 80s there was a big boom in viatical settlements. Basically you pay someone to become the beneficiary of their life insurance policy. The assumption is they'll die soon and you'll get a big payout. They get the benefit of using the cash they'd never have been able to."
"A bunch of folks started buying up the policies from people with AIDS… and then the retroviral drugs hit the market and many of these people got paid millions and lived for many many more years."
– ThatPancreatitisGuy

Pet-Care Contracts
"My favorite is the person who (supposedly) sold pet-care 'contracts' that would kick in after the rapture, since many believers own pets and apparently pets won't be raptured."
"This person billed themselves as an atheist, so would remain behind and be available to care for the pets after their owners were gone."
"Legally, it couldn't be claimed that the rapture would not occur, so it was a valid agreement."
– NoMoreBeGrieved
Skewed Philanthropy

"Charities are only required to use a small portion of their donations towards the actual cause."
– RanmanGT1

People will do anything for money.
So make sure you don't fall for many of the manipulative schemes mentioned in the examples above.
Remember, if it sounds too good to be, it is.
And if you're making a king's ransom through unethical operations and are able to sleep at night, well, good on you, I guess.

Want to "know" more?
Sign up for the Knowable newsletter here.

Never miss another big, odd, funny or heartbreaking moment again.
Keep reading...
Show less
Egregious acts and unethical practices have happened in schools since they first began.
Not too long ago, the news was filled with stories and commentary on Paris Hilton's YouTube documentary where she opened up about her time in the troubled teen industry.
In Canada, the Indigenous community is bringing home the lost native children that were discovered in unmarked graves in former residential schools. The same reckoning began in the U.S. in 2016.
Though we may not be seeing these extreme examples of unethical actions in public schools today, there are still grievances among our youth. We went to AskReddit to hear about the things we force our students to bear.
Redditor hugscar asked:
"What are unethical practices schools do?"
Some of these will shock you.
Zero tolerance policies.
"Bullied and harassed students having the same repercussions as their bully for defending themselves."- novato1995
"I remember when the zero tolerance policy started being applied to both/all parties, a behaviorist predicted an upswing of violence, plus an increase in violent intensity (from slaps to punches; from punches to stabbings; from stabbings to shootings)."
"If I am remembering right, that prediction is being found accurate."- liquidarc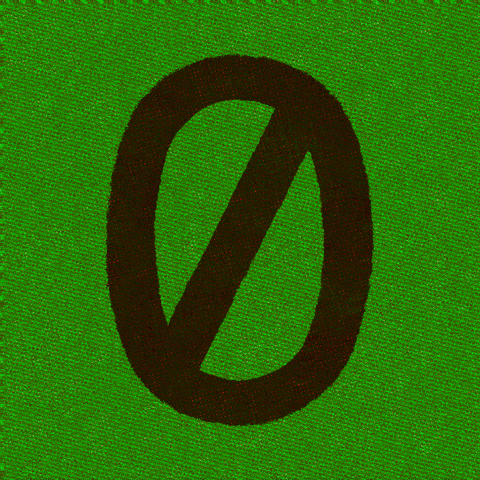 Typography Number GIF by Kev Lavery
Giphy
A lack of consequences.
"I had a bully in middle school grab and twist my thumb hard enough to snap tendon (or whatever is in your thumb. It's been a while) and nothing happened to him since he would have to sit out football if he was punished."- TheLaughingSage
"So for my school I have 2 things."
"They have a no pass list."
"You are only allowed to be out for 5 minutes at most, and no passes first or last 10 minutes of class, no exceptions."
"If you break these rules, or you're just a b*tch/troublemaker in class enough times, you get put on the no pass list for at LEAST a week, so you get 0 passes at ALL."
"It could be for that class for a week, it could be the whole day for the rest of the year.
"I'm sitting at home with a concussion and not at school right now because some kid physically assaulted me."
"She gave me a concussion, two bruises, a red star shaped mark on my head, and 3 different muscle tissue injuries."
"Her doing this has prevented me from performing in front of thousands of people this Friday."
"She has not been punished or talked to at all."
"They have said 'I think you and her just have conflicting ideas and she might have been triggered by things in class and you really don't know each other well'."
" When she came up behind me, grabbed my hair, and yanked me down to the ground by my hair."
"This is bullshit especially because she did this earlier in the year too, and if she does it one more time especially since she is still at school and has not been punished in the slightest, my parents are going to press charges."- cat_lover_21.
Chained fire escapes.
"Our assembly room/gymnasium had the fire escape doors chained shut, and the police department was aware of it."- snarlyelder.
Required textbooks.
"Requiring you to purchase textbooks brand new from the college's bookstore because that's the only way to get the access code to complete the required assignments on the publishers website."- austininlaw
Limiting access to water.
"Less severe but limiting kids access to water, I.e. you can't have your drink bottle at the table."
"Which sucks when you live in Australia and at summer the temperature gets up to 36c and school is during all the hottest hours of the day."- TeamLarge7729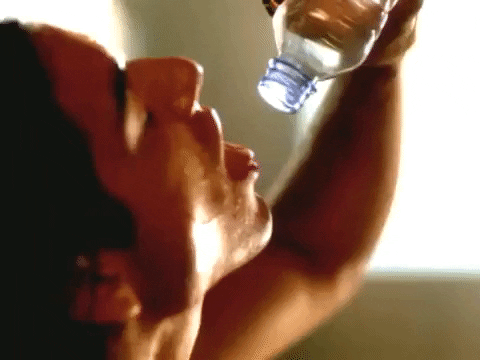 Scorching Music Video GIF
Giphy
A "told you so" moment.
"I was a decently misbehaved third grader."
"Told my teacher I had a stomach ache and I needed to go to the nurse."
"I asked a number of times."
"She thought I was just trying to get out of individual reading time."
"My appendix burst on the bus ride home."
"I was never one to ask to go to the nurse."
"Just a hyperactive kid my teacher apparently had enough of."
"Denying medical attention to an 8 year old seems unethical."
"This is not a 'boy who cried wolf' story for all those saying 'I told ya so.'"- jurassicgrif
Bathroom access.

"Not allowing kids to use the restroom."
"As someone who was diagnosed with multiple reproductive issues at an early age, I had some pretty intense periods."
"And this rule made school even worse."
"Got the nickname 'Paint Bottle' because my school was infamous for denying the bathroom."
"they were closed to all students during a set time because of 'misuse') and I literally had no help from anyone at all. Never realized it was as bad for other people too."
- RebelRebelPebble
"Not being allowed to go the toilet."
"You gotta go, you know?"- Averyjackman.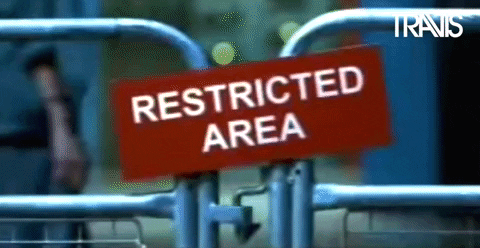 Stay Out Fran Healy GIF by Travis
Giphy
Invasion of privacy.

"This is probably very specific to my home country but period checks."
"I'm from Malaysia and yes sadly this is a thing and I've witnessed it firsthand. Mostly to make sure girls aren't lying about their periods just to get out of prayer activities."- roticanaidraws.
We're failing our students by passing them.
"Passing students that aren't ready for the next grade because they need to pad their passing rates to keep funding."
"It's setting the kids up for failure down the road."- VoijaRisa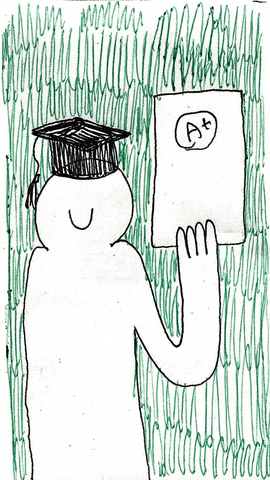 Happy Back To School GIF by Jimmy Arca
Giphy
Unattainable prerequisites.
"Making classes a graduation requirement then not letting kids take those classes because they're full since everyone needs to take them."- intense_fingerguns.
Cost Cutting Measures
"More of a University thing but using students as unpaid labor, mostly grad students and 'interns'."
"Also my school used prison labor to make all the dorms and dorm furniture, said that Healthcare for student workers was 'too luxurious' (exact quote!) and canceled it, canceled all shift meals for student workers, and raised our tuition to pay for our president's massive pay increase and to redo the stupid stadium used for Olympic trials for literally no reason."
"Literally I think he's the highest paid uni president in the US by a long shot."
" I know he gets a 400,000 every single YEAR for just his housing."
"You get a cookie if you can guess what uni I went to lol."- 1kingdweebus2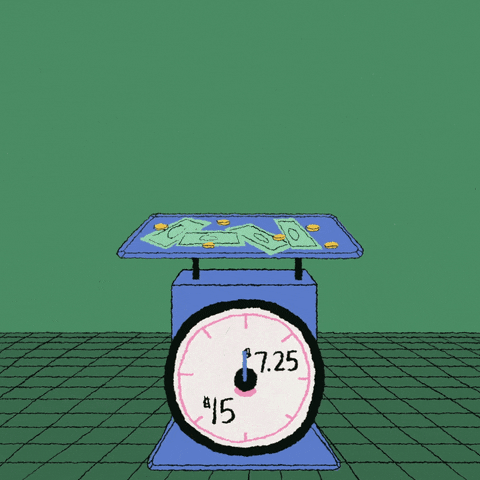 Money Minimum Wage GIF by Creative Courage
Giphy
Dress codes.
"No hats or hoods."
"iI don't know if this rule is in another school but it was back then when i was in elementary, but you weren't allowed to bring fast food food."- Slow-Revolution-9617.
No facial hair policies.
"One of my old high schools had mandatory shaving."
"All guys must be clean shaven every day."
"And in the principals office was the cheapest bag of bulk single blade razors you'd ever seen."
"Sometimes they forgot to tell us where the shaving cream was."
"I started shaving in junior high so afternoon classes were 50/50 if they'd make me go shave."- GingerMarquis.
The dreaded "D" word.

"After school detention."- Savings-Ad-9402.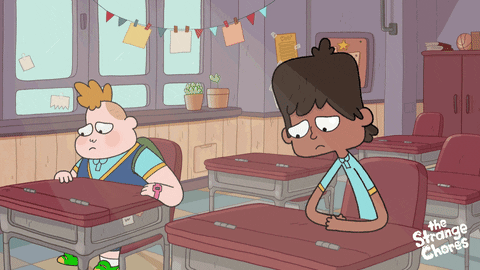 Sad School GIF by Ludo Studio
Giphy
You're all in trouble.
"Collective punishment."
"This is a literal war crime according to Geneva Convention, so if you hate the teacher the gave a collective punishment, you can literally sue them in the international court and if the teacher will be found guilty, they wouldn't be able to pay fines and fees due to their salary being low and will probably be in prison."
"School uniforms are a violation of human rights too because according to UN convention on the rights of a child a child has freedom of expression."
"Many schools will say it's a local rule for students to wear uniforms in their school, but international laws are ABOVE the local ones."- fedunya1.
Too much homework.
"Giving a heavy workload in middle school/early high school and saying that it teaches time management. "
"All it does is speedrun burnout."- MoonarLune.
Not meeting compliancy standards.

"Not accommodating for disabilities properly."
"I actually have a story for this."
"I'm not sure if it's really a disability, but I am legally blind in my right eye."
"We were going to march in a parade in 7th grade."
"I was placed on the far left. "
"The reason why it was a problem is that I am blind in my right eye so I was not able to see people to my right without turning my head."
"We needed to face forward. It made it way harder to know where I needed to be."
"I tried talking to the band teacher about placing me on the right but he didn't listen and kept me there despite my concerns."
"It made things a lot harder than it needed to be."- The_Fluffy_Riachu.
Children are often given little autonomy or rights when it comes to taking control of a situation.
During the pandemic, some parents are practicing giving their kids more "choices with limits" to bring about well-being for their kids.
Ultimately, the lesson here might be to believe our youth when they feel something isn't right.
Want to "know" more?
Sign up for the Knowable newsletter here.
Never miss another big, odd, funny, or heartbreaking moment again.

Keep reading...
Show less
A boss can make or break a job.

Working a job with limited growth, hard hours, or a difficult clientele? A good boss can turn it all around and make showing up worthwhile. Likewise, it doesn't matter how much a job pays or what kind of benefits they might offer, if a boss is terrible at what they do then it can make every day feel like an eternal nightmare around the water cooler.
Worse still, is when a bad boss asks you to get in on their badness, forcing you to choose between the moral high-ground and a paycheck.
Kind of like what happened with these people.
Reddit user, SethmAR15, wanted to know what your employer tried to get away with when they asked:
"What's the most unethical thing a boss has ever asked you to do?"
Sometimes it's small, but inexcusable. Nothing like a boss asking you to do more work than what's required of you, is there?
Always A Good Thing When The Boss Says, "Don't Ask Questions."
"I had a boss ask to me take a bunch of stock from the warehouse to his personal storage unit, and not to ask any questions …"
TJDigital_
"You did it huh"
writer6996
"Turns out he's been taking 'damaged' goods and keeping them in a storage unit and selling them online. I let the owner of the company know (his head office happens to be at my branch) my boss didn't last too much longer after that, I got a decent raise 6 months later… if he'd cut me in then maybe it would have been a different story."
TJDigital_
In-Person Tutoring Is A Separate Charge

"First job after I graduated college, boss called me into his office and had me sit next to his daughter while she took an online exam, told me to make sure she passed it."
"She definitely wouldn't have passed if I wasn't in the room."
AllGarbage
People's Lives Ruined
"I worked for the largest property management in San Francisco and frequently the Manager would ask us to shred checks that came to us so they could file for eviction on tenants. I quit immediately."
47-Rambaldi
Sounds Like A Harassment Suit Waiting To Happen​
"Branch Manager (Banking) asked me to pose in a picture, showing a lot of cleavage, to use on his construction loan website for his builders. He wanted them to 'see' who they would be working with in a daily basis so he could get more business."
Hchel25
Murder shouldn't really be a thing involved on job applications, but someone probably should have told employers like these.
I Guess Murder Is Asking For A Lot
"My old boss at dollar tree would make me drive her to the bank in my car every night. And she would have me park like 10 feet back from the ATM while she walked up to it. She told me that if someone ever tried to run up on her while she was depositing the money I had to run them over. She said if they were too close to her to just hit her as well. She was incredibly adamant that I absolutely HAD to do this and very serious."
durkinbrowns
These Actors Were Perfectly Cast In Their Roles | George Takei's Oh Myyy
Sometimes an actor comes along that is able to reach the audience on a deeper level. The actor that immediately comes to mind is Robin Williams. Although it ...
Chemicals Or No Chemicals, You Keep Working
"Keep people at work when there was a chemical leak from the car painting shop next door, and people were getting sick."
"The boss wasn't on site (almost never was), I tried calling him and got no answer, and I was the most senior worker on site so I sent everyone home."
"When I was almost home (1h+ commute) he called me back. He had gotten my voicemail where I explained the situation and he was not happy. Apparently we should have waited it out or I should have arranged for everyone to work from home (not possible)."
"The guy was a d-ckhead but this one still makes me angry when I think about it."
Keep It Under 40 Hours
"Also at Dollar Tree, most of my cashiers were teenagers or dipsh-ts that never showed up for work so this older Korean woman kept getting called in to work the register. She was pretty much getting 40+ hours every week and open season for benefits was getting ready to start. My district manager called me and told me I had to convince her to not get any benefits or else. I told him that else better be him doing that sh-t himself because I'm not about to do his dirty work."
Sol-Blackguy
And then there's these stories. Bosses who make you wonder, "Is that what it takes to be in charge?" Because, wow, talk about flat out terrible people.
Lives Are Never Worth Profit

"Many, many years ago I was working as a part-time mechanic for a guy selling "restored cars". He called me in for an emergency brake repair on a TR-4. One of the rear wheel cylinders had failed and he needed it fixed ASAP. He had a buyer lined up with cash."
"Instead of having me hone and rebuild the cylinder properly (I had the tools and the kit to do so) he wanted me to cut the pipe to the rear brakes and just crimp it over onto itself, enough to stop the leak. He was in a hurry and wanted it fixed before the customer saw anything."
"I fixed it properly anyway, so that no one would die, and then rolled my toolbox out of there that very night."
limeycars
Crossing A Serious Personal Line
"When I was 16 I worked at Spencer's in the mall. The store manager was a middle aged female who found out she was being demoted. She made the decision to instead quit. Her last day I happened to be closing the store with her. Nothing wierd, we had done it many times before. After everything was closed and locked up we were punching out in the back room. I went to open the door that led back into the store and she physically put her hand over it and closed it like a scene from a movie."

"Then she said "you know I make schedules right" I said "yea I understand that". She said "Do you think it's a coincidence that you and I are closing my last day? This is your opportunity to do anything that you want with me." I was so uncomfortable and I didn't know what to do, so I gave her a hug and she said really that's it.. All the while her husband and 2 kids were waiting in the car outside the mall to pick her up to pick her up."
cheesekernd
Lesson Learned: Never Let A Boss Push You Around
"I had a manager that tried to get me to falsify reports to the feds (financial stuff). I flat out refused. Soon after I had to leave the company for I would have been fired for made up bullsh-t on his part. To this day I will never regret standing my ground."
_Volly
Work for the kind of people you want to work for. Nobody says you can't just go and get a job elsewhere.
Want to "know" more?
Sign up for the Knowable newsletter here.
Never miss another big, odd, funny, or heartbreaking moment again.
Keep reading...
Show less
There's a reason why they say a person makes an honest living.
Which can be a headscratcher upon first listen. Because anyone working hard to earn enough money to support their family, have a roof over their heads, or be able to have food on the table, is earning an honest living.
Many of us tend to forget there are shady operations by which wage-earners make their money, and if they have a conscience, it's not telling them what they are doing to survive is most definitely an honest way to survive.
With people willing to do anything for money, there are plenty of jobs that can potentially make one lose sleep at night.
Curious to explore this notion, Redditor MoronByTrade asked:

"What is the most unethical profession?"
"Professions" exploiting the elderly and other vulnerable people continue to be rampant.
Scammers
"Any profession where the source of your income is scamming the old and/or the gullible."
– EvidentlyEmpirical
Financial Help At A Cost
"Pay day loans. Want a loan with 600% interest?"
– starving_to_death
"My job just partnered with a company to advance your check if needed. The company has all of our info such as hourly rate and time clock punches. If you make $10 an hour and have 80 hours of punches, they will give you an $800 advance. No interest, but they don't take out taxes. Girl I work with had been taking an advance every 2 weeks because 'you make more money this way.' I told her she's getting f'ked in April but she doesn't believe me."
– minnick27
The Struggling Friend

"I have a friend who works her ass off, has had a difficult life and had been struggling a bit, and needed $250 to make rent. I had just set up her computer and had stopped by to drop something off and she was filling in the financial info part of a payday loan form, and had already clicked 'next' after she entered her contact information. I stopped her and helped her out with the money in exchange for one of her amazing dinners if I bought the groceries."
"About a week later she called me crying, saying there was an officer coming to her house to arrest her for non-payment of the payday loan that she didn't get. These ruthless f'ks took her info and tried to scare her into giving them twice the amount she was going to take out. I calmed her down, assured her, then reassured her later that night when she called me again, that it was a scam and she wasn't getting arrested."
"This woman is one of the nicest people I've ever met in my life. She's older, doesn't have much of an education, but has raised some amazing children and would give you the shirt off of her back if you needed it. F'k those douchebag scammers."
Edit: If I didn't make it clear, the police were not actually being sent to arrest her, they can't do that, and when she called me, I explained this to her. Saying that someone will be served or arrested is a common, shady way for debt collectors to scare people into paying a debt (in this case a debt she didn't owe). The whole thing was a scam to scare her into paying them using the info she entered to attempt to get a payday loan.
– Clusterf**kySh*tshow
Teaching By Example
"I teach highschool economics, and occasionally when I get a scam call during class, I'll plug my phone into my projector speakers and answer it in front of my students."
"I play along and ask the scammer questions to make it seem like I'm a good Mark. My students have prior instructions on types of scams, and their job is to figure out which scam this is and how it works as I go through the call. Afterwards we'll discuss what happened."
"When I decide to end the call, we usually either just hang up or we mess with them a bit. One time a student jumped in and asked the scammer if his mother was proud of him, and the guy cussed us out and hung up. That story is legend among my students."
– StrategicWindSock
It's confounding how people in these positions get away with everything, under the guise of work.
Shady Media Outlets
"Media outlets that take money from interest groups (or owned by specific people) and espouses their talking points instead of reporting the factual truth."
– nowhereisaguy

Bad Reputation
"Politician shouldn't be, but the system makes it really easy for people to forget they are public servants and not out for themselves."
– theliability10

The Palm Message
"One of my coworkers used to be a repo man. One time he was telling me about his tattoo. Often while hooking up the car to tow it, the person would come up to him and say 'isn't there some way I can get you to not take it'" On his left palm in all caps was tattooed PAY HERE."
"He'd drop the car for $100 and tell his boss he didn't find it. I opined that that sounded kind of f'ked up. He said it was actually way cheaper for them to pay him and maybe have time to fix the situation than it would be to try and get the car un-repoed from the yard with the bank involved. He's not wrong, sadly."
– Lampwick
Based on the input from these Redditors, there is corruption in faith.
Con Artist
"Televangelists. Easy, they're confidence men, and true pieces of sh*t. Looking at you Joel 'I'm a garbage f'king person' Osteen."
– Silkysenko91

Bad Conduits
"Mediums and psychics who capitalize on the pain and grief their clients feel from losing someone they love. 'I will help you communicate with your dead loved one for $200 an hour' the Gabby Petito (sp?) Case was so f'ked up with all the Tik Tok psychos, oh I'm sorry, psychics posting videos saying she was speaking to them from beyond the grave."
– Alohamora95
Prosperity Preachers
"The tech support scammers are usually poor and desperate and sometimes dumb enough that they think they are doing a legitimate job (some of the frontline ones are just there to make initial calls and get a mark on the line--they pass it off to the next level of scammer once they find someone who 'needs technical support')."
"But the prosperity preachers are pure scum. They could be normal preachers. They could take other jobs. They could quit now and still be fabulously wealthy...but they don't do any of those things because they are terrible people."
– RegulatoryCapture

Like many Redditors here mentioned, scammers are the lowest of the low.
The lengths at which they go to prey on people by coming up with elaborate schemes and backup plans to ensure their ploy will work is baffling.
It's become our job to watch our backs. Remember the following points to prevent you from being a sucker when you respond to suspicious calls.
Never send money in order to receive a prize.
Never send personal or financial information when prompted.
And remember it's a big red flag if someone puts pressure on your to act quickly or there would be consequences involving the FBI or law enforcement.

Want to "know" more?
Sign up for the Knowable newsletter here.

Never miss another big, odd, funny or heartbreaking moment again.
Keep reading...
Show less