I'm still on the fence about this whole extraterrestrial situation. I need more proof. Now I'm not naive enough to think that in this vast, endless universe only the human race exists. I just need proof, tangible, solid, didn't see it from my trailer through beer goggles proof.
I also need proof about the afterlife, another out there topic. Truth be told, I've never been that into this whole conversation. I've got enough daily problems on this planet, let alone worrying about making Will Smith's biggest hits into documentaries and not just popcorn/comedy space farce.
But let's compare thoughts...
Redditor u/ValencikHannibal197 wanted to discuss life beyond this planet, what do we really think? They asked:
What's the best theory on UFOs or aliens you've ever heard??
I definitely wouldn't turn down an excursion to AREA 51. I'd like to poke around and get a sense of the place. I've never personally been up close and face to face with a "non-Earther." Not sure I'd like to be...
TV Truth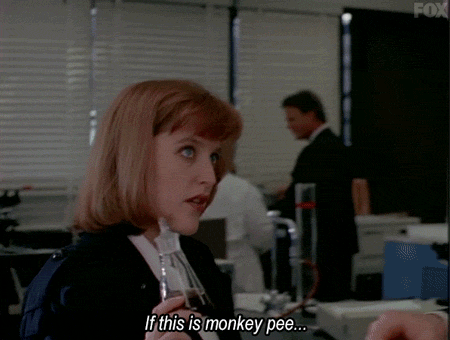 x files monkey pee GIF by The X-Files
Giphy
"UFOs/Aliens are a cover for all of the secret projects that the government is working on. Actually stole that from the X files."
Birth
"How human birth parallels alien abductions:
Babies are taken from their home (womb)
They still developing sight, so they see bright lights and grey figures.
They hear an "alien" language they don't understand.
They suddenly feel cold after leaving their womb.
They are in a surgery room being poked with tons of instruments.
Long story short: some people suggest that abductions are just people who had memories of their birth."
In the Mind
"I just don't think anyone will ever see this. But I think that UFO's are the projection of our unconscious collective mind. Everything that exists in reality, also exists, in our immaterial mind. Is it possible that the insides of our mind are also just one drop in the ocean of consciousness... and together we create the material reality were in, simply by experiencing it in a real way, inside-out through our senses."
Flyover...
"My father was an aircraft mechanic and fabricator for test and spy aircraft for the USAF. He spent 75-85 working with test aircraft. He said that when they were going to do a test, that could possibly be seen by the public, they would make a betting pool on how many UFO reports local authorities and flight towers received."
Under the Sea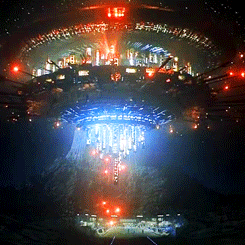 sci-fi ufo GIF
Giphy
"I like the idea that some UFOs aren't machines. Instead they are some sort of Upper-Atmosphere Jellyfish. I found the issue of Fortean Times that had this article. Here's the cover: http://ft.gjovaag.com/q/images/a/ae/FT291.jpg"
- BigD1970
Interesting. There are some ideas we can look into. None of it proof, but possibilities. There are certainly plenty of future film ideas.
Like 2012...
"We are like that un contacted tribe and everyone agrees not to bother us."
"I've heard it explained from a channel (idk if you know what channeling is) kinda like this. First of all, we as a species tend to freak out, shoot first and ask questions later. Most humans would have a literal psychotic break. You have to believe in vibrational energy as it relates to our consciousness."
"The aliens (certain ones) are at such a higher level that it would be jarring for us to come in close contact with. We are slowly getting there but it's a process. Like 2012, end of the Mayan calendar, wasn't the end of the world it was the end of an energy cycle that we as the human race had never made it past before."
"Previous civilizations have been destroyed or destroyed themselves before they got this far. We passed a point where we are very unlike to destroy ourselves anymore. This doesn't mean we won't see some real bad hardships yet but we will keep progressing."
- falecf4
"train your eyes"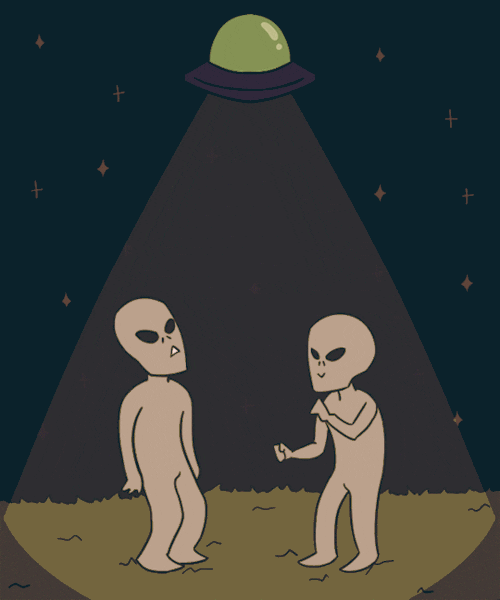 Dancing GIF
Giphy
"I was a firm believer in t em when I was in high school and kept googling theories and info in my spare time and during my study halls. They said their bodies were so lightweight or something that the reason why you can't see the evidence is that they disintegrate before hitting the ground."
"And then LOL it was so funny, some people would swear you could "train your eyes" to see rods... HhhahAHAHAHA. Like there were these experts. Video showed him walking around with a serious face, then pointing. And he's like, "that was one just there." "You can't see them, you have to be used to them... like me."
"I've spent many years immersed into hunting them finding them. That's why I can see them." And then one day China, who loves occult stuff, had like a lab that set up a nighttime camera to capture footage of rods at night... then realized they were normal bugs at overexposure. lol"
Lurking
"The Dark Forest theory. Basically the theory that the reason we haven't made contact is because all the other civilized life in the universe/galaxy knows not to broadcast their location. They've learned that there's something awful or predatory lurking in the dark forest of our galaxy, and that it's better if they keep to themselves."
Unknowns...
"That the universe is so vast that we haven't been discovered yet."
- neoastic
"This makes sense to me because traversing the distance to or from even our our stellar neighbors would require technology that is not known to us now or likely to be known by us anytime soon if it's even possible at all. To assume without evidence that aliens could possess this technology and have visited us does not meet my skeptical standards."
- KZED73
Back and Forth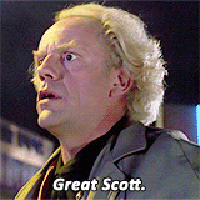 back to the future great scott GIF
Giphy
"Time travel exists, and UFO sightings are actually future humans coming back to our time. That is why they are so discreet, and never openly make contact."
I hope time travel exists. Now that I'm onboard for. If aliens do exist... just come on out guys. We could probably use your help.
Want to "know" more? Never miss another big, odd, funny, or heartbreaking moment again. Sign up for the Knowable newsletter here.

Keep reading...
Show less
One of life's eternal questions and wonders revolves around proving that life exists outside of Earth and the human race. Have we truly shown that there are aliens out there or even among us? Some people swear they have the solid proof. Many people believe that we've all been witness to actual phenomenons that are irrefutable hard evidence. Of course it has long been believed the government is housing all the answers in a bunker in the desert. I'm not sure myself, but... I believe Will Smith knows.
Redditor
u/theEthan420
wanted to finally find the proof we have long been waiting for about those that live above us, they asked....
[Serious] UFO enthusiasts of Reddit, what is the most significant piece of evidence supporting extra terrestrial life?
Want to "know" more? Never miss another big, odd, funny, or heartbreaking moment again. Sign up for the Knowable newsletter here.

Keep reading...
Show less
UFOs don't necessarily mean aliens, as they have been associated with in pop culture, but they definitely do mean something weird is going on.
A recent report by The New York Times highlighted the prevalence of UFO sightings among pilots and explained what the Defense Department has to say about them.
Lt. Ryan Graves, a 10-year navy pilot, witnessed these objects repeatedly during the USS Theodore Roosevelt's 2014-2015 training exercises on the east coast.
He spoke with The Times about his experiences, which he reported to both the Pentagon and to Congress.
"These things would be out there all day. Keeping an aircraft in the air requires a significant amount of energy. With the speeds we observed, 12 hours in the air is 11 hours longer than we'd expect."
According to The Times,
"experts emphasize that earthly explanations can generally be found for such incidents."
The new classified guidance put out by the Navy after the Roosevelt sightings on how to report these "unexplained aerial phenomena" would seem to indicate that someone was beginning to take the reports seriously.
Navy spokesperson Joseph Gradisher stated that the new reporting guidance was released after those sightings.
"There were a number of different reports. We don't know who's doing this, we don't have enough data to track this. So the intent of the message to the fleet is to provide updated guidance on reporting procedures for suspected intrusions into our airspace."
Leon Golub, a senior astrophysicist at Harvard-Smithsonian Center for Astrophysics, weighed in on the possible causes of the sightings as well. He didn't completely discount the possibility that the objects were extraterrestrial, but noted that the possibility was highly unlikely.
"There are so many other possibilities — bugs in the code for the imaging and display systems, atmospheric effects and reflections, neurological overload from multiple inputs during high-speed flight."
Another seemingly-likely possibility is that the objects are part of an advanced unmanned drone project, but there are multiple things making this less likely to be the answer.

The objects have been reported to move in ways that don't match the capabilities of our current flight technology: appearing at various altitudes from sea level up to 30,000 feet, rapid acceleration and deceleration, followed by rapid jumps to hypersonic speeds.
Lt. Graves and other squadron members from the Roosevelt were further convinced that these weren't just experimental drones after one of them had a near miss with one of the objects during a flight.
Graves was back on base at Virginia Beach when he ran into a pilot on his way back from a flight. Graves said the man was visibly upset and told him:
"I almost hit one of those things."
Believing that a government-run drone project would be aware of their squadrons maneuvers on the East Coast and would therefore avoid their airspace so as to avoid such possible collisions, the squadron began to discount that possibility.
Some Twitter users offered their own theories.
@NYTScience @therealCJPurdy It's probably the Air Force not telling the Navy what it is doing.

— Big City (@Big City) 1559001859.0
@NYTScience @farnazfassihi https://t.co/JzNQzrP4Tm

— Ducky Krupnik (@Ducky Krupnik) 1558967196.0
@MicahHanks FWIW I work in software for a living, though not in aerospace or military. There are always bugs in the… https://t.co/XZ46GgmiLa

— Mission to Europa (@Mission to Europa) 1558984671.0
Others were just intrigued by the story.
@MicahHanks It is fascinating, no matter what you believe about it.

— Sandra L. (@Sandra L.) 1558969965.0
There has been a continuous drip of "possible extraterrestrial activity" stories from the New York Times recently a… https://t.co/wLUTxPYwPG

— Ariel Bogle (@Ariel Bogle) 1558913259.0
Of course, there were X-Files references galore.
@NYTScience https://t.co/sahAsuxPgW

— gee miz (@gee miz) 1558962656.0
@NYTScience Incredible story. Cue the X Files music and call Scully and Mulder out of retirement. https://t.co/VuShIdtZML

— Kith + Kin Magazine (@Kith + Kin Magazine) 1558963472.0
@NYTScience https://t.co/4wXCrftFal

— MelT (@MelT) 1558968470.0
Some people shared personal or family stories of UFO sightings.
@NYTScience When my dad was in the Air Force in the 70s, he and another dude were on watch one night at base. They… https://t.co/3btgaJ7GuY

— elizabeth ashley (@elizabeth ashley) 1558967717.0
@MicahHanks Saw an object as a child in the 60s which did things of which no aircraft at that time were capable. Bo… https://t.co/mD9m5bLXpU

— Karen ❤ (@Karen ❤) 1559000123.0
@MicahHanks Years later, they all got together, one asked if the others had seen it. Turns out they all did. They w… https://t.co/wY8KXfNsEt

— Belinda McBride 🌊 (@Belinda McBride 🌊) 1558968204.0
@gettingsome Oh - I found the report - it was 1948 at Hickam AFB, and signed by Colonel Savage (slick name!) #UFO: https://t.co/xj1PR8FR4m

— Jennifer Holliday (@Jennifer Holliday) 1558987481.0
After leaving Port at Virginia Beach for the Persian Gulf, the crew says that the sightings became less frequent as they got further from the US.
While nobody is officially claiming to know what these objects are, it seems clear that there is something that pilots are seeing and encountering while in US airspace.
The Defense Department continues to insist there may well be a perfectly reasonable—and terrestrial—explanation for the sightings.
Until that explanation is found, though, there will still be those holding out hope for extraterrestrial contact.
Keep reading...
Show less