Meeting your friend's identical twin for the first time can fall into one of the following categories.

They may look indistinguishable from their sibling, regardless of whether or not they're wearing matching outfits.
Or they may resemble each other well enough but their mannerisms are different enough for you to tell the difference.
While it's fun as adults to become acquainted with your friend or partner's twin and noting similarities and distinctions, imagine what goes through the mind of an infant when they see their mommy or daddy's identical twin.

Redditor /KjellSkar asked:

"Identical twins with children, what was your baby's reaction when they saw your twin?"
Keep reading...
Show less
Ever see those viral videos of when a newborn meets their parent's identical twin?
Those videos of bewildered babies are adorable! But what can be cuter than a baby? How about... a pet? You would assume most animals could distinguish between people by smell, but sometimes it may take a pet a minute to understand that they are looking at two identical people.
Redditor u/avianthon asked people to share their pet's reaction to their identical twin, and it proved that animals aren't always as sharp as we may think.
Do you have something to confess to George? Text "Secrets" or "
" to +1 (310) 299-9390 to talk him about it.
Keep reading...
Show less
When someone acts as a surrogate for a couple, it's generally seen as a wonderful thing.
It's a very difficult and selfless act that can help someone complete their family.
It's also filled with a lot of controversy, as the situation can be abused if you aren't protected.
This arrangement benefits the rich over others, as paying for options for becoming a parent is an expensive process and they have the resources to do so. But for people on the bubble, surrogacy, in vitro fertilization, fertility treatments and even adoption can use most of their available resources in their quest to have children.
In many countries, it's also possible for the surrogate to back out and fight the parents for custody, even when both the egg and sperm are implanted.
Without proper legal protection, there may be nothing the other party can do about it.
Steven and Marc Winchester-Horscraft found out about this the hard way.
After a previous successful surrogacy that gave them their son, they wanted to complete their family. The couple said they got to know and befriend their surrogates before they tried to get pregnant, even inviting their second surrogate and her boyfriend to their wedding.
When they finally got pregnant, they were overjoyed to find out it was twins. This increased the pregnancy costs the surrogate billed them for, but they were happy to pay the £17,000 ($22,280) requested to cover her costs. It is illegal in many countries to pay a surrogate for their services, however the parents can be contracted to cover the costs associated with the pregnancy for their surrogate.
However, the babies were born at 28 weeks, and had to spend time in the NICU.
"Having our girls in NICU was only the very beginning of our long, excruciating nightmare."
@PinkNews Surrogacy is an amazing thing usually, the women who do it to give anyone, straight or gay, a family of t… https://t.co/Xe8nRdXekC

— Jay (@Jay)1578397874.0
"It's super easy to donate. The story is heart breaking. How cruel people can be." - Motorcyclegrrl
This story is absolutely horrible, here's the link to their GoFundMe page to help them: https://t.co/6P21Xamvkp https://t.co/oEKvVemOgr

— マ 💛🦌🖤🦅 (@マ 💛🦌🖤🦅)1578410505.0
"This story is horrendous.
"These poor men. Their poor babies. Donated!!! Thank you for sharing their story."
"The community works so hard to form families of biological origin. Surrogacy, IVF, trans-implantation of eggs, oh man. So much science."
"And to have something so selfish happen to them. OVER MONEY."
"I just can't even..."
"I know there's 2 sides to every story so I'm sure there's more to it.... But god damn... Stop hurting people for profit." - TrixieGears
As the little girls fought for their lives, the surrogate's boyfriend tried to get more money from the couple. He asked for another £3,000 (almost $4,000 USD) which the couple didn't have after already paying the £17,000 ($22,280) the surrogate already asked for.

"Before our surrogate was discharged she wanted the remainder of her pregnancy expenses to be paid, which we paid with out any fuss... nearly 17k in total."
After turning him down, the surrogate texted the couple to say they would not list Steven, the biological father, on the birth certificate, nor would she sign over parental rights.
According to Steven:
"A couple of days later I receive a text saying because we have not paid the extra money, our surrogate will not be putting me (the biological father) on the birth certificate and she will not sign a parental order (a form needed to remove surrogates parental responsibility giving it to the couple the babies were conceived for)."
The couple didn't have extra money for a lawyer at that moment, as they put all their money into the final expenses the surrogate asked them to pay.
So they took out loans to get legal advice.
@PinkNews This is why you should have contracts. Surrogate or sperm donor have a legally binding contract agreeing everything beforehand.

— lonelysleepwaker ♿♎ ♀🐀🌈 (@lonelysleepwaker ♿♎ ♀🐀🌈)1578401709.0
#Gay #fathers left in £43,000 debt after #surrogate refused to hand over their #newborn #twin #daughters. - This i… https://t.co/8ntXo9GndR

— Susan Larson 🏳️‍🌈 (@Susan Larson 🏳️‍🌈)1578416851.0
As legal proceedings began, the surrogate also put a ban on the couple seeing the children.
She claimed her boyfriend was the father of the girls. Eventually, a DNA test proved she was lying and the couple now has custody of the twins.
But not without great cost.
Currently, the couple is sitting in debt of £26,000 ($34,000 USD) after all the legal fees. This is a lot, both in terms of money, and just the story itself.
It has brought up the question online about the ethics of surrogates.
Gay fathers in £43K debt after surrogate refused to hand over twins https://t.co/uio50Xb7eU < should have adopted t… https://t.co/kdIe4X1PpQ

— Tackleberry (@Tackleberry)1578386019.0
@laurajanejenny @PinkNews It wasn't that she couldn't hand over the babies, it was a matter of wanting more money f… https://t.co/L7YhWwzPPl

— Agent007 (@Agent007)1578415342.0
@DailyMailUK Her body, her choice

— Collinz (@Collinz)1578422699.0
@Femail Her twin daughters.

— Megan Wills (@Megan Wills)1578387745.0
The couple started a GoFundMe to try and cover some of the legal costs.
Steven wrote:
"We are both nurses and have spent our working lives caring for others. I guess I am just hoping for some help from others in order to get us out of this awful situation. Due to our surrogates actions we have not been able to enjoy the time we have had with our girls. Both having to try and work as much as we possibly can to break even and get us out of this downward spiral."

At time of writing, they have about £6,400 raised of the £26,000 they are asking for.

They understand that they are asking for a lot, when it comes to this donation, but they aren't expecting it to fully fund.
"I understand that the amount we are hoping for is most likely unrealistic, but we would be eternally [grateful] for any help at all."
If you're looking at fertility options for any reason, the book Your Future Family: The Essential Guide to Assisted Reproduction (What You Need to Know About Surrogacy, Egg Donation, and Sperm Donation) is available here.
Keep reading...
Show less
When you see Jason Momoa and Peter Dinklage starring in a movie together, what genre comes to mind?
Drama and Fantasy?
They've been there and done that.
A wacky buddy comedy?
Now, we're talking!
During the "Aquaman Live" panel discussion at Celebrity Fan Fest in San Antonio, Texas this past weekend, a fan suggested a movie pitch for Momoa, who starred as Khal Drago in Game of Thrones.
The fan asked if the Aquaman star would reunite with his GoT co-star Peter Dinklage for a remake of the 1988 buddy flick, Twins. The original starred Arnold Schwarzenegger and Danny DeVito as, well, twins.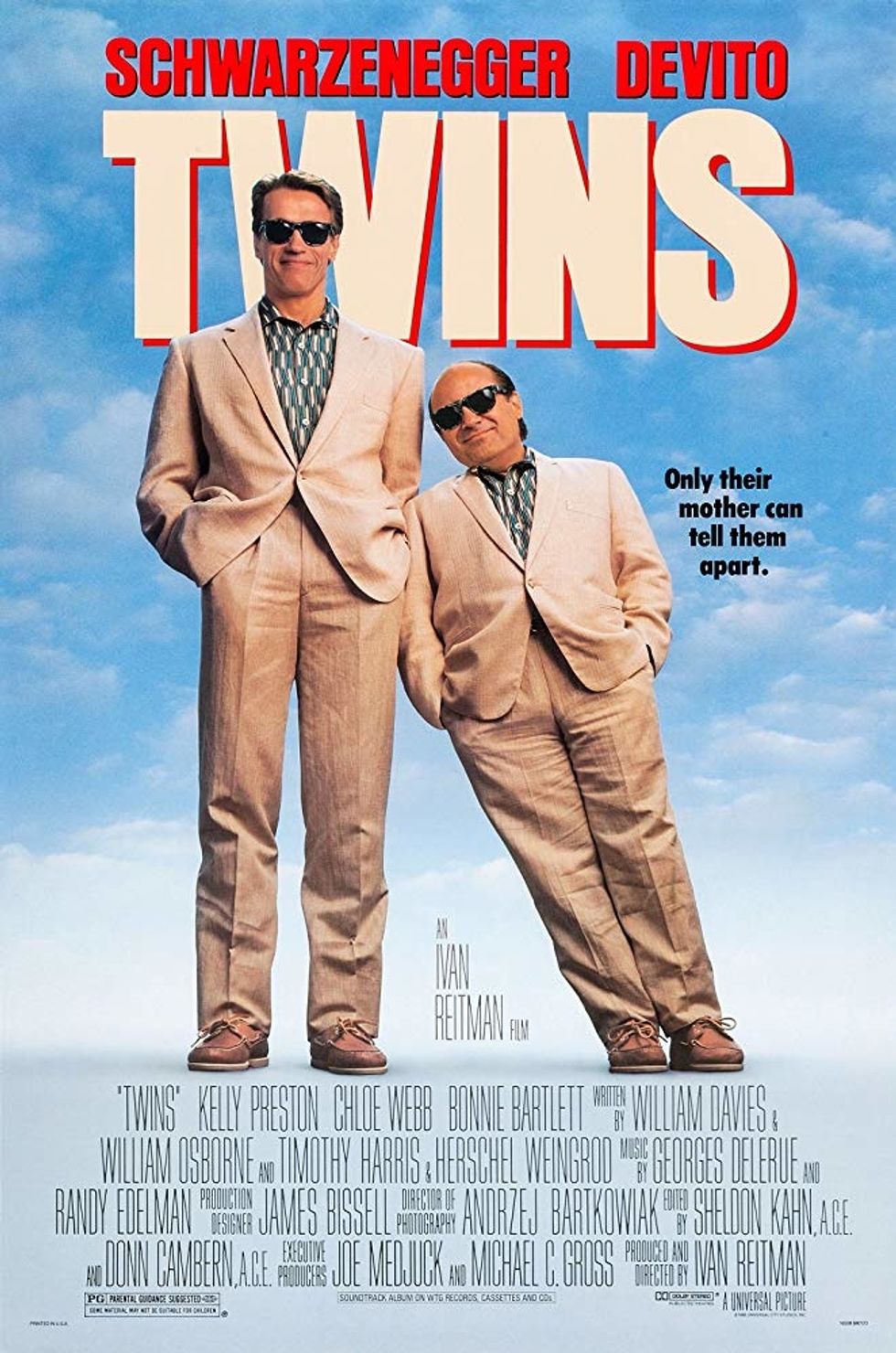 Twins/Universal Pictures
The original 1988 film, Twins, is available here.
Someone already reimagined the original 1988 movie poster.

Perfect #Twins !! @PrideOfGypsiesJ #PeterDinklage https://t.co/uTV2Iu9V8F

— Salman Artworks (@Salman Artworks)1560868149.0
Momoa, 39, was enthusiastic for the prospect and revealed he is a fan of the comedy about unlikely twins separated at birth.

"F****n' tell me where to sign! Absolutely. That'd be amazing. I love that movie."
You can watch his reaction at the 17:52 mark from the video of the interview, below.
WATCH: Celebrity Fan Fest 'Aquaman Live' panel with Jason Momoa www.youtube.com
Did you hear that, Hollywood?
Fans are already on-board.

@SalmanArtworks @PrideOfGypsiesJ Take my money I'm in!

— Richard Welze (@Richard Welze)1561001966.0
@SalmanArtworks @PrideOfGypsiesJ Absolutely Amazing LOL

— CavegirlSGA (@CavegirlSGA)1560885598.0
🗣️Do it. Do it, Now! https://t.co/sImi8k8AUV

— FrostyBoot (@FrostyBoot)1561037158.0
@TheNerdFu I'm sold!

— Big Chris Spirito (@Big Chris Spirito)1561036231.0
Momoa raved about Dinklage, calling him "amazing." Now that fans got his blessing in public, the moderator said it was up to the "people on Twitter" to make that happen.
According to The Huffington Post, Momoa has not mentioned exploring that prospect. But with so many movies being revisited with a modern take, a Twins remake is not a long shot.
The 1988 movie, directed by Ivan Reitman, was a commercial success at the box office, opening at number one in the U.S. and earning $11 million during its first weekend of release.
Schwarzenegger and DeVito played fraternal twins–Vincent and Julius, respectively–who were created via a biological experiment in which the scientists involved told the mother (Bonnie Bartlett) that her babies died. Years later, Julius (Schwarzenegger) finds out information about his mother and brother and heads out to Los Angeles to reunite with his family.

In 2012, Universal announced a development of a sequel titled, Triplets, that would bring back Schwarzenegger and DeVito and would co-star Eddie Murphy as their long-lost brother.
It has yet to come to fruition, but the possibility of a sequel hasn't been scrapped, entirely.

Ivan Reitman confirms Triplets, the sequel to Arnold Schwarzenegger and Danny DeVito's Twins, is still in the works… https://t.co/4nE12eaXso

— Consequence of Sound (@Consequence of Sound)1479955210.0
DeVito told MovieWeb:
"I mean one of the ideas that was floated around was Eddie Murphy. So it would be Arnold and Eddie and I. He's a fun guy. We're talking about doing 'Triplets.'"
"If you remember Twins there was a cocktail, we mixed it together, and then you wound up with these two gene pools, Arnold and I. It was a strange little movie. We figured you could probably have another portion of that cocktail turn into somebody else."
The project is still on the back-burner, and bringing Triplets to the big screen is dependent on one important factor.
DeVito added:
"Everybody would be up for it. The main thing is you have to have a screenplay. We're looking. We're figuring it out."
Maybe there's a reason why Universal has been circumnavigating the sequel.
Were they waiting on an idea for Quadruplets?
To see Momoa's star turn in Aquaman, the film is available here.
To relive all of Game of Thrones, you can pre-order the complete series boxed set here.
Keep reading...
Show less
34-year-old twins Jill Noe and Whitney Bliesner have been best friends their whole lives.
The pair are inseparable.
When Noe heard her sister was in need, it was second nature to offer help.
Whitney Bliesner has a rare genetic condition known as neurofibromatosis type 2, which causes noncancerous fibrous tumors to develop in her nervous system.
The hormonal changes that are a normal part of pregnancy stand a good chance of making this worse, so it isn't safe for Whitney to become pregnant. The tumors have already led to Bliesner's loss of sight in one eye and hearing in one ear.
Bliesner and Noe are fraternal twins, they do not share all of their DNA, so the genetic condition that affects Whitney isn't present in Jill.
When Whitney confided in Jill that she really wanted a baby, but surrogates and adoption were prohibitively expensive, Jill didn't hesitate before offering to act as a surrogate for her sister and her husband.
"I was like, yeah! Let's just do it! Let's just see where this goes and let's see if I can get my body to where it needs to be to have your kids."
Whitney spoke with The New York Post about her reaction to Jill's offer:
"I was speechless at first. She was giving up her life to do this for me."
Noe has always been very athletic, formerly playing basketball for Arizona State University. Bliesner told CNN that she was shocked her sister would give up that lifestyle for her.

"I was very happy and excited, but also shocked, because I know how active and fun and exciting her life is, and for her to want to actually stop that for me was just kind of like a shock."
Because of Whitney's medical concerns, they were unable to use her eggs, so the couple opted for a donor egg fertilized with Whitney's husband's sperm.
"We couldn't use my eggs because there's a 50/50 chance I could pass it on and I just don't think I would be able to live with myself if I knew I passed this condition to my kids."
Jill is currently in a relationship and said that things can get a bit awkward when meeting people for the first time. She told The Post:
"I tell people I'm a surrogate for my twin sister. As I see their wheels turning, I offer up the information that they used a donor egg and her husband's sperm — and no, I did not sleep with her husband!"
The ASU Alumni Association shared the news of Noe's act of love on Twitter.
From Sun Devil to surrogate, #ASUAlumni and former @SunDevilWBB player Jill Noe gives new meaning to the word team… https://t.co/gB1kumJHSD

— ASU Alumni (@ASU Alumni)1554772504.0
Noe also shared the story on Facebook, to many congratulations from both friends and family, and the general public.

Patti Buess/Facebook

Karen Hartzman/Facebook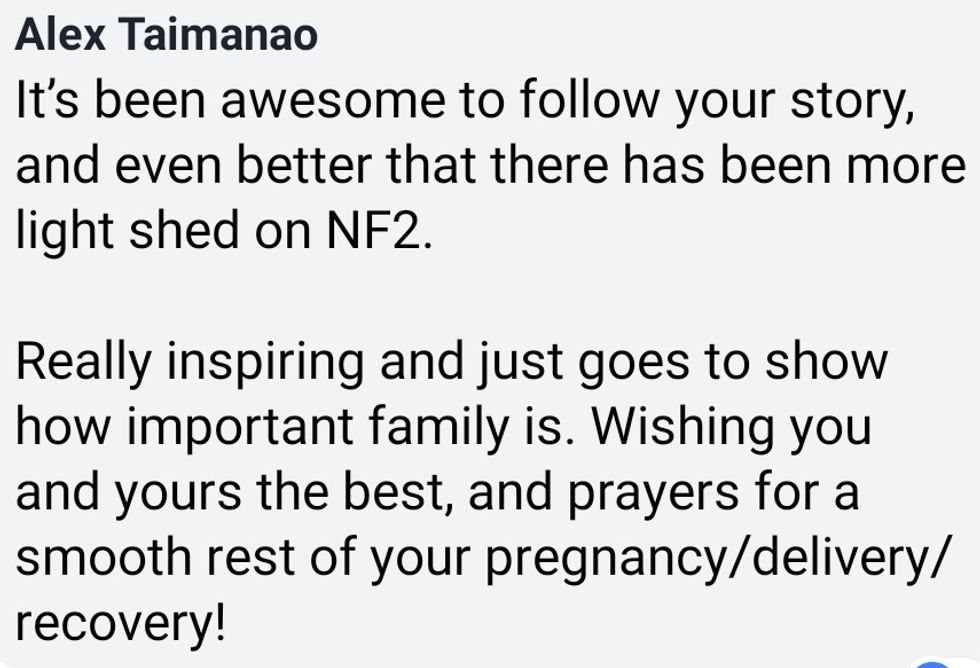 Alex Taimanao/Facebook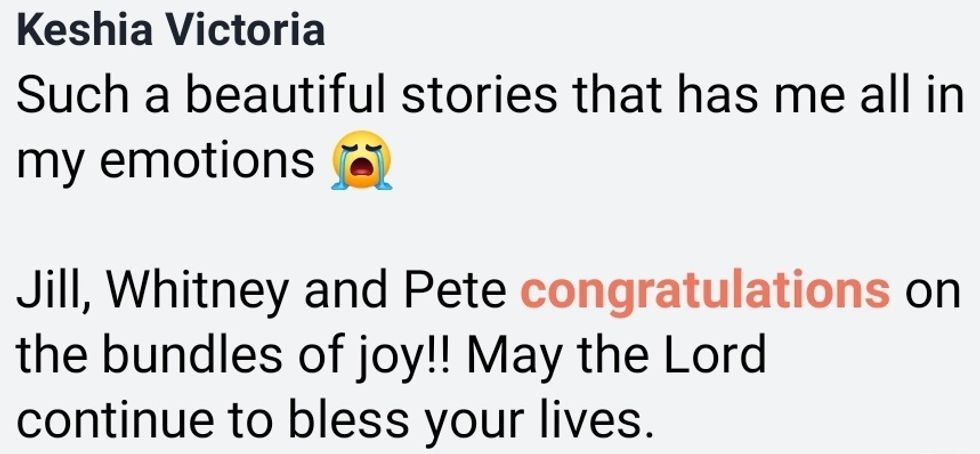 Keshia Victoria/Facebook
Family being there for family is nothing new, but the love that Noe has shared for her sister with this one act is remarkable.

She truly wants her sister to be happy.
"She's had so many things taken away from her. This is a way I can help provide her with two beautiful children."
Keep reading...
Show less