As a kid, I remember being obsessed (like obsessed) with David the Gnome and his fox Swift. I was tuned in daily to watch the adventures, get all misty eyed for the hurt animals the gnomes saved, and sobbed in abject wonder when the gnomes finally lived all 400 years of their gnome life and transitioned into the trees that make up the woods they live in.
The trees are their ancestors, y'all! The treeees! They protect the trees because they're family. Trees grow intertwined because they were so in love when they were gnomes.
Fam! This show was everything ... except memorable for other people because I was in my 30s talking to someone from another country before I met the first person who remembered this show.
Which, honestly, is kind of insulting to gnomes and trees.
Reddit user itchellFamily1045 asked:
"Which show do you think you're the only person who remembers it exists?"
It was David the Gnome for me (which I found out originated in Spain and was much more popular in France than it was in the US. Apparently, I was a Euro-trash hipster as a child), but let's take a look at what got Reddit.
Classic Wheel Of Fortune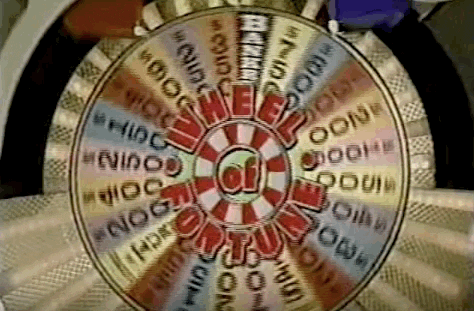 wheel through the years GIF by Wheel of Fortune
Giphy
"It's funny how nobody seems to remember the early seasons of Wheel of Fortune with host Chuck Woolery. You didn't win any cash. You had to choose prizes from a selection of things set up in a room-like fashion."
- opus_4_vp
"They still had the prize room with sajak for a while I believe. Camera would just pan across the room and the winner would try not to pick the stupidest things. Cause the items all had fn price tags on em and you'd only have the $ amount you won. Infuriating"
- Frosty_Shoulder_7825
"A broyhill coffee table!!"
- atlantachicago
"Always ending up with the porcelain dog statue cause it was all you had left after buying expensive items."
- captainvancouver
Eerie
"Eerie, Indiana"
- dammagedone
"I still think about the episode where everyone who stayed young, slept in Tupperware, and when their lids got taken off, aged overnight."
- CatasaurusRox
"Foreverware!"
"One of my favorite moments on the show had Marshall and Simon hanging out in Simon's room, one night. Through the walls you can hear a man and a woman laughing lecherously."
"Marshall: 'It sounds like your mom and dad are having a party'."
"Simon: 'Mom's not home'."
"It was a great weird kids' show, but some of the gags they managed to sneak in were hilarious."
- rick_blatchman
"I work w a dude whose daughter was on that show, We were just randomly chatting and he was telling me how she had done some modelling/acting when she was little"
" 'you probably dont know the show but...'."
" 'like hell i dont that show was great'."
- cyzad4
Early Edition
"Early edition- get tomorrow's newspaper today"
- cmoney1142
"I loved that show! What a concept!"
- MortLightstone
"Omg omg omg"
- TumorYaelle
"Quality 90s tv, right there. A warm-fuzzy show."
- DustBunnicula
Herman's Head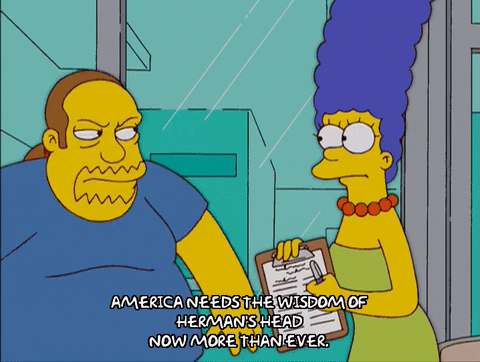 talking marge simpson GIF
Giphy
"Anyone remember Herman's Head?"
- ClemofNazareth
"It had the woman that does the voice for Lisa Simpson and the woman that went on to play Ross' exwife on friends was one of the characters in his head."
- rhett342
" It has 2 Simpsons voice actors- Yeardley Smith and Hank Azaria. I seem to remember that they were offered the roles- and maybe the whole show existed? - because they didn't want to be 'just' VA's, and FOX wanted to placate them."
- mr_oof
"That's a real show?? They reference it on 'only murders in the building'."
- Bebosherry
"I came for this one too!"
- whitemest
The Garry Shandling Show
"The Gary Shandling Show. No, not the Larry Sanders Show - Gary Shandling Show. Even the theme song breaks the fourth wall."
- MrNegativity78
"This is the theme to Gary's show, the opening theme to Gary's show. This is the music that you hear as you watch the credits. We're almost to the part of where I start to whistle, then we'll watch It's Gary Shandling's Show."
- OGREtheTroll
"Yeah, Garry Shandling and Tracey Ullman are pretty much tied up in my memory."
- Handleton
"Best theme song EVER!"
- 2WheelFotog
"My partner LOVES the theme to that show! Plays it in the background every now and then, it's a riot!"
- FuzzyChrysalis
Wonderfalls
"Wonderfalls"
"Mid-2000s show on Fox that was apparently too weird even for Fox. I think they canceled it halfway through the 1st season."
- l8apex
"I have the DVD. Excellent show that I still toss in every once in a while."
"The producers had planned out some storylines all the way to S3. The S2 cliffhanger was supposed to be Jaye being sent to the mental hospital where she had helped put away some guest stars, including the woman who tried to kill the therapist with gift store items, and the boy who bought the russian mail order bride."
- DonnieJuniorsEmails
"Bryan Fuller's early work."
- bottledgoose
Mary Hartman Square
"Mary Hartman, Mary Hartman"
- Phuni44
"I remember watching this with my dad and my sister after the 11:00 pm news. I was in like 6th grade. That's what happens when there's no mom around. 😂"
- PJKPJT7915
"Her husband fell into a vat of paint thinner at work, and he needed to have plastic surgery over every inch of his body, so he requested to look like Tab Hunter."
- GuncleShark
"I thought her husband drowned in a bowl of soup. Maybe her first husband? That show was trippy af"
- Phuni44
"Her neighbor's husband. The clip is on YouTube."
- bitb
"Spin off of a spin off or Mary Tyler Moore as I recall, right? Wasn't Rhonda the first spinoff?"
- [Reddit]
"Not a spin-off. Mary Hartman was a very bizarre show for its time, a parody of a soap opera. Louise Lasser played Mary, and she was this weirdly detached character surrounded by crazy drama and violence. I think it might have been the first place I saw Martin Mull."
- rickpo
Terranova
"Terranova, ran for like a single season then disappeared"
- codyl0611
"I loved that show! So annoying they didn't get a second season."
- LizHylton
"I was a young kid when it aired on TV so i dont remember much of it, but I recall it being a recurring topic with my mom every now and then"
- codyl0611
"oh god I'm old. I thought it was only a few years ago. I just looked it up and it was 11. Excuse me while I go get an AARP application."
- LizHylton
"It's that old?! Holy sh*t, grab me an application too, please. It seriously felt like just a couple of years ago."
- KhaleesiXev
Room 222
"Room 222"
- HealthyTruck5691
"Karen Valentine was probably the cutest girl ever on a tv show. I used to love when she would be on the original Hollywood Squares."
"I'm old."
- Bartlett3313
"She was the only reason anyone watched that show."
- 7decadesofhistory
"I loved that show! My mom, my sisters and I would watch that show every Friday night. The cast was really good — Karen Valentine was a really cute and bubbly teacher, and Michael Constantine was great as the high school principal"
- CelticDaisy
Eureka's Castle
"Eureka's Castle"
- ofmiceandmodems
"Yes! I swear this was the first one I thought of! And Under the Umbrella Tree!"
- highmaintenancemama
"If you have the Paramount streaming app, it's on there!"
- vk2786
"Spicy, salty, sour, sweet, bring us something good to eat!"
- RoseyDove323
"I'm in my late thirties and still vividly remember the Christmas special episode where Magellan gets lost in the woods."
- doopcat
"Eureka's Castle was the jam!"
- Vernon1031
"Euuu-reeekaas castleeee"
"*Worms going err errrr ER err ere rrr*"
- Ertuu1985
Let's talk about the shows nobody remembers but you.
Are they those early childhood favorites? Or maybe a teen-drama that only got one season before Netflix pulled it, crushing your hopes and dreams of resolved plotlines about a teenage ghost band who died of poisoned hot dogs and the incredibly talented, but heartbroken, young singer who gives them a new lease on life, love, and music?
No that is not a joke and YES I am still angry about Netflix not giving Julie and the Phantoms a second season.
Maybe it's a soap opera you think you remember watching with your mom, but maybe it was a fever dream?
Whatever it is, we want to hear about it.
Keep reading...
Show less
With so many shows to stream on all the various digital viewing platforms at our fingertips, it's a challenge trying to allocate enough time to pick and choose which shows to watch.

My friends and I often recommend the TV series we're currently obsessed with every time we catch up, and even though we take mental notes of the shows we just "have to watch," it's nearly impossible to get to all of the recommendations.
But we all have our guilty pleasures when it comes to familiar TV shows that we have no problem revisiting–even though we know every plot twist and how all our beloved characters complete their journies.

Curious to hear about people's comfort TV shows, Redditor makosh22 asked:

"What series you can re-watch again and again?"
Screwball comedies are reliable for repeated laughter.
Blood-Suckers' Lifestyle
"Currently I have been rewatching episodes of What We Do in The Shadows, and I think this is a modern classic."
– LurchSkywalker
Gotta Love The Bluth Family

"Arrested Development, but only the original run. That show is a work of art and the newer seasons could never measure up to 1-3."
– sdvn19

Dysfunctional And Loveable
"Malcolm in the middle."
– WitherCro2

Hanging Out With The Degenerates Of Philly
"It's Always Sunny in Philadelphia."
– haloarh
"Yes!" To Leslie Knope
"Parks and Recreation ❤️"
– Peromano

Cartoons are a go-to for many to revisit.
Returning To Springfield
"Seasons 3 to 9 of the Simpsons, and Seasons 1 to 3 of SpongeBob."
– H3nt4iB0i96

Zany Look At What's Ahead

"Futurama."
– Channon-Yarrow
"I've pavloved myself into only being able to fall asleep if a Futurama episode is on."
– Grube_Tuesdays
For others, serious drama is their cup of tea.
How HBO Does Procedurals
"The Wire."
– EitherProblem931
"Watching it for the first time, just finished S01. I'm actually glad I waited for so long... it would've ruined any other shows that I was watching."
– Halucinogenije
War Time Drama
"Band Of Brothers."
– dhireshh
"Once a year, usually in the spring."
– NeonGreenRelish

Getting Hardcore
"Season 1 of True Detective and Hannibal."
– Sandblaster1988

The Truth Is Out There
"X files."
– flyinhawaiian02
"I love x files but it always cracks me up how skeptical skully remains after all the stuff they go through."
– RazerBladesInFood
As a kid, I remember they would run Twilight Zone marathons on holidays like July 4th.
While my parents entertained guests visiting our BBQ cookout and pool party, I would sit on the couch and watch all the re-runs, hoping my favorite episodes would be making the rounds at some point.
That show, to this day, is classic television for me, and hearing Uncle Serling introducing each episode brings me so much comfort.
My favorites episodes of note were, "To Serve Man," "It's A Good Life," "The Masks," and "The Monsters Are Due On Maple Street."
There are tons of other great episodes to mention.
Which is yours?

Keep reading...
Show less
When I was a kid, I would occasionally watch this show called Big Bag. It went off the air more than 20 years ago and it seemed to only play at five or six in the morning. If I happened to wake up early, I'd catch it. It was targeted toward preschool viewers and was fun and silly, a partnership between Cartoon Network and what is now the Sesame Workshop.
Sometimes I wonder if I'm the only person who remembers it existed. But I'm not the only one with this kind of dilemma.
People shared their thoughts with us after Redditor LegitimateMangoHeir asked the online community,
"What's a show from your childhood that no one else seems to remember?"
Sagwa The Chinese Siamese Cat (2001)
"I thought Sagwa the Chinese Siamese Cat was a fever dream for so long."
lucianfoster
Probably because it only had a single season! Might as well have vanished off the face of the earth after that.
Hamtaro (2002)
"Hamtaro. For the LONGEST time I distinctly remembered watching the show but couldn't remember what it was called or anything else. I remember having a revelation in middle school and going "IT'S REAL???"
SurrealGod
It certainly was real! And it was quite possibly the cutest thing to ever be broadcast on our television screens.
Gargoyles (1994)
"There's a specific age group that really enjoyed Gargoyles."
[deleted]
Hi, it's me. I'm the age-group. There are dozens of us!
Mummies Alive! (1997)
"Mummies Alive! That and Gargoyles were my favourites to watch after school."
DiamondEyeOctopus
Another one that aired for a single season, it was part of a general trend of "mummymania" in 1990s pop culture.
Out of the Box (1998)
"Out of the Box. So long, farewell, to you my friends."
tryharderSr
This one had a good run. That theme song is now in my head.
Count Duckula (1988)
"Count Duckula. The best damn cartoon ever!"
Belthezare
I hadn't heard that theme song in decades and I was just transported back to my childhood room.
Maggie and the Ferocious Beast (2000)
"Maggie and the Ferocious Beast. Great googly moogly!"
peanutbutter707
O Canada! This one was cute!
Stick Stickly from "Nick in the Afternoon" (1994)
"Anyone remember Stick Stickley on Nickelodeon? I even remember the jingle but everyone I talk to looks at me crazy!"
eluzum
Write to me, Stick Stickley, PO BOX 963, New York City, New York State, 10108!
The Angry Beavers (1997)
"The Angry Beavers. People look at me like I'm a psycho when I mention it."
[deleted]
This one — along with CatDog — was super popular!
2 Stupid Dogs (1993)
"2 Stupid Dogs. Well, ain't that cute. But it's wrong!"
DeathSpiral321
I quote that line at least once a day. I loved that show.
You should probably run to YouTube and take a trip down memory lane. Thankfully, many of these are available in some capacity for you to enjoy!
Have some shows you love that you'd like to mention? Tell us more in the comments below!
Keep reading...
Show less
TV audiences cheer when the terrorist or psycho-killer in their favorite shows gets killed off.
The offing of nefarious characters provides closure and brings us viewers a sense of relief in knowing that justice prevailed.
But sometimes, the characters we've grown to love meet their untimely demise, and it can be devastating to witness after viewers have established a connection to the characters they've grown attached to throughout numerous seasons of a beloved show.

Strangers online recalled the times they mourned the loss of a character as if they've personally known them when Redditor Mysticalmadss asked:

"What is the saddest TV show death of all time?"
Warning: spoilers abound.

Long-running series go through the process of "cleaning house," so to speak, a necessary evil in an attempt to keep the show fresh for loyal viewers and in the hopes of attracting new ones.
It's all heartbreaking just the same.

Late Rescue
"The transplant patient deaths in Scrubs. The hospital finally got organs (from one donor) for all the people on the transplant list, but they discovered the donor had rabies too late, by that time, all the recipient of the donated organs started dying off and John C. McGinley (who played Dr. Cox) was really emotional in that moment as he tried his damnest to save the transplant patients."
– Wilgrove

British Historical TV
"Not shown on screen exactly, but the ending of the 4th series of Blackadder where all the shenanigans suddenly come to a stop and nearly all the main cast get sent over the top to die in No Man's Land."
"The rest of the series is the usual Blackadder humour, some of it touching or morbid at times, but it's like it's just at the end when you remember where they are and the insane amount of death, fear and misery surrounding them. A really effective ending."
– ladyblithe

A Shocking But Understandable Character Exit
"Adriana in the Sopranos, she just loved her boyfriend and shiny things but was doomed and way in over her head from the start."
– ekm8642

Narrowing It Down
"Fry's dog in Futurama"
"Hank in Breaking Bad"
"Opie in Sons of Anarchy."
– [deleted]

The impact from the death of an individual can be more devastating if they are a parent, child or the elderly.
Bye, Mommy
"Buffy's mom. 'The Body.'"
–EmmyPoo81
"I always love the way the scene plays out because when Buffy first comes in she doesn't realize and is just telling her mom why she's upset before she realizes that her mom isn't answering. When she says 'mommy?' after realizing something's not right I break."
– Mangobunny98

Educating Children About Death
"Mr Hooper from Sesame Street. I was in pre-k"
– gettingtobefree
"If you want to ugly cry about Sesame Street like I did then go watch 'Street Gang' on HBO. It's a documentary about the founding of Sesame Street/Children's Television Workshop. It is fascinating."
"Anyway, you get a big discussion of Mr. Hooper's death with the footage from the show which still guts me to this day, because it is such a moving representation of how young children view death."
"But that's not all! You also get Big Bird/Carol Spinney singing 'It's Not Easy Being Green' at Jim Henson's funeral (which also destroys me). And then you get to see some very melancholy interviews with a very aged but still delightful Carol recorded just before his death (which was about a year before this was released)."
– CasualAwful

The Mother Who Couldn't Take It
"On the M*A*S*H finale, when the woman killed her baby because it wouldn't stop crying."
– TwoTheVictor

A Performance For The Ages
"The scene where Hawk actually comes to terms with it is devastating. Alan Alda rips the heart out of everyone watching."
– Earlvx129
Tragedy In The First Season
"Sybil in Downton Abbey. So sad and pointless."
– sweets4n6

Heartbreaking, Nonetheless
"Dr. Wilson, House MD... Even though I guess that's technically a presumed death."
– capricorny90210
Let's take a look at some more honorable mentions.
A Grievous Error
"When Bubbles gave that kid a hot shot on accident on The Wire. It eventually led him to getting his life half way in order but it was absolutely devastating to watch that episode."
– 1980pzx

Lost Lovers
"Sun and Jin on Lost."
– smstone24
Twisting The Knife

"Lots of great answers, but I still have to go with Leo McGarry's death in The West Wing. Dying right before being told they'd won was bad enough, but the fact that it was written in due to John Spencer's death was just last kick in the nuts."
– DirtyUncleSpider
Troubled Pop Star
"Sarah Lynn"
"Yawn I wanna be an architect.."
– myflippinggoodness

Bad Consequences
"Andrea in Breaking Bad, because of Jesse's reaction."
– Cuss-Mustard

The Tenth Doctor
"David Tennant on Dr. Who"
– MonParapluie
The most devastating TV show death was each major character in Six Feet Under.
Every episode in the brilliant series about our mortality started with a prologue of incidental characters meeting their demise that brings them to Fisher & Sons Funeral Home.
In what is considered to be one of the greatest TV series finales ever, we got to say goodbye to each major character in a series of flash-forwards in an emotional montage.
I ugly cried then, and the poignant manner in which we parted ways with all the memorable characters in the show still haunts me to this day.

Keep reading...
Show less
I love TV!
Some television shows are a part of my DNA. That's why an ending is so important.
In the end we want to be forever satisfied. Which is a near impossible ask. Not everyone is going to love the chosen ending.
But sometimes writers really get it right... Buffy the Vampire Slayer... (save for *@#*'s death!!) is EVERYTHING.
But then they can get it really wrong... Game Of Thrones fans are STILL fuming apparently.
Redditor slice29 wanted to discuss all the best entertainment endings we've ever watched.
They asked:
"In your opinion, what TV show had the most satisfying ending?"
I hate and love endings of shows. I love them when they're done well. I hate that it's over. Let's start with one of my favs!!
End of Life
"Six Feet Under."
sweet_jones
"Watched this in real time with my mom. The whole show. Every episode. As they aired. I grew up along with it, and the ending felt like the opposite of a death - I was a grown up. You're right."
ipakookapi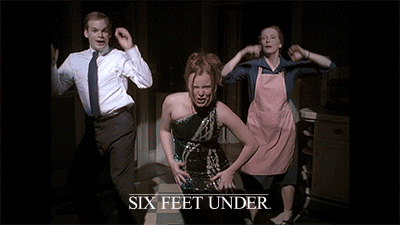 six feet under GIF by HBO
Giphy
Dirty Harry-style...
"Sledge Hammer! For those too young to remember this gem from the 80s, it was a show that satirized the Dirty Harry-style bad cop dramas that were in at the time. The show ended with Sledge trying to defuse a nuke ('Trust me, I know what I'm doing...'), failing."
"And then the camera slow-pans across the charred landscape of the ruined city and you hear the distant voice of the long-suffering police chief yelling 'HHHAAAAMMMMMMMEEERRRRR!!!!!!' Priceless."
ekchew
We Live!
"Blackadder Goes Forth The ending of a comedy set in WWI trenches to end with everyone dying after going over the wall is both sobering and satisfying."
PhreedomPhighter
"When Darling thinks the war is over because all the guns stopped firing. 'Thank God! We lived through it! The Great War: 1914-1917.' But we know there was still another whole year of war to go through."
Jose_Jalapeno
Shocker
"Newhart. No one in America saw that plot twist coming."
soIstartBlasting
"And with the rise of the internet, I doubt any show could pull off a twist like that again and take people by surprise. The Season 1 finale to 'The Good Place"'was a rare exception of this happening post-internet."
WaldoJeffers65
"The twist is that good, and so few people saw the show during its original run, that there are probably tons of people discovering it every week. I don't want to ruin it for anybody."
WaldoJeffers65
Last Call
"Cheers. 'We're closed.'"
Taskerst
"Thought the same thing. Have been going through the series again, usually one a day and about to start the last season."
SnooLobsters4636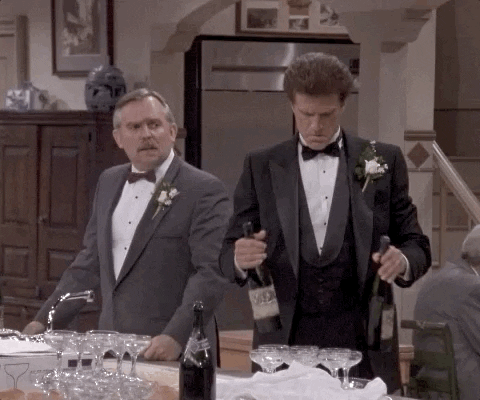 Cbs Cheers GIF by Paramount+
Giphy
Ah 'Cheers.' Not my favorite show, but a great end. And 'Six Feet Under?' GENIUS!
Afterlife...
"The Good Place."
gr3ybacon33
"I need to rewatch that show. If someone told me to watch a show about the afterlife, philosophy, morality, interspersed with d*ck jokes I wouldn't be able to take it seriously but somehow they pulled it off."
jn2010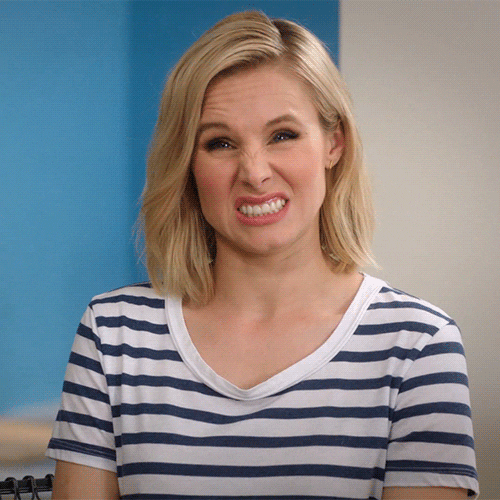 Season 1 Nbc GIF by The Good PlaceGiphy
The Tie Up
"Gravity Falls. Tied everything up nicely, but left me wanting more, but what good show doesn't?"
smugfruitplate
"I want more so bad, but we all know it's better to die a hero than a 25 seasons show nobody wants to watch."
Equivalent_Meal2688
"Agreed. Whether Alex Hirsch does something new in the future or just sods off with his residual checks, I couldn't be more proud."
smugfruitplate
"why we fight"
"'Cherish the memory of a question my grandson asked me the other day when he said, 'Grandpa were you a hero in the war?' Grandpa said 'No... But I served in a company of heroes.'"
Thirty_Helens_Agree
"Band of brothers is GOAT. Even reading that line gave me goosebumps I stumbled across 'why we fight' the other day, must have seen it 20 odd times, watched it again, still amazing. In fact, my missus is out tmrw, you've inspired me to start episode one again."
Curahee!
Realities...
"M*A*S*H, still the greatest final episode in TV history. It made it clear that nobody would be the same after the war. Winchester couldn't love music like he had before without being reminded of the war. Father Mulcahy lost his hearing as a result of the war. Hawkeye lost some of his sanity."
"Margaret had to lose her self-reliance and realize that it is okay to accept help. Potter had to lose his beloved horse, which was his #1 way to stay sane. BJ had to learn to say goodbye. And, of course, Klinger had to give up his dream of leaving Korea at least for the foreseeable future."
"There are times (most times for me) when being in the military totally sucks. Living in deplorable conditions, spending 24 hours a day with the same people; working, playing, and sleeping together with people you like and people you hate. Missing your family and loved ones. Yet, when you have to separate, the feeling of loss is like nothing else that I have experienced in civilian life."
NoFunHere
Beyond
"Star Trek TNG. The episode itself was great, but that ending scene was phenomenal."
"'Nothing is wild and the sky is the limit.'"
HaCo111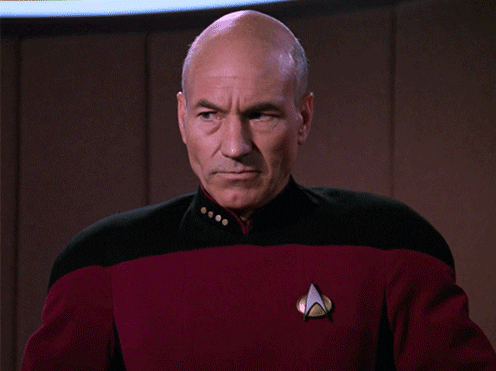 annoyed star trek GIF
Giphy
Those are definitely some incredible endings. And endings are hard to pull off.
Keep reading...
Show less