Meeting someone new, even in the simplest of situations, is never easy.
Who doesn't want to be liked?
First impressions are everything.
So we need a list of all of the things that put people off instantly.
This way, we're all aware.
Redditor Nicole9391 wanted to hear about all of the things that send people running when they say hello for the first time, so they asked:
"What is an INSTANT turn off?"
I am always immediately turned off by people who don't listen.
Shut Up!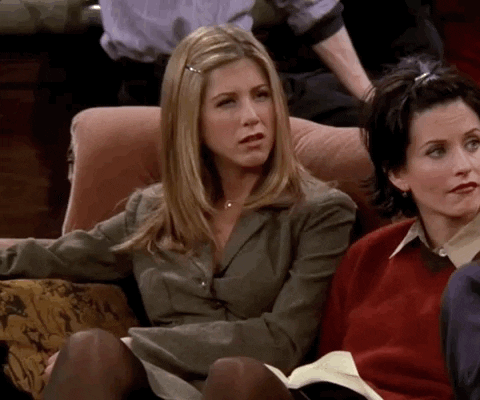 Fuck You Season 4 GIF by Friends
Giphy
"When someone talks bad about their friends."
MarcelineVampQn
"Don't talk about anyone behind their backs. If you are curious about something that's okay but don't say bad things about anyone even if you don't like them."
wondafresh
'yeahyeahyeah'
"When someone asks you a question and you respond, they interrupt with 'yeahyeahyeah' and continue with their thought without taking anything you've just said into consideration."
"Why do people have a problem with just shutting the hell up and just listening for a second? Is your attention span that short?"
SuumCuique1011
"This is me, but because I have extremely short memory retention and cannot hold a thought for more than 10 seconds. I'm a great listener, but when I want to say something, I NEED to say it and quickly otherwise I'll lose it and feel annoyed at myself for a few hours till I remember a week later."
DepressedPotato--
Economics
"Thinking people are below them. Not because of character or anything but individuals who just base their judgment on someone's socio economic situation etc. It's a big freaking turn off."
"Don't judge someone based on how much money they have, where they live etc. Judge them based on character."
"So yeah, definitely a**holes are a turn off lol."
TheTorontoExplorer
Be the Change
"Unwillingness to learn or change. Intellectually or emotionally, people who cannot admit that they are wrong or don't know something. And by extension, making sh*t up because they can't say 'I don't know.'"
DifferentShallot8658
"I can't stand know-it-alls! Especially when you are more knowledgeable/qualified on a topic and nicely explain to them the facts and they brush you off!!! Haughty little sh*ts."
Affectionate-Car-317
Be Clean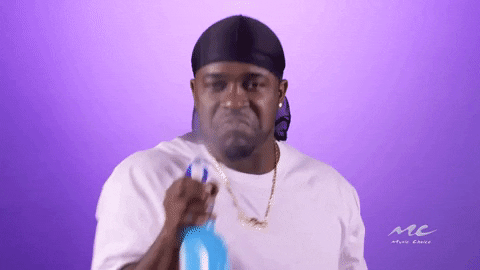 Clean Up Corona GIF by Music Choice
Giphy
"Dirty underwear…"
Catniss-EverGreen
If you can't have clean undies, just have none.
The Sign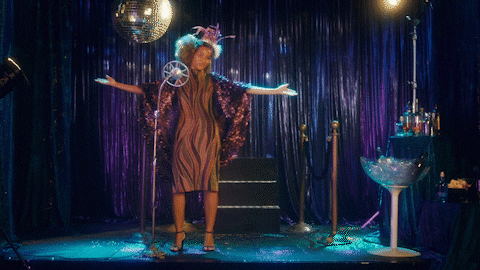 Signs Zodiac GIF by Hysteria
Giphy
"A 'it's because of my zodiac' woman."
"Yeah I remember once my friend was trying to guess my Zodiac (I'm an Aries) she swore I was a Leo I said no. Capricorn? No. Oh oh! Sagittarius! I was like yeah! She said I KNEW IT! (With a brief explanation) then I was like nah I'm An Aries.🤣🤣🤣"
JustXTE
Be Open
"Closed-minded people. Which there are a lot of. If you can't have a nuanced discussion with someone then how can you connect with people? Being able to humor ideas and thoughts intellectually without being overly judge mental is a big turn on. And that doesn't have to be someone who's open minded about politics. I appreciate people who let conversations flow despite not sharing all the same opinions."
D_Ubird
Bad Mouth
"Really bad or unclean teeth for me. Once met a really cute girl at a dark bar/club and we went for food after. In the well lit restaurant she looked even better until she smiled and in the light I could see that her teeth were a sickly gray color with a weird film of gunk all over and stuff in the cracks of her teeth as well."
"Literally reminded me of the orcs from LOTR. Pretty sure it was either from bad dental hygiene or drug use, or both but I instantly felt nauseous. A few crooked teeth is normal but when your mouth looks like an anglerfish I'm out."
thestrandedmoose
Don't Breathe
"Poor hygiene in situations where you really shouldn't be displaying it. Sure, we all fart into our sweatpants and occasionally forget to brush the grease out of our hair at home, but going out and public and being gross is, well, gross."
agent-a**butt
Hell No!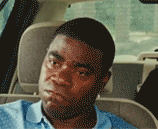 No No No GIF
Giphy
"Smoking cigarettes Or just being rude for no reason. I don't mind saying something slightly rude to be a joke and maybe it just isn't funny. But if they are just rude for rudeness sake. Automatic no."
Zordon56
Just Flow
"Not having their own opinion always going with the flow Like I understand sometimes but always going with flow might just make you a boring person."
nahhomi
"I'm a go with the flow kind of person because I like very few things, dislike only a handful of things, and everything else I'm just indifferent towards. It's hard to have an actual opinion comparing two things you couldn't be bothered to care about one way or another."
"When I do have a preference, sure I'll put my two cents in, but I don't see the point when I don't care."
ShortManRob
What have we learned?
First impressions are everything!
Anything you'd like to add to the list? Let us know in the comment below.
Sex and relationships can be very dramatic.
It's not always fun and sweat. More often than not, it turns into wine and snores.
The truth is, it's not difficult to turn someone off.
One minute you're a hot dish. The next, you're stale meatloaf.
The question is, who is responsible?
Or is this relationship dead?
Redditor NeedSomeSparkInLife wanted to know who would be willing to share, so they asked:
"What makes you not want to be intimate with your SO?"
I'm an easily turned off person.
So it doesn't take much.
Desire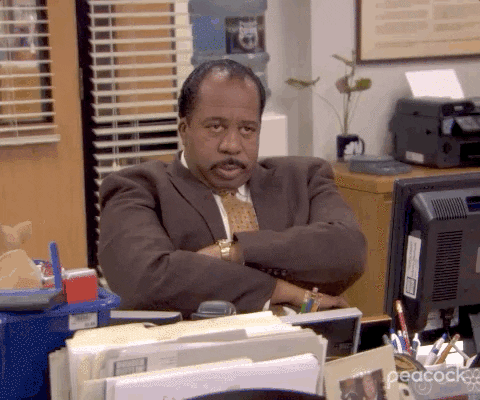 Bored Season 5 GIF by The Office
Giphy
"Taking a moment to realize I'm the only one that makes sexual advances in the relationship. Makes me not want it. People think men only want sex for face value but a lot of men actually want the feeling of being desired more so."
Relative-Hour-9359
Anger Issues
"I've always heard of fighting then having sex after. Fighting has always made me not want it. The last thing I want to do when someone pisses me off is have sex with them. What made it worse is she always wanted to when we were arguing which made the argument worse when I refused."
DaMoonRulez_1
"I think you're supposed to resolve your fight, realize that you care for each other a lot, move past it, then have the passion because of that. Not fight right into sex."
Ksp-or-GTFO
Take a Shower
"My ex and I were together for nearly 7 years, but his hygiene never improved, so we stopped being intimate like, 3 years before I finally broke up with him. He showered only once a week, but he worked in kitchens, so he was sweaty and greasy all the time."
"He had an infected tooth, so he constantly had bad breath, but he refused to visit a dentist, even when he had the money to afford dental work. He stopped working out within the first year of us being together, which sucked because he would get jealous if I went to the gym by myself or with my girlfriends, but he refused to come with me."
GreenChorizo
Sober Time
"Personally, the only issue I have is my SO's drinking. He just becomes an unattractive person when he's drunk. It's one thing if we're both out socializing and drinking together occasionally, but he drinks almost every day, sitting on the couch in front of the TV and to the point of sloppy drunkenness way too often. His face changes, his posture changes, his personality changes... I just get so turned off."
WeptSiren3113
Hang Up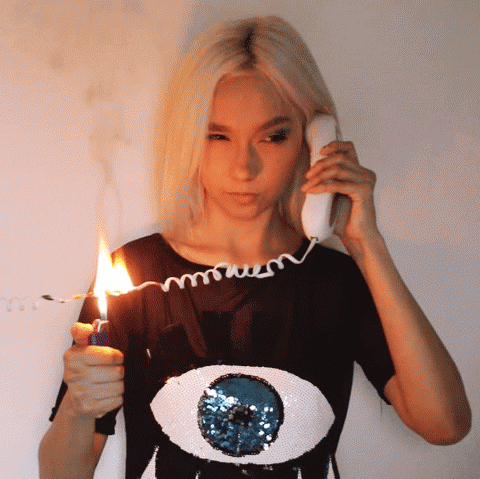 Art Hello GIF by LINDSEY L33
Giphy
"When they are glued to their phones non stop! Put that s**t down and look at me before we go to bed!"
Palmwine
"I really dislike this too. Makes me feel alone in the relationship."
RealBrownPerson
No phones in bed. Hard rule for many of us to follow.
Step Back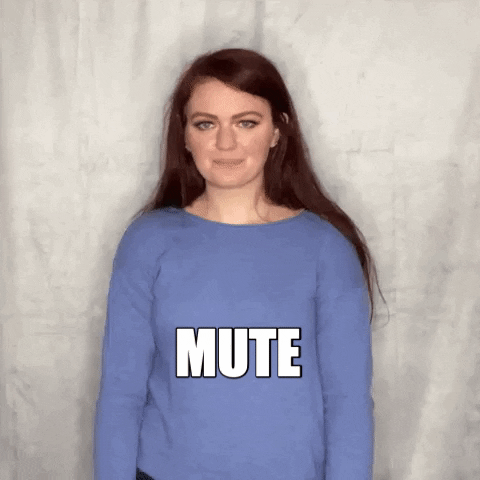 Be Quiet Go Away GIF by Ryn Dean
Giphy
"When I make a move, and then get the feeling she's not really in the mood/would only do it to please me. I want us both to have a good time, not only me. So when she seems not into it, I take a step back."
Level-Plate8372
Calm Down
"To be brutally honest, her anxiety and insecurity makes sex such a hassle. She doesn't believe anything I say about wanting her, she can almost never relax during sex, she doesn't take time to enjoy it, and if God forbid I have any trouble finishing, she takes it more personally than anything, which of course puts more pressure on me to finish, which then makes it almost impossible."
Ben_Franklinstein
When at Wal-Mart
"When they've done something really nasty/unkind that day. Cruelty is the most ugly thing a person can show, in my eyes. I had a boyfriend that I went to Wal-Mart with and he ended up flipping off and storming right past the sweet little old man that checks the receipts at the door."
"It was partially about how I used to check receipts and I remembered how I felt when people treated me like that- but I also remember the look on the little old man's face and just how disgusted I was with my partner being so nasty about it."
"I couldn't touch him after that and I got grossed out when he touched me. And then I started to notice how he was nasty to other people as well. It eventually led to our break up."
spxdergirl
33 Years In
"My husband used to dislike his job - he'd come home and do nothing but bi**h. After awhile, I just gave up trying to cheer him up with sex - you can only try so long. So, we had a long dry spell - like, whatever you think a dry spell would be, it's longer. When someone is constantly annoyed, well, it's hard to feel amorous."
"Anyway, he early retired (54) like a month before Covid kicked in and by autumn that year, well, let's just say we're back to what we were like when we first met. He's not pissed off all the time. (I'm retired as well, and let's just say, afternoon nookie is such a perk, as is morning nookie and 3am nookie because you can sleep in!) I'm glad we stayed together. Going on 33 years and we're just so happy."
NicInNS
Rage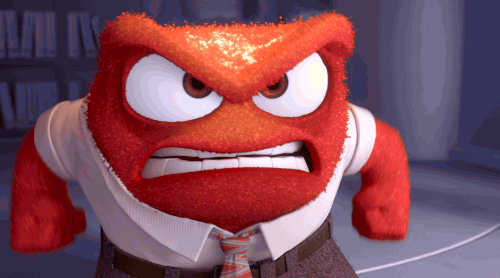 Angry Inside Out GIF by Disney Pixar
Giphy
"Feeling angry. I hate feeling angry. I don't like being around other people when angry. So I'll go for a walk, a drive etc, and just clear my head."
jackfaire
It seems like "dead bed," as some folks call it, can stem from many things, from mood, attraction, hygiene, and more.
Do you have anything to add to this list? Let us know in the comments.
Attraction is almost always instant.
So is losing attraction.
I once lost interest on a date because of how they held a fork... long story.
So when surfing the apps, we often find turnoffs immediately.
It could be a pic or a profile.
People really need to put more effort into looking at these sites.
Redditor GIazednConfused wanted to hear about all the things that make us lose our attraction immediately, so they asked:
"Men of Reddit on dating apps, what's something you see on a woman's profile that instantly turns you off?"
Turn ons/turn offs, it's all so easy.
I hate rude profiles.
You first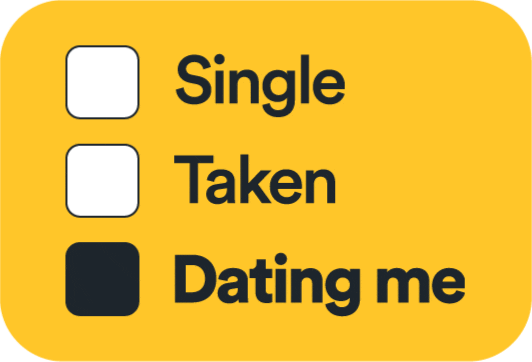 Valentines Date GIF by Bumble
Giphy
"If they say 'I don't contact first' on Bumble."
nyqs81
"A lot of profiles are copy/pasted from other dating profiles they've made but I also like to think Bumble has acknowledged this by allowing gals to make the first move by sending an emoji instead of making them write something."
The_Owl_Bard
More than 1
"When it's 2-3 of the same people in every single picture and I have no idea who she is. That level of obliviousness is so unattractive. Disturbingly obvious filters."
AlmostEasy89
"Group photos make sense as PART of a profile. Your first picture should be just of you, but shots of me actually on stage or with my performance troupe are about as 'real' an image as you're gonna get of me in my element."
"A bunch of pictures of me playing video games by myself alone is a much worse sell than 'look at my huge assortment of friends and adventures we go on together.'"
Kokeshi_Is_Life
Fireworks
"If you have to state that you hate drama specifically, you LOVE drama."
elevencharles
"In my experience, the ones who hate drama are constantly surrounded by it because they started it. The ones who love it have distant friends or acquaintances who start drama, so all they have to do is sit back and watch the fireworks."
Ninjahkin
"I never realized this until you said it, but yeah, I f**king love drama, but I'm always the guy making popcorn and just watching it all unfold. If something comes up that involves me and could lead to drama, I nip that s**t in the bud before it sprouts whenever possible."
Sorcatarius
Hey. NO!
"I remember a profile like this, saying 'don't just say hey.' She referenced something about birds on her profile, which I like, so I opened with that - 'top three favorite birds, go' and then gave my list."
"Her response was 'my list: 0 birds.'"
"I recently went through a period in my life in which I got hundreds of matches, and out of them I'd say I could count on my fingers the number who actually knew how to have a conversation. It makes me so mad because before this, women had always told me that was specifically a male problem."
DiskPidge
Blah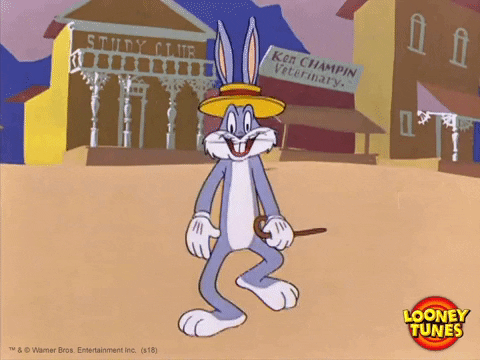 Happy Bugs Bunny GIF by Looney Tunes
Giphy
"'Entertain me' - 'don't be boring.' Typically these people are the dullest and most entitled people I've ever interacted with."
beansff
I like Catwoman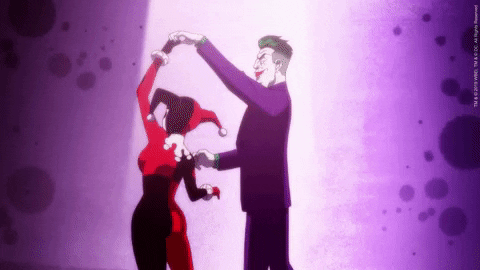 Harley Quinn Dancing GIF by DC
Giphy
"'I'm looking for my Joker to my Harley Quinn.'"
"Sorry, but unless it's for cosplay or Halloween, that tells me you're rather dysfunctional in relationships and somehow thrive in it."
JustAnOrdinaryRyan
Who?
"I love when every picture is a group picture and some have the same women in each. Bonus points if everyone is wearing sunglasses. Great... which one are you?"
"'Looking for my partner in crime.' None of the women who put that are actually down for armed robbery or money laundering."
Leadingman_
I Got Goals
"One profile I saw a while back, the woman stated that she wouldn't consider any man who makes less than 100K. There are more subtle ways to convey that: 'I want someone ambitious, driven, and successful in his career.' The way she phrased it made her look like a gold digger, especially since she wasn't making anything close to that amount."
"Edit: This was back in the early 2000s. These days, I'm sure the goalpost has moved to 200K."
foxpaws42
Rules First
"It's been a couple years, but back then I had a few 'rules' that were instant passes."
"My main rule was any corrected age. If their profile said 22 and the first line of the bio was immediately '19. Who knows if they're even the age they say they are now."
"My other rule of thumb was not having their face in their first pic, i.e. neck down shot. You'd be surprised how many had this."
Ayziak
Yuck
"Cigarette smoker. No offense to those who smoke. I personally do not like it and wouldn't want to be with someone who does it. I've tried it like twice out of curiosity and instantly knew it wasn't for me."
Safe_Nerve9644
It takes so little to like someone a little less.
These Redditors can't be alone in their turnoffs.
Do you have any non-starters? Let us know in the comments below.
We have to meet new people everyday, unless of course you're a hermit who never leaves home.
And meeting new people can be a daunting aspect about life.
I think it's daunting to meet new people because so many people are disappointing.

So pay attention. Is this person rubbing you the wrong way?
First impressions are everything and they tell us most, if not all we need to know about a life newbie.
That's why if you start seeing red flags right away... wave them high and walk away.
Redditor littlest_thingwanted to hear about the things that are not appreciated in the very beginnings of meeting others.
They asked:
"What's the biggest turn off when you're talking with someone new?"
I can always tell if someone is going to be a handful or not. They try to hide it, but I can feel it. Gross.
Convince Me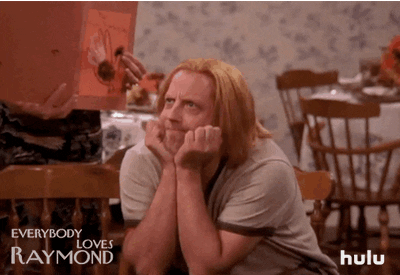 everybody loves raymond listening GIF by HULU
Giphy
"When they pretend to listen, but don't make the least effort to make it convincing." ~ Any_Weird_8686
May I Speak?
"When they talk at you and don't leave you with an opportunity to speak in between topics." ~ 1122Sl110
"Ooooh boy, I was in a serious relationship with someone who would NOT let me get a word in during conversation. I would have to damn near shout a few words to get her to stop, which she would angrily tell me not to interrupt her and let her finish. When she would finish, I had forgotten most of the points I wanted to bring up, then she'd accuse me of not participating in our conversations, how 'she had to do all the work' It was horrible." ~ KBtrae
That don't Impress me Much...
"Trying to impress me with money or discussions of things they buy with their money when they are clearly attempting to show off that they have a lot. Same thing with connections, like great, you know an important person. These always seem like thinly veiled attempts to cover up feelings of ineptitude, lack of true friends, or just inferiority complex in general." ~ Rod_N_Todd
Out-of-left-field...
"Random out-of-left-field insults/putdowns." ~ 12amSkulker
"Once a girl I was talking to let me know that I unintentionally said things that put her down. I thought i was just teasing her but she never felt that I was. Man, the girl flipped my whole world that day. Now I triple think before I even talk anymore. She left me on read that day after I apologized, but it felt like a freight train hit my gut. Glad she told me that, been improving the way I talk to people from there on out." ~ RXZVP
Better than you...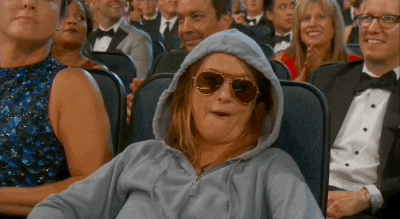 Im Out Amy Poehler GIF by FOX TV
Giphy
"When someone pretends to be cool and they make you feel inferior." ~ AdMaximum9782
All of the above. I've met ALL of these people. Goodness.
Blah. Blah. Blah.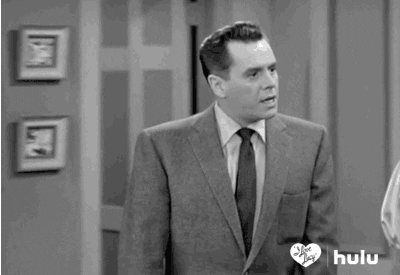 GIF by HULU
Giphy
"You're doing most of the talking and they act as if they couldn't care less." ~ indy6548
"People who keep talking about the most boring crap even though you clearly couldn't care less." ~ carbombb
"That" Friend
"I have a 'friend' that will constantly interrupt me whenever i'm talking or talk over me. it's always about her and never about anyone else." ~ supperoni
"I have a friend that particularly does this. Sometimes you ask another friend a question and he answers for a friend. Worse part is when someone talks about an achievement and he wants to impose how he achieve something bigger or 'more awesome' in his mind. I love my friends but sometimes that annoys me and I'm sure all of my other friends!!" ~ PlaystationPlus
RUDE!!
"Inability to disconnect from social media for even a short period of time." ~ KAPSLOCKisON
"Idk if this falls into this category but last year i drove an hour to see someone for a third date just for them to sit on their phone texting their friends on instagram. Then he made plans with them and had me drop him off for them." ~ giantoof
"Went to a social gathering yesterday. My wife and I were talking to someone who we haven't seen in a while. We were in the middle of a convo, responding to a question she asked, and she just whips out her phone and starts scrolling. Rude. My wife and I glance at each other, and like on cue we stopped talking immediately and just left her standing there." ~ celsius100
Back Home
"A girl I took out on a first date spent a decent amount of time talking about how much money she would get when her parents died... they were both happy and healthy in their 50s. She also told me the music I had on (it was the radio) sucked and that her dad told her what REAL music was and I needed to listen to that."
"Then she said her parents told her she was conceived to a Jimi Hendrix song so she knew what good music was because it was in her DNA. She was so busy talking about herself that she didn't notice I did a 3 point turn and headed right back to her house." ~ SamIamGreenEggsNoHam
Feeders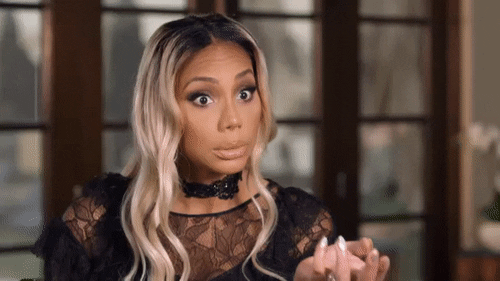 Braxton Family Values Reaction GIF by WE tv
Giphy
"Someone who just feeds off drama. Like doesn't talk about anything else but things that are going on with other people. I'm trying to get to know you, not some random sorority girl and what she did last weekend." ~ soonimaru
Makes you want to be a hermit. No? Remember... you know right away.
Want to "know" more?
Sign up for the Knowable newsletter here.
Never miss another big, odd, funny or heartbreaking moment again.