As much as we love to have eyes for others, those eyes are witness to some yuck.
We are easily turned on by many things and people.
We're humans, humans are easy.
But turning off and shutting down is also easy.
And once we see certain things, they can never be unseen.
And so... we move on.
Let's make a list so people stay vigilant.
Redditor figinjosejospe wanted to hear about what makes us yell a big NO for some things.
"What is your biggest turn off?"
I am easily turned off. It's my one flaw. Anything can do it. Alas...
Bad Sniffs
"When people smell bad. Hygiene is important."
ccherry124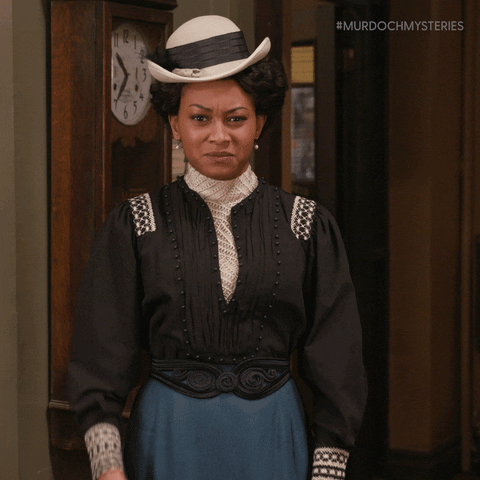 Violet Reaction GIF by Murdoch Mysteries
Giphy
Better
"One-uppers. Whatever you have done/seen or place you have gone, they have done it better."
UgliestDisability
"I struggle with this SO BADLY. I hear someone's story and think 'I can relate! I've done XYZ' and tell the story. As soon as I see their facial expressions change I know they've taken it as me one upping. It's so hard for me to relate without telling the story WHY I relate."
notanaltaccount88
Be Straight
"Deception. Say what you freaking mean, and your actions must match your words."
armywalrus
"I don't know if this counts as deception but I have the hardest time verbalizing my thoughts in the way that I think them. So I say something that doesn't match my thoughts but it's like theres a disconnect in my brain that doesn't let me say what I want to say. I've had multiple tbi's from a young age but I don't know if that has any to do with it."
potato-san
Just Listen
"When they constantly cut you off during a conversation."
Exact_Mammoth6874
"I noticed my bad habit of interrupting when I started dating my partner. I worked on it because it bothered him so much. Now when I'm around my family who I don't see often, I'm keenly aware of how bad we all are at it. Dinners, drinks, video calls are a literal cacophony of people talking over each other and having to repeat yourself because no one listens."
helenmaryskata
Over time...
"Entitlement."
Hercdajerk35
"Having been on this earth almost six decades, I can say this has definitely gotten worse over time. Now, you can see it getting worse by the year."
Cautious-Damage7575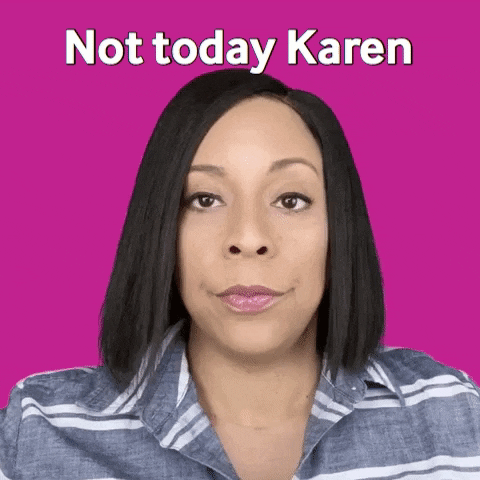 Blm Fight Me GIF by Holly Logan
Giphy
I hate entitled people. Nobody is owed anything.
That's all...
"When a person is rude or just behaves poorly and everyone around them says, 'that's just how he/she is.' No. There is no excuse for piss poor behavior."
Sarahkm90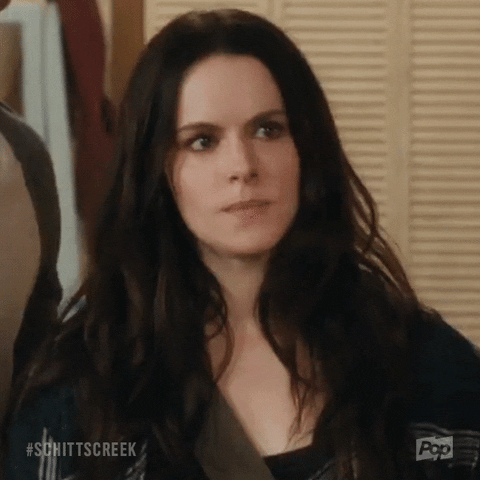 No Way Do Not Want GIF by Schitt's Creek
Giphy
Be Prudent
"Over sharing at social media."
naniyamanaki
"I had an ex who would straight up get pissed if I didn't post about us on instagram or facebook back when I had it. Even if we just hung out and did nothing Lol. She got even more upset if I did post something and not include her... or if I got more likes than her."
AskinggAlesana
"Social media has completely ruined our brains… it's so sad to realize the damage that's been done in such a short amount of time."
e-commerceguy
Trash
"Littering. I absolutely hate it when people litter just because 'there is no trashcan close' or 'Yeah, but everything here is anyway already dirty.' That makes me so annoyed and just ugh. I can understand that it's annoying to keep on holding onto trash but like... It's not that difficult."
TheWanderingLich
Lips Together
"Open mouth chewer. Or any kind of lip smacking while eating."
welshegg
"At a family reunion, I got seated in front of a woman I hadn't met before. Food gets there and we started loading ourselves up. I still remember what we had: tostadas."
"They're a flat baked or fried tortilla topped with pretty much whichever ingredients you want. Usually meat, some veg, cheese, cream, and salsa. This is relevant because half of that food ended up smeared on her face. I have never seen a grown a** adult eat like that. Open mouth chewing, with food actually spilling out as she ate."
"Loud, boisterous talking and laughing, with more, half chewed food spilling out everywhere. And napkins seemed to not be a thing for her because she never used one, making all the cream and salsa get stuck to her lips and cheeks. I was freaking disgusted, as was everyone around her. That was not a pleasant meal."
Ihlita
Hang Up
"Using phones every time we hang out."
mortally_guarded
"My wife has a friend that if you aren't talking to her about only her, she zones out and just stares at her phone."
mofoofinvention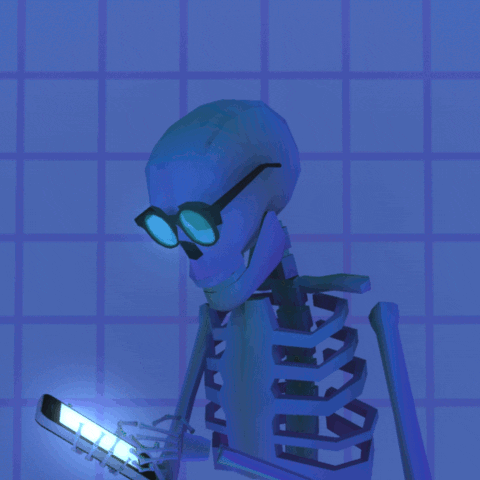 phone glow GIF by jjjjjohn
Giphy
When the turn is off. It's off. And that's all.
Keep reading...
Show less
I used to enjoy thrifting until I realized that the store I used to go to never had anything that I liked. The store became a dumping ground for crappy T-shirts with dumb slogans on them, which I am not a fan of, ever. Needless to say, I stopped shopping there.
How could I continue, when nothing there spoke to me? Sigh. Still on the hunt for a good shop, by the way. But I'm not the only one with particular tastes.
People shared their thoughts with us after Redditor RobotDave asked the online community,
"What is an item of clothing that for you is an instant turn off?"
"I hate..."
"I hate the ones that say 'alpha wolf' or 'trust no one' or 'don't mistake my kindness for weakness.' Like shut up."
HallowedGemsArt
I'm sure someone who would wear the latter shirt is nothing but the epitome of kindness and not a tool looking to compliment and flatter their massive, unearned ego.
"Those dumb wine shirts..."
"Those dumb wine shirts for women. Like 'Rosè all day' or 'toes in the sand, rosè in my hand.'"
[deleted]
Why are these so normalized? It's odd, isn't it?
"The wifey/hubby clothing. Sometimes, just sometimes, it can be cute in a tongue-in-cheek manner, but most times it's very, very cringe."
chiibnoi
Facebook (and dumb people) have forever ruined these for me. I've seen so many that are just inappropriate.
"Platform..."
"Platform high heels when your feet are slightly too big and your toes hang over the front like they're hanging on to the edge of a cliff."
Iilbsure
I want to piggy back on this and say high heels but when they let the pinky toe hang outside of the strap. Like it wasn't invited to the party but it's tagging along anyway.
"Message T-shirts..."
"Message t-shirts that brag about how tough or nasty you are."
marcus-borealis
I will not be spoken to in that tone by an article of clothing!
"Very specifically..."
"Very specifically my fiancés grey and orange plaid shorts."
confused_barista
Hey, I love your fiance's gray and orange plaid shorts. What are you going to do about that?!
"A white shirt..."
"A white shirt with food stains on it."
[deleted]
Let's face it – if you can confidently wear white, then you're pretty brave.
"Skin tone pants (specifically leggings)."
thunderbone
I was once at the the gym and ended up just staring at a woman on a treadmill who was wearing nude colored leggings and a long T shirt - legitimately spent 5 minutes trying to figure out why she wasn't wearing pants and why no one was stopping her.
"Anything..."
"Anything loudly displaying a designer brand."
PNW_Uncle_Iroh
S U P R E M E
P E P P E R O N I
Great, huh?
"Dumb shirts..."
"Dumb shirts like 'female body inspector' and dumb sarcasm shirts."
[deleted]
Yeah, those don't work for me either. They just look cheap.
Hey, we all have our own fashion sense. Whatever doesn't work for you might be a gold mine for someone else. Let them wear what they want... and steer away from what you know you'd never wear, which should be easy enough.
Have some suggestions of your own? Feel free to tell us more in the comments below!
Want to "know" more?

Sign up for the Knowable newsletter here.
Never miss another big, odd, funny, or heartbreaking moment again.
Keep reading...
Show less
When it comes to gender roles in relationships, our society has a horrible habit of jumping to conclusions about the wants and needs of men and women.
For example, men are so often the notated aggressors or otherwise the buffoons of the story, clumsily chasing women with their pants down and one thing on their mind.
But men are people too—despite their best efforts—and have standards they must adhere to when entering into a relationship.
Redditor SnowyAcid asked:
"Guys of Reddit, what turns you off?"

Here were some of those answers.
Dudes Have Feelings
"Disinterest in my emotional state. Listen, I may not get emotional often, but when I have a moment, don't blow it off like 'you're a dude, get over it.'"
"Thanks for some cool comments and folks engaging this. Important note: this was a take on my past, my Fiancée (GF of four years) does not minimize any of my feelings, and that includes the occasional angry outburst. She is a phenomenal woman"-shock1918
Reciprocation Is Important
"I just went through this after a relationship where I adored the girl with all my heart and it just wasn't reciprocated. If you're not happy, move on."
"Ultimately does it matter if she's not interested or playing a game? If it's not fulfilling your needs and making you happy, find someone who will."
"Unfortunately, at least imo, it's that simple for relationships. If you are spending more time unhappy or wondering if she even feels the same, it's not worth it."-bambles_
Look At The Ducks!
"I have ducks that hang out in a lake near my place."
"I've told five women (on dates) that I frequently take walks around the lake because I love the ducks and the scenery is nice and three of the five said that that 'is weird.' Specifically that I think ducks are neat."
"I'm still confused why it's such a hot topic. Ducks are cool, and chill. Wildlife in general is fun. Isn't it? Am I crazy?"
"To be clear I didn't go on and on about ducks or anything. Just that I enjoy the walks because I like the ducks."-LedgeEndDairy
Yes, in fact, sometimes men do not fit your staunchly depicted gender norms.
In fact, sometimes men DO like to look at the ducks.
Frankenstein's Monster
"Projection and thinking that you can read my thoughts."
"Ask questions, I'm happy to answer, but don't assume you know what Im thinking or why I did something, especially if its based on your experience with a previous partner."-dr_freudenstein
"When a toxic person decides to 'test' you for a reaction like a fucking science experiment and then blow up when the results weren't exactly what they overthought."-MasterCrouton
Ohhhh...THAT'S That Smell...
"I dated someone for a while before we spent a whole week together."
"5 days in and they finally decided to take a shower and didn't brush their teeth until day 6 even with me saying things like 'hey, dinner had a lot of garlic, do you wanna brush your teeth with me?'"
"Also noticed some other odd and disgusting habits of skin and scab picking and eating. No matter how nice they were I couldn't get over the lack of hygiene."
"Hardest break up of my life because how do you tell someone you're really nice but disgusting without hurting them?"-MissChievous8
Grow Up, Please
"Women that act like teenagers. I've met 18 year olds (obviously) that act like kids and I've met 25 year olds that act like kids."
"And no matter how hot they are I'm immediately turned off by it. I don't even really know how to describe it but their immaturity and glaring lack of real world life experiences make them seem annoying and petty."-genio_del_queso
Goodbye, Good Luck
"This will ultimately get buried. I spent 11 years trying to prove to someone that I care/loved them, we split up in 2012, and had 2 children."
"Spent many years coming over to fix things, spent time with the kiddos, played video games with them, and her, bought food, helped with bills, and taking her to the store, I'm ok with all of that, that's how I was raised to be is help others."
"When I needed somewhere to go I stayed with her, that was fine also, the biggest problem I had was, If I came in the door with a smile I was berated with who did you go f**k this morning, or why did you take so long to get here."
"Just in general being told that I'm trying to f**k everything, and have been told at one time I had to look at the floor at the grocery store, she even went as far to tell random women that I wanted their number, and I should go f**k them."
"I think I'm good now as the last straw was I was accused of sleeping with her 18 yo daughter and her 18yo friend that stayed the night, the next day I packed my stuff and just said I can't do this anymore, and left."-CaptainZzZz
Men have a limit, a threshold, feelings, wants and dreams—something we often forget because even men are told to sacrifice these things.
Put Your Garbage IN The Garbage
"Littering. I briefly dated a woman who was drop-dead gorgeous, sexy, fun, sweet, and seemingly smart and level-headed. During a nice evening walk, she was drinking a Coke from a plastic bottle and tossed it into the bushes when done."
"Flabbergasted, I asked her why she did that. She responded that it's OK: there are people who will clean it up. I asked her politely to please pick it up. She protested. I picked it up and took it to a bin that was just up the street, in the direction we were going."
"By this time she was calling me crazy and insisting she didn't do anything wrong. I was having no more of it, took her home, and left."
"She seemed so great in many ways. But this thoughtlessness and refusal to admit her mistake for something we all learn as kids is a bad thing was a deal-breaker. Had she admitted she was wrong and learned from her mistake, we might have had a chance."-BubbhaJebus
Don't Make Me Fight
"Openly flirting with other people. I went on a first date with a younger woman last weekend. She was just clamoring for attention from any place she could get it and made NO attempt to hide it. I lost all interest."
"The most she can ever expect from me is maybe FWB, but I probably won't even do that. It was a huge turnoff."
"Too bad, she's a great looking woman, pretty sharp. Younger, so I'll blame it on that. I'll probably not go out again. I don't need to train a puppy."-PhaedrusHunt
Men Have Agency Too
"Being guilted into sex. It's just expected sometimes that as a male - if someone comes on to you that you'll want to accept their advances. Seems that often times the guilt trip gets thrown at you if you decline even for just not being in the mood."
"From experience this seems super common for women to guilt men when declining sexual advances and it just seems acceptable at this point. If a male did the same to a women you'd never hear the end of it though."-JustLikeJD
Did anything on this list surprise you?
Did any of the things you thought you knew about men and what they wanted out of a relationship just go straight out the window?
People continue to surprise us despite best efforts.
Want to "know" more?
Sign up for the Knowable newsletter here.
Never miss another big, odd, funny or heartbreaking moment again.
Keep reading...
Show less
Dear Single Men,
Please just ... like ... chill. The gist of this whole article basically boils down to that. I promise.
There's no magic formula. You don't need to be a "pick up artist."
You're not still single just because you're short, guys.
It's not because you think Crocs are a formal shoe, even though they're just not. People will be willing to forgive that if you rock it with enough swag.
It's not any of that stuff.
Reddit user SmootPapi asked:

Girls of reddit, what are everyday things men do that turn you off?
Weirdly, Single Men, nowhere on this list was there anything like 'drive the wrong car' or 'have clean nails.' What DID make the list was:
Keep reading...
Show less
"How does someone so sexy be so damn repulsive, babe?" is one of my favorite lyrics from one of my favorite criminally underrated TV shows, Star. It's from the song Ain't About What You Got (a song which was originally for Ariana Grande, so it's got some vocal leaps) - which basically is the soundtrack to this article.
(Honestly, since Brittany O'Grady is having a moment right now, I'm hoping people will go back and watch. It's got a convoluted plot/dope soundtrack combo, Queen Latifah, multiple murders, some of the strongest hoop earring game ever put on screen and a series ending that made me want to flip tables. It was like Sopranos but with Black & Brown people and the music industry.)
Reddit user rock4lite asked:

"What instantly makes a man unattractive?"
Now listen, I'm not gonna tell you to go grab a notebook or the voice note app on your phone because you're about to get some mind-blowing new knowledge.
You're not.
Most of this boils down to Wheaton's Law.
"Meme Level Advice"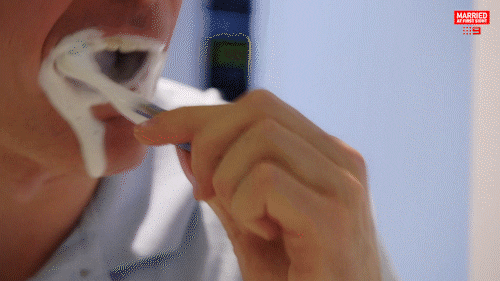 Channel 9 Brush GIF by Married At First Sight Australia
Giphy
"People do not understand how much basic hygiene can make a difference."
"I've been told by incels on this site that 'brushing your teeth, wearing clean clothes that fit, and having good posture is meme level advice and none of that matters.' "
"Well, let me tell you that the folks that actually get in my pants don't think that's meme-level advice. Basics, like clothes that fit and non-stinky breath, can go so far in making anybody way more attractive and approachable!" - LikelyNotABanana
"They consider it meme-level advice because that's what everyone constantly tells them, because they desperately need to do it. If they didn't keep brushing it off dismissively people probably wouldn't say it so often."
"If you ask someone for dating advice and they even mention these things, you absolutely need to do them. I have NEVER heard that said to anyone except to gently suggest they need to wash their ass and not dress like a slob."
"If their argument is 'i dId tHoSe tHiNgS bUt i sTiLl cAnT gEt a dAtE,' they're deliberately ignoring the fact that those things are the bare minimum and that they will still need to put in effort beyond that. Dating advice goes into far more detail elsewhere. No one is even pretending that basic hygiene is a silver bullet to getting laid."
"If someone's dating advice to you starts there, it's because YOU need to start there." - xxpen15mightierxx
Let People Talk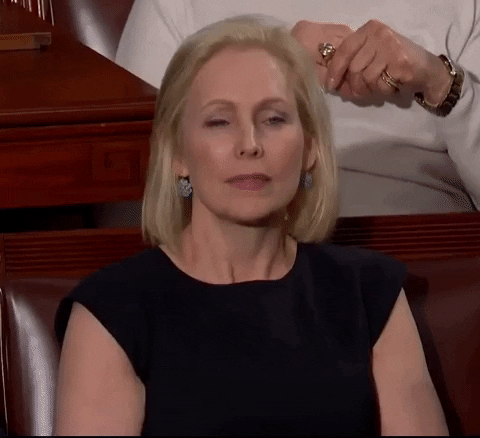 Deep Breath Sigh GIF by MOODMAN
Giphy
"Speaking over me or others, it's not hard to be polite" - n3rd365
"The men of my boyfriend's family all do this constantly."
"I'm not sure it's possible to speak an entire sentence while having dinner with them. It's so discouraging."
"I've always felt very bad for his mother, being the only woman, and never being heard by her own sons/husband." - assortedolives
"I came here to say this. Speaking loud in general is unattractive to me - then when it's OVER someone else, it makes it so much worse." - SunyBunny420
"This is huge for me. I met my current boo because my date brought him along."
"Date kept speaking over his friend and me. The friend was a good listener and great conversationalist. I ditched my date for his friend and we've been together 3+ years." - karmabuchamama
Ex Factor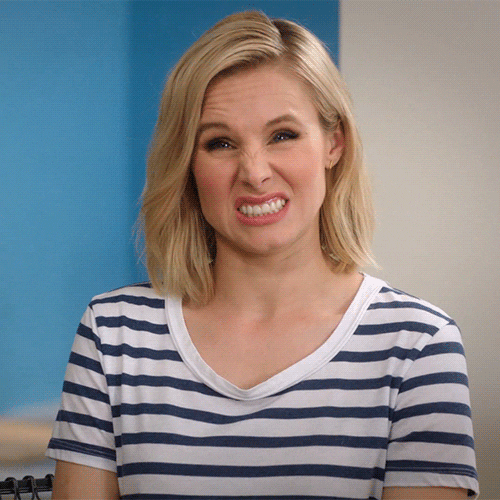 Season 1 Nbc GIF by The Good Place
Giphy
"When someone seems to only have 'crazy exes' ... you should run away before the sentence is over." - lurkinarick
"Honestly, bashing multiple exes at any time (there should be zero bashing for the first several dates because honestly idk you well enough & will just assume you're a dude who plays victim 24/7)."
"Once I've gotten to know you better it's okay to open up about a bad relationship or two- but frankly you should be able to not get overly emotional about it (like don't resort to name-calling or mean-spiritedness) or else I'm gonna assume you have not dealt with the fallout."
"I never trust a guy who acts like he's a 'crazy magnet.' Dude, you're the common denominator here, not them." - Crankylosaurus
"A guy once said 'you can't polish a turd' about his ex/kid's mom during a pre-date video chat. I was so put off that I cancelled the date almost immediately after." - science_v_romance
Cruel Is Not Cool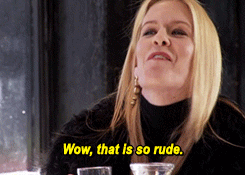 Rhony GIF
Giphy
"Being mean to appear cool." - azcntn
"I know this dude who is like a solid ten in all departments. I constantly joke that he's gonna steal my man, my mom, and the f*cking cats too."
"But the other day he was sharing his rebound stories and kept talking about he was gonna 'break hearts' and 'ruin her.' "
"I was like...bro eeeeew never let a woman hear you say that. You just turned into a sack of potatoes!" - RunanD
Pinnochio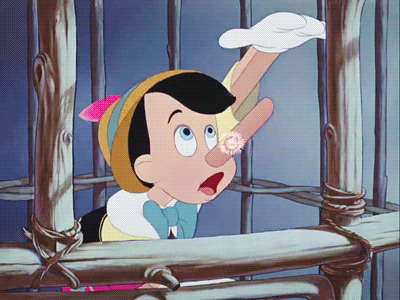 disney classic GIF
Giphy
"I remember I dated someone who would just lie to make himself sound cool."
"I remember I realized it when his coworker was telling a hilarious story that I thought happened to my boyfriend. I instantly had this pit in my stomach. Biggest turn off." - makopinktaco
"There's nothing worse. Especially when there's a certain crowd or situation that brings it out. Like chill bro it's not a competition." - Coyote__Jones
"Yes. There was man I thought I was the most solid and reliable and hot as f*ck dude I'd ever met…I found out he'd been lying to me for a long time and it didn't take long for me to be turned off by him."
"Now I see his face and where I used to get all bothered (in a good way) I now just am annoyed and the word 'Coward' flashes across my brain."
"he knew lying was the only way I'd even meet him for coffee to date him. Had he been honest at first I'd never had met him for coffee, much less integrate him into my life, have each other's kids become family to one another, etc."
"He could've chosen to be honest after the initial meeting, too. Instead, he chose continually to omit info, and then as we got to know each other he had to lie more and more to keep me in the dark and maintain his original lie, and then he started lying to to cover other things up (things that were different than the initial lie but rooted in the same kind of bad behavior he consistently engages in.)"
"And then when our conversations about our histories and exes got to a point where he clearly needed to be honest and there was no more hiding to be done, he would suddenly go cold shoulder and stop being supportive of me. Eventually he resorted to gaslighting and subtle psychological abuse in order to make me shut up and not ask him questions, and so he could just keep seeing and flirting with his exes behind my back off and on."
"Nope. Never again." - Logical_Director_280
Table Manners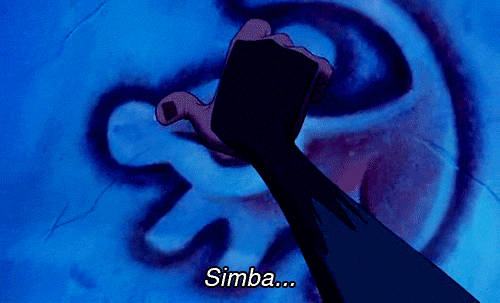 the lion king simba GIF
Giphy
"I remember a date I had with a guy almost 25 years ago."
"I remember it because we went out to eat at a local pizza restaurant. In the time it took me to eat half a slice, he had vacuumed up the rest of the pie which included loud, open-mouth chewing and belching."
"Chunks of food landed on his shirt. There were snuffling sounds as he shoved food down his maw. I don't remember anything else about that night but his disgusting method of eating. Total deal killer."
"I saw one of our mutual friends last year and she mentioned him. She told me he was heartbroken I never went out with him again and took it really hard at the time."
"I wasn't mean or anything and I never knew he felt so strongly about me. Absolutely no clue."
"But if that was the case, then that means he was probably on his best behavior that night. I can't imagine what worse manners might have come out if I'd seen him again." - DemonaDrache
"Friend of mine went on a date with a bloke in Uni who ordered pulled pork, and ate it like he'd not been fed in months. The moment my friend realized it wasn't going to work was when the guy looked up at him, and he had a smear of BBQ sauce on his forehead like Simba in the Lion King." - TheeAJPowell
Alpha Awfulness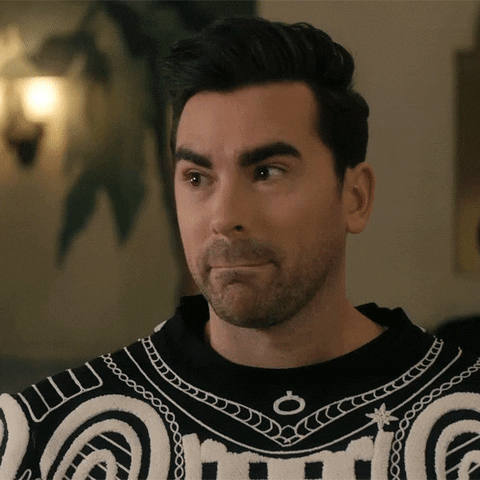 Schitts Creek Ok GIF by CBC
Giphy
"Anything related to "alpha male" bull."
"If you tell me you're an 'alpha male' I will assume you have no personality, low self-esteem, are rude, abrasive, self-involved, and terrible in bed." - WrongRedditKronk
"I once had a dude I was actually kind of interested in refer to himself as an "apex sexual predator." I was no longer interested." - newyne
"Last week, I finally mustered up the courage to strike up a conversation with my gym crush after months of glances and smiles."
"He shared his Instagram, which was 'alphamale(his name).' Got over the crush so fast, there was some head-rush." - Biaatchandahalf
Glory Days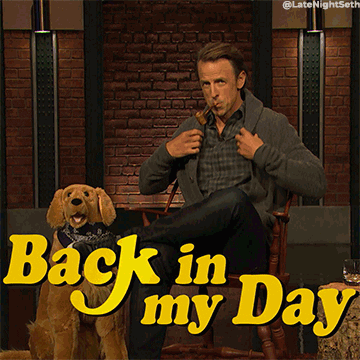 Seth Meyers Smoking GIF by Late Night with Seth Meyers
Giphy
"Talking about how hot they used to be like this coworker of mine does."
" 'I used to bike 10 miles a day, do 200 pushups in one go, and I even used to have that V cut, you know...down there.' "
"I'm just trying to send this email, Doug. Please leave me alone." - After-Collar-4582
"This is hilarious."
" 'So I'm not hot but I used to be which means I stopped putting work into myself and you should find that attractive.' "
"WHAT????" - refrainsfrompartakin
"Oh my god, people bragging about how fit they used to be is so obnoxious. Like cool, I used to have breakfast but I ate it." - rileytrodd
"A guy I went to college with would tell anyone who'd listen that he was a swimmer in high school and kept a close up photo of his abs on his phone."
"I can't tell you the number of times I've said, 'Yeah, you've already shown me that photo. Good for you.' " - Justaregularderp
Break Stuff!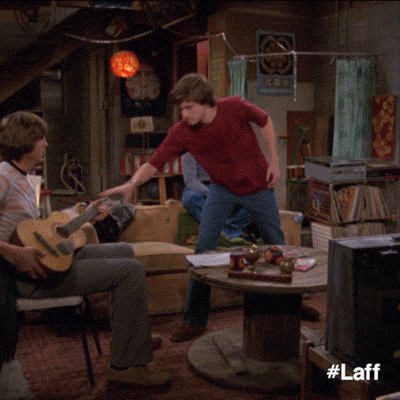 destroy that 70s show GIF by Laff
Giphy
'Being destructive particularly when other dudes or other people are near by. Breaking things on purpose, hitting things that shouldn't be hit like walls or windows or destroying other people's art/property."
"It doesn't make you cool or strong it makes you a wasteful jerk I won't invite back into my life ever again."
"Mostly this came from stories from friends about their friends, stuff I've seen online and personal experiences with my brother."
"I was the only girl in a group of 5 guys when I was like 8 or 9 and all of them were super destructive when they all got together. Otherwise they were great."
"I had a crush on one of them but he was being destructive (I don't remember what he broke) and I quit liking him."
"Also my ex boyfriend's 'friend' destroyed a lot of his stuff, and he'd let him. Including a painting I made my ex for his 16th birthday."
"I was really proud of it and if he didn't want it he could have sent it back." - LessEnthusiasmPlz
Long story short, just calm down, relax, and be cool.

I believe in y'all!
Keep reading...
Show less