The convenience of flight comes with a few expected inconveniences. First, your seat is never going to feel like it's big enough for you. Second, the person either in front of or behind you is going to put their feet up or lean their seat too far back. And, third, you have to roll the dice with the TSA checkpoints.
They scan you, check your baggage, send you on your way. Installed as a form of protection, they do their jobs before you even arrive at the airport, keeping very obvious weapons and dangerous minded individuals from boarding your flight.
Most of the time.

Reddit user, False_Philosophy_412, asked:
"What's the weirdest reason you were stopped by TSA?"
Most of the time, the agents are doing their best job to figure out what's on your body with a machine that may not be accurate 100% of the time.
It Already Has A Name
"Crotch anomaly".
"I was wearing normal joggers, nothing in my pockets."
"The lady behind me loudly said 'yeah it's called a penis'"
wot_in_ternation
Packing A Different Kind Of Heat
"This happened to me too. Tsa agent asked to search me with the back of his hand and I said "okay sure." The back of his hand hit my unit and he said "what's that?" to which my only response was "That'd be my penis." The TSA woman next to him started laughing at him and his face went pale before he said 'you're clear, move along.'"
DarkSlayerKi
Keyword: "Random"
"I have maintained a decent beard and have a darker skin complexion for a white dude. I am "randomly" selected for a search or shoe swab every single time I fly."
batkevn
You can assume a lot of these are simple misunderstandings, agents doing their best to make sure everyone gets on the plane safely.
Still, it's got to feel bad to open up a loved one's ashes in a public setting.
Mad Respect For Your Wardrobe
"Not in the USA but in France, I got stopped on the way through customs by an agent who said something fast and aggressive-sounding in French. My French isn't great, so I just looked puzzled and said I didn't understand. The guy quickly beckoned another guy over and explained to him in rapid-fire French what was going on. The second guy turned to me and said "He says your T-shirt is really cool and can you tell him where you got it?". It was a Star Wars T-shirt that I got as a birthday present, so I couldn't even tell him where it came from. Luckily, he didn't arrest me."
99thLuftballon
Sinister Teddy
"My niece has a teddy bear. She has had this teddy bear essentially since she was born. The doggo has bitten a hole into its belly, so we sew onto it like a lion head sticker, to keep its guts inside. One time we were on holiday visiting family, and she left it there, luckily I was staying a bit longer so I could grab it on my way back."

"An adult man with a teddy bear that had its guts torn open and fixed with a lion bandaid apparently looks pretty suspicious, so they shoved the poor guy into x-ray 3-4 times. She is still in ownership of the teddy bear and it is still in decent shape."
Gacsam
It's A Weapon For A Certain Type Of Person...
"I had a nutcracker in my carry-on. Like a legit, festive Christmas soldier nutcracker - it was a gift for my mom's birthday (she collects them). I was only flying in for 2 days for my grandmas funeral so didn't check any luggage. They stopped me and questioned me for 30 minutes. Kept insinuating I was going to use it as a weapon."
Pamplem0usse__
Spider Truck. Spider Truck. Does Whatever A...
"When the Andrew Garfield Spiderman's first came out they did some amazing merch for them."
"My Stepdad is a HUGE Spidey fan, so I picked him up the corniest Spiderman film merch when in the US, one of those being like a whirling cement truck thing? It was a big tonka sized thing and the only bag it would fit in was my carry-on. They stopped me and said "Is that a spiderman toy?" and I took it out and showed them. They said it was the best thing they'd seen all day."
CharacterSuccotash5
No Smuggling Of Animals
"Glass jellyfish"
"Like those blown glass ones that are super cool at art galleries."
"I got pulled aside into a small room because they thought I was smuggling sea life. Was an interesting time."
Aelsar
When Things Look Like Other Things
"One time my dad had a few rocks of petrified wood in a bag, and had his phone charger right next to it."
"They almost went DEFCON 1 and did radio people to show up and act if it went down. But they opened the bag and saw it was rocks and a charger. They told him that it looked absolutely identical to what they had been taught a bomb looked like."
AudiieVerbum
One Last Look For Ol' Mom

"My mom passed away unexpectedly in California. I flew out to pick up her ashes and there was a terror alert at LAX. It was unreal; the military was in the airport with what looked like machine guns. I was out of my mind with grief and drugged to the gills. I was dealing with a bad back, and had to fly from California to a small town in Virginia for the memorial service. Security was heightened and everyone was being searched. I only had a small carry on and my mom's ashes. When I got to the TSA, the agent wanted me to open my mother's box of ashes! "
"I refused and insisted they x ray the box instead. It showed nothing inside ( duh- ashes) which convinced the TSA agent that it had some sort of cloaking device and was hiding a bomb. Again he insisted that I open the box that held my mom's ashes. I was beginning to lose my sh-t. I called my husband who works in nuclear power and explained what was going on. He told me to tell the TSA agent to place a coin under the box and send it through the X-ray again. He did and thank goodness he saw the coin. Otherwise I would have been arrested for assaulting a stupid TSA agent."

Due_Judgment_9518
Ever been stopped by the TSA for something silly? Tell us about it in the comments.

Want to "know" more?
Sign up for the Knowable newsletter here.
Never miss another big, odd, funny, or heartbreaking moment again.
Keep reading...
Show less
There are some things that our upbringing had trained us to think are illegal or wrong. Most of the time, they are illegal, but sometimes they just feel illegal.
Sometimes their legality depends on where you are, like turning right when the stoplight is red. Perfectly legal in some areas, but prohibited in others.
Keep reading...
Show less
It's wild what people think they can bring on planes.
You're thinking it will just be a normal airport security moment, and then all of a sudden, security is unpacking an entire kitchen from somebody's carry-on luggage. But that's if you're lucky. You never know what else you might find, in earnest.
Security have seen it all. Nothing can really surprise them anymore. But maybe, once in awhile, they will be surprised. And then you shall be afraid. Very afraid.
u/Babbemannen04 asked:
People who look at the x-rayed baggage in airports what's the most disturbing thing you have found?
Here were some of those answers.
Keep reading...
Show less
Cookbook author Chrissy Teigen and judge of NBC's Bring the Funny served up some giggles this week while going through airport security.
The Transportation Security Administration has strict rules when it comes to allowable food items, and keeping track of what can or can't be packed in a carry-on is daunting for the casual jet setter.
So what about gravy?
The 33-year-old model wondered if airport security would give a thumbs up for her cold gravy to travel with her.

While filming her traveling companion tilting the Tupperware with the substance in question, Teigen asked:
"Is it a liquid? Or is it a gel? Or is it gravy in a solid form?"
let's play "is cold gravy tsa approved" https://t.co/ykxh0pJ1l6

— christine teigen (@christine teigen) 1561483323.0
Her followers were concerned about why she was smuggling a whole container of the good stuff.

@chrissyteigen IDK, but why do you have that much cold gravy?

— becca (@becca) 1561483492.0
@notrachel @chrissyteigen For the turkey she has in her purse. DUH!

— Tara Hunter, MNM 🏊🏾‍♀️🚴🏾‍♀️🏃🏾‍♀️ (@Tara Hunter, MNM 🏊🏾‍♀️🚴🏾‍♀️🏃🏾‍♀️) 1561483643.0
One suggested she dump the contents into a diaper to ensure safe passage.
@chrissyteigen Just store it in a diaper. They won't dare touch it.

— Tom Megginson⚡️adperson (@Tom Megginson⚡️adperson) 1561483372.0
Twitter contestants weighed in based on past experiences or word on the street.
@chrissyteigen They made me dump my $15 jar or white chocolate peanut butter I was trying to bring home from Hawaii… https://t.co/7kVnUVWJsL

— Gina (@Gina) 1561484046.0
@chrissyteigen I hear that if you FREEZE queso you can bring it through security. Not that I tried to bring back… https://t.co/3rQhbg6KgV

— Ashleigh (@Ashleigh) 1561483484.0
@chrissyteigen I had a solid as hell fig jam from the Italian market in Philly and the bastards jacked me for it. I… https://t.co/Mw6ZlJ3dPM

— washed feeling (@washed feeling) 1561485115.0
Did the gloopy sauce make it on board?

Over 36,000 people responded to Teigen's online poll and a good majority voted, "Yes! It wasn't a liquid."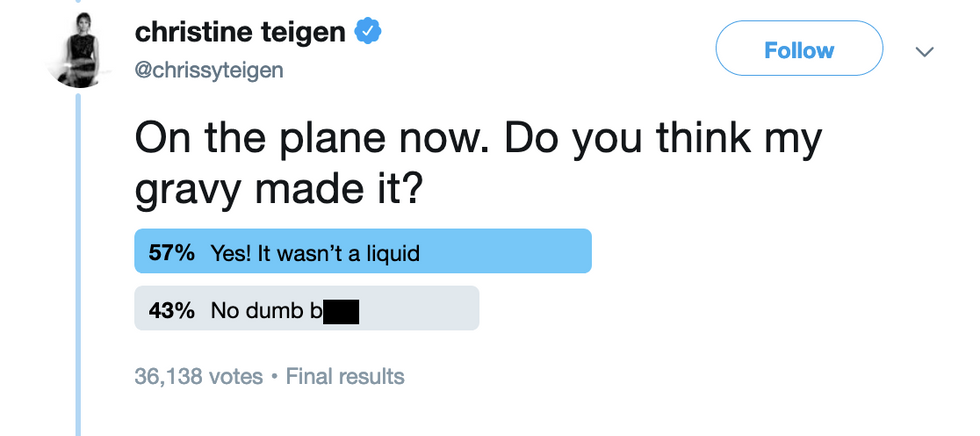 @chrissyteigen/Twitter
Permission was contingent upon one thing, and it's a bit of a mush.

results: cold gravy IS allowed if you mix it with mashed potatoes https://t.co/HKJGdl9CFq

— christine teigen (@christine teigen) 1561484009.0
I guess I forgot to tell you about the potatoes

— christine teigen (@christine teigen) 1561484141.0
@chrissyteigen Definitely not a time to say "these are some bomb mashed potatoes and gravy."

— DanDan The Elephant (@DanDan The Elephant) 1561484118.0
@chrissyteigen I'm so glad the TSA has finally solved terrorism.

— Shelby Petersen (@Shelby Petersen) 1561484158.0
@chrissyteigen that's why it's called the gravy train not the gravy plane, Teigen

— Scoop K (@Scoop K) 1561484206.0
Here's a tip for those traveling with their own nosh.
TSA spokeswoman Jenny Burke told USA Today:
"The general rule of thumb is that if you can spill it, spread it, spray it, pump it or pour it, then it should go into a checked bag. Liquids in carry-on bags must follow the 3-1-1 liquids rule."
The TSA's website says gravy is allowed as long as it's less than 3.4 ounces, but Burke added that the ultimate decision rests on the TSA officer on whether or not food items can pass through the checkpoint.

Just pass the gravy, please.

Keep reading...
Show less