Everyone obsessed with true crime doesn't really grasp the idea of... True Crime.
Do we?
It's not a movie.
This could be us.
Horror is happening all around us.
Maybe that's why slasher movies do so well.
Redditor Noahs_25 wanted to hear about some non-fictional tales of horror.
So they asked:
"What is the scariest story you know that is 100% true?"
I haven't seen much except your occasional brawl. So tell me more...
The Collapse
"The 1904 Cincinnati Privy Disaster. In 1904, nine schoolgirls drowned in an outhouse after the floor collapsed. They literally drowned in human waste."
Jenny010137
In the Attic
"I would call it creepy more than scary, but my mom's friend had a small house and lived alone. She noticed weird things: a batch of soup depleting faster than usual, missing eggs, damp towels in the hamper when she hadn't used any, extra dishes in the dishwasher, etc... This went on for months, she thought she was just being forgetful."
"One day she heard some thumping around in her attic and went to investigate. She found some make shift living quarters. Small radio, hot plate, sleeping bag, pillow, food wrappers, etc... She called the cops who came to keep an eye on the place. They ended up catching a homeless man climbing a tree, trying to sneak into her attic window."
"He had been doing this almost daily. He would wait for her to go to work, then go down stairs and help himself to food and amenities. The funny part about this story is they got to know each other throughout the ordeal, and the guy was actually very respectful, just down on his luck."
"She didn't press charges, instead, let him move in, helped him get a job, and he lived in the attic until he got back on his feet. Creepy crap with a happy ending."
Saganic
In the Road
"My mom was driving, and a guy ran out in the road, so she stopped so she couldn't hit him. It was night time, so it was pretty dark out, and 3 other men emerged from the forest around, all trying to use the door handles of her car to get in. She locked them luckily, and gassed it to the nearest town. Remember to always lock your car after you start it, because if it wasn't unlocked who knows what would've happened to her."
Oxidias
And it really explodes...
"Neishabur train dissaster is something that reminds me how death can come at any moment. A train with 51 wagons of sulphur, fertilizer, petrol and cotton wool somehow broke loose and rolled down the track about twenty kilometers until it derailed in the town of Khayyam, Iran. There were no humans on board."
"Chemical leaks ensued and authorities tried to extinguish whatever fires broke out."
"At one point, the whole thing explodes. And it really explodes. The whole town of Khayyam is literally demolished, 3 nearby towns are badly damaged and it was heard 70 km away. The wreckage continued to explode for several days after. Around 300 people died and more than that injured. An earthquake of 3.6 on Riechter scale was produced."
Chiruadr
Drop Dead
"My friend's boss bought an Audi A4 convertible, back when they were new and interesting. One of the talking points was the pop-up roll hoops that were hidden unless you rolled it. A few months after buying it he got to test those roll hoops out, as he lost control and skidded down a steep bank about 10m (~35ft) deep."
"The roll hoops did their job, and he survived with just cuts and scratches from the bushes he'd plowed through. The car ended up the right way up and he got out, walked back up the bank to the side of the road, then got on the phone to the police to report the accident."
"While he was standing there a driver from a car that had seen the accident came over to speak to him. Approaching from behind the other driver asked if he was okay. My friend's boss turned around to reply and dropped dead. His neck had been fractured, but was in one piece right up until he turned his head, when it severed his spinal cord."
BigBadAl
Well this is all giving me heart palpitations.
Shots Fired
"Artimus Pyle the drummer from Lynard Skynard survived a plane crash and walked to a nearby house only to be shot by the homeowner. The homeowner saw a bloody long-haired man and winged him. Pyle survived that as well and made a full recovery. He told the story first hand in an interview with Howard Stern. That's how I initially heard of this. I don't have that audio, but I did find this https://lynyrdskynyrd.fandom.com/wiki/1977_Plane_Crash"
Rickson20
Bunk
"The driver one of the Semis we took in on trade died in the truck. The sleeping area is a 'bunk' with a mattress that can be flipped up and under it is a seat and a table. So during the day it's a Dinet set up. And at night, you pull a lever and pull the bunk down to sleep. Well something happened and the bunk flipped up while the driver was sleeping and it pinned him against the wall. He couldn't get it to drop back down and suffocated."
"He was stuck there for somewhere around 12 hours. Someone had noticed that he was parked for an unusually long amount of time for the kind of deliveries he did. The company that built the sleeper did something to the bunk so that couldn't happen again and supposedly recalled all of that sleeper style."
z0mbiemechanic
"gut feelings"
"When my aunt was about 16 she was working at a grocery store and had a boss in his mid twenties. One day he called the house and was begging her to sneak out and hang out with him. She was considering it because it was her boss and she didn't want to say no."
"My mom, who is two years younger than her, always gets these incredibly spot on 'gut feelings.' She had one that night and begged my aunt not to go out with him. Thankfully she listened to my mom and told him no which made him really angry. He ended up going out that night and meeting another girl."
"He took her out to some cliffs and pushed her off. Somehow she lived through this and was able to get him sent to prison. I feel so sorry for that girl and so thankful for my mom and her gut feelings. Always trust your gut."
pessimisticoptimista
Normal
"I spent my first 10 years in New Delhi. Back then, we would find dead women (burnt with acid or set on fire) and it used to be so 'normal.' Like oh look, another one of those dowry cases where her family didn't pay the husband enough money so they killed her. Many years later i revisited those memories and realised how insane that actually was! I'd totally forgotten about all that."
saywat30
A Close Call
"My friend tripped and fell onto the tracks, landing his face onto the 3rd rail. We kinda stood there in absolute shock because we thought he was dead, but then he said, 'can I move? Will I be electrocuted?' We told him to move instantly and he did, we got him off the tracks, and no less than 2 minutes later a train went zipping by. I think the 3rd rail turned on seconds after his face came off of it. I know that's not scary to a lot of people, but to me it was because I would have lost a close friend back when I was about 12."
tacolikesweed
'Is this your room?'
"I was in a crappy motel. The room had bedbugs. I was too exhausted to go to the front desk. I just needed to make it until the morning. I slept in the tub. hours later I hear someone breaking through the window. I had a big knife with me and ran out into the room to find a man halfway through my window."
"We stared for awhile at each other in shock. I think we both were scared. then he says, 'Is this your room?' I'm like, 'yes, this is my room man!' more staring. Then he slowly starts backing out while cursing me for leaving my window unlocked and not expecting him to break in. Motel on Watt ave, Sacramento."
REDDIT
We're Open
"That there's a guy casing the bar that I work at literally right now, and I can't do anything to stop him. He's been in asking what time/days we're open, and what days we have security. Caught him feeling the corners of our windows and doors too. Unfortunately, until he breaks in and robs us, the police won't do a thing."
ExtraEvilJesus
So Cheap
"A guy I worked with was riding his dirt-bike through the woods and somebody hung a cable between two trees. My buddy caught his throat on it and saw the dude steal his dirt-bike. Woke up in the hospital with a lacerated throat and a broken larynx. Pretty crazy what somebody will do for something so cheap."
Beatleborg22
Trapped
"Nutty Putty Cave in Utah was sealed up in 2009 after John Jones was trapped upside-down in a small crevice while spelunking. When rescue teams finally arrived he had been upside-down for so long that his legs were drained of blood."
"The only possible way to have gotten him out was to break his legs, which would've sent him into fatal shock. He died after being trapped for 28 hours. His body's still in the cave."
REDDIT
"Squish"
"Amateur rugby. Guy gets hit pretty hard and dislocates his hip. While waiting for the ambulance, a guy runs up saying he's a physio and can at least relocate the joint. He cracks the hip back into its socket and the guy SCREAMS. One of his testicles had been jolted out of place in the accident - and had been chilling out in the empty hip socket."
"Squish."
chocolate_on_toast
Dead
"An acquaintance of mine sent his son to triathlon camp in Texas. A week later, his son came back from camp. The next day, the son was complaining of a headache. Four days later, he was dead. Healthy, happy, fit 12 year old one week, dead the next."
"Turns out the lake had Naegleria fowleri, the brain-eating amoeba. Nothing scares me as irrationally as already being dead and waiting for your body to catch on. Link for those interested."
persondude27
As if Dateline NBC isn't enough to watch. Goodness...
If you or someone you know is struggling, you can contact the National Suicide Prevention Lifeline at 988.
To find help outside the United States, the International Association for Suicide Prevention has resources available at https://www.iasp.info/resources/Crisis_Centres/
Keep reading...
Show less
It's the spooky time of year where horror and gore are all around us. In movies, shows, and campfire stories, we share the most gruesome tales to scare one another.
But when you're faced with real life horror, that's a different stories.
In a 2019 study from the United Nations Office of Drugs and Crime found chances of falling victim to a homicide worldwide are about 6 in 100,000.
So we went to Reddit to know what it's like to narrowly escape a murder.
Redditor EntertainerWeary7463 asked:
"People who escaped killers in the last second, what is your story?"
Thank goodness they escaped to answer this question.
Want to "know" more? Never miss another big, odd, funny, or heartbreaking moment again. Sign up for the Knowable newsletter here.
Keep reading...
Show less
Facing rejection when asking somebody out is never pleasant. But there's no denying that some people let you down easier than others.
Middle school and high school kids, for example, seem to have no idea how to deliver bad news gently. Their fragile egos lead them to either clamor awkwardly, be absurdly mean, or make it all twice as bad by laughing openly.
Here's hoping these stories don't remind you of any experiences you had to go through.
Redditor StUPiD_CaKe asked:
"What is the worst possible way to be rejected?"
Many people talked about how painfully casual some people can be. There is something about minimizing how the other person must feel that just feels awful.
Setting the Record Straight
"Preemptive rejection. I've had it happen a couple times. Both times were with women/girls who were part of a circle of friends. I never showed any interest in either, but, somehow, they both felt the need to say, out of the blue, 'I'll never sleep with you.' "
"It's all good - things evened out."
Times Change
"Not a rejection but when we were in college a girl I had been friends with throughout high-school said 'Ben I used to fancy you a few years back but my standards have gone up since then.' "
"She said that in front of all our other friends, fortunately I found the whole thing hilarious."
-- Benjii_97
I Guess It Wasn't Going That Well
"I went on a first date with a girl. We had a nice dinner and really seemed to be hitting it off. We decided to visit a jazz club after dinner. Some guy started flirting with her when she was on her way to the ladies room. It continued when she was on her way back. Dude then posted up nearby and just kept looking at her and winking at her while she was sitting at the table with me."
"She excused herself and went over and started talking to the guy. I was hopeful that it was a 'What the fu** is your problem, dude?" conversation. But no. Soon they were laughing and joking and exchanging numbers. When I decided to call it a night, she thanked me for dinner and said she was going to hang out a bit longer."
Crickets
"I was outright ignored. Just not a single thing said. So I awkwardly never talked to them again because they didn't seem to want to talk to me."
Other Redditors recalled times when they were greeted with laughter. Those excruciating few seconds have been nearly impossible to let go of.

At Least He Didn't Have to Be In the Room
"In middle school my friend wrote a letter to his crush asking her to a dance. Dropped it on her desk and then left because he was nervous."
"As we walked outside we watched her through the window reading it, laughing, and then getting a bunch of her friends to come over and they read it together laughing their a**es off."
-- wooztheweb
One Kind Soul
"Middle School, I had my friends, she had hers, I asked her, she said 'No...no...' "
"My friends laugh, her friends laughed. But one of her friend said to my buddies, 'Why you laughing that's messed up.' "
"Thank you kind friend of hers."
-- daehuac
One-Two Punch
"well... I never thought Id share this but.."
"I liked a girl in middleschool. confessed to her before going to a new school in a different state due to moving.
the day i told her she said ew thats gross, then started laughing."
"a few monthes pass and im enjoying my new school and went to visit my grandparents, and i get a call from the same girl who said i was gross. she called and said she was sorry and wanted to give it a shot."
"i said sure and lo and behold she starts laughing and said she cant believe that worked, and started teasing me for believing that would happen or that shed want that."
-- Silevence
Others remembered times that a person looked surprisingly put off by being asked in the first place. They couldn't believe how repulsed a person could be by a pretty innocent interaction.
There's a Better Way
"When the person acts like he/she just saw something disgusting."
"Come on, first you just say 'no.' If they insist, then you can do whatever you want, but let us have the chance to walk away with just a 'no.' "
-- sormatador
A Setup
"Being told to wait until recess for an answer to the 'do you like me' question, waiting, then being told "hell no" on the playground with a gaggle of sixth grade girls behind her."
"I still carry the scar, thirty years later."
-- JaeCryme
Middle School
"I was 12. All my classmates pushed me to confess to my crush, who was standing on the stairs. Everyone was staring at me as I, in my prepubescent anxiety, managed to blurt out 'I love you' while holding my arms up."
"She put on the deepest expression of disgust I've ever seen, and I run away. Fun times"
I'd like to think this was the last horrible encounter before a long life of successful love for all of these people. Of course, if we know the real world--and real people--at all, that's almost definitely not true.
Want to "know" more? Never miss another big, odd, funny, or heartbreaking moment again. Sign up for the Knowable newsletter here.
Keep reading...
Show less
"The truth will set you free, but first it'll piss you off"
Have truer words ever been spoken? Especially at the beginning of a song? Probably not. But the thing about truth is that sometimes, no matter how hard we try, it's just not something we can ever really know.
One Reddit user asked:

What is something you desperately want to know the truth about?
And honestly we were expecting the answers to be full of conspiracy theories and aliens. Some people wanted to know about that, of course, but it seems like a lot more people are interested in more mundane personal truths.
Missing heirlooms, sketchy incidents, and friends who just vanished into thin air all pop up in people's answers right alongside those aliens we mentioned.
So have a read through and then tell us what truths you really want in life.
Keep reading...
Show less
Life is often far more unbelievable than the stories we create. Look at out current political climate, if you had read about it in a fiction book you'd file it under science fiction. But that isn't a current reality, history is littered with wild tales and stories you think you'd have to see to believe. Thank God for historians and autobiographers. At this rate, when the aliens get here, Star Trek will a documentary.
Redditor u/SkunkytheSkunk7 wanted to know about some of the stories in history that sound like they might have been authored and not done in real time by asking.... What sounds like fiction but is actually a real historical event?
Mincemeat.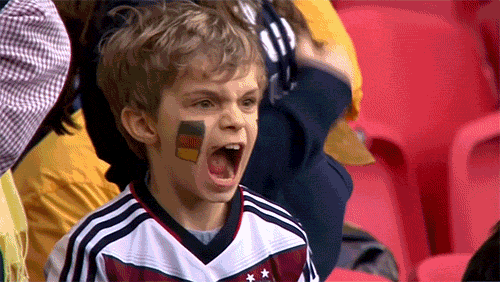 Giphy
Operation Mincemeat.
The allies planted a dead body with fake battle plans to trick the Germans into thinking that the allies were going to attack Sardinia when they were in fact going to attack Sicily.
They built an entire life for this dead, fake, military man, dumped him in the ocean, and successfully distracted the Germans.
https://en.wikipedia.org/wiki/Operation_Mincemeat
Richard Parker.
Edgar Allen Poe wrote a novel in 1838 in which 4 shipwrecked survivors, at the point of starvation, choose to resort to cannibalism. So they kill the young cabin boy, Richard Parker, and eat him.
In 1884, a ship called the Mignonette sank. 4 crewmembers survived. At the point of starvation, they killed and ate the youngest of them: Richard Parker.
Ken Rex McElroy.
The death of Ken Rex McElroy. He terrorized Skidmore, Missouri for decades. Stalking, assaulting, and murdering two 14 year olds who were his "wives." He had an expensive attorney so he was never charged. The law never helped the poor town. One day, the town gathered for a meeting on how to deal with McElroy. Details get a little vague here, but apparently someone alerted the room that McElroy was in the bar up the street.
Quietly and calmly, everyone got up and walked over to the bar. As McElroy got into his truck, someone shot him in the back of the head. The town just went back to their business. When the witnesses (like the entire town) were questioned, everyone claimed they didn't see anything. No one as ever been arrested.
the winter of 1941-42...
The Soviet scientists starving to death saving the seed bank of Leningrad during Hitler's invasion in the winter of 1941-42 despite it being full of corn, wheat and potatoes.
That level of dedication is just unimaginable. To go against your survival instincts and starve to death in order to not eat that food. I can't even comprehend.
GRRRR....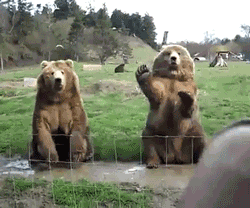 Giphy
Wojtek was a bear who fought Nazis in return for cigarettes and beer. He didn't die until 20 years after WW2.
My favorite part about that story is that after the war he lived in a zoo. It was common for soldiers from the bear's company to come visit and simply jump into the enclosure to play with him, much to the zoo keepers' annoyance.
I'm gonna die laughing!
Apparently, death from laughter is an incredibly rare but a completely legit cause of death.
In the third century BCE, Chrysippus, a Greek Stoic philosopher, died of laughter after he saw a donkey eating his figs.
And Chrysippus' is not the only isolated case. Among the few other cases, a fifth-century BCE Greek painter, Zeuxis, is said to have died laughing at his painting of the goddess Aphrodite for which an old woman (who had commissioned the painting) had insisted on modeling.
Also, Cleopatra, the ruler of Egypt in the first century BCE, claimed that her retainer died laughing at her husband's death.
According to the linked Wikipedia article, the most recent case is that of Ole Bentzen, a Danish audiologist, who saw a funny scene in a comedy film and laughed so hard that his heart rate rose to a point where he had a fatal heart attack, in 1989.
From what I understood from reading up on this topic, it's not the act of laughing itself but rather a fatal repercussion from a fit of laughter, such as cardiac arrest, asphyxiation or aneurysm, which causes death.
For instance, Ole Bentzen suffered a heart attack as a consequence of the terrible fit of laughter he had. It's possible that such was the case of Chrysippus (and others) as well.
(I always thought of 'I'm gonna die laughing!' as a hyperbole, and I myself use it quite liberally. But I guess every hyperbole has a grain of truth to it.)
Codename : "stargate"
The CIA was researching psychic abilities for 30 years as a way to spy on the USSR. After 30 years, the program was terminated, and their conclusion was that psychic powers probably don't exist.
Edit: The actual conclusion was that the evidence for remote viewing was un-falsifiable (and therefore un-provable).
Many of the more promising results were believed to be caused by information leakage, meaning that test subjects had prior knowledge about the subject they were asked about. They were unable to verify any of their results because of this, and even if the psychic abilities were real, they were unreliable at best.
Edit 2: The codename fro the project was "stargate" you can find the documents on the CIA website here.
Lakes of Louisiana.... 
In 1980 Lake Peigneur in Louisiana drained like a bathtub with the plug removed. Oil Drillers on a rig in the lake had hit a mine shaft below. The rig, barges, a tugboat and part of a nearby island got sucked into the largest man-made whirlpool ever.
Battles Amany...
The Battle for Castle Itter near the end of WWII saw US soldiers, French POWs, and the German army fighting on the same side to hold the castle against an SS tank division.
To make it even weirder, the French prisoners included several prime ministers and a tennis star.
What an absolute legend.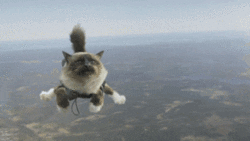 Giphy
In 1971, a teenage girl named Juliane Koepcke was on a plane that was struck by lightning and disintegrated in the air. She plummeted 3,000 meters strapped to her seat, and landed in the Amazon rainforest.
Her mom had been on the flight with her, and Juliane searched in vain for her mom, but Juliane was the sole survivor of the crash. She survived 11 days alone, treating her maggot-infested wounds with fuel and using tracking techniques her father had taught her, before she found a boat that she used to make her way back to civilization.
What an absolute legend.
Want to "know" more? Never miss another big, odd, funny, or heartbreaking moment again. Sign up for the Knowable newsletter here.
Keep reading...
Show less