Certain types of behavior of any individual can have an adverse impact on those around them without being cognizant of it.

More specifically, when it comes to men who lack self-awareness, the things they say or do in the presence of women can be highly inappropriate or intimidatig.
Unless they are called out for their toxic masculinity, guys will continue to get away with it.
Fortunately for this thread, women pointed out a few things everyone could benefit from when Redditor metallicmuffin asked:

"Women of Reddit, what things do men do that frighten you without them even realizing it?"
For the guys don't have a clue, things were spelled out for them.
Not Up For Debate
"Demanding justification for every no, and when it's given, arguing about how my reasons aren't valid."
– nesapotamia01

Lack Of Spatial Awareness

"Invading my space. I used a massage chair a few weeks ago at the gym, and it's one of the newer models that will lift you and bring you to a reclined position about three feet off the ground (I'm 5'1 so for some that may not seem too high, but for me it's pretty elevated feeling. There was this man who walked into the room, kept looking at me, and tapped me to ask me my name and tell me I was 'pretty.'"
"I had headphones in, my eyes were shut, and I CLEARLY was not wanting to engage with anyone. Flashed him my engagement ring (my fiancé wasn't at the gym at the time) and told him my fiancé was coming to join me. Never saw a man book it so hard."
"It's so frustrating that no matter who CLEAR you are trying to make the fact you are a woman who is not interested in talking to people it's not respected. Until you insinuate a more masculine partner is present."
"May have been intentional there, but I feel like a lot of times invasion of space can be unintentional."
– BlooberrySoftServe

In Conversation
"The only things they say to you (even if not inappropriate) are sexually charged or are inappropriate…"
– Lumpy-Actuary8275

Obsessed
"This dude used to come into The restaurant I was waitressing at and would wear this 'Cum & Go' shirt and would offer to buy a bunch of underage girls shots. He didn't realize he was creepy, you could tell by the way he paraded his friends around with his boom box and play loud music on the patio of the restaurant. Apparently he was a rich pr*ck who donated money to the restaurant all the time."
"After I left, I heard a story that he fixated on one of the waitresses that was nice to him, and he would follow her around and to her car. He even bought her a sh*t Ton of expensive presents for Christmas which she refused."
– Catcrazyfwm

There Are Boundaries
"It's not frightening, per se, but it definitely makes me wary because it could lead to situations that are frightening..."
"When talking to a guy, he's super pushy. Like, asking for pics of this and that (and that) and even saying no, they're still pushy... all that makes me do is not want to meet him. If he's THIS pushy via text/messaging, how pushy is he going to be in person? If he can't take no NOW, what are the odds he can take no in person?"
"I once had a guy DEMAND that I rank my sexual partners. I told him no. I told him 'I can't and I won't.' Dude flew off the digital handle. I blocked him right then."
– erikalg_vo

A Violent Streak
"When men try to show off their 'dominance' over you or anyone really. Like when you mention something to a guy about another guy and he goes 'I'll kill anyone who talks to you' it's quite frightening really."
– [deleted]

Just because a woman is by herself doesn't mean it's an invitation to get to know them.
Creepy Ride
"Approaching while in a car and blocking our path with said car. Happened while I was on a walk so he could have parked, approached on foot, and maintained a respectable distance."
– stellacdy
When Not To Approach A Woman
"Please don't talk to or approach a woman pumping gas, especially at night. I'm sure the moon does look amazing but I am not interested right now. Gas stations are creepy enough without having to make small talk with a stranger. This goes for parking lots at night as well."
– museum-mama

He Just Wanted To Be Friends
"Oh god I had one of these guys, he 'opened' the train door for me to get off (it opens automatically) and so I said 'thanks.' Apparently he took that as an invitation, because he then followed me through the station trying to talk to me. I was polite but dismissive. He was creeping me out so I stopped to top up my metro card even though I didn't need to. He stopped and waited for me. I pretended I didn't see him."
"He then followed me out of the station asking me where I lived (I lied) and then asked me if I had a boyfriend (I said yes). He then asked if I had Facebook (I didn't answer) and then asked me if my boyfriend had my Facebook password?? He then told me 'you don't need to be scared of me, I just want to be friends.'"
"By this stage I was fully freaked and was texting my boyfriend about it. I didn't want to go to my bus stop in case he followed me home, so I walked to the most populated street I could find, still ignoring him while he followed me. Eventually I went into a supermarket and thankfully lost him."
"I have never spoken to a man on a train or at a station ever again. I don't even make eye contact."
– lorealashblonde
Please, Don't Follow
"Too many people feel comfortable doing this. I had a stranger do that to me on Hollywood Boulevard once. Ended up going into the CVS and asking a friend to come and walk me home."
"People: A lot of us are not prepared for a stranger to follow us around. Whether or not your intentions are good, it makes us uncomfortable. Find a different way."
– yendysailartsua

Respect My Space
"Standing too close. How do you know if it's too close? I'll back up half a step, DON'T match it."
– JustSteph80
Body Language
"Working customer service, old people always f'king do this. I'll even take a second back step and they'll match that too. It's like 'bro, I'm trying to politely tell you to back the f'k up.'"
– davyjones_prisnwalit

A Tip
"I got really good advice once: take a step back with one foot and kind of lean your body more towards that foot, combined with defensive body language like crossing your arms you're putting distance between you and they can't match your step because your other foot is in their way."
– temporarilytempeh
Things don't always turn out to be horrific.
"Horrible Date Plan"
"3 years ago I matched with a guy on tinder and agreed to meet up with him. He suggested going to a park and when I got there it was a heavily wooded area with a trail and I stupidly followed him into the trail. We walked around for a while, sat on some rocks, then it started getting dark and we decided to head out but we ended up getting lost and not being able to find the exit and we stumbled upon a grave sized hole in the dirt and at this point it was pitch black and I was thinking it was all a set it up and that I was going to be ambushed. I pointed out the grave sized hole and he seemed scared too so I gave him the benefit of the doubt and stayed quiet. We finally found an exit after about an hour of stumbling in pitch black darkness. We're still dating to this day and I've brought up what a horrible date plan that was, and how it came off the wrong way lol and he said he didn't realize it at the time. It was a total curb your enthusiasm moment (I was picked up that day so I didn't have a car with me to back out and drive home, so that was pretty dumb of me too)"
– Top_Ant40

Lesson Learned
"Guy who I sometimes see at work, has at least 20 years on me, f''king pulled my ponytail to 'say hi' one time. So shocked that I just smiled awkwardly and didn't say anything. Like what world are you living in that you think that's okay??"
"Edit: This got kinda big. Some more details -- I was able to talk to him later that day about how that wasn't acceptable and to not do anything like it in the future. He actually took it pretty well and has been fine to work with since. In this case, since there was no escalation, and I know my boss and other coworkers have my back, I didn't feel the need to do anything further. While some people have good intentions and don't know their behavior is out of line--those actions still cause hurt. Personally, as long as the person is able to acknowledge that hurt and do better moving forward, I'm good with them. Malicious predators are a different story. It can be hard to tell the difference in some situations. Y'all be careful out there."
– almeisan_s

Gentlemen, check yourselves–especially your behavior around women who don't know you.
Some of your actions could be interpreted differently than your intentions, and it's time women's voices are heard.
We spend a lot of time talking about the toxic aspects of masculinity, but there's so much more to being "manly" than anger and weird smells.
Reddit user Acolyte_000 asked:

"We hear a lot about toxic masculinity, but what are your favourite examples of positive masculinity?"
There's stuff like figure skating, tea parties, and warm hugs - take a look at what we mean.
Gym Bros
"Gym bros randomly appearing to spot or encourage is hilarious and positive."
- DEFINITELY_NOT_PETE
"I was trying to figure out a machine at the gym, when I was 19. I was chubby, female (still female, fyi) and wearing glasses. My gym clothes was just sweatpants."
"I did NOT look like I belonged, and I didn't feel like it either."
"So yeah, I'm standing there looking all confused when this huge gym bro comes over and asks me if I need help. I say yes, and he proceeds to explain to me how the machine works. He is not condescending or anything, just real nice."
"Gyms still freak me out, but it meant a lot to me that this dude saw I looked confused and went out of his way to help me. Small things like that always make me feel like humanity is alright."

- simulatislacrimis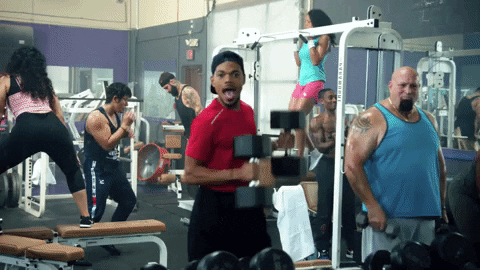 Working Out Lifting Weights GIF by Chance The Rapper
Giphy
"I feel like I owe it to the world."
"I was once an overweight 19 year old trying to figure how to gym. I've had so many random people help me along the way including professional strongmen, bodybuilders, elite powerlifters, and people with decades of experience."
"90% of the people I've interacted with at the gym have been extremely helpful and thankful."
"Over a decade of training and it's apparent to most that I can lift some big weight. I make it a point to help the younger lifters. Most of the time it really makes their day, they learn something new and are appreciative."
- OreoPunchDonky
"I'm a woman who usually lifts solo, and a good guy friend is a hardcore gym bro who texts fantastic advice (bonus - usually only when I ask for it!) and encouragement. That's awesome by itself."
"But once I joined him and his friends for leg day and witnessed super positive masculinity that struck me as so cool - the way they hyped each other up, encouraged/spotted each other to 'give me one more, come on you got this!!!' and congratulated each other after was just so pure and cool to watch."
"It's not that women don't do something similar, I think what made me really notice this was just that it was the different masculine style of doing it? It was awesome."

- GonePlaid2
Buying Drinks
"My husband switching seats on an airline with a teenage girl being harassed by an old creep."
"He's very large, bearded, and wears metal t-shirts. He plopped down next to creeper and said 'you said you were buying drinks?' "
- sagegreenpaint78
"F*ck yeah! Metalheads might look scary, but you'd be hard pressed to find a more friendly and welcoming bunch!"
- vidarino
"As a mom of 2 daughters, I appreciate this so much. What a great guy!"
- Sleeplesshelley
Raising One
"I fell asleep on the sofa after a really hard day, but I was sort of dozing, not fully asleep."
"My 16 year old son came into the room, saw me sleeping, and started tiptoeing around, shut the blinds, turned the lights off and covered me in a blanket because he was going to use the backyard gym which required a window to be open for an extension lead and he didn't want me to get cold."
"It was just so thoughtful and did surprise me a bit because he normally has tunnel vision."
"He's also really stepped up the last few weeks, I've been on sick leave, I'm a nurse and got attacked by a patient so have my hand in a soft cast for ligament damage."
"He's cooked pretty much every evening. He has also been meal planning for the week. I am married, but it's turned into a bit of 'us time' and he's really enjoying learning to cook."
"I'm so proud of him and told him this the other day and we had a huge hug. I love him so much."
- teflonfairy
Figure Skating Fans
"I'm a figure skater."
"We share the ice with hockey players, and I cannot get over how nice it feels when hockey players get rowdy and bang on the glass and cheer when you're doing something cool, the same way a hockey fan would at an exciting hockey game."
"It's hilarious but it's also confidence inducing."
"When it first happened, I thought they were trolling me. I just rolled my eyes and continued my practice. But when I got off the ice, I was swarmed with questions like:"
" 'HOW DO YOU DO ALL THAT WITHOUT PADDING OR A HELMET?!' "
" 'HOW DO YOU LAUNCH YOURSELF INTO THE AIR LIKE THAT?' "
" 'AREN'T YOU AFRAID OF FALLING?' "
" 'DON'T YOU GET DIZZY SPINNING THAT FAST?'"
"It's wholesome as f*ck. They're genuinely intrigued by this sport."
"A bunch of dudes who make their own sport even more entertaining by beating the sh*t out of each other have no shame in getting rowdy to hype up their figure skating counterparts."
- Preskewl_Prostitewt
"I know how skating works and just jumping and spinning like you do is voodoo, at least to me."
"I get pucks shot at my head, but what you do seems a lot more dangerous! And you make it look good, it's really impressive."
- figaaro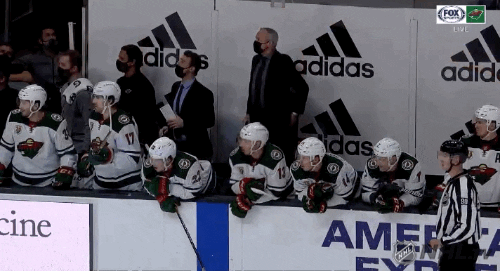 Celebrate Ice Hockey GIF by NHL
Giphy
5 Minutes To Get Some Pants On
"Using pickup trucks to help others out."
"Need help moving? In the Ditch? Stuck in the snow? 'Gimme 5 mins to throw some pants on and I'm there.' "
- Kate_be_my_GF
"A lot of guys around me just drive around in their pickups during snowstorms to pull out people who are stuck. Or they carry chainsaws with them to cut trees that are blocking the roadways."
- anoncop1
"That's my circle! I've had to leave in the middle of the night several times for random... 'dude I need help.' "
"My favorite to date was 'You're not going to believe this but I am stuck, bring your floor jack and chainsaw..' "
"He was literally stuck on top of a tree stump."
- cloudywater1
Lift Like A Leader
"I had a boss that was a real muscle head, but in a good way. Every time someone was having a bad/rough time he'd suggest we take a long lunch and go with him to the gym."
"He did this with multiple co-workers, taught a lot of us how to properly squat and deadlift."
"This was like 7 years ago, and I still squat and deadlift regularly, where as before I would simply just use the treadmill and maybe the circuit room at the gym."
"Not saying I'm in peak physical condition, but certainly in a better spot after him helping."
- Moots_point
"That's not a boss dude, that's a leader."
- Aguythatdidthething
"Exercise really is meditation."
"You get so focused on the movement, on the exertion, that it takes your focus, and your thoughts are no longer on what was previously stressing you."
- MarkToaster
"That is dope. Exercise is such a great stress reliever and there's no reason that 'work' needs to only take place in the office."
"If a manager needs to talk something through with their worker, why not do it on the bench or at the rack?"
"Me and my former boss might have had better discussions if we'd done that rather than sitting 1:1 in his office with me uncomfortable as hell."
- juancake511
Manly Dads
"Manly dads who patiently sit on the floor and have a tea party with their toddler daughters."
- marcus_borealis
"Speaking from experience, it's relaxing as f*ck."
"Lets me forget that the world is on my shoulders while I just sip some tea with My daughter, Barbie, and the LOL dolls."
- BellEnd1980
"I'm 6'3 200lbs but I have a toddler niece that loves tea parties."
"If she puts a tiara on my head and tells me we're having a tea party , you bet I'm going deep into character as Mrs. Nesbitt!"
"It'll be the best tea party of your life. Trust me."
"Also it helps when there's young men around. I have little brothers and I think it's important to show that you can do things not perceived as masculine. And vice versa for women."
- Sammsquanchh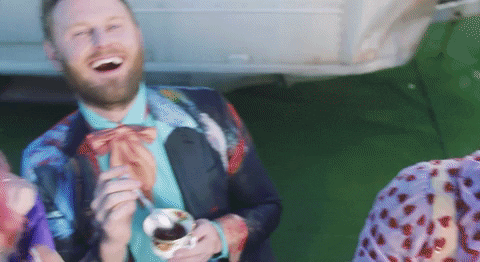 you need to calm down queer eye GIF by Taylor Swift
Giphy
Bro Hug
"In high school one time, a guy gave his guy best friend a birthday gift. Guy 2 loved it so much he gave guy 1 the biggest hug in the middle of class."
"I think everyone's hearts melted. All guys should be that confident / allowed to be that confident."
- 2curmudgeony
"Positive friendships between men are SO important. Men being able to share their feelings and navigate their experiences with other men is too rare."
- shandyism
"I got my homie a succulent for his birthday!"
- ThaDFunkee
Hairy Sweaty Guardian Angels
"A long time ago in a galaxy far far away, I was a 13-year-old girl alone on a Greyhound bus from Florida to Georgia."
"I was on that stupid bus for 2 days. For the first 4 hours, the creepiest hobo in the universe sat next to me, randomly trying to grab me - who was 13 years old and alone on the bus."
"Then these two guys who were going all the way to Washington State and were going to be on that bus for 4 days to get to a logging job, boarded the bus. One was a 17-year-old kid and the other one was a 45 year old man."
"They ousted the hobo and sat with me the rest of the way, the 17-year-old sharing stories about growing up in Miami in a very intolerant Latino household, and the 45-year-old Man spent that time showing me pictures of his daughters and telling me all about them and how hard he was working to make sure they had everything they needed."
"They made sure I got dinner that night, they made sure I got breakfast the next morning, and they made sure that I safely made it from the bus to the main campus of Georgia tech University, for the stupid 'Future Engineering' teen conference I had to go to."

"That trip could have been a horror story for me at the tender age of 13. I do not know how in the world my mother thought this was safe in any way, to send me to Georgia by myself on a Greyhound bus at 13."
"Those two dudes were, to put it simply, my hairy and sweaty guardian angels."
"Norwegian blonde dude and Latino kid, it has been decades since this went down, but I still remember you both and always will."

- FlamingJuneinPonce
Reddit loves a good man and now we have examples of just what that means.
You've heard their stories, now it's your turn. Tell us about your brush with positive masculinity in the comments!
Want to "know" more?

Sign up for the Knowable newsletter here.

Never miss another big, odd, funny or heartbreaking moment again.
Some men seem to think they've got everything all figured out. Until their arrogance come back to slap them upside the head to prove they were never right about the things they claimed to have knowledge of.
Like women, for instance.

Curious to hear examples of what men have assumed about the opposite sex, Redditor Top_Run4841 asked:

"What is one thing, that a man would never understand about women?"
Period pain was a heavily discussed topic.

Here Comes The Flood
"For me it's when I'm peacefully sleeping in bed and I wake up and feel the gush when I'm laying down. It means I have to get up real fast and run to the bathroom to try to not ruin my sheets and clothes."
– whorgans

Bodily Response
"Laughing, coughing or sneezing - and promptly giving birth to a red jellyfish."
– groats219
"That and clots are the worst about periods aside from cramps."
– Pinecone55
Nothing Pleasant About It
"What an absolute annoyance having your period is. Everything about it is horrible."
– Kayakityak

Women discuss the emotional aspects of menstruation.
Uncontrollable Emotions
"Feeling sad and tired for no reason, because my body is starting to produce less serotonin before my period. I get so sad and I can't do anything to feel happy for like 2-3 days a month."
– Organic_Ema

Deeper Than Depression
"The hormonal depression is the absolute worst. Somehow it's deeper than average depression. Just a horrible, lonely sinkhole. Even knowing why it's happening doesn't help."
"I face it by driving around, feeling somehow more than empty, trying to fight the urge to run away from my life and vanish into the dark like a dying cat."
– fifteenlostkeys
The Mood Swings

"The worst part for me isn't the physical aspect. It does suck, but I have a harder time with the hormone cycles/mood swings every month. I get incredibly depressed, insecure, and have a hard time being around others."
– greenwitchery

Redditors mentioned the vulnerability felt by women.
Always Being Vigilant

"How the safety of where we go is always there. Like, I would love to go camping alone somewhere… would I? Nope. Leaving a store at night, we have to be on guard. Walking the dog at night or through woods alone? Always on guard."
– heathers1
These Low Effort Jobs Have Surprisingly High Salaries | George Takei's Oh Myyy
Have you ever worked one of those jobs that paid you to kinda sit there? If you have, you know the joy that comes with watching the entirety of Breaking Bad ...
Staying Alert
"The constant checking and awareness of your surroundings because you just don't know when you could find yourself in a bad situation. I'm constantly figuring out my exit strategy when I'm in a new or unfamiliar place."
– peanutbutterismybf

Safety Precaution
"Also being mocked by men for taking reasonable safety precautions, like locking the doors when you are home alone, locking the car doors as soon as you get in the car, and looking around you to see who is nearby when you are walking from car to store, etc. Not all men do it, but some act as though you're paranoid and unreasonable."
– gracesw
Interpreting A Smile
"That even though we might be 'prettier if we smiled', we literally can't do that even if we want to, because smiling is interpreted by too many men as a sexual invitation. Men are drawn to smiling women like sharks to a bleeding baby seal."
– Haustvind
Sojourns
"My male friends are always like 'everyone should travel solo across Europe at least once in their life'… like no thank you I don't want to disappear."
– chewypotato21

The Habit
"It's been drilled into me since I was a kid. 'Never go anywhere alone.' My mother would always tell me to take a friend with me even if just to go for the bathroom if we were "somewhere" (swimming pool, park, the mall, etc)."
"I think it's the case for most girls. We're told to do that since such a young age, we never really question it because it became a habit."
– mykingdomforawaffle
The Effect Of Strangers
"Why we are f'king terrified of y'all as strangers whenever we go out alone. I've tried to explain it to some and always get 'well all guys aren't the same' THATS NOT THE POINT."
– cantbesohelpmenotbe
Other discomforts were discussed.
When The Wire Snaps
"Bras hurt. Sometimes the wire breaks free and attempts to impale the boob."
– InWake
Fancy TP
"High quality toilet paper is deeply important to women because we use it every single time we pee or poop and extra when we're on our period."
– MyVillainOriginStory
Being Comfortable
"Holding my b00b means nothing s*xual. Sometimes I do it instinctively. It's comfortable and warm."
– Puzzleheaded_Net9759

What Guys See
"Having guys assume that smiling, talking, or otherwise showing basic human decency to them means we're flirting."
– White_Wolf_Dreamer

Pregnancy Aftermath
"How your brain gets re-wired by pregnancy. And I don't just mean the 'I'll kill anyone who tries to hurt my little bologna loaf.'"
"I mean how some foods you loved now taste like crap. And others you only tolerated taste like heaven. How some smells are now more intense or slightly off from before pregnancy. That you can't remember how to drive a stick shift (true story, ground the gears for at least a month) but can put together some complicated as sh*t storage unit with no instructions and nothing but a pair of pliers and a nail file, while 8 1/2 mos pregnant."
"That you can spy a poisonous plant from 50 yards away but can't find the orange behind your water glass. And that if/when you get pregnant again everything will get re/wired in a different way."
– meld68
For men who claimed to know a lot about women, it turns out they have much to learn, and the women of Reddit had no problems spelling things out for them about their gender-specific issues.
So gentlemen, think twice before you start mansplaining how the fairer sex might feel in any given situation. You may be gravely mistaken.

Want to "know" more?
Sign up for the Knowable newsletter here.

Never miss another big, odd, funny or heartbreaking moment again.
Irrespective of men's sexual identity or preference, there are men who hate sports, and there are men who love musical theater. Do participating in either activity make men straight or gay?

Unfortunately, we live in a society where a good majority of people like to put labels on others who are defined by their propensities that either make them more or less, masculine.

Curious to explore perceptions challenging heteronormative behavior in men, Redditor Biscuitgod1 asked:
"Straight men of Reddit, what is the strangest thing you have been told not to do because 'that's gay?'"
The following behavior just screams, "gay," fellas. Watch out.

Song Choice
"Sing a Lily Allen song during karaoke."
– KentuckyFriedEel

School Protocol
"Advice I received in high school from other students:"
"Don't cross your legs with one knee over the other. Put one ankle over the other knee."
"When carrying books, palm them and carry them at your side. Don't rest one edge of the books near your waist."
"Never button the top button of your shirt."
– Gorf_the_Magnificent

Look, But Don't Look
"This one time, at summer camp, this guy who'd just been swimming in the lake told me you could tell how cold the water was by how hard his nipples were. 'But don't stare too long,' he said, 'because that's gay.'"
"You were the one who told me to look in the first place!"
– SonOfTheShire
Sandwich For Sissies
"When I was a kid, my dad called me a sissy because I cut a sandwich diagonally."
– captainmagictrousers

Getting Woodwind
"I played the clarinet. I got called Faginet a lot."
– Virtual_Caramell

Choice Words
"I Was told that the word assumption made me gay. This guy thought big words (?) made me an intellectual, and in his mind, intellectual - gay."
– PWesterberg1977

Living In Narnia
"Hot tea is gay?"
"Well f'k me, my entire country must actually be Narnia, seeing as we all must be deep in the closet without knowing it over this hot tea situation."
– Sonnyboy1990

The Singing Competition
"Watch the Eurovision Song Contest."
"I don't care, it can be as gay as it likes I still want to hear the music. (Although seriously the uk needs to up its game but that's another story)"
– zippy72

"But that's what women do," one might argue.
Daddy Duty
"Changing my daughter's diaper. Mentioned it in the office one day. Called gay."
– Bullydaddy
People Break Down The Nicest Celebrities They've Ever Met | George Takei's Oh Myyy
They always say, "don't meet your heroes." But here's the thing, sometimes your celebrities are actually just chill, normal people who are overjoyed to meet ...
A Lighter Shade
"Buying a white IPhone."
– Freshrendar
"Added my husband (then boyfriend) to my phone plan. Went to the store on my own to upgrade both our phones. We both just wanted the next gen Samsung. It was only available in purplish-pink in store."
"I shrugged and said it didn't matter, he's putting a case on it anyways. Guys working at the store kept trying to talk me out of it, actively pushing me to go to another store, making them lose commission, just so my partner wouldn't have a feminine phone. He used his pink phone for 3 years."
– Caity26

Life Skills
"I've been criticized for knowing how to sew and cook. Those are essential life skills!"
– placeholderNull
"My father was a Marine drill instructor in the 50's. Guess who did all the sewing in my house growing up?"
"Yeah, no one dared to call him gay for it."
– desrever1138
Lots Of Colors
"When I was 10 or so, I brought an umbrella to school on a rainy day with the colors red, yellow, green, and blue. My dad of all people told me to never use that umbrella again because the colors were too closely resembled to a rainbow which stood for homosexuality."
"I was f'king 10, I was far from puberty and had no idea. I just wanted to stay dry and grabbed the only umbrella available at the time."
"Now that I think about it, why did we even own that umbrella then? HUH, DAD?"
– ThaDFunkee
Bad Flavor
"My dad told me 'rainbow sherbet is for p**sies' when I was like eight. I stopped eating my favorite flavor for 10 years until I had that flashback and asked him about it".
"He said 'Oh, I didn't like rainbow sherbet and always had to finish the parts you didn't eat so I wanted you to get mint chocolate chip instead.' It makes me wonder what things I might say to my kids that will scar them for life without even thinking about it."
– vincentrm

Girls And Gays Apparently Have This In Common
"i'm a teenager, not quite a man, but here's a story."
"a kid asked me if i liked crunch or creamy peanuty butter, i said creamy, and they told me since i like creamy peanut butter and not crunchy, it was 'gay,' because 'only girls or gay guys like creamy peanut butter.'"
"i was so confused."
– TiredSkylar

Here are examples of guidelines for being a manly man, according to manly men.

Manly Appetite
"Not a straight man but... back in my bartending days I asked a man if he wanted to see a dessert menu. He said 'if I wanted dessert I'd order wings like a real man.'"
"Weird flex but okay."
– BigJiggies

When I'm In The Mood, I Masticate
"When I'm feeling extra manly, I just take a bite out of a cow and then chew on some raw wheat."
"Like a man."
– AmigoDelDiabla

No Appointments Necessary For Straight Men
"I left a pick-up basketball game because I had an appointment to get a haircut. Evidently, the only straight way to get a haircut is as a walk in."
– patricksaurus

Abiding By The Law Is So Gay

"Using turn signals. And not as some sort of euphemism, but literally using them while driving to turn or change lanes."
– Sargatanus

In grade school, some fellow classmates asked me to check for gum on my shoe because they saw me step in some.
When I lifted my leg to take a gander, the boys were howling hysterically as if my actions confirmed something.
Well, it sure did. Apparently, if I l looked at the bottom of my shoe from in front of me, I was "normal," but since I bent my leg back and looked at the bottom of my shoe from behind, that made me "so gay."
Although, I didn't come out 'til years later, maybe those goons were onto something. Thanks for the heads up, guys.
Want to "know" more?
Sign up for the Knowable newsletter here.

Never miss another big, odd, funny or heartbreaking moment again.
Unfortunately, toxic masculinity is still passed down from generation to generation. Things are deemed too "girly" for a man to do when they really have no reason to be so gendered. A lot of men out there do want to break these societal norms--but they may not know how to go about it.
These guys might have a few ideas. Reddit user Eicaker asked:
Boys, if it was considered more universally acceptable, what is a "girly" thing you would like to do?