Keep reading...
Show less
Dark Tool. 
The Syrian Ministry of the Interior used a tool called the "Black Slave" that was basically a chair where the torture victim would sit on while nude. In the space under the cushion were large very hot skewers that would enter the victims anus and keep going it reached the intestines. They would do a push/pull method until the victim collapsed under the stress or spoke. ChairForces
Sarcophagus....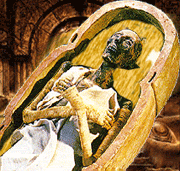 Giphy
This is completely fictional. But I think in the mummy or some movie like that some immortal dude got locked in a sarcophagus with scarab beetles that would eat him forever. JBatjj
Anguished. 
The pear of anguish looks pretty damn awful.
"The pear consisted of a metal body (usually pear-shaped) divided into spoon-like segments that could be operated by turning a screw.
This contraption was originally meant to be inserted to one's mouth to crank the key piece to expand the metallic petals. The quadruple or triple petals expand outward, forcing the victim's inner mouth capacity to stretch beyond its limits." Yeah yeah, I know it was used for other orifices, but mouth was the original intention.
Spanish Donkey was another good one. _ripzayn
The Basics. 
Tying someone up, keeping them fed and hydrated and injecting heroin into them for months until one day you decide to just leave them to deal with dehydration, starvation and withdrawals. I_FAP_TO_TURKEYS
Colorless....
Not the most screwed up but it's definitely a weird one.
White Torture is a form of sensory deprivation where the imprisoned is kept in a white room, made to wear white clothes, as are all the guards and they're even served white food on white plates. The lights are kept on at all times, no one was allowed to speak, and their shoes are padded to muffle sound.
The lack of color is apparently very mentally damaging. To quote Iranian journalist, Ebrahim Nabavi:
It is terrible. The loneliness never leaves you, long after you are "free." LittleRedLamps

Chief O'Brien
In an episode of Star Trek: Deep Space Nine, Chief O'Brien had 20 years of prison time implanted in his memories. He never actually went to the prison, but he thought he did. It messed him up. He tried to kill himself over it.
The writers of Star Trek really had it out for Chief O'Brien, poor guy. BagelDesk
Mickey Rat.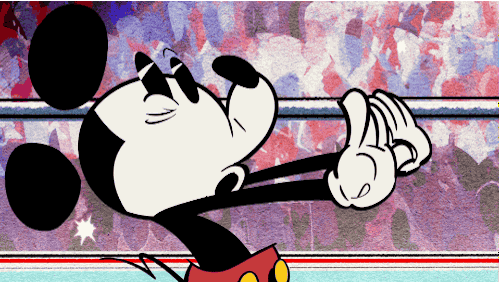 Giphy
Rat in a hotbox chained to a mans chest. BrokenMatchet
Dies too fast. The rat is placed on the condemned's stomach, so the rats eat his guts first trying to flee the heat. Spaiduhz
Too Real. 
I once witnessed a father with his 3 year old daughter watching the baby shark video on his phone, once it ended she would scream until he restarted the video, she watched that video about 10 times in a row and the look on his face was that of pure depression, so I'm going to go with that. pops992pops992
Passed Out Agony...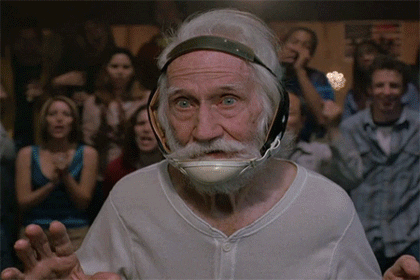 Giphy
This old guy I used to work with would tell stories about torture in Vietnam, and this one stuck with me:
They'd tie the captive to a chair with his hands behind his back and bring in a hooker. She would pull his pants down and dance, touch, whatever was necessary to get him erect.
Then they would take a thin bamboo reed and slide it down his urethra.
And they'd bend his penis in the middle really quick so that it snapped off inside. Monsieur_Pounce
Judas. 
The Judas cradle
You are stripped down and tied up by your and and legs. You are the suspended from the ceiling and dropped down butt first one a large metal spike. Most people bleed to death. thatoneguywhohasadog
The Wood...

Giphy
It would be hard to beat impaling, dying slowly over days with a wooden pole through your body. Vlad Tepes impaled kids too.
ThunderBloodRaven
​Keelhauling .....
Keelhauling - the victim is dragged along the underside of a ship so that the barnacles will cut and shred them whilst simultaneously drowning them.
MrsCrackpot
Fun fact. You were sometimes meant to be able to survive it - if you were hauled from side to side it was possibly survivable (I mean infection and whatnot made it a gamble). You could also be hauled from bow to stern. Less survivable.
sabre252
Lingchi.....
Lingchi, an ancient form of torture/execution from China in which the condemned is slowly and systematically cut into pieces through the use of literally hundreds/thousands of knives.
JimmyTheOtherCat
The Groin....
Upside down sawing from groin all the way down. Blood stays in your head so you stay conscious. So awful.
Scmethodist
The horrors....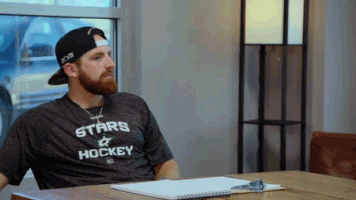 Giphy
The one where they put you in a metal bull and then heat it with a fire so that when you cook your screams can be heard and then when you start to boil your water escapes in steam out of its nose it pretty horrific.
dreadpiraterobert0
The Coop Prison.... 
There was a TIL on this a while back on the Thailand chicken coop prison, where you'd be under the coop in the cell and the chicken's droppings would fall on you with no escape.
Everyone commenting said that'd be the grossest smell and torturous.
llcucf80
Too Brutal....
One of the most brutal I ever heard of was that of Robert-Francois Damien. Damien attempted to assassinate King Louis XV in 1757 so he was sentenced to death. Thousands of people showed up to witness the execution... First, the hand he attempted to stab the king with was dipped in ethanol and then lit on fire. Then they took red hot metal pincers and ripped away his calves, quads, pecs, biceps, and triceps. They then poured molten metal into the gaping wounds where his muscles once were. After that, that tied each limb to a horse and made them ride in opposite directions. When it was clear that they weren't pulling hard enough to rip him apart, the soldiers beat Damien's joints with hammers to speed up the process. The entire ordeal lasted over 4 hours.
Bryan15012
 "The Jaunt."
While not explicitly for torture, there is a pretty horrific method in a short story called "The Jaunt." Some time in the future, humanity invents a method of instant teleportation. The thing is you need to be knocked out by anesthesia prior to using it. The story goes into the history of the machine where testing on animals and, later on, humans revealed that though the process of teleportation is outwardly instant, the conscious mind of the teleportee experiences billions of years in a white void, alone but for the company of their own thoughts, unable to move, unable to die.
One scientist shoves his wife, awake, into a machine and closes off the end point. He is convicted of murder because, although she is technically still alive, she's screaming somewhere in the ether, alone, for all of eternity.
bumholez
Bamboo honeymoon.....
Bamboo honeymoon is what I call it. I'm sure they had another name
But essentially you get strapped in a case over bamboo and left there. They will come to feed you and put honey on your body, face and make sure you stay alive, so you feel every inch of your body eaten by animals and insects, while the bamboo is growing into your rear end.
It sometimes took up to 40 days for prisoners to die, when I remember correctly. And this is nonfictional.
I cant come up with anything worse, really.
Tkoile_fuzz
Poop...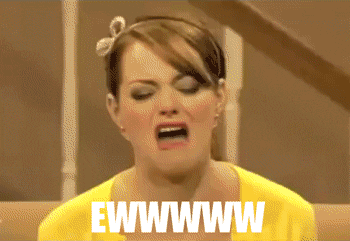 Giphy
Scaphism....
They leave you in a tub of water, constantly feed you so that you keep on pooping. You end up covered in your own poop until your body starts getting devoured by the parasites which appear within your poop.
SlayzorHunter
Keep reading...
Show less
There are just some situations you'd rather die than get stuck in. Well that's probably a tad on the dramatic side, but not by much. I will say there is nothing worse than being trapped at the DMV... that is a definitive "Take me now Lord" moment. But in the end it is the utter definition of "First World Problems." We have so many of those; situations that arise we think are a tragedy when in fact there are REAL tragedies occurring everyday... murder, famine, politics. But we get caught up in our lives and convince ourselves minor inconveniences are the end of the world. We are pure drama y'all!
Redditor u/NRmusiccringe wanted us all discuss a few fates worse than death by inquiring... Other than waiting in line at the DMV while your phone is dead, what is an example of "first world torture"?
Keep reading...
Show less