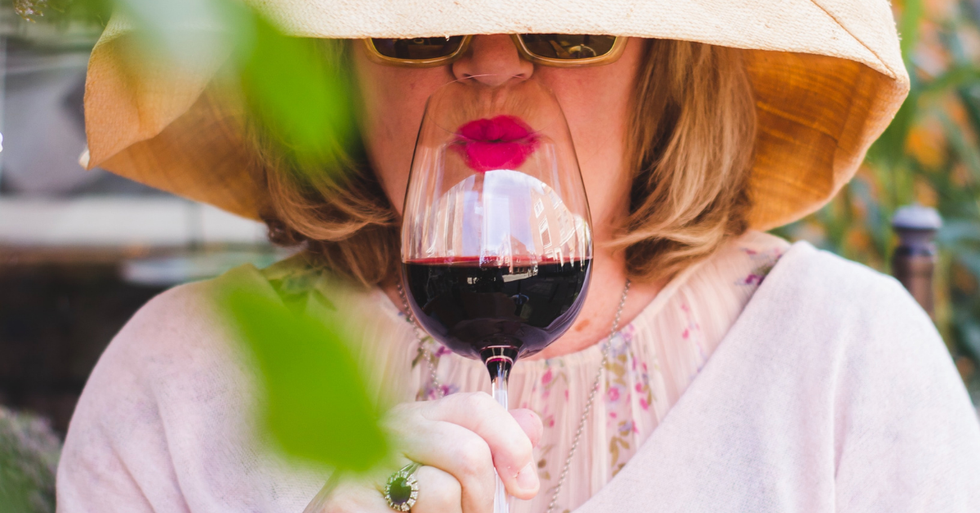 Every culture has a different relationship with its restaurants and its service workers, and that includes the expectation to tip. Some countries view the act of tipping as rude, while others actively depend on it, stated the "Am I the A**hole?" (AITA) subReddit. Redditor aitacoffeeserver was appalled when he discovered that a server had created […]
More
TikTok trends move fast. The hashtags and popular "sounds" go in and out of popularity sometimes within a week.
While some trends are fun and catch at first, if they're dragged on for too long they can become annoying and even painful to see repeatedly.
Some of them are even harmful, like pranks that other people didn't consent to. It's not new to TikTok, but the easily marketable platform didn't help stop them.
We went to AskReddit to hear which trends make people the most angry.
Redditor JaneDoe1967 asked:
"What TikTok trend gave you anger issues?"
This list might make you angry, so reader beware.
Dancing while oversharing.
"The ones where they dance to some sh*tty choreography and tell a super personal story."
"You're going to do the stanky leg while you talk about your mom's cancer? "
"Strange to me lol."- supragirl98
"Horrible dances."- mariommsfilho.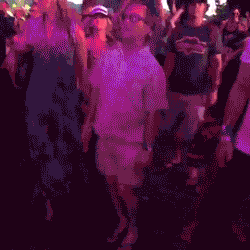 Dad Dancing GIF by Vevo
Giphy
Harassing people in public.
"Harassing innocent people who are just trying to buy groceries."- Alone-War2269
The fake pranks.
"The fake pranks with the extremely over exaggerated reactions, and perfectly scripted dialogue."
"I die a little bit every time one sneaks-in on my For You page."- novato1995
"Any 'prank' video where someone leads their SO to believe they are being cheated on"
"Like there was one where someone would pretend to accidentally text their SO 'they're gone now, you can come over' and then film their SO's reaction."
"Like that shit isn't funny, and I would 100% breakup with someone if they did that to me."- WitherWithout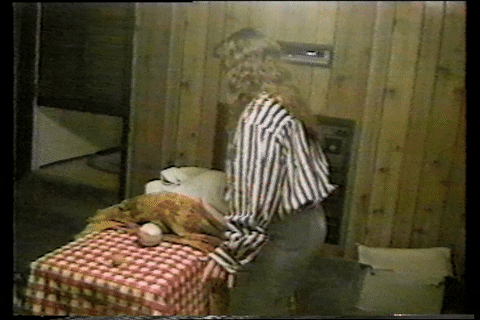 Scared April Fools GIF
Giphy
Not really adding to the joke.
"Lip syncing standup comedy."
"Your silent delivery doesn't not enhance the joke, it makes it weird."
"Oh, and duets where it's just the other person reacting/laughing. Especially when they've obviously seen the video before and are faking it this time."- soolaimon.
Licking ice cream then putting it back.
"That b*tch who licked a tub of ice cream then put it back in the supermarket fridge."- im-still-broke-broke
The "Oh No" song.
"Oh no Oh no Oh no no no."- JOSimpson.
Videos that need a second part.
"Anything with Like for Part 2."
"All videos that are multiple parts drives me up the wall because you cant just scroll to the next you have to move to their page and find your last watched then go up from there."
"It's frustrating."
"I feel old."- fatherping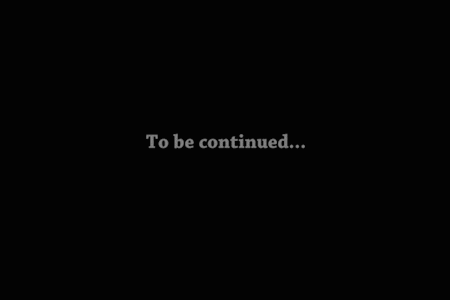 To Be Continued GIF by The Bachelor Australia
Giphy
Exploiting disabled people for views.
"Filming their autistic or mentally challenged relative that is clearly incapable of consenting to being the subject of all their TikToks."- MotherOfCrim.
Faking illness or neurodiversity for fun.

"People faking disorders of any kind and think they 'quirky' or 'cool,' depression and ADHD is not a fun combination."- Quirkyserenefrenzy.
Face Emojis.
"The face emoji crap, Chinese TikTok is like showing cool science stuff whereas our algorithms are underage girls doing face emoji challenges."
"TikTok is cancer."- Neffsss.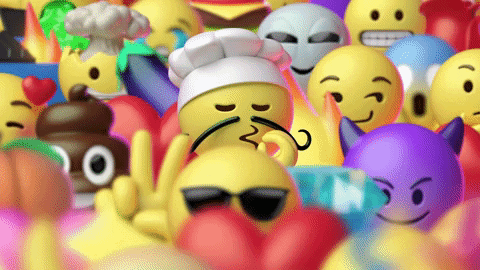 The Internet Emoji GIF by Originals
Giphy
Repetition.

"Had to delete TikTok because every second video has the same music."
"The same stupid voice overs."
"I hate it so much if the app was a person I would murder them."
"God I'm so angry right now."- digitalbilly.
The "Never" song.
"The song 'Never'."
"The moment i heard it,. it triggered a hidden rage."- pissing2u.
"It's Just a song."

"The stupid "it's just a song" like they'd take forever and do a part 2."- Rich_Ambassador_7634.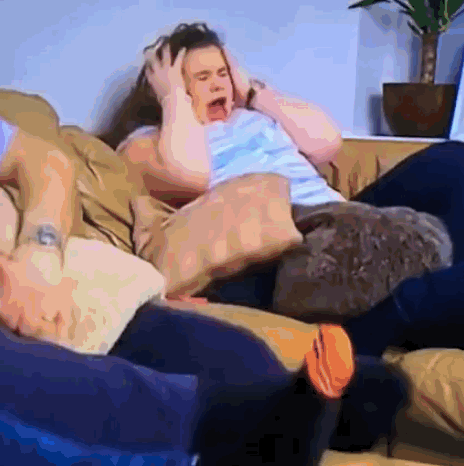 scared covering ears GIF
Giphy
"Open up the safe."
"OPEN UP THE SAFE B*TCHES GOT A LOT TO SAY ERR BOOM B*TCH."
"Makes me want to throw my phone every time."- No_Loquat_7443.
"Shake it off..."

"The 'shake it off gacha' trend because it's about body shame.- Few-Scallion4693.
Stealing.
"Devious lick' basically stealing sh*t and recording it."- CreepyPandaMan.
"My friend is a teacher and it was the 'licks' one where kids were stealing sh*t from school."
"She got mad so I'd get mad."- Exact_Roll_4048.
Every single one.

"Essentially all of them because they encourage bad behavior and people are top stupid to do anything else."
"Plus some of them are actually dangerous."- MeSwimBest1.
If you haven't heard of these before, don't look them up.
It will probably only incite rage upon seeing them.
Or you'll be left with a song stuck in your head.
Hopefully, the trends that are harmful to others end as quickly as they took off.
Want to "know" more?
Sign up for the Knowable newsletter here.
Never miss another big, odd, funny, or heartbreaking moment again.

Keep reading...
Show less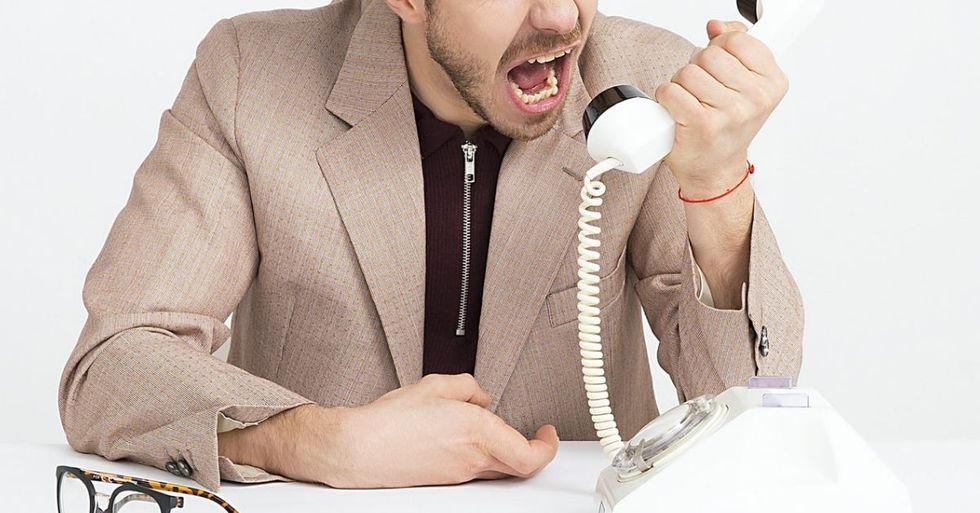 TikTok videos and content have gained incredible momentum. It seems like everyone is on TikTok now. Everyone wants to find a way to be insta-famous. How can one video top the next? And at what cost? Are we thinking the idea for these videos through thoroughly? Case in point… Redditor nippon_battery wanted to discuss his […]
More
A new poll from Quinnipiac University shows 70% of Americans believe social media companies like Facebook and Twitter are harming society.
This poll, released earlier this month, came as Facebook whistleblower Frances Haugen in her testimony before the Senate, said the company is putting profits before user safety. She is currently on a European tour and just yesterday spoke with British regulators.
But will anything be done?
Jury's out, but the outrage against Facebook and other social media platforms is real.
People shared their opinions after Redditor boba_fetish101 asked the online community:
"What are you sick of seeing on social media?"
"Maybe it's just..."
"People posting ludicrous amounts of personal information about their own children."
"Maybe it's just because I grew up in the age where we were constantly being told not to post personal information online, but it's bizarre to me how it's completely normal now for people to do it for their own kids."
"Here's daily pictures of my son Little Timmy. This is what school he goes to. These are the sports he likes to play. This is his birthday. These are the video games he likes. This is his favorite food. He has baseball practice every other day until 5 pm, etc."
"Are you trying to get your kid abducted?!"​
Good point.
People really need to be careful about the information they share about their children online.
"People watching..."
"People who watch a TikTok made by Suzan, a first-year Psychology major, saying if you can eat a Fajita in 8 bites you have ADHD or whatever, and believing it."
These people clearly need to take an actual psychology course, because something is truly missing here.
"mindless consumption"
"All this mindless consumption is eating brains, killing attention-spans, and silencing creativity. Original thoughts are rare these days. People will see a quote on social media and suddenly that's their entire life philosophy."
I hate how true this is.
Will we ever see the end of it?
"I swear..."
"Highly upvoted obviously fake content. I swear there is a whole minor industry out there manufacturing fake screenshots/posts so they can post them as outrage porn."
"Outrage porn" is the perfect phrase to describe it—and some people really fall for it.
"It's ok to follow the news..."
"People who think they are true crime investigators. They tend to just make the work harder. It's ok to follow the news, but speculating and hunting for tips and such when you aren't the origin of that information (like camera footage) or you never were involved in any way just makes everyone's life worse."
"Also, mad disrespectful to the families of any victims."
People who think they've solved the case of Gabby Petito are truly getting on my nerves these days.
Can you let investigators... you know, investigate?
"I don't care..."
"Things that celebrities are doing. I don't care that Kim Kardashian got the covid vaccine. The news should be reserved for actual news, not an active biography of some random person who people like."
Say it louder for the people in the back, please!
"Kinda sick..."
"Kinda sick of all the outrage that goes on all the time. It's like people are waiting for the next thing to get pissed off about. This cannot be normal."
It really isn't.
Believe it or not, society managed to do its thing before Facebook, too.
"I can't help it..."
"Bad grammar. I can't help it, it just grates with me every time."
As someone who loves the English language... yes.
All I have to say is "yes."
"People getting away..."
"People getting away with peddling fake news."
Yeah, some people are really pushing the limits of how far we can take this fake news thing, huh?
"Just in general, people getting mad about the most trivial of sh*t and harassing other people over it."
"You don't like so or so games, movies, TV shows, whatever. Fair, but you insistently bitching about it and harassing others who do like it is helping anyone."
Are you thinking of leaving Facebook, Instagram, Twitter or other social media? If so, we don't blame you. It's a jungle out there.
Have some observations of your own? Feel free to tell us more in the comments below!
Want to "know" more?
Sign up for the Knowable newsletter here.
Never miss another big, odd, funny, or heartbreaking moment again.
Keep reading...
Show less
Personal story time, folks!
As a child, my cousins and I would have speed-Waldo tournaments using the "Where's Waldo? series of books.
The winner would get a cold delicious can of Welch's grape soda. There were eight of us and I only ever won once, but let me tell you there was nothing more satisfying than finding that stripe-wearing sneak.
TikTok prankster @BlakeMessik is set to make sure at least one person is denied that satisfaction. We don't know what his beef with Waldo is, but it clearly exists.
Blake went to some serious lengths to pull a prank that's going to give someone, likely a child, a major frustration headache.
Blake's victim, probably.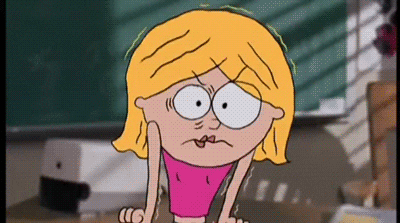 Giphy
So what did he do?
Blake bought a copy of The Great Waldo Search, took it home, digitally removed Waldo from every image in the book and then returned it to the shelf of the book store for some unwitting person to purchase.

He posted a short TikTok about the prank...
Lad learns Photoshop to edit a Where's Wally book... 😂 Credit- https://t.co/MSLGCYhJZW To use this video, Please… https://t.co/CS1biIVaah

— TheCONTENTbible (@TheCONTENTbible) 1581693061.0
We're not fans of putting the book back on the shelf.
That copy of The Great Waldo Search is likely going to end up in the hands of a child who is going to end up confused and frustrated thinking they're dumb for not finding Waldo anywhere. That child isn't going to know this is part of some internet prank done for likes.

Having said that, we'll admit that on some level this is downright genius. Evil genius.
If we had Blake's level of patience and skill, we would 100% do something like this and give the book to a friend...or enemy...or frenemy.
That video is only about 30 seconds long, which is common for TikToks, but we really want you all to think about just how much time and effort this must have taken. Blake had to purchase the book, take it home and find Waldo in every image.
That could have taken days in and of itself.
Once he found each Waldo, he had to then scan each image into his computer. Then he had to use Photoshop to digitally remove Waldo from each image.
If you've never done digital image manipulation you may not understand how time consuming that step is. You can't just delete Waldo, you have to then create patches for where he was standing.
Was Waldo in the corn? Well you're going to have to create more corn and match it seamlessly.
Once Blake was done removing and re-creating, he printed the pages out and glued them into the book. Again, you may not realize the time this would have taken.
This isn't a simple glue stick job. This required matching edges and texture of the book pages.
Blake is serious about this.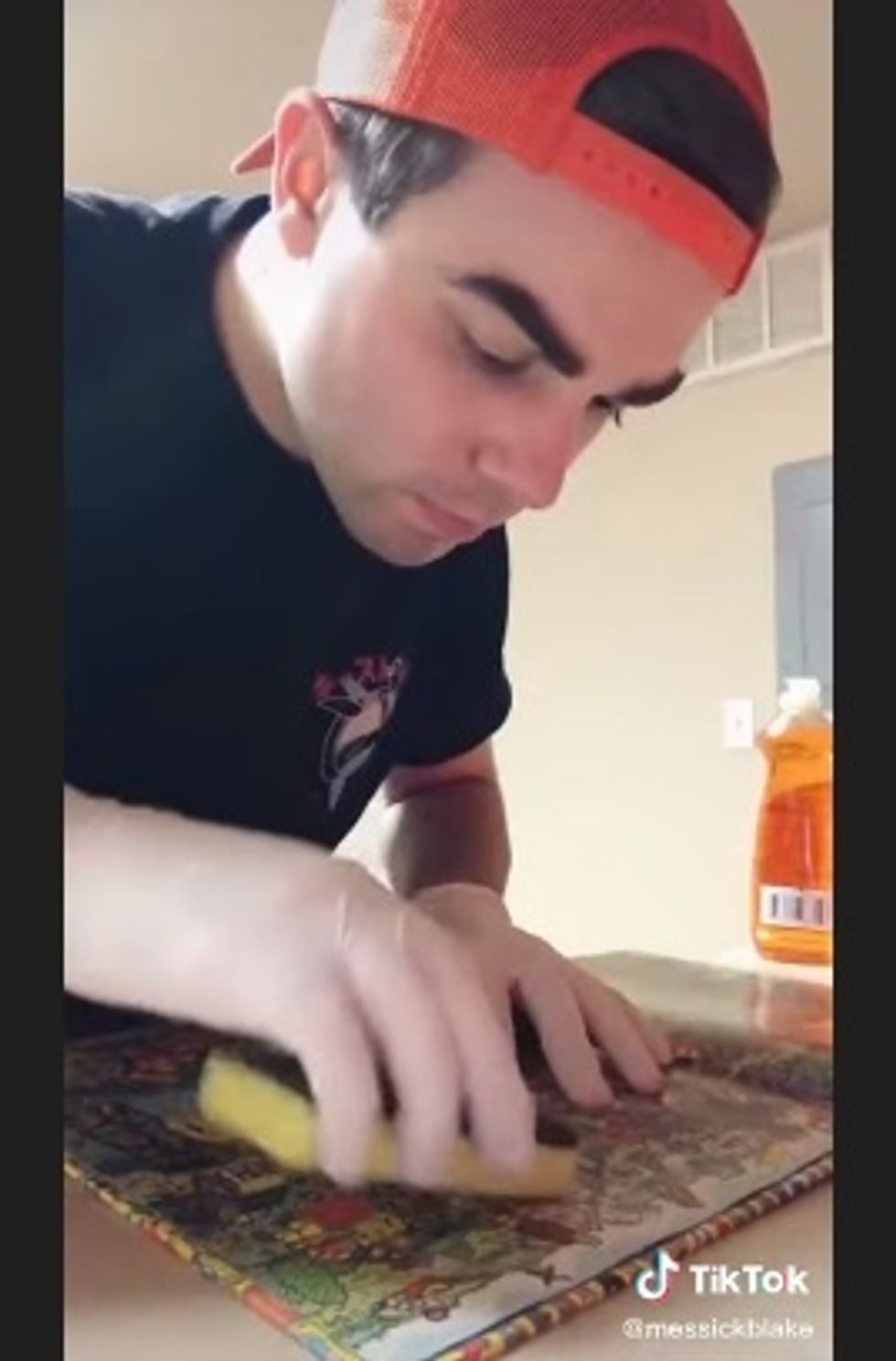 BlakeMessick / TikTok
It seems funny haha in a thirty second clip, but the more you think about it the more you begin to suspect Blake has quite the interesting backstory. You can kind of imagine him hunched in front of his computer screen in the dark cackling as he furiously deletes Waldos, his eyes shimmering in the reflected screenlight while he matches corn.

This is some seriously next-level evil mastermind stuff. This is the sort of thing you do for fun if you happen to live on a volcanic island shaped like a skull. This is like "Ooh, I just thought of the perfect Christmas gift for my henchmen" kind of evil.
Blake...who hurt you, Blake?
Keep reading...
Show less