Personal story time, folks!
As a child, my cousins and I would have speed-Waldo tournaments using the "Where's Waldo? series of books.
The winner would get a cold delicious can of Welch's grape soda. There were eight of us and I only ever won once, but let me tell you there was nothing more satisfying than finding that stripe-wearing sneak.
TikTok prankster @BlakeMessik is set to make sure at least one person is denied that satisfaction. We don't know what his beef with Waldo is, but it clearly exists.
Blake went to some serious lengths to pull a prank that's going to give someone, likely a child, a major frustration headache.
Blake's victim, probably.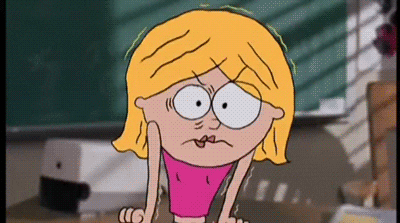 Giphy
So what did he do?
Blake bought a copy of The Great Waldo Search, took it home, digitally removed Waldo from every image in the book and then returned it to the shelf of the book store for some unwitting person to purchase.

He posted a short TikTok about the prank...
Lad learns Photoshop to edit a Where's Wally book... 😂 Credit- https://t.co/MSLGCYhJZW To use this video, Please… https://t.co/CS1biIVaah

— TheCONTENTbible (@TheCONTENTbible)1581693061.0
We're not fans of putting the book back on the shelf.
That copy of The Great Waldo Search is likely going to end up in the hands of a child who is going to end up confused and frustrated thinking they're dumb for not finding Waldo anywhere. That child isn't going to know this is part of some internet prank done for likes.

Having said that, we'll admit that on some level this is downright genius. Evil genius.
If we had Blake's level of patience and skill, we would 100% do something like this and give the book to a friend...or enemy...or frenemy.
That video is only about 30 seconds long, which is common for TikToks, but we really want you all to think about just how much time and effort this must have taken. Blake had to purchase the book, take it home and find Waldo in every image.
That could have taken days in and of itself.
Once he found each Waldo, he had to then scan each image into his computer. Then he had to use Photoshop to digitally remove Waldo from each image.
If you've never done digital image manipulation you may not understand how time consuming that step is. You can't just delete Waldo, you have to then create patches for where he was standing.
Was Waldo in the corn? Well you're going to have to create more corn and match it seamlessly.
Once Blake was done removing and re-creating, he printed the pages out and glued them into the book. Again, you may not realize the time this would have taken.
This isn't a simple glue stick job. This required matching edges and texture of the book pages.
Blake is serious about this.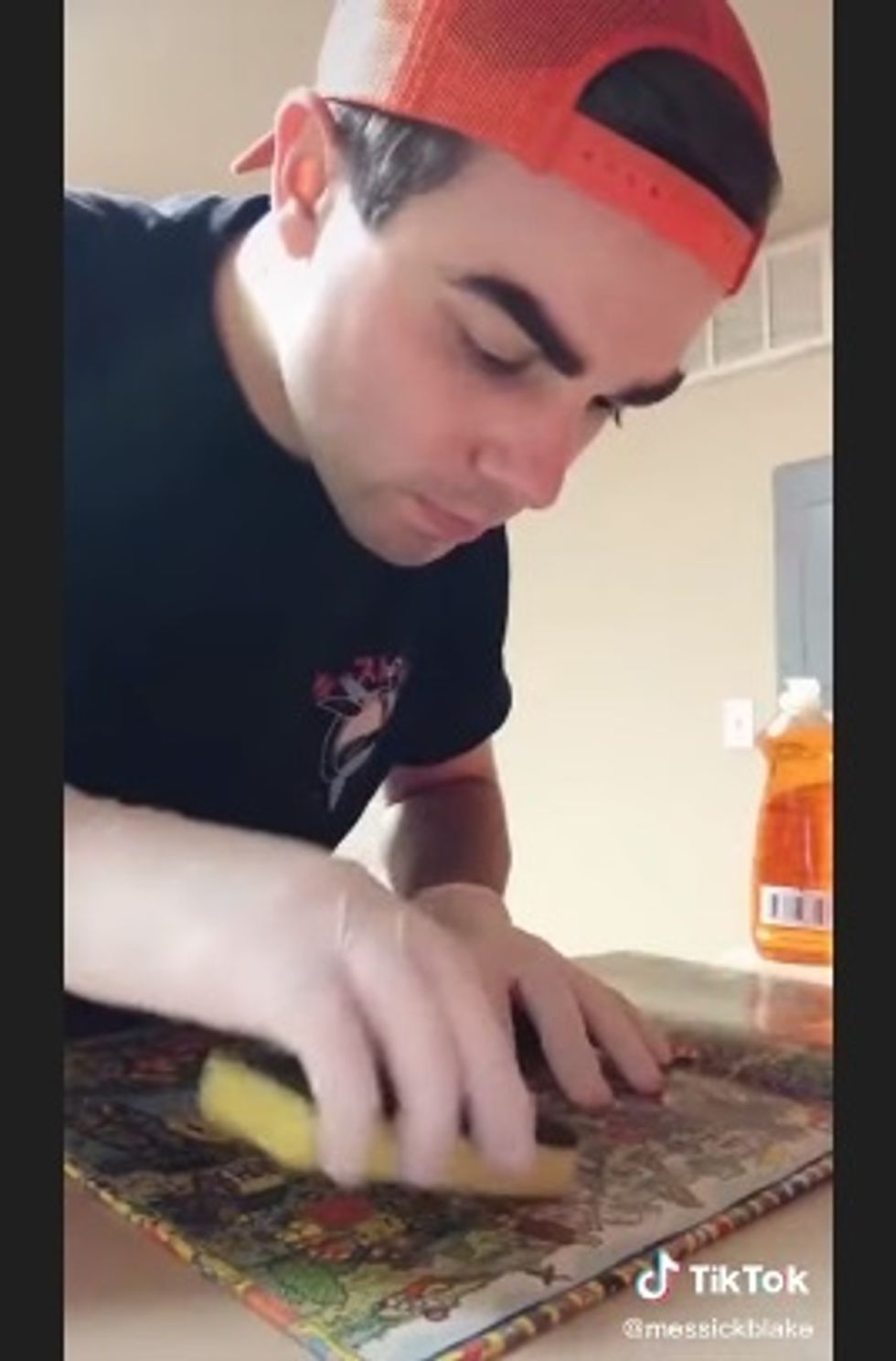 BlakeMessick / TikTok
It seems funny haha in a thirty second clip, but the more you think about it the more you begin to suspect Blake has quite the interesting backstory. You can kind of imagine him hunched in front of his computer screen in the dark cackling as he furiously deletes Waldos, his eyes shimmering in the reflected screenlight while he matches corn.

This is some seriously next-level evil mastermind stuff. This is the sort of thing you do for fun if you happen to live on a volcanic island shaped like a skull. This is like "Ooh, I just thought of the perfect Christmas gift for my henchmen" kind of evil.
Blake...who hurt you, Blake?
Keep reading...
Show less
What's more frustrating than getting a "sorry we missed you" slip instead of a package on your doorstep?
One woman found out when she was literally trapped in her house by an Amazon box.
@ViralHog/YouTube
TikTok user @izzybrooke had her day ruined thanks to an Amazon delivery.

Prepared to have a relaxing day at the nail salon, the woman quickly found out that leaving her house wasn't an option.
In the series of videos, @izzybrooke narrated her ordeal.
"When all you want is to go get your nails done, but you can't because Amazon put a package outside your door and you can't get out."
She began trying different methods to open the door.

"Im gonna try to get myself out because Amazon locked me in."
First, she opened the door's window.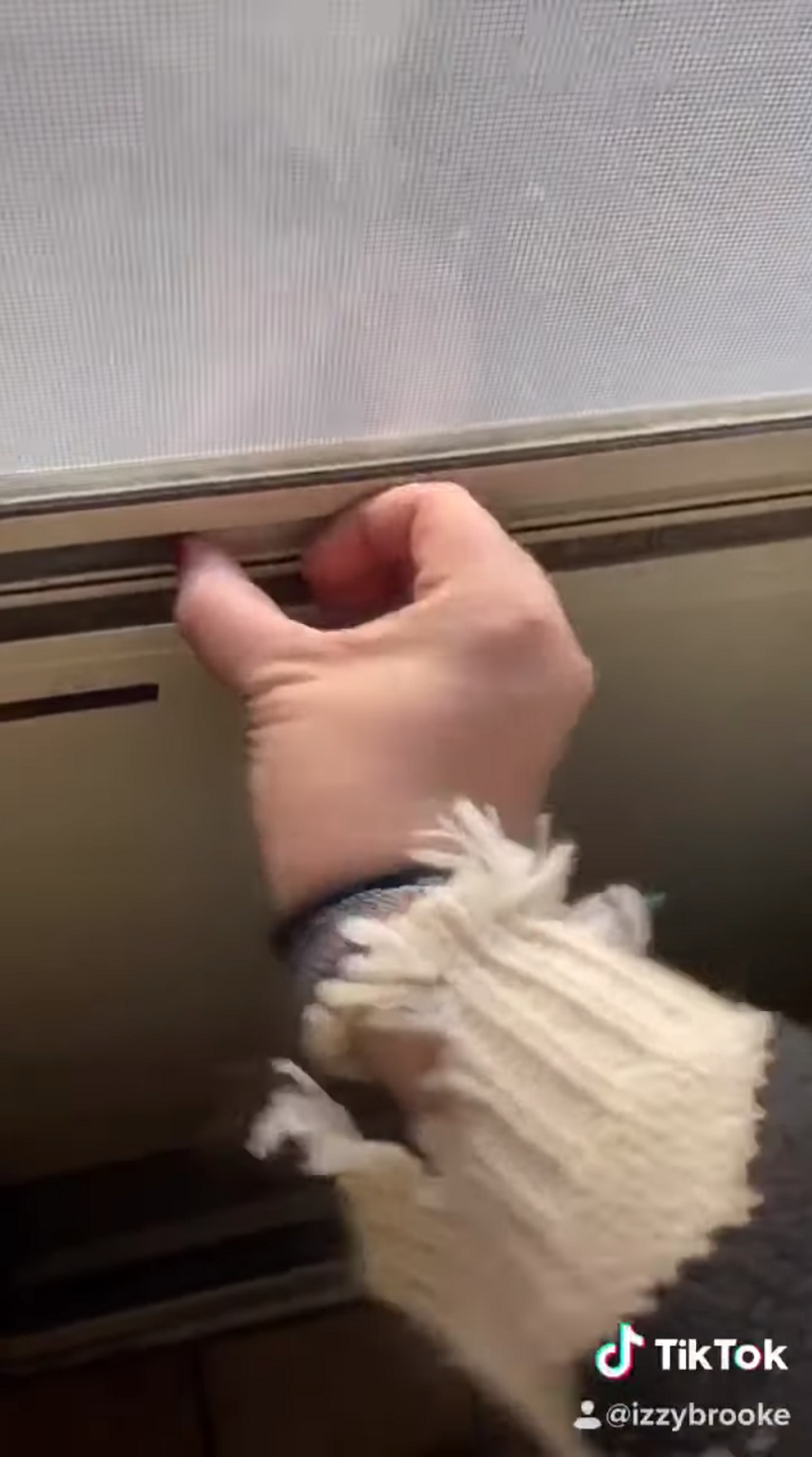 @izzybrooke/TikTok
But ultimately it was for nothing, because she couldn't remove the screen covering.

"I can't get the ****ing screen open I'm just not happy."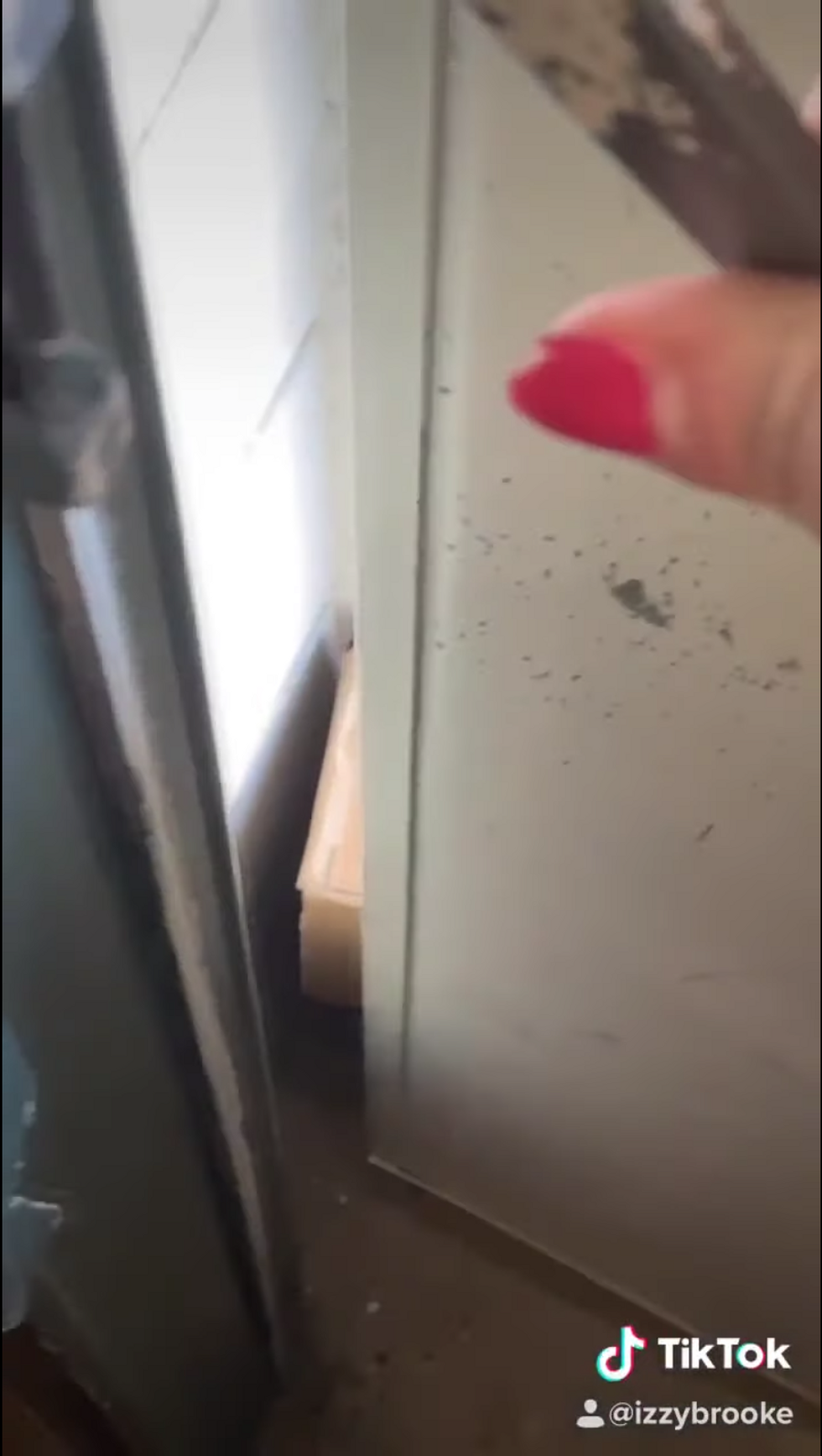 @izzybrooke/TikTok
"Just like seriously Amazon, what the ****!"
Finally, she thought about jamming something between the door to push the package away.

Her tool of choice: a rubber spatula.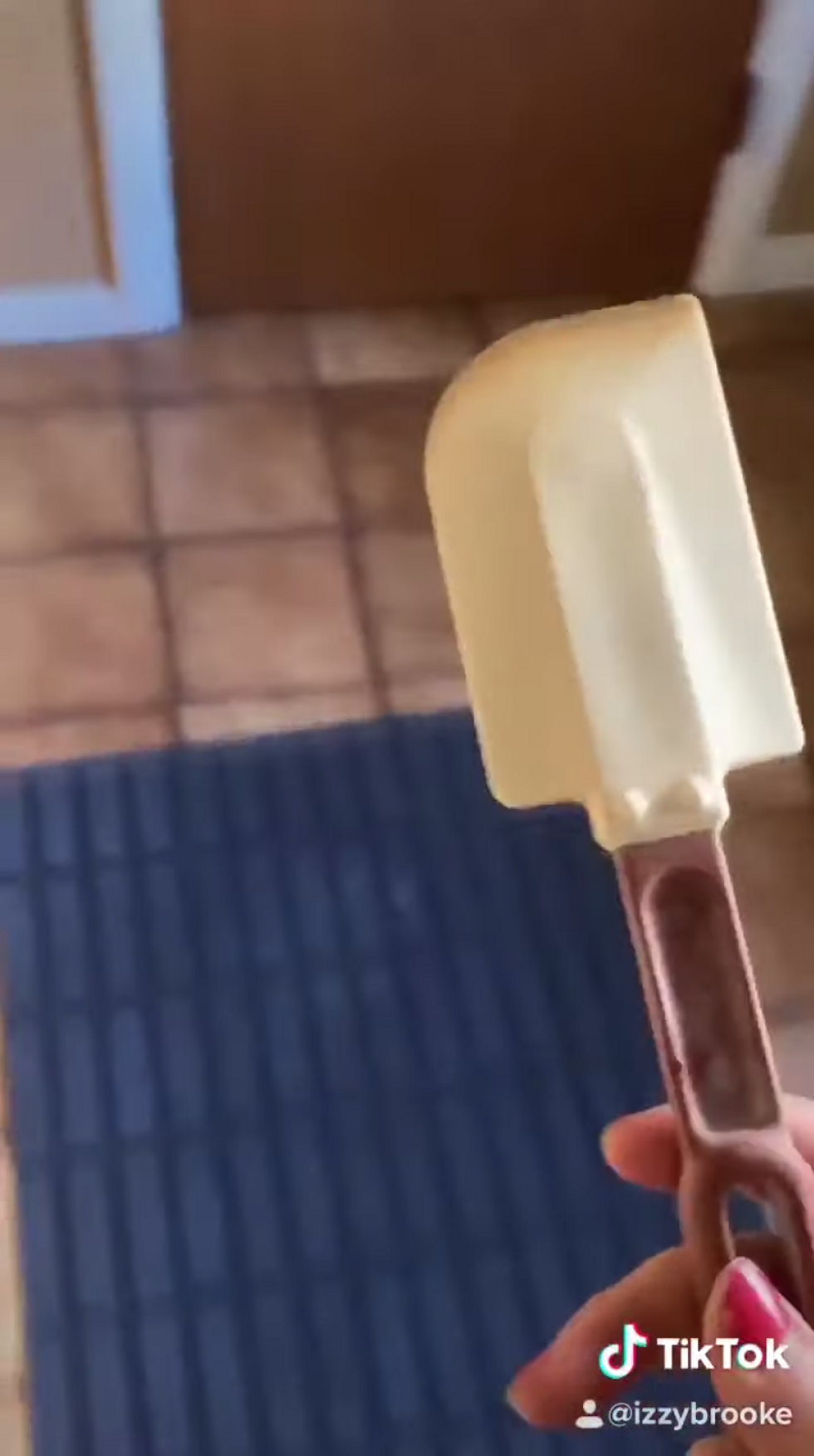 @izzybrooke/TikTok
"This will work I guess."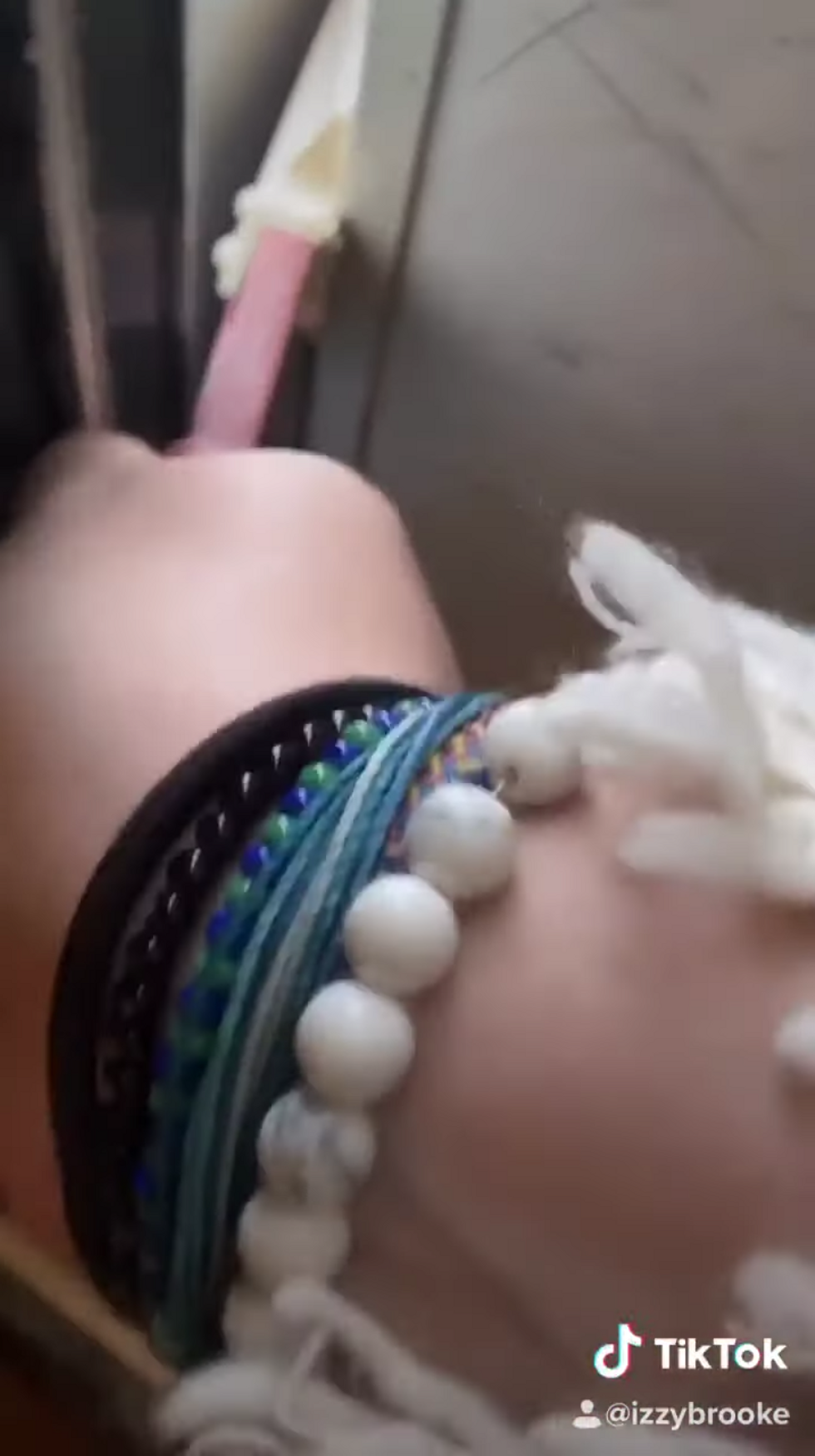 @izzybrooke/TikTok
Thankfully, it worked!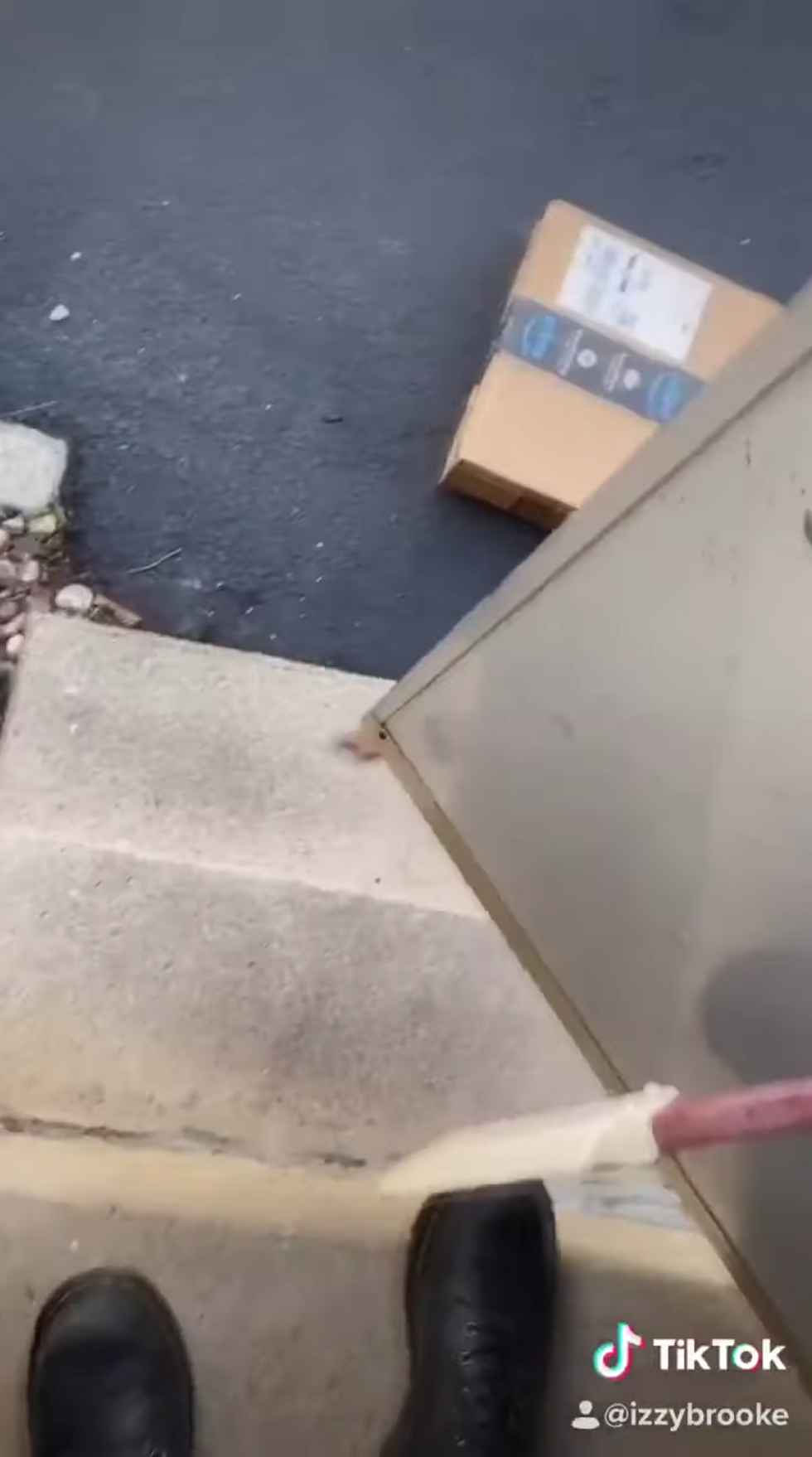 @izzybrooke/TikTok
The video quickly became popular on TikTok and Youtube, and @izzybrook even made the news!

@dad__perfect/TikTok

@nikitasnash/TikTok
Apparently, other people have been trapped by delivery boxes too.

@familycircus58/TikTok

@davey_pigeon/TikTok
Thankfully, there's an easy way to avoid this issue - just leave detailed delivery instructions.

ali_cat09/TikTok
It's not the most ideal way to receive a package, but at least it actually arrived!
Keep reading...
Show less
A heartwarming TikTok has been circulating the internet, showing a trans teen that was given a beautiful birthday surprise by his classmates, causing him to break down in tears.
Andi Bernabe was already surprised to find a choir room full of friends and classmates on his 18th birthday:
"They've been planning this for a month. You're abt to see why," reads the caption.
Within no time at all, the reason is revealed.
"Since you're like a legal adult," a classmate who walked over said, "we kinda raised enough money for you to change your name."
After receiving the envelope, Andi bursts into tears.
The video blew up on Tik Tok and has over 944,000 likes.
Bernabe, who's from the greater Dallas area, says that he had "no clue at all, not even hints."
"They made this fake paper birth certificate and they all signed it," Bernabe told Yahoo! Lifestyle.
"I obviously dropped down to the floor and started crying. It was overwhelming honestly, I couldn't believe they actually did it, especially since it's $300. I was planning on getting a job to pay for it, and just putting a little bit away every month."
$300 is roughly the fee for a name change in Texas.
The party the group planned for him was also in celebration of this big step in Bernabe's life.
"All the decorations were 'It's a boy!'-themed. The cake was strawberry and they put blue icing on top," he said. "The joke was, 'Oh, we accidentally made a pink cake for a girl but it turned out to be a boy'."
Texas has been notably unfriendly to its transgender residents, continually denying transgender citizens equal protections under the law, and seeing a number of transgender homicides in major metropolitan areas.
This small show of kindness is a step in the right direction for Texas and its future citizens.
Keep reading...
Show less
A man's recent TikTok video post tipped off some of his followers to a very unusual looking mole on his back.
The life-saving video in question featured newly married Alex Griswold and his wife.
The 23-year-old was so stoked about being married that he put together a quick supercut of his favorite aspects of married life.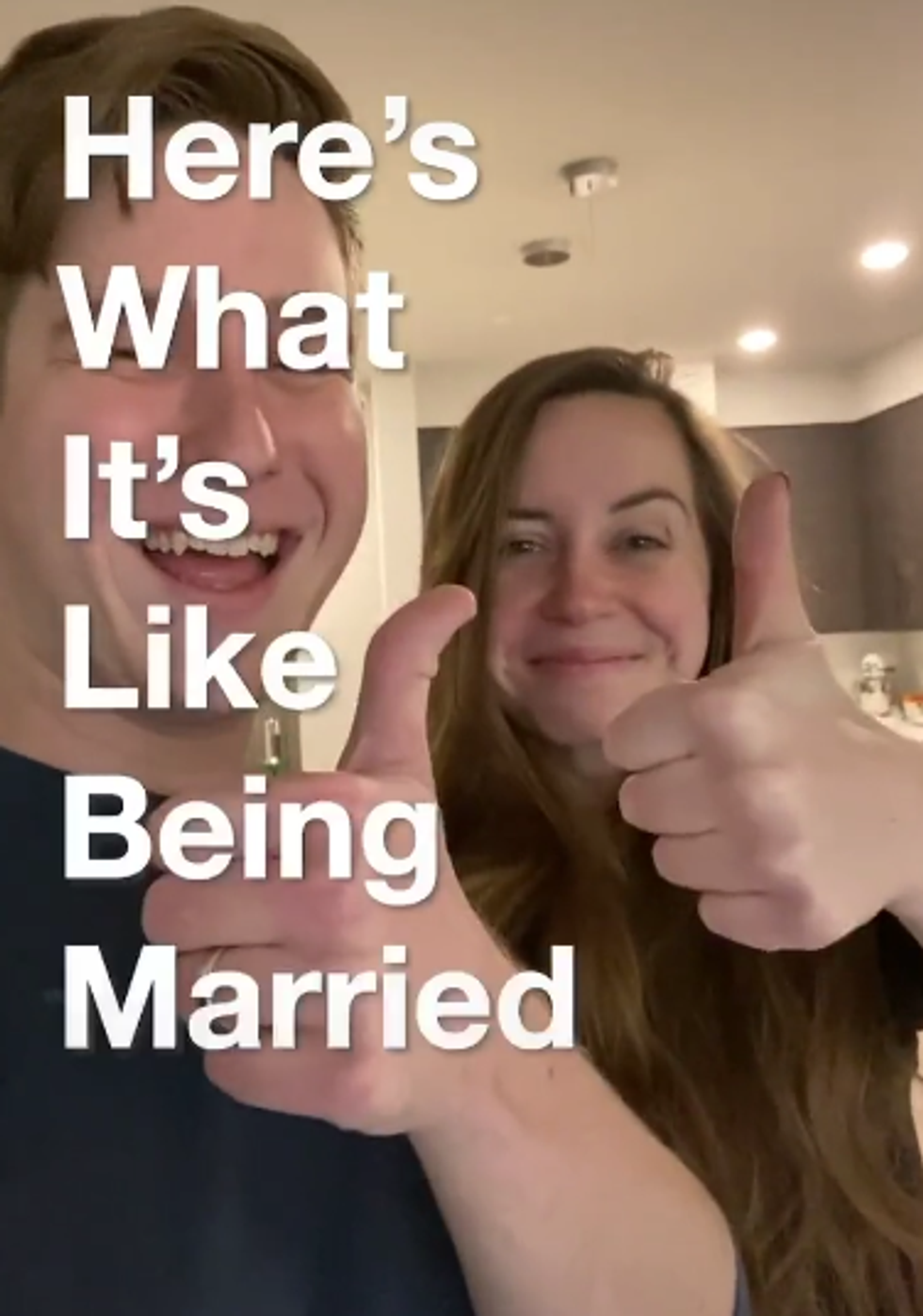 @alexgriswold/TikTok
The video highlights some prime domestic minutiae.
"You have a built in best friend that you get to have sleepovers with."
"You compliment each other's farts."
But it's Griswold's mention of his wife's EXTREMELY selfless grooming approach that features that diabolical mole.
"Back scratches always become pimple popping sessions."
As that goofy caption rolls across the top of the screen, an intimate shot of Griswold's pale, evidently defiled back looms below.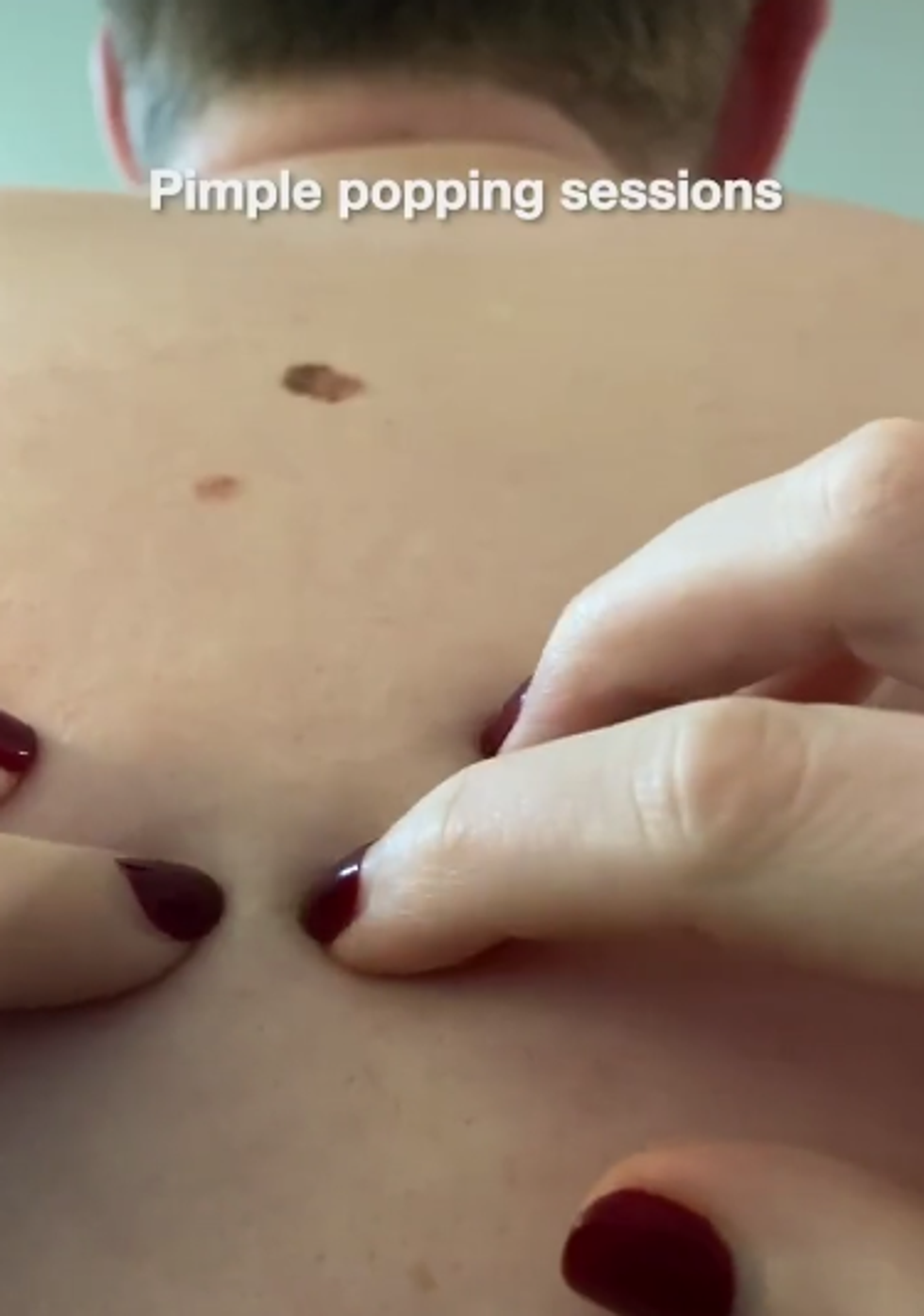 @alexgriswold/TikTok
In the post's caption, Griswold even called attention to the back footage, though his mind is far from concerned for his own safety.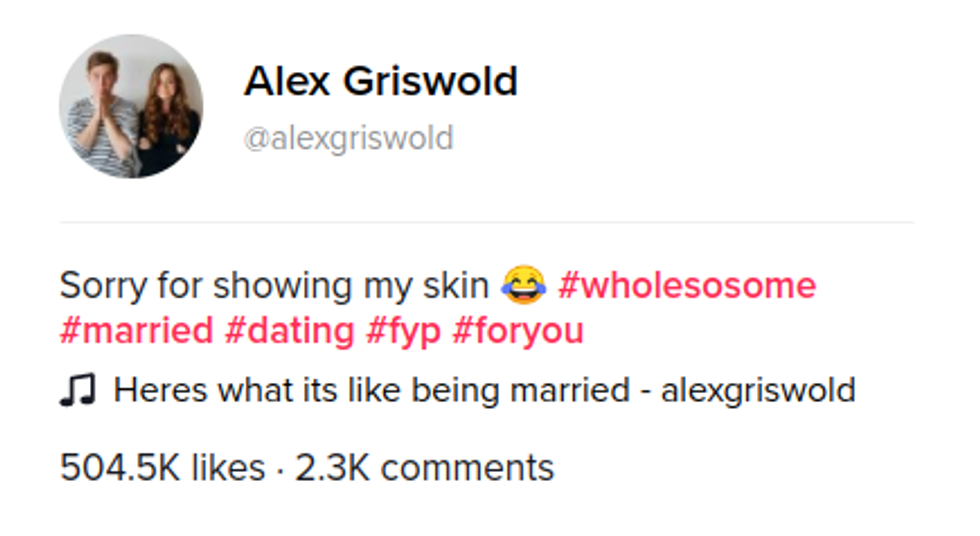 @alexgriswold/TikTok
It wasn't until a concerned user reached out to Griswold via email that Mr. Newlywed decided to book an appointment with a dermatologist and take a look see at that mole.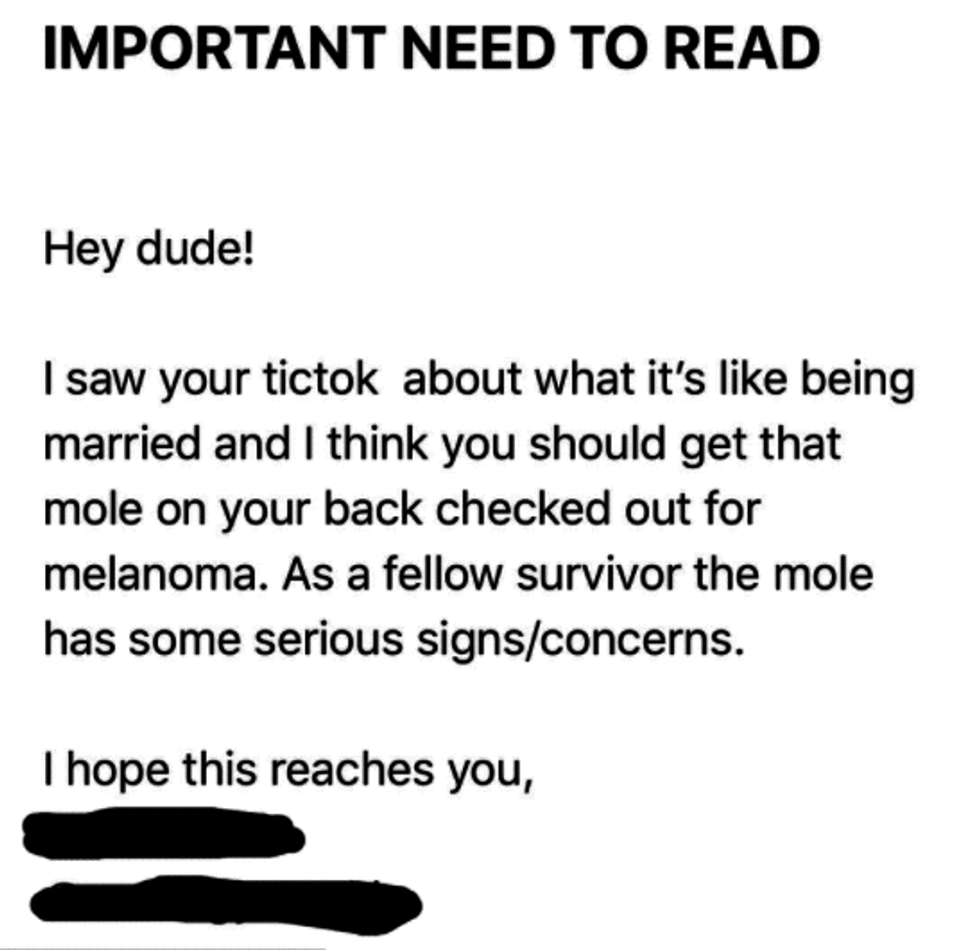 Alex Griswold
Griswold told Buzzfeed just how far off his radar checking that mole would have been without the email.
"I had never been to the dermatologist before. I probably wouldn't have gone for years and years."
The dermatologist even told him that whoever the stranger was who reached out after seeing his TikTok "probably saved his life."
After the appointment, Griswold checked back in on TikTok to give the entire play by play from that initial 'Just Married' post to major back wound without any more Melanoma danger on it.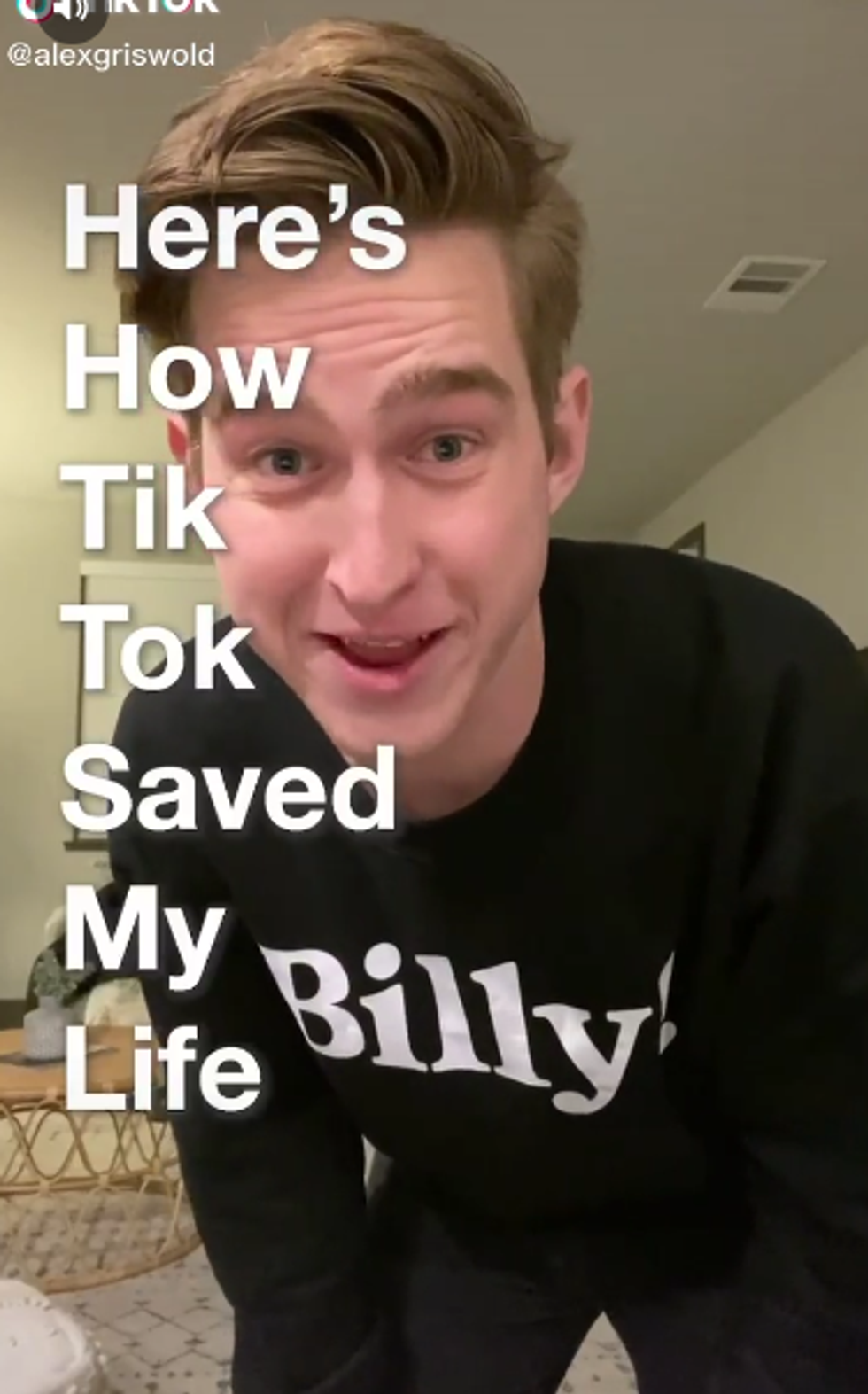 @alexgriswold/TikTok
He tells followers that during his appointment the dermatologist said the mole "might be skin cancer."
So the dermatologist removed the mole and sent it off to a lab.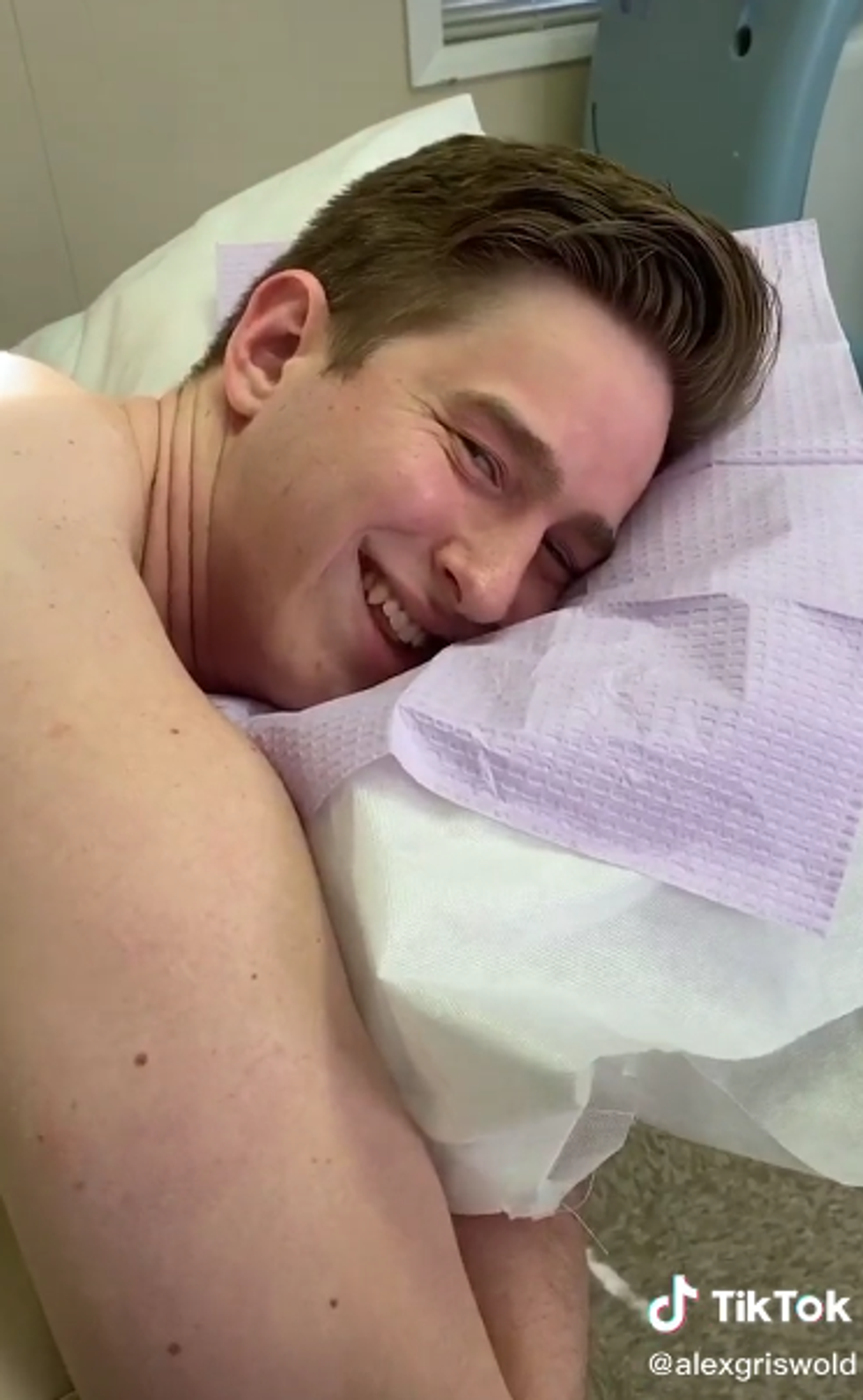 @alexgriswold/TikTok
The lab's results? In Griswold's words: "Dude, that IS turning into skin cancer."

So he went back to the doctor and the whole 'moley' area was excavated of any trace of the cancerous tissue.
And the dude had a HUGE wound. Because Griswold is apparently very open about posting, he gives us some excellent wound content.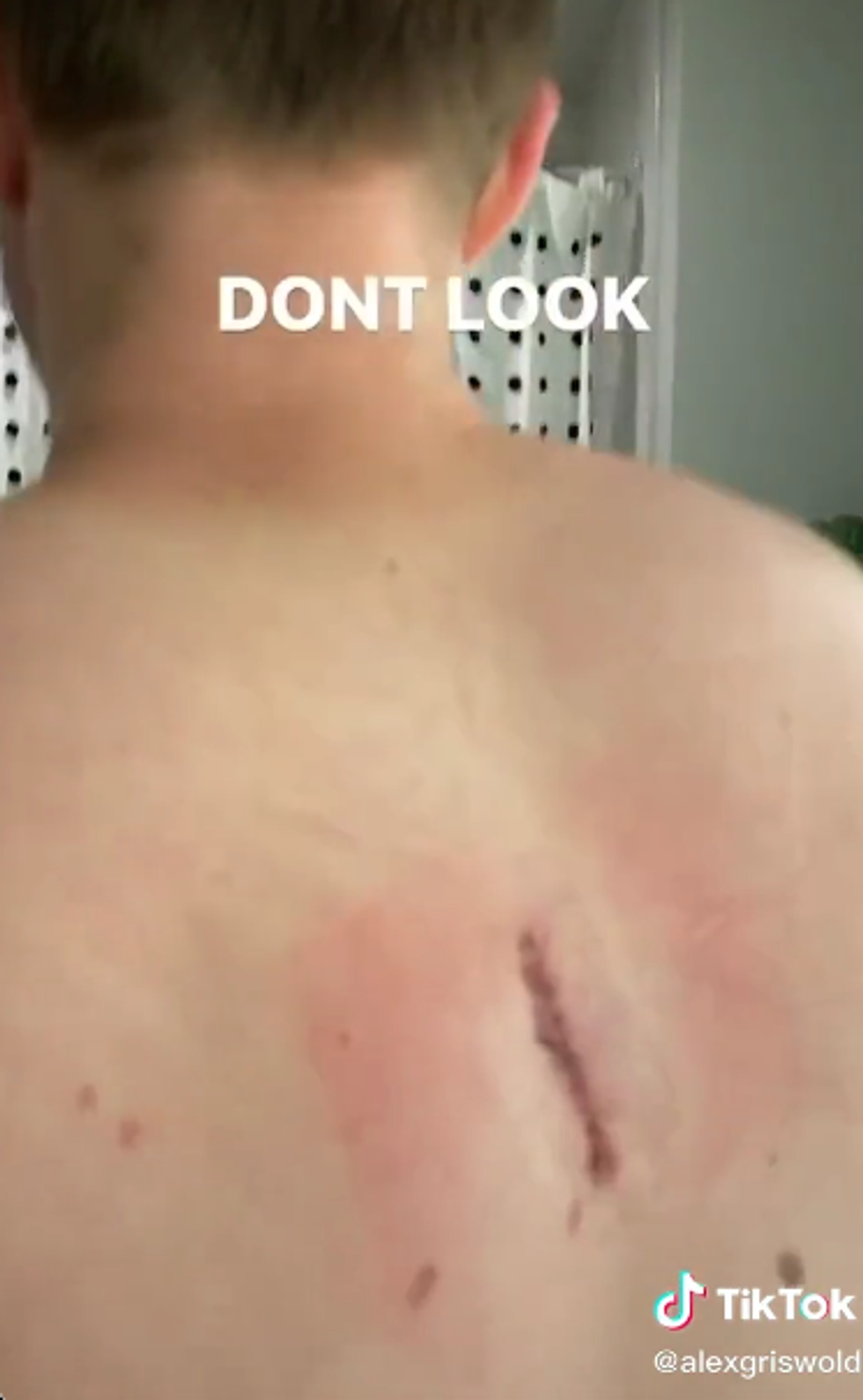 @alexgriswold/TikTok
Shine on, Mr. Griswold.

As the end of his TikTok follow up video suggests, the internet really can be a tool for positive community-building and social connection.
Keep reading...
Show less
Any of us who have ever experimented with the use of makeup have discovered certain setbacks: eye allergies and facial breakouts, poor wearability, lack of pigmentation and disappointing tone matching.
But this TikTok video of one black woman's excellent makeup adds to the pile of reasons why people of color have it the worst when it comes to finding the makeup they need.
What began as a simple video of an attractive woman putting her makeup on for the day quickly turned into a negative commentary on the lack of diversity that still exists in the makeup industry.
The woman in the video, TikTok user "imnotbijou," began her video with some typical steps: applying eyebrows and priming her face.
But when everyone saw what she chose to contour with, that's when the conversation exploded.
You can watch the video here:
Her make up came out so fucking bomb 😫but she HAD to used eyeliner to contour her face!!& ik makeup has no rules or… https://t.co/FYwQEkjDsW

— lay (@lay)1579540371.0
In the video, the woman contours with a black liquid eyeliner to create a deep enough color to actually contour against her skin tone.

After receiving confused and critical comments about her use of the eyeliner, the TikTok user also posted a photo of her completed look.
In the caption, she wrote:
"I wouldn't use eyeliner for contour if I didn't have to."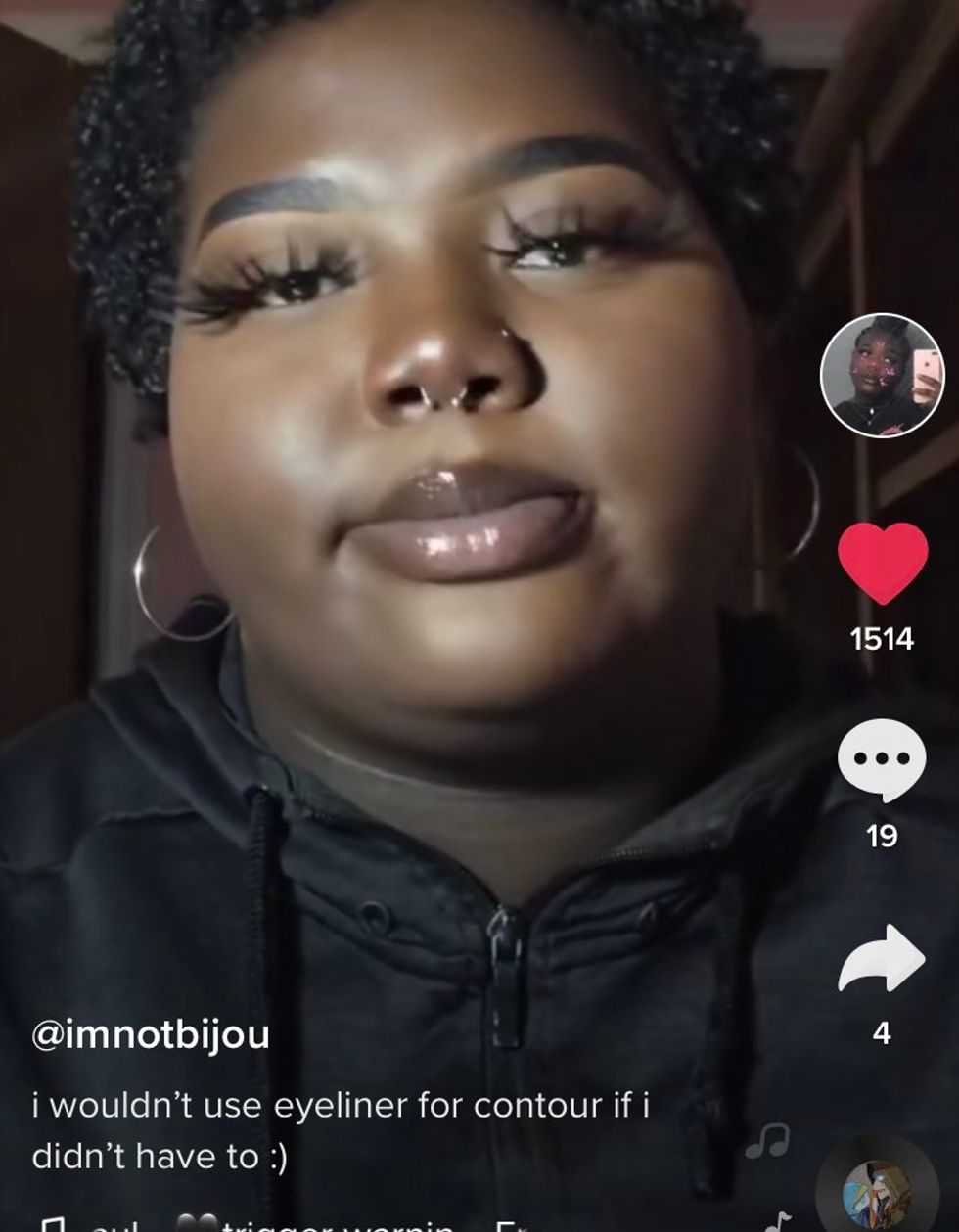 @makeupiztherapy / Twitter and @imnotbijou / TikTok
The video has been shared nearly sixty-thousand times on Twitter and has more than 350-thousand likes. Even the follow-up photo from the TikTok user has nearly nine-thousand likes, which is modest in comparison, but still viral-worthy.
What makes this so eye-opening is the number of people who are personally identifying with the less-than-forty second video.
People of color from all across the globe are sharing their own stories of woe and frustration, as they attempt to express themselves in what is a highly-beige-exclusive industry.

@makeupiztherapy / Twitter

@makeupiztherapy / Twitter

@makeupiztherapy / Twitter
Some have been extremely helpful and shared some products they've discovered that worked for them or they believe might work for the TikTok user.


@makeupiztherapy / Twitter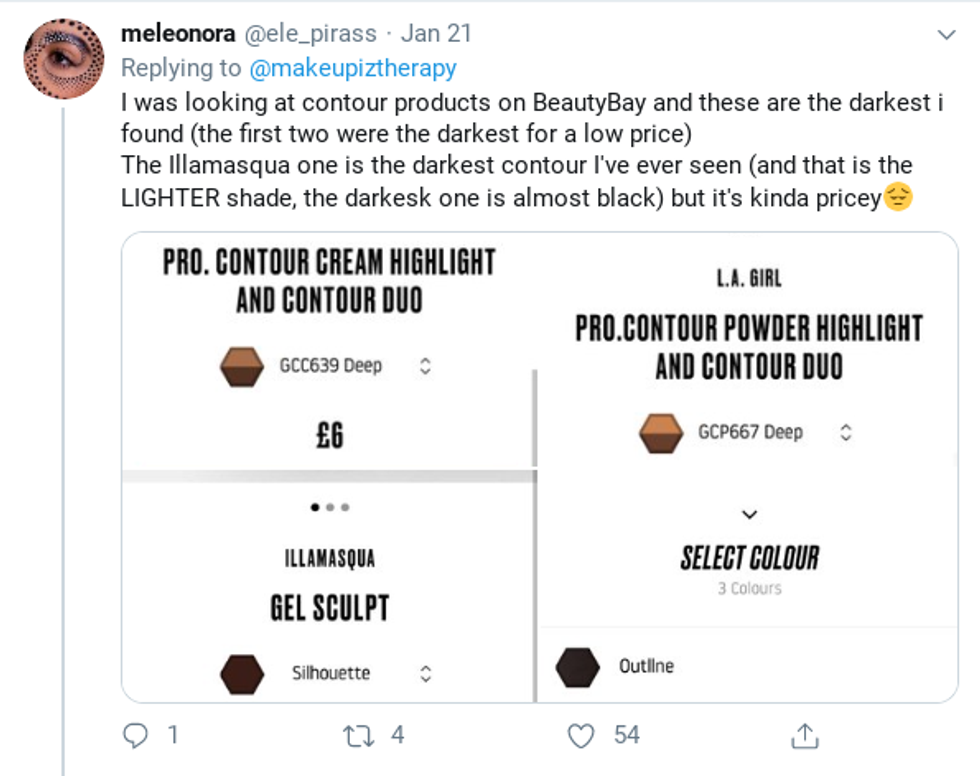 @makeupiztherapy / Twitter

@makeupiztherapy / Twitter
But the problem remains that these solutions are only a small handful of products.
They barely touch on the wide array of brands out there who have done little to challenge the diversity standard. Not to mention the fact that many of the current product options are only available online or are extremely expensive, making them inaccessible to most consumers.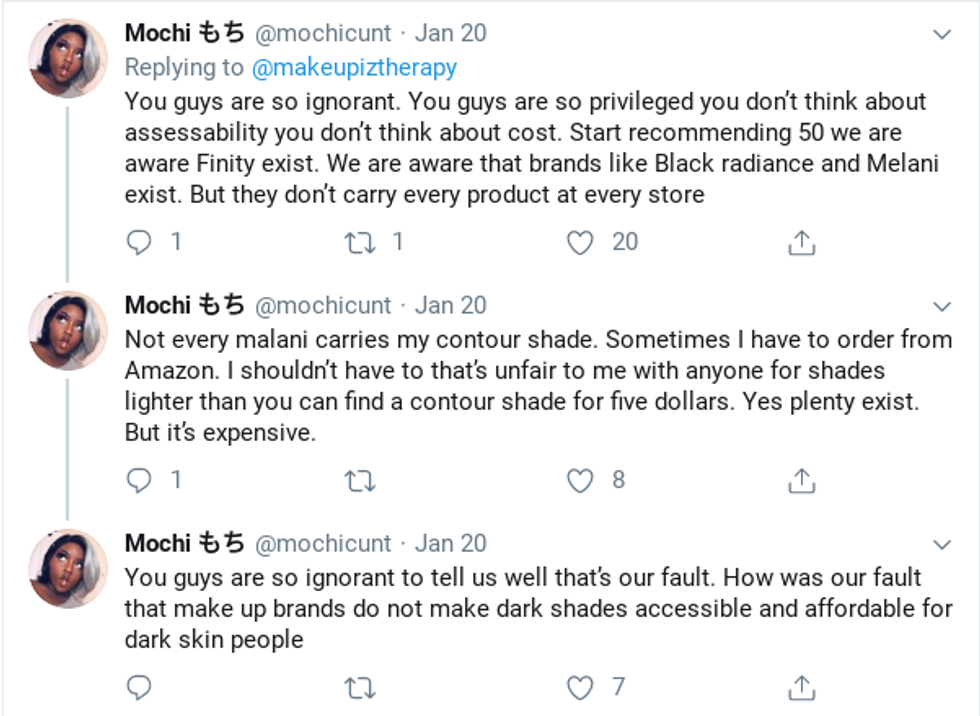 @makeupiztherapy / Twitter
Though some brands are beginning to step forward and create more colors in other products, beyond concealers and contouring products, for a wider array of people of color, there is still an extensive road ahead.
Yellows are still few and far between and either translate to orange or a bright banana on the skin and darker shades are still far too rare of a find and often lack pigmentation or lasting power.

It's important to have conversations like this, to continue to push beauty product companies to look beyond a beige palette.
Keep reading...
Show less