I have a friend who is terrified of moths.
She's an adult, but the fear has been there since she was a child. Interestingly, as is the case with many phobias, she is fully aware that moths are pretty much harmless. Especially to her as a fully grown adult human.
Still - she has that involuntary panic reaction every time she sees one and finds herself regularly screaming and sobbing her way through "moth season" (she means Spring.)
Reddit user BlueberryJingle13 asked:
"What is something harmless you were scared of as a child?"
Most of us outgrow those irrational childhood fears, though that doesn't mean they didn't have us in their grips when we were younger.
Here's what freaked Reddit out.
Drains!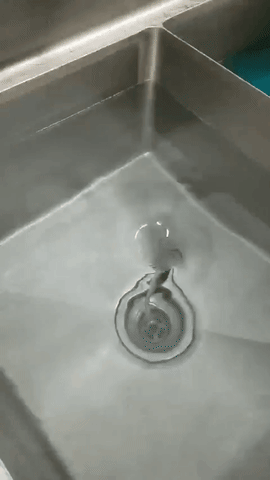 drain GIF
Giphy
"The drain in the bath tub. The tiny whirlpool of water would suck me down with it"
- JAR-man999
"Apparently when I was a toddler my dad told me spiders would come out of the drain if I stayed in the bath after the plug got taken out. I still feel uncomfortable taking the plug out the drain if I'm still in the bath, even now I'm 28"
- ImQuiteRandy
"I seem to remember being a daredevil with that and sticking my finger in it while holding onto the side of the tub to make sure it couldn't actually pull me in."
- doomalgae
"I had a children's book about a baby crocodile that was sucked into the drain and was crying alone in the sewer system because it didn't know how to get back to the zoo and it's parents. Also scared me for a while after reading that."
- More_Example6153
"38 years old and I'm still frightened I'll get sucked down the drain."
- Arkady2009
Auctions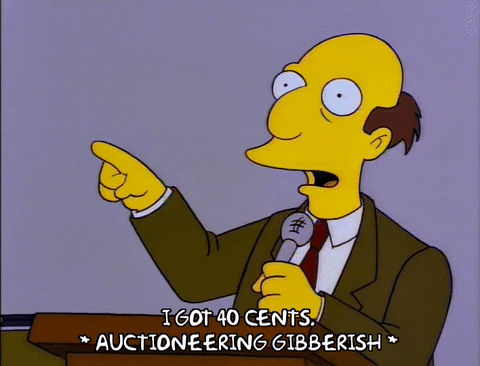 season 7 GIF
Giphy
"Fidgeting at a livestock auction and accidentally buying a cow."
- graceamazed
"This one made me lol. This is exactly the brand of anxiety I would have as one-off fears as a kid."
- Triairius
"I went to a house foreclosure auction in my 20s and I had the same concern. I was convinced that I'd make the wrong move and end up buying a house that I couldn't afford."
- UndeadBread
"2000$ to that little kid that scratched his head. SOLD"
- l0u1s11
Sinkhole De Mayo
"I had an irrational fear that a sinkhole would randomly open under me. I would walk around grabbing onto nearby objects just so I'd have something to grab onto when the Earth inevitably tried to consume me."
- DatWeirdo04
"I was scared a hole would open up under me just to swallow me then close up as if nothing happened."
- Theveryshyboy
"Me too!"
"What's ironic is that I'm 34 years old and moved to a town 2 years ago and there's been 4 sinkholes already! Like why?!"
- TitusLemonades
"Holy sh*t! I thought that I was the only one with that fear!!!"
- Tricksyknitsy
"I'm not alone. Yaaaay"
- gliitch0xFF
Draft Or Giraffe?
"Giraffes. Not because of what you think. I lost a fair amount of hearing due to a compilation with my tonsils, so when my dad tucked me in at night and said "I'll close the window, wouldn't want the draft to get you…" Well, you can assume what I heard."
"I thought there was a rabid giraffe that would step over backyard fences and eat kids if their windows were open."
- SsjAndromeda
"That's too funny and somewhat wholesome. It was sloths for me. I used to have nightmares of a sloth slowly chasing me. You can never run fast in dreams."
- Strongbad23
"Bro, same f*cking thing. My mum used to say wow the drafts coming from there at a cold dark place on the house and I used to imagine like a giraffe hiding there or an invisible giraffe and it was kinda scary lol"
- notarealpersondw
"I literally had the same fear!! "
"I was in a car when I was told to close the windows so that the draft doesn't get in and I also heard 'giraffe', I then envisioned rabid giraffes trying to break into the car.. I thought I was the only one with this experience!"
- Kovu-and-Dedenne
You Too Will Have A Mullet
"My brother told me someday I too had to get a mullet haircut"
- MuluLizidrummer
"I have a mullet currently. I'd be scared too"
- BlueberryJingle
"Such an older brother thing to say"
- catnmoose
"I mean, mullet families are a thing. I used to see at least a few day when I lived in the midwest. Granted the oldest son usually has a buzzcut."
- 0kokuryu0
Loud Sound Check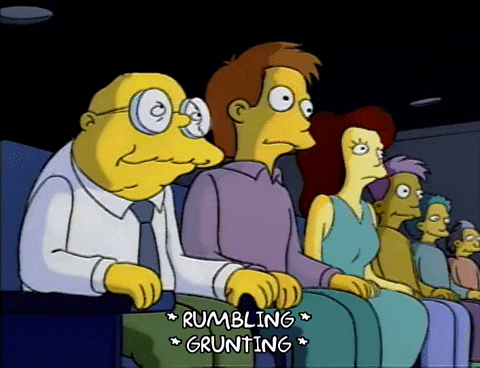 scared season 5 GIF
Giphy
"The THX sound before movies"
- Geezson123
"The audience is now deaf…"
- User Deleted
"Convinced that's why I have tinnitus."
- DillPixels
"Same, little me would run behind the couch and plug my ears. Now I've just learned I have sensitive hearing, and that urge to run and hide when it comes has never left."
- OtaPotato
Vacuums
"When I was really young, like 3 - 5 years old, I thought the vacuum would come to life at night and try to suck out my lungs while I slept."
"So, I insisted that the vacuum be kept in the basement, locked in a closet, because clearly it couldn't climb two whole flights of stairs."
- smokehidesstars
"Imagine you wake up one night and the vacuum is just in the middle of your room LOL"
- BlueberryJingle
"Lol. My sister was terrified of the vacuum as well but it was because one time it caught the edge of her nightgown and I guess she thought it was going to suck her up. She was scared of vacuums until a pretty unreasonable age"
- mercenaryblade17
Surprise Flush
"Automatic flushing toilets in public places."
"Not me, but my 2 daughters when they were young (like 3y-6y). I had to stand next to them with my hand over the sensor so they could escape the stall before the toilet flushed."
- AltyMcSalty
"Loud toilet flushes still scare the crap out of me, even if they aren't automatic and I'm prepared. I have no idea why. I'm 27, and I still have to sprint from the washroom at once I flush."
"It's only when I'm alone though for some reason. During shifts when lots of other people are around, I have no issues. I have no explanation for this fear."
- TwiceUponADecember
"As a former daughter who was petrified of auto flush toilets, I want to thank you on their behalf."
- wevegotscience
"Pro tip for if you become a grandparent. Carry a pad of post it notes. Stick one to the sensor so the toilet won't flush unexpectedly."
- Paradisedreamer7
Bald Head
"The bald head of my uncle"
- italoomg
"Bald heads used to freak me out too when I was a kid, they just looked weird to me."
- idratherchangemyold1
"As a teen, I thought going bald would be the worst thing imaginable. Now that I'm 40, lost most of my hair, and shave it down every day, I couldn't be happier. I love the easiness of having a bald head."
-Every1onRedditisDumb
Aqua Vacuum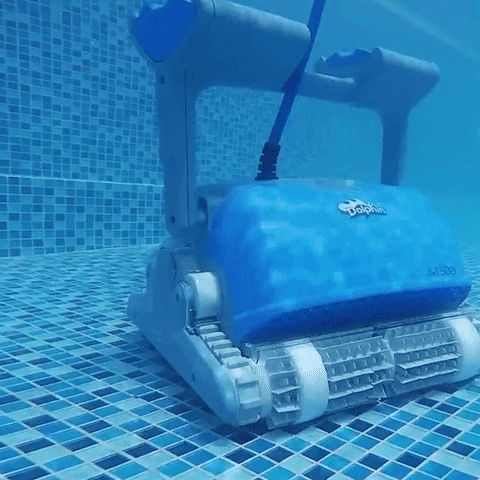 Water Satisfying GIF by Maytronics
Giphy
"My grandparents robotic pool cleaner 😂"
- minivan2022
"Oh man I can't believe the first comment is one I can actually relate to. I totally forgot about it until reading this. Yeah that 'creepy crawly' thing sliding around the bottom of the pool was unsettling, especially since when in the water at the same time of it you could hear it 'ticking' every second through the water. I remember asking them to pull it out before I went in. This was a fairly brief phase but it happened."
- Chromattix
"Lived in a house for years with a pool vacuum. Many adults are scared of those too lol"
- Triairius
"I actually have an irrational phobia of that thing it's wack"
"Stupid Barracuda/Creepy Crawly pool cleaner it looks so creepy"
- thegoldilocks_zone
"I came here to also say pool cleaner! We had one with two long "tentacles" that sprayed water out of the tips and swirled around the bottom of a pool….like a creepy robot octopus ."
- HAYYme
Do you and Reddit share similar phobias?
Is there something you want to add to the list?
Want to hear about my (completely understandable when you know the backstory) severe distrust of clowns that USED TO BE a childhood phobia?
Let's get into it in the comments.
Keep reading...
Show less
Fears.
We all have them, but not all fears are the same.
There are things that make us a little uncomfortable, but then there are things that completely terrify us.
Reddit user, Immediate-Salary-736, wanted to know what makes your hairs stand up on the back of your neck when they asked:
"What terrifies the sh*t out of you?"
Trapped
"Locked in syndrome."
"Cannot move your body, speak, do anything but think."
"I think you can move your eyes?"
"Maybe?"
"Otherwise you're completely at the mercy of your surroundings."
"If I ever get it, just kill me."
Brachiozord
Losing Control
"Alzheimer's disease"
Dapper-Way-1114·
"On a similar note, Parkinson's. My grandfather was lucid to the end; but physically he was just completely helpless."
mossadspydolphin

"Yup. I don't fear death, but the prospect of losing my personality and sense of self little by little terrifies me. If I ever get diagnosed with Alzheimer's or dementia I'm going to go out on my own terms."
Northerleyfire
In An Instant

"A brain aneurysm. One killed my mother when I was 23, instantly. I rang her 4 days before and she didn't even have a runny nose then bam, dead. Late fifties."
"Supposedly I'm more likely to have one on a hereditary level. F**king terrifying"
[user deleted]
Clots
"Blood clots, aneurysms anything that you cant really detect happening in Your body until it's too late. Like WTF."
Deus_Ex_Machiavelli
"In a 5 year stretch I knew 12 people who died of blood clots in their legs. 3 of them were related a dad and his two daughters. They all started out with a weird pain in their leg. Then dead. I'm petrified of this. Whenever I get a leg cramp I freak out."
klsprinkle
Late Discoveries
"Finally discovering very late in life, what I was supposed to have been doing the entire time."
MeToolMovement
"This one definitely resonates very strongly with me. I just turned 40 and I've failed to achieve much of anything for myself... after college I was totally lost and directionless- and I never stopped being that. I often lie awake at night wondering if any hypothetical positive that might occur at this point in life could make up for all of the wasted years already behind me."
DonktorDonkenstein
Thought not everything has to do with the body. Some people had real world fears and phobias.
Seaworthy
"The thought of Being in the middle of the ocean stranded"
crackonwednesdays
"Ooof, Open Water. That film would've stayed with me for years even if I hadn't known it was based on a true story, but knowing that those two people were just abandoned in the open sea (and that no one realized they were gone for TWO DAYS) just ruined me."
Elvis_Take_The_Wheel
"The last scene in The Perfect Storm where the guy is alone in the water during the storm and the camera pulls away until he disappears."
Pest Control
"Cockroaches when they start flying."
"I went to South America for a summer in my teens. I stayed with a very poor family and slept on the floor. I will always remember being woken up by these strange noises. I turned on the light and the room was absolutely teeming in giant flying cockroaches. When I turned on the light half of them started flying around. I've never been more grossed out and horrified in my life. It still haunts my dreams."
'We have a saying here in Mexico: Todos son muy machos hasta que vuela la cucaracha 'everyone is too tough until a cockroach flies.'"
Open Road

"Driving. Especially out of town. I do it every day in my own town, and have very few issues, although I do get a little nervous sometimes. But man. Put me on a road trip even just 2 hours away and I'm a nervous wreck. Unfamiliar traffic and driving conditions will never not scare the shit out of me."
"Oh, and heights. F**k heights."
[user deleted]
Wreckage
"Getting into a serious car crash."
"So, here's how mine went if anyone's interested. Moral of the story is don't drive tired. Might be a little long, but it's here if anyone wants to read it."
"I fell asleep driving once. When the car went off the road, that's exactly when I woke up. So opened my eyes to going downhill in the grass, at about 100kmh/55mph. My reaction was just steer away from the trees and mash the brakes. I avoided the trees, but hit the end of a steel culvert sticking out from under a driveway."
"The culvert caught the car just below the steel bumper support, ripping the bottom half of the rad and condenser off, the oil and transmission pans, and part of the floor, as the wheels straddled it, and the car went up and jumped the side of driveway, becoming airborne. Landed completely sideways in the driveway on all 4 wheels."
"The scariest part was when it stopped, my glasses were gone (found them in the rear window deck) from the airbag, and I put my hand on my face and felt lots of warm liquid running down my skin. I figured it was blood, and when I pulled my hand away, it was brown?... looked down, my coffee was still in the cup holder, no lid, half full. It was coffee."
We all face our fears daily.
Hopefully we never have to face the ones that truly terrify us.
Want to "know" more?

Sign up for the Knowable newsletter here.
Never miss another big, odd, funny or heartbreaking moment again.
Keep reading...
Show less
Life is a roller coaster of experiences—from the amazing and happy to the truly horrifying. As great as moments like winning a contest, graduation, and your wedding day might be, there are also terrifying moments like losing a loved one or getting into an accident that you might experience too.
Redditor LuckyAdair asked:
"What is the scariest experience you have gone through?"
[Content Note: the following article contains stories of various traumatic events, such as loss of a loved one, injury to a child, armed robbery, murder, and suicide. Reader discretion is advised.]
"Get The F*ck Out Of My House"
"Someone breaking into my house last year."
"It was really early in the pandemic and my wife was in the bedroom asleep, I was in the living room with headphones in playing video games with some friends while my son was asleep in his little jawn next to me. Was maybe 8PM."
"Basically I stood up and took my headphones off, and turned around just in time to see this guy in a bright red ski mask (which is way scarier than black it turns out) opening up the doors into the living room / dining room area I'm in. Nearly sh*t myself."
"He pauses, I'm like, frozen for a second but then stammer out 'get the f*ck out of my house' and he just lunges at me. Like, he wasn't armed, he wasn't bigger than me, I think he just panicked and thought he could knock me down and run...or worse..."
"But uh, it turns out when someone breaks into your house and your entire family is home and your child is now crying while you fight a tweeker in your living room...some really primal sh*t kicks in, and I fought the guy until I had him in like, my approximation of a choke hold (not a fighter), before shouting for my wife to call the police, who arrived like, instantly because:""My friends heard the entire thing on/through discord and one of them called the police."
"Was over in under 5 minutes but I couldn't use headphones anymore while I gamed in that room (we've since moved), I don't like having my back to doors, and I had to get a few stitches on my hand from how I fell.​"
-PlayerH8rzBallz
​Armed Robbery Is Traumatizing
"Scary, just a few weeks ago I got robbed at gunpoint by three guys that came up behind me. It was 9PM and right in front of my house. Even when I complied and gave them my cash, they still punched and kicked me afterwards. My focus was on trying to make sure they didn't get my keys either to my house, where my wife and kids were at the time, or my truck that I was unloading. They did get my phone though and dumped it off a bridge.
"The police found it, but it was smashed to hell, but they did get prints off of it and there is a warrant out for one of the guys. Still scary that they know where I live."
-crlarkin
Get Out Quick
"​My husband calling me to tell me his brother killed his parents and that I needed to get the dogs and myself out of the house immediately in case his brother was on his way to our house."
"I was incredibly fortunate that a neighbor let me hide the dogs in her garage and come in until my husband gave me the all clear to go home."
-storyofohno
"How did this end? Did the brother go to your place? Did end up in jail or underground?"
-kipopadoo
"He also set several fires across town (including his own property and his parents) and then killed himself in a confrontation with the police."
-storyofohno
Close Encounters
​"Was doing some mineral exploration work up in Alaska this summer in a very remote mountain range. I was working at a drill site where a grizzly had been spotted at the rig earlier that day and I was naturally a little on edge. I was laying out some wires through very thick brush (couldn't see through it at all), and all of a sudden I hear a really large animal close by, and I smelled the typical wet dog bear smell."
"Before I had time to react the wire gets ripped out of my hands and dragged into the brush at probably 20mph. I'm freaking out trying to reach my gun and this massive bull caribou just pops his head out and looks me over, then walks away lol."
-jackkymoon
Fear Isn't Always Short-lived
"It's happening right now."
"My wife is in the ICU with pneumonia on top of a year+ long battle with cancer. Sedated, on a ventilator and barely clinging to life, her heart could just give out at any time and that's it."
"I'm literally sitting in her room all night fully expecting to lose her sometime tonight or in the next couple days."
"Ive been through some scary moments in my life, but in a completely different way, this is by far the scariest night of my life."

-DerpingtonHerpsworth
​Just Trying To Make Pizzas
"Got a couple knives pulled on me one night while working at a pizza shop. Had a little mexican standoff. First time experiencing the thought "I might have to stab this dude or be stabbed'"
"Luckily our pizza knives were bigger and with my coworker backing me up the two dudes both left. I owe my life to my coworker from that night, dude had my back."
-ASmufasa47
​Rockslides Are Terrifying
"I got caught in a rockslide and fell off a cliff while backpacking. Early Spring, things were starting to melt, we were hiking on a ridge and looking for a way down the side, maybe a 60 - 70 degree loose scree slope, to a stream about 500 feet below. I was in the lead, heading down at an angle, rocks kicked out from under my feet, and I fell backwards onto my butt."
"All of sudden, the entire slope around me began to move en mass, like an island of broken up rocks with me sitting in the middle. I rode it down the hill, bouncing off stuff and trying to stop myself and dig in but no luck, just picking up speed."
"At the bottom, the hill dropped off to a 40 ft cliff, and I was launched off with the slide. I landed in a pile of debris and loose stuff that previously came down, including a lot of loose snow, which mostly absorbed the energy. I was mostly OK, muddy, lots of scratches and bruises, a separated shoulder and broken tail bone, but I was able to walk out."
My one memory is being in mid air, time standing still, and looking to my left at a stove-size boulder likewise suspended in the air, about 6 feet away. Any good size rock would have killed me.​"
-psilome
​"Impending Sense Of Doom" Doesn't Quite Cover It
​"When I was a teenager I had an irregular heart rhythm, and required a medication called adenosine."
"Adenosine is usually given via infusion just once or twice, in hospital under careful monitoring, and the side effects include an 'impending sense of doom'. This side effect relates to your heart beat temporarily stopping. This fires signals to your brain, telling you it's time to panic. Or you've reached the end."
"'Impending sense of doom' doesn't begin to describe it. I was told in advance, but nothing prepares you for it. I went from sitting on the hospital bed, just finished a sandwich and thinking about my year 11 exam, to suddenly being certain that I was going to die here. I've never felt so sure of anything - I couldn't move or speak, and my mind suddenly raced very fast, to the extent I couldn't keep up with my own thoughts. It was similar to what you hear about your life flashing before your eyes."
"My brain was drowning, and telling me to find more oxygen - even though I was breathing fine. I was suddenly sure this was a nightmare, that this hospital was fake and all the doctors and nurses were actors, and I was poisoned."
"Then it was over in seconds. I haven't had a single heart problem since."
-manlikerealities
​Seizures Can Be So Scary
​"My son had his first seizure while I was driving. He was in the back seat and I heard a noise. I looked in the rearview mirror and he was convulsing with blood running out of his mouth. Then he collapsed, I thought he had died. To this day, I don't know how I was able to get off the freeway, call 911 and check his pulse. He was 7 years seizure free on Nov. 29, but that one day changed my life forever."
-bodicea-h5
​Am I Going To Drown?
"​Being held underwater by some classmates in highschool. Not the worst or most damaging thing I've gone through, not even close to being the worst incident of bullying, but it was the most frightening."
-ILikeBakingCookies
Words Nobody Wants To Hear
"'It is cancer. I'm sorry'"
"I was 34, and had just gotten married a few months earlier. Stage 2. Grade 3 triple negative, invasive ductal carcinoma."
"I'm OK now, treatment was successful."
"But three years on, my husband cheated on me, we're getting divorced and my only chance to ever have children (after the chemotherapy left me infertile) remains with the 12 embryos currently stored in a freezer somewhere."
"So now I have to decide if I want to be tied to the man who ruined everything and betrayed me, by having his children... its my only option if I ever want to get pregnant."
-TNBCisAB*tch

Where Is Everyone?
"​I don't think that's the scariest thing that happened to me but it's the one I can remember now."
"I was sleeping in class and when I woke up the class was empty and it was dark outside so I got up started panicking and ran down 3 stories of stairs in 10 seconds only to find out that it was break and it was dark outside because a storm came in the half hour I was sleep in and made it look like night time."
-Fierce205
​Don't Build A Bomb
​"Being 18 and waking up to the FBI screaming and pointing guns in my face with bright lights and dragging me out of bed and getting cuffed and thrown into a van."
"Don't build a bomb and then try to sell it online. The feds dont like that shit. 1998 was a wild year for me, I didnt know what was going to happen to me. Sentenced to 10 years federal prison and was paroled after five."
"I dont do dumb shit anymore and I dont buy anything that would make them think im up to my old ways."anymore and I dont buy anything that would make them think im up to my old ways."
"I'm on the straight and narrow now and after all that the only job I could get was in the trucking industry and now I own 5 trucks and built a nice life and try my best to be a up standing member in my community."
-Sparkey_The_Great
Birth Scare
​"Giving birth to my son, they put him on my chest for about 5 seconds then snatched him up and an entire team of medical types crowded around him working in complete silence. He wasn't breathing. I got to see him for all of 3 seconds, and only heard a couple of weak cries before they rushed him to the NICU."
"Two hours later they came up to tell us he was on a ventilator and not doing great, they suspected a heart defect and were going to helicopter him to the closest children's hospital (about 90 miles away). We did not get to see him for five hours and it was a couple days before we could hold him. I gave birth at midnight, so all of this was happening in the late late hours."
"A couple of relatively common issues had happened, both of which on their own need immediate attention but are not difficult to deal with, but the resolution of one caused serious problems because of the second. His heart is fine. He's a perfectly happy healthy preschooler now who is squirting bath water into the tub faucet and laughing hysterically."
-Yavemar
Parent's Worst Nightmare
"​Woke up in the middle of the night to my smoke alarm and found my baby's crib on fire. Some people's literal worst nightmare (and mine now too)."
-Gubble_Buppie
"Is he okay?"
-Fierce205
"Aye. Thanks for asking. You can read my story here if you'd like."
-Gubble_Buppie
"Oh my goodness! I'm so thankful your son is ok now! I can't even imagine what y'all went through."
-poppy_otter
​Carnivals Are Supposed To Be Fun
"​I was visiting some family in Edmonton years and years ago and they use to have this big fair full of rides and attractions. I wish I could remember the name sorry. All the rides were your standard carnival rides, the gravitron, tilt-a-whirl, log flume, etc. I had gone to many of these traveling fairs in my time and had a good time so thought nothing of it."
"After going on a few rides and having fun I decided to go on that ride that is the boat the goes back and forth before going all the way around. So at the beginning everything seemed fine."
"However at a certain point when going back the safety bar that was suppose to hold me in place just fell forward. It had not locked in and the ride was underway. The ride started heading the other way and the safety bar fell back on to me again. I pulled it as hard towards myself hoping to lock it into place."
"Yet when we started heading back the bar just flopped completely open again. I was sh*tting myself. I literally thought I was going to fall out of this ride and die. All those carnival horror stories were true I was fearing."
"I just wrapped my arms around the bar and held myself with my hands. If worst happened I would dangle from the bar I thought. Fortunately after a rocky ride it came to an end and I was safe with maybe only leaving my seat a few inches."
"I immediately ran to one of the workers after I got off and told them. The ride was shut down for 30 minutes after and I was done having fun for the night. The only other time I've been that scared since was the few times I've had sleep paralysis."
-MrSchop
​Just A Bad (Or Good?) Year
​"I have cheated death 3 times this year."
"2. ⁠At 2am a couple months ago carbon monoxide detectors go off in my moms house we start opening windows and calling the fire dept as we wait outside (w 2 dogs). The minute he opens the front door the detector starts going off like crazy. He said longer than 20 min we all could've died with the amount that was in the basement caused by a problem with the hot water tank."
"3. ⁠A large patio chair flying out of the back of a pickup truck which almost smashed my windshield had I not swerved just in time."
"An angel has my back and is watching out which I'm grateful for!!"
-IntelligentIsland167
Terrifying Tie
"​Two are tied:"
"Being shot when our neighbor's gun 'accidentally discharged' and the bullet came through the shared wall, severing an electrical line, barely missed my head, glanced off my chest, and landed on the other side of the room. The sheer thought of what could have been if I'd been laying an inch further left is terrifying."
"Gas pedal getting stuck while driving home from my mom's funeral. I somehow managed to get the car pulled over and turned off, but I was going 85 mph+ going uphill. If it had got stuck three miles earlier, I'd have plunged off a seaside cliff, taking my aunt, cousin, and 9 month old daughter with me."
-Imaginary_Train_8056
​Feels Like You're Dying
​"Kidney stones. They were only about 1-2cm in size, but the pain they caused me was the worst feeling I've ever experienced. Doctors thought my appendix burst."
-Dear_Willingness_600
"God I think the worst thing about getting kidney stones for the first time, is that you never know what the f*ck it is. It's literally one of the worst pains people can experience, and yet not knowing what it is just f*cks it up more."
-kcawks
Life can be truly terrifying, but not all of it is bad. The bad parts may stick out the most because of how human brains work, but the good parts are what helps get us through the bad.
Want to "know" more?
Sign up for the Knowable newsletter here.
Never miss another big, odd, funny, or heartbreaking moment again.
Keep reading...
Show less
I live in fear every day of being murdered. Maybe it's because I'm too obsessed with Criminal Minds.
Some people are evil and crazy, and it's just our lot in life to find a way to survive them.

Coming face to face with evil and death is something that changes you forever.
Redditor u/xXFAZEMEIDAREYOUXx came to Reddit and asked to see who was willing to share one of their worst life moments. They wondered:

"Murder attempt survivors, what happened?"
Thankfully for me the only times I've cheated death has been random, like a car incident. I've been lucky. I'm trepidatious, but let's see what others have survived.
Misfire
"He pointed the gun at my face, pulled the trigger and it didn't fire. I could've beaten Usain Bolt in the next 10 seconds." ~ phillybilly
"Glad you're still around to tell the tale. I have a good friend with a similar story (he thinks the gun jammed or the safety was still on or something). He likes to say "you've never seen a fat boy move so fast after that." ~ Gmony5100
Tragic
"My twin sister and grandpa were killed during a home invasion. I should've been there but I left to go give a drinking friend a ride home. When I came back there were police and tape and ambulances. Home invasion gone wrong- they were both killed execution style. She was 30. Love you Gpa Felix, and the other half of my soul is already in the after with Amelia." ~ berthejew
People are horrible...
"Not me, but a girl I went to school with. Her deranged uncle broke into her house dressed as a Fedex driver while her parents were running errands. Mom and dad came home, tried to wrestle the gun from him before she and the husband were shot and killed. He then made all 5 kids lay on the floor as he shot them one by one."
"The bullet intended for my friend grazed her hand and head and she played dead. She was the only survivor. She came back to school the next year, but people were horrible. There were nasty rumors about how she made it up, faked it, how it was her fault, etc. She's now engaged and in college. One of the strongest people I know, and such a sweetheart. People are horrible." ~ Kona2012
Sledgehammer
"When I (M) was 7yrs old I made friends with a neighbor girl and we would frequently have play dates. She had an older brother, around 12-13 that would "baby sit" us during these hangouts. One day my parents let me go over to their place on my own, as their house was in spitting distance of ours but the brother was the only one home. He assured me that his sister would be home soon so he lured me out to the back yard. (For background the house was completely fenced in and the backyard had a tree line surrounding it)."
"He told me to wait by the swings, which I did and all of a sudden he charged at me with a sledgehammer. I fell on my back in fear and his swing landed between my legs into the ground. I ran as fast as I could back to my house. My parents, to this day, say it was just horse play but I will never forget the look in his eyes after he missed his swing." ~ Playful_Flatulent
Fire
"I was attacked in a friend's house by an ex husband. He slit her throat and slashed my face with a box cutter before hitting me over the head with a plate, knocking me out temporarily. He then lit the place on fire with us in it. I managed to wake up and drag her outside and a neighbor called the police/ambulance. They caught him 2 days later. We both lived through it, and now he is serving a life sentence." ~ avenlux44
Well so far. I'm sufficiently creeped out. But I'm grateful for everyone's survival.
Hit the Floor
"I wasn't the intended target but I could've died. I worked at small family-owned bicycle shop. My boss, the father of the family was a pretty nice guy, as far as I knew him, anyway. One day, I was rearranging displays and my boss's wife and kids were there - a pretty normal day until somebody slammed the shop door open and emptied a full pistol clip into the shop, specifically at my boss."
"I got on my stomach as soon as I knew what was happening and waited until I heard the guy running away. My boss was shot a couple times in the head and chest and was obviously dead on the spot. His daughter got hit in the upper arm and the wife broke her arm diving to the floor."
"Edit: I tried to find any news article about this but couldn't. It happened in Iloilo City, Philippines around December 2015. Apparently, it was about my boss not paying money he owed to the guy that murdered him. Don't know if they ever caught him." ~ Lorac1134
At Uni
"It happened during my first year in Uni. I lived with 3 roommates at my dorm. A few months into the first semester, one of my roommates had a mental breakdown and attempted to strangle me while I was asleep. I woke up to his hands around my throat, his knee on my chest and a deranged look on his face."
"I tried pushing me him off me, clawed at his face etc, but to know avail. My eyes started to dim, my hands felt leaden, I was sure I was going to die. Fortunately my other roommate wasn't asleep, he was laying under the covers browsing on his phone."
"The sounds from our struggle caught his attention and after seeing what was happening, he pushed the attacker off of me and knocked him to the ground. He then woke the other roommate and together they restrained the attacker on his bed and called the university police."
"The police arrived around 15 minutes later and after we told them what happened, they called the actual cops. My roommate was arrested and taken to the police station, there he had another breakdown and bit one of the cops. He was transferred to a psychiatric facility after that. He was also expelled from the university." ~ Adept-Matter
People Explain Activities They've Added To Their Post-Pandemic Bucket List | George Takei's Oh Myyy
While we've all been cooped up for the better part of two years, many of us have been dreaming up exciting plans for the future. Maybe it's finally time to s...
Never Again
"My drunk (ex) husband came home in the middle of the night while I was sleeping. He was pissed off at me for some unknown reason and got on top of me in bed and strangled me to the point where he thought he had killed me. When I came to he was sitting on the side of the bed crying. He had choked me so badly that I had broken blood vessel's in my eyes. I never spent another night under the same roof as him and we divorced soon after." ~ Redhead-Valkyrie

France
"I was in Nice, France during the terrorist attack & the truck drove past me with in meters of where I was standing. At first I thought it was an accident and a brakes failure, until the police started shooting, there were severely injured and dead people in front of me & bullets popping off."
"I tried to help a guy who was badly injured but he died when we put pressure on his wounds. Then a policeman came up to us and screamed at us to run, so we ran back as far as we can, it was a surreal night & devastating, I still have PTSD from it." ~ Shine0nBenevolentSun
'he did it'
"9 years ago, buddy got jumped at a house party. I jumped in to pull the guy off of him. Attacker ended up pulling out a knife and shanking me in the stomach before fleeing to a getaway vehicle. Police were called. Caught the guy. We were supposed to come into court to point at him and be like 'he did it' but the day before he pleaded guilty."
"No idea what happened to the guy after that or what his punishment was but he probably didn't learn anything from the situation. Me? I feel completely fine. Sometimes I forget that I even got stabbed. I feel a little uneasy whenever someone has a knife in their hand and it's not dinner time, but that's about it as far as trauma goes." ~ TheBadman9001
Calling 911
"A pregnant drunk lady called an ambulance. I was working with a junior colleague but a female one. The patient said she thought she was in labour and was sat on the floor legs open knees bent with a blanket over he lower part. There was a small table next to her, glass top wooden coffee table thing."
"My colleague asked to examine her and for some reason she got angry and insisted I examine her not my female colleague. After a bit of back and forth I knelt down and went to lift the blanket to have a look when there was a sudden crash. My colleague had put her foot through the glass table and was standing on the patients hand which had a huge knife in it."
"Turns out she wanted to stab a paramedic and when we turned up she chose me. My colleague saw it just in time and saved my life. Patient had already had several children who were in care and had foetal alcohol syndrome. I was asked for a statement when the next one was born and they were also taken in to care. She got away with the premeditated attempted murder on grounds of mental health." ~ AsleepPipe371
Punctured
"My mum was incredibly abusive. on one occasion, I was around 12 and she came into my room while I was sleeping and stabbed me in the chest with a kitchen knife, puncturing my lung (I didn't know this at the time). obviously this woke me up and I just rolled out of bed and ran around the house screaming."
"Someone on our road noticed the noise and called the police. just before the police arrived, she started choking me and I lost consciousness. I later woke up in the hospital and (mostly) recovered. she's now in jail. this is not the only time that she tried, but it was the most dramatic and came the closest to actually killing me." ~ 1BUK1-M10D4
No Guns
"Not me but my friend's mom. A coworker of her's was stalking her, obsessed. Convinced he was in love with her and nobody else deserved her, that kind of thing. Eventually he came to their office with a revolver. She was bending down to put files away, or something similar."
"He quickly approached her from behind and shot her in the back before immediately shooting himself in the head. She survived obviously, though the wounds were significant. Incredibly fortunate she wasn't hit in the spine or major organs. I often wonder how different it would have played out if she had been standing, or facing him. More than likely she would be dead."
"This was before my friend was born, and his mom made a mostly full recovery. Still has chronic pain and PTSD, but she can walk and has a job. Not reclusive or unfriendly to strangers. Terrified of guns, of course, but that seems fair. Both my friend and her are extremely lucky." ~ Cutter9792
October
"At the beginning of October my husband was trying to buy a PS5 on letgo. He wanted to make sure it actually worked so he gave the guy our address. I told him a dozen times that he was going to get robbed. He still had the kid come over. As soon as he got there he pulled a gun, grabbed the cash and shot twice. One hit my husband in the abdomen. The second went through the stairs behind him and traveled 30-40 feet to the kitchen."
"I heard the commotion and ran downstairs and chased him away from the house. We got to the front gate and he pulled his gun again and shot at me. He missed my head by less than 2 inches. He was caught and is being charged as an adult (16) for 2 counts of attempted murder and a variety of other charges." ~ jmrobins00
Bruises
"Strangulation by a step-parent. When my strength and eyesight faded and I felt about to lose consciousness for the last time they let up just a hair. Next thing I knew I was in another room with a locked door between us. Was primal crap; no idea how escaped. Will never know if they experienced a brief moment of clarity that they could actually go to jail/lose their cash cow in the form of my bio parent or if they thought the deed was done."
"They tried to break the door down and I considered jumping out the window but I knew they'd would catch me before I reached the neighbors house and they wouldn't fail a second time. Might even add the neighbors. And if I left it'd be my bio parent for sure. The perfect bruises of their hands on my neck lasted weeks. Wore a scarf. They're still together." ~ questionforthecactus
One Push
"In 1998 I was walking with two friends to the corner store after school. After leaving with an armful of snacks and candy we were about to cross the street. Next thing I know, I'm waking up in the hospital. Come to find out I was hit by a loaded Mack truck going 30mph. The kids that were with me told the police I ran into the road, turned around, taunted them and was hit."
"I was age 10. At age 20, I learned from a mutual "friend" that one of the kids that was with me had pushed me into traffic. I considered him to be a good friend at the time. It was rough going to school just weeks after the incident. After sustaining two skull fractures I recovered well."
"But, the rumors at school and never knowing the truth was troublesome and weighed on me heavily. The person who pushed me is now in prison on counts of aggravated assault. Unfortunately, he wasn't charged or tried for what happened to me. Local police refuse to reopen the case twenty years later. I'd feel a lot better if I could get justice." ~ mrpderp
HER
"My own mother tried to choke me to death. She's mentally unstable and I "pushed her too far" one night. I've never been alone in a room with her since." ~ _Frog_Enthusiast_
Be careful out there.
Want to "know" more?
Sign up for the Knowable newsletter here.

Never miss another big, odd, funny or heartbreaking moment again.
Keep reading...
Show less
What if? That could happen. You never know. All thoughts that muddle the mind. It is unhealthy to live life in a vacuum of despair and scare but really... you do never know. And anything can happen.
So! How to proceed. First we must figure out are you scared or cautious? And are those messages getting confused? They are important questions.
It's natural to be concerned in life, and it's smart to be ready, but living in fear is no good. For instance, serial killers exist. In fact several are reading this now. That can't stop us from going outside. Can it?
Redditor u/IgnoreAndScroll404 wanted to chat about all the things that leave us shooketh in life, because maybe, you never know. They asked:
What unlikely event are you terrified will happen to you?
I hate elevators. I'm claustrophobic. I am sure death by elevator is imminent. Has it happened to others? Yes. Will it inevitably happen to me? Yes. I mean maybe. Who can tell.
The End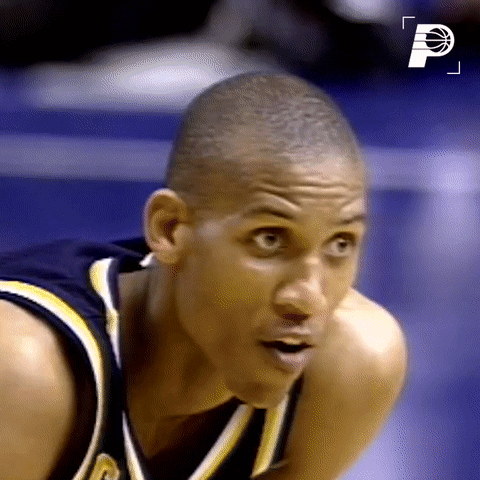 Fail New York Knicks GIF by Indiana Pacers
Giphy
"Being impaled by a log falling off of the back of a truck, final destination style."
Over Troubled Water...
"A bridge collapsing when I'm driving over it."
"Back in '93 my aunt, uncle, cousin, and I were on a road trip from Illinois to Massachusetts. We drove through NYC and we entered Manhattan on the George Washington Bridge. During that year al-Qaeda had plans of using high powered explosives in New York and one of their targets was the GW bridge. Thankfully the FBI foiled that plot before it could be carried out. I distinctively remember as we were on the bridge I was hoping it wouldn't collapse."
- sabo81
Nothing...
"Die before retirement."
"This. All that crap for nothing. This is why you should avoid overtime even if you love what you do, you're not only giving up time now but also time later. Stress will cut your lifespan down as fast as anything."
Ice...
"I'm afraid that one day I'll travel to a country that's got a lot of ice. I'll for some reason, cut a hole in the ice so I can jump in. Swim a little and then not be able to rise to the top due to all the ice and can't find the way out! I've had literal nightmares about this."
Clues...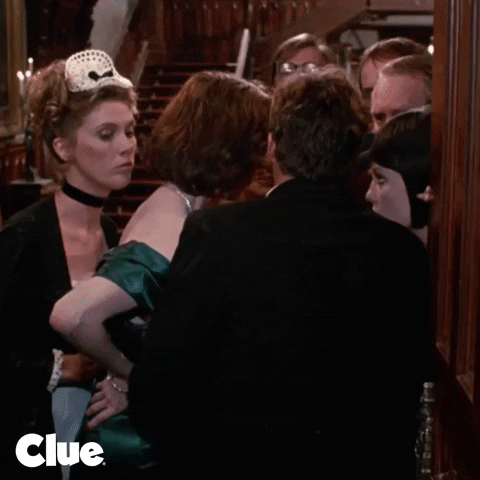 clue turnaround GIF by Paramount Movies
Giphy
"I'm a woman who watches too much true crime. I'm so riveted when watching, but later in the middle of the night I wake up and repeatedly check the doorway for serial killers."
Danger. Danger is all around us. Even in the house we're in trouble. We're never safe.
The Wave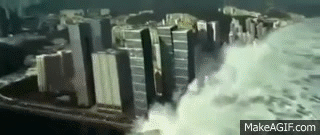 tsunami GIF
Giphy
"Dying by tsunami."
"This. I am simultaneously fascinated and terrified of tsunamis. I have dreams about running from tsunamis about once every couple of months, sometimes I survive, sometimes I don't, but its so freaking scary to think about. And yet I also like to look up footage of tsunamis online for some reason, like some kind of Stockholm syndrome."
Archer
"A brain aneurism. Thanks, Archer."
Zombie Disease...
Rabies. Despite the fact that I'm vaccinated and the chances are low as hell that I would end up with it if I got a booster shot after exposure."
"It is basically the zombie plague from horror movies. Sure, it turns out the logistics of zombie infection doesn't lead to hoards of zombies roaming the streets. But seriously it's a ridiculous nasty disease. My grandfather worked with the virus as some sort of researcher. I got an illuminating email from him back when I was in school doing a report on rabies. Not my favorite disease by a long shot."
- Condex
Crash
"I am scared a plane will crash into my house. Not actually because of 9/11, I had this fear since before then because of the major event near San Diego California where 2 planes crashed into each other mid-air. Bodies and plane parts etc fell all over a suburban neighbourhood. It's one of my biggest nightmares and still bothers me to think about that. https://en.wikipedia.org/wiki/Pacific_Southwest_Airlines_Flight_182"
Knock me out...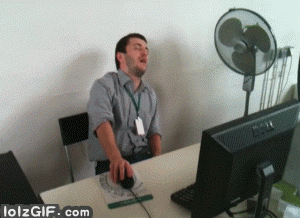 Tired Monday GIF
Giphy
"Doctors doing things without my permission. Such as while under anesthesia, ignoring my requests for something to not happen, claiming I'm incompetent to make decisions, etc."
Life is a gamble. You gonna play or just wait out your turn? That is a more serious question than you think.
Want to "know" more? Never miss another big, odd, funny, or heartbreaking moment again. Sign up for the Knowable newsletter here.
Keep reading...
Show less