Everyone has a breaking point.
Even the person who seems to be the calmest has that moment when their patience has run thin, and all it takes is a little more prodding and antagonizing to set them off.
Curious to hear examples of when strangers online were surprised by what they witnessed, Redditor Specktakles88 asked:

"Have you ever seen a normally calm person completely lose their sh*t? What happened?"
A triggering moment unleashed wild behavior.
The Dude Who Had It Coming
"I was chilling at a friend's house as a kid. His dad was the chillest, nicest guy. That day, my friend's mom (also super nice) was across the street talking to the neighbor about something that I can no longer recall. Neighbor was one of those guys who never respected common etiquette: music blaring, parking his sh**ty boat in front of other people's house, cars parked on the lawn. The neighbor started screaming at the mom and we all went out on the stoop to see what was happening. As soon as we got outside, the guy called my friend's mom a c*nt. Well, my friend's dad heard that and went full Hulk mode. He ran SCREAMING across the street and just f'king decked the guy and crouched over him shouting warnings and threats. Took a while for his wife to calm him down. I don't think any of them had ever seen him react to something in that way, maybe even the dad himself."
– Corporation_tshirt

Hot Kitchen
"I worked as a line cook with a chef who I became really good friends with. Really chill dude, easy going, and actually super fun to cook with. He taught me most of what I know about cooking and I owe him a lot for my success. Never really saw him get mad until one day, we were getting slammed during busy night and one of the servers said something that really ticked him off, not sure if I ever heard what it was, but next thing I knew he had sent the deep fryer basket flying at Mach 1 across the kitchen, nearly missing the dish kid and shattering a light bulb. He stormed off and 5 minutes later after a smoke break, came back and casually continued cooking as if nothing had happened."
"He apologized about it the next day and we never talked about it again. The restaurant industry is a stressful place."
– Nexteri
Thing About Grandpa
"When I was in my late teens I was financially irresponsible and borrowed money from my grandparents to move out of my mom's house. We made a plan on how I would pay it back in installments and I only missed two payments, with each one I called my granddad and asked if it was okay. He was always cool about it. One day I got a call from him and he was LIVID. Screaming at me on the phone and I could hear my grandmother crying in the background. He was the angriest I've ever heard anyone in my life and I was terrified. He wanted to know why I hadn't made the payment that month, but I was sure I had. It turns out I had accidentally set the automated payment to be drawn from the wrong account and it hadn't done it. It was an honest mistake on my part, and I explained that to him. I transferred the money immediately and he instantly calmed down. I later found out he had become an alcoholic after he quit smoking, and he would talk to my grandmother like that regularly when no one was around."
– kamaikaja

Awakening The Beast
"This is not my story but my dads. Growing up his best friend Leif was a quiet, shy guy that was a bit socially awkward. In school he wasn't physically bullied but this one kid teased him constantly. This would have been late 50's, early 60's so kids were expected to just tough it out. My dad would usually confront the kid but one day a girl runs up to him and says that Leif and the kid are fighting."
"My dad runs over to save Leif but when he breaks through the circle he finds the bully flat on his back, Leif sitting on his chest, holding him by the ears and smashing his head into the pavement over and over. My dad tackles him, wrestles him to the ground and screams at him, asking what he's doing. The thing that stayed with me from that story was how he described it, 'it was like there was nothing in there, I felt like I could see the back of his skull through his eyes.'"
"Luckily they were kids so the damage was serious but limited, the bully escaped with stitches and a concussion and Leif had to talk to the school psychologist. My dad and Leif stayed best friends and when I met him as an adult he was still quiet but less shy and awkward."
– Kenail_Rintoon

We Don't Talk About Other People's Moms
"My fifth grade teacher was a very calm and collected individual, except one time when a kid said her mother was a whore. She lost it, She was screaming about disrespect and stuff and even called her mom, put her on speaker and asked if she was a whore. In front of the whole class. I miss her lmao"
– virgin4ever69

Work-related stresses really brought out the fury in these people.
The Beginning
"I had a friend who was in his 60's, a functioning alcoholic but he was the most calm and composed guy I have ever known. He never used to raise his voice or swear. Everything was done with meticulous precision."
"He once explained to me that if you use vulgar language and shout all the time, then you will have nowhere to go when you really do get angry."
"I had worked with him for about 3 years, never heard him raise his voice or swear before. The week before he had been shafted on his pay and the manager promised to get it sorted by Friday. Friday rolled around and it had not been sorted. So when my friend walked up to the manager in the open office and declared loudly 'Where the f'k is my money? You promised this would be resolved.' The whole office went silent and the look of dread on the manager's face was haunting. The money was in his account by the end of the day."
"That was him losing his sh*t."
– LinktoApop

Parting Words
"I used to see this woman in my building every day. Very friendly. We always checked on each other's lives. We had lunch a few times over the years. It was friendly to a certain degree. A couple years passed. She was much older than me. One day, riding the elevator, she told me that she was saying goodbye. I said I was sorry to see her go and asked why. She said she was retiring that day. I asked if her office was throwing a party or if she was celebrated. She turned to me and her face contorted into an image of rage. She clenched her teeth and said she didn't tell anyone in her office, including her bosses. She only told the HR person last week. This was her last day and she was never returning to see or talk to anyone in her office again."
– darthsnakeeyes

The Gentle Giant
"I used to do seasonal work sorting tax returns. Like, 500 people in a warehouse size room sorting through returns, stacking them in boxes, etc. This one guy on my team, huge dude, a gentle giant, really nice. Suddenly one day he smashes the table he's working at, then flips a big box full of paperwork. It flew over my head and twenty feet away. He threw the table out of his way them stormed out. Turns out he was getting his paycheck garnished for something or other."
– TheBelhade

Rambunctious behavior really set these people off, but it also restored peace.
The Teacher Who Had Enough
"One of my teachers in high school was THE calmest dude. Never yelled, never told kids off, would just laugh and smile and wait for us all to calm down and then continue with his teaching. One day we must have been particularly rowdy and we weren't calming down like we usually did. He couldn't get a word in edge ways. I could see him getting increasingly frustrated and eventually he just bellowed SHUUUUTTT UPPPPP And the entire class was shocked into silence. He never had to do it again lmao"
– shyaussiegirl26

Too Angry To Hold A Knife
"It takes a lot to make my mom yell. On the rare occasion she did yell, it still felt like she had self control. Like she yelled on purpose, because there was a reason to yell (like she needed to be that loud for us to hear us, or one of the kids needed to learn to never run into traffic again.)"
"But one morning when we were teenagers, my brother was being really, really difficult."
"And my very sweet, soft-spoken mother yelled 'GOD DAMN IT SHAWN' and threw a butter knife down so hard it stuck, 1/4 inch deep, in oak hardwood floor. Against the grain. I can still hear the noise it made."
"We were all very, very well behaved for the rest of the day."
"I did eventually ask my mom why she did that. Her explanation was that she felt she was too angry to hold a knife, even a butter knife, and was trying to get it out of her hand before she did something stupid."
– _Green_Kyanite_

Granny's Mean Streak
"Man my grandma has a similar thing. This boy was a couple years older than she was and he was constantly picking on her. He's riding his bike home from school one day and he rides past her and he's shouting at her and she knocks him right off his bike and beat the sh*t out of him. My sweet lil granny. The neighbor that saw it said he was proud as sh*t that she beat the snot out of this shitty kid lol. I think it was the start of my grandma's bad b*tch streak because not much later, she started street racing. She was allegedly a sweet little girl, but man I think she must have had a mean streak in her."
– Unsd

"Jerry Springer Christmas"
"My mom. We had what we now refer to as the 'Jerry Springer Christmas' when I was 7 or so. One aunt hated her sister in law and started screaming at her, then shoving started, husband's got involved, then it just continued to devolve from there. My mom went straight into mediator mode and tried to calm everyone down but it wasn't working. She decided to come check on us kids and found my cousin and me holding each other and sobbing because we were scared. The next thing I hear is her scary mom voice screaming over everyone 'listen here you motherf'kers. My kid is in there crying on Christmas because her family can't keep their sh*t together for one the one day a year we all see each other. You're gonna march your a**es into that room single file and apologize to each kid individually, then you're going to shut the hell up until I get them out of here. We're going to go find look at lights and this family better be the picture of goddam Christmas joy by the time we get back.' My mom never really cussed in front of me and only ever used gd when things were really bad. That side of the family didn't celebrate Christmas for a few years after that."
"Edit: thank you for the awards and kind words! Ma is tickled pink at all of the comments about how wonderful she is. I tell her every day how lucky I am to have her."
– thatspookyb*tch

"Had a friend ive know since we were kids. This event happened when him, myself, and two other friends were roomates and 21-22 y/o. We will call him Kevin. He was always happy go lucky always smiling. The guy you call at 3am with a flat tire and he just ask where you're at. Never one to start anything, always managing to defuse any situation with a smile, an offer of friendship, and a beer. While we on the other hand seemed to be in a bar fight every weekend. While Kevin would always be there to break it up. Regurlaly getting hit, but never swinging back."
"He isn't a big dude, 5'9" ish maybe a bit over weight, but worked in labor intensive jobs at his family business since he was young so he was deceptively strong. Normally when breaking up fights he would just pick people up and set them down behind him. Something about being picked up by the biceps and just moved without violence or malice seemed to always take the fight out of people. It was like his super power."
Don't Cross Kevin
"Anyway we had a party at our house. This was an every weekend thing at the time. We were all outside sitting around a bonfire. A friend of a friend we will call steve was being a dick. Getting in people's face, saying he was gonna kick so and sos a** and we generally ignored him. He was drunk and it was kinda his normal behavior, nobody took him seriously."
"He got in kevins face screaming at him, bc he was sitting next to his ex girlfriend. Kevin let it slide, again he never gets angry or confrontational. At this point Steve has his forehead againts Kevin's just sreaming. I guess something just snapped in Kevin."
"Without any warning or words Kevin picked steve up by the throat and slammed him into the ground. At which point Kevin started to just beat the snot out of him, never letting go of his death grip on Steve's throat. All of us were frozen for a second. This was the first time we had ever seen kevin be violent. We quickly snapped out of it and ran to get them apart, but we found out that wasn't going to be easy. It took two guys pulling Steve's legs another two pulling Kevin's and a final guy pulling Kevin's hand from Steve's throat. This entire event probably only lasted 20 seconds, but Kevin never stopped swinging."
"Once they were apart Kevin snapped out of it and began apologizing to everyone including Steve. Kevin even went and got a wet rag and ice pack for Steve. Kevin kept apologizing to everyone the rest of the night for ruining the party. We told him he didn't, besides we got in fights all the time just don't worry about it."
"After that night I've only seen Kevin snap once more. A guy sucker punked our friend in a bar while we were just talking on the patio. Guy ended up with a hand print on his throat and two black eyes. It again took several people to pull him off. Our always smiling Kevin has a genuinely frightening side when he stops smiling."
– Open-Beginning8678

Rage is something that exists in all of us.
Some people are good at letting small things run off their back, while others have no patience for the smallest of grievances.
The lesson to be learned here is, never underestimate the calmest people. They might be the ones to really look out for. You don't want to be the reason for them to break their patience streak and unleash all of their built-up fury on you.
Be kind to others, and just don't be a prick.

Keep reading...
Show less
The list of what irritates me is endless.
I mean... breathing too loud or dust can set me off.
I'm a bit unstable, yes.
But I'm not alone.
So let's discuss.
Redditor Aburntbagel6 wanted to hear about all the times many of us just couldn't control our disdain. They asked:

"What never fails to piss you off?"
I feel like this article can go on forever. Let's get some highlights.
Wasted Time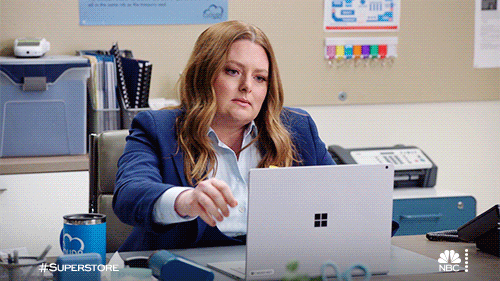 Nbc Im Done GIF by Superstore
Giphy
"Meetings that could and should have been an email."
Sirena609
Lotto People
"Getting stuck behind people playing the lottery at a corner store."
thenuggetlover
"I also used to work in a gas station and you're SO right. I f**king hated the lottery people. Especially since my store had a small staff and there was usually only one of us working at a time, which meant that I couldn't get any of my other work done as long as they were there."
"And you're right, it's also pretty sad to watch. I had one lady who used to come in every day and spent hundreds and HUNDREDS of dollars on scratch tickets. One day, she won $200 after spending probably around $600 and she was so excited and saying she can 'finally pay her bills.'"
i-am-your-god-now
Aware...
"No situational awareness. Job, home, shopping, driving. Think for one minute and go about. OBSERVE!!"
Dizzy-Foundation8122
"My mom is one of those people who leave the shopping cart in the middle of the damn aisle and proceed to walk twenty feet away. After correcting her a million times to no effect I just walk away now so people don't know I'm with her."
OutrageousEvent
Shut Up!
"Endless barking in the middle of the night, I love animals but that sh*t I can't stand."
Acceptable-Lemon2924
"Endless barking in general drives me up a wall. One of my friends dogs was barking almost an entire gaming session the other day. I wanted to reach through the computer and smack him for letting it go on."
bangersnmash13
Kindness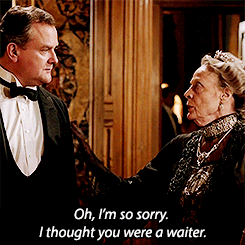 customer service waiter GIF
Giphy
"People being mean to service workers, especially if the workers are very young."'
scaryboilednoodles
All of these things. I hate them all.
Admit It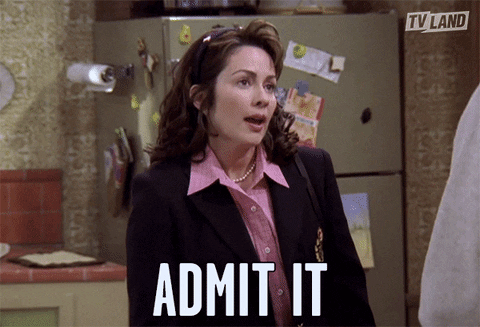 Admit It Tell The Truth GIF by TV Land
Giphy
"People who never accept fault when they mess something up. Like, why blame a million people when it was clearly you who did it???"
Quirky-Area-8978
From Above
"My upstairs neighbors."
lutzow89
"I had terrible neighbors at my previous apartment. It was a one person studio for students, but her boyfriend was clearly living with her illegally and he was loud."
"One night we knocked n the door at 3 AM because of the loud music and an unknown girl opened the door. I just thought they were having a little party. But the next door I saw the girl living there come home with a suitcase after having been away for the weekend... Her BF was cheating on her in her own apartment."
Th3_Accountant
Move Away
"People who sit directly next to me at the airport, movie theater, any other place where you can choose a seat when there is PLENTY of other seating."
BacardiPardy33
"I can't YES this enough and the ones who can't park for crap so they park so close you can't open doors on one side of the car or the ones who park directly behind when you pulled through so the door won't open to load groceries."
BacardiPardy33
It's Over
"People who try to restart old drama. Like I'm done with you, just leave me alone."
Tired_Potatos
"Yep, half the reason I've basically quit playing one of my favorite online video games. People keep bringing old crap up or sh*tting on on someone who used to be our friend. I got tired of it so I just ejected the game out of me."
CaucasianHumus
AHHHHH!!!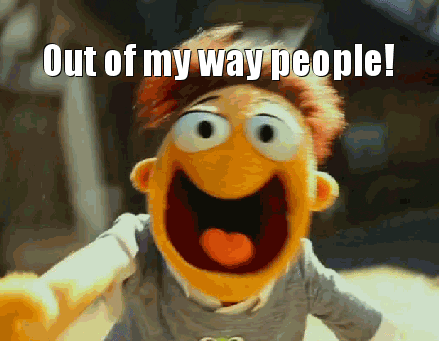 move leading GIF
Giphy
"People walking too slow in front of me with no way to get around them. It's even worse if it's a couple or group taking up the whole sidewalk. HAVE SOME SPATIAL AWARENESS FOR THE LOVE OF GOD!!"
_-v0x-_
'Did I ask?'
"People who bother you for fun."
NuLL-nerd
"This is literally one of my coworkers. My job is to keep up the printers and make PowerPoints basically, and this coworker keeps trying to rush me to make his power point faster. Doesn't matter how many times i tell him that he should send in the request sooner instead of waiting for the last second he doesn't listen and says'Did I ask?' in this 'tough' guy tone."
GreenMilkIsFresh
Classic
"When someone apologized for an action but never actually changes their behavior THEN they get pissy when you 'bring up the past.' Honey, if it's still happening, it's the f**king present."
itisoptional
"Classic narcissistic behavior. If someone decides that the problem with your relationship is that you won't suddenly decide to be okay with their bulls**t... Run away."
woodcoffeecup
Hurry Up!
"People who take their sweet a** time trying to find their wallet/card in their purses/pockets/whatever after standing in line and waiting their turn. Ffs, why can't they find that crap and have it in hand when they get to the counter and place their order."
MissConduct0120
"This and also people who wait in a long line but don't look at the menu until they're at the counter. COME TF ON! You had 15 minutes to figure out your order."
D-Will11
Oh Shut Up!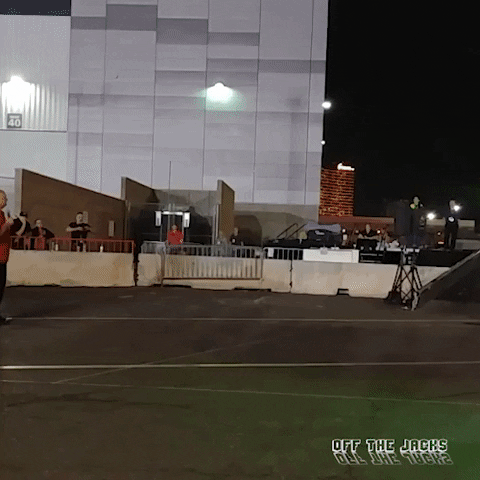 trucks 4x4 GIF by Off The Jacks
Giphy
"Diesel pickups blowing coal and making extra loud noises with whistling turbos and noisy waste gates. Also my neighbors that treat their property like it's the dump."
Mendo-D
Speed Up!
"Crazy slow drivers, we all have places to be."
S0larSc0pe
"I was thinking this yesterday because there was a slow driver on the other side of the road causing the other to overtake. Meant someone nearly crashed into me and as much as that person was a d**khead, I thought if that person had just been doing the damn speed limit nobody would be dangerously overtaking."
OwnAdministration918
I just don't want to...
"Being accused of things that goes completely against my character. Having to repeat myself more than 3 times."
JamesMattDillon
"If I have already said something, and have then repeated it, if someone makes me say it to them a third time, I am just so irrationally angry I will 100% give snotty attitude when I say it. I could probably work on that… I just don't want to. F**king listen, and I wouldn't have a problem."
winterfoxes
They all suck...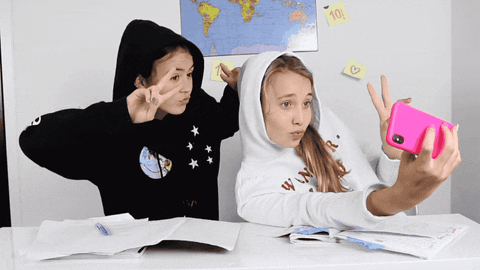 friends selfie GIF by Girlys Blog
Giphy
"Instagram influencers."
g01drush
"Any type of social media influencers at that. They all suck. At least in my eyes they do."
Meengreenpeenmashine
A Hard No!
"Any sort of animal abuse."
Slackerina
"Along those lines, people who use their animals for protection by keeping them aggressive. So many pitbull attacks in my damn town… nothing against pits, just the people in dangerous areas in my city tend to buy them and use them as a weapon. Both depressing and infuriating."
ForeverKeet
Oh Dumb!
"Stupid people, majority of things are just common sense, but for stupid people it's not. We have daily work meetings and the same two to three people ask the same f**king idiotic questions daily and each times it's answered in a clear concise manner and the rest of the team know and understand but these three wastes of oxygen don't grasp it."
Weary_Violinist_3610
Life in general pisses me off. I'm easy.
Want to "know" more?
Sign up for the Knowable newsletter here.
Never miss another big, odd, funny or heartbreaking moment again.
Keep reading...
Show less
Lord give me strength! That is always a favorite of mine. When anger is taking over one's emotions the mouth tends to let loose. And in the past week I'm sure a lot of letting loose has been going on. We all have that one line... or five, that really encompass those special, singular moments of rage. These are the lines that let others know it's times to hide, children know to run and strangers often just cry. It's a signature line, that expresses emotion honestly and to perfection.
Redditor
u/PCubiles
wanted everyone to divulge what responses are like knee jerk reactions when their nerves are tested by asking.... W
hat's your favorite thing to say when you're angry?
DISBELIEF!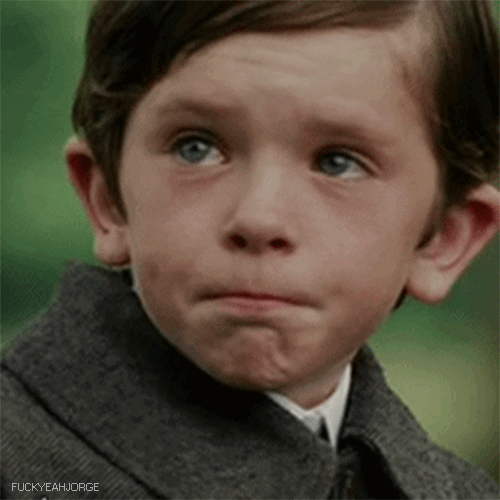 Giphy
"I can't believe you've done this." awomanwithaphone
ADAM. tonybenwhite
In German. 
For some reason i say Jävlar which means something like damnit in Swedish, meanwhile I'm Norwegian. Validalo
I say Sheibe. Don't even know how to spell it. Probably not saying it right. Don't know any other German words but yup I say sh!t in German every single time. Not even when I'm mad. I swear in everyday conversation and I think I just used that to hide it so my slightly Puritan coworkers (some are old and some are devout church goers) don't get offended. They're pretty nice people and they don't shove their beliefs down my throat so I don't want to shove mine down theirs. Nestreeen
Anger Management!
"Ooh, this makes me very angry." I was thinking of Marvin The Martian lol. DumperDump69
I tend to get overly polite when angry. I had an argument with a family member on the phone recently and said "I am very angry and will be hanging up now, good day to you!" zhuzhy
Then I have demonic anger. 
I have two levels of angry I've learned. I have shut down/avoidance angry. I get quite, dismissive and try to avoid the confrontation.
Then I have demonic anger. Full blown seeing red mouth foaming angry. I don't hit that often but when I do I absolutely lose my sh!t. It's kinda scary honestly because I get so heated I feel like I'm going to explode. toolschism
Stubbing...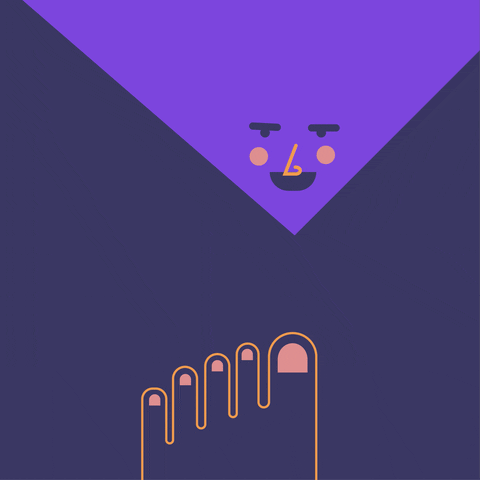 Giphy
I normally don't swear much when angry but when I stub my toe or stuff, I say exactly the words: God f-ing damn it!! Holy Crap. sachiimu
Silence.... 
I have learned the art of staying quiet when angry. Reddit
This form of way to deal with anger doesn't take your anger and saves it up. You don't hold on to your negative thoughts.
Instead you take those emotions and let them go. Instead of saving up anger inside of you, which will indeed hurt your mental health, you take those feelings and realize that being angry isn't the answer. So instead you forget and keep on walking. Tsoof_S
Diffusing.  
I love you. It diffuses situations nicely. Why get angry at a store clerk? They and their incompetence will be out of your life in minutes. Not worth words, let alone anger. Jarcus78
I definitely could murder people with words....
Angry at a situation: "You've GOT to be KIDDING me."
Angry at a person: a stoic "Yeah, please never do that again."
If I legitimately snap, I'll usually break out the comedic / obscure lines, like "I don't know what the Kellogg's Frosted DAMN you're thinking, but..." because I think it helps de-escalate my own anger and it mitigates the chances of actually hurting someone's feelings.
I definitely could murder people with words, but I feel like the satisfaction of doing that would never justify the possibility of opening peoples old emotional wounds that they've spent years healing and coming to terms with. onecollectivepotato
Gosh!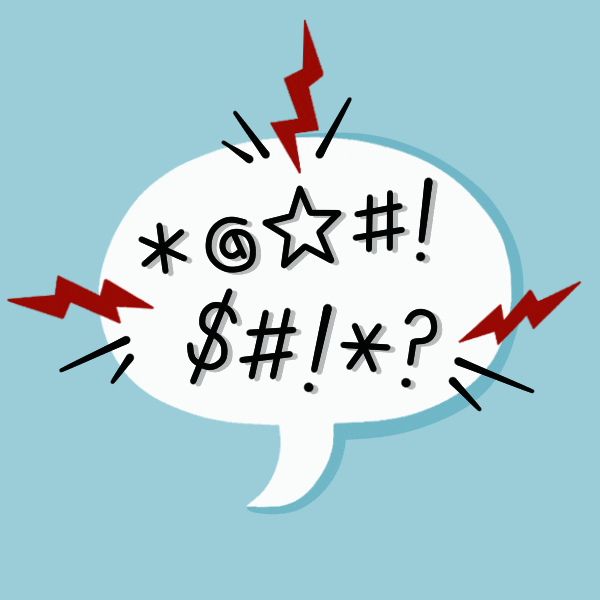 Giphy
I have a habit of saying "god bless America" instead of "God darn it." I blame my parents for not using more expletives. hugs_n_slugs
Do you have something to confess to George? Text "Secrets" or "
" to +1 (310) 299-9390 to talk to him about it.
Keep reading...
Show less
Actions speak louder than words, though words can set my temper ablaze just as prudently as an action. Do you all notice that we are all pretty good at keeping our emotions in check with the big issues? Like when someone does us wrong we take a step back (to evaluate and plot revenge) and process our emotional state as to not jump straight to fury. Fury can be counter productive. So why is it the little things that push us to insanity; like killing one another over a meal or a parking spot... makes no sense. Perhaps we're all trapped in a "this is the last straw syndrome?"
Redditor wanted to hear from everyone about the little things in life that can turn us front Jekyll to Hyde in seconds by asking.... What is the smallest thing that makes you lose your temper immediately?
Keep reading...
Show less