Stories of teenage stupidity, we all have them. The flood of hormones, a strong desire to carve out your own identity, and poor decision making skills is a recipe for disaster...and hilarity.

Back in the early 2000's though we were of course the cool ones though. With our *extra wide leg* jnco jeans, black lipstick, snarky t-shirts, and spiked accessories we were just "so totally unique". Anyone who dared mention that maybe 20 pounds of denim, spikes, and poorly done makeup wasn't the most flattering was definitely a "normie" who just didn't understand...
They did, they were trying to help us not look like a youth group rolled around in a bin of London punk leftovers no one wanted.

Wanting to hear everyone's teenage embarrassment Redditor vitreousmellow asked:
"What is your most stupid teenage story?"
The responses were JUICY.
"And thats how my friend did $12000 in damage to his car while trying to be James Bond."
"Senior year, i'm in the back seat of my buddy's car, we'll call him Alex, with another friend in the passenger seat. We're just driving along when Alex says 'hey guys, wanna see what i learned how to do?' as he pulls into an empty parking lot and drives to end. Throws the car in reverse gets up to about 35 MPH when he cuts the wheel hard and we spin around in a perfect 180. I can't lie and say it wasn't f*cking awesome as a 17-year-old."
"So we do this 2 or 3 more times and decide to leave because we attracted some attention. On the ride home, Alex expresses his desire to pull this spin move on a real street "like James Bond" (actual quote). One block away from our destination he stops and points to an unusually wide street, 'dude that's totally wide enough' WRONG."
"So he starts the process. There we are 35 MPH backwards and he cuts the wheel, only this time we don't just spin perfectly in place. Instead our back end hits the curb sending the front end spinning into the curb also. It happened so fast there was a loud bang/boom/crash, and the three of us dumbfounded with the car full of airbag powder and dust all say 'o man o man are you ok? are you ok? what just happened.'"
"We get out to find his wheel just laying next to his car, it had snapped off the axel. And thats how my friend did $12,000 in damage to his car while trying to be James Bond."
Teen wolf...
"Oh, I got one I'm particularly ashamed of. In high school, I was a particularly angry and a very angsty teenager. Too add to that, I was obsessed with werewolves. It was all I can think about all the time, I wanted be one. I actually searched the Internet to find ways to become one and I prayed to god to turn me into one."
"In my junior/senior year, I started to tell people I was a werewolf. Don't ask me why, because I seriously don't have a straight answer to give you. I guess it was out of wishful thinking. Several years later, I grew out of that phase and I look back and think "what the f*ck was I thinking?"
The point, you missed it buddy.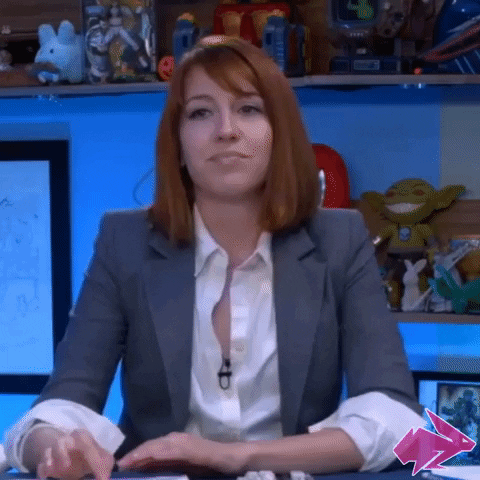 frustrated youtube GIF by Hyper RPG
Giphy
"When a female friend asked 16 year old me to go skiing (my favorite sport). We got stuck on a chairlift for a good 30 minutes and, although it wasn't very cold, she kept saying how cold she was and cuddling up to me. Really close. And giggling. And she was beautiful. But all I thought at the time was 'why the f*ck is she so cold it's like 30 degrees'."
"Reminds me of freshman year of college. Girl I was flirty friends with all through high school invited me to come to her dorm after class to meet her dog. I met the dog. She then asked if I wanted to listen to this new CD she got, but the CD player was in her bedroom."
"Then she asked if I wanted to sit on her mattress because it was supposed to be this super comfortable orthopedic mattress. So I sat on her bed and listened to the CD while petting her dog. When I got up to leave, she asked if I wanted to just hang out there for a while instead of walking back to my dorm in the snow."
"My response was just "nah, I got some homework I wanna do." The second the door to the building locked behind me, I realized what a moron I was. The walk back home was very cold, indeed."
Thanks mom...
"I really hated being a nerd in middle school so I dressed horribly slutty gothic in high school years freshman and sophomore. God it was awful. I remember being a senior in high school and looking through those photos and asking my mom 'why didn't you tell me how horrible I was dressing?!' Her reply 'I knew you'd figure out you look like sh*t eventually.'"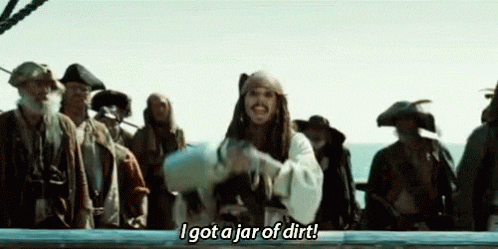 Pirates Of The Caribbean GIF by memecandy
Giphy
"This brought up an embarrassing memory I completely forgot about until I read this. I had a whole I'm a witch phase, once I found an old bottle with green glass. I decided to grind up magical powder and curse people who pissed me off by gently sprinkling some on them without their knowledge, kept 'magic' powder in glass bottle."
"Older sister's friend comes over they won't let me hang out with them. Time for the bottle b*tch, no way of sneaking into the room without being noticed, try to run by the room and throw powder end up peppering my sister's friend in the face, gets in her eyes. My sister was like what in gods name are you doing! Friend is super pissed."
"I ground up sidewalk chalk with a cheese grater and put it in an old coke bottle y'all. OMG I'm crying, It wasn't even fully grated pieces of it got in her eyes. I was like 'Behold the magic of my crayola chunky chalk dust!' Oh I can't breathe!!!"
Best Excuses For Late Assignments That Were Actually True | George Takei's Oh Myyy
​"Nothing could be weirder than the beautiful stripper preacher..."
"When I was 15 I skipped school to hang out in a seedy music store where I was offered my first paid gig to play in an Irish band in a bar a few miles down the road that night. I could only sorta-kinda play the banjo at this point. No... That is not quite true. I was terrible. I also knew nothing about Irish music."
"Oh. One more thing. I am almost deaf. The man who hired me had such a thick brogue that I could hardly understand him. That night, I climbed out of my window and, banjo in hand, headed out into Philadelphia. It started to rain, so I decided to hitchhike. This was easy to do in 1985."
"Just stand on the side of the road playing the banjo and somebody will pick you up. I had a roll of nickles in my right jacket pocket, a Buck knife on my belt and a collapsible steel baton in my left jacket pocket. I was not worried. I was loaded for bear and ready for anything."
"A little sports car stopped in the middle of the road. Blocking traffic. A man in acid-washed jeans and a neon pink tank top jumped out from the driver's seat. He was highly muscled. I mean, he was so highly muscled that the streetlights and headlights created patterns of shadow and light that were only accentuated by his rippling physique. I'm not even gay and I noticed this. He was that beautiful."
'"Get in! Get in!' the beautiful man yelled. It was raining and I needed a ride. I got in. As soon as I close the door he takes off. He gives me a sideways glance and asked me if the banjo in my hands was a banjo.

"The last time I was asked this question by somebody picking me up on the road, it was followed with a creepy laugh and, 'Have you ever seen that movie, Deliverance?' I jumped out, banjo and all. Just opened the car door and threw myself out as the driver screamed, 'I was joking!'"
"So, when the beautiful man asked me about my instrument I was a bit cautious when I replied the affirmative. 'YES! THANK YOU JESUS! PRAISE GOD!' His shout was followed by a rapid succession of jabs to the steering wheel. I was wrestling with my seatbelt and reaching for the roll of nickels. I was about to break this guy's jaw and bounce."
"The he calmed down and told me his story: He had been a male stripper. Then he got saved and found Jesus. I asked him where Jesus was hiding. He just gave me a confused look before continuing. After getting saved he stopped taking his clothes off for women and was now going so some Bible school to become a Pentecostal preacher."
"When he left home for school, his dad gave him a banjo. This very night, he had been driving around with his daddy's banjo on the back seat, praying out loud for his Lord and Savior, Jesus Christ, to send him a banjo teacher - and then I just appeared out of the rain."
"I looked in the back seat. There was a banjo. His story was too crazy to be anything but true. I let him buy me dinner and I gave him his first banjo lesson before he dropped me off at the bar. When we got to the bar, when he realized I really was 15, when he realized I was not joking about sneaking out of my house, the stripper turned preacher started to cry a little."
"I had to let him pray over me a bit to shake him. I walked into the bar telling myself that the evening would go smoothly from this point on. Nothing could be weirder than the beautiful stripper preacher. I was an hour early. The band had not arrived yet. Everybody in the bar stared at me..."
It—somehow—did indeed get weirder...
"I talked the bartender into letting me have a Coke while I waited for the band. Rough hands turned me around on the barstool. I was rushed by three large men. They never touched me, but instead wedged themselves to my left and right. With my back against the bar, I was helpless while the leader of the pack addressed me. 'So, we have a musician here tonight. Will you play for us?'"
"That's all they want? No problem. They let me loose, so I could break out my banjo and play a few tunes for the patrons. Everybody remained stone-faced. The three big guys grab me again. I am pinned on the barstool again. This time with my banjo on my lap."
"'That'sanicebanjo lad doyouthink I couldplayitwith me d!ck?' I stared at the leader. He was big, and filthy. He was wearing a loose T-shirt and red shorts. I asked him to repeat himself. 'I said, that's a nice banjo. Do you think I could play it with me d!ck?' My hearing, the Irish brogue, it had to be a joke. I puffed out my chest. 'I'd like to see you try!'"
"Too quickly for me to react, like a drunk Irish ninja, the red shorts were around his ankles. He took hold of his manhood and started flopping himself against the steel strings of my banjo.
"The bartender, whose name was Pat, shook his white Irish mane and, in a thick brogue proclaimed, 'He's at it again!' In the many years since I find myself wondering about Pat's proclamation."
"Jesus wept."

"More happened. A lot more - but I think I should end my tale with this: I noticed something about the bar. There were pictures of the queen and Margret Thatcher hanging upside-down over the bar. As the weeks went by, I couldn't help that a lot of the band's songs were about hating the British. This did not bother me much because I was getting paid, and I was hanging out in bars."
"It was too much fun to think about it. A few of the places we played were basement rooms, houses and closed bars. Finally, dad followed me one night. I'm up on stage with the band, the women in the crowd were dancing, the men were drinking and all the way in the back was my dad and Pat the bartender."
"I could tell from the hand gestures and laughter that Pat was telling my father about the great Banjo and Penis Showdown. The band spotted my dad. On one hand, they were worried I was not going to be allowed to play with them anymore. On the other hand, it was funny as hell to watch me squirm."
"During a break, I walked slowly to dad's table. He wasn't even mad. He told me that everybody in the place had good things to say about me, that the band sounded good, and we were probably raising money for the IRA. Well, that explained a lot."
"Dad gave me one of those 1-800 calling cards. He told me to carry it, so I could call him if/when I got into trouble. Then he left. He let me keep on playing. That morning when I got home, things were different with me and my parents. My dad started joining me on my adventures, and eventually the two of us wound of performing together. I'm in my 50s now. Dad and I still jam together."
Epic fail.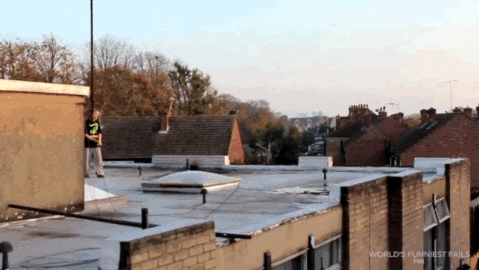 world's funniest fails GIF by Fox TV
Giphy
"In high school we used to think it was cool to climb up to the roof and hang out there late at night for no reason. One time around midnight a group of us were up there on my buddy's roof and he decided to climb down without waiting for anyone to hold the ladder. He proceeds to slip, takes the ladder down with him, and face plants into the driveway."
"There was no other good way down, so while he's laying down there moaning in a pool of blood, we had to climb up above his parents' bedroom and start stomping and yelling for help (this was in the 90s before everyone had cell phones). Finally after a few minutes his dad comes running out in his underwear, sees his son, and goes apesh!t screaming at us."
"Eventually he props the ladder back up so we can get down, yelling the whole time, while the mom takes my friend to the ER. He ended up with a few chipped teeth and had to wear braces again for about 6 months but otherwise wasn't too banged up. The dad actually apologized for yelling the next time we saw him. We were just like, no reason to apologize considering we almost killed your son."
No good seems to come from trying to impress girls.
"Tried to 'impress' a few girls and have them think I was a daredevil. A buddy and I took these girls to a movie theater about 30 miles away. It ended around midnight, we were tired and just wanted to get home. Hit 120mph in my bad a** Oldsmobile, then slowed it down to 30mph."
"You know that feeling when you go really fast, then back to 'normal speeds'. You feel like you are now going very, very slow. I told my buddy, 'Hey, I bet I can run this fast...If I just jumped out, I'd be fine right?' He had the reassuring response of, 'Umm, sure?' Without thinking I opened the door and jumped out..."
"My feet hit the ground, my shoes went flying in the air. I smacked my head against the pavement and did two back rolls, gaining road burn in the process. I look up seeing my car drive slowly into a ditch...yup, I was driving before I jumped. As I laid there pulling my shirt away from my bleeding back I thought, 'Man, I am a stupid teenager.'"
Oh noooo...
"Reminds me of a friend in high school. We were in the classroom at the top of the stairs, the doors out of the building were at the bottom. It is the final class period of the day. The bell to leave rings...and he bolts from the room, turns and just flies down the stairs (I mean I could almost believe it if someone said that he just power dived off the top one and aimed for the bottom)."
"Yet, he manages to perfectly grab the push bars on both of the double doors leading out of the building, and flings them open in front of him with the added mass of the opening doors (still firmly in his grasp) adding to his forward momentum like a giant slingshot. He forgot that there was a post between the doors."
These were some hilarious moments. The next generation will laug at their own soon as well.
Want to "know" more? Never miss another big, odd, funny, or heartbreaking moment again. Sign up for the Knowable newsletter here.
Keep reading...
Show less
Remember when you were a kid, and you had that one top secret thing that you never told your parents? Well trust me, they knew what was up. Like, I may have told my dad that I was going out for a "midnight walk" when I was 17, but I was actually going out to hook up with someone from my drama class. He found out the truth really quick.
Parents always know, my friends. They may act like they don't to avoid your embarrassment, but they see everything. Keep that in mind next time you think you've successfully covered up that hickey with concealer.
U/BinaryPeach asked: Parents of reddit, what secret do your kids think they've kept hidden from you for years, but you actually know the truth?

When you're a little kid, sometimes covering up the truth can be a cute attempt at being a good kid. That changes real quick when you get older.
​Imaginary friends are real!
My poor sweet kindergartener confessed with tears in his eyes that his imaginary friend wasn't real. That he'd never been real. That he'd been lying.
I had a hard time keeping a straight face as he poured his heart out about the guilt that had been eating him alive for being a "lying liar who lied to his mom." Then I hugged him and fessed up that I knew.
We talked about his friend's baby brother who was almost 3 and had an imaginary friend Mickey Mouse.
Did he really think this baby was playing with Mickey Mouse when he had to go grocery shopping with his dad while his big brother played on the trampoline with my son? Did he think this little guy was a bad person for saying he and Mickey Mouse had ice cream and played games in his magic house just because he was jealous about not being able to stay and play?
We talked about how he created his imaginary friend when he was only 2. How he uses his imaginary friend to talk about things that were bothering him. Like when his dad went out of town for 3 weeks and he was scared he wasn't coming back and afraid his dad left because he broke some stuff while playing.
Oh how he squirmed to realize I knew he had been talkimg about himself and not his imaginary friend's family!
Anyways, it was a good talk. He seemed to realize it was okay to talk about uncomfortable or scary things using an imaginary friend and that I wasn't deceived or mad about it.
Since then, the imaginary friend has shown up a few times. Like when it got a love letter from a girl at school the same age and didn't love her back. Or when the "purple cat" saw another kid eat a bug on the playground and wasn't sure if he wanted to still be friends anymore.
Definitely didn't know that at all.​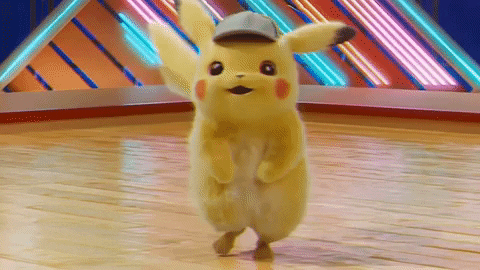 Detective Pikachu Reaction GIF
Giphy
Good to see my mum didn't know about me playing Pokemon when I was supposed to be asleep.
How else are we gonna catch those night-only Pokémon like Hoothoot?!
Three year olds, man.
My three year old tells me she washed her hands after going to the bathroom... She can't reach the faucet on her stool.
Right? My 3 year old clearly thinks I know nothing. My favorite is when he poops his pants and then denies it....

I think every person who has ever been a teenager has lied about something at some point. And typically they aren't so lucky in getting away with it.
​At least he confessed....eight years later.
Our son stole money from our wallets when he was 14. We had two other kids old enough to be able to do that, but we knew it was him. He's 22 now and asked him recently. He confessed and was shocked that we knew.
Nana stayed quiet.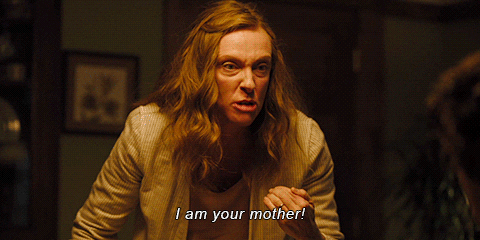 Mothers Day Mom GIF by A24
Giphy
When my mom was 16, she had a night job and a boyfriend. She would sometimes say she was going to work when she'd actually go to her boyfriends house. Her mom knew. Nana sat on that for 40 years.
My grandmother still enjoys pulling stuff like this on my mom and her siblings.

It's always fun to watch a 60 something do the "MOM!" with the shocked-teenage face on.
Every teen has snuck out.​
Not a parent but I am one of 10 kids. My younger brother got busted for sneaking out of the house. And hard core (by my parents standard) punished. Mom made him check in with location tags every hour and he wasn't allowed out past a certain time. He was 17 or so.
I had to sit my parents down and tell them that all 6 of us older siblings had also snuck out and they were being completely unreasonable. They'd had no idea.
​This ended up being wholesome.
When I started dating my now wife. We were not at the age to legally drink, I worked at a liquor store and my friends older brothers may have accidentally left some liquor around. Well my GF had never had anything other than a small dixie cup of champagne at new years ago I happened to have a half bottle of Burnett's grape vodka that I "snuck" into her house when we thought her parents were sleeping. Like 10 years later we find out they happened to look out the window to see if it was snowing and saw me grab it out of my trunk. We thought we got away with it 100% and just became a good laugh.
Ironically though, both of my wife's siblings had their first alcoholic drink because of me and my wife, mainly because they trusted us to not let them go over board when they were going to college age.
​There are those special, well thought out lies that are so creative, that sometimes parents will just go along with it due to being impressed. I hope my kids are this smart.
​I would do it too for a cute cat.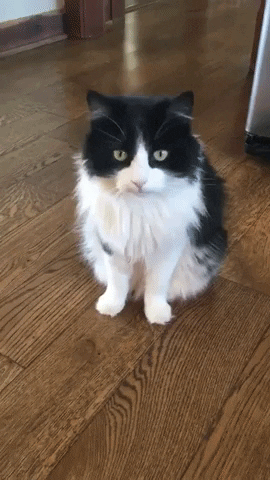 sitting close up GIF by Real Food RN
Giphy
I was the kid. I have always loved cats, and couldn't stand to see unloved cats. I brought home a lot of kittens and cats over time, to the point that my mom told me I wasn't allowed to bring any more home, no joking.
So one day, many moons ago, I at about 10 yo went to the Pike Place Market in Seattle and was wandering around when I came across a guy with a box of kittens. I knew I couldn't bring home a kitten, but I fell HARD for this little black and white kitten. I think I spent an hour trying to figure out how to convince my mom I HAD to have this kitten, and came up with... as I was walking home from the bus stop, a car drove by and someone tossed a box out in front of me. I of course checked it out, and lo and behold, a helpless kitten! Obviously I couldn't leave it on the side of this busy road, so I had to bring her home!
Mom let me keep her after interrogating me for a while, and I loved my Bootsie so much while she was with us ( she had a seizure disorder and didn't live long).
About 15 years later, my mom told me she knew I was lying the whole time, but it was such a creative lie, she felt I should be rewarded for.
Well, not all of them can be as clever....
When I was a kid I used to keep a pretty elegant glass bong on my night stand and I would place fake flowers in it to make it just look like a vase because I just underestimated my parents that much. It's crazy how great you think you are as a teenager. lol. But my parents totally knew and just thought I was an idiot for thinking I was so clever.
That sounds really tasty actually.
My son thinks he is slick and got away with drinking some of my salted caramel moonshine. I know he snuck a shot or three. I'm okay with it. He's 17 and responsible, smart and an amazing kid. A smidge of moonshine isn't a huge deal.
Remember kids, if you think you're getting away with something, nine times out of ten, your parents are twelve steps ahead of you. Just a heads-up, thank me later.
But thank goodness for the parents who love us anyway, no matter what stupid hijinks we get into.
It can be easy to presume that parents and their children get along automatically.
But unfortunately, that is so far from the truth. There are SO many fraught, toxic, and already-destroyed relationships between children and their parents.
Of course, no parent sets off hoping it gets to that point. But sometimes the external circumstances, the other adults in the child's life, or the internal tendencies of that person--who is an autonomous individual--simply drive a wedge that, for parents, is impossible to surmount.
Some Redditors who are involved in a toxic parent-child relationship shared how it got there.
TheHeyHeyMan asked, "Parents who dislike their own children; why?"
There's no question about it, this was a very depressing list to read through. But hopefully there are some lessons we can glean from these posts.
Maybe you surmised a way to make sure you don't do the same thing if you already have or plan to have kids.
Want to "know" more? Never miss another big, odd, funny, or heartbreaking moment again. Sign up for the Knowable newsletter here.
Children and adolescence are often completely inept and socializing responsibly.

Their hormones are flowing. They're obsessed with status and social hierarchies.
​Maybe you remember that age—or maybe you're currently in the throes of it. It felt like doing well socially was a zero-sum game: be cool or be decimated.
Unfortunately, certain traits were rewarded and others were not. For example, it's easy to interpret loud energy as confidence and humor.
But some kids just didn't have loudness in them. They were patient, didn't feel the need to take up the air time.

But in that high school ecosystem, that's no mere attribute. It's grounds for ridicule.
A recent Reddit thread asked for the Mose quite kids' side of that story.

blossomb1tch__ asked, "People who were the 'Weird' or 'Quiet' kids in high school, what's your side of the story?"
For plenty of people, the reason for their timidity only became clear as they grew up and understood what was motivating it all the while.
The fog clears, and a previously unobserved deriving force becomes obvious.
From Quiet to Manic
"I had undiagnosed mental illnesses and no mental health support system" -- stealtoadboots
"Same. In my case I was the weird quiet kid in elementary school. From Kindergarten to about halfway through 5th grade, I suffered from selective mutism in school, mixed with severe depression."
"Part way through 5th grade I started to talk in school, but continued to suffer from severe and debilitating depression until freshman year of high school. By high school I wasn't the quiet kid in school anymore."
"At that point Bipolar I made its grand appearance, and, while mania may have made me weird, it did not make me quiet. Didn't actually get diagnosed until I was in my late 30s. Everything made a lot more sense after that." -- librarymania
Hard to Relate When You're So Far Away
"I had undiagnosed inattentive ADHD so my head was in the clouds more often than not." -- coronaslayer
"Undiagnosed ADHD-PI + social anxiety (almost certainly caused by social rejection by peers in K-8)."
"Not fun. And not recognized until I was in college." -- PyroDesu
"I have ADHD as well :) It was tough at first but I've learned to embrace it to an extent. It's never too bad to live in the clouds, as the ground sucks sometimes. I hope you're doing well <3" -- blossomb1tch__
A Pivotal Discovery
"Had Autism, didn't know." -- [deleted]
"It's not very specific and there are loads of varying symptoms. Why it's called a spectrum."
But biggest indicators for me at least were strong, unusual obsessions. As in I would get extremely obsessed over a topic that there's no reason to be obsessed about. Some other indicators are trouble making friends or maintaining relationships."
"Sensitive to bright lights and sounds. Stimming (fidgeting). OCD tendencies. Often people get frustrated or irritated with you about your behavior or things you might have said, but you have no idea why they are."
"And the biggest indicator is if you think you might be autistic, you probably are." -- drewisawesome14
Tremors and Tiredness 
"Secretly and unknowingly suffering from severe anxiety and depression mixed with a little insomnia to boot." -- perspicacity-404
"Lol I have social anxiety and insomnia, (my sleep schedule is very irregular) for the last two days I didn't sleep and my anxiety was on the top of mount Everest..."
"...I just got a full nights sleep yesterday and the amount of confidence I had today was unbelievable." -- Dry_Ad_7848
Others highlighted an important dynamic.

These Redditors explained that sometimes the alienated kid was originally not very different from anyone else.

But one quirk can snowball.
Chicken-Egg
"It's a downward spiral. You get picked on a few times, and don't take it well. After a while you learn to not draw attention to yourself by being quiet and withdrawing."
"When you withdraw, you internalise more, which isn't necessarily healthy."
-- AlterEdward
A Last Ditch Effort
"I guess I'll share my side. I was frequently seen as weird and bullied for wearing pajamas and not looking put together during school, and just being an awkward kid with poor social skills."
"The reality was my home life wasn't that great, I had undiagnosed anxiety, and I was doing the bare minimum of showing up so people wouldn't think I was dead."
"When I made valentines letters for my class one year I got teased for trying to be nice and it only hurt my reputation more. This made me scared to talk to my peers, emotional and 'quiet.' "
"Thank god I graduated."
Laying Low
"I thought everyone hated me, so I stopped talking to people because I didn't want to bother them." -- biaforeverwar
"If complete strangers (aka kids not even in my class) are spending a disturbing amount of time making fun of you, you tend to think that everybody hates you."
"Source: me." -- shf500
And a few didn't see their quietness as a problem at all.
They owned their decision to keep their cards close to the best. They dispassionately noticed their uniqueness, and that was that.
Nothing To Speak Of
"There's not much of a story. I just didn't feel the need to talk as much as other people." -- Asriel92
"I never knew how people could think up new things to talk about every day. I've never had the knack. Plus, I was so nervous of saying the wrong thing." -- BringBackRobotWars
"Yes agreed. I felt a lot of people talked for the sake of saying something but it was nothing of substance." -- toast_with_butt
Eyes on the Prize 
"I wanted to go to medical school. I knew I wanted this since I was 6. I was not going to do anything to jeopardize my dreams, so I didn't do anything the other kids did."
"I didn't go drinking at the high school parties. I never did any drugs. I was a good kid."
"The few times I got sent to the principals' office, I was laughed at and sent back to class with no punishment. I caught hell for being a 'goody-two-shoes.' "
"What am I now? I'm a doctor."
-- angmarsilar
Little Overlap
"I had nothing in common with the people at my school with the exception of 2 friends. I wasn't into anything that my peers were into or that they felt was important."
"Nothing has changed really."

I'm sure if you look back on your time at school you'll remember at least a couple kids just like this.
Or perhaps you were the quiet kid.
Either way, now you likely know a little bit more of the untold story behind it all
Want to "know" more? Never miss another big, odd, funny, or heartbreaking moment again. Sign up for the Knowable newsletter here.
Keep reading...
Show less
The minds of teenagers are about as mysterious as the outer recesses of deep space or the dynamics of life at the ocean's bottom.
Like those faraway places, adolescent brains play by rules no adult can fathom--even if they had just that kind of brain years ago.
Those teenage brains are characterized by their inability to fully consider long term consequences and risks. They also tend to consider themselves at the complete center of the universe.
The mixture of both properties makes for some wild clothes, far out makeup choices, and, when seen in the rear view mirror of adulthood, insufferable behavior.
Some Redditors gathered to describe the old habits that still make them squirm with embarrassment.
WorseCup asked, "What was your cringy teenager phase?"
Want to "know" more? Never miss another big, odd, funny, or heartbreaking moment again. Sign up for the Knowable newsletter here.
Keep reading...
Show less