Taiwan became the first Asian nation to recognize same-sex marriages last week. and hundreds of LGBTQ couples have rushed to get married on Friday, which is the first official day the law went into effect.
LGBTQ rights activists are celebrating the historic move after two years of championing for the cause.
While gay marriage is now legal in the island nation, the community still has a ways to go to fight discrimination.
And Taiwan has! The first country in Asia to okay same sex marriage. Gay friends who've visited there as tourists t… https://t.co/kRycQgx2nl

— Melissa Chan (@Melissa Chan)1558076212.0
Many couples are asking for their names to remain anonymous, like this 48-year-old novelist who writes under the pen name Chen Hsue.
Opponents of marriage equality in the outer suburbs have threatened to create a political party to fight for a ban on same-sex marriage in the 2020 election.

"The legalization of marriage is only the first step," said Hsue, who has a partner she's been living with for 10 years.
"In the future, through this legalisation, I hope LGBT+ people could be accepted as ordinary people by Taiwanese society.
Judges gave the island's parliament two years to amend and create new laws. Former marriage laws in Taiwan were criticized for being unconstitutional and violating LGBTQ citizens' rights.

The law passed on May 18, just one week before the deadline.
@CNN I'm so proud of being a Taiwanese

— Joyce (@Joyce)1558090139.0
@CNN Congrats Taiwan🌈❤️🧡💛💚💙💜

— 𝐿𝑜𝓋𝑒𝓁𝓎 𝒥𝒦 (@𝐿𝑜𝓋𝑒𝓁𝓎 𝒥𝒦)1558099497.0
@CNN Meanwhile the USA is going backwards.

— Angelofdeath (@Angelofdeath)1558091522.0
As of Friday, Taiwan's Ministry of the Interior said that over 300 couples were registered to marry.
It was particularly an emotional day for Chi Chia-Wei, one of the first Asian LGBTQ rights activist who has been fighting for same-sex marriage since the 80s. Chia-Wei was also one of the plaintiffs who introduced the legal challenge of marriage discrimination to the Constitutional Court.
For him, the change was a long time coming.

"I have been preparing for this day to come, although it took a long while to happen ... But I knew it would eventually come."
@CNN Congratulations Taiwan 💜💜💜 https://t.co/z8GH4gZc03

— Sony 💜 (@Sony 💜)1558103406.0
@CNN @Alina00343532 Some good news for everyone finally. I'm not directly involved but this is a good step for humanity.

— SyBorg (@SyBorg)1558091342.0
Kristin Huang realized the need for equal rights when her partner Amber Wang was being treated for a medical emergency as a "roommate."
Huang, who co-hosts a popular YouTube channel with Wang called BBDiary, is glowing with pride after hearing news of the final bills legalizing same-sex marriage passing last week.

"I'm so proud that Taiwan is on the right side of the history and the first in Asia to have done so ... Taiwan has set an example in making progress in safeguarding human rights."
@CNN Congrats to Taiwan! I hope this will inspire other Asian countries to do the same!💜

— Oshan Pushpakumara (@Oshan Pushpakumara)1558100500.0
Same-sex marriage is not legal in mainland China, which Taiwan split from during the 1949 civil war. However, China claims Taiwan as part of its own territory.
While progress has been made with LGBTQ awareness, Chinese TV and social media regularly censors the depiction of gay content.

Keep reading...
Show less
Taiwan just became the first Asian country to legalize same-sex marriage!

The law goes into effect on May 24th of this year, 2 years after the Taiwanese Supreme Court ruled that marriage equality was required by their constitution and ordered lawmakers to change the laws accordingly.
Taiwanese President Tsai Ing-wen acknowledged that the decision had caused some division in the country, but that the decision was the only way to honor the constitution and the Supreme Court's earlier ruling.
She was hopeful for the future of equality in Asia with Taiwan's example:
"Today, we have a chance to make history and show the world that progressive values can take root in an East Asian society."
"On May 17th, 2019 in Taiwan, LoveWon. We took a big step toward true equality, and made Taiwan a better country."
Many marriage equality and LGBTQ+ supporters were excited too.
Wattana Keiangpa, from the Asia Pacific Coalition on Male Sexual Health was hopeful that the decision would spark similar conversations throughout Asia.
"This will help spark a debate in Thailand, and hopefully will help Thailand move faster on our own partnership bill."
There is even a group planning a mass wedding/marriage registration on the 24th, according to Indian Express.
They will hold a huge block party for the group and their guests afterward.
Social Media was abuzz with people incredibly excited by the passing of the law.
Taiwan's Ministry of Culture shared the good news on Twitter.
#Taiwan passes same-sex marriage bill on International Day Against Homophobia, Transphobia, and Biphobia #IDAHOT, b… https://t.co/Ki0gLwnM4i

— Ministry of Culture 🇹🇼 (@Ministry of Culture 🇹🇼)1558074574.0
The announcement was a source of renewed hope for some.
@equallovetw I've been losing so much hope for this world with the long chain of bad events recently, but it's nice… https://t.co/Pyc3eoaYNv

— ryan (@ryan)1558075580.0
@equallovetw So much cause for celebration!! I'm so encouraged by this choice!

— Allyria Lai (@Allyria Lai)1558076264.0
There was a trend of posting GIFs of same-sex couples kissing in response to homophobia on Twitter.

@marufu327 @BBCBreaking https://t.co/L3ncARCumv

— Tom [PositiveLad] (@Tom [PositiveLad])1558072832.0
@PositiveLad @marufu327 @BBCBreaking 💗💋💗💋 🌈 https://t.co/W0goqSXGdR

— The Newborn lives! (@The Newborn lives!)1558073921.0
@BlueBoy8000 🌈 https://t.co/EWy9KiT5q0

— Waffle🌸 (@Waffle🌸)1558082097.0
Some were excited about the potential business profits from destination weddings.
@yoongswaffle @BlueBoy8000 How about Westerner come Taiwan for marriage, huh? https://t.co/JAkH9Tmrv6

— スミオ (@スミオ)1558099810.0
This decision is a huge win for marriage equality throughout the world. Many are hoping that it signals a larger shift toward LGBTQ equality.
Congratulations to all of the same-sex couples in Taiwan who now have the choice to marry!
Keep reading...
Show less
Kevin Bozeat recently experienced a medical emergency while visiting Taiwan. His health required him to visit the emergency room at NTU Hospital in Taipei, and his overwhelming experience caused him to write "The Horrors of Socialized Medicine: A first hand experience" on Facebook.
On February 17th, Bozeat posted about his experience at Taipei's NTU Hospital.
Kevin had been vomiting for hours and finally resigned himself to going to the E.R. despite his fears and reservations about medicine outside of the United States.
His experience was one for the books.
He began the story by giving background as to why he required medical attention.

"The Horrors of Socialized Medicine: A first hand experience

A few days ago my stomach began to hurt. Thinking it would pass, I went home to try and rest for the night. A bit later I vomited. I thought that was the end of it.

But for the rest of the night, I kept vomiting almost every 30-40 minutes. Even after my stomach was completely empty, I kept vomiting. Soon it was nothing but stomach fluid and bile. I tried to drink water to stay hydrated, but I kept throwing it up, no matter how hard I tried to keep it down.

By 3am I had severe stomach cramps, my body kept trying to vomit even though there was nothing left. I was dizzy and light-headed. My symptoms showed no signs of abating.

At this point I had to seek medical treatment, I knew I had to go to the hospital."
Kevin went on to share his fears about Taiwanese medical care.

"I wanted to avoid it. I had no idea how different Taiwanese hospitals would be, whether I would be able to find an English speaking doctor, or what it would cost me (my US health insurance has lapsed and I don't qualify for Taiwanese NHI)."
As his story continues, it becomes clear that Kevin's fears were completely unfounded.

"My Taiwanese roommate called a taxi and took me to the ER at NTU Hospital. I was immediately checked-in by an English speaking nurse. Within 20 minutes I was given IV fluids and anti-emetics. They took blood tests and did an ultrasound to ensure it wasn't gall stones or appendicitis. From there I was given a diagnosis: a particularly severe case of Acute Viral Gastroenteritis (aka the stomach flu). After about 3 hours on an IV, I began to feel slightly better, my nausea disappeared and my stomach began to calm down. I was discharged with a prescription for anti-emetics and pain medication. Each day since Ive gotten progressively better and am now pretty much back to normal.

The bill for the ER visit?...

US$80.00

Eighty. American. Dollars.
Out of pocket. Full cost. No discounts. No insurance.
At one of the best hospitals in Taiwan.

And if I had NHI, it would have been a fraction of that."
Bozeat concluded his account expressing the difference between Taiwan's socialized healthcare and that of the United States.

"This could have easily cost me hundreds or even thousands in the US without insurance. But here in Taiwan I was able to receive speedy, quality care comparable to what I would have gotten in a US hospital for relatively small amount of money.

Given this experience, I no longer have a reason to fear or hesitate getting care in Taiwan should I ever need it.

America, it's time to stop making excuses."
The post has since gone viral with 208,000 shares of his original Facebook post alone.
People agree that it's time for America to "stop making excuses".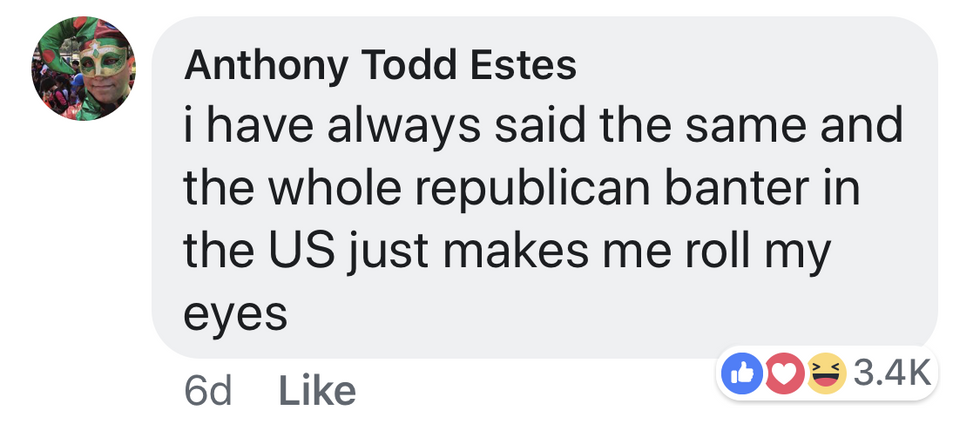 Facebook

Facebook

Facebook

Facebook
$300 for an EMT ride here. SMDH. Folks in the USA afraid to go to the hospital because the bill might kill them. https://t.co/dE0x3SWQCG

— cyd (@cyd)1551396001.0
It works in other industrialized countries there's no reason that it couldn't work here. We pay more for healthcare… https://t.co/u26aMTdfsH

— maygin mcewen (@maygin mcewen)1551389845.0
I used to be afraid of socialism and thought universal healthcare was a joke. Not anymore, healthcare is a right t… https://t.co/04m5IHs4xC

— Tonya Brandt (@Tonya Brandt)1551377579.0
Others had similar stories to tell.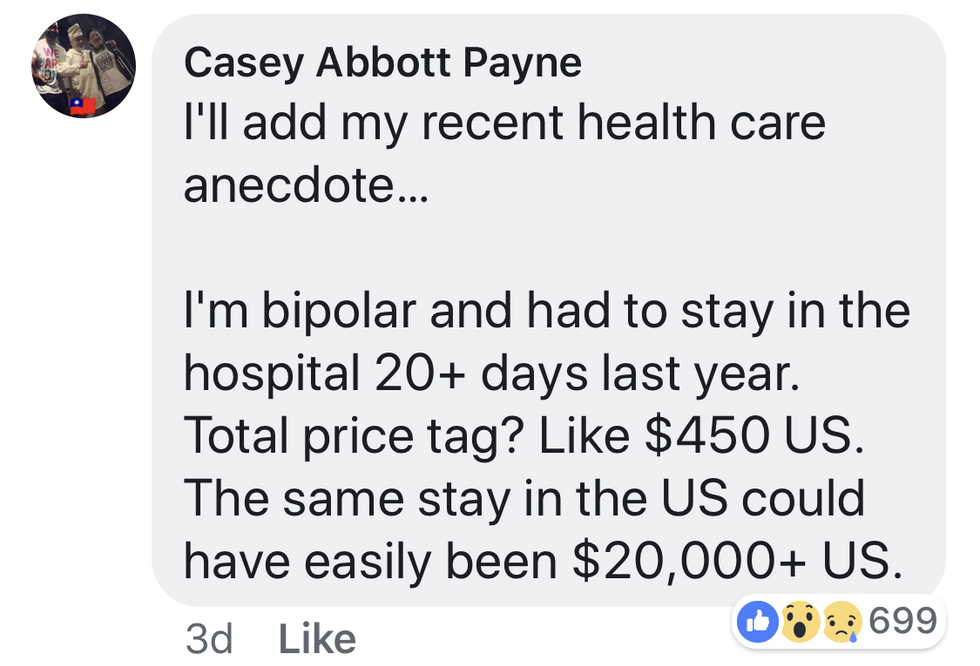 Facebook
@Upworthy Had a motorcycle accident in Taiwan. Rushed from the scene to a hospital on an ambulance, treated for mul… https://t.co/65Smg2jjMb

— tian (@tian)1551377817.0
Great story! My own comparable ER experience as visitor in Seoul, South Korea...US$170, full out of pocket, great c… https://t.co/2J2BSADWl1

— Ozzie Diaz (@Ozzie Diaz)1551389943.0
Wake up, America.
Keep reading...
Show less