Any small act of kindess can save the world.
And we need them now more than ever.
Redditor No-Fig-8614 wanted to share about what minor actions have great power. They asked:
"What small gestures impact your life the most?"
Everytime I've cried in public, people have lent a hand. Made me smile and move forward.
Accomplishments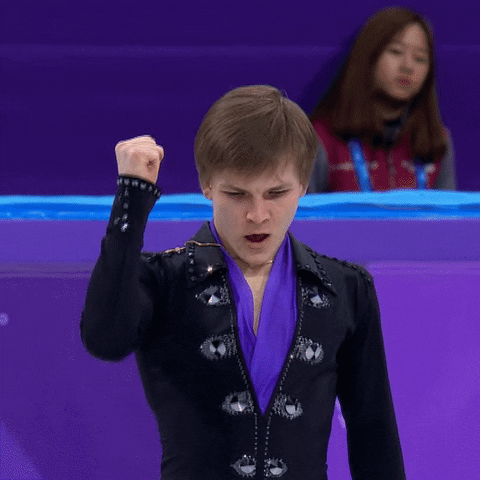 Russian Sport GIF by Olympics
Giphy
"Friends who honestly recognize your hard work achievements."
el_buzzsaw
Kindergarten
"When someone remembers little details about me."
spicegrl17
"Bro this guy was in the same kindergarten class as me. We were friendly but as we grew up we kinda drifted. Like middle and high school I don't even remember talking to this guy. He sorta became popular and I was just vibing in middle class territory."
"One time we sat at the same table in a class in 8th grade and again in 12th. And each time he would bring up some super random memory of us from kindergarten that even I don't remember. and when I tell you that sh*t would have the biggest impact on me. Like we were still always friendly and would smile in the halls, but even typing this now makes me smile. Never expected him to remember such random little things."
Careful_Pickle555
Connection
"When strangers are kind to me for no reason it gives me hope for humanity."
Crafty-Tangerine-491
"When I lived in a new city as a broke masters student, I would pick the cashiers that I knew would chitchat with me just to get some human interaction. Not easy in England it turns out. Now I'm on the other side of this situation and I try to read when someone might need that kind of interaction."
Ndeipi
Praise You!
"When people openly praise me/others or they are comfortable communicating their positive feelings. There are a few notable people in my life who are like this and every time i'm around them I either blush or get a loss for words for how much their words/actions matter."
"I think it's because I'm used to criticism or not really being noticed and when they say kind words or are considerate my brain melts. I notice people like this usually have a quiet pulse or sense of others confidence levels/ anxiety levels and they are naturally nurturing or comfortable with building others up."
g0ldf1nch_
Genuine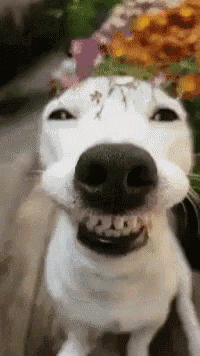 Dog Reaction GIF by MOODMAN
Giphy
"Hearing from others that positive things have been said about me when I wasn't around. Makes me feel like they're really genuine."
neuro_illogical
I love all of those. It would make me feel warm and fuzzy.
You Too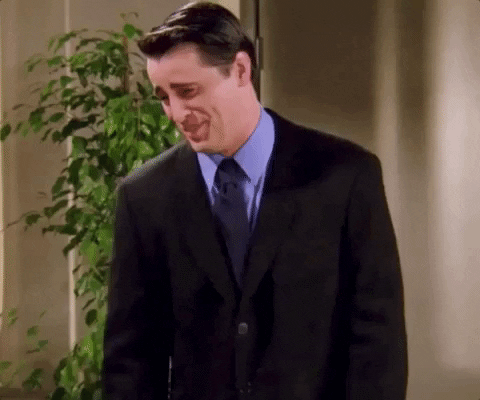 Season 2 Love GIF by Friends
Giphy
"Friends who say I love you back."
MyV_is_for_Valinor
Even if it's small...
"Being polite and using basic manners."
withurwife
"As a teenage retail worker, it's sooo nice when people say can I pay for this please. Or just something nice. Or treat me like a normal human being and have an actual conversation with me. Even if it's small. It helps me get through the day and deal with the crappy customers that act like I'm they're slave."
tomahawk167
Look Up
"Making eye contact with someone and realizing you both have the same reaction to whatever the hell is happening in front of you."
NormalVermicelli1066
"This is awesome. It's like a universal language when something crazy is happening and you catch the eye of the person next to you and she widens her eyes slightly. It's like I'm not alone in my head."
flowergirl0720
Time
"My social skills are practically nonexistent thus holding a conversation with someone is impossible. I stutter and my accent comes out. I just started working a week ago and have had to introduce myself to the staff. Afterwards, people came up to me to start a conversation yet left after they realized I wasn't really speaking."
"I understand why, but I still feel guilty and sad as I don't want to be alone. Therefore, it is a blessing when someone still keeps trying. I swear I slowly start opening up, I just need time. Most people aren't willing to spend that time though."
No-Anything-0
Join Us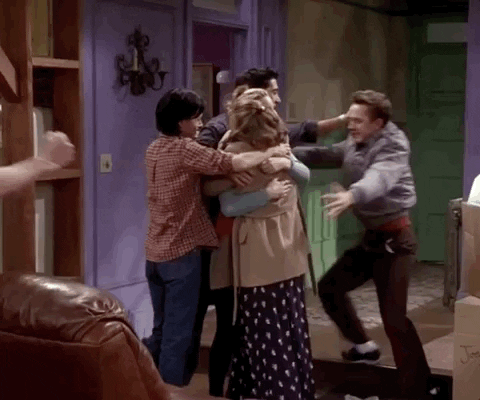 Season 4 Group GIF by Friends
Giphy
"Being included."
sturglemeister
"This 100%, being included makes all the difference. Even if you don't know the friend group, just being asked makes a massive difference."
No-Fig-8614
So Pretty
"When my neighbor called me handsome. Too bad her grand daughter doesn't agree."
Foolishincel
"Oh man, same thing like that happened to me. In a restaurant, the waitress said I was handsome and walked away. Another waitress went up to her and said, You think he is handsome? Oh well each her own."
thomas4004
Be Calm
"I didn't have my wallet at the gas station and started to panic and the guy said no problem, you are good."
Rotterddoom
Thanks
"Letting in cars in traffic and getting a wave of acknowledgement and thanks."
northjersey78
"Getting a wave back after you wave is always my favorite. I kinda lightly scorn the people who don't wave back. Only slightly because we are driving death machines."
teenytiny77
Booster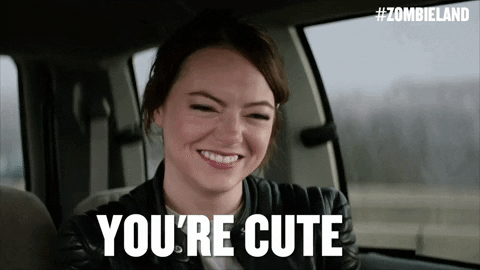 Youre Cute Emma Stone GIF by Zombieland
Giphy
"When random old ladies call me cutesie names like 'hun' or 'sweetie.' It's like getting a grandma love booster shot from a stranger."
SchrodingersNutsack
"I can play this card now and it works as well both ways. I try to be as patient, kind and encouraging as I can. It's good to hear it's appreciated."
holdonwhileipoop
Different
"Friends who hold different beliefs and opinions who stick by you despite the differences. Everyone needs to have friends around them who will challenge their beliefs."
RolyPoly1320
"Honestly this is so rare these days, I remember in my high school days there was this one kid who listened to dead mouse, and he was a respectable guy, so everyone respected him for being different."
Fresh_Proposal2938
So Happy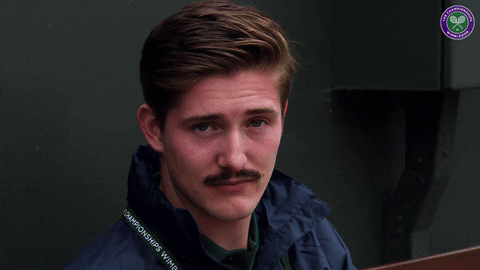 U Know Flirt GIF by Wimbledon
Giphy
"As a male, getting compliments from the opposite sex. It's just a really good feeling and can make a guy happy for along time. We receive so few that each one feels special. And this actually goes for relationships too. My last gf never really complimented me and it kind of bothered me. But when she did they meant a lot because they actually seemed more genuine."
saosin702
all by kids...
"Little kids being friendly to me at work. I'm a host at a pretty busy chain restaurant and have been hugged randomly by kids, been told i'm pretty, had my hair complimented, my makeup and jewelry complimented, my boots. all by kids. it just flatters me so much, especially knowing that most small children just say what they're thinking in all honesty. Makes work a little more bearable."
disco-paradox
Compliments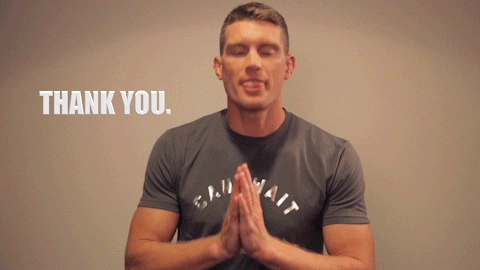 Ufc 205 Thank You GIF by UFC
Giphy
"People who notice. For instance: The driver in front who pulls forward and a bit over so I can make a right turn at the red light. People who pick up trash. People who compliment you. You all just makes the world a bit nicer."
momofdragons3
Defending Me
"People defending me when I'm fat shamed. It seems like a little thing, but it means a lot. The suckiest bit about starting at 375 is that it'll take me two years to safely lose what I need to and with that said, people don't see progress and often doubt me, especially if I take a step backwards. So when people defend me, it makes me feel so much better about what I'm doing."
1BoiledCabbage
It takes so little to make others feel good. Just do it.
Keep reading...
Show less
In this day and age, with the state of the world what it is... it's a miracle people aren't sobbing at every gas pump, cash register and red light.
Tears are healthy.
Unless they're being used for manipulation or a tantrum.
We release emotion with our tears.
And one of the most emotional places to be is at work.
That can be a sobfest.
So what is the best way to help in that situation?
Let's compare notes and tissue brands.
Redditor tiredofland wanted to hear about the times they had to deal with emotions at work.
They asked:
"How do you handle people crying at work?"
I have cried many a time over the years. Especially when waiting tables. A hug always helped.
Condolences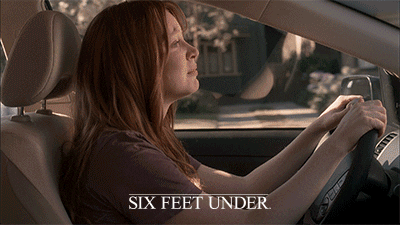 six feet under GIF by HBO
Giphy
"As a funeral director, I tend to just touch them on their arm and hand them tissues. And stay quiet."
Oct92018
Cry on Me
"I usually provide a tissue. I often get hugged. My last job, we had a meeting and one of the people in the meeting, well, she seemed off. Everyone filed out and I kind of lingered, asked, 'Hey, is there something wrong you want to talk about?' Boom, waterworks, she had to put her cat down this morning, etc. I am the guy in the office people cry on, I guess."
Nadaesque
to a science...
"I'm a teacher, so it's a near daily occurrence for me. I have a jar full of candy - usually chocolate- on my desk (the kids call it sad candy), a chair, and a big round plush bird toy just the right size for hugging. His name is Sherbert, cause he's colored like rainbow sherbet. They can talk it out with me or just cry in silence if they'd rather, but I just sit with them until they're ready to re-join the world. It's sad, but I have this crap down to a science."
ThePhiff
The Stress of It All
"I work for a 911 center, you better believe there is crying. Especially when an employee is new and they give CPR to an infant and its not a positive turnout, someone kills themself while you are talking to them on the phone. Pretty soon your heart and soul die and you can deal with it, but something especially awful happens and it hits you. I have been doing it for 28 years and have seen plenty people come and go, who couldn't handle the stress?"
One-Butterscotch-786
Fur Babies
"In the veterinary industry, unfortunately, if you notice a co-worker is or has been crying, usually you pretend not to have noticed, maybe ask them nonchalantly if they can do something for you that isn't client-facing for a while like fill prescriptions, and don't bring it up later unless you're friends outside of work."
"Everybody cries at work at some point, and it's not even usually about a sick/dying animal. If a client is crying though, you have to be sensitive, empathetic, comforting, gentle, offer them privacy and condolences without smothering them."
"Clients cry for the reasons you expect, and of course it's hard to see them through it, because dealing with a sick or dying pet is hard. Staff will often shed a tear in these appointments too, but most often when a co-worker is crying it's because another person went out of their way to hurt them. Be kind to your veterinary staff folks, we feel pain too."
sainttawny
People do seem to cry a lot. Makes sense, I do.
I'm Here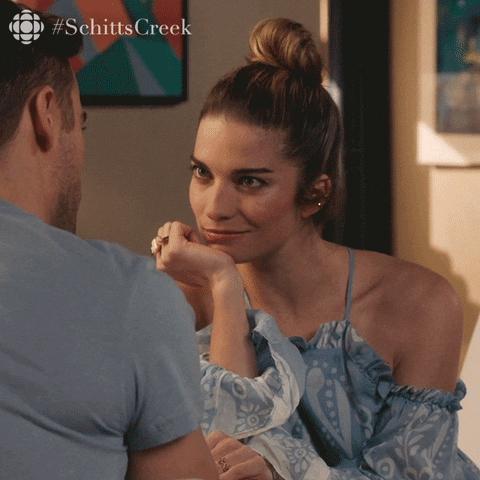 Tell Schitts Creek GIF by CBC
Giphy
"'Is there anything I can do?' Then just listen. Often the listening is enough."
Pavlock
Kindness
"I work in healthcare, so this happens quite frequently. Usually it's patients. Most often, people just want their feelings validated and that someone understands them. That's all. Being empathetic goes a long way."
moscowmulesplz
"Yes! Empathy truly goes a long way!"
ElBarbon026
Alone
"Saw a chick crying at work, sitting outside. Half wanted to ask her if she was ok but when someone is crying hard sometimes they just want to be left alone in their feelings and it must be embarrassing enough to cry at work, so I left her alone and kept walking."
KiwiCatPNW
He is Awful
"Many years ago I (male) was having an extended discussion with a female coworker about something technical and I noticed that she would periodically start crying during our talk. I was so dense that I thought (perhaps out of intended politeness) that I should just ignore this and go on."
"For some reason I have often thought about this and reflected on the fact that it would have been much more humane to at least ask her if she was OK, if she would prefer to talk later, if she would like to talk instead about what was upsetting."
"Later I heard from someone else that she had travelled to the area from another state with her boyfriend. He had a job at another company nearby that was expanding rapidly and she had received the news that he was already cheating on her with multiple coworkers."
fund0us
I'm Blind
"I follow the golden rule so I ignore them, pretend not to see them, and later talk to them normally like nothing happened, because that is what I want in their position."
xyanon36
"Same! I tend to get more upset if someone checks on me, because now I'm embarrassed and feel exposed on top of what's causing me to cry in the first place. Since I never want to be the cause of that, I won't ever approach someone in that state."
Annonymous_97
There is no perfect way to comfort somebody. You just do it. Or apparently... look away.
Want to "know" more?
Sign up for the Knowable newsletter here.
Never miss another big, odd, funny or heartbreaking moment again.
Keep reading...
Show less
Have you ever just hit your limit with the people around you? There's just so much bad behavior... it's no wonder why some decide to distance themselves from others, for the sake of their own sanity.
Like... what's up with people who spoil their children... and then complain that their children are spoiled? Whose fault is that, huh? Some people have no self awareness whatsoever.
That's not the only bad behavior that annoys me – or others in general. Far from it. People shared their thoughts with us after Redditor Sickman1920282736 asked the online community,
"What kind of people do you have no sympathy for?"
"People who use..."
"People who use their kids' suffering for attention."
emolata
Munchausen Syndrome by Proxy. Quite the rabbit hole to go down.
"People who start..."
"People who start drama out of boredom."
[deleted]
So toxic. Or people who are constantly complaining about problems that they created for themselves. Insufferable.
"Not to be confused..."
"People that always play the victim role. Not to be confused with people that are actually victims of something."

Atlantic_Nikita
When you meet people like that, it's best to run as fast as you can in the other direction.
"People that are so confidently incorrect..."
"People that are so confidently incorrect and refuse to hear anything that challenges their world view."
noinfo
People who refuse to be wrong are the worst. And there are so many of them out there.
"People who are incapable..."
"People who are incapable of self-reflection. Nothing is ever their fault, everyone/thing is always against them."
SquilliamFancySon95
Victim complex. There's no point talking to these people because they live in a different reality.
"People who are horrible to their children..."
"People who are horrible to their children and then cry because their children won't show them respect."
AccomplishedTie426
These people are always so shocked when their children cut them out of their lives, as if their children didn't give them plenty of warning in advance.
"People who make fun of others..."
"People who make fun of others and cry when the same thing happens to them."
VegetableTopic
Ah yes... the good ol' "I can dish it out but I can't take it" routine. So fun.
"People who go out of their way..."
"People who go out of their way to make others feel upset, people who don't care how their actions affect others, murderers, etc."
Kharnyx808
Sadly, you might have met a person like this. Some people clearly don't live by the same rules as the people around them.
"People who say..."
"People who say they are just "brutally honest" when they are really just constantly insulting people."
j4321g4321
Don't get me started on these people. They are in endless supply.
"People who take..."
"People who take no responsibility for their choices."
1feralengineer
Or people who defend them when you call them out on it.
Shall we go on?
Nah. We do need a break from humanity at this point. Can you blame us?
Have some suggestions of your own? Feel free to tell us more in the comments below!
Want to "know" more?

Sign up for the Knowable newsletter here.
Never miss another big, odd, funny, or heartbreaking moment again.
Keep reading...
Show less
We all have our limits, and there are some behaviors that are intolerable. I can tell you, for instance, that I have no sympathy for people who prey on the elderly.
What's wrong with these people? Can they not see how wrong it is to scam people who are older and considerably more vulnerable?
There are many other behaviors that annoy me but I'll leave it to others to elaborate further otherwise I'll be here all day!
People shared their thoughts with us after Redditor IndependentJeff123 asked the online community,
"What do you have no sympathy for?"
"People that demand..."
"People that demand respect from others but don't give a damn about others in return."
yogaman421
Yes!
Co-signing this. Respect is a two-way street.
"People who throw tantrums..."
"People who throw tantrums and yell at minimum wage workers."
[deleted]
Even worse are people who have worked customer service jobs themselves and yet still treat others in the profession like crap!
"People who repeatedly..."
"People who repeatedly dodge accountability. For sure everything is not your fault, but nothing is not your fault either."
extrabees
"Nothing is my fault. Unless it's something good. Then I did all of it. Just me. Nobody else."
Sound familiar?
"People who..."
"People who abuse/scam seniors."
DiamondPup
People who prey on the elderly are truly something else. It's awful.
"People who decide..."
"People who decide to have children/pets then not care for them/make them everyone else's problem."
SpookyScaryLemon
We all know people like this. It's sad. I have neighbors who don't seem to take care of their dog. Why animal control has not done something about it yet is beyond me.
"Willful..."
"Willful ignorance."
[deleted]
Along with prideful ignorance. Those who reject what they know to be correct because they don't like it or just don't care.
"People who needlessly..."
"People who needlessly ridicule others appearance when they're just living their life."
CassielTenebre
The rock bottom of this are the people who make fun of others who are trying to lose weight at the gym. Leave them alone!
"Adults who..."
"Adults who harm or hurt children."
shmallkind
Especially adults in a trusted position that use that influence to mistreat, belittle and abuse children.
"Anyone who..."
"Anyone who takes undue advantage of the weakness of others."
OperationAdvanced531
Sadly, most people will jump at any chance to take advantage of others. There's a huge "Every man for himself" mentality out there.
"People who are rude..."
"People who are rude to servers or retail employees."
SecretTeaBrewer
They're the absolute worst. Don't treat someone taking care of you so badly. It says a lot.
Sadly, the human race is full of so many people with the capacity to annoy us or trouble us. And it's up to us to draw boundaries for our own peace of mind. Some behaviors are absolutely unacceptable.
Have some suggestions of your own? Feel free to tell us more in the comments below!
Want to "know" more?

Sign up for the Knowable newsletter here.
Never miss another big, odd, funny, or heartbreaking moment again.
Keep reading...
Show less
Considering how polarized things are in the United States right now, it's no surprise that there are people out there who are sick and tired of people who won't get vaccines. Their patience has worn out.
And as for the unvaccinated, who make up the majority of hospitalizations and deaths?
Well, many can't be bothered. Let them sort it out, right?
These are wild times we live in.
People shared their thoughts after Redditor aktualinen asked the online community:
"What you have no sympathy for?"
"People who have kids..."
"People who have kids to fix their problems and then project those problems onto said kids. Kids aren't bandaids, they're humans."
zachzachzaaaaach
Do not–I repeat–do not have a child to save your marriage. One of the worst things you can do when in a relationship.
"People with..."
"People with a false sense of entitlement."
the_house_from_up
*takes deep breath*
DO YOU KNOW WHO I AM?
"People who piss all over public toilets."
redditor81
Speaking of which... I'm completely confounded by urine puddles in front of urinals. It's practically impossible to miss the target.
"People who provoke animals..."
"People who provoke animals and then get killed or maimed when the animal lashes out. You're a piece of s**t if you think it's okay to wind up or frighten an animal to the point that it attacks you, and you deserve what's coming to you."
MilagrosBauder
Which reminds me... I hate when I read a story about someone who breaks into a zoo enclosure ,or puts their hand in a cage, gets injured, and then the poor animal ends up getting euthanized.
"People making fun..."
"People making fun of new people at the gym or overweight people working out; they're putting in an effort that is clearly uncomfortable for them, takes a lot of courage to step outside your comfort zone."
pgh613
It really says a lot about a person who puts down another person who is simply trying to better themselves.
"People who prey..."
"People who prey on elderly people, whether it is through scams, theft, violence, or whatever."
winterjamie
These people have no morality. Preying on the elderly–who are statistically more vulnerable–is horrible.
"People who throw tantrums..."
"People who throw tantrums and yell at minimum wage workers."
Obliviouslynormal
These are people who will lash out at anyone with less power than their own, and it's a nasty habit.
We get it, your patience is tested. We're certain you'll have even more to add to this list. It's only a matter of time.
Have some opinions of your own? Feel free to tell us more in the comments below!
"Partners in school..."
"Partners in school who are lazy fucks and don't do any work."
Agnxfl
Group projects were the bane of my existence. I hated them.
"Burglars..."
"Burglars who end up getting injured or attacked while inside someone else's house. Literally would not have happened if you hadn't been breaking into someone's house."
Susim-the-Housecat
Okay, THIS is karmic justice. It's as simple as that.
"People who believe..."
"People who believe everything they hear on the internet. Also, the people spreading misinformation and refusing to research said topics."
RuggedTheDragon
Okay, this one hit home. Far too relevant. Get me off this planet.
We're frustrated, okay? People continue to test our patience. Is it our fault that so many people are terrible?
Have some thoughts of your own? Feel free to tell us more in the comments below!
Want to "know" more?

Sign up for the Knowable newsletter here.
Never miss another big, odd, funny, or heartbreaking moment again.
Keep reading...
Show less